What is there to do in Tamarindo, Costa Rica? Surfing, rappelling – quite a lot, we must say. The best things to do in Tamarindo, Costa Rica, are all in this article.
Located in the Guanacaste Province on the northwest Pacific coast of Costa Rica, Tamarindo enjoys a prime location for nature exploration and water activities.
Read also: ATTRACTIONS IN NORTH-WEST COSTA RICA.
Best VPN for Travel: ExpressVPN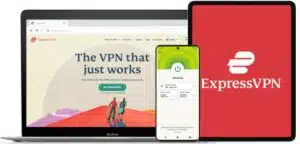 Heading abroad? Use ExpressVPN to access your social media accounts, unblock your favorite entertainment sites, and stay connected with friends and family. And get cheaper flights, of course.
Pros
✅ Next-gen, high-speed servers in 94 countries
✅ Works on iOS, Android, Windows, Mac, Linux, browsers, and more
✅ 256-bit AES encryption protects your data, even on hotel Wi-Fi
✅ Unblocks Netflix and other streaming sites
Cons
❎ No dedicated IPs
Get 3 extra months free of ExpressVPN when signing up for a 1-year plan. That's a 49% saving and a monthly cost of just $6.67! You also get a 30-day money-back guarantee.
Some of the popular things to do in Tamarindo entail verging into the deep waters, while others call on you to relax your bones and be pampered.
Things to Do in Tamarindo
1. Sunset Sailing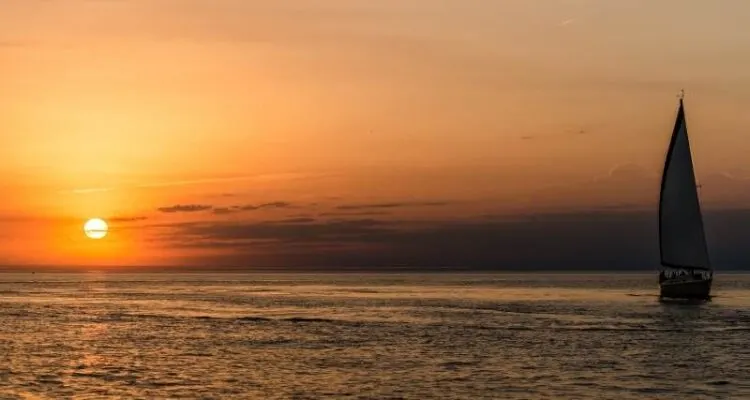 Sunset sailing is a popular activity to do in Playa Tamarindo. The views from Costa Rica's coast during the golden hour are truly magical.
Before the day ends, board a catamaran and sail into the beauty of Guanacaste. Discover white sandy beaches and tropical forests from afar as you lounge in your boat with light snacks and cooling drinks from the open bar.
Look out for dolphins and sea turtles coming out to play. If the season permits, spot a breaching whale putting on a show for all guests to see.
Make a quick stop at one of the swimming spots and dive into the rich marine ecosystem of Costa Rica. Enjoy some fruits along the beach before you head back to the catamaran.
Witness the sun turn the skies orange and fill the atmosphere with tranquility as your sunset sailing comes to an end.
2. Estuary Boat Riding
An Estuary tour is one of the things to do in Tamarindo, Costa Rica. The estuaries in Guanacaste Province are lined with mangrove trees that can only be explored via boat. Their roots become a natural haven for several wildlife species.
Be on the lookout for flying fish, crocodiles, and monkeys which inhabit the waters. This is a safe activity to partake in, provided you stay on your boat and adhere to the safety regulations laid out by your experienced guide.
An estuary boat ride in Tamarindo usually commences in Playa Grande inside the Las Baulas National Park. Take it up a notch and choose to ride the kayak if you have the endurance to paddle for about two hours.
Make sure to wear insect repellent and sunscreen with high SPF beneath your active clothes.
3. Surfing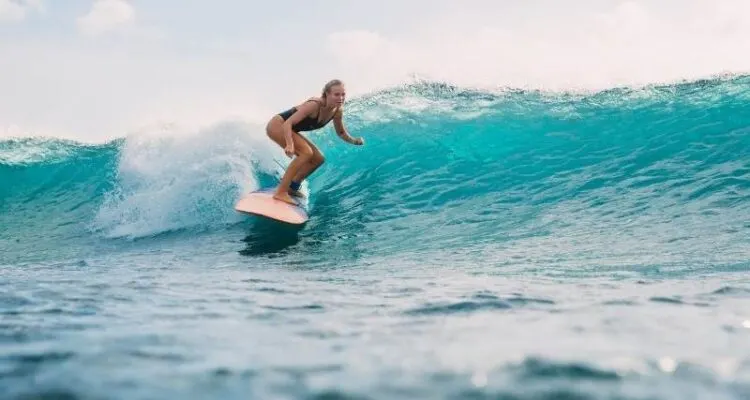 Surfing is big in Tamarindo, Guanacaste. This coastal district is popular for its good waves, nice weather, and pristine beaches. It has surfing spots that can be enjoyed by novices and experts alike. This makes it one of the best things to do in Tamarindo, Costa Rica, for just about anyone.
Capital Suizo and Witch's Rock are two of the best surfing spots for beginners. They have relatively gentle waves, and the current is manageable. Having said that, no experienced surfers can be seen in these areas.
Once you get the hang of the sport, head over to Playa Grande, where more challenging swells await both beginners and experts, this is a popular spot to surf and can get crowded during weekends.
For an epic ride, travel by boat to the famous Ollie's point during high tide and experience the best long rides of your vacation. Despite the remoteness of this spot, many people purposefully come to Ollie's point, so expect a huge crowd when going there.
4. Tamarindo Sportfishing
Tamarindo, being on the northwest side of the Pacific Ocean in Costa Rica, is a prime location for sportfishing. You can choose to go on a five-hour, seven-hour, or nine-hour trip with any fishing charters on the coast.
Tours usually start at around seven in the morning but can be customized to meet your schedule.
Tamarindo sportfishing can be done either offshore or inshore. The main difference between the two is the depth of the water in your chosen location, dictating your possible list of catches of the day.
Many of the fish species which you can find offshore include yellowfin tuna, dorado, and sailfish. Onshore you can catch some roosterfish, red snapper, and mackerel, among others.
If this is included in your list of things to do in Tamarindo, be sure to purchase a sportfishing license beforehand. This is required for anyone who is going to hold a rod during the trip.
There is no need for a sportfishing license if you are there as companions and do not intend to fight fish.
5. Zip Lining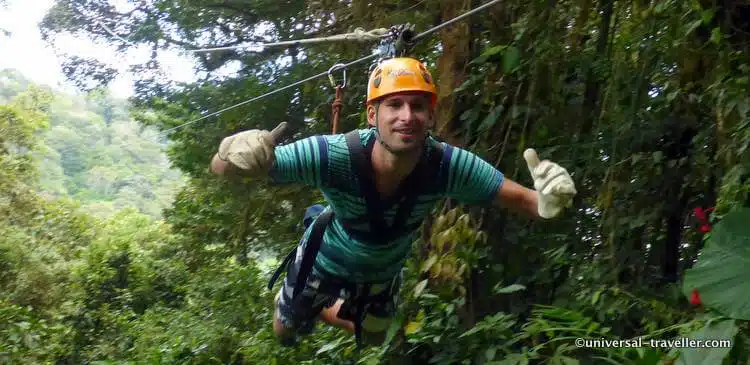 Ziplining is one activity that is usually part of an ultimate Costa Rica combination tour. If traveling as a couple or by group, many visitors recommend booking a private tour to enjoy the benefit of an unrushed itinerary.
There are many places to go zip lining in Tamarindo, and all provide a stunning view of the Guanacaste Province.
Pura Aventura Park is one of the most popular areas to do this activity. Set amidst a cattle ranch, you will zip through eleven cables in singles or tandem. During your flight, you can spot some monkeys and other wildlife that inhabit the park.
The Hilltop Eco-Adventure Park is another zip-lining location that is just close to downtown Tamarindo. Here you will conquer seven cables and two hanging bridges that take you to the lush rainforest of Guanacaste.
6. ATV Touring
Experience Tamarindo the extreme way by going on an ATV tour. Ride through the muddy paths and cross rivers with your ATV as you explore the tropical forests of Guanacaste.
Some of the main highlights of this tour are the trees native to the region, namely the Guanacaste, pochette, and teak trees. Many of these trees are being protected from being extensively cut down because their kinds are popular sources of lumber.
As you marvel at the vast tree forms in the area, be on the lookout for some armadillos and coati inhabiting the forest.
Don't worry about the safety of this Tamarindo ATV tour – your experienced guide will run you through all procedures before you can test drive your vehicle. After a trial or two, you are all set for an adrenaline-filled adventure.
7. Beach Hopping
Tamarindo is all about pristine beaches that call out from afar. The Tamarindo coastline is swamped with picturesque areas to lounge in that a day or two must be spent to marvel at their natural beauty fully.
Playa Conchal, translated from Spanish as Shell Beach, is well-regarded as one of the best beaches in Costa Rica. It is famous for its pink sand, made by the minuscule pink shell fragments that make up the beach. Because of its fame, expect a crowd when visiting Playa Conchal.
Playa Grande must also make it to your beach hopping list. Best known for its huge appeal to novice and expert surfers, this beach attracts visitors who travel to ride Costa Rica's waves.
Of course, no beach tour is complete without Playa Tamarindo in it. From surfing, swimming to picnicking – this sweet spot has a little of everything.
8. Stand Up Paddling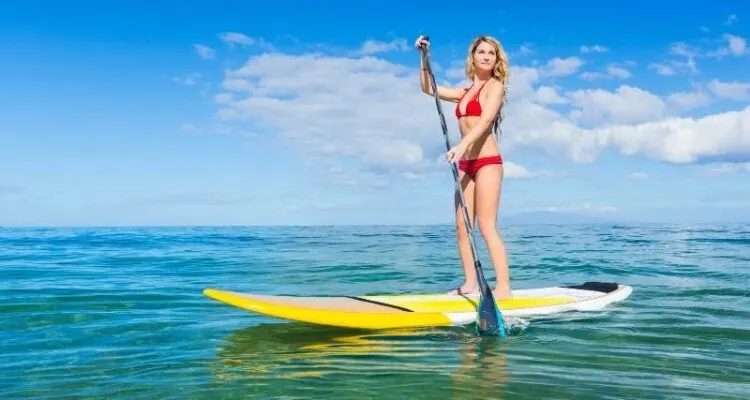 For anyone who likes the calmness of flat waters and the beauty of the clear skies, stand-up paddling should be on your list of things to do in Tamarindo. This relaxing activity is perfect for both kids and adults.
Surf shops in Tamarindo offer paddleboard lessons and equipment. Your experienced guide will teach you the basics of balancing, paddling and turning so that you can be comfortable standing on your board in record time.
Take it up a notch and go stand up paddling before the sunsets. When the golden hour sets in, relax on your board and take in the unique serenity that only nature can give.
9. Checking out the Nightlife of Tamarindo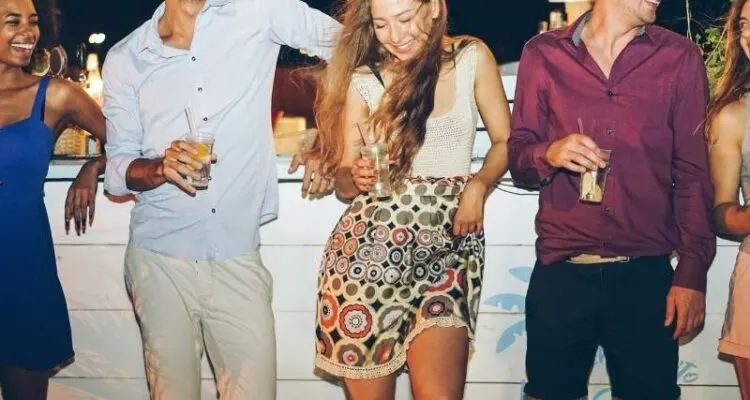 When the night falls, the district of Tamarindo becomes livelier than ever. There are bars and clubs where dancing doesn't seem to end. There are also karaoke spots for the singers and hip lounges for the chill ones. Before you head out, ask the locals for special offers happening regularly in Tamarindo.
The Boutique Casino Diria has about everything you would need for those on the lookout for total entertainment. This Tamarindo casino may look small in space, but its atmosphere is packed with high levels of excitement and merrymaking. Some of the games played in the tables of Casino Diria include blackjack, poker, and Texas Hold 'em.
On Thursday evenings, Tamarindo's night market comes alive with good food, live music, and cheap shopping.
10. Enjoying a Spa Treatment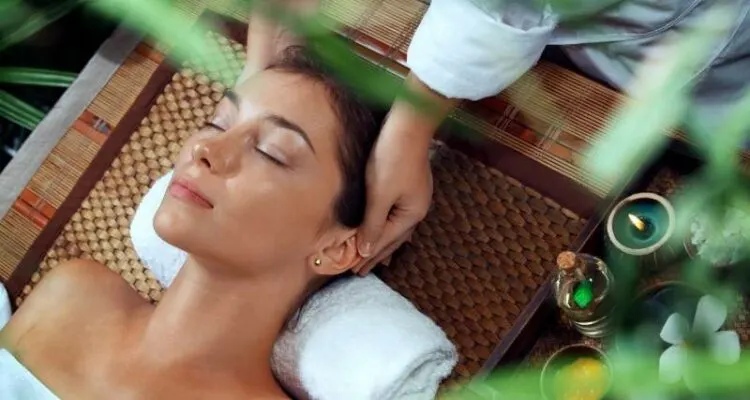 One of the best things to do in Tamarindo, Costa Rica, is to book a luxury day at the spa.
Spa de Eros is one of the most popular spa treatment facilities in Tamarindo. It is highly regarded for its relaxing surroundings that incorporate the stunning views of the Costa Rican jungle and the Pacific Ocean for your luxury treatment.
The spa has five open-air treatment rooms that are complemented by the thermal pool and the waterfalls, among other amenities.
Coco Beauty Spa is another wellness facility that is a hit to both locals and visitors. After a long day of touring, there is no better way than to have a deep tissue massage at Coco. Avail of the special four-hands massage and prepare to be taken to a whole other level of rejuvenation.
11. Boogie boarding in Playa Langosta
Playa Langosta is an ideal place for boogie boarding. The beach is just two and a half kilometers from Tamarindo and sits between the Las Baulas National Marine Park and Playa Tamarindo.
The beach can get quite crowded during peak season but is a serene place during low months like May.
Surfing may be the most popular water activity to do in Playa Langosta, but this sport may just be intimidating to some beginners. On the other hand, Boogie boarding allows you to ride the waves comfortably and easily with the use of your bodyboard.
While in Playa Langosta, consider other relaxing beach activities after you go boogie boarding. The place is perfect for a short beach walk as you wait for the sun to set.
12. Visiting the Monkey Park Wildlife Sanctuary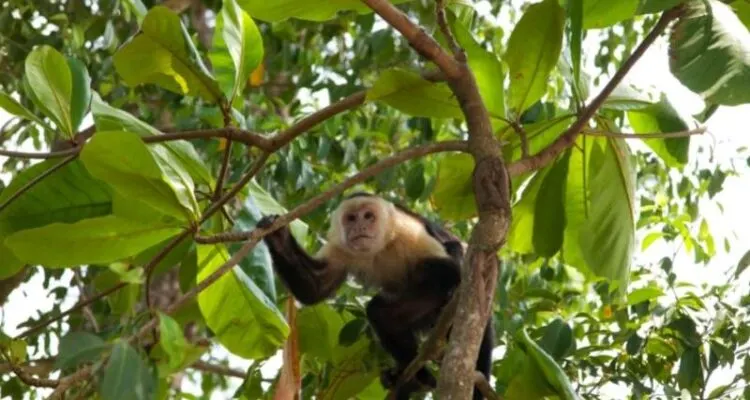 The Monkey Park is a Wildlife Rehabilitation and Release Center that seeks to provide hands-on assistance and medical support to animals in need. It is a non-profit organization aiming to give a non-intrusive type of help to Costa Rica's wildlife through its unique methodologies.
The park welcomes visitors who would like to know the importance of a well-balanced ecology, especially in Guanacaste. It is also open to people looking for volunteer opportunities that provide board and lodging in exchange for their services.
There are animal exhibits within the park where you can find many interesting species in their care. These include the spectacled owl, the black-handed spider monkey, and the black river turtle.
The Monkey Park is located in Portegolpe, Guanacaste, and is a quick 20-minute drive from Tamarindo. It is open daily to the public from 8:00 AM to 4:00 PM. There is an option for a guided tour of the animal exhibits.
13. Sunset Watching at the Beach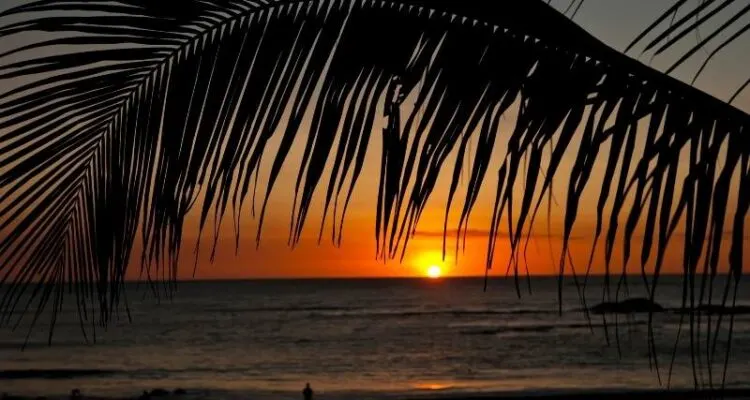 Truly, one of the best things to do in Tamarindo, Costa Rica, is to relax on a sandy beach and watch the sun go down. This may sound so simple, but with beautiful beaches to boast of, watching the sunset in Tamarindo is a worthwhile activity of its own.
Are you looking for a romantic setting? Between Playa Tamarindo and Playa Langosta, there is a special place called Punta San Francisco or San Francisco Point.
Explore these two beaches, and then be sure to head to San Francisco Point when the golden hour commences. This spot offers a stunning venue for sunset watching – especially if there is low tide and you can get to the rocks.
Going solo? Why not paddle out and enjoy the sunset from one of the best surfing spots in Tamarindo. This gives you an exceptional view of the colorful skies amidst the vastness of the blue ocean.
14. Turtle Nesting Tour
Head to Marino Las Baulas National Park and see some green turtles laying eggs on the shore. This Tamarindo activity is perfect for nature and animal lovers wanting to see the beauty that comes with witnessing a natural phenomenon.
Playa Grande, Playa Minas and Playa Jesus Nombre are three of the most popular spots in Guanacaste to see green turtles nesting. From May to August, these turtles appear on Costa Rica's beaches during the nesting season. A female turtle coming to shore digs a hole and produces up to 90 eggs which she will bury in the sand.
Make sure to adhere to the strict park regulations regarding this tour. You are not advised to do flash photography or any action that can count as light pollution because it will greatly affect the turtles.
15. Horseback Riding
Horseback riding in Tamarindo is a popular activity for tourists wanting to explore the district excitingly. There is no need for you to be well-trained to try this tour.
In fact, even your three-year-old can participate in this activity. Horseback riding is easy and safe, especially that you have an experienced guide leading you through.
You can opt to go on a horseback riding tour early in the morning or before the sunsets. Both timings prove to be enticing: the morning air gives you a cool atmosphere while the breathtaking sunset promises a ride to remember.
The sceneries you will get to enjoy include the blue ocean, the rolling hills, and the serene beachfront.
Horseback riding tours are often combined with other Tamarindo activities such as river rafting, rappelling, and ziplining.
Day Trips from Tamarindo, Costa Rica
1. Exploring Rincon de la Vieja National Park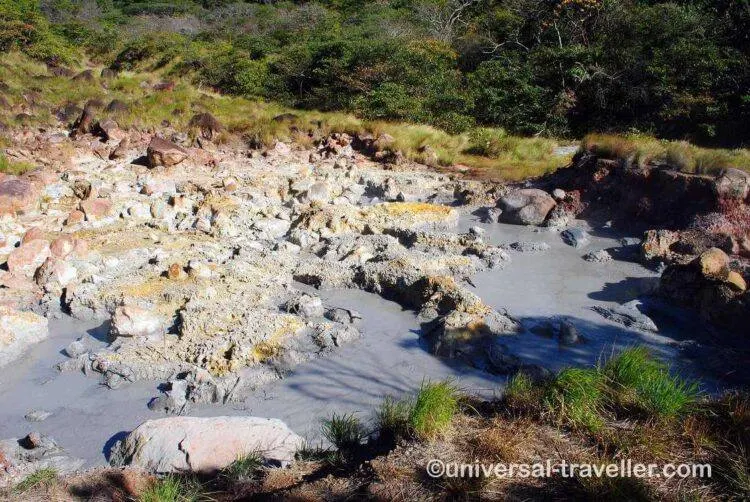 Home to the active Rincon de la Vieja Volcano, this National Park is a prominent reserve in the Guanacaste Province, making it one of the most popular day trips from Tamarindo.
It is a 90-minute drive away and can be reached by driving or joining one of the many tour groups from Tamarindo.
At the Rincon de la Vieja National Park, you can go on a two-hour hike to the volcano, where you can find freshwater lagoons, boiling mud pits, hot springs, and waterfalls.
Its diverse flora and fauna are phenomenal, with rare toucanets and exotic orchids among the many species to spot as you trek. In fact, Costa Rica's national flower – the Guaria Morada orchid – can be found everywhere in this national park.
Other activities to do here include horseback riding, overnight camping, and picnicking.
View full blog post: RINCON DE LA VIEJA NATIONAL PARK
2. Yoga Retreat in Nosara
Once you lay your eyes in Nosara for the first time, you might feel unaccustomed to what you see. No commercial establishments or beachfront houses can be seen along the beach.
The area is widely protected, prohibiting any form of infrastructure near the shores.
The yoga village of Nosara is located in the Nicoya district of the Guanacaste province. It is a popular destination for ex-pats, so expect to see many of them – even far more than locals. This fact makes Nosara quite an expensive place to travel to.
You can take a shared shuttle to Nosara from Tamarindo. Tour companies offer door-to-door service, which gives the utmost comfort for the vacationer in you.
This travel costs about 50 USD and may include transfers and stops in between. Your total travel time from Tamarindo to Nosara is two and a half hours.
3. Scuba Diving in Las Catalinas
Las Catalinas is a famous scuba diving spot in Costa Rica. Home to the Pacific Giant Manta Rays, the ocean surrounding these islands is frequented by scuba diving enthusiasts. The islands themselves have zero human population; marine life is the one that thrives here.
There are many species which you can see in Las Catalinas. Some of these include the white tip reef shark and different kinds of eel. Devil rays are famous for jumping out of the water before making a big splash.
If you plan on scuba diving in Las Catalinas, keep in mind the season you are coming. The dry season in Costa Rica means cold water temperatures in the area, so better head here during the green season if you would like to dive on warm waters.
Read the full blog post: BEST TIME TO TRAVEL TO COSTA RICA.
Choose a good dive shop with accredited diving guides to make your exploration a fun and safe one.
4. Barbecue Fiesta at Black Stallion Eco Park and Estates
About 15 minutes away from Tamarindo proper is the 33-acre Black Stallion Eco Park. Calling itself Tamarindo's private ranch, this park offers numerous combination tours for all visitors. Most of these popular tours include a must-try gourmet barbecue fiesta.
Fancy eating buffet ranch barbecue under the stars? This is the place where it happens. They were not kidding when they labeled the activity a fiesta from chicken to steak and even vegetables.
Enjoy some sangria, wine, or beer with your food as you dine in a rustic-style setting. The swimming pool is right beside the dinner venue for your enjoyment.
One of the tours paired with the barbecue feast is sunset horseback riding and has proven to be popular with visitors. Other options may include canopy zip-lining, surfing, and ATV touring.
Tamarindo Travel Information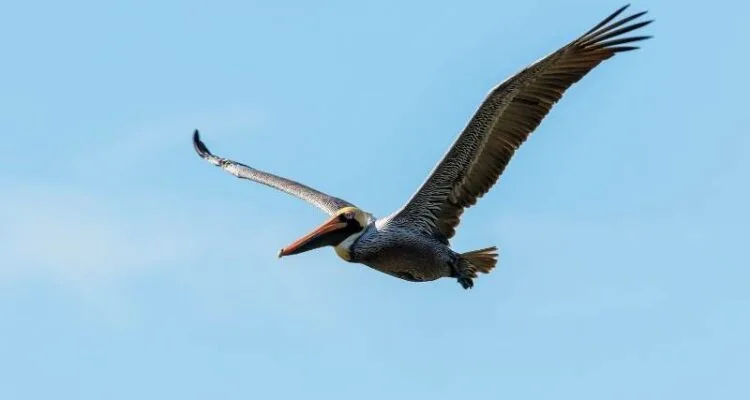 The climate in Tamarindo: Tamarindo enjoys a tropical climate. It is the dry season from November to April. The green season is from May to October.
Temperatures in Tamarindo: The average temperature in Tamarindo is 28 degrees Centigrade. A high temperature is pegged at 33 degrees Centigrade, while a low temperature is at 23 degrees Centigrade.
What to bring to Tamarindo: Tamarindo is warm most days, so packing all your summer clothes with you is actually a good idea. Just bring some rain reinforcements in case it falls. Don't forget to pack with you some sunscreen with high SPF, a dry bag, insect repellent, a waterproof camera, and closed trekking shoes.
More Costa Rica Destinations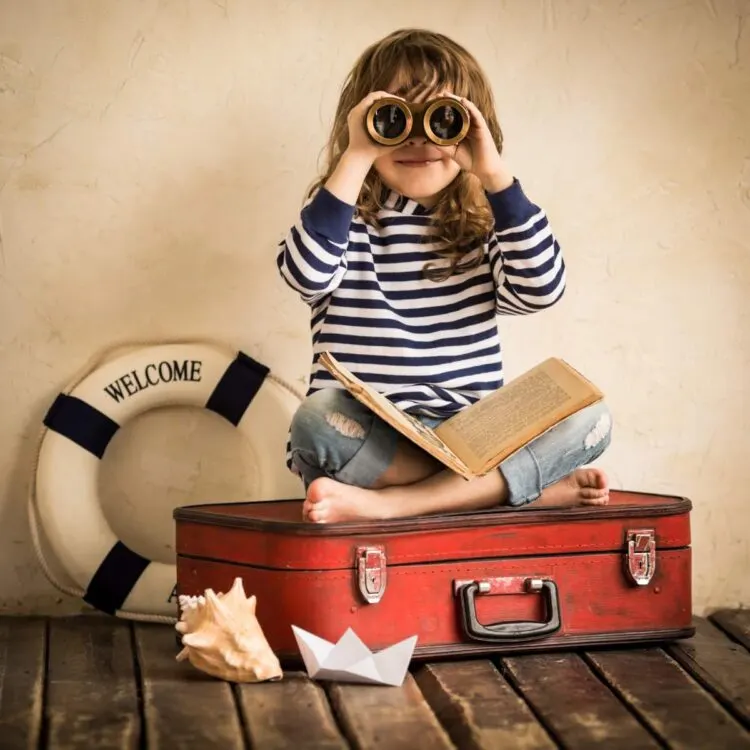 Protect your trip: With all our travel experience, we highly recommend you hit the road with travel insurance. SafetyWing offers flexible & reliable Digital Nomads Travel Medical Insurance at just a third of the price of similar competitor plans.