Puerto Viejo is a paradise for surfers and beach lovers. But aside from surfing, there are plenty of other exciting things to do in Puerto Viejo, Costa Rica.
Don't let the laid-back vibe fool you once you set foot in this place. Puerto Viejo de Talamanca in Limon Province is most known for its surf breaks, coral reefs, and thick rainforests.
It sounds to me like it's one of the best places in Costa Rica to enjoy nature and nature-related activities such as surfing, snorkeling, and trekking. It also has its share of the best wildlife reserves, national parks, and protected coasts, which are the main characteristics of a Costa Rican town or city, if you ask me.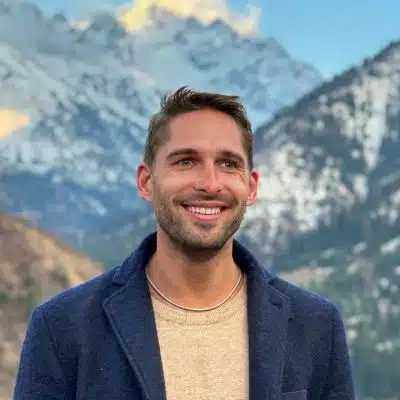 The Caribbean coast, though, can prove to be tricky. With nature giving as much rain as it can to this side of the country, the coast of Puerto Viejo primarily dictates the flow of tourism in the area.
One trick you must keep in mind when thinking things through is that when the Pacific side of Costa Rica is under unfavorable weather, it is time to head to the Caribbean.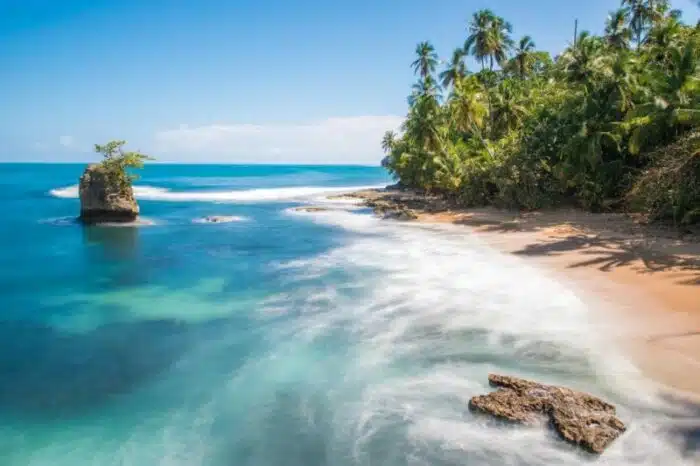 Because there are more rainy days than sunny ones, February, March, September, and October are your best bets for going to Puerto Viejo.
Although there will still be a chance of rain showers, these months have proven to be the friendliest months when it comes to tours and activities.
Despite the rains, the whole country of Costa Rica, including Limon, enjoys a warm and even atmosphere throughout the year. This fact makes exploring the provincial towns comfortable and worth looking forward to.
Read here: How to travel from San Jose to Puerto Viejo.
Best places to visit in Puerto Viejo
Check out the following list with the 10 best things to do in Puerto Viejo.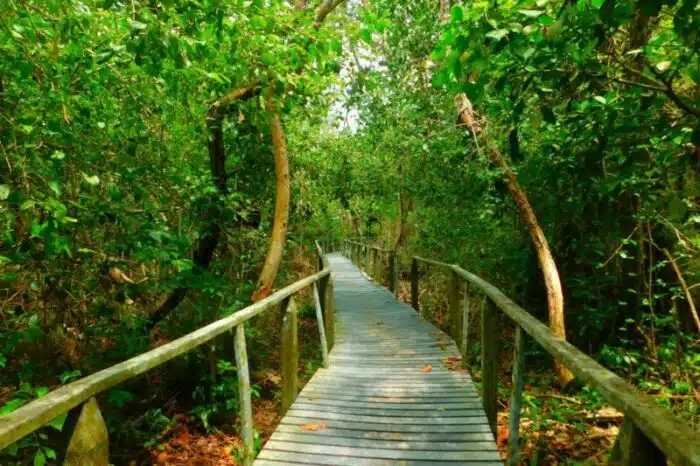 1. Visit Cahuita National Park
Cahuita National Park is only a short bus or taxi ride away from Puerto Viejo, Costa Rica. Trekking through the national park is an exciting adventure to experience!
The verdant jungle vegetation with tall palm trees attracts hikers from around the world.
Not only that – you will also get to see the stunning Caribbean, and you can swim while the iguanas and white-faced monkeys are dancing in the background. You can snorkel in the ocean. The impressive rainbow school of fishes and sharks, as well as reefs, is a sight to see.
Limon Province is fortunate to have the Cahuita National Park within its bounds. Right now, no entrance fee is being charged to visitors, although donations are highly encouraged.
From February to April, people coming to Costa Rica make it a point to visit the Cahuita National Park as this is the perfect time to go snorkeling in the Caribbean. The protected waters – all 22,000 hectares of it – are yours to explore.
Read also: BEST TIME TO VISIT COSTA RICA
For those who prefer to stay inland, the park will not disappoint. It has 11,000 hectares of rainforest filled with diverse flora and fauna – as all National Parks in Costa Rica are.
There is one particular spot you must see: the 18th-century shipwreck. Hike your way to the River Peresozo and let your inner child run wild.
2. Take Surf Lessons in Puerto Viejo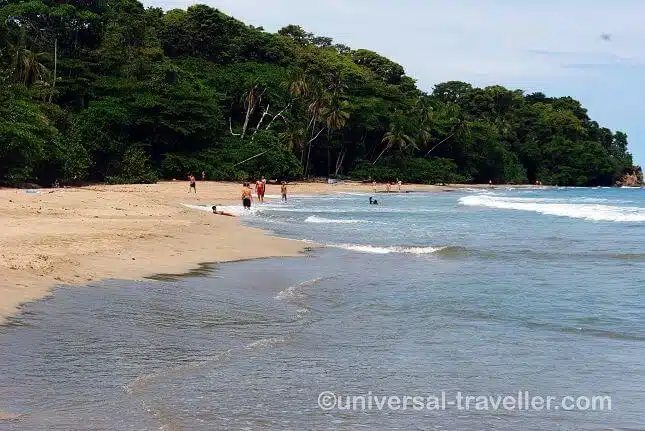 The renowned Salsa Brava is all you need to experience if you are fond of catching waves. In fact, Puerto Viejo attracts surfers because of this remarkable wave.
Whether you are a beginner or a professional surfer from wherever part of the world, this is the ultimate surfing paradise you will ever need, especially from December until March.
Surfing in Playa Cocles is a must, especially if you are keen to learn the sport. However, the Beachbreak is a bit short and can be hard to ride if you are a beginner.
When the weather is more permissible, both beginners and advanced surfers can enjoy the big waves that Playa Cocles is most known for.
You can see many surf shops offering surfing lessons along Cocles Beach at any point of the year. Aside from longboards and shortboards, there are also boogie boards that you can rent to have some fun in the waters.
Other Puerto Viejo beaches where you can go surfing include Playa Chiquita, Playa Negra and Punta Uva. If wave conditions are better in these areas, you can ask your guide to take you to these places instead. Most of the time, surf schools offer transportation to these popular surfing spots.
3. Join a Chocolate Tour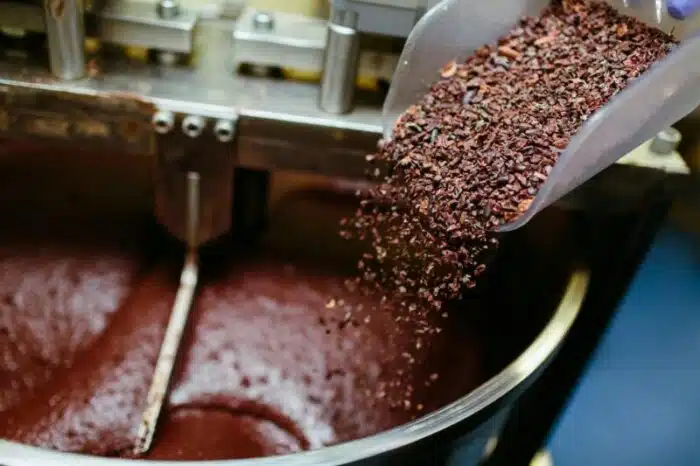 Have you ever wondered how your favorite chocolate bars came to be? You can see the lengthy yet satisfying process of chocolate-making right in Puerto Viejo.
Visit a cacao forest and see how chocolate is made, starting from the cacao beans until the production of chocolate. Artisan farmers will guide you through the whole process and enlighten you with the different steps to make good local chocolate.
Many of the plantations in Puerto Viejo still use traditional planting methods and making products out of cacao.
The beans are fermented in wooden boxes, which will then be transported to flat trays. The beans will be let out to dry under the sun before being roasted to perfection.
Of course, this chocolate tour is not complete without a proper tasting. Be ready to sample some of the best cacao products in the world – many of which you can purchase and bring back home.
In keeping up with an adventurous spirit, sample chocolate drinks partnered with the different Caribbean and world spices.
4. Rent a bicycle in Puerto Viejo Costa Rica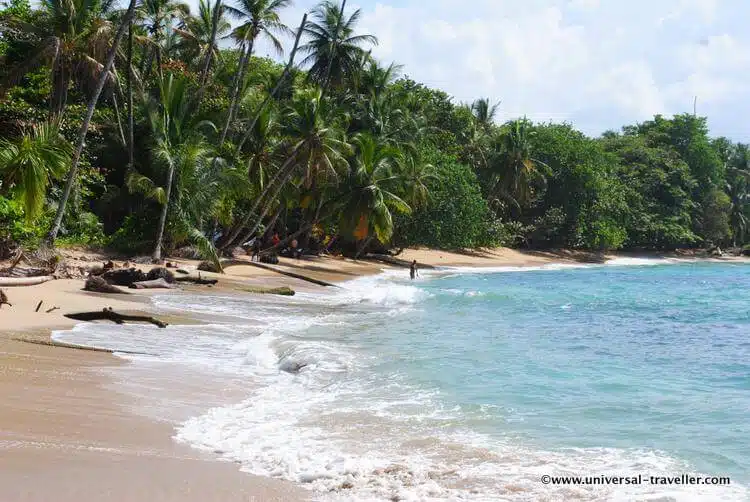 Why would you want to rent a bicycle, you ask? It's because there are wonderful places on this side of Limon that are best explored by bike. Take Manzanillo, for example.
The road from Puerto Viejo to Manzanillo is magical as it is scenic. From your seat, your ears are treated to the reggae music coming from one shop to another. Trees keep you company, and an occasional animal sighting keeps you entertained.
For 13 kilometers, you get to enjoy the rush of the waves at sea, worthy food stops, and curious locals asking where you are off to. Playa Cocles lurks nearby, enticing you to jump on a board and swim the tides. In a matter of minutes, Playa Chiquita and Punta Uva are within reach.
Take a rehydration break and spot local vendors selling fresh sugarcane juice. Then, prepare to paddle through the hills until you arrive at the picturesque fishing village of Manzanillo. Immerse in the nice views from the area before heading back to town.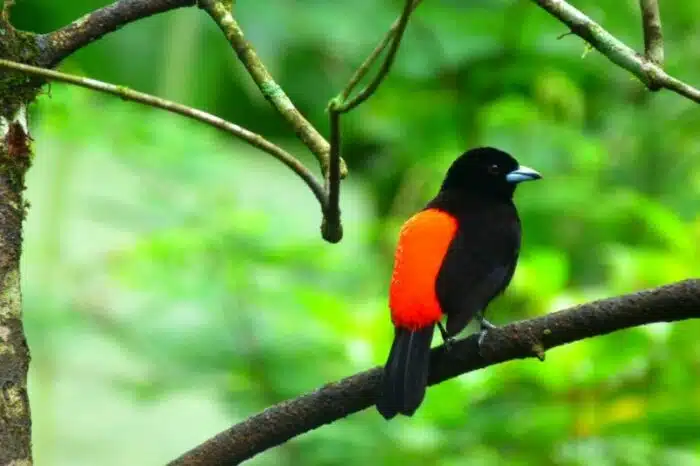 5. Go Birdwatching
Puerto Viejo de Talamanca is known to have surroundings that are conducive to birdwatching. Over 500 bird species, both migratory and resident, can be found in the area.
Whether you are an avid birdwatcher or your first time doing so, there are many viewpoints around where you can do this ultimate Puerto Viejo activity.
Some of the many species waiting to be discovered by you are the northern boat-billed herons, rufous kingfishers, and Swainson toucans. Start your tour early and get to see birds that can only be spotted in the morning.
The key to enjoying birdwatching in any part of Costa Rica is to hire a naturalist guide. This way, you are sure to have ample knowledge of the beauties you're looking at, giving you more opportunities to appreciate nature and diversity.
6. Join a Rio Pacuare White Water Rafting Tour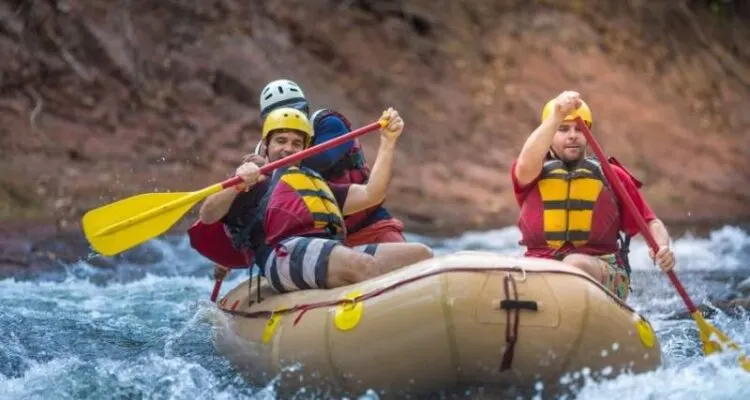 Rio Pacuare is a 180-kilometer long river that is highly regarded as one of the best spots in the world to go White Water Rafting. During your trip to Puerto Viejo, Costa Rica, be sure to book a rafting tour of this Caribbean river.
Rio Pacuare has class III and IV rapids – definitely not for the faint-hearted, but tame enough to be tried for the first time.
Imagine conquering the currents amidst green foliage, with monkeys and toucans as your audience. This Puerto Viejo experience is both crazy and exhilarating. Don't worry about the safety of the activity as your tour guides are trained well to handle groups of visitors.
Before you can even compose yourself, one rapid after another engulfs the best in you. Ensure your endurance and willpower are in check that day because you will definitely need them in white water rafting along Rio Pacuare.
Rest your bones for a minute and enjoy the stunning waterfalls awaiting you on the other side of the river.
However, don't let your guard down as rapids shall continue to try and bring you out of the boat – which will happen, in reality. Enjoy the moment, even when you tumble down a dozen times.
7. Experience local nightlife and bar hopping
When all the adventure tours come to an end, your adrenaline-high body will naturally find a way to keep the fun going when the night falls. Good thing Puerto Viejo is teeming with spots you can check out for an evening of clean, fun, and social gathering.
You can go bar hopping and visit some dance clubs and reggae bars in the city at night. There are lots of exciting things to do once the sun is fully down.
The friendly locals and party-goers can even make your night more adventurous. Some of the places you can visit include Mango Sunset, Johnny's Place, and Koki Beach.
When all the adventure tours come to an end, your adrenaline-high body will naturally find a way to keep the fun going when the night falls.
Good thing Puerto Viejo is teeming with spots you can check out for an evening of clean, fun, and social gathering.
If you like live music partnered with your choice of cocktail, head over to Mango Sunset. Formerly known as the Sunset Bar, this casual place is the type of hangout where you can come as you are. Its frequently held Ladies Night is quite known to be very generous in serving complimentary drinks to the lasses.
Johnny's Place, on the other hand, was once an institution in the clubbing scene. However, when it reopened after it closed down in 2015, a different Johnny's Place emerged. It is now more a restaurant than a club, yet still with cocktails and other bar drinks being served.
Lastly, there's Koki Beach. Should you prefer a high-end hideaway, this place is for you. Go early and witness the sunset from the bar's terrace. Stay for a while, have dinner and enjoy the perfectly curated menu featuring local and organic produce.
8. Watch the sea turtles at Manzanillo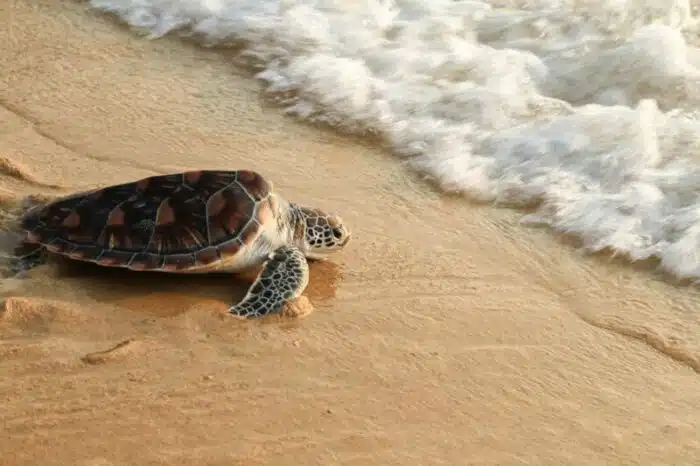 The Gandoca-Manzanillo Wildlife Park consists of a 10-kilometer beach, a 740-acre forest, two swamps, and a coral reef.
It rains a lot on this side of Costa Rica. This particularly makes the place thrive, as evident in the diverse wildlife living in the area.
If you like a relatively drier climate, the best time to visit the Gandoca-Manzanillo Wildlife Park is between March and April and then between September and October.
The sea turtles are actually nesting in Manzanillo between March and May. However, you need to sign up or register first before you can watch the turtles lay their eggs by night.
You will be grouped in small clusters to avoid disturbing the little creatures. The sea turtles mustn't see you roaming around, so they won't hide in their shells.
If you really love turtles, you are welcome to join the team as a volunteer to help protect the turtles.
9. Buy local produce at the Farmer's Market in Puerto Viejo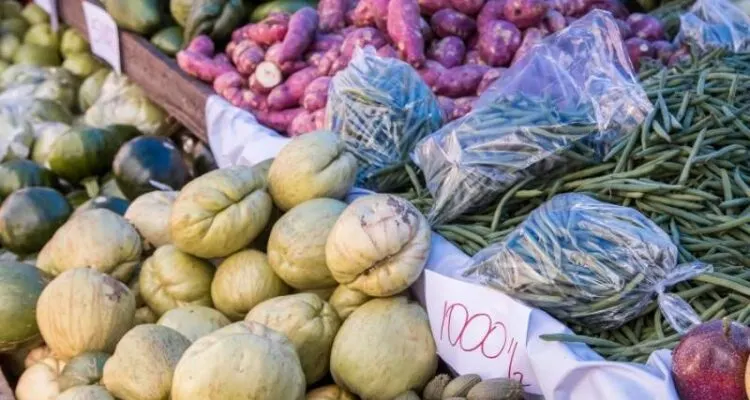 Whether you are a resident or a tourist in the area, the weekly Farmer's and Artisans Market must be part of your list of places to visit in Puerto Viejo.
Every Saturday, the market is filled with fresh products such as local vegetables, fruits, and other organic ingredients used by the local restaurants in the city.
In addition, you will also get to taste some world-class culinary talents like handmade pastries, Italian bread, Greek yogurt, chocolate, and many others.
The mouth-watering food choices are an unforgettable feature that Puerto Viejo offers to local and foreign tourists.
It is best to arrive before 9:00 AM as goods get sold ever so quickly. Each stall celebrates the bountiful agriculture that Costa Rica has. You might see one or two uncommon vegetables that, in this town, staple finds.
Don't just end with a bagful of goods. Interact with the locals and get to know the people that make up the Farmer's Market.
Be mindful of the efforts of the place to go plastic-less and bring your reusable shopping bag.
10. Horseback Riding at Puerto Viejo Costa Rica Beach
One of the most interesting parts of staying in Puerto Viejo is riding horses on the pristine beaches.
And not only that, but you will also encounter other amazing creatures like foals, calves, and Indian cows that make the surrounding more exploratory and fascinating. Ride between trees or even gallop along beaches.
To ensure that you will have a great horseback riding experience in Puerto Viejo, talk to your local guide about your riding ability. This way, the guide can choose a horse that best suits your skills.
Playa Cocles is one of the most popular beaches to go horseback riding. You have a stunning view of the Caribbean coast on one side and lush green palm trees on the other. Surfing is big on this side of town, so expect a huge crowd from January to March.
For this activity, be sure to wear long pants, boots, and a hat for your utmost comfort. Put on a generous dose of sunscreen with high SPF together with an insect repellent spray or cream.
11. Snorkeling in Puerto Viejo de Talamanca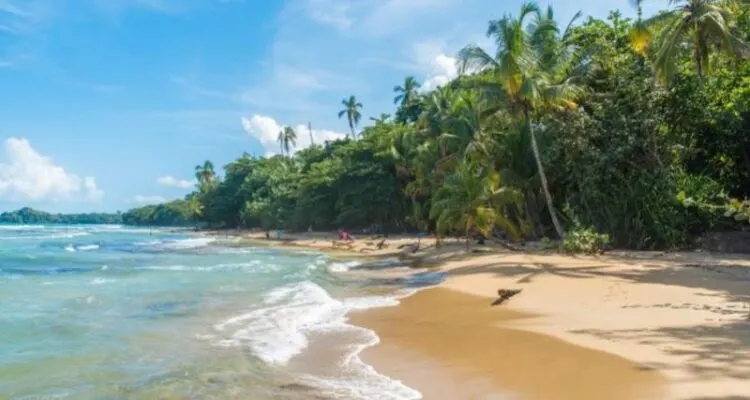 One of the ultimate things to do in Puerto Viejo is snorkeling. The Caribbean coast you enjoy in this part of Costa Rica is teeming with a rich marine ecosystem hiding underneath the turquoise blue waters.
The south side of Puerto Viejo is a great place to go snorkeling. By exploring the beaches in this area, you will see protected coral reefs to preserve the beautiful marine life in the area.
The black-sand Playa Negra pretty much amazes the tourists due to its unique look. The beach is covered with black sand produced by the volcanic rocks on the island, and the beachfront is decent to snorkel.
However, the beauty of Playa Negra doesn't end on its shores and its nearby waters. Go on a scuba diving expedition to see wahoo, marlin, and tuna swimming in the deep waters.
If you want white sands, you can check out Playa Cocles for some great relaxation. Snorkeling, though, is the biggest in and outside Cahuita. Many coral reef species and millions of fish call this portion their home.
To access this coastline, guided tours are required, and an entrance to Cahuita National Park is the only way for your snorkel tour to commence.
12. Taste local food and drinks in Puerto Viejo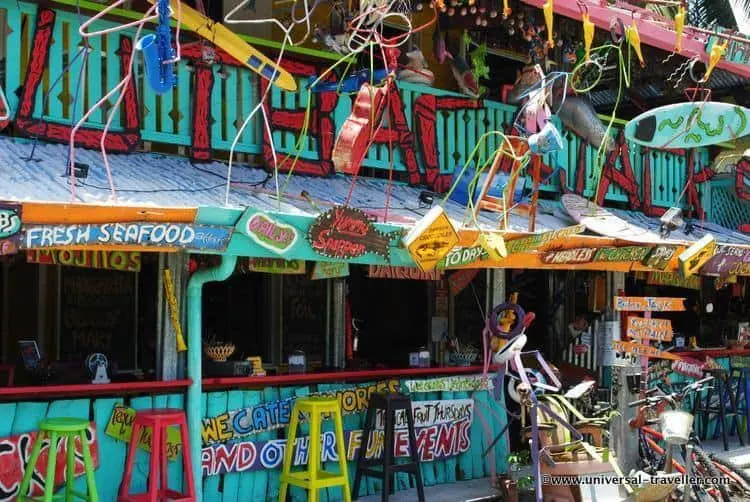 The best dishes served in Puerto Viejo are commonly prepared with coconut milk, ginger, and vinegar. Be prepared to experience Costa Rican cooking once you step into the city.
Don't worry because you will also get to taste the delicious Caribbean-style fare with plenty of options to choose from. The rich flavors that are also common to other international cuisine are a must-try in town.
Be sure to visit Stashu's ConFusion. Formerly known as El Loco Natural, this restaurant is one of the longest-running food establishments in Puerto Viejo.
It is a successful mix of Caribbean, Mediterranean, and Asian cuisine. Despite the many influences evident on the menu, it is still one of the places you ought to visit for a lovely Costa Rican meal in Puerto Viejo.
For a comforting Caribbean plate, try La Nena at Cocles. The food in this place is highly regarded by guests as truly authentic and proudly Costa Rican. Fresh seafood is regularly part of the specials.
Ceviche, Mahi Mahi with fruit salsa, Caribbean chicken with rice and beans… The list of things you must try might include everything on their menu.
13. Visit the Animal Sanctuary in Puerto Viejo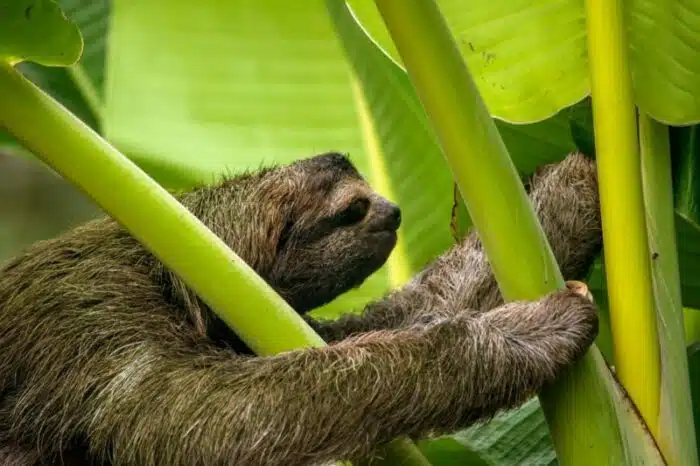 Located downtown of Puerto Viejo, the Jaguar Rescue Center offers an opportunity for tourists to interact with rescued pizotes, howler monkeys, snakes, sloths, foals, and other wildlife creatures.
The Jaguar Rescue Center opened in 2008. Since then, they have rescued at least 700 animals who need special care and assistance. Once they are strong enough to go back to their natural habitat, they are released into the wild.
By joining a tour at the center, you are helping the volunteers feed and protect the animals.
If you prefer Aviarios, a sloth sanctuary, you can reach it within 40 minutes from the city. In the sanctuary, you will witness baby sloths that are really charming. They are rehabilitated to strengthen them before they are released into their natural habitat.
The sanctuary has been taking care of sloths specifically since 1992. If you would like to know what goes into caring for and protecting these animals, you can take the Buttercup tour.
This will allow you to have an introductory lesson about what sloths are before you ride a canoe to see the creatures out in the wild. Along the Estrella River, there is a thriving habitat for these sloths.
14. Shop around Puerto Viejo de Talamanca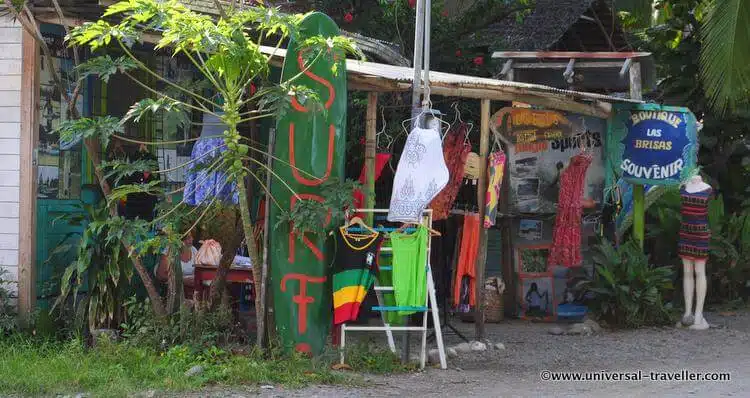 For those who want to bring some souvenirs home, the city has local boutiques and souvenir shops to choose from. You can also find a local jewelry shop with items made by world-class artists in town.
The handmade seeds and shells are unique gifts to give to your loved ones back home. You can also buy other crafts and custom clothing for very affordable prices.
The Organic Market every Saturday is one of the best places to shop for trinkets to bring home. The nicest local chocolates can be bought here. Make sure to come early with your eco-friendly shopping bags in tow as products get sold quite fast.
Lulu Berlu is another shopping destination in Puerto Viejo. If you are looking at buying local art in the form of paintings, jewelry, household items, beautiful garments, and decorative pieces, head to Lulu Berlu.
You can also visit the stands that pop up along the beach when night falls. Here, you can score handmade goods and unique finds.
15. Travel from Puerto Viejo to Bocas del Toro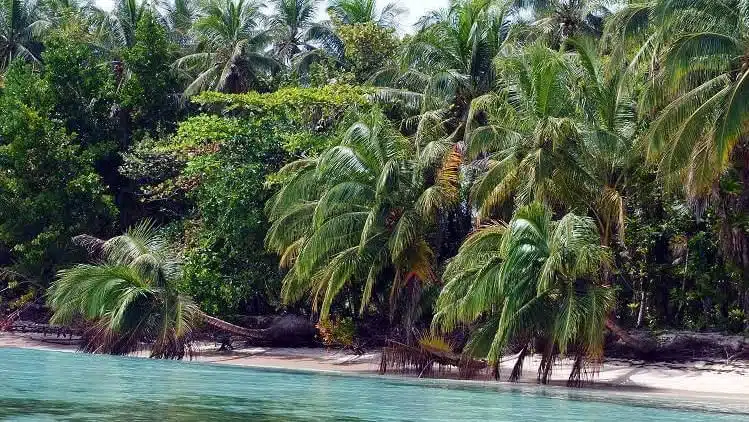 Traveling to Panama from Costa Rica is entirely doable. Bocas del Toro is just one bus and boat ride away.
Read on as I help you how to get from Puerto Viejo to Bocas del Toro.
Puerto Viejo Travel Information
The climate in Puerto Viejo: The city has a tropical climate. Rain may fall any month of the year. July experiences most rains, while September proves to be the driest month.
Temperatures in Puerto Viejo: The highest average temperature is 28.9 degrees Centigrade, while the lowest average temperature is 21 degrees Centigrade. The warmest month is August, while the coolest month is January.
What to bring to Puerto Viejo: Be ready with your snorkeling and scuba diving gear if you don't plan on renting. Have a nice underwater action camera to document your trip.
Most importantly, bring sunscreen with high SPF, a dry bag for your things, rain gear, insect repellent, and comfortable closed hiking shoes. If you plan to go horseback riding, it is nice to bring a pair of boots for your own comfort.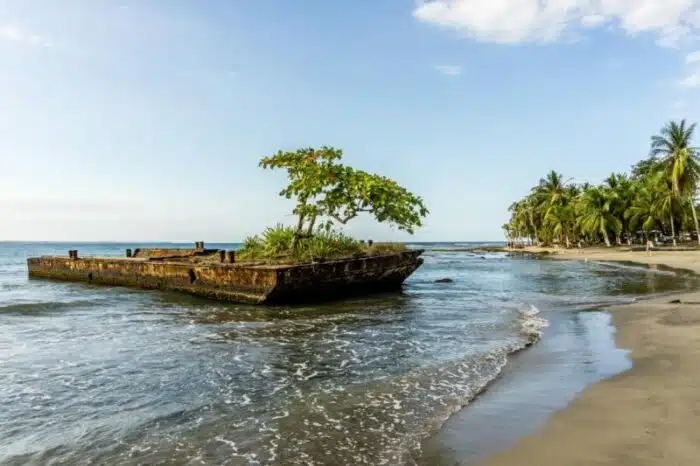 More Costa Rica Destinations
About the Author
More info
Best VPN for Travel: ExpressVPN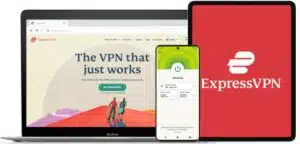 Heading abroad? Use ExpressVPN to access your social media accounts, unblock your favorite entertainment sites, and stay connected with friends and family. And get cheaper flights, of course.
Pros
✅ Next-gen, high-speed servers in 94 countries
✅ Works on iOS, Android, Windows, Mac, Linux, browsers, and more
✅ 256-bit AES encryption protects your data, even on hotel Wi-Fi
✅ Unblocks Netflix and other streaming sites
Cons
❎ No dedicated IPs
Get 3 extra months free of ExpressVPN when signing up for a 1-year plan. That's a 49% saving and a monthly cost of just $6.67! You also get a 30-day money-back guarantee.