Monteverde is one of the most popular tourist destinations in Costa Rica and a heaven for all adventure travellers.
Check out this video about Costa Rica:
Monteverde Cloud Forest is only 140 kilometers away from San Jose. Read here how to get from San Jose Costa Rica to Monteverde Cloud Forest.
1. Zip Lining in Monteverde Costa Rica
I highly recommend the Canopy Tour with 100% Aventura Adventure Park.
I have done many tours before but this one was simply awesome because you are flying hundreds of meters above the trees. They have two superman zip lines where you fly headfirst and the longest zip line in Latin America.
It has a length of 1.590 meters including an incredible and unique view on the landscape.
Make sure you don't skip the Mega Tarzan Swing at the end of the tour.
It is similar to a 40 meters Bungee Jump and a great final of a tour full of adrenaline.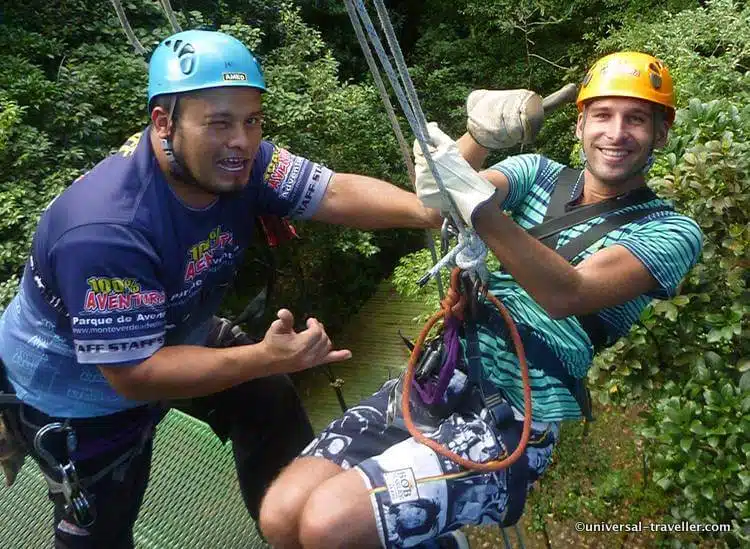 Related Posts:
2. Sky Walk – Hanging Bridges
Do you want to see the Monteverde Cloud Forest from an aerial view?
Then you should do the Sky Walk with Sky Trek, one of the top attractions in Costa Rica.
It is a trail with 6 suspension bridges that offer a different perspective of the national park. The trail has a distance of 2.5 kilometres and is mostly flat.
You can either walk it by yourself or book one of the Monteverde Cloud Forest Tours with experienced guides who will teach you a lot about the native plants and animal species.
Don't forget your binocular to spot some amazing birds.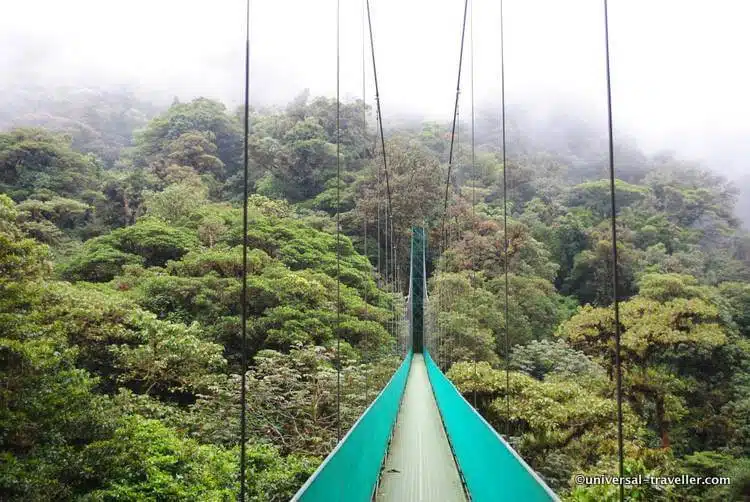 3. Night Walk Monteverde
You should definitely not miss the night walk at Monteverde.
There are tours starting around 5.30PM and 8.30PM. I recommend the second tour as you will most probably see more animals.
I saw a Sloth carrying a baby, tarantulas, 2 toucans, opossums, frogs and two Parrot viper snakes.
It was an amazing experience to be so close to the nature. The only negative point is that the groups are with 9 people in my opinion quite big for this kind of activity.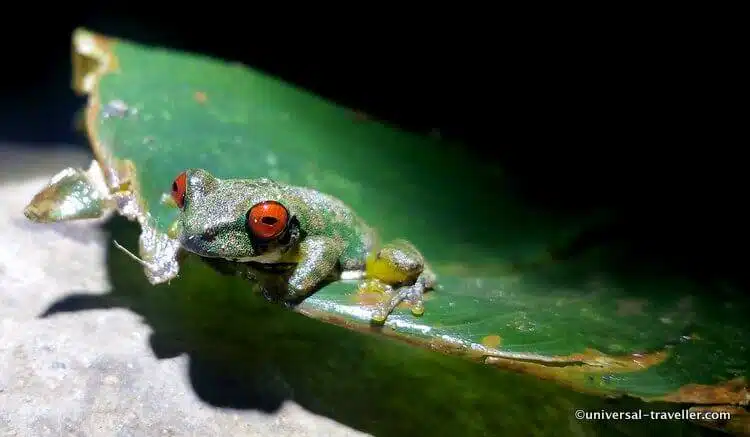 4. Monteverde Cloud Forest Reserve
The Monteverde Cloud Forest Reserve is without doubt the main attraction in Monteverde and one of the Costa Rica points of interest.
It is home to more than 400 species of birds, thousand of species of plants and insects, big jungle cats and the world's largest orchid collection.
5. Bungee Jumping
Are you looking for adrenaline pur?
Then go for the Bungee Jump at Monteverde Extremo Park. It is with 143 meters the highest in whole Central America.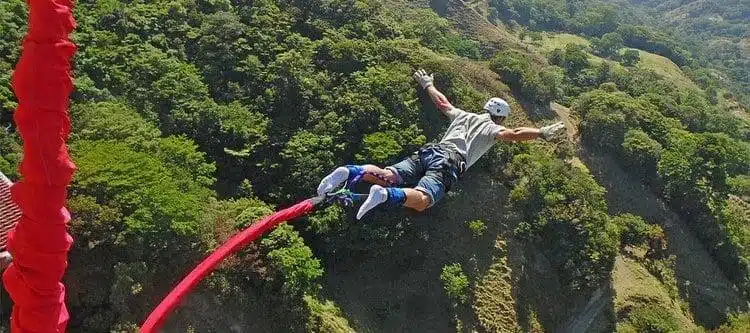 6. Horse Trek Monteverde
Taking a horseback riding tour in Monteverde is another exhilarating adventure to experience.
Explore the lush, mountainous side of the area while riding a horse. In fact, it's the most comfortable way to circulate the region for local and foreign tourists.
Click here for tour prices and/ or to make a booking.
7. Coffee and Chocolate Tour
Learn the full process of making coffee, from the bush to the bean into your cup.
You will also get an insight into the traditional cocoa process and get the chance to test products made of sugarcane and cacao and to enjoy a fresh cup of coffee at the end of the tour.
8. Canyoning Tour
Another adventurous activity in Monteverde is Canyoning.
You can rappel down 40 meters high waterfalls equipped with special equipment.
But we warned … you are in the mountains, so it gonna be very cold.
Click here for tour prices and/ or to make a booking.
9. Monteverde Serpentarium
At the Monteverde Serpentarium you can see more than 40 species including snakes, frogs lizards and turtles.
10. Visit the Butterfly Garden Monteverde
If you happen to be in Santa Elena or Cloud Forest, you can visit the Butterfly Garden in Monteverde.
There are 4 individual butterfly gardens you can explore plus other interesting sites like the leaf-cutter ant colony and the healing plant garden.
My hotel recommendation for Monteverde, Costa Rica
I recommend you staying at the "El Establo Hotel".
It is a sustainable, family owned lodge in the cloud forest of Monteverde with great views on the nature. The hotel offers has a gym, tennis and basketball courts as well as a spa with heated indoor pool.
The Monteverde Cloud Forest Reserve is only 4 kilometres away.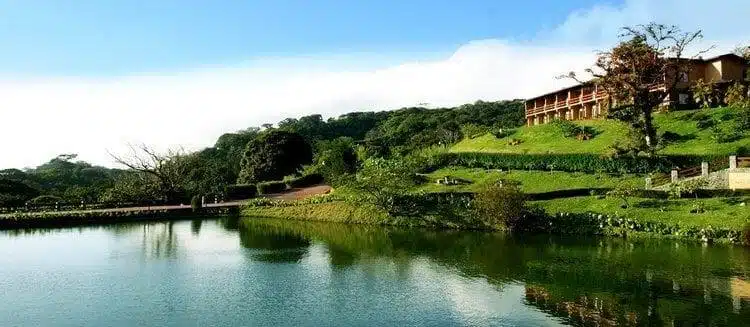 For more photos, information and prices check booking.com or agoda
This article is now available as a mobile app. Go to GPSmyCity to download the app for GPS-assisted travel directions to the attractions featured in this article.
Are you on Pinterest? Pin this!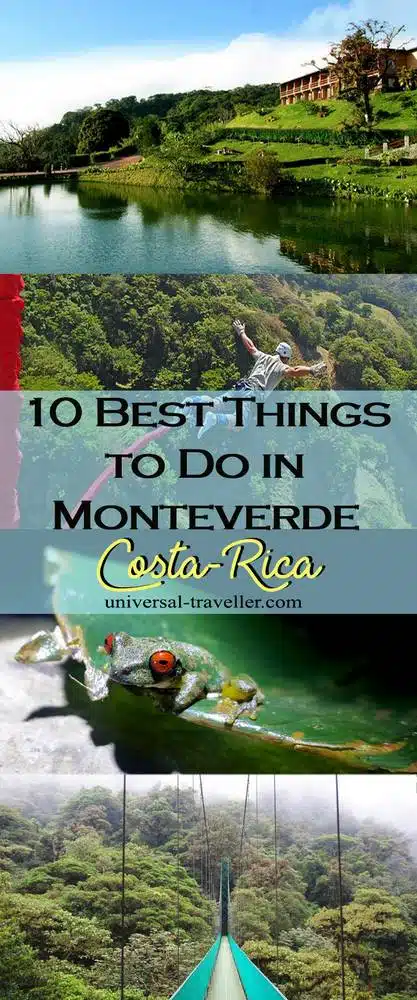 Disclaimer: I was invited by 100% Aventura and Sky Adventures. My opinions, as always, are solely my own.