Are you looking for the top things to do in Monteverde, Costa Rica? If if you are wondering what to do in Monteverde – keep reading.
In Puntarenas, the region of Monteverde has been an advocate of responsible ecotourism since the beginning.
Because of its efforts to set a good example for showcasing nature while taking good care of it, National Geographic dubbed the place as "the jewel in the crown of cloud forest reserves."
Monteverde offers so much to the nature lover. There are cloud forests that act as rich habitats for different kinds of wildlife.
Artificial developments help visitors enjoy the jungles of Monteverde even more.
Within the tropics, you'll find several hanging bridges, rappelling platforms, canopy cables, and even bungee jumping areas that seek to make every Monteverde experience thrilling and rewarding at the same time.
With all these developments, there are truly several things to do in Monteverde, Costa Rica.
Even if you are not into extreme sports and heart-pumping activities, some fun things to do in Monteverde only require that you enjoy yourself within the confines of your comfort zone.
These include visiting gardens, tasting exquisite coffee, and going to a chocolate plantation. Read on to know more.
1. Zip Lining in Monteverde Costa Rica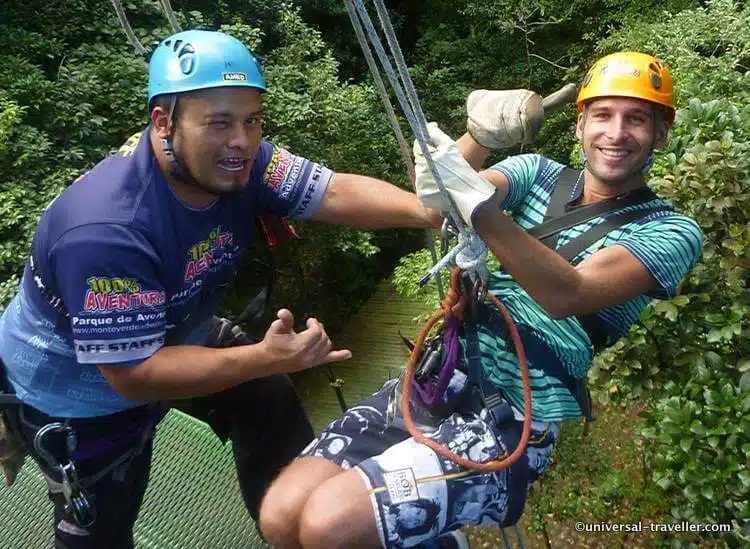 I highly recommend the Canopy Tour with 100% Aventura Adventure Park.
I have done many tours before, but this one was simply awesome because you are flying hundreds of meters above the trees. They have two superman zip lines where you fly headfirst and the longest zip line in Latin America.
It has a length of 1.590 meters, including an incredible and unique view of the landscape.
Make sure you don't skip the Mega Tarzan Swing at the end of the tour.
It is similar to a 40 meters Bungee Jump and a great final of a tour full of adrenaline.
2. Sky Walk – Hanging Bridges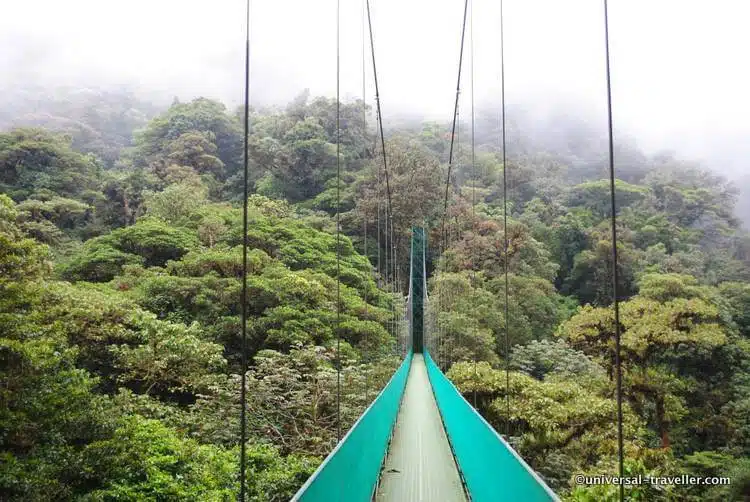 Do you want to see the Monteverde Cloud Forest from an aerial view?
Then you should do the Sky Walk with Sky Trek, one of the top attractions in Costa Rica.
It is a trail with 6 suspension bridges that offer a different perspective of the national park. The trail has a distance of 2.5 kilometers and is mostly flat.
You can either walk it by yourself or book one of the Monteverde Cloud Forest Tours with experienced guides who will teach you a lot about the native plants and animal species.
Don't forget your binoculars to spot some amazing birds.
3. Night Walk Monteverde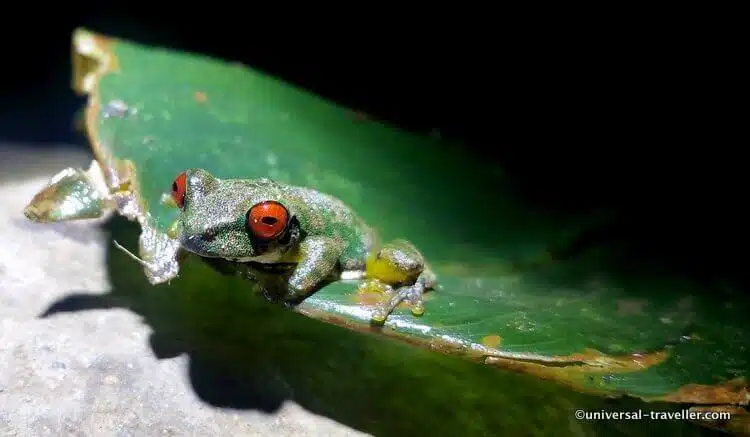 Fancy seeing Monteverde after the sun goes down?
Go on a night walk at Monteverde and see the lush environment in a different light.
This activity remains to be in the top 10 things to do in Monteverde, Costa Rica, because of the diverse flora and fauna that you can see and appreciate better during nighttime.
During my personal experience of the night walking in Monteverde's cloud forest, I was greeted by the heartwarming view of a sloth carrying its baby. I also saw tarantulas, toucans, opossums, frogs, and even parrot viper snakes.
It was an amazing experience to be one with nature and the rich wildlife that make up Monteverde Costa Rica.
If I can choose, I would join a small group of tourists – probably with five participants or less – to appreciate the night walk better. A group of nine seems too big for an activity such as this.
4. Monteverde Cloud Forest Reserve
There are many Monteverde cloud forest activities you can do during your visit to the place. One of them is birdwatching.
The forest of Monteverde is home to about 400 bird species that can be easily identified with the help of an experienced tour guide.
If you can see a resplendent quetzal in its natural habitat, you are considered as fortunate.
Come early in the morning to have the best feel of the jungle. Before the red hanging bridges get crowded, arrive at the spot and see the thick canopy enveloping the forest.
The long loop that starts at Sendero Bosque Nuboso and then passes through Sendero Pantanoso and Sendero El Rio is my recommended trail to take.
Wildlife spotting is also on my list of Monteverde cloud forest things to do. Over 100 species of mammals and more than 1,000 reptiles and amphibians live in the reserve. Some of the animals that can be found here are jaguars, ocelots, and pumas.
5. Bungee Jumping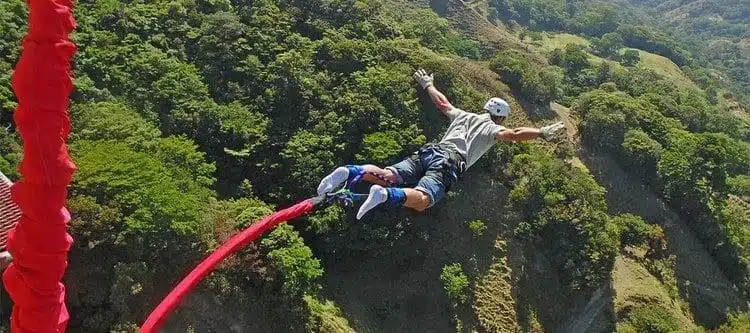 If you are looking for things to do in Monteverde Costa Rica that will keep your heart pumping, you should definitely try the Bungee Jump at Monteverde Extremo Park.
With a total length of 197 feet, this bungee is rated as the highest in Central America.
The word extreme might not suffice for this thrilling activity. Imagine climbing at the height of 470 feet before plunging into the beautiful rainforest views.
A tram will lift you above the canopy, place you in position and get you ready to leap in the open air.
The enchanting cloud forest at the Monteverde Extremo Park is reason enough for you to take on this challenge.
I must say that this is undeniably among the things to do in Monteverde that are not for the faint-hearted, and if you end up doing it, that's going to be one great story to tell.
6. Horse Trek Monteverde
Horseback riding might be the funniest way to explore the lush region of Monteverde.
The convenience of having a trusty horse to do the hard work for you as you take in the beauty of the surroundings might sound too rider-centered, but it is indeed enjoyable as it is efficient.
Take on a horseback riding tour in Monteverde and have an exhilarating adventure that will bring you through the outskirts of the Monteverde Cloud Forest area.
For two and a half hours, get to see past coffee farms, sugar plantations, and mountain views as your horse takes you to the nicest nature spots along Monteverde.
If your time is flexible, I suggest you take the horseback riding tour that runs just before the sunsets.
Experience seeing the golden hour happen across the Gulf of Nicoya as you glance with your horse from a distance.
Click here for tour prices and/ or to make a booking.
7. Coffee and Chocolate Tour Monteverde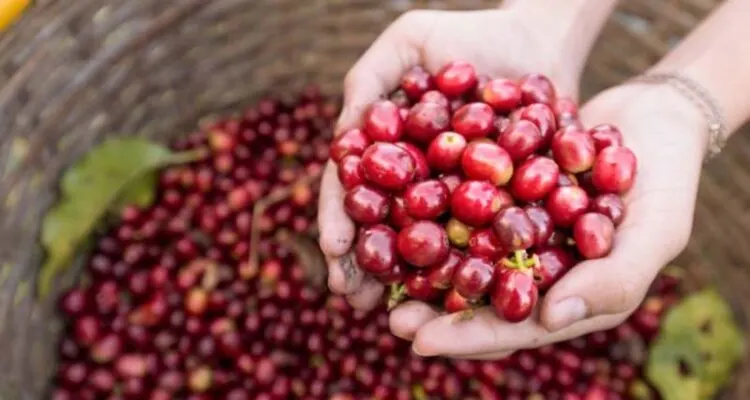 What is there to do in Monteverde, Costa Rica besides dangling in open air or zip-lining from one cable to the next?
If you are one of those who would want a more relaxed tour, I suggest that you go on a Coffee and Chocolate Tour.
Coffee has been synonymous with Costa Rica because of the rich coffee variety it produces from its grounds. Chocolate, too, has been a part of the local trade industry.
Indulging in a Coffee and Chocolate Tour will show you the side of the products you deeply love that not everyone gets to see. Start from seeing the plant and studying how it gets cultivated.
Listen as your experienced guide shows you how these beans are harvested and produced into the drinks and bars we heartily enjoy.
Of course, this tour is not complete without tasting the finished products that Monteverde is proud to call homemade.
8. Canyoning Tour Monteverde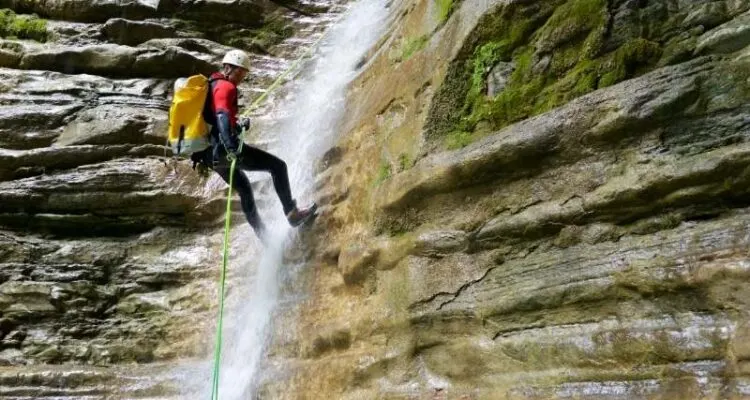 One of the best tours in Monteverde, Costa Rica, which you must do is Canyoning.
There is a great sense of thrill and excitement that comes with having to rappel down waterfalls, jump from cliffs and swim in pools, and Monteverde is the perfect place to do just that.
Your canyoning tour starts with your experienced guide giving you a briefing of what is about to happen.
All guidelines on safety shall be discussed, and all necessary equipment will be provided. Afterward, it is up to you to make the most out of this rewarding experience.
Get ready to conquer waterfalls that measure up to 40 meters. The waters and the forest area can get cold, so be sure to gear up appropriately.
Before your tour ends, feast on some local delicacies that are included in your experience.
Click here for tour prices and/ or to make a booking.
9. Monteverde Serpentarium
You are in Monteverde, Costa Rica, so I am guessing you are fond of nature and wildlife. Otherwise, you might be in total disconnect with your choice of destination!
While you are here, explore the Monteverde Serpentarium and get up close with reptiles and amphibians like never before.
A naturalist guide will be with you as you browse through more than 35 species that include snakes, reptiles, lizards, iguanas, and turtles.
Get to know why Costa Rica is filled with such wonderful creatures and what the country's efforts are in securing the future of its rich wildlife.
A visit to the Monteverde Serpentarium is one of the activities you can consider if you think of what to do in Monteverde with the whole family.
Visitors of any age will surely love learning more about reptiles and amphibians in a safe environment such as this.
10. Visit the Butterfly Garden Monteverde
If you are looking for things to do in Santa Elena, Costa Rica while you are there, you can head to Monteverde and visit the Butterfly Gardens.
The Monteverde Butterfly Gardens are four individual gardens that showcase insects and arachnids found in all of Costa Rica.
Butterflies alone have about 30 species living in these gardens. These lovely creatures, along with other insects and animals, call the Monteverde Butterfly Gardens their habitat.
Once you pay a visit to this place, a naturalist guide is there, ready to walk you through the whole property.
The owners, Bryna Belisle and David Makynen, share a passion for nature and educate people about the wonderful world of insects.
If you find yourself falling in love with the whole experience, you might want to consider volunteering for the Monteverde Butterfly Gardens for a few months, learning more about the whole environment, and then passing on the knowledge to future visitors.
11. Hummingbird Garden at Selvatura Park
Did you know that there are more than ten different hummingbird species that you can find at the Hummingbird Garden in Selvatura Park?
A visit to this nature reserve takes you on a journey to the colorful world of birds at Monteverde, Costa Rica.
The place is relaxing, the views perfect for a slow day with nature. Go on a Natural History Walk at Selvatura Park to visit this garden.
Aside from this activity, there are plenty of Monteverde Costa Rica activities that you can do right in Selvatura Park.
An All-Day Pack will not only bring you to the Hummingbird Garden – but it also gives you access to the canopy tour, treetop walkways, insect exhibition, butterfly garden, and the reptile and amphibian exhibition. Lunch is also included in this package.
When visiting Selvatura Park, be sure to bring your binoculars, wear comfortable clothes and get ready to appreciate nature even more.
12. Bat Jungle Tour
The Bat Jungle Tour is among the best tours in Monteverde, Costa Rica. This unique tour allows visitors to immerse themselves in the world of bats through an extensive exhibit that shows live bats in a simulated environment.
For 45 minutes, your tour guide will explain to you the life of a bat – how it feeds, lives with others, flies, etcetera.
One of the highlights of this tour is the use of an ultrasonic microphone for you to hear how bats communicate with each other.
The whole concept is the idea of a bat biologist named Dr. Richard K. Laval. He was, at first, fascinated with caves, and this passion led him to study more about bat life. He gained a Ph.D. in Wildlife Science.
Today, the Bat Jungle houses 95 bats roaming around in a 17-meter enclosure.
Have a better grasp on how these animals play a crucial role in controlling the insect population, aiding in seed dispersion, and contributing to flower pollination.
13. Hike Cerro Amigos
In a world of entrance fees and package deals, there is still such a thing as free hiking in Monteverde.
If you are an experienced mountain hiker, you might find the trail to Cerro Amigos to be far from challenging. Having said that, beginners and young ones are sure to enjoy hiking to the top, although careful navigation is key.
The views are breathtaking – and the sunset, in particular, is something to look forward to.
Monteverde Costa Rica Travel Information
The climate in Monteverde: Dry season in Monteverde starts in February and ends in April, with March being the driest. The wet season starts in May and ends in January. October receives the most rain showers.
Temperatures in Monteverde: The warmest month in Monteverde is April, with an average of 29 degrees Centigrade. January, June, until December are the coolest months at an average of 26 degrees Centigrade.
What to bring to Monteverde: Essential things to bring in Monteverde are a raincoat, closed hiking shoes, high SPF sunscreen, hat or umbrella, insect repellent, dry bag, binoculars for wildlife watching, waterproof action camera, and jacket because the cloud forest can get uncomfortably cold.
My hotel recommendation for Monteverde Costa Rica
I recommend you stay at the "El Establo Hotel."
It is a sustainable, family-owned lodge in the cloud forest of Monteverde with great views of nature.
The hotel offers a gym, tennis, and basketball courts, as well as a spa with a heated indoor pool.
The Monteverde Cloud Forest Reserve is only 4 kilometers away.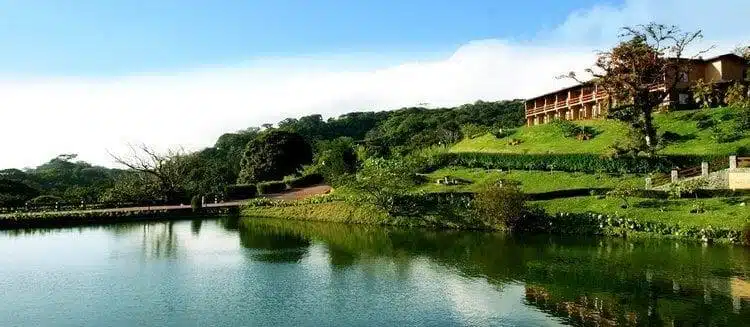 For more photos, information and prices, check booking.com or agoda
This article is now available as a mobile app. Go to GPSmyCity to download the app for GPS-assisted travel directions to the attractions featured in this article.
Disclaimer: I was invited by 100% Aventura and Sky Adventures. My opinions, as always, are solely my own.
More Costa Rica Destinations
Best VPN for Travel: ExpressVPN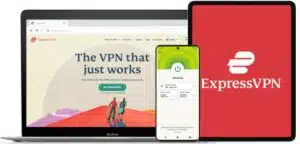 Heading abroad? Use ExpressVPN to access your social media accounts, unblock your favorite entertainment sites, and stay connected with friends and family. And get cheaper flights, of course.
Pros
✅ Next-gen, high-speed servers in 94 countries
✅ Works on iOS, Android, Windows, Mac, Linux, browsers, and more
✅ 256-bit AES encryption protects your data, even on hotel Wi-Fi
✅ Unblocks Netflix and other streaming sites
Cons
❎ No dedicated IPs
Get 3 extra months free of ExpressVPN when signing up for a 1-year plan. That's a 49% saving and a monthly cost of just $6.67! You also get a 30-day money-back guarantee.