The ultimate list of best things to do in La Fortuna, Costa Rica. Plan your trip to one of Costa Rica's most popular adventure travel destinations.
Costa Rica is an absolute paradise and offers many unique places to visit (check out our detailed Costa Rica travel guide).
One of these famous places is La Fortuna, with endless adventures and exciting places to check out.
Best VPN for Travel: ExpressVPN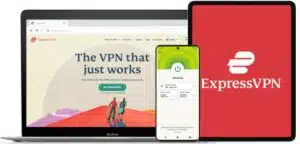 Heading abroad? Use ExpressVPN to access your social media accounts, unblock your favorite entertainment sites, and stay connected with friends and family. And get cheaper flights, of course.
Pros
✅ Next-gen, high-speed servers in 94 countries
✅ Works on iOS, Android, Windows, Mac, Linux, browsers, and more
✅ 256-bit AES encryption protects your data, even on hotel Wi-Fi
✅ Unblocks Netflix and other streaming sites
Cons
❎ No dedicated IPs
Get 3 extra months free of ExpressVPN when signing up for a 1-year plan. That's a 49% saving and a monthly cost of just $6.67! You also get a 30-day money-back guarantee.
La Fortuna is a safe and family-friendly travel destination. This town is famous for many thrilling activities open to kids as young as five.
Get inspired by all the best La Fortuna tour packages. Be ready to book that ultimate La Fortuna adventure in no time!
To help you plan your Arenal adventure, here is a list of the best things to do in La Fortuna, Costa Rica.
Where is La Fortuna, Costa Rica?
La Fortuna is a town in Costa Rica situated at the base of the Arenal Volcano. It belongs to the Alajuela province of Costa Rica.
It lies about 115 kilometers or 72 miles from San Jose and the Juan Santamaria International Airport (SJO.)
Best things to do in La Fortuna, Costa Rica
1. Pamper yourself in the natural Hot Springs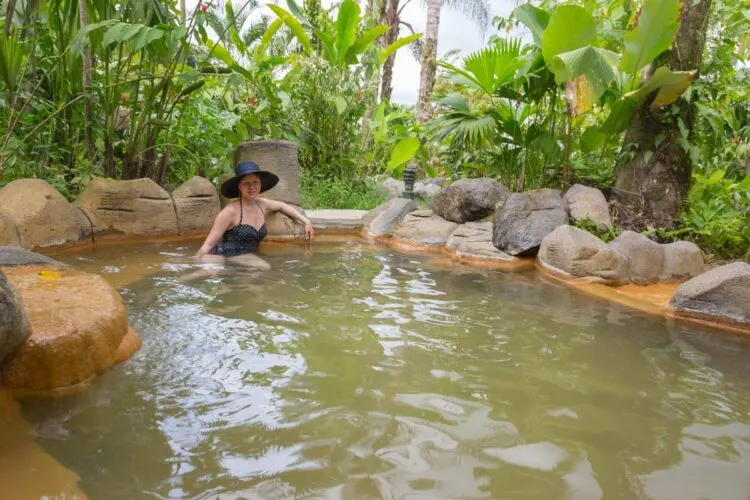 The hot springs in La Fortuna are one of the top destinations to visit in Costa Rica. Imagine relaxing in mineral-enriched thermal water as the jungle dominates your views.
Plenty of the best hotels in Arenal have hot springs within their properties, but nothing beats the natural waters that come directly from the forest river.
We have the Arenal Volcano eruption to thank for these naturally heated pools that regularly draw people to La Fortuna.
Tabacon Hot Springs is one of the most popular hot springs in the Arenal area. With temperatures ranging from 25 to 50 degrees Centigrade, you can enjoy safe, warm, relaxing baths in the spring's mineral waters.
View full blog post: The best hot springs in La Fortuna
Your Costa Rica dream vacation!
With our local tourism agency partner onboard, organizing a customized Costa Rica vacation has never been this hassle-free!
Share your travel dates, places of interest, and other details that would make your travel to Costa Rica simply memorable.
After filling out the form below, one of our Costa Rica experts will contact you. Tours, transport, other travel services – you name it, we'll arrange it!
2. Swim in the La Fortuna Waterfall
Tucked in the lush Costa Rican jungle is a 75-meter beauty that immensely helped La Fortuna on the map.
The La Fortuna Waterfall in Arenal is a natural local wonder found at the foot of the Cerro Chato Volcano, one of the two majestic volcanoes in the area.
The Tenorio River is the source of this waterfall, with its waters traveling through the rich rainforest before plunging into a pool of beautiful blue swimming grounds.
To get to the La Fortuna Waterfall, be ready to trek your way down through an easy trail complete with handrails and paved steps.
After crossing a bridge, the base of the waterfall shall now be within sight, and by now, you will see just why the La Fortuna Waterfall is one of the ultimate things to do in La Fortuna, Costa Rica.
The green ecosystem of the jungle provides a stunning backdrop to the white ribbon cascading from top to bottom, creating a cold blue pool with a depth that is safe enough for people to swim on.
3. Explore the Mistico Hanging Bridges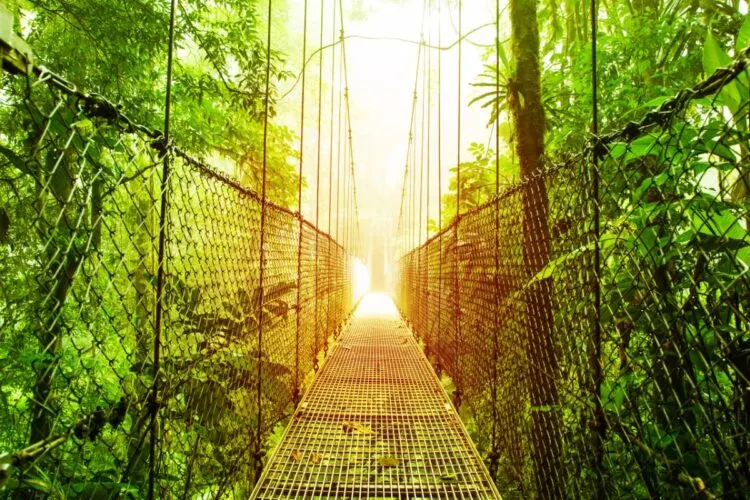 Picture yourself in the middle of a bridge, surrounded by lush rainforest and serenaded by the chorus of chirping birds and howling mammals.
A sea of flowers color your vision, and howler monkeys frolic along tree branches. Sloths, snakes, and frogs coexist with each other. You are one with nature, and you are well aware of it.
This is exactly what is in store for you during your visit to the Mistico Arenal Hanging Bridges.
This 600 acres of green land is a well-preserved eco-park that aims to educate visitors regarding Costa Rica's rich ecosystem while maintaining high levels of sustainability.
On a 2-hour guided tour, you will learn immensely about the hundreds of plant and animal species as you journey through 16 hanging bridges that constitute the 2.6-kilometer park.
Are you feeling more adventurous?
Join the Arenal night hike, see nocturnal animals in action, and enjoy a world with less light and more thrill.
4. Kayaking on Lake Arenal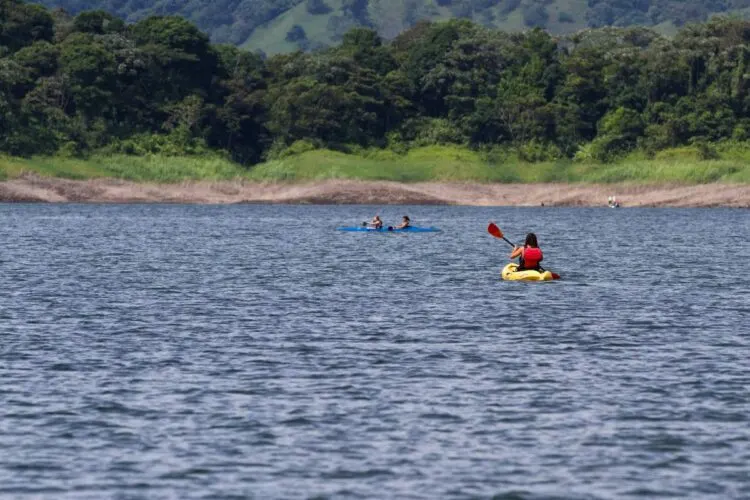 The equally captivating Lake Arenal Volcano is calmly occupying the foot of the astounding Arenal. With flat waters that entice visitors to partake in water activities, the lake attracts visitors from around the world at any given time.
Kayaking, wakeboarding, and stand-up paddling are a few of the numerous things to do in Lake Arenal.
Imagine doing these activities amidst the sleeping volcano's splendor and the nearby rainforest's bountifulness.
Splendid views can only be seen within the lake's confines. Share the pristine space with tropical birds that treat La Fortuna as their lovely nest.
Interact with the wildlife by birdwatching and identifying the different species that make Lake Arenal even richer.
5. Go white water rafting
Take the extreme route and conquer the Balsa River by white water rafting along its challenging currents.
White Water Rafting in La Fortuna is not for the faint-hearted; still, we suggest you try this sport while in the Arenal area.
No one wants to spend their holidays recuperating from any form of accident.
Should you be wary about this white water rafting activity's safety, any uncertainties you may have shall be addressed during the briefing.
Once you lay those pretensions aside, better prepare for the wettest ride of your Costa Rican escapade!
6. Zip Lining in La Fortuna
Ever wondered what Costa Rica's rich rainforest looks like from above? Satisfy your curiosity and go ziplining in Arenal, Costa Rica.
They say the best areas in the country to do so are Arenal and Monteverde. In La Fortuna, there are several areas where ziplining is both safe and enjoyable.
We recommend Skytrek for an extreme adventure and the best views of the Arenal volcano and lake Arenal.
Fly through the jungle via a canopy or go traditional with your harness. Whichever manner you choose, you are guaranteed to have the best seats and sights in town.
Your guide will explain how to control the speed of your zipline, stay in a safe position and glide your way to some of the most daring zipline cables in the area.
Your speed can go up to 70 kph! You will pass by canyons, mountains, and treetops. Your system will have an abundance of adrenaline and endorphin once the ride ends.
This activity deserves a sweet spot in the top things to do in La Fortuna, Costa Rica.
7. Hike along the Arenal Volcano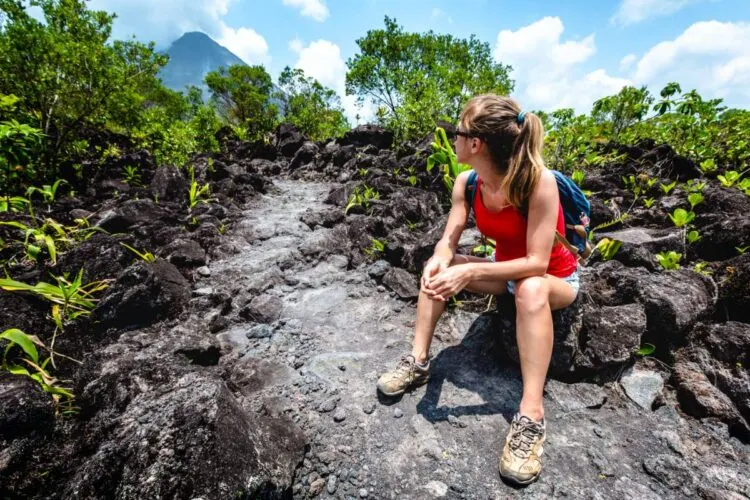 One of the apparent activities to consider while you are in La Fortuna, Costa Rica, is exploring the famous volcano in the area by hiking.
With the eruption of the Arenal Volcano in 1964 came curious voyagers seeking to gaze at and study the fiery magnificence of the raging volcano.
Many photographs of the Arenal Volcano spitting burning lava on the nearby grounds were taken. Instead of keeping people away from visiting La Fortuna, these pictures made people worldwide curious.
During the Arenal Volcano Hike, you will walk around the foot of the volcano and explore the nearby fields and forest. Many tours are available with different difficulty levels, duration, and views.
8. Try horseback riding
If you fancy more relaxed ways of exploring a destination, La Fortuna will not disappoint. Horseback riding has always been an efficient and leisurely way of going to and from towns, even during Costa Rica's early times.
Ride a horse and enjoy spectacular views of the Arenal and Cerro Chato Volcanoes as you stride towards green lands and lush forest trails. Discover lava flows resulting from the Arenal Volcano's past eruption.
Marvel at the tropical rainforest while you bond with your trusty companion in the best backdrop. Reach the La Fortuna Waterfall and take a breather with your horse.
Roam around the waterfall on foot and enjoy a well-deserved dip in its clear blue pool.
9. Things to do in La Fortuna, Costa Rica – Explore El Castillo town
A small town called El Castillo is often overlooked by many visitors exploring La Fortuna.
This gem is on the south side of Lake Arenal and can be reached by car. On one of your rest days during your Costa Rica escapade, drive to El Castillo and see why it should not be missed.
Almost all of the exciting spots in this town are a walk away from each other. A butterfly conservatory aims to study and preserve the natural habitat of the butterflies in El Castillo.
A zoo also houses different types of reptiles, amphibians, and insects. Furthermore, there is a place called La Gavilana, where coffee and art lovingly meet.
Be sure to check bed and breakfast within the area should you decide to rest from the adrenaline rush for a while or two. Anyway, La Fortuna is just a drive away from you!
10. Go on a Day Trip to Rio Celeste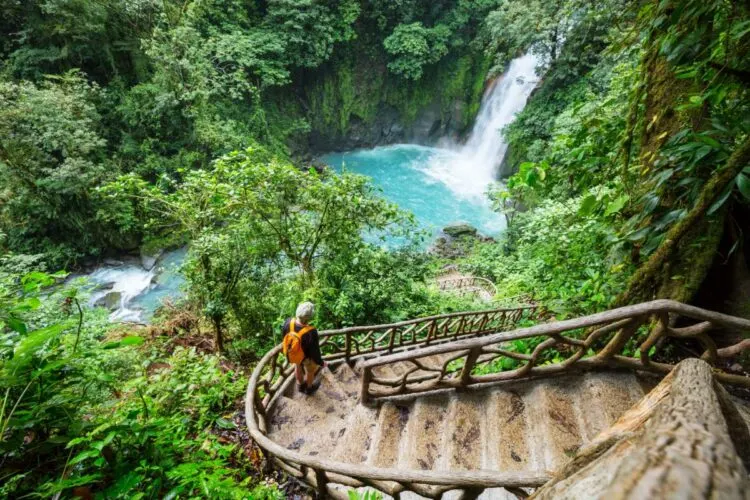 Have you ever seen a river with colors so crayon-perfect light blue? This is what is waiting for you at Rio Celeste.
One of the best things to do near La Fortuna is to visit the Tenorio Volcanic National Park for a 4-hour trek to Rio Celeste. The Spanish name, aptly translating to "light blue river," is one of the country's prized secrets.
Old men's tales speak of God painting the sky blue and then dipping his paintbrush into this river. Science then explains that it is a phenomenon resulting from two streams merging and causing a chemical reaction.
Hold your horses, though. Swimming in Rio Celeste is not allowed. Instead, visit the nearby Tenorio Volcano and the rich wildlife that completes the national park.
11. Rappel down waterfalls/ Canyoning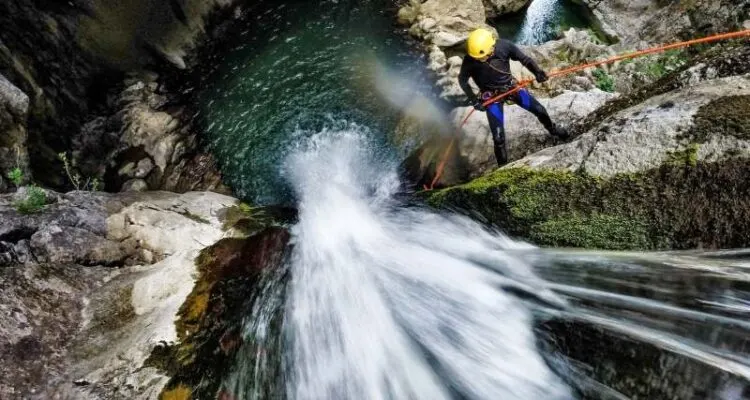 One of the many fun things to do in La Fortuna, Costa Rica, is canyoning. I am assuming you love nature and adventure because you chose a country that exudes those two characteristics.
Therefore, rappelling down waterfalls for four hours should excite you. It's a test of your endurance and trust that you are in good hands.
One rock wall after another, you'll crave more walls to conquer and more pools to jump into. There's something special about having the whole rainforest as your playground and the cascading waterfalls as your guide.
This activity does not require master rappelling levels, nor are they exclusive to adults only. Kids as young as five can take part in this activity.
Be sure to bring your waterproof action camera to capture epic memories deep in the jungle of La Fortuna.
12. Visit the Venado Caves
The Venado Caves are located around 45 minutes north of Arenal. These caves are known as living shelters because many insects and animals treat them as their habitats.
Marine fossils and rock formations can also be found inside. Getting inside the caves is tricky, with only some crevices acting as passageways to the next area to explore. Spelunking is the only way to go!
The ceilings of the Venado Caves are full of stalactites, and a huge column people fondly call the papaya is a definite eye-catcher. It will be a wet tour due to the water inside the caves.
13. La Fortuna Cooking Class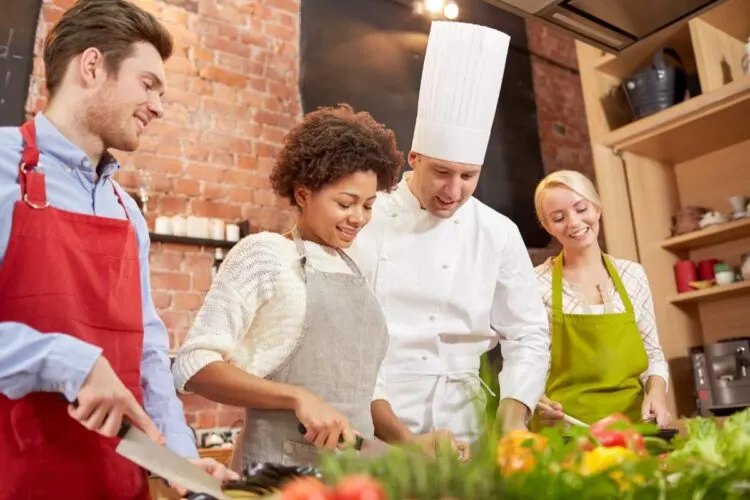 A trip to Costa Rica is not the same without trying some of its amazing local dishes! Why not take it up a notch and discover how these well-loved recipes are made?
From learning how to utilize local ingredients such as yucca, tiquisque and sugar cane to sharing authentic recipes you can make at home, this La Fortuna tour is perfect for the foodies and cooks at heart.
Not an expert in the kitchen? You will be in the most capable hands of an expert chef, who will walk you through the whole experience. For a full three hours, get to know more about Costa Rica through its wonderful gastronomy.
Of course – the perfect end to this wonderful cooking experience is eating your freshly-made picadillos, tortillas, and guisados.
Click here for more information, photos and to make a booking.
14. Float down Rio Frio
Who is up for a relaxing boat ride? Go to the unassuming small town of Los Chiles and get ready to board a motorized boat that will take you to Rio Frio.
Rio Frio is a calm river that goes through the Cano Negro Wildlife Refuge. A boat ride here will take you sightseeing past the tropical rainforest and along pastures and marshland.
While going on a slow ride, keep your eyes open for the most exciting part of the tour.
See spiders and white-faced monkeys in their natural habitat and spot resident and migratory birds along the way. Your experienced guide will point to you all the notable wildlife which calls Rio Frio their home.
If you are taking part in this boat tour, wear sunscreen, insect repellent, light clothing, and comfortable shoes.
15. Bogarin Trail (La Fortuna Sloth Trail)
Nothing is more rewarding than just taking your time and seeing nature up close and personal. This is exactly what you will experience when you join a Bogarin Trail or La Fortuna Sloth Trail tour.
This activity calls for easy flat walking that stretches for 1.5 miles or 2.4 kilometers. Along the way, you will see La Fortuna's star of the show: sloths! Regarded as Costa Rica's national symbol, sloths are so adorable to observe in their natural habitat.
At least 25 sloths live along the Bogarin Trail. Book this tour if seeing a sloth is on your Costa Rica bucket list because this specific trail allows you to spot one (or more) easily.
Aside from sloths, you also get to see a wide range of wildlife living in the tropical rainforest. Your experienced tour guide will usher you to a simple and quiet trail within the Bogarin Trail property for a good two hours. You would not believe that this lush environment was once a cattle farm!
Top La Fortuna Day Trips and Activities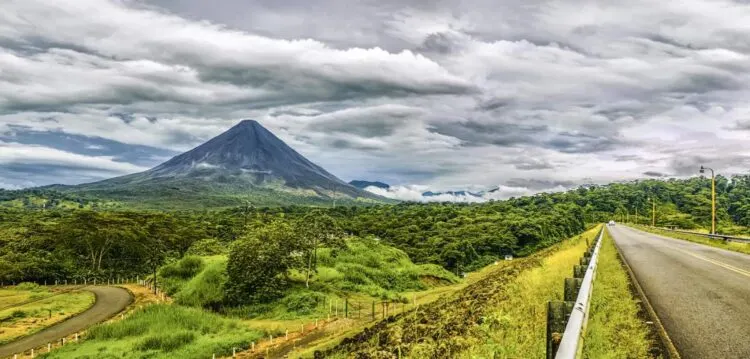 A trip to La Fortuna will be filled with day tours, extreme sports, and much more.
This tourist destination is one of Costa Rica's best, and despite its small size, it is packed with various things to do for every type of traveler.
You have canyoneering, mountain biking, and hiking for the adventure seeker. There's kayaking, bird watching, and nature walking for the slow and steady. If you ask me, combining both worlds is the way to go!
Read the full article: Top La Fortuna tours and day trips
How to get to La Fortuna, Costa Rica
Are you ready to book that tour?
First, let me help you plan your way to La Fortuna.
Traveling around Costa Rica can be a breeze if you read our guide before your trip. Here you'll find all the different modes of transportation in Costa Rica. This guide also includes helpful instructions on how to get to La Fortuna from major points in the country.
How to get from San Jose to La Fortuna
How to get from Monteverde to La Fortuna
How to get from Tamarindo to La Fortuna
How to get from Santa Teresa to La Fortuna
How to get from La Fortuna to other Costa Rica Destinations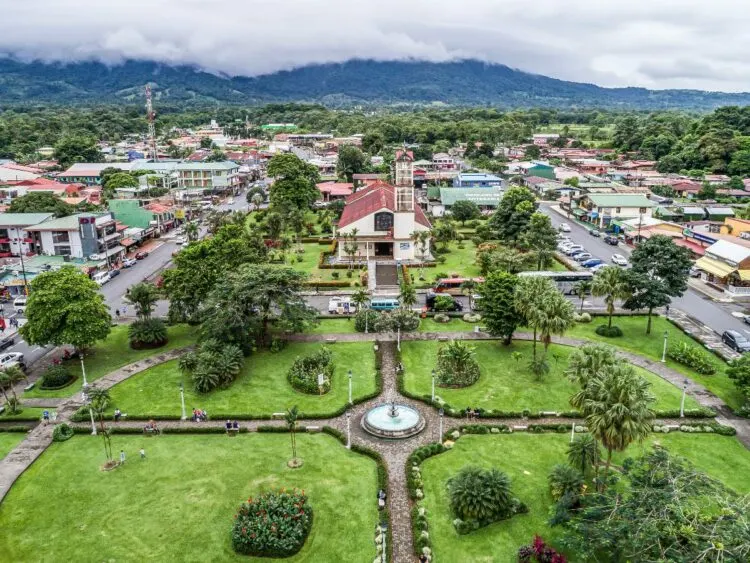 Are you ready to explore more destinations in Costa Rica?
Traveling from La Fortuna to other parts of Costa Rica is easy to plan with the help of our guides.
Choose among the different modes of transport, be this a solo trip or a family getaway. With these helpful guides, know the cheapest, fastest, and most efficient ways to travel beyond La Fortuna.
How to get from La Fortuna to Monteverde
How to get from La Fortuna to San Jose
How to get from La Fortuna to Santa Teresa Beach
How to get from La Fortuna to Puerto Viejo
La Fortuna Hotels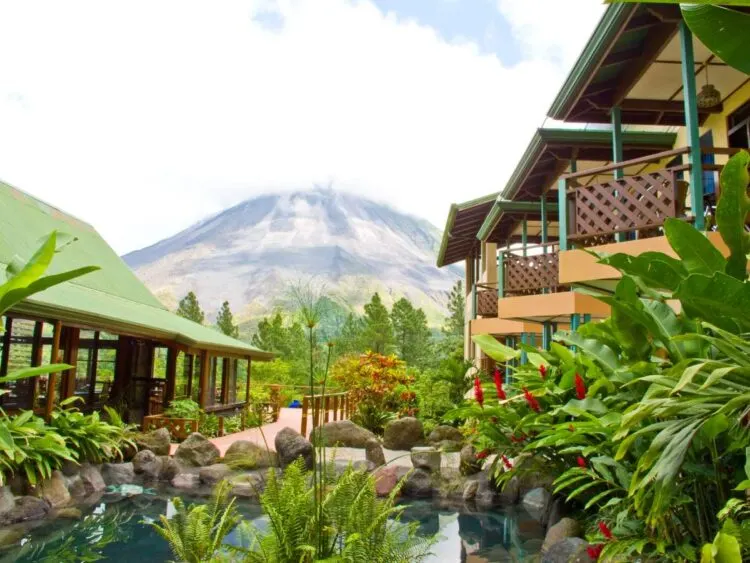 La Fortuna is home to some of the most luxurious accommodations in Costa Rica.
After a heart-pumping ATV ride or a day-long hike, it's nice to go home to a place with a relaxing ambiance and splendid service. Here are my top recommendations for a great stay in La Fortuna.
Nayara Resort, Spa, and Gardens – a luxurious getaway set amidst the splendor of the Arenal Volcano.
Nayara Springs – an adults-only property featuring luxury villas that promote intimate privacy and utmost relaxation.
Tabacon Grand Spa and Thermal Resort – is among the highest-praised hotels that offer guests a chance to experience the beauty of the thriving rainforest and the majestic Arenal Volcano.
Amor Arenal – a rainforest lodge situated close to the Arenal Volcano and on the edge of a virgin rainforest canyon.
Read the full article: Best hotels in La Fortuna, Costa Rica
La Fortuna Travel Information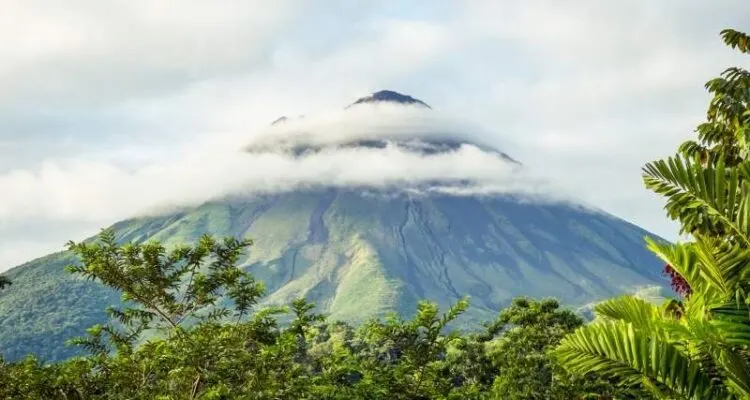 The climate in La Fortuna
La Fortuna enjoys four seasons. The climate is tropical and humid. Expect rain showers, though not very often, because that's how the country's ecosystem thrives.
The best time to visit La Fortuna is from December to April.
Temperatures in La Fortuna
It is all year round hot in La Fortuna. The hottest months, however, are February, March, and April. The average temperature ranges from 72 F to 93 F.
What to bring to La Fortuna
Your essential packing list must include the following: a day pack containing your wallet, phone, keys, and a change of clothes.
Add insect repellent, sunscreen with high SPF, a water-resistant jacket, a hat, and sunglasses.
Also, don't forget quick-drying clothes, closed shoes for trekking, aqua shoes, and emergency medication.
Frequently Asked Questions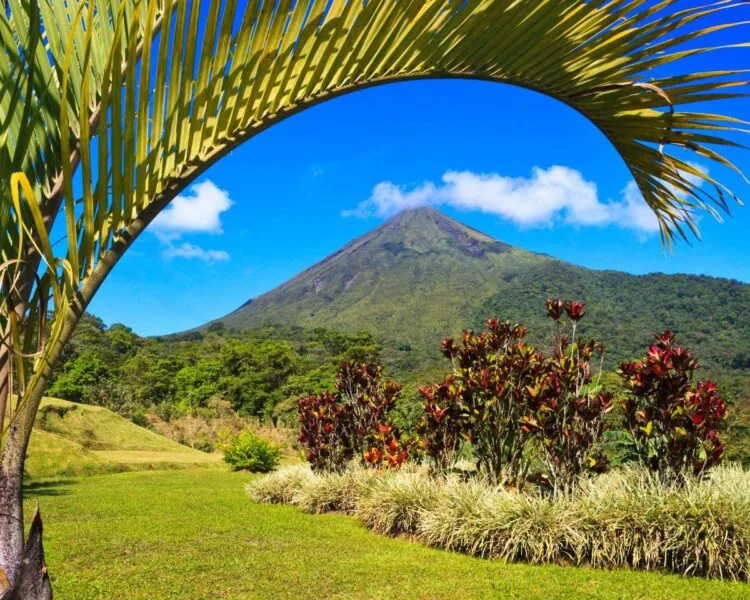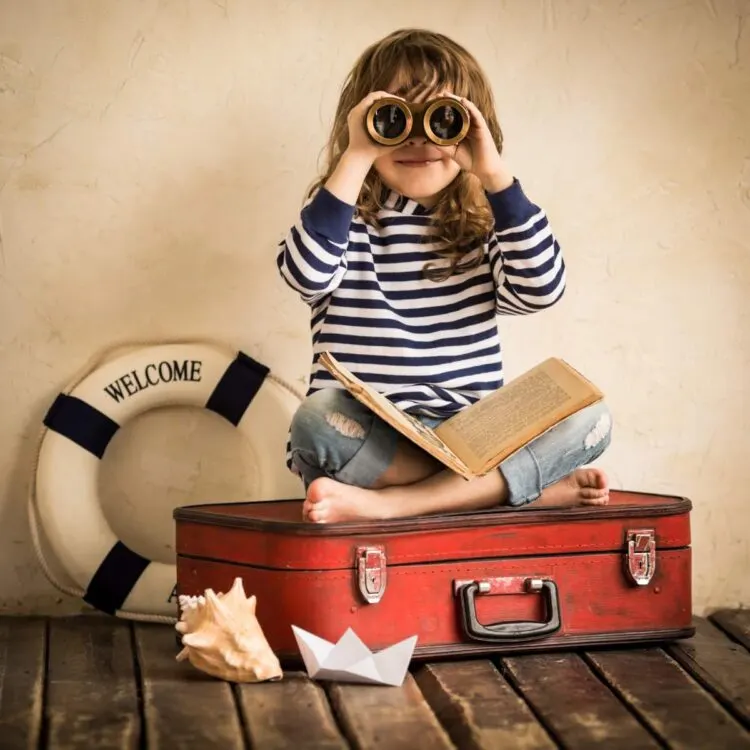 Protect your trip: With all our travel experience, we highly recommend you hit the road with travel insurance. SafetyWing offers flexible & reliable Digital Nomads Travel Medical Insurance at just a third of the price of similar competitor plans.
How many days do you need in La Fortuna Arenal?
I suggest staying for at least five days in La Fortuna Arenal. You can dedicate the three days to touring and maximizing what the town has in store, and the other two days I suggest you spend on enjoying your accommodation.
Is La Fortuna, Costa Rica, worth visiting?
Yes, La Fortuna is definitely worth visiting! If you are a nature lover, you have many things to do here, like swimming in hot springs and joining a sloth trail tour. La Fortuna is also for the wild adventurer, with activities such as canyoneering and horseback riding.
Is La Fortuna the same as Arenal?
No, La Fortuna and Arenal are not the same. La Fortuna is the name of the town in Costa Rica where Arenal, a volcano of utmost importance to the area, is located.
Do you need tickets for La Fortuna Waterfall?
Yes, you need tickets to visit the La Fortuna Waterfall. The fee is 18 USD for adult foreigners and 5 USD for children. You can visit one of Costa Rica's highest and most popular waterfalls with your ticket.
How long does it take to walk to La Fortuna Waterfall?
It takes about 15 minutes to reach the La Fortuna Waterfall. The roundtrip journey is about 0.75 miles or 1.2 kilometers long. Once you arrive at the waterfall, you have about an hour to spend there.
Can you swim in Costa Rica waterfalls?
Yes, you can swim in many Costa Rica waterfalls. Among the ones where swimming is permitted are the Nauyaca Waterfall, the Llanos de Cortez Waterfall, and the La Fortuna Waterfall. Some waterfalls are not open for swimmers, including Catarata del Toro.
Can you visit Arenal Volcano on your own?
I strongly suggest that you do not visit Arenal Volcano on your own. There are great reasons why you should hire a guide for your tour. Expert tour guides not only make your trip informative, but they also work for your safety.
What is the best month to visit Arenal, Costa Rica?
The best time to visit Arenal, Costa Rica, is in September. The weather is good this month, and not many tourists are flocking to the area by then. This continues until November.
How do you get around La Fortuna without a car?
If you are traveling to La Fortuna without a car, you can rely on local transport. Taxis, public buses, and shuttle services go to La Fortuna's major tourist spots and beyond.
Does Uber work in La Fortuna?
Yes, Uber works in La Fortuna. Download the application before your trip so that you can easily book a ride when traveling within the area.
How far is La Fortuna from the beach?
La Fortuna is about three hours away from the nearest beach in town. Come to Puntarenas if you need some sand and sea while you are there. Unfortunately, La Fortuna is far from Costa Rica's well-loved beaches.
How long is the hike to Rio Celeste Waterfall?
The total hike to Rio Celeste takes about three hours to complete. It is about 3.7 miles or six kilometers long.
What is there to do in La Fortuna at night?
There is honestly not much to do at night in La Fortuna. There will be a few establishments open for drinking and dining, but there are no noteworthy spots to hang out at night. It will be best to spend the evening lounging in your accommodation.
Can you hike to the top of Arenal Volcano?
No, it is illegal to hike to the top of Arenal Volcano. However, you can hike around it and get the best views of La Fortuna's pride from below.
Where can I watch the sunset in La Fortuna?
The Arenal Volcano is a sight to behold when the sun sets. I suggest you spend the end of the day at the national park, waiting for the volcano's backdrop to slowly turn orange.
Is Arenal Volcano Active?
The Arenal Volcano is an active volcano. This stratovolcano is one of the most active volcanoes in Costa Rica and in the world. Its last eruption was in 2010.
Where is Arenal Volcano National Park?
Arenal Volcano National Park is located in the northwestern part of Costa Rica. It lies within the Arenal Huetar Norte Conservation Area. The closest town to the park is La Fortuna.
More Costa Rica Destinations