Discover the best things to do in La Fortuna, Costa Rica. From hot springs to Arenal Volcano hikes, our guide covers top attractions and hidden gems for an unforgettable tropical adventure.
La Fortuna is a treasure trove of natural wonders and thrilling adventures in the heart of Costa Rica.
If you've ever wondered what to do in La Fortuna, you're in for a treat. With its proximity to the Arenal Volcano National Park, cascading waterfalls, and lush tropical rainforests, La Fortuna offers many activities that cater to every kind of traveler.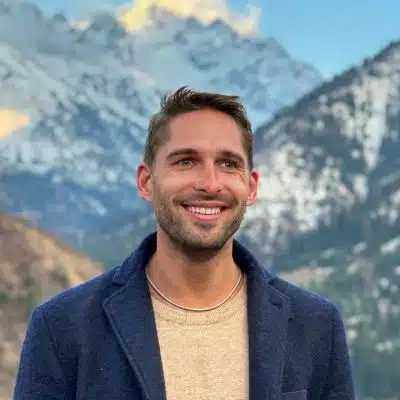 Whether you're an adrenaline junkie, a nature enthusiast, or someone looking to relax and soak in the beauty, La Fortuna has something special for you.
La Fortuna is not just a destination; it's an experience. It's a convenient 3-hour drive from San Jose and Guanacaste Airports in the Alajuela province.
And getting there is half the fun! You can choose from various transportation options, from rental cars to public buses, shared shuttles, and even domestic flights.
And for those looking for a unique journey, there's the taxi-boat-taxi route from Monteverde.
Once you're in La Fortuna, the real adventure begins. The region is renowned for its natural hot springs due to the geothermal activity from the nearby Arenal Volcano.
These springs, coupled with the rich biodiversity, make La Fortuna a haven for wildlife enthusiasts. From exotic wild animals to vibrant bird species, the area is a living, breathing testament to nature's wonders.
But the best things to do in La Fortuna aren't limited to nature walks and hot spring dips.
The town offers many activities, from canyoning down 200-foot waterfalls to ziplining across the rainforest canopy.
And for those who prefer a more laid-back experience, there are cooking classes, chocolate tours, and serene boat rides on Lake Arenal.
One common misconception among tourists is the difference between Arenal and La Fortuna. While they're often used interchangeably, they're not the same.
La Fortuna is a charming town, while Arenal refers to the majestic volcano that towers over the region.
To help you plan your Arenal adventure, here is a list of the best things to do in La Fortuna, Costa Rica.

With our local tourism agency partner onboard, organizing a customized Costa Rica vacation has never been this hassle-free!
Share your travel dates, places of interest, and other details that would make your travel to Costa Rica memorable.
After completing this form, one of our Costa Rica experts will contact you. Tours, transport, other travel services – you name it, we'll arrange it!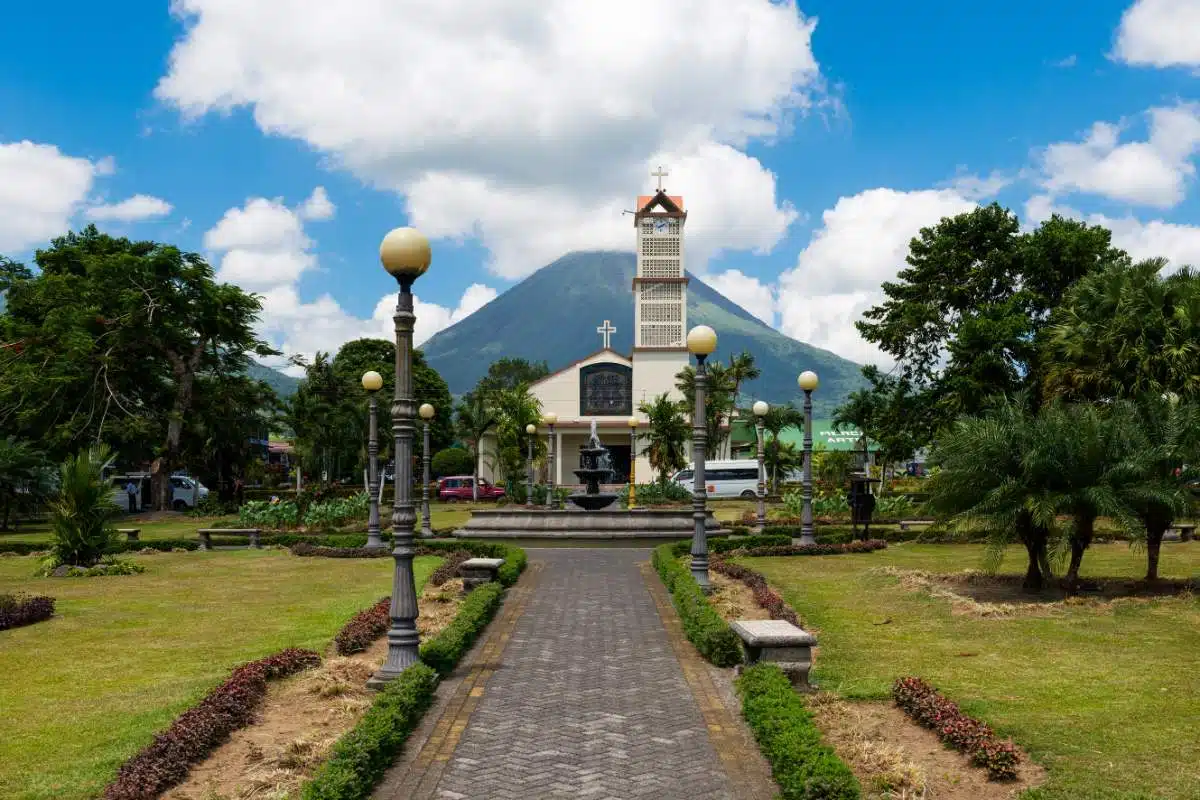 Where is La Fortuna, Costa Rica?
Located at the foot of the Arenal Volcano, La Fortuna is a town in the Alajuela province of Costa Rica.
It's approximately 115 kilometers (72 miles) from San Jose and the Juan Santamaria International Airport (SJO).
Best things to do in La Fortuna, Costa Rica
Tip: Check out our Costa Rica Travel Guide – All you need to know to plan your vacation!
1. Things to Do in La Fortuna – Hot Springs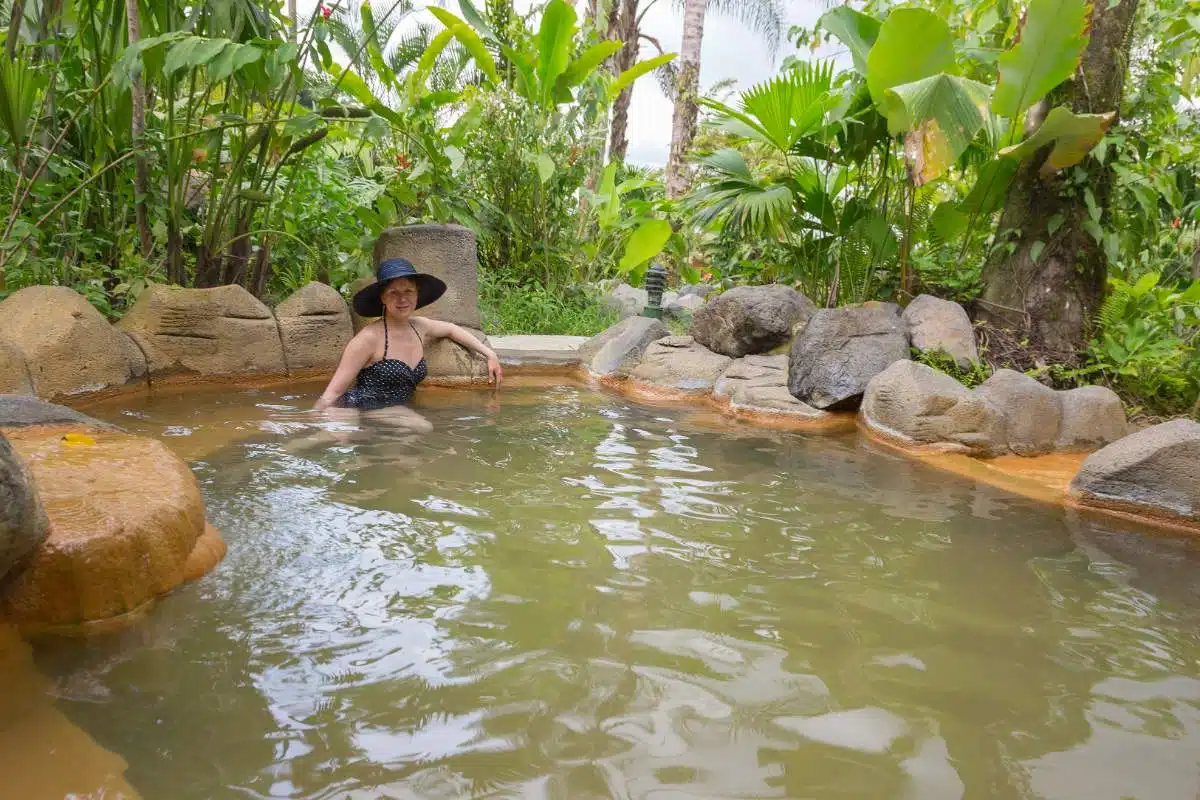 When in La Fortuna, visiting a hot spring is a must. The naturally warm Tabacon River has given rise to numerous exquisite hot spring resorts where you can unwind in thermal pools set amidst verdant gardens.
Things to Do in La Fortuna and Arenal: Hot Springs
Titoku Hot Springs: A serene spot to soak and relax.
Hotel Hot Springs: Many hotels in La Fortuna have their own hot springs, with day passes available for those not staying there. Notable resorts include The Springs Resort and Spa, Baldi Hot Springs Hotel, Titoku, Kalambu, Ecotermales, and Paradise. Some hotels, like Arenal Kioro, have exclusive hot springs reserved solely for their guests.
Tabacon Hot Springs: A renowned hot spring destination. If you're keen on experiencing Tabacon hot springs, consider booking a stay at the Tabacon Resort. Hotel guests receive additional time at the hot springs and exclusive access to a special garden not open to outside visitors. Given its popularity, we recommend booking your passes at least two months in advance if you're not staying at the resort.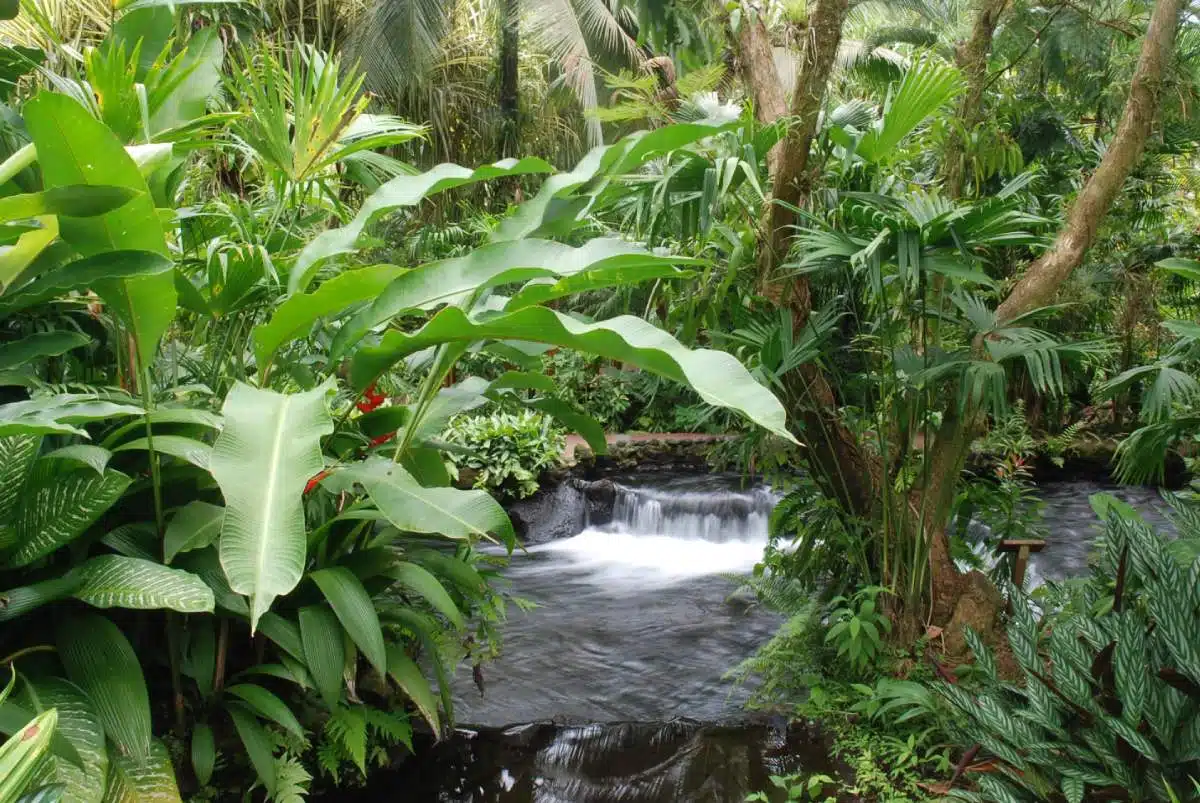 Day pass fees for the hot springs typically range from $50-80 USD, with options to add lunch or dinner. For a comprehensive guide on La Fortuna hot springs, click here.
Budget-Friendly Hot Spring Experience
If you're looking for an affordable activity in La Fortuna, consider visiting the public access point of the Tabacon River, a favorite spot among the locals.
Located directly across from the Tabacon Resort, this is La Fortuna's free hot spring offering.
2. Swim in the La Fortuna Waterfall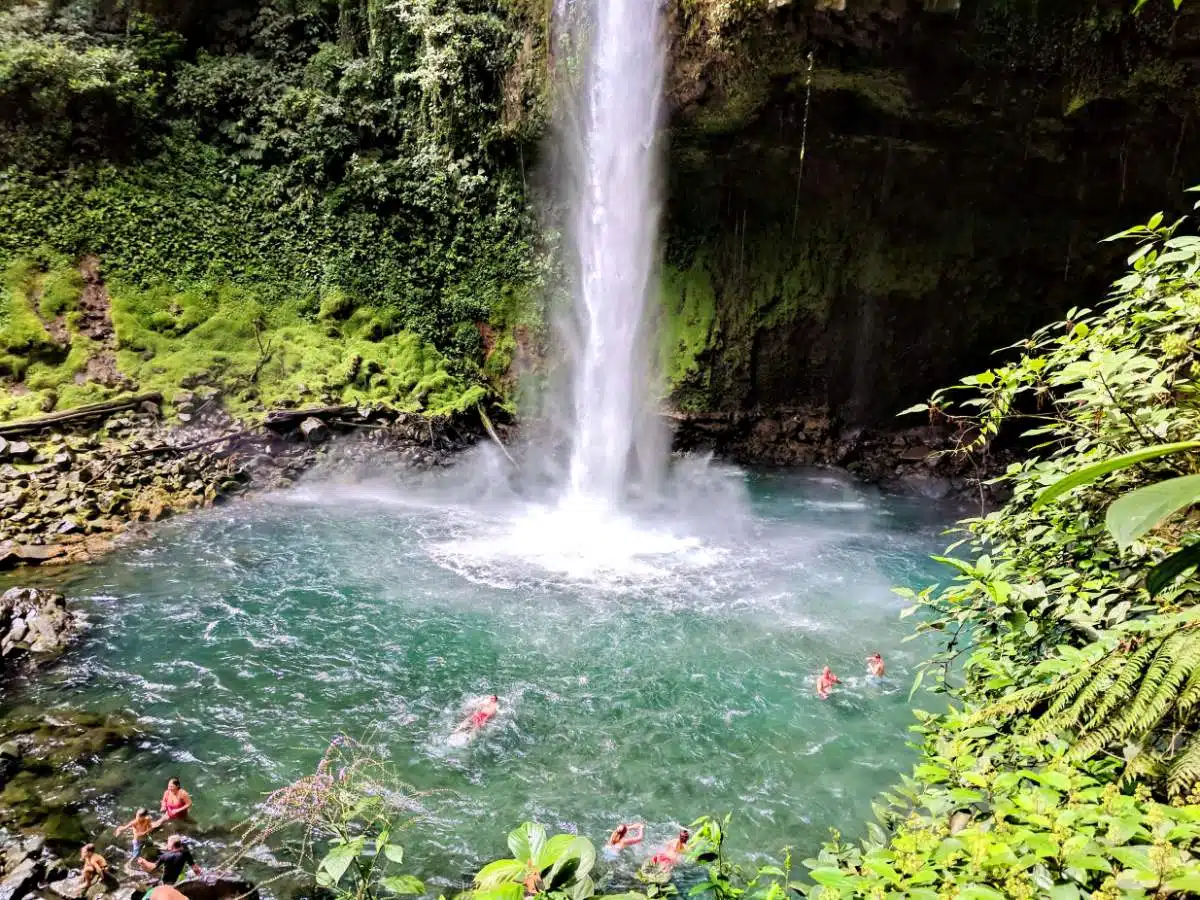 Tucked in the lush Costa Rican jungle is a 75-meter beauty that immensely helped La Fortuna on the map.
The La Fortuna Waterfall in Arenal is a natural local wonder found at the foot of the Cerro Chato Volcano, one of the two majestic volcanoes in the area.
The Tenorio River is the source of this waterfall, with its waters traveling through the rich rainforest before plunging into a pool of beautiful blue swimming grounds.
To get to the La Fortuna Waterfall, be ready to trek your way down through an easy trail complete with handrails and paved steps.
After crossing a bridge, the base of the waterfall shall now be within sight, and by now, you will see just why the La Fortuna Waterfall is one of the ultimate things to do in La Fortuna, Costa Rica.
The green ecosystem of the jungle provides a stunning backdrop to the white ribbon cascading from top to bottom, creating a cold blue pool with a depth that is safe enough for people to swim on.
Adult admission to the La Fortuna waterfall park costs USD 18. Located just a short distance from La Fortuna, you can easily reach the park by taxi for approximately USD 20 one-way or opt for a guided tour.
Visiting the waterfall is an affordable activity in La Fortuna. If you choose to explore independently, you can stay as long as you wish, as the park has a cafeteria and a viewing area.
3. Explore the Mistico Hanging Bridges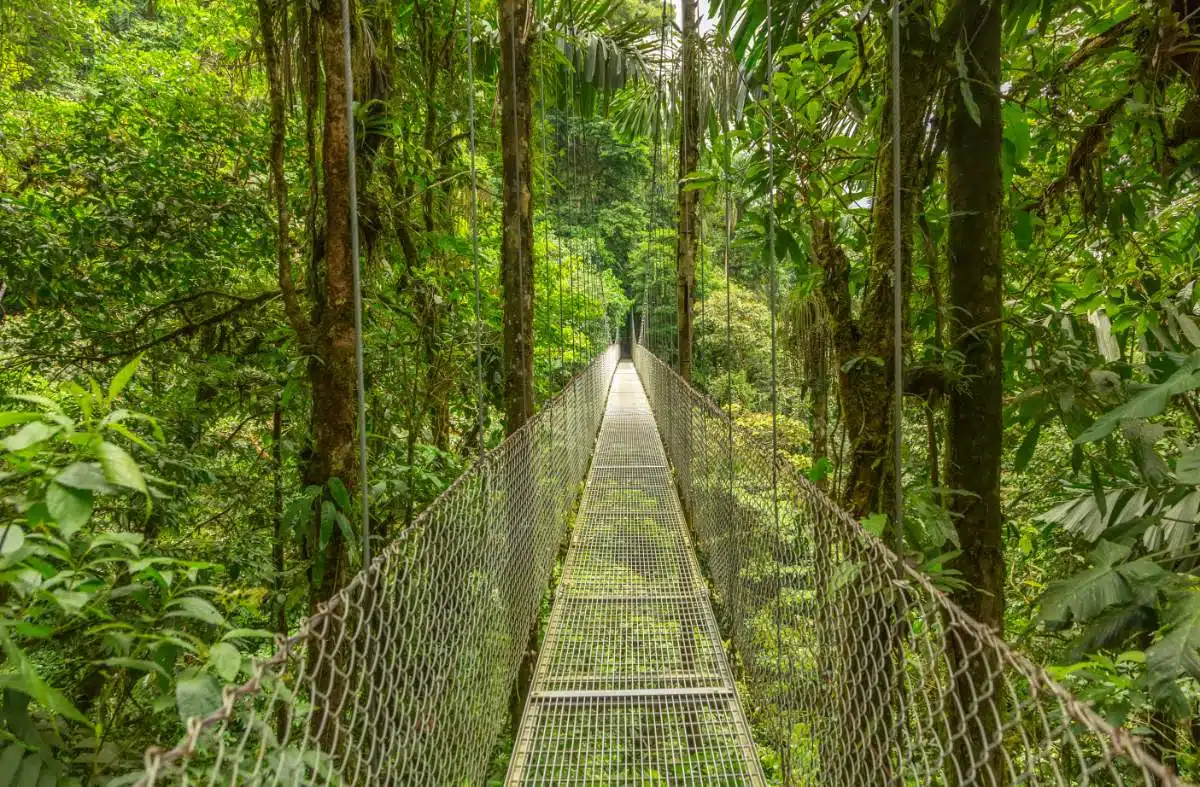 Discover the lush rainforests of Arenal in an environmentally conscious manner at Mistico Hanging Bridges Park.
Spanning 600 acres (243 hectares) of private land near the lake, this park offers a comfortable 3.1-kilometer (1.9-mile) trail featuring 16 suspended bridges.
These bridges provide visitors with varying viewpoints of the rainforest.
Experience the thrill of walking on a hanging bridge. As you traverse the hanging bridge, it's common to encounter wildlife such as bats, snakes, and birds.
Even though the hanging bridges are a top attraction in Arenal, being elevated gives you an authentic feel of the forest's vastness.
To truly appreciate your height above the rainforest floor, glance down while on the bridge and marvel at the verdant landscape beneath.
Located close to Lake Arenal, you can visit Mistico Hanging Bridges Park on your own if you have transportation or through a tour operator.
Regardless of how you get there, we highly recommend engaging a naturalist guide for the best experience.
If you're driving to the park, buying your tickets in advance on their website is a good idea.
Are you feeling more adventurous?
Join the Arenal night hike, see nocturnal animals in action, and enjoy a world with less light and more thrill.
4. Things to Do in La Fortuna – Kayaking on Lake Arenal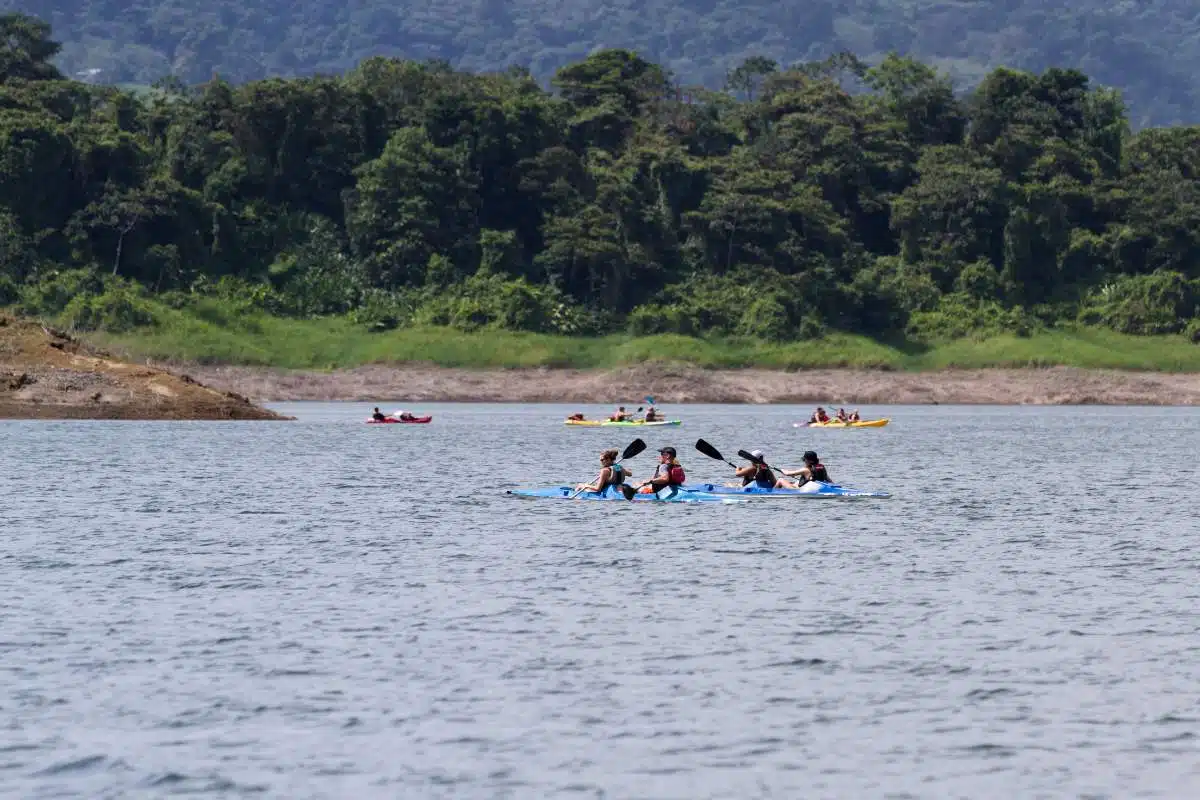 The equally captivating Lake Arenal Volcano is calmly occupying the foot of the astounding Arenal.
Kayaking, wakeboarding, and stand-up paddling are a few of the numerous things to do in Lake Arenal.
Imagine doing these activities amidst the sleeping volcano's splendor and the nearby rainforest's bountifulness.
Splendid views can only be seen within the lake's confines. Share the pristine space with tropical birds that treat La Fortuna as their lovely nest.
Interact with the wildlife by birdwatching and identifying the species that make Lake Arenal richer.
5. Things to Do in La Fortuna – Go White Water Rafting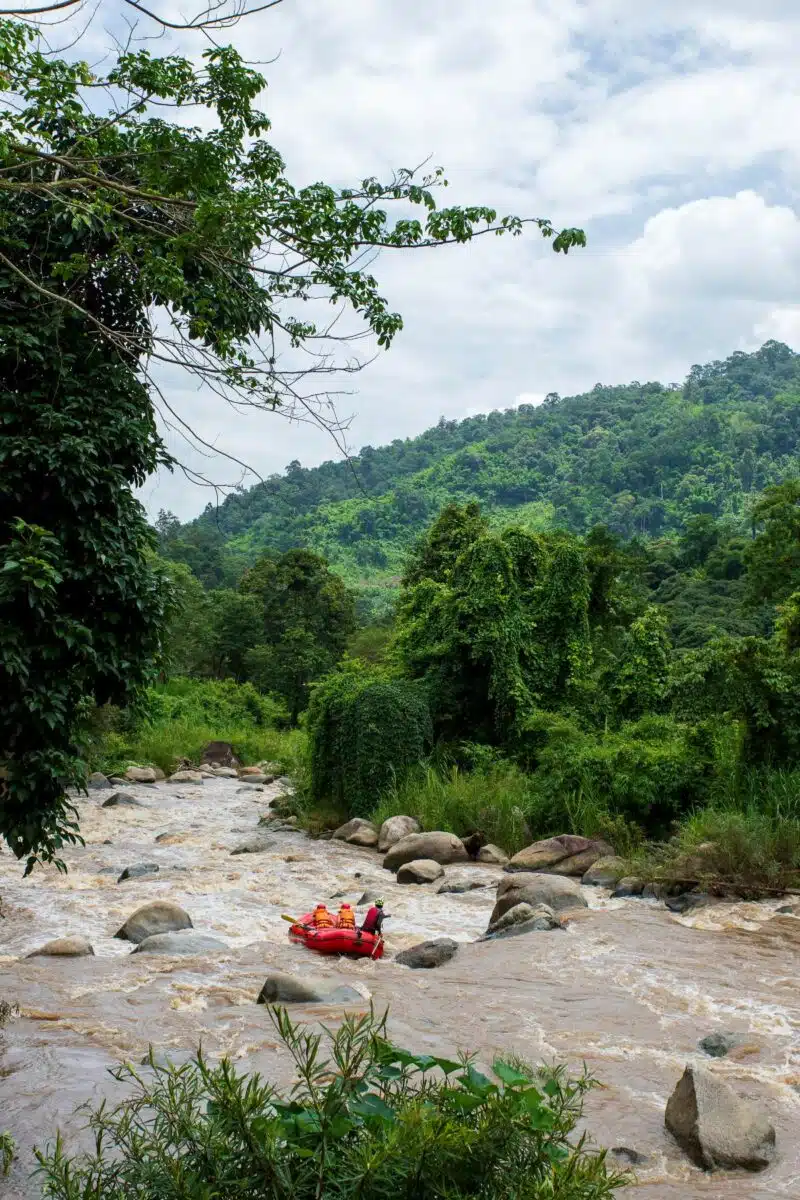 While Arenal boasts several rivers suitable for white water rafting, the Pacuare River, with its Class II and Class IV rapids, stands out as our top pick.
Embark on a thrilling journey down one of the world's premier rafting rivers. Navigate beneath cascading waterfalls, dip in serene pools, and spot toucans during this exhilarating adventure.
If you're seeking a milder thrill, consider other rivers like the Balsa River, which offers Class 2 and 3 rapids.
The Balsa River is an excellent choice for rafting novices and families. It's conveniently located just a 30-minute drive from La Fortuna town.
For a day packed with excitement, pair your Balsa River Rafting experience with ziplining.
A unique aspect of rafting on the Pacuare River is its potential as a mode of transportation. You can use it to travel between La Fortuna, San Jose, or Puerto Viejo on the Caribbean coast.
Many service providers offer pick-ups in La Fortuna and drop-offs in San Jose or Puerto Viejo. So, why settle for a bus or shuttle ride when you can raft through?
6. Zip Lining in La Fortuna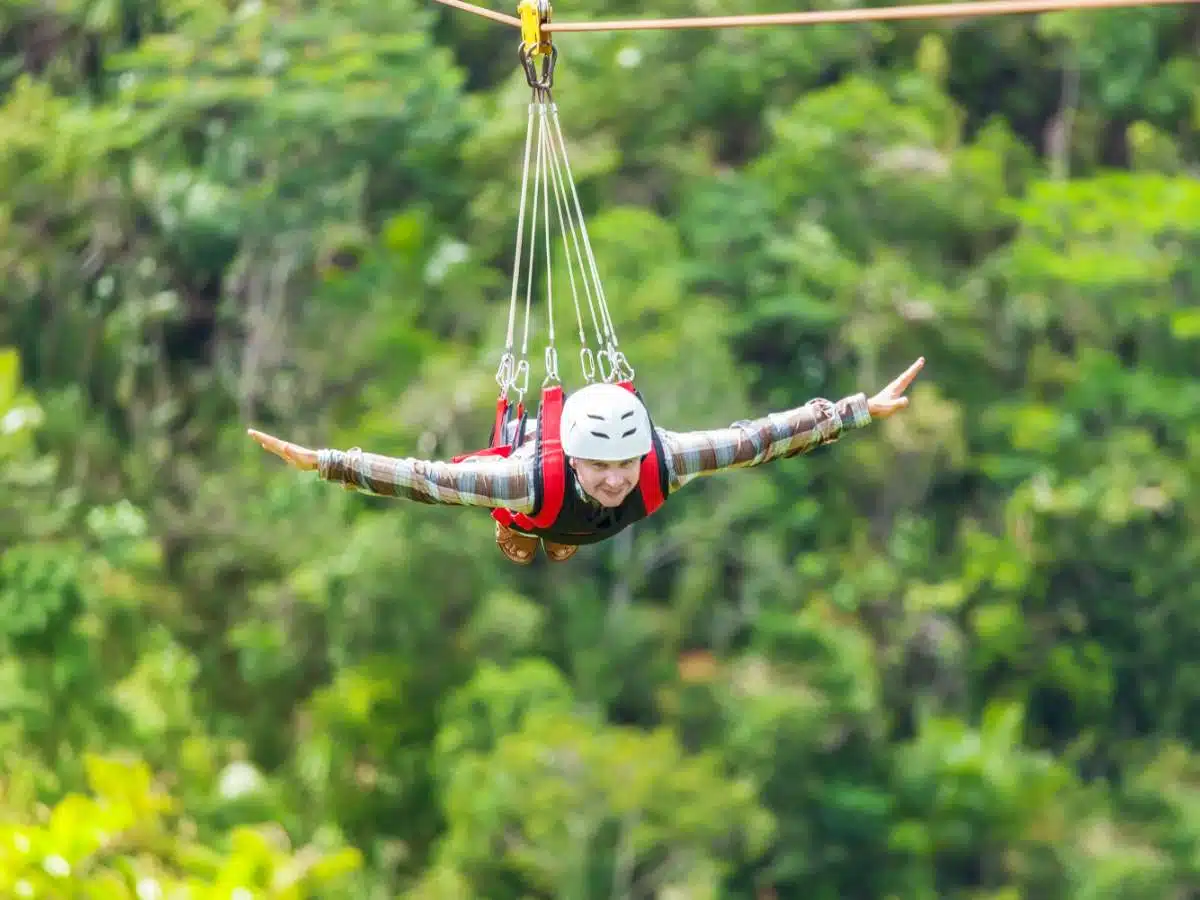 Have you ever wondered what Costa Rica's rich rainforest looks like from above? Satisfy your curiosity and go ziplining in Arenal, Costa Rica.
They say the best areas in the country to do so are Arenal and Monteverde. In La Fortuna, there are several areas where ziplining is both safe and enjoyable.
We recommend Skytrek for an extreme adventure and the best views of the Arenal volcano and Lake Arenal.
Fly through the jungle via a canopy or go traditional with your harness. Whichever manner you choose, you are guaranteed to have the best seats and sights in town.
Your guide will explain how to control the speed of your zipline, stay in a safe position, and glide your way to some of the most daring zipline cables in the area.
Your speed can go up to 70 kph! You will pass by canyons, mountains, and treetops. Your system will have an abundance of adrenaline and endorphins once the ride ends.
This activity deserves a sweet spot in the top things to do in La Fortuna, Costa Rica.
7. Hike along the Arenal Volcano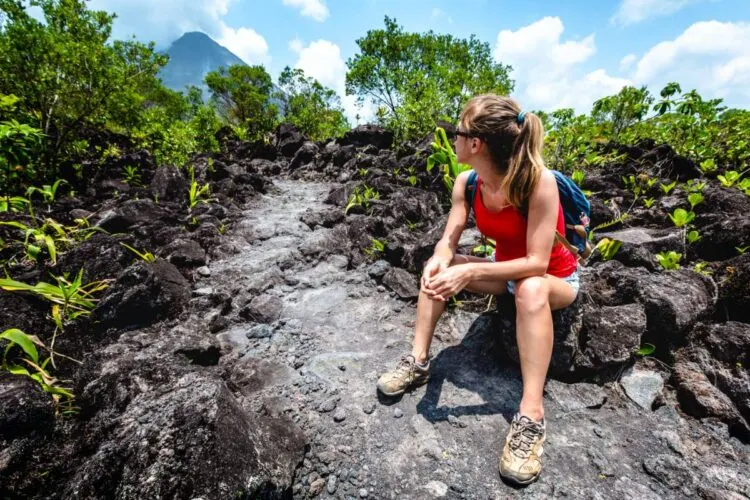 In 1968, the Arenal Volcano erupted, leaving a landscape to explore through the national park or a private reserve.
One prime location to witness this eruption's aftermath is the Arenal Volcano National Park.
Here, you can trek along trails that lead to the original lava rocks, offering viewpoints of both the volcano and Lake Arenal.
Adults are charged an entrance fee of USD 15 to access the national park. While you can explore the park independently, guided tours are also available.
Private reserves like Arenal 1968 offer equally captivating views and are open daily until 6 PM.
During the Arenal Volcano Hike, you will walk around the foot of the volcano and explore the nearby fields and forest. Many tours are available with different difficulty levels, duration, and views.
8. La Fortuna Horseback Riding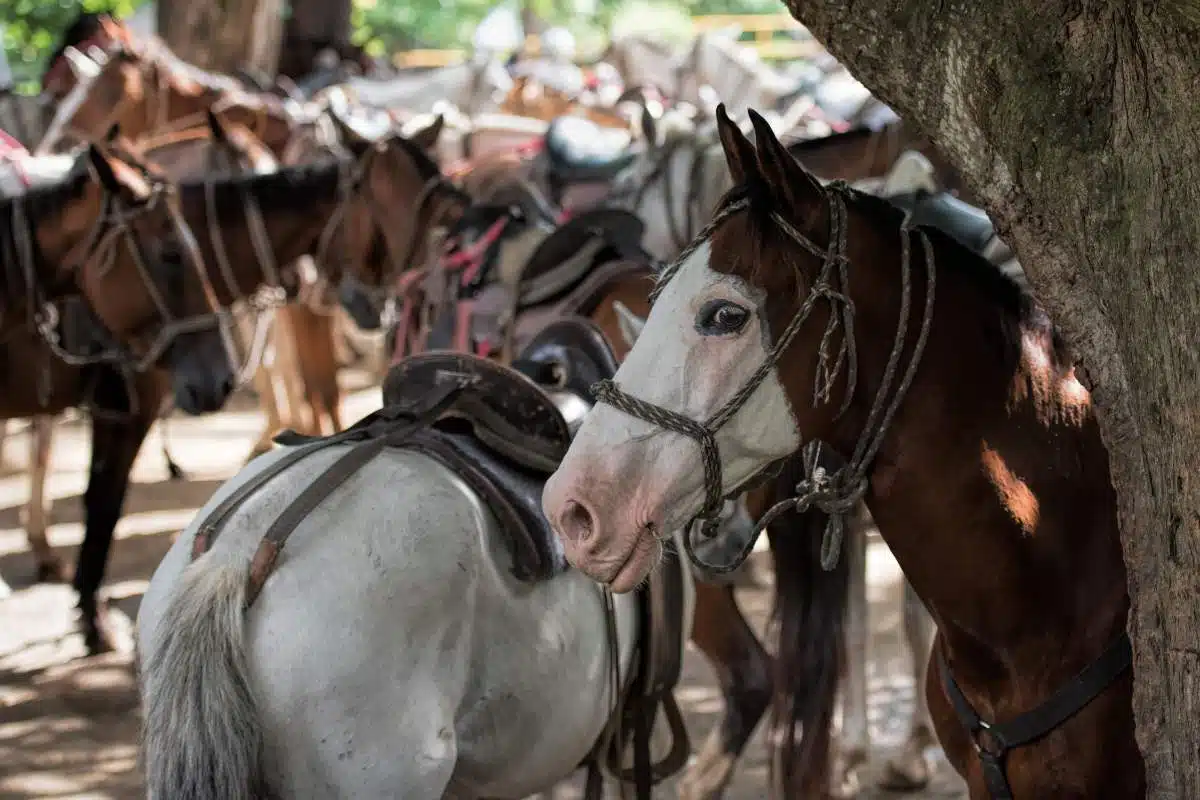 Embark on a horseback adventure through the countryside of La Fortuna, a unique way to uncover the region's hidden gems.
Your journey will take you across rivers, beneath towering trees, and to breathtaking viewpoints of the valley and rolling hills—locations inaccessible by car or on foot.
On a day with clear skies, you'll have the majestic Arenal Volcano as a backdrop while you trot through the expansive countryside.
This activity typically spans half a day, but you can also pair it with other adventures like ziplining or ATV rides.
9. Things to do in La Fortuna, Costa Rica – Explore El Castillo town
A small town called El Castillo is often overlooked by many visitors exploring La Fortuna.
This gem is on the south side of Lake Arenal and can be reached by car. On one of your rest days during your Costa Rica escapade, drive to El Castillo and see why it should not be missed.
Almost all of the exciting spots in this town are a walk away from each other. A butterfly conservatory aims to study and preserve the natural habitat of the butterflies in El Castillo.
A zoo also houses different types of reptiles, amphibians, and insects. Furthermore, there is a place called La Gavilana, where coffee and art lovingly meet.
Be sure to check bed and breakfast within the area if you decide to rest from the adrenaline rush for a while. Anyway, La Fortuna is just a drive away from you!
10. Go on a Day Trip to Rio Celeste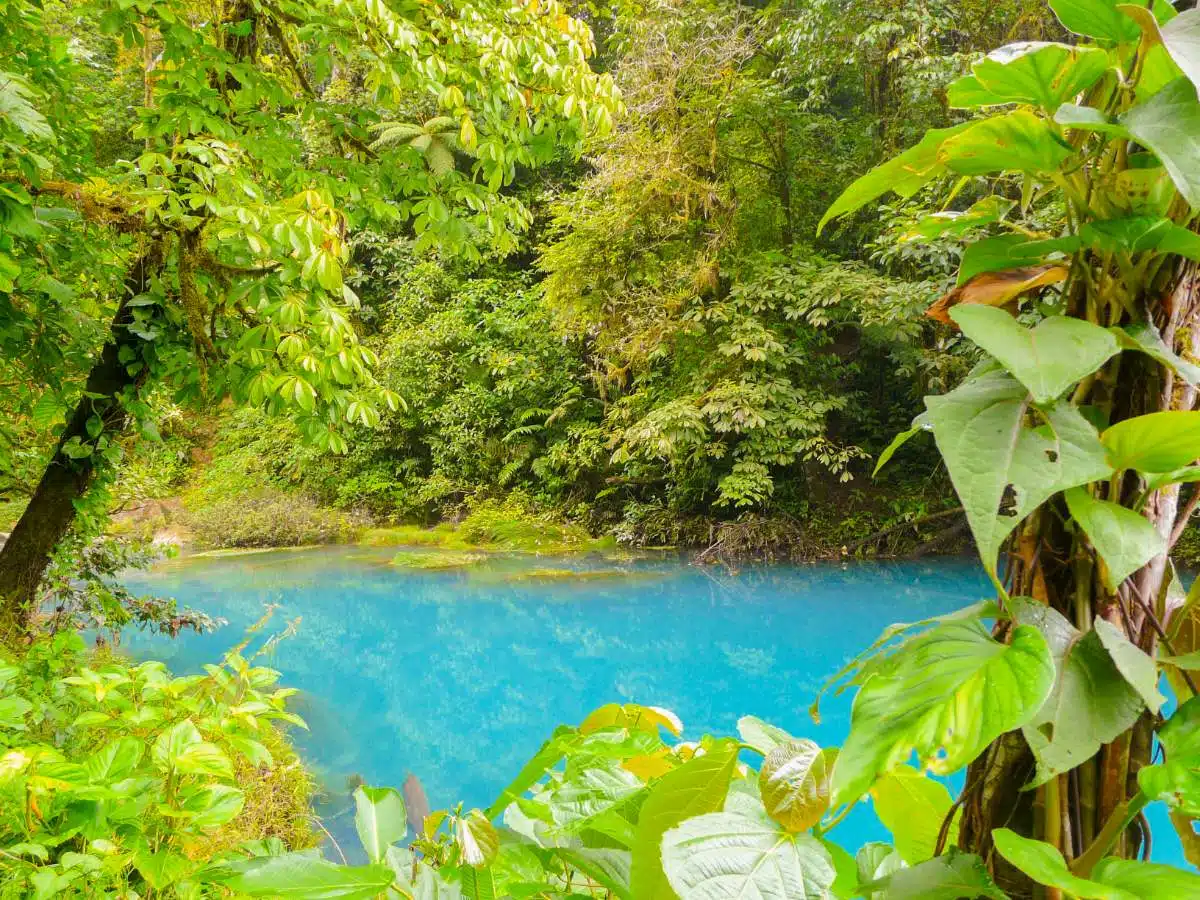 For those passionate about nature, visiting Rio Celeste is one of the best things to do in La Fortuna.
This mesmerizing sky-blue river is nestled within the Tenorio Volcano National Park.
Embark on a 7-kilometer roundtrip hike through lush rainforests, where you'll be captivated by the striking Rio Celeste waterfall, traverse several bridges, and witness the serene blue lagoon and the confluence of two rivers.
The highlight of the Rio Celeste hike is where the two rivers merge, giving rise to its iconic sky-blue hue.
The Tenorio Volcano National Park is one of Costa Rica's most picturesque spots, making it a worthy day excursion from La Fortuna.
Remember, the journey from La Fortuna to Rio Celeste takes approximately 1 hour and 45 minutes, so plan a full day's adventure, complete with a delightful lunch.
11. Rappel Down Waterfalls in La Fortuna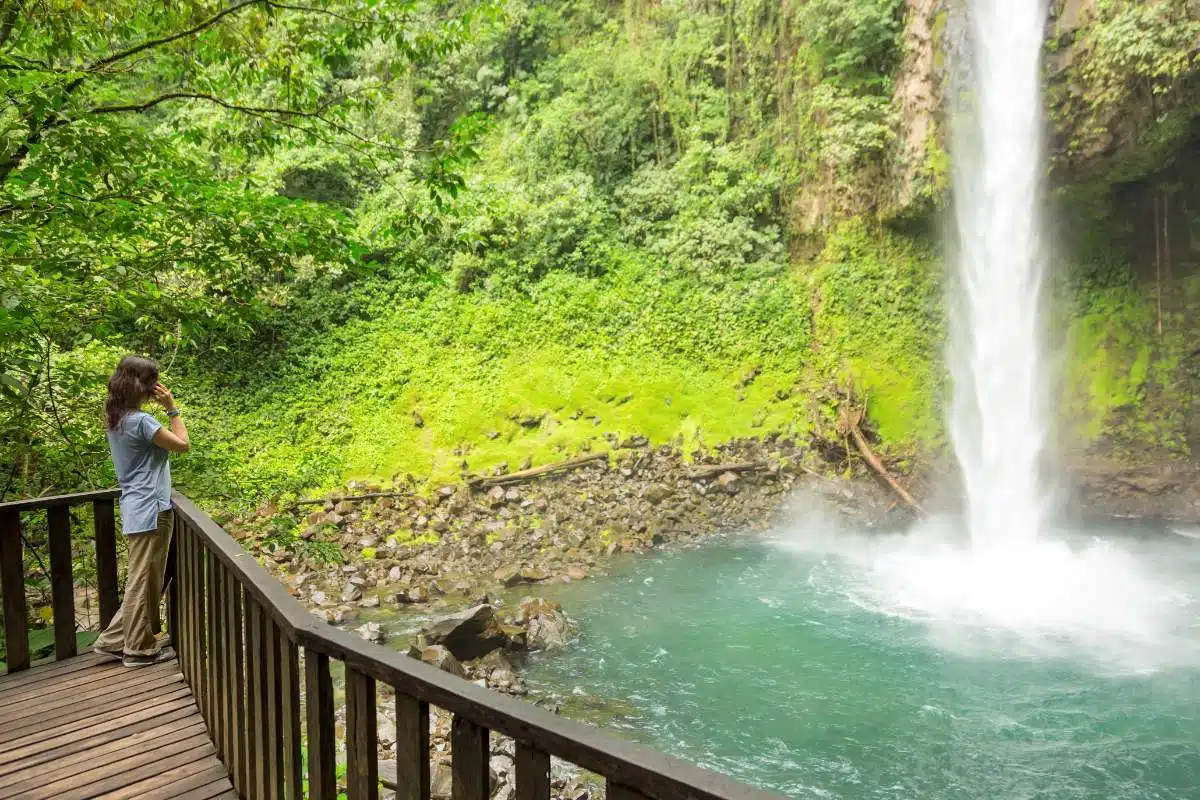 Dive into an exhilarating adventure in La Fortuna by canyoning down 200-foot waterfalls and towering cliffs nestled within the heart of the rainforest.
While the idea of waterfall rappelling might initially seem daunting, the immersive experience of descending amidst the dense forest's vibrant sights and aromatic scents will quickly melt away any apprehensions.
This adventure is tailor-made for those who embrace the thrill and don't mind getting a bit messy. Expect to be drenched by the end, but it's a small price to pay for such a unique and thrilling rainforest experience."
Be sure to bring your waterproof action camera to capture epic memories deep in the jungle of La Fortuna.
12. Things to Do in La Fortuna – Visit the Venado Caves
The Venado Caves are located around 45 minutes north of Arenal. These caves are known as living shelters because many insects and animals treat them as their habitats.
Marine fossils and rock formations can also be found inside. Getting inside the caves is tricky, with only some crevices acting as passageways to the next area to explore. Spelunking is the only way to go!
The ceilings of the Venado Caves are full of stalactites, and a huge column people fondly call the papaya is a definite eye-catcher. It will be a wet tour due to the water inside the caves.
13. La Fortuna Cooking Class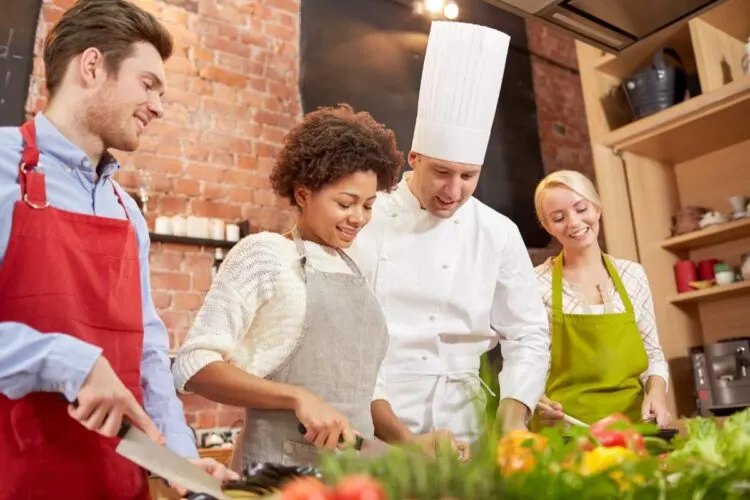 A trip to Costa Rica is not the same without trying some of its amazing local dishes! Why not take it up and discover how these well-loved recipes are made?
From learning how to utilize local ingredients such as yucca, tiquisque, and sugar cane to sharing authentic recipes you can make at home, this La Fortuna tour is perfect for the foodies and cooks at heart.
Not an expert in the kitchen?
You will be in the most capable hands of an expert chef, who will walk you through the whole experience. For a full three hours, get to know more about Costa Rica through its wonderful gastronomy.
Of course – the perfect end to this wonderful cooking experience is eating your freshly made picadillos, tortillas, and guisados.
Click here for more information, photos, and to make a booking.
14. Things to Do in La Fortuna – Float down Rio Frio
Who is up for a relaxing boat ride? Go to the unassuming small town of Los Chiles and get ready to board a motorized boat that will take you to Rio Frio.
Rio Frio is a calm river that goes through the Cano Negro Wildlife Refuge. A boat ride here will take you sightseeing past the tropical rainforest and along pastures and marshland.
While going on a slow ride, keep your eyes open for the most exciting part of the tour.
See spiders and white-faced monkeys in their natural habitat and spot resident and migratory birds along the way. Your experienced guide will show you all the notable wildlife that calls Rio Frio their home.
If you participate in this boat tour, wear sunscreen, insect repellent, light clothing, and comfortable shoes.
15. Bogarin Trail (La Fortuna Sloth Trail)
Nothing is more rewarding than just taking your time and seeing nature up close and personal. This is exactly what you will experience when you join a Bogarin Trail or La Fortuna Sloth Trail tour.
This activity calls for easy flat walking that stretches for 1.5 miles or 2.4 kilometers. Along the way, you will see La Fortuna's star of the show: sloths!
Regarded as Costa Rica's national symbol, sloths are so adorable to observe in their natural habitat.
At least 25 sloths live along the Bogarin Trail. Book this tour if seeing a sloth is on your Costa Rica bucket list because this specific trail allows you to spot one (or more) easily.
Aside from sloths, you also see a wide range of wildlife living in the tropical rainforest.
Your experienced tour guide will usher you to a simple and quiet trail within the Bogarin Trail property for two hours. You would not believe that this lush environment was once a cattle farm!
16. La Fortuna Chocolate Tours
Cacao holds significant value for the indigenous communities of Costa Rica, and it thrives in the La Fortuna region.
Embark on a chocolate tour to discover the journey of cacao, from cultivation to processing, and, finally, to the creation of the delectable desserts we adore.
Many of these tours also delve into sugar cane and coffee production, allowing you to immerse yourself in a comprehensive exploration of Costa Rica's three pivotal crops in just one day.
17. Things to Do in La Fortuna – Lake Arenal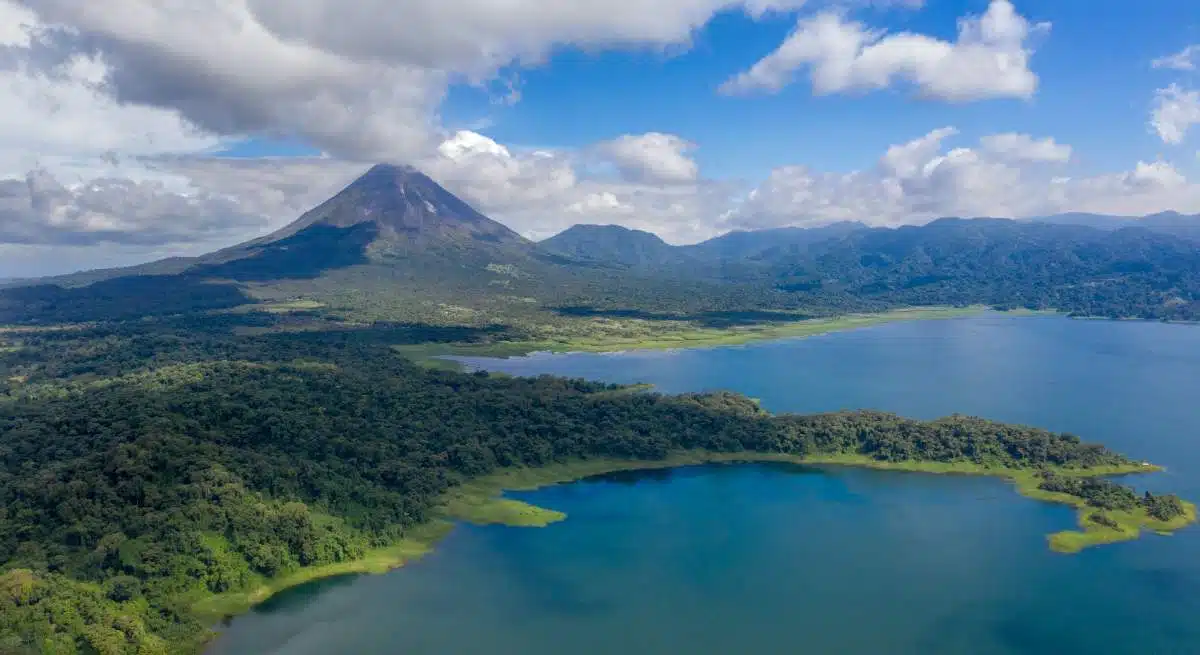 Lake Arenal stands as Costa Rica's largest lake. While it's a man-made creation originally intended for hydroelectric power generation, it has since become a hub for recreational activities.
Whether you're looking to enjoy a sunset boat cruise, try your hand at fishing, jet skiing, stand-up paddleboarding, kayaking, sailing, windsurfing, or even boat over to Monteverde, Lake Arenal has it all.
With breathtaking views of the Arenal Volcano, it's an ideal spot to relish the water and the surrounding rainforest.
18. El Salto Rope Swing
For an enjoyable day mingling with the locals, go to the El Salto rope swing.
Dive into the invigorating waters of the La Fortuna River, or challenge yourself by leaping from the swing straight into the refreshing depths below!
Located just a short 2-minute drive from the heart of La Fortuna town, this free swimming spot is a lively place to interact with the local community.
It tends to get crowded on weekends, so consider taking a stroll there if possible.
19. Things to Do in La Fortuna – Butterfly Garden
If you're passionate about nature and wildlife, a day trip to the quaint town of El Castillo is a must-do.
The town boasts one of Costa Rica's top butterfly gardens at the Butterfly Conservatory.
Their well-informed staff will lead you along pristine rainforest trails, introducing you to a vibrant array of butterflies, frogs, and other wildlife. Note: A 4WD vehicle is essential for the 30-minute drive.
Another great option is the Danaus Eco-Center.
This private reserve offers a 1-kilometer trail where visitors can spot butterflies, birds, mammals, and reptiles.
Conveniently located just a 5-minute drive from the town center, there's no need for a 4×4 vehicle.

With our local tourism agency partner onboard, organizing a customized Costa Rica vacation has never been this hassle-free!
Share your travel dates, places of interest, and other details that would make your travel to Costa Rica memorable.
After completing this form, one of our Costa Rica experts will contact you. Tours, transport, other travel services – you name it, we'll arrange it!
La Fortuna Sample Itineraries
Whether you're seeking relaxation or adrenaline-pumping activities, La Fortuna has something for every traveler. Dive into our La Fortuna sample itineraries to make the most of your visit to this tropical paradise.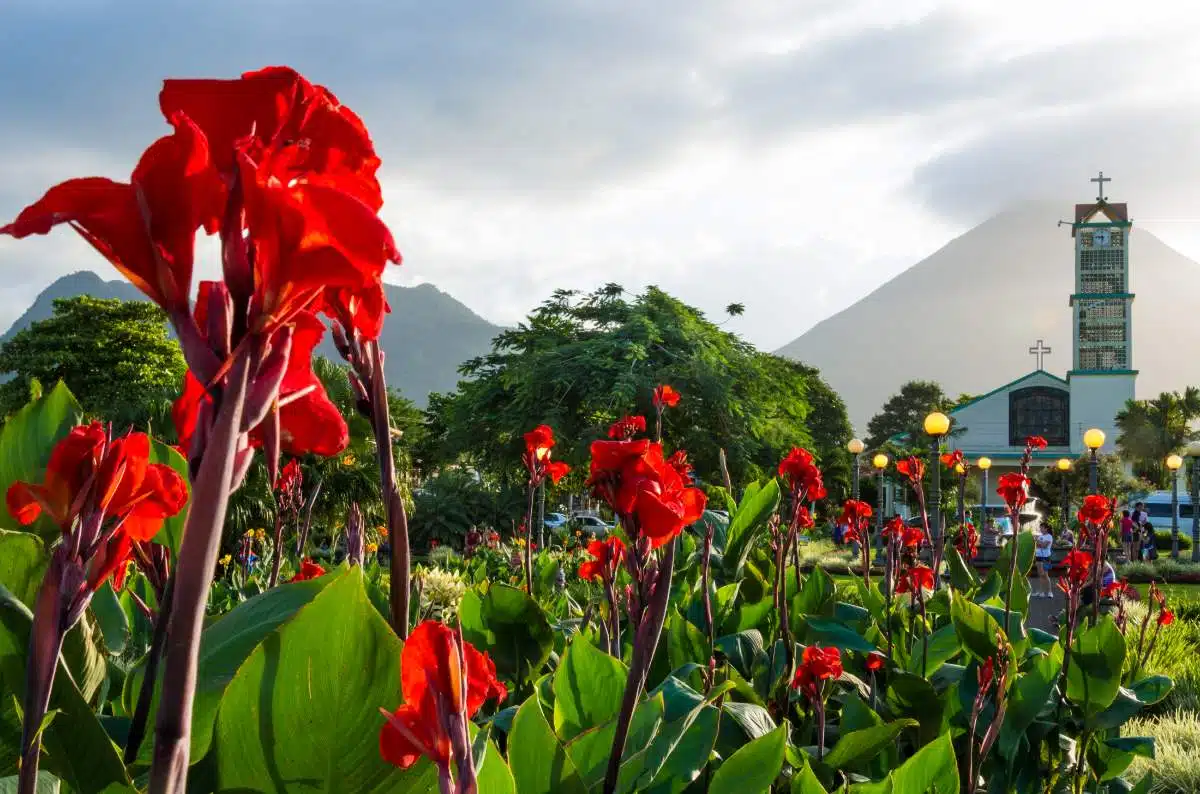 2 Days in La Fortuna, Costa Rica: Nature, Wildlife, and Relaxation
Day 1: Start your day with a visit to the Arenal Hanging Bridges in the morning. Follow it up with a trip to the La Fortuna Waterfall.
After some exploration, enjoy a traditional Costa Rican lunch at either Soda La Hormiga or Restaurante Nene's.
In the afternoon, embark on a hike around the Arenal Volcano. Conclude your day with a soothing dip at one of the hot springs resorts.
Day 2: After a leisurely morning, set out for a river safari float in the afternoon, keeping an eye out for local wildlife.
As evening approaches, unwind at the local central park. You can either dine in town or return to the hot springs for dinner.
If you opt for the former, Mercadito and La Fortuna Pub are great choices, especially if you're in the mood for craft beer. And don't miss out on a dessert treat from Chocolate Fusion in downtown.
2 Days in La Fortuna, Costa Rica: Adventure and Hiking
Day 1: Dive into an adrenaline-filled day with ziplining and white water rafting on Class 2 and 3 rapids.
The adventure includes lunch. Post the activities, take some time to shower, rest, and perhaps even nap. In the evening, rejuvenate your muscles at the hot springs.
Day 2: After a restful start, choose between visiting the Arenal Volcano National Park or private reserves like Arenal 1968, El Silencio, or Arenal Observatory Lodge.
Spend 3-4 hours hiking their trails for an up-close view of the volcano. If hiking isn't on your agenda, opt for an enjoyable horseback riding tour.
Top La Fortuna Day Trips and Activities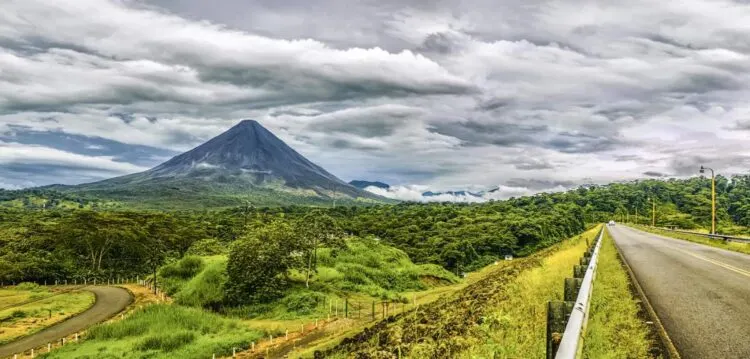 A trip to La Fortuna will include day tours, extreme sports, and much more.
This tourist destination is one of Costa Rica's best, and despite its small size, it is packed with various things to do for every type of traveler.
You have canyoneering, mountain biking, and hiking for the adventure seeker. There's kayaking, bird watching, and nature walking for the slow and steady. If you ask me, combining both worlds is the way to go!
Read the full article: Top La Fortuna tours and day trips
How to get to La Fortuna, Costa Rica
Are you ready to book that tour?
First, let me help you plan your way to La Fortuna.
Traveling around Costa Rica can be a breeze if you read our guide before your trip.
Here, you'll find all the different modes of transportation in Costa Rica. This guide also includes helpful instructions on how to get to La Fortuna from major points in the country.
How to get from San Jose to La Fortuna
How to get from Monteverde to La Fortuna
How to get from Tamarindo to La Fortuna
How to get from Santa Teresa to La Fortuna
How to get from La Fortuna to other Costa Rica Destinations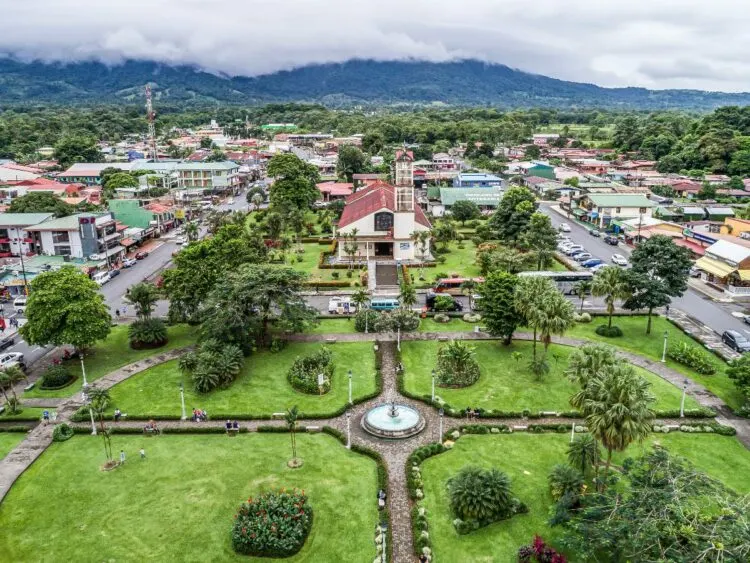 Are you ready to explore more destinations in Costa Rica?
Traveling from La Fortuna to other parts of Costa Rica is easy to plan with the help of our guides.
Choose among the different modes of transport, be it a solo trip or a family getaway. With these helpful guides, know the cheapest, fastest, and most efficient ways to travel beyond La Fortuna.
How to get from La Fortuna to Monteverde
How to get from La Fortuna to San Jose
How to get from La Fortuna to Santa Teresa Beach
How to get from La Fortuna to Puerto Viejo
La Fortuna Hotels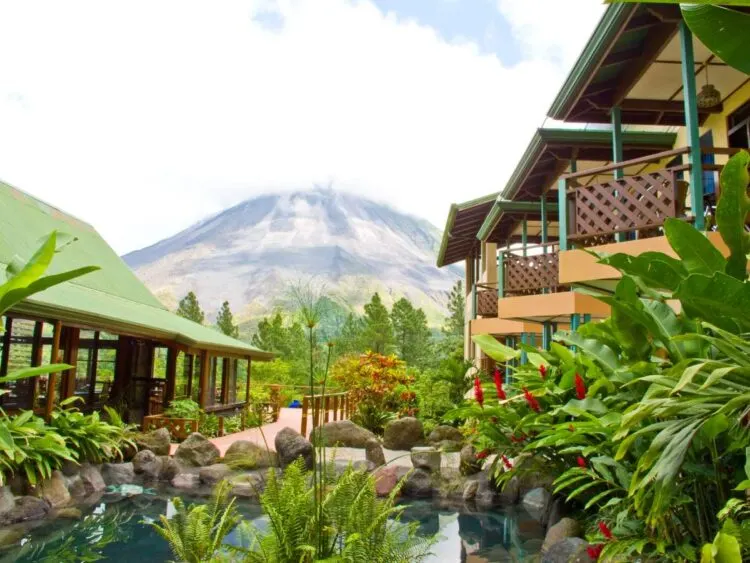 La Fortuna is home to some of the most luxurious accommodations in Costa Rica.
After a heart-pumping ATV ride or a day-long hike, it's nice to go home to a place with a relaxing ambiance and splendid service. Here are my top recommendations for a great stay in La Fortuna.
Nayara Resort, Spa, and Gardens – a luxurious getaway set amidst the splendor of the Arenal Volcano.
Nayara Springs – an adults-only property featuring luxury villas promoting intimate privacy and utmost relaxation.
Tabacon Grand Spa and Thermal Resort – is among the highest-praised hotels that offer guests a chance to experience the beauty of the thriving rainforest and the majestic Arenal Volcano.
Amor Arenal – a rainforest lodge situated close to the Arenal Volcano and on the edge of a virgin rainforest canyon.
Read the full article: Best hotels in La Fortuna, Costa Rica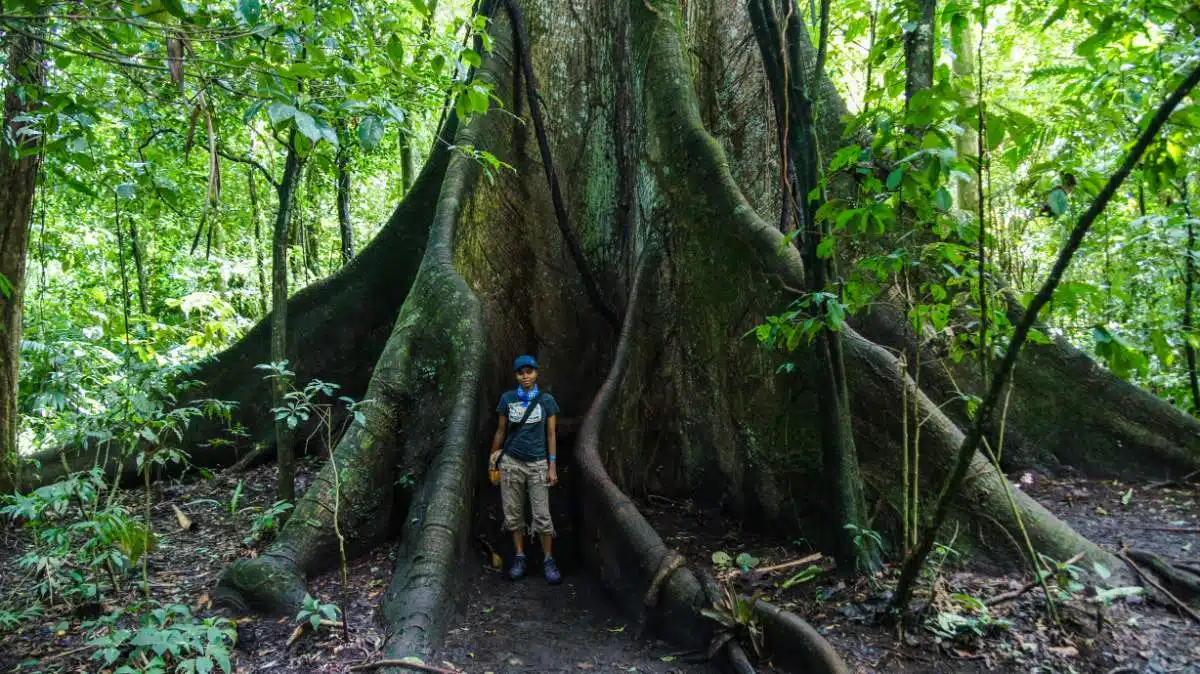 La Fortuna Travel Information
The climate in La Fortuna
La Fortuna enjoys four seasons. The climate is tropical and humid. Expect rain showers, though not very often, because that's how the country's ecosystem thrives.
The best time to visit La Fortuna is from December to April.
Temperatures in La Fortuna
It is all year round hot in La Fortuna. The hottest months, however, are February, March, and April. The average temperature ranges from 72 F to 93 F.
What to bring to La Fortuna
Your essential packing list must include the following: a day pack containing your wallet, phone, keys, and a change of clothes.
Add insect repellent, sunscreen with high SPF, a water-resistant jacket, a hat, and sunglasses.
Also, don't forget quick-drying clothes, closed shoes for trekking, aqua shoes, and emergency medication.
Frequently Asked Questions about Things to Do in La Fortuna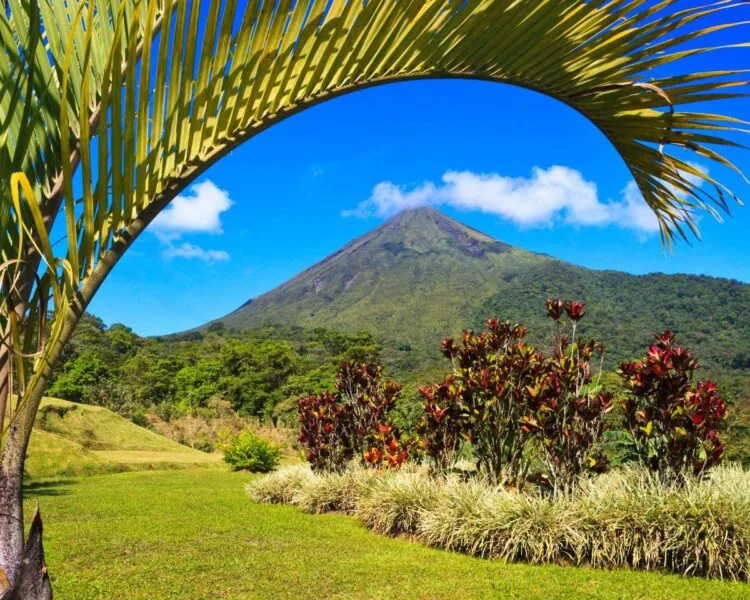 Best VPN for Travel: ExpressVPN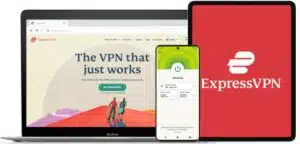 Heading abroad? Use ExpressVPN to access your social media accounts, unblock your favorite entertainment sites, and stay connected with friends and family. And get cheaper flights, of course.
Pros
✅ Next-gen, high-speed servers in 94 countries
✅ Works on iOS, Android, Windows, Mac, Linux, browsers, and more
✅ 256-bit AES encryption protects your data, even on hotel Wi-Fi
✅ Unblocks Netflix and other streaming sites
Cons
❎ No dedicated IPs
Get 3 extra months free of ExpressVPN when signing up for a 1-year plan. That's a 49% saving and a monthly cost of just $6.67! You also get a 30-day money-back guarantee.
How many days do you need in La Fortuna Arenal?
I suggest staying for at least five days in La Fortuna Arenal. You can dedicate the three days to touring and maximizing what the town has in store, and I suggest you spend the other two days enjoying your accommodation.
Is La Fortuna, Costa Rica, worth visiting?
Yes, La Fortuna is definitely worth visiting! If you are a nature lover, you have many things to do here, like swimming in hot springs and joining a sloth trail tour. La Fortuna is also for the wild adventurer, with canyoneering and horseback riding activities.
Is La Fortuna the same as Arenal?
No, La Fortuna and Arenal are not the same. La Fortuna is the name of the town in Costa Rica where Arenal, a volcano of utmost importance to the area, is located.
Do you need tickets for La Fortuna Waterfall?
Yes, you need tickets to visit the La Fortuna Waterfall. The fee is 18 USD for adult foreigners and 5 USD for children. You can visit one of Costa Rica's highest and most popular waterfalls with your ticket.
How long does it take to walk to La Fortuna Waterfall?
It takes about 15 minutes to reach the La Fortuna Waterfall. The roundtrip journey is about 0.75 miles or 1.2 kilometers long. Once you arrive at the waterfall, you have about an hour to spend there.
Can you swim in Costa Rica waterfalls?
Yes, you can swim in many Costa Rica waterfalls. Among the ones where swimming is permitted are the Nauyaca Waterfall, the Llanos de Cortez Waterfall, and the La Fortuna Waterfall. Some waterfalls are not open for swimmers, including Catarata del Toro.
Can you visit Arenal Volcano on your own?
I strongly suggest that you do not visit Arenal Volcano on your own. There are great reasons why you should hire a guide for your tour. Expert tour guides not only make your trip informative, but they also work for your safety.
What is the best month to visit Arenal, Costa Rica?
The best time to visit Arenal, Costa Rica, is in September. The weather is good this month, and not many tourists are flocking to the area by then. This continues until November.
How do you get around La Fortuna without a car?
If you are traveling to La Fortuna without a car, you can rely on local transport. Taxis, public buses, and shuttle services go to La Fortuna's major tourist spots and beyond.
Does Uber work in La Fortuna?
Yes, Uber works in La Fortuna. Download the application before your trip to easily book a ride when traveling within the area.
How far is La Fortuna from the beach?
La Fortuna is about three hours away from the nearest beach in town. Come to Puntarenas if you need some sand and sea while you are there. Unfortunately, La Fortuna is far from Costa Rica's well-loved beaches.
How long is the hike to Rio Celeste Waterfall?
The total hike to Rio Celeste takes about three hours to complete. It is about 3.7 miles or six kilometers long.
What is there to do in La Fortuna at night?
There is honestly not much to do at night in La Fortuna. A few establishments will be open for drinking and dining, but there are no noteworthy spots to hang out at night. It will be best to spend the evening lounging in your accommodation.
Can you hike to the top of Arenal Volcano?
No, it is illegal to hike to the top of Arenal Volcano. However, you can hike around it and get the best views of La Fortuna's pride from below.
Where can I watch the sunset in La Fortuna?
The Arenal Volcano is a sight to behold when the sun sets. I suggest you spend the end of the day at the national park, waiting for the volcano's backdrop to turn orange slowly.
Is Arenal Volcano Active?
The Arenal Volcano is active. This stratovolcano is one of the most active volcanoes in Costa Rica and the world. Its last eruption was in 2010.
Where is Arenal Volcano National Park?
Arenal Volcano National Park is located in the northwestern part of Costa Rica. It lies within the Arenal Huetar Norte Conservation Area. The closest town to the park is La Fortuna.
More Costa Rica Destinations