Do you want to know where is Cancun, Mexico located? Check out the Cancun Mexico map, fun facts, and frequently asked questions about Cancun.
Situated in the southeastern part of Mexico, on the northeastern coast of the Yucatán Peninsula, Cancun is a world-renowned tourist hotspot that seamlessly blends stunning natural beauty with rich cultural heritage.
The city is nestled within the state of Quintana Roo, a region famous for its striking Caribbean coastline, verdant jungles, and significant Mayan archaeological sites.
Cancun's geographical coordinates, with a latitude of 21.17429 and a longitude of -86.84656, place it on the easternmost point of Mexico, where the sun first touches Mexican soil.
This unique location gives it a tropical climate, with year-round warm temperatures, and positions it as the gateway to the Mayan world and the vast underwater wonders of the Caribbean.
As one of Mexico's most popular tourist destinations, Cancun attracts millions of visitors each year. Its sparkling turquoise waters, pristine white sandy beaches, abundant wildlife, vibrant nightlife, and diverse culinary offerings provide a tantalizing mix that captivates all who venture here!
Whether you're a history enthusiast, a nature lover, a foodie, or a beach bum, Cancun's location makes it a premier choice for an unforgettable getaway.
Distance from Cancun to other major destinations:
| | | |
| --- | --- | --- |
| | Distance | Estimated travel time by car |
| Cancun to Tulum | 81 miles or 131 kilometers | About 1 hour and 43 minutes |
| Cancun to Playa del Carmen | 42 miles or 68 kilometers | About 58 minutes |
| Cancun to Mérida | 199 miles or 320 kilometers | About 4 hours and 40 minutes |
| Cancun to Chetumal | 236 miles or 379 kilometers | About 4 hours and 43 minutes |
| Cancun to Isla Mujeres | 21.2 miles or 33.4 kilometers | About 55 minutes |
| Cancun to Chiquila | 82.4 miles or 132.6 kilometers | About 2 hours |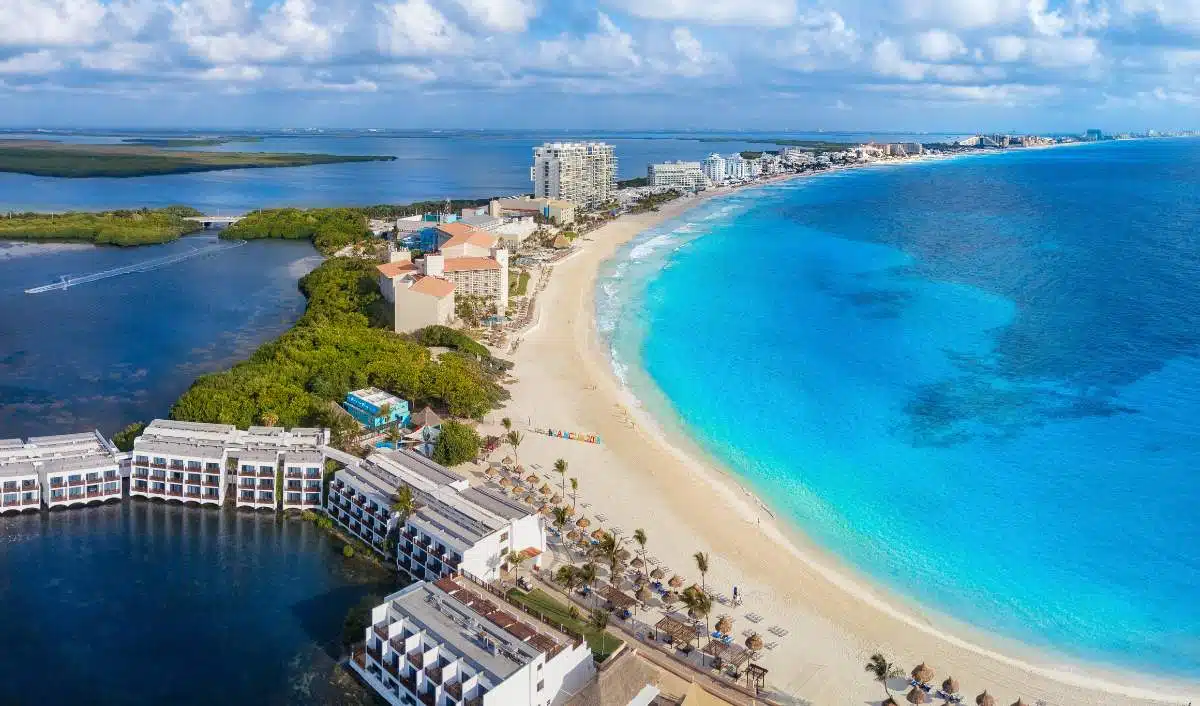 Where is Cancun, Mexico, on the Map
Cancun Fun Facts
1. In 1970, Cancun was home to just three residents – a stark contrast to today's bustling city. Now, this vibrant destination in the Mexican Caribbean is home to more than 700,000 people, attracting millions of tourists each year with its pristine beaches and captivating culture.
2. Among its many unique attractions, Cancun features a remarkable underwater museum. This intriguing aquatic gallery displays a series of 500 life-size statues, forming a fascinating underwater spectacle that doubles as an artificial reef to promote coral life.
3. Cancun was originally known as "Ekab," a name meaning "Black Earth" in the Mayan language. It later came to be called Cancun, another Mayan word, that translates to "nest of serpents," reflecting the rich biodiversity of the region.
4. Despite the size of the city, the total length of Cancun's white-sand beaches is just 14 miles. Yet, these compact coastlines pack an incredible variety of experiences, from tranquil spots to vibrant party scenes.
5. Just offshore from these beaches lies the Maya Barrier Reef, which is the second-largest reef system globally, trailing only Australia's Great Barrier Reef. This rich underwater ecosystem teems with a colorful array of marine life and serves as a premier site for snorkeling and diving.
6. Accommodating its throngs of visitors, Cancun boasts around 32,000 hotel rooms. Ranging from luxurious beachfront resorts with world-class amenities to budget-friendly hotels in downtown Cancun, there is a wide array of accommodation options to suit every traveler's preferences and budget.
What Is The Best Time to Visit Cancun?
The best time to visit Cancun largely depends on your personal preferences.
If you're seeking the perfect balance between pleasant weather and fewer crowds, the months of December through April are generally considered ideal. During these months, Cancun experiences less rainfall and enjoys a more moderate climate with temperatures averaging in the mid-70s to 80s degrees Fahrenheit.
However, if you're a budget-conscious traveler, consider visiting during the off-peak season from May to November. While these months coincide with the hurricane season, you might enjoy discounted rates and fewer tourists.
Note that the peak hurricane months are typically August and September, so you might want to avoid those if possible. Always remember to check weather forecasts ahead of your trip.
How Can I Get Around In Cancun?
Navigating Cancun is relatively easy and there are multiple options for getting around, depending on your preferences and needs.
Buses: One of the most common and cost-effective ways to get around Cancun is by bus. The bus system in Cancun is reliable, extensive, and operates 24/7, connecting the downtown area, the Hotel Zone, and many attractions.
Taxis: Taxis are plentiful in Cancun. They're a fast and convenient option, especially if you're traveling in a group or with a lot of luggage. It's advisable to agree on a fare with the driver before starting the journey to avoid surprises.
Car Rental: Renting a car can offer more flexibility and convenience, especially if you plan to visit attractions outside the city, like the Mayan ruins of Tulum or Chichen Itza. Do remember that you'll need a valid driver's license and insurance. Also, be mindful of local driving customs and rules.
Guided Tours: Many tourists choose guided tours for visiting major attractions. These often include transportation, saving you the hassle of navigating on your own. Plus, they provide the added benefit of a knowledgeable guide.
Walking: The Hotel Zone and downtown areas are quite walkable, and it's a great way to take in the sights and sounds of Cancun at your own pace.
Cancun Activities: What Cancun Has To Offer!
Cancun is a vibrant destination that offers a wide array of exciting activities to enjoy!
For beach lovers, you can soak up the sun on its stunning white-sand beaches, swim in its crystal-clear turquoise waters, or indulge in various watersports like jet-skiing, paddleboarding, and parasailing.
Snorkeling or diving at the Maya Barrier Reef provides an up-close look at the rich marine life. For history enthusiasts, a trip to the El Rey Ruins or the nearby Tulum and Chichen Itza offers insight into the ancient Mayan civilization!
Nature lovers can explore the bio-diverse ecosystems in the nearby jungle reserves. Additionally, the city's vibrant nightlife, luxurious resorts, and exquisite culinary scene also provide ample entertainment and leisure options.
Want the whole package? Here's what we recommend!
Experience the best of what Cancun has to offer with this GetYourGuide tour: Cancún: Chichén Itzá, Cenote & Valladolid with Tequila & Lunch. This immersive excursion offers a rich blend of history, culture, and natural beauty!
Step back in time at Chichén Itzá, one of the Seven Wonders of the World, where you'll marvel at the grandeur of ancient Mayan civilization. Then, refresh your senses by plunging into a crystal-clear cenote, an underground pool exclusive to the Yucatan Peninsula.
Next, explore the colorful colonial city of Valladolid, its vibrant streets exuding rich history and charm. And let's not forget about the tequila tasting – a delightful opportunity to savor Mexico's iconic spirit!
To round off the day, enjoy a traditional Mexican lunch, providing a true taste of the local cuisine. This tour offers a convenient all-in-one package that combines history, adventure, and gastronomy.
Don't miss out on this comprehensive and enriching experience – book your spot on the tour today, and let the magic of Cancun unfold before you!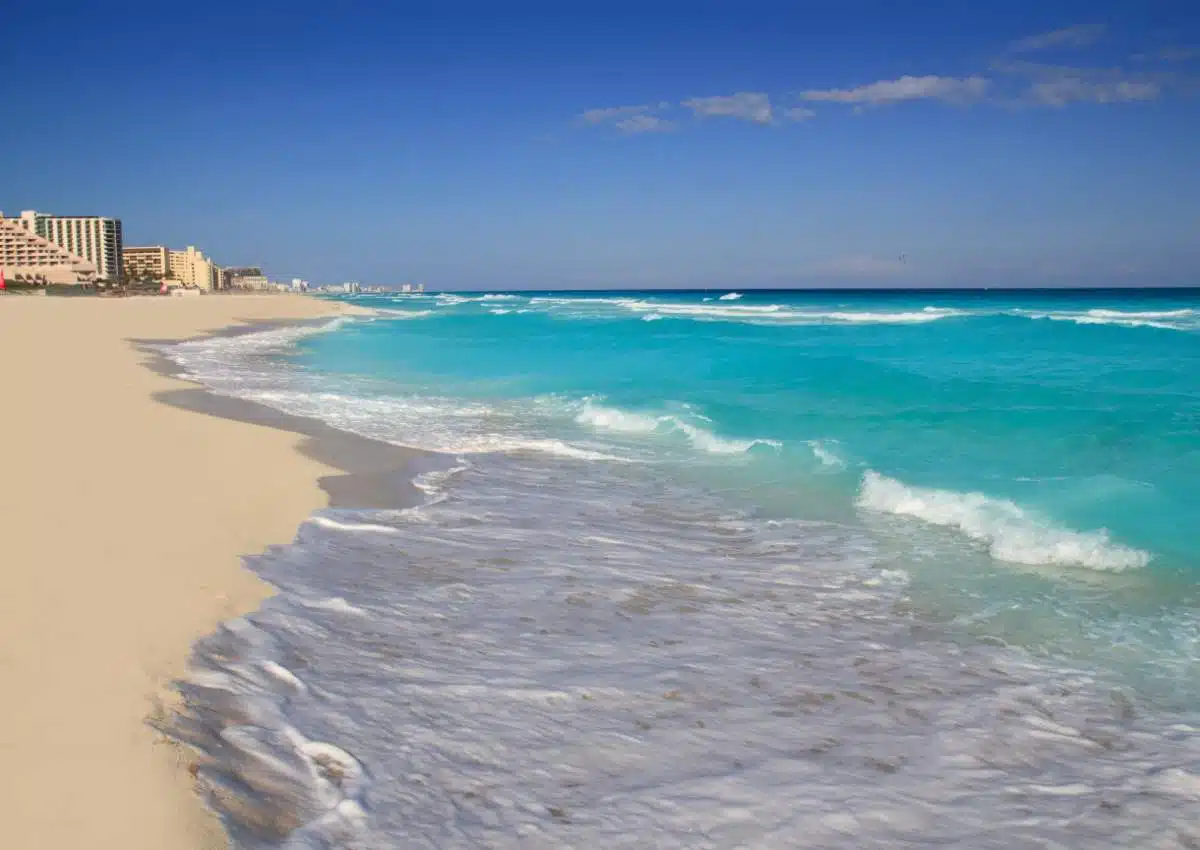 Universal Traveller recommends the following websites to plan & book your trip to Mexico
How to travel from Cancun to other popular Mexican destinations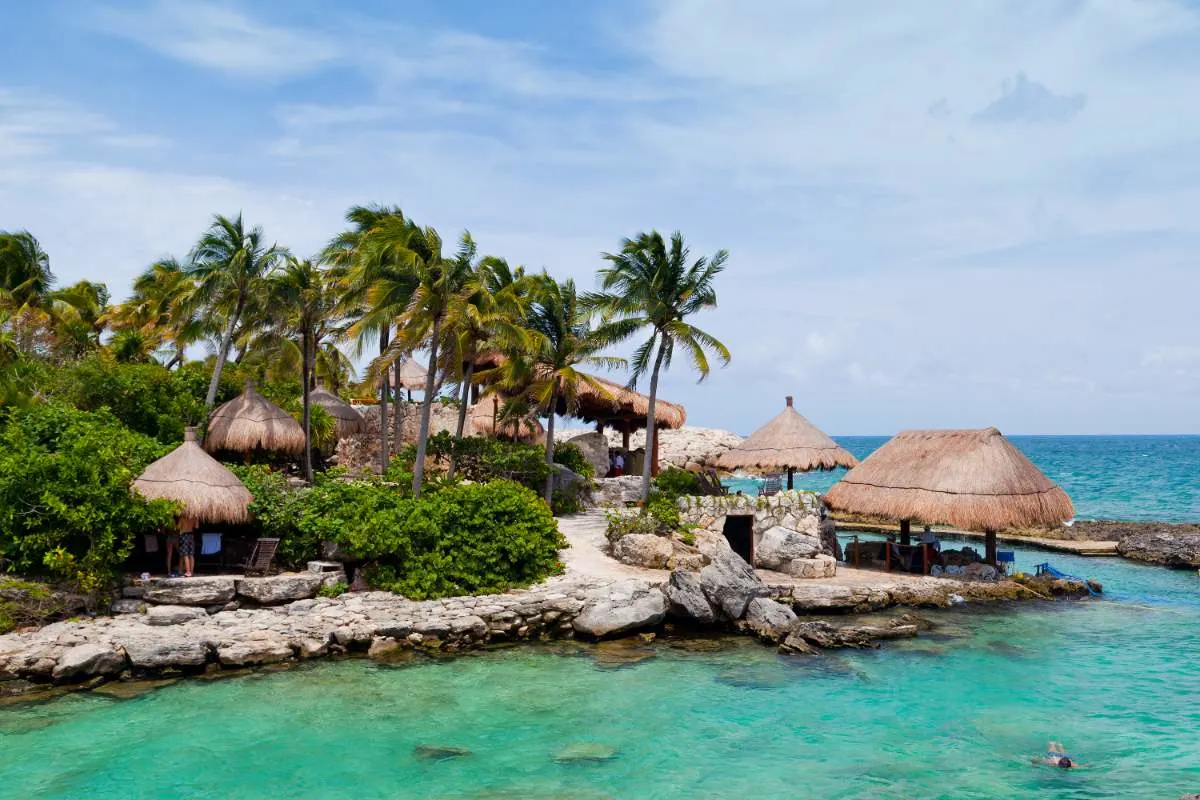 Frequently Asked Questions about Cancun
Best VPN for Travel: ExpressVPN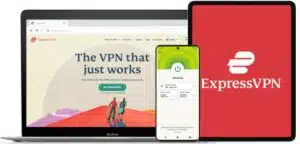 Heading abroad? Use ExpressVPN to access your social media accounts, unblock your favorite entertainment sites, and stay connected with friends and family. And get cheaper flights, of course.
Pros
✅ Next-gen, high-speed servers in 94 countries
✅ Works on iOS, Android, Windows, Mac, Linux, browsers, and more
✅ 256-bit AES encryption protects your data, even on hotel Wi-Fi
✅ Unblocks Netflix and other streaming sites
Cons
❎ No dedicated IPs
Get 3 extra months free of ExpressVPN when signing up for a 1-year plan. That's a 49% saving and a monthly cost of just $6.67! You also get a 30-day money-back guarantee.
Is Cancun north or south of the equator?
Cancun is 1,462 miles (around 2,352 kilometers) north of the equator and is thus located north of the equator.
How much is a taxi from Cancun airport to the hotel zone?
The average price for a taxi from Cancun airport to the hotel zone is 50 to 60 USD.
What state is Cancun in?
Cancun is located in the state of Quintana Roo on the Yucatán Peninsula in Mexico.
Is Cancun in the US?
No, Cancun is not in the US. Cancun is a city in Quintana Roo on the Yucatán Peninsula in Mexico.
What is Cancun known for?
Cancun is renowned for its white sandy beaches, turquoise waters, and vibrant nightlife. It's also known for its rich history, including Mayan archaeological sites.
What is the population of Cancun?
As of now, Cancun is home to over 880,000 residents.
Is Cancun safe for tourists?
While Cancun is generally safe for tourists, like any popular tourist destination, it's always wise to stay vigilant, be aware of your surroundings, and follow local advice.
Is English spoken in Cancun?
While Spanish is the official language of Mexico, English is widely spoken in Cancun, especially in tourist areas such as hotels, restaurants, and tourist attractions.
Can I drink tap water in Cancun?
It's generally recommended that tourists avoid drinking tap water in Cancun. Most hotels and restaurants use purified water, and bottled water is readily available throughout the city.
What currency is used in Cancun?
The official currency is the Mexican Peso (MXN), but US dollars are also widely accepted in Cancun, particularly in tourist areas.
What is the time zone of Cancun?
Cancun is in the Eastern Standard Time zone (EST).
What are some traditional dishes I should try in Cancun?
When in Cancun, you must try dishes like tacos al pastor, cochinita pibil (slow-roasted pork), ceviche (raw fish cured in citrus juices), and tamales. Don't miss out on traditional Mayan dishes like Poc Chuc and Panuchos!
Is there an airport in Cancun?
Yes, Cancun International Airport is the second busiest airport in Mexico and offers numerous international and domestic flights.
Location Map of Mexican Cities