Wondering how to get from Cancun to Tulum Mexico? The travel from Cancun to Tulum is quite easy. Get the information that you need for your Tulum trip here.
Getting to Tulum from the Cancun International Airport is not only easy – it is also affordable.
Tulum is known by the world for the Mayan ruins and fascinating cenotes that perfectly characterize what this travel destination is all about.
Read also: Best Cenotes Tulum
As you search how to get from Cancun to Tulum, you will find out there are plenty of land transport options to choose from – and that's about it.
There is no airport located in Tulum, so there is no option for you to book a flight there.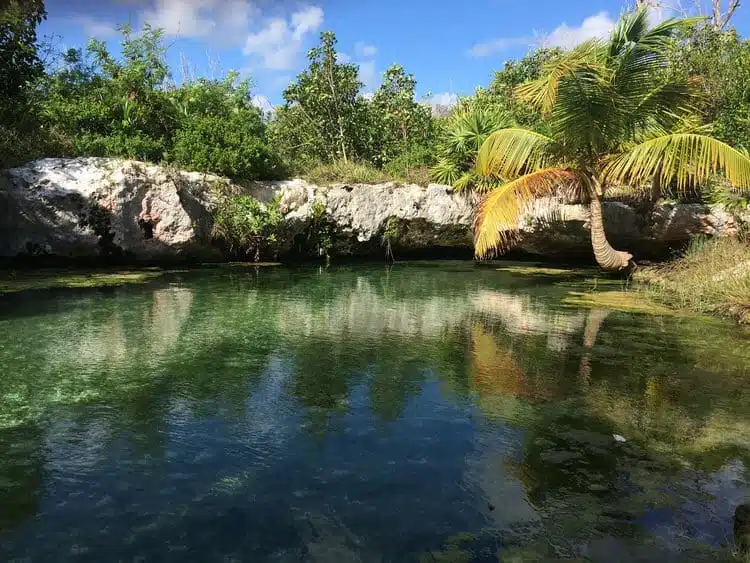 The nearest airport would is Cancun Airport. That is why the route of Cancun to Tulum has been popular to travellers wanting to visit this side of Quintana Roo.
A quick look at the map showing the Caribbean coast of the Yucatan Peninsula in Mexico will give you the impression that taking public or private transport in between the two destinations will be a breeze.
In fact, there is a route from the airport which takes you directly to Tulum Central.
This road infrastructure, along with the many options for transport, makes your travel from Cancun to Tulum seamless and almost effortless.
How far is Tulum from Cancun Airport?
The distance from Cancun to Tulum is 81 miles or 131 kilometers.
The distance from the Cancun Airport to Tulum is with 73 miles or 118 kilometers a bit shorter.
How to get from Cancun to Tulum?
1. ADO Bus from Cancun Airport to Tulum
Taking an ADO Bus when you go to Tulum from Cancun Airport is the most popular way for visitors and residents alike.
The bus from Cancun to Tulum can easily be found within the airport.
Autobuses de Oriente or ADO bus is the leading bus company that caters the Riviera Maya.
It is the only public bus transport that is present at the Cancun International Airport.
Once you are done with all airport procedures, look for the ADO passenger's booth.
Inform the ticketing officer that you intend to travel from Cancun to Tulum. You will have to pay 242 pesos for one way.
It is vital to pay in pesos in order to save yourself from any inconvenience.
In the event that you really have no time to have your currency exchanged, you can pay in US dollars. Be sure to give small bills.
Your change, though, will be in peso.
If there are no agents available at the booth, you can also buy your ticket inside the bus.
Alternatively, you can buy an e-ticket online, pay $8 and show the proof of your purchase to the bus conductor.
The ADO bus transportation from Cancun to Tulum has trips as early as 12:05 AM and as late as 7:45 PM.
To get to Tulum from Cancun, it takes about two hours and 35 minutes.
The ADO fleets are equipped with toilets, power outlets and air conditioning.
They are also pet-friendly and are lenient when it comes to sports equipment.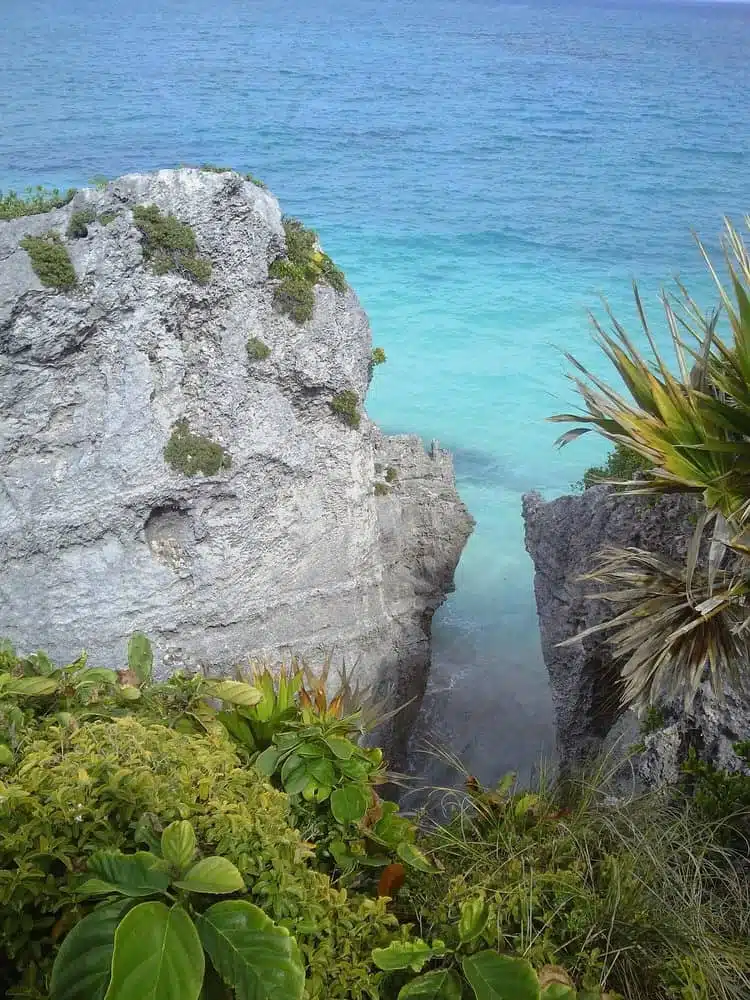 2. Shuttle from Cancun Airport to Tulum
If planning to go from Cancun to Tulum, you can ride a shared shuttle right from the Cancun Airport.
This is the best option if you are thinking about how to get to Tulum with more comfort and less crowd.
A shared shuttle can accommodate from up to twelve passengers at a time.
Should there be vacant seats from the airport, the driver will have to pass by specific major hotels to pick up passengers along the way.
This may add to your total travel time and should be put into consideration.
A one-way Cancun to Tulum shuttle trip costs about $14. Booking is done online.
In order to find your shuttle at the Cancun Airport, look for the tour representative bearing your name on a banner.
You will then be directed to your vehicle. Total travel time from Cancun to Tulum by shuttle is around two hours.
3. Taxi from Cancun Airport to Tulum
Getting to Tulum from Cancun is made easy (or hard) by the dozens of taxis that wait at the airport for travellers who did not make prior transport reservations.
As a rough estimate the cost of a one-way taxi ride from Cancun to Tulum is $70 or 1,700 pesos.
The taxi ride to Tulum from Cancun Airport will take less than two hours during favorable traffic conditions.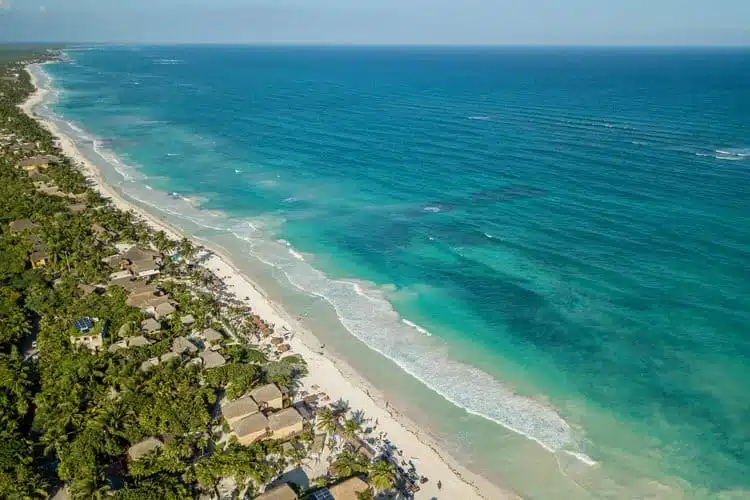 4. Private car from Cancun Airport to Tulum
On the other hand, if you would like to book a private car from the Cancun airport to Tulum, it is possible.
Like taxis, you will find plenty of them once you arrive in Cancun. Be sure to haggle and never agree on a price which you think is too high.
If you are traveling from Cancun Airport to Tulum as a group, you might want to consider pre-booking a private vehicle online.
The price of private transport for a family of six to nine people starts at $100 to $185, depending on if you would like to choose a regular vehicle or a luxurious one.
If you are travelling from Cancun Airport to Tulum for an extremely special occasion, you may want to consider hiring a limousine to drive you between the two destinations.
For eleven to 14 passengers, the cost to get a limo starts at $310.
Getting a private transfer saves you from the hassle of looking for other passengers, waiting for latecomers, or not being able to stop the vehicle when you need to.
Compared to driving on your own, it also gives you the convenience of relaxing on your seat without being stressed about the roads.
The private car ride from Cancun to Tulum lasts for about one hour and 45 minutes, depending on the number of stops you agree to make in between.
There are transport companies which will allow you to stop at grocery stores or food chains for an added charge.
5. Uber from Cancun Airport to Tulum
Is there Uber in Cancun?
Yes, there is.
Download the application on your smartphone in order to try booking an Uber in Cancun. Going to Tulum from the international airport costs about $50.
It is important to check beforehand if you plan on using Uber to get to Tulum.
There has been a history of Uber not being able to operate for a while in Cancun due to some restrictions, so it is better to do a quick check right before your trip.
The Uber ride to Tulum from Cancun Airport lasts for about one hour and 45 minutes.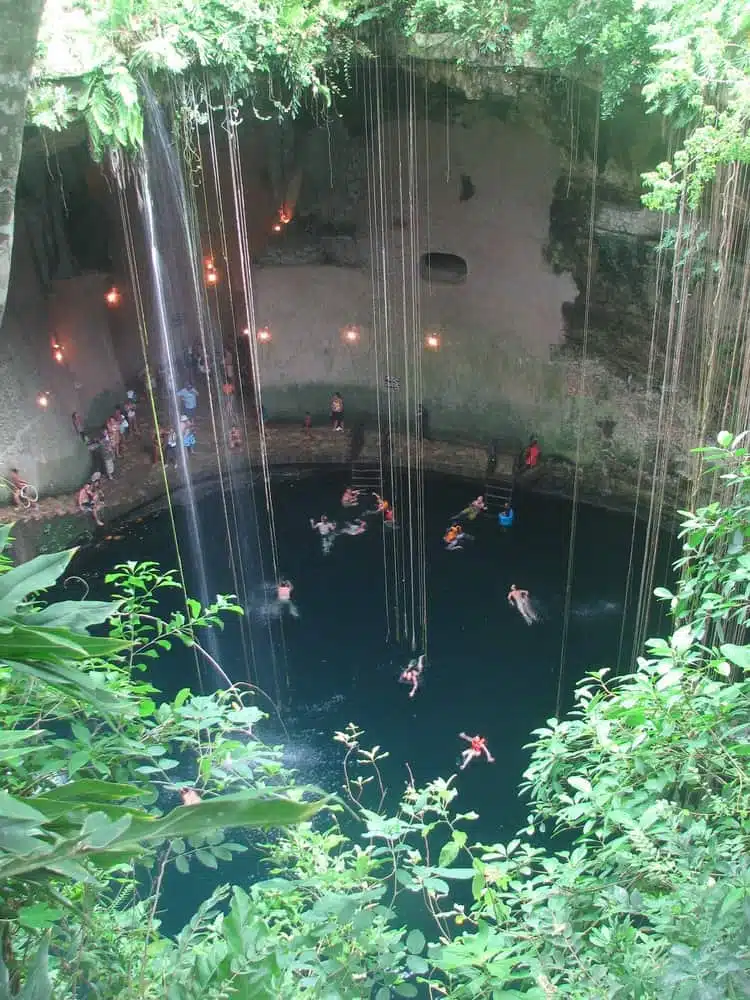 6. Rent a car from Cancun Airport to Tulum
When doing your research on how to get to Tulum from Cancun, you will find out that renting a car might just turn out to be cheaper and more convenient than the other options.
If you will be doing a lot of exploring within the peninsula, it is truly best to rent a car.
Know that the road signs are written in Spanish, so if you are not knowledgeable about the language, prepare to have your GPS on hand to guide you.
Aside from that, driving in Cancun is generally safe and easy.
To drive to Tulum from Cancun, you just have to follow Mexico 307.
This route will take you directly to Tulum Centro. As you drive, you will pass by Puerto Morelos, Playa Del Carmen, and Puerto Aventuras.
There will be police checkpoints on your way to Tulum.
As a standard procedure, they will ask for documents such as your driver's license and rental papers.
It is nothing to be alarmed by – as long as you are not bringing in anything illegal.
The trip from Cancun to Tulum takes about one hour and 45 minutes.
The cost to rent a car in Cancun and then dropping it off in Tulum starts at $13 per day.
Search for Car Hire
FAQ How to get from Cancun to Tulum
What is the cheapest way to get from Cancun to Tulum?
Riding an ADO bus is the cheapest way to get from Cancun to Tulum Mexico, with the bus ticket only costing $8.
In another perspective, it is good to consider renting a car at $13 a day instead – if you drive.
You can use the same car to explore Tulum and save money on packaged tours in the process.
Is the drive from Cancun to Tulum safe?
Despite many online comments and articles that will tell you otherwise, Tulum as a destination is safe.
As with any part of the world, take safety precautions when driving at night. If you have the liberty to set your travel time, drive during the day.
Do you need a car in Tulum?
There are plenty of taxis which you can hail once you arrive in Tulum, so there may not be a need to have a car.
However, the option of renting a car from Cancun Airport on your way to Tulum – and then using the same car to go around – is a far better and cheaper option if you plan to do day trips from Tulum.
How much is Uber from Cancun to Tulum?
Uber is available in the Cancun area since June 2019. Getting from Cancun Airport to Tulum with Uber will cost you around $50 USD. Unfortunately, Uber currently not available in Tulum.
Are You Keeping Up With My Tulum Series
Is swimming in a breathtaking Cenote on your bucket list? Then check out our ULTIMATE LIST OF BEST CENOTES TULUM AND PLAYA DEL CARMEN.
Three of the most beautiful cenotes in Tulum are CENOTE DOS OJOS TULUM, GRAN CENOTE TULUM and CENOTE AZUL TULUM.
Are you starting your trip in Cancun? Then read here HOW TO GET FROM CANCUN TO TULUM.