It is a daunting task to go through all the beautiful Costa Rica national parks and make a short list of the best national parks in Costa Rica.
They are special and worth going to in their own rights, yet we have to narrow down the choices especially for the ones who can only squeeze in one or two Costa Rica parks in their itineraries.
Whether you are staying inland, focusing on the Pacific coast or lingering in the Caribbean, there is a national park waiting to be discovered.
INLAND
1. Arenal Volcano National Park
One of the Costa Rica national parks you should not miss is the Arenal Volcano National Park.
The park is almost 30,000 acres wide, and within its vicinity are two volcanoes namely the Arenal and the Cerro Chato. The Arenal Volcano last erupted in 2010 while the Cerro Chato is classified as extinct.
Hiking is the best way to explore this national park.
Hire an experienced local guide that will walk you through the main points of the park while giving you relevant information about the flora and fauna that thrive in the area. 
The Arenal Volcano National Park is one of the best national parks in Costa Rica to spend your full day in. Bathe in natural hot springs, marvel at the La Fortuna Waterfall and conquer the hanging bridges.
To get inside the Arenal Volcano National Park, an admission fee of $15 applies. The park is open daily from 8 AM to 6 PM.
2. Monteverde Cloud Forest Reserve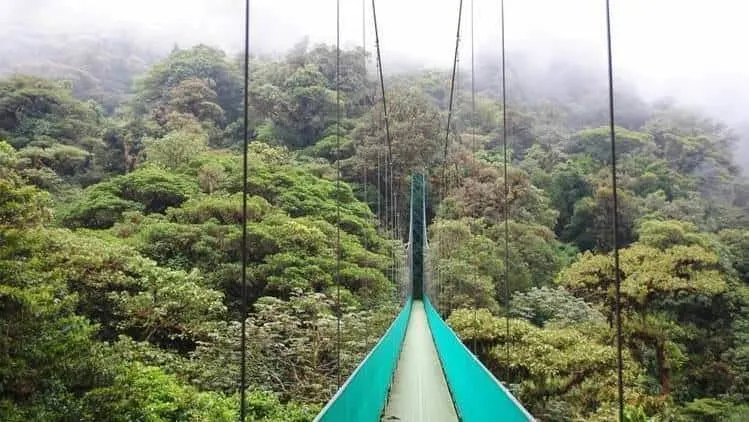 They say a visit to this part of the world is never complete without visiting at least one of the many Costa Rica reserves and national parks that are all famous for having abundance in nature, wildlife and activities.
The Monteverde Cloud Forest Reserve is one of the Costa Rica parks that are a perfect location to go birdwatching.
Come early in the morning and get welcomed by exquisite bird species such as the resplendent quetzal, the bellbird and the umbrellabird.
Go on a guided tour around the Monteverde Cloud Forest Reserve and see a whole world of tropical plants that include a variety of orchids and towering trees.
In order to explore this cloud reserve, there is an admission fee of $25 for tourists. Residents enjoy a discounted rate of $8. You can choose to visit the Monteverde Cloud Forest in daylight or at night.
PACIFIC COAST
1. Manuel Antonio National Park
Ask around for the best rainforest in Costa Rica and many will surely vote for the Manuel Antonio National Park. January and February are the best months to consider when going here.
Various wildlife that thrive in the rainforest are waiting to be discovered while three stunning beaches are ready to entertain all aqua lovers.
Learn more about the park during your stay by hiring a naturalist guide to show you around.
Be ready to share the space with several other tour groups as this park is quite popular not only to tourists but also to students going on school trips.
To get to this famous Costa Rica natural park, an admission fee of $12 applies. Kids ages 12 and below can enter the park for free.
2. Corcovado National Park
The Corcovado National Park is one of the best national parks in Costa Rica for wildlife.
Go camping within its grounds and get to experience being closer to animals such as the endangered red-backed squirrel monkey, the scarlet macaw and the poison arrow frog.
There are four ranger stations in the Corcovado National Park: Sirena, San Pedrillo, Los Patos and La Leona.
The two most popular station choices for hiking along the park are Sirena and San Pedrillo, with the former being the more developed option.
Being one of the Costa Rica national parks which are quite a challenge to go to, it will be wise to plan your itinerary way ahead of time.
This 4,170- hectare park in the Osa Peninsula has a limited number of permitted visitors daily, so it is best to schedule your visit with a local tour operator.
To get inside the Corcovado National Park, an admission rate of $15 is required. It is also mandatory to have a licensed guide to explore the park with you.
CARIBBEAN COAST
1. Tortuguero National Park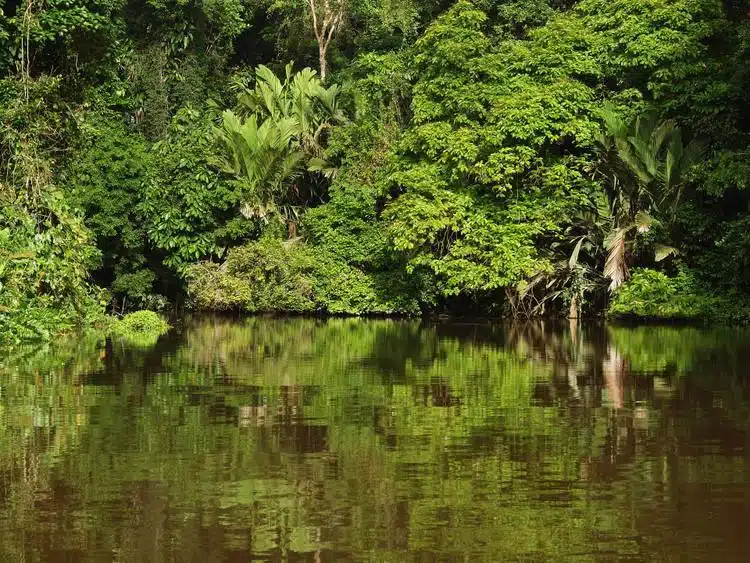 The Tortuguero National Park is one of the tropical parks in Costa Rica which play a key role in biodiversity.
This park is best known for its turtles that nest along its shores. The three species that can be found here are the green sea turtle, the hawksbill turtle and the leatherback turtle.
The Tortuguero National Park is different from the other Costa Rica national parks in many ways. The best mode of exploration here is via kayak, canoe or boat.
Cruise through the several networks of canals, lagoons and rivers that make up this park. See various wildlife species up close in their natural habitats. 
If you are coming to the Tortuguero National Park specifically for the nesting season, consider visiting during the months of June to September.
Hire an experienced local guide who will teach you about the responsible way of experiencing this natural phenomenon.
The entrance fee to the Tortuguero National Park is $15. This government property is open from 8 AM to 6 PM.
2. Cahuita National Park
The Cahuita National Park is one of the best Costa Rica parks to visit for those who love marine wildlife and ecosystem.
In fact, the park is widely known for its stunning coral reefs and hundreds of fish species.
Aside from the natural wonders, there are also some unusual spots that make a visit to this park even more interesting.
Dive and snorkel with the expert guides and explore the two shipwrecks that can be found within the bounds of the Cahuita National Park.
If you would like to explore this government-owned park, a fee is not required but donations are encouraged. It is open daily from 8 AM to 4 PM.
Are you keeping up with my Costa Rica Series
I have lived and worked in Costa Rica for one year. While working for a local tour company in the capital city San José I travelled to all the BEST PLACES TO VISIT IN COSTA RICA.
To help you plan your trip to Costa Rica I put together a guide about HOW TO GET AROUND IN COSTA RICA and BEST LUXURY HOTELS IN COSTA RICA.
Costa Rica is well known for its beautiful beaches and hot springs. Find here THE MOST BEAUTIFUL BEACHES IN COSTA RICA and the BEST HOT SPRINGS IN COSTA RICA.
Do you prefer organised tours and all-inclusive resorts? I've put together a list of BEST ALL-INCLUSIVE RESORTS IN COSTA RICA and COSTA RICA MULTI DAY TOUR PACKAGES.