The time has come again. I have to leave the country to renew my Visa and make a trip to Bocas del Toro in Panama. To the islands, I have heard about so often from friends and other travelers. It is like in Paradise. The people are so friendly. The vegetation is amazing. I start with high expectations and want to experience it by myself.
From San Jose, Costa Rica, I take the bus to the border in Sixola. It is a long 6-hour bus drive through Braulio Carrillo, Limon, and past Cahuita. I can sleep a bit and enjoy the nice views. Especially the small, winding streets of Braulio Carillo are exciting.
Frequently we overtake big trucks that are having problems with the gradients. From the bus, I have an amazing view over the ravines. I definitely need to plan a day trip to the national park to discover the forests and take photos.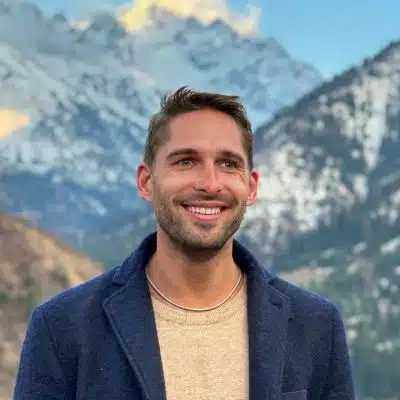 In Sixola, I step out of the bus and walk a few meters to the immigration office. It is a small house with two counters. I get my exit stamp and am ready for my Panama adventure.
I cross the old, planked bridge that connects Costa Rica and Panama with the stamp in my passport. The old railway tracks are still present, and many planks are loose. I need to watch my steps while enjoying the wonderful view over the Río Sixaola and the green riverside.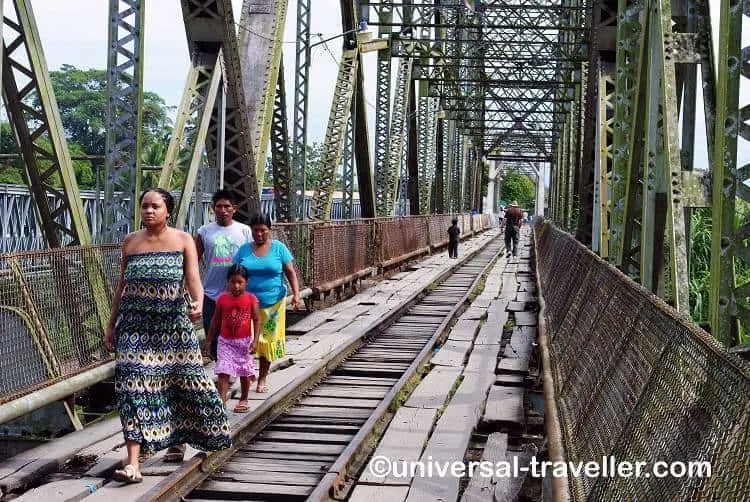 In Panama, I first have to pay $3 entry taxes for a small sticker that the old, friendly immigration officer glues in my passport. Now only the entry stamp for Panama is missing, and my Panama trip can start. I hand over my flight ticket back to my country of residence and a letter from my bank that proves that I have more than $500 on my account. Without any problems, I get the stamp and enter the minivan that will drive me to Almirante. I travel together with three girls from the US who are serving the driver with chips and guacamole, a couple on their first backpacking trip, a boy from Australia, two young girls that are entertaining the bus with dance and sing interludes as well as with the immigration officer that just stamped my passport. It is a one-hour fun drive over winding streets, giving me the first impression of Panama´s amazing landscape.
In Almirante, the last part of my long transfer from San Jose to Bocas del Toro starts a one-hour boat tour to the main island Isla Colón. The province and island group Bocas del Toro consists of six main and several small islands. After 9 exciting and, at the same time, tiring hours, I finally arrive at my hotel and first take a long shower.
On the next day, I make a Snorkeling Tour to the Zapatillas Cays Marine Park. The tour starts at 9:30 am, and we first drive to dolphin´s bay. I already saw many dolphins on different tours around the globe, but today is the first time I see dolphins really jumping high out of the water. It is an incredible experience.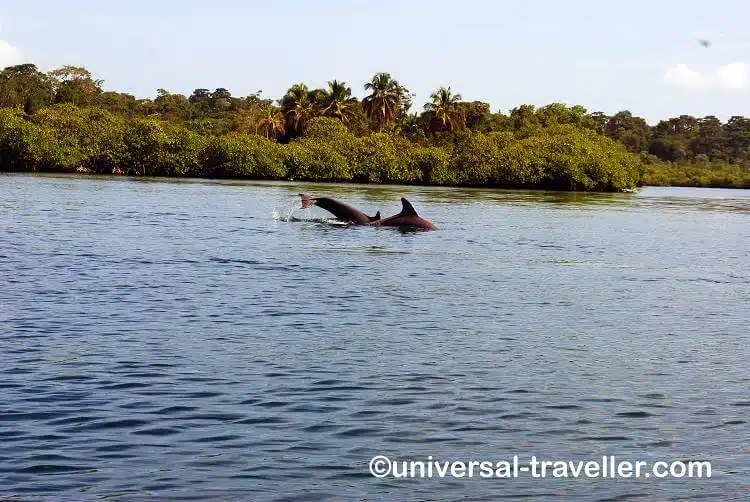 The next highlight of the tour is a stop at Cayos Zapatilla, an island group consisting of two small islands surrounded by reefs. I have three hours to discover Zapatilla Sur, the larger one of the two islands. Mostly beautiful and popular excursion destinations like this are pretty crowded. On Zapatilla, however, I am almost alone. Besides me maybe 30 to 40 other tourists are enjoying the beautiful weather.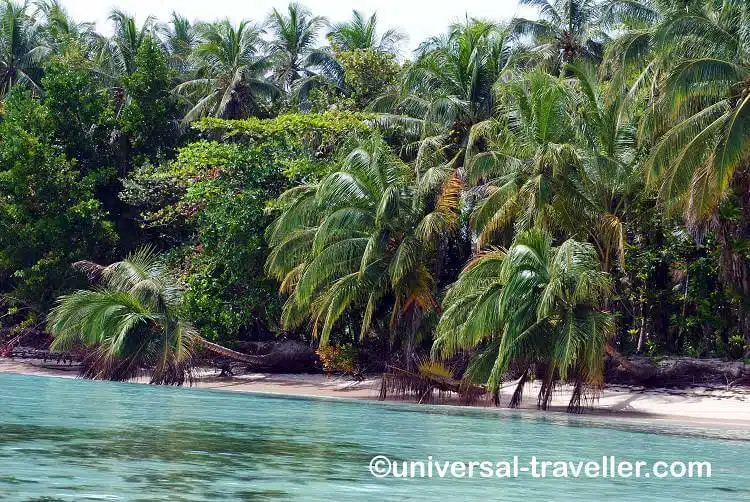 I dip into the crystal clear water and explore the underwater world with my snorkeling equipment. Wow, you do not have to dive deep to see coral reefs and lots of fish here. It is just in front of the beach. On the beach, a young couple from Switzerland tells me that it takes only 45 minutes to walk once around the small island. Who has not dreamed about walking along the beach around an island? I grab my bag and prepare my camera and start my scouting expedition. Most tourists are only staying on one small part of the island, so I am alone surrounded by pure nature. No words can describe the beautiful landscape.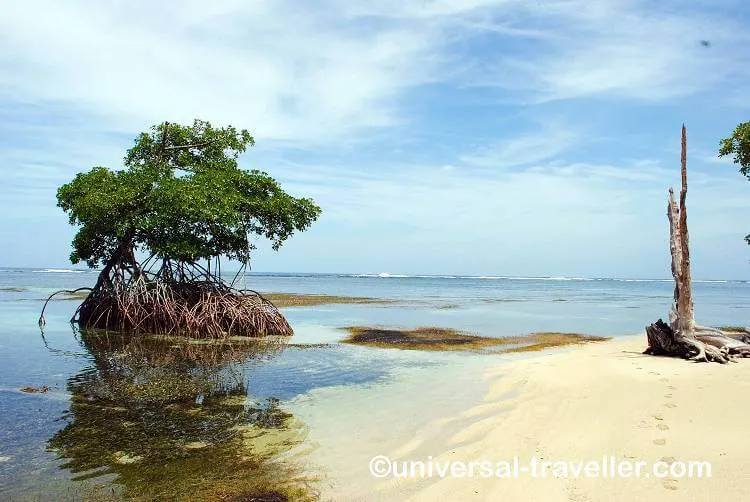 On my second day in Bocas del Toro, I take a bus from the central market to Bocas del Drago. A round trip ticket for the one-hour drive costs only $5. Good investing! I walk 20 minutes along the beach to Playa Estrella (Starfish Beach) from the bus stop. You can also take a water taxi; however, I recommend walking to enjoy the remarkable nature. At the beach, I enjoy an ice-cold local beer at one of the small beach bars. I feel like in Paradise and am so thankful for having the chance to experience things like this.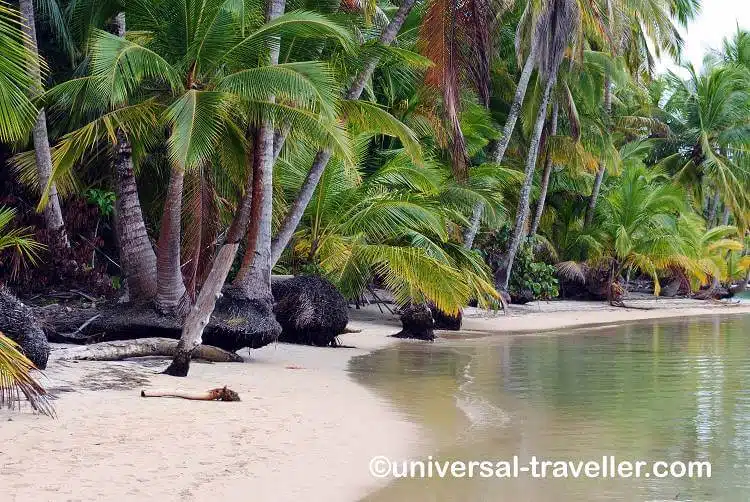 The two days I have had in Bocas del Toro elapsed so fast. It is already my last evening, and I am looking for something special to end my adventure—a last big highlight. While walking along the streets, I discover the Restaurant "Bocas Bambu & Beach." Mafia Pizza with Margarita Cocktail $9. Beer for $2. Fire show and remarkable atmosphere inclusive. Sounds fair to me. I choose a table with candlelight and feel the fine sand under my feet. The Pizza is delicious and huge and tastes even better at this special place.
Although the trip from San Jose to Bocas del Toro and back was really energy-sapping, I would anytime do it again. It was really worth it! Following this, I want to give you some recommendations.
What to do?
1. Snorkeling Tour to Dolphin´s Bay & Cayos Zapatilla
The Snorkeling tour to Dolphin´s Bay and Cayos Zapatilla starts at 9 am, and you will be back at Bocas del Toro at 4:30 pm. The tour includes a stop at a restaurant where you may have lunch at an additional cost.
2. Bocas del Drago & Playa Estrella
You can take a shuttle bus from the market in the center of Bocas del Toro to Bocas del Drago. The bus goes at 7 am, 10 am, noon, 3 pm, or 5 pm, and a round trip for the 1 hours drive costs $5. From Bocas del Drago, you can walk 20 minutes along the beach to Playa Estrella or take a shuttle boat.
3. Red Frog Beach
Where to eat?
1. Buena Vista Bar & Grill
At the Buena Vista Bar & Grill, people say you can get the best hamburgers of the whole Bocas del Toro. I have ordered a Teriyaki Burger, and it was delicious. If you want, you can sit outside on a terrace over the water. It is a calm place with a nice view. A main course costs about $15, the hamburger $7.50.
2. Bocas Bambu Beach
Bocas Bambu Beach is doubtless a special place to have dinner and has special offers every night. I ordered a Mafia Pizza with a Margarita Cocktail for only $9. An impressive fire show and a remarkable atmosphere are inclusive. You can choose a table with candlelight and feel the fine sand under your feet. The Pizza is delicious and huge and tastes even better at this special place.
About the Author
More info
Best VPN for Travel: ExpressVPN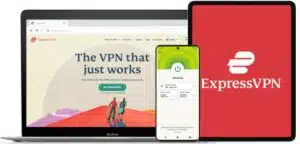 Heading abroad? Use ExpressVPN to access your social media accounts, unblock your favorite entertainment sites, and stay connected with friends and family. And get cheaper flights, of course.
Pros
✅ Next-gen, high-speed servers in 94 countries
✅ Works on iOS, Android, Windows, Mac, Linux, browsers, and more
✅ 256-bit AES encryption protects your data, even on hotel Wi-Fi
✅ Unblocks Netflix and other streaming sites
Cons
❎ No dedicated IPs
Get 3 extra months free of ExpressVPN when signing up for a 1-year plan. That's a 49% saving and a monthly cost of just $6.67! You also get a 30-day money-back guarantee.