Where is Denver, Colorado, and why are more and more people traveling to this city? Learn about the significance of Denver's location, including fun facts about The Mile High City.
Denver is a city and county located in the state of Colorado. You can find it on the eastern portion of the Rocky Mountains' Front Range, in the South Platte River Valley.
Denver is Colorado's capital city. It belongs to the country of the United States of America.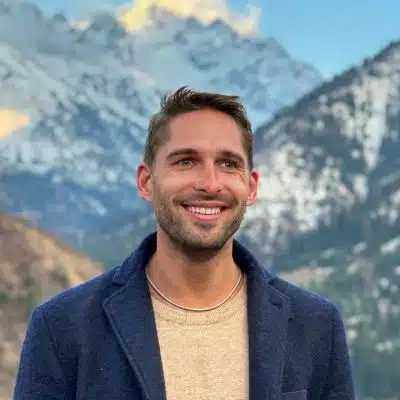 Denver, Colorado's exact location is 39.74 latitude and -104.99 longitude.
Denver is among the best places to visit in the USA. If you plan to visit this tourist destination yourself, you'll find these lists of best things to do in Denver, Colorado, and the best day trips from Denver helpful and inspiring!
Distance to other major destinations:
Denver to Kansas City: 556 miles or 894 kilometers
Denver to Phoenix: 585 miles or 942 kilometers
Denver to Las Vegas: 606 miles or 975 kilometers
Denver to Austin: 771 miles or 1241 kilometers
Denver to Houston: 878 miles or 1413 kilometers
Where is Denver Colorado on the Map
Denver Colorado Fun Facts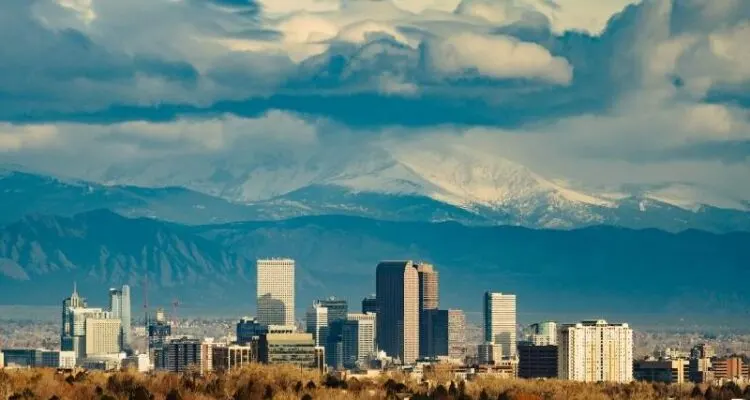 1. Denver was named by founder General William Larimer after James W. Denver, a Kansas territory governor. It was founded in November 1858 during the Gold Rush.
2. Before being named Denver, the capital city of Colorado was once regarded as St. Charles City, Auraria, and Montana City.
3. Denver is called The Mile High City because it has an elevation of 5,280 feet or one mile above sea level.
4. The Colorado State Capitol Building has its thirteenth step marked with "One Mile Above Sea Level."
5. Denver's high elevation affects the way some activities are done here. People are warned to be careful with alcohol consumption while golfers enjoy the fact that golf balls travel up to 10 percent farther here.
6. The color of the sky seems bluer in Denver because of the combining factors that include high altitude, low water vapor in the air, and generous sunshine.
7. You can enjoy an average of 300 sunny days in Denver, Colorado. This number is even more than that of US summer destinations like San Diego or Miami.
8. You can see 200 named peaks from Denver. 32 of them soar 13,000 feet – and more – above the ground.
9.The very first permanent structure built in Denver was a saloon.
10. The longest continuous street in the United States is in Denver. It is Colfax Avenue, and it stretches for 26.5 miles.
11. Denver resident Louis Ballast claims to have invented the cheeseburger at the Humpty Dumpty Drive-In in 1935. The trademark was awarded to him in March of 1935.
12. The dome of Denver's city capitol is made out of 24-karat gold.
13. There are only a few cities with seven professional sports teams – and Denver, Colorado is one of them. They have one for baseball, football, hockey, soccer, lacrosse, basketball, and rugby.
14. July 2019 population estimates of the United States Census Bureau show that Denver is one of the most populous cities in the United States, with 727,211 residents estimated.
Frequently Asked Questions about Where is Denver located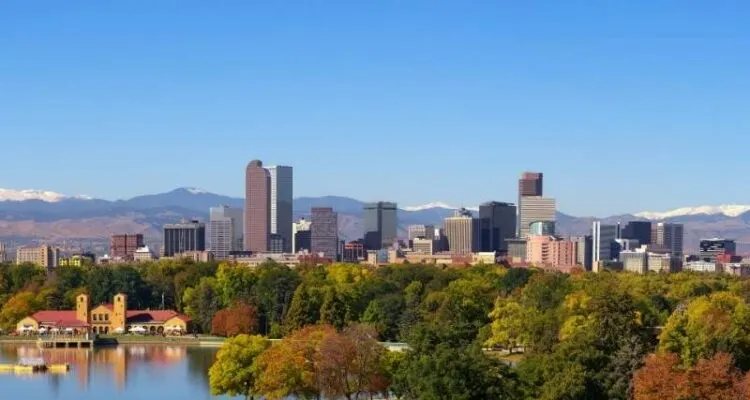 Best VPN for Travel: ExpressVPN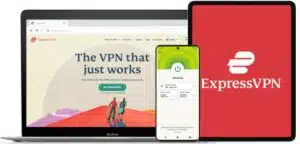 Heading abroad? Use ExpressVPN to access your social media accounts, unblock your favorite entertainment sites, and stay connected with friends and family. And get cheaper flights, of course.
Pros
✅ Next-gen, high-speed servers in 94 countries
✅ Works on iOS, Android, Windows, Mac, Linux, browsers, and more
✅ 256-bit AES encryption protects your data, even on hotel Wi-Fi
✅ Unblocks Netflix and other streaming sites
Cons
❎ No dedicated IPs
Get 3 extra months free of ExpressVPN when signing up for a 1-year plan. That's a 49% saving and a monthly cost of just $6.67! You also get a 30-day money-back guarantee.
What state is Denver in?
Denver belongs to the US State of Colorado.
How big is Denver, Colorado?
According to the United States Census Bureau, Denver, Colorado, has 153 square miles.
Is Colorado a country?
Colorado is not a country. It is a constituent state of the country of the United States of America.
What part of the US is Colorado in?
Colorado is part of the Mountain States in the southwest region of the US.
What is Denver famous for?
Denver is famous for being The Mile High City because its elevation above sea level is measured as one mile. This high elevation has given more reasons to celebrate Denver, Colorado, such as good weather and green nature.
Location Map of American Cities