Explore our list of fun things to do in Denver, Colorado. Do you wish to maximize your stay? Check out some of the things to do near Denver, Colorado, that you can add to your itinerary.
Denver is located in the state of Colorado, United States. It is the capital city of the state and also the most populous.
Denver is well-regarded as one of the best places to visit in the US. If you judge the city from its history, you might think otherwise. The Denver metropolis was basically uninhabited in 1858.
Come the Gold Rush; people started pouring in. In a matter of 30 years, Denver, Colorado, was swamped.
Nowadays, many people come to Denver, Colorado, for a great Rocky Mountain experience.
The Denver International Airport makes the Rockies easily accessible to those flying from different parts of the world to explore Colorado's most famous attraction.
While you are there, maximize your stay by going on a couple of Denver day trips and embark on some of the best things to do near Denver, Colorado.
Fun Things to do in Denver, Colorado
1. Discover Denver's epic street art
Recommended by Suzanne from The Travelbunny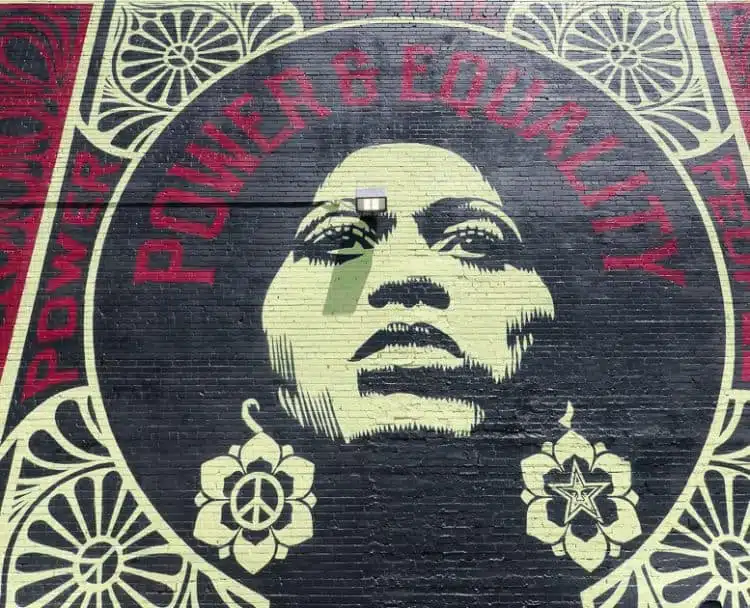 Discovering epic street art is a must-do activity on your Denver itinerary.
The Denver street art scene, is rocking and the RiNo (river north) Arts District is ripe for discovery. Pretty much everywhere you go, there's epic street art to be found.
Every back alley, wall, and lock-up seems to have a mural or installation of some kind. The area defines itself as a community "Where Art Is Made." They're not wrong.
The vibrant designs have transformed this old industrial area into a street art hot spot and creative hub.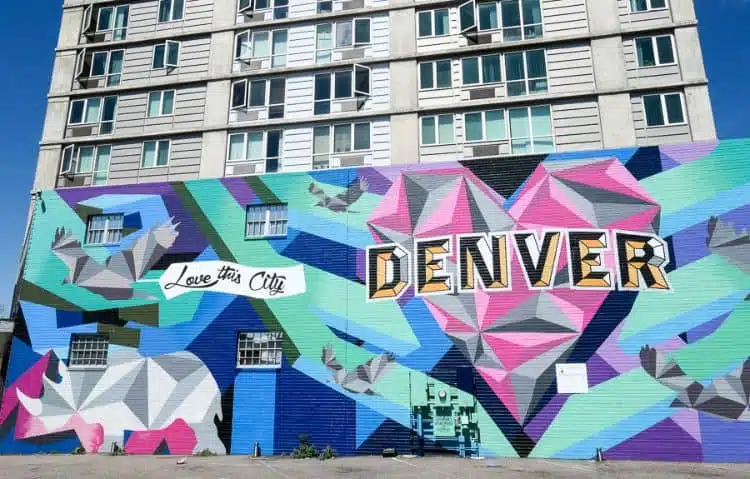 The variety is awesome and seemingly endless. From glorious technicolor to black and white, from massive murals to little stencils, and from socially aware installations to optical illusions.
The array of art and talent in Denver is limitless. Larimer Street is the main thoroughfare through River North and is the hub of the RiNo Arts District.
You'll find gorgeous murals in RiNo from renowned artists like Shephard Fairey, Detour, ESIC, and Pat Milbery.
You'll end up exploring the street art for far longer than you anticipate, so if you need a drink, drop into one of the many coffee shops or craft breweries.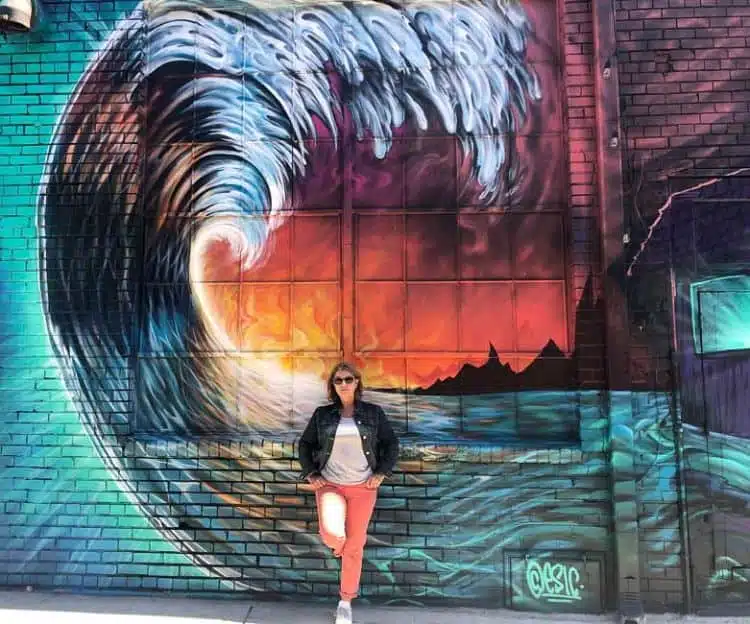 Denver Central Market is a great spot for a meal with loads of choice right in the heart of RiNo's street art.
The parking lot next to Denver Central Market is a good place to start your street art search, including nearby alleys 1, 2, and 3.
2. Visit the Denver Art Museum
The Denver Art Museum starts to wow from the inside. The Frederic C. Hamilton Building, boldly designed by Daniel Libeskind, is truly a unique structure. Libeskind is said to have gotten inspiration from the Rocky Mountains.
The newest addition to the museum is the Martin Building. Set to be fully reopened in 2021, this modern and ambitious infrastructure will feature the museum's collections innovatively.
The Denver Art Museum has beautifully featured the work of Vincent van Gogh. The prized "Edge of Wheat Field with Poppies" has graced its walls in the past, among others.
It also ran a successful exhibit entitled "Becoming Van Gogh," which followed the artist's life in Paris as he studied color theory.
3. Show at The Clocktower Cabaret
Recommended by Zack from Florida Man on the Run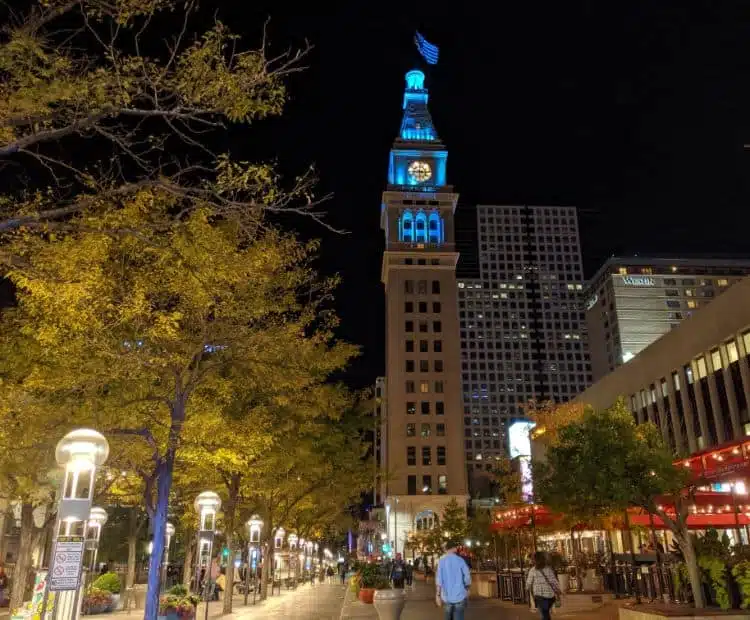 If you're visiting Denver, then you have to make a stop for a show at The Clocktower Cabaret. This super unique venue sits in the basement of the historic Daniels & Fisher Tower.
Located on the 16th Street Mall, it is easy to create the perfect date night with dinner along the mall and a show at The Clocktower.
As you walk down the stairs and into the venue, it feels like taking a step back in time. The cozy room has tables and booths arranged in front of the stage area where you can enjoy the show with snacks and a few drinks.
The beautiful bar in the back is also available for those who want a somewhat elevated show view. It's almost worth coming to a show here to enjoy the venue itself, but the entertainment is even better.
The Clocktower Cabaret prides itself on the variety of acts that take its stage. Living up to the cabaret name, you'll find burlesque, comedy, drag, dance, music, circus acts, and more.
There is practically a live show every night. Also, depending on when you come to Denver, there are numerous opportunities to see themed shows.
For instance, October is packed full of the spookiest shows in all of Denver. When I spent two days in Denver last October, there was a fabulous Hocus Pocus-themed burlesque show!
Without a doubt, you can't go wrong with a show at The Clocktower Cabaret. It's easily one of the best things to do in Denver.
4. Visit Red Rocks Amphitheatre
Recommended by Rebecca of Rebecca and the World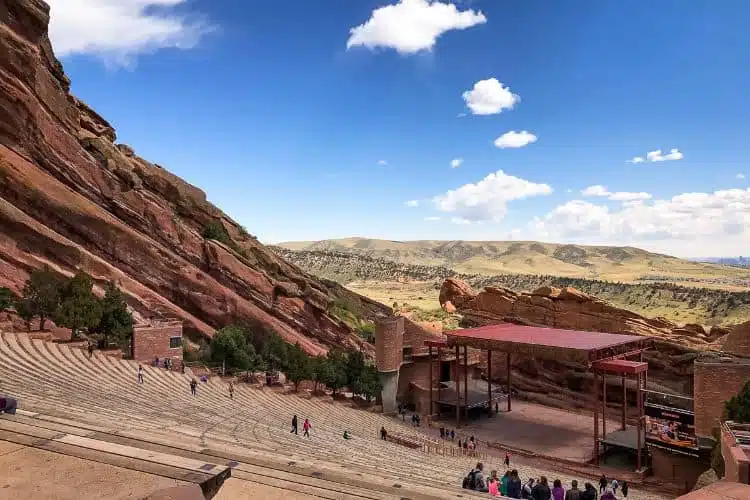 What do The Beatles, Jethro Tull, Bruce Springsteen, Carole King, Sting, U2, Stevie Nicks, and Depeche Mode all have in common?
They've all played at the legendary Red Rocks Amphitheatre in Colorado.
Since the early 1900s, this outdoor amphitheater has hosted thousands of events in its stunning surroundings.
While concerts have been held here since the start of the 20th century, it was, in fact, officially opened in 1941 after construction works to build a proper amphitheater.
Some 50,000 cubic feet of dirt and rock were removed to make way for the rows of seats and stage area surrounded by towering sandstone rock formations.
This famous concert venue is just a 30-minute drive from Denver, and if you can plan well ahead, you can secure tickets to one of the many gigs held each month.
However, if you miss out on tickets or there aren't any concerts when you visit Denver, you can still visit the amphitheater (entry is free) to take a photo and pretend you're at a crowded show, screaming along to your favorite band.
On weekends, you'll need to dodge the locals using the amphitheater for exercise.
The Visitor Center has an exhibit about the geology and architecture of Red Rocks. There's also a Performers Hall of Fame featuring photos of concerts from the past 75 years.
When you've finished exploring the amphitheater, there are several trails in the area for hiking or mountain biking.
5. Whiskey Tasting at Stranahan's
Recommended by Jeanine from Le Wild Explorer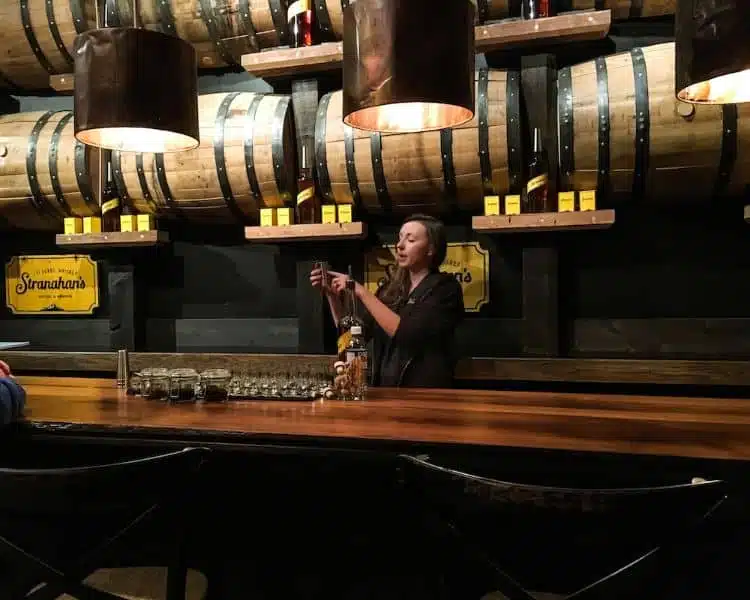 Located in the Baker neighborhood of Denver is Stranahan's Distillery. This whiskey is quite historic as it's Colorado's first legally made whiskey.
It was first distilled in 2004 and then bottled in 2006. And if you're a fan of hand-crafted whiskey in small batches, then a visit to the distillery is a must.
The distillery offers two different tours all year, with guided whiskey tastings, classes, and more!
Tasting Stranahan's Colorado whiskey is a special experience on its own. They pride themselves on using the crisp waters from the Rock Mountains as one of their whiskey's main ingredients.
The whiskey only uses four ingredients: 100% malted barley, yeast, the finest Rocky Mountain water, and time in the barrel.
During the tour at Stranahan's, you will see how the whiskey is distilled, barreled, and bottled.
You will also end the tour with one complimentary tasting, whereas the tasting allows you to sample their four different whiskeys. Spots book up quickly, so if you're planning a visit, book in advance.
You can book up to two weeks before you plan to go. Also, arrive early to check-in; you can grab a drink at the bar as you wait.
Stranahan's Distillery is definitely one of the coolest places to drink in Denver and a fun experience in the Mile High city.
6. Stroll Larimer Square
They say that if you want a taste of every bit of Denver, you must go to Larimer Square.
Denver's oldest block is home to many interesting shops, well-celebrated restaurants, and a thriving nightlife scene you will surely want to be part of.
Before Larimer Square became what it is today, it was once a residential area that featured doors sourced from coffins. This was the idea of General Larimer, who founded the city of Denver in 1858.
Fast forward to 1971, after many significant things have happened in the vicinity, Larimer Square became the first Historic District of Denver.
Today, a visit to Larimer Square is almost always included in a guided city tour. It is truly on everyone's list of fun things to do in Denver.
7. Tour Coors Field
Coors Field is a ballpark in Denver, Colorado, which spans 76 acres. It is home to the Colorado Rockies of Major League Baseball.
Coors Field is truly one-of-a-kind, with stunning views of the majestic Rocky Mountains right from your seats.
Do you wish to go behind the scenes and explore the unknown portions of Coors Field? You can do so by signing up for a guided tour.
For all guests with tickets, head over to The Rooftop, where you can score delicious food and beverages. The Rooftop is 38,000 square feet of good times filled with amazing views of the field and the Colorado skyline.
Before you go, don't miss out on a great deal of Rocky Mountain oysters awaiting you at Stall 144!
8. Discover Union Station Denver
All the best Denver tours that highlight the must-see Denver attractions stop at Union Station.
Why may you ask? What is so special about a train stop?
More than being a functional public transport station, you will be surprised to know that several notable food establishments and local shops can be found here.
Once you go inside – even if you do not intend to travel – you will see how Union Station is a proper entertainment center. If you are not in a hurry, sit down for a moment and watch as people pass by, shops get busy, and passengers scramble for the next ride.
9. Check out the Denver Botanic Garden
York Street has one of the fun things to do in Denver.
If you have been to the Desert Botanical Garden in Phoenix, Arizona, you will surely notice how truly different yet equally rewarding it is to visit urban spaces like the Denver Botanic Garden.
With 24 acres of colorful landscapes, the Denver Botanic Garden is every nature-lovers paradise. Various gardens fall on specific themes connected to weather and Colorado's distinct location.
If you love learning about the different flora found in different parts of the world, you will delight in the internationally-inspired gardens here. Some of them are the Bill Hosokawa Bonsai Pavilion and Tea Garden, and the South African Plaza.
10. Hang out at Washington Park
Hanging out at Washington Park is among the free fun things to do in Denver, Colorado. This place is a favorite spot for locals and visitors who want to unwind and be surrounded by nature-filled landscapes.
Washington Park is your 165-acre playground. Here, you can play tennis, have a picnic, ride a boat or go for a run. You can also relax on the grass and let the day go by.
Wash Park, as the locals call it, is a true hit among the kids. If you are visiting the park as a family, there are playgrounds within the area where the children can have hours of good fun.
Some people boldly say that Washington Park is Denver's version of Central Park in New York. Visit it – it's the only way to find out!
11. Dine at Adams Mystery Playhouse
People who have gotten to experience how to dine at Adams Mystery Playhouse testify just how it is one of the fun things to do in Denver, Colorado.
Once you get ushered in the parlor room, you know that you are just not in for another regular dinner. Intriguing people surround you, cocktails are served, and the doors to the mansion remain locked.
When the show starts, you are presented with your dinner. Afterward, it will be all fun and games as you try to solve a "crime" that has happened in your midst.
Sounds exciting, doesn't it?
While the regular dinners at Adams Mystery Playhouse are rated PG or PG-13, they can customize a kid-friendly mystery show that suits birthday parties and school trips.
12. Relax at City Park
On your list of Denver attractions, the City Park is surely there. Aside from it being a prime tourist spot, you can also easily combine a trip to the park with all the other places to visit in Denver that are within the area.
These include the Denver Zoo and the Denver Museum of Nature and Science, among others. Learn more about them as we go along.
At City Park, you can go boating. There is a boathouse where you can rent boats for you to use at Ferril Lake. There is another lake in the park named Duck Lake where you can enjoy fishing.
You can also go jogging or biking at City Park. Dedicated trails can be found throughout the property.
On the north side of the park, you can find the City Park Golf Course.
13. Explore Denver Zoo
A trip to the Denver Zoo is among the Denver Colorado activities perfect for the whole family.
The zoo eats up a massive 80 acres of the City Park and has come a long way since it started.
The idea of having a zoo in Denver emerged when the city mayor received a black bear cub as a gift. It ended up living within the City Park grounds.
Today, some of the many animals you can see at the Denver Zoo are the African (Black-Footed) Penguin, the Alligator Snapping Turtle, and the Amur (Siberian) Tiger.
Make your exploration extra memorable with a Safari Sunset adventure. This adults-only experience is meant to give you a different way of appreciating the animals by going to the Denver Zoo at night for some fun, food, and alcoholic beverages.
14. Spend a day at the Denver Museum of Nature & Science
The Denver Museum of Nature & Science stands next to the City Park and the Denver Zoo.
A visit to this museum ranks as one of the top fun things to do in Denver, Colorado, because it makes learning about the different branches of science fun and memorable.
The Gates Planetarium is one of the main highlights of this Denver attraction. Like the Dorrance Planetarium in Phoenix, Arizona, this theater features shows about science, nature, and everything in between.
Before you go, do not forget to drop by at the Museum Shop for some keepsakes of your visit to the Denver Museum of Nature & Science.
Things to do near Denver Colorado
1. A Day Trip To Rocky Mountain National Park
Recommended by Claudia from My Adventures Across The World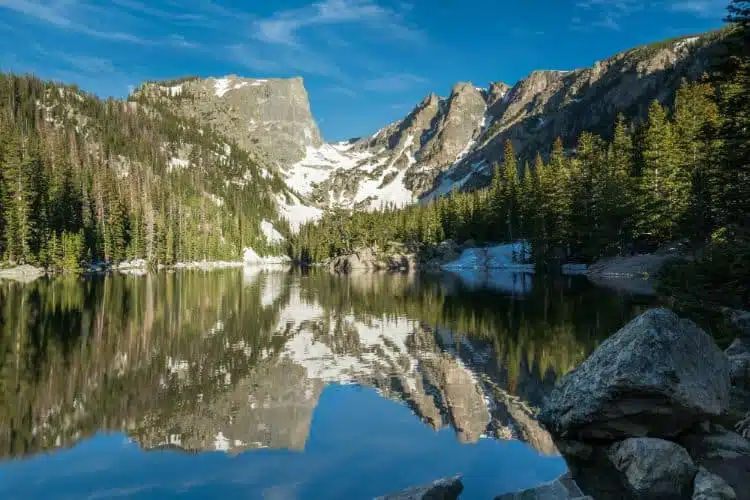 Denver is a great starting point to visit Rocky Mountain National Parks, one of the most beautiful national parks in the United States.
This was founded on August 1, 1876, and is home to incredible wildlife (you may be able to spot elks, bighorn sheep, mule deer, and even bears if you are fortunate); stunning landscapes with mountain peaks, forest as well as tundra, and beautiful alpine lakes; and quite importantly there are many good hiking trails of various difficulty level, such as the Sky Pond Trail, the Fern Lake Trail (one of the most challenging ones in the park), and the Cub Lake Trail.
Rocky Mountain National Park is quite vast, and you'd be better off spending at least a couple of days there to fully appreciate all that it has to offer, but if you are tight on time, you may as well go there on a day trip – it's the perfect place for a road trip.
One of the best things to do in Rocky Mountain National Park is driving along the Trail Ridge Road, stopping along the way for impressive views (the best one is by far that from the Forest Canyon Overlook).
If you have your heart set on something, keep in mind that the road is open from Memorial Day to Labor Day.
A one-day vehicle pass for the national park costs $25.
2. Day Trip to Boulder
Recommended by Daria from The Discovery Nut
Denver's northwest neighbor, Boulder, is a vibrant town at the foothills of the Rocky Mountains.
Many people come here to take a hike and get a glimpse of the famous Colorado mountains for a couple of hours after they explore Denver or when they are headed to the nearby Rocky Mountain National Park.
But don't dismiss Boulder as a mere stop on your way elsewhere.
Besides being a college town (It's home to the University of Colorado, Boulder), it offers many outdoor activities.
In summer, you can hike the iconic Flatirons that define the landscape of this city, mountain bike, or rock climb, among many other things – Boulder is a nature lover's paradise that will keep you in shape.
Head to Pearl's Street Mall after a day of adventure to check many restaurants, breweries and don't forget to grab a souvenir in one of the local Colorado shops in abundance here.
Here you can also find a buzzing art scene, so it's not just rock climbers and outdoor bums who are attracted to this place.
Head up the Flagstaff Mountain in the evening to catch an incredible sunset – one of the most popular places in Boulder where you can get panoramic views.
3. Go for a Hike
Recommended by Meg from Fox in the Forest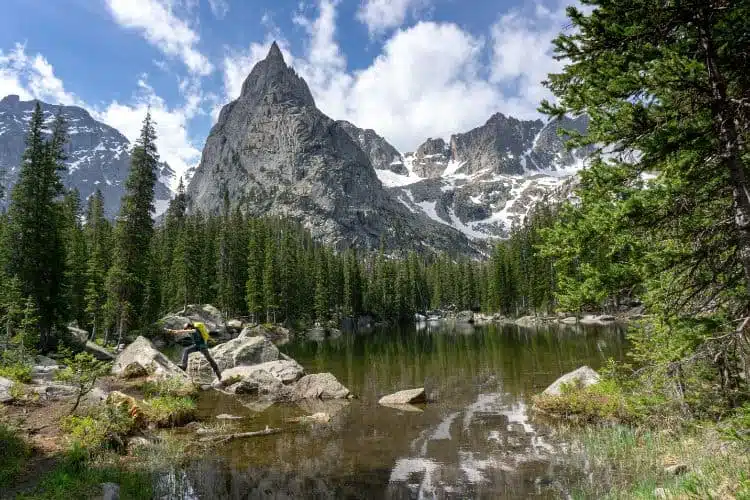 Get out of the city and into the pristine mountains with a fun-filled day hike. It turns out there are several beautiful hiking trails near Denver.
There is a lot to choose from, including a few with public transportation access. Consider taking the Flatiron Flyer bus to Chautauqua Park in Boulder for those who don't have a car.
Alternatively, you can also hike in Morrison near the famous Red Rocks Amphitheatre.
If you want to see the stunning mountains in the high alpine, consider the Brainard Lake Recreation Area or Herman Gulch for your next hike.
Start early (like before 8 am early) during the summer months to avoid dangerous afternoon thunderstorms in the mountains.
One of the best parts about hiking in Denver is that you can go for a morning hike and be back in town at a brewery for the afternoon.
Both beginner and avid hikers alike will love the challenging, beautiful scenery of the Colorado Rockies. The best time to enjoy hiking is from mid-May through October.
Once the snow hits the trails, you'll need a little bit of avalanche expertise to get into the mountains safely, but plenty of hikes within 45 minutes of Denver are still quite safe.
On average, you'll need to take public transport or drive at least a half-hour to reach any hiking trail near the mountains.
Be prepared by bringing rain gear, water, sunscreen, snacks, and a map of where you are going (you can use an app like AllTrails). Also, don't forget to leave it better than you found it.
Pick up all trash, including dog poop, toilet paper (most trailheads have toilets), fruit peels, granola bar wrappers, and more. Stick to the trail and follow all closures and ranger instructions.
So strap on your hiking boots and hit the trails like a local on your next big Denver adventure.
4. Explore the Wild Animal Sanctuary
Drive down to Keenesburg, Colorado, and explore the Wild Animal Sanctuary. This place is on the northeastern side of Denver, making it an easy addition to your city trip itinerary.
The Wild Animal Sanctuary is not your usual zoo. In fact, I will not even call it one.
Instead, you have different types of animals here who were rescued and live in the wild while still being monitored, cared for, and protected by the people behind the Wild Animal Sanctuary.
Prepare to be in awe as you look upon the huge animals atop "the world's longest footbridge," which spans 1.5 miles.
5. Stay at Winter Park Resort
A leisurely stay at Winter Park Resort is among the fun things to do near Denver.
Do not be fooled by the name, though, as you can enjoy a visit to the Winter Park Resort all year round!
During summer, you can hike in a country or forest and see sweeping views of the meadows and valleys. If you want to take it up a notch, ride one of the scenic gondolas and go 11,000 feet up above Winter Park Resort.
Come winter, and it is time to ski Winter Park's territories. Be sure not to miss Coca-cola's Tube Park and be spoiled with one of the best snow tubing experiences in all of Colorado!
The Mile High City
Denver, Colorado, is called the Mile High City. It is because Denver is exactly one mile above sea level.
How is it so?
Many theories surround this well-known fact, and the most recent research suggests that water beneath the earth's surface has caused a significant change in the North American plate.
This theory is only one out of the many possibilities that seek to explain arguably Denver's biggest mystery.
However, not knowing did not hinder the Denverites from embracing and celebrating this known truth.
As you explore the city, you can see just how proud the residents are of their beloved Denver being one mile high. There are signs and names all connected to the city's moniker.
Is being one mile high a big deal?
It turns out it is.
The higher altitude brought about by the mountain air can easily catch on an unprepared visitor.
Altitude sickness is one challenge when visiting Denver. As you get more used to the thinner air, it gets better.
Aside from its physical effects on people, regular activities are also altered in one way or another. Drinking alcohol, for one, can have stronger effects in Denver.
On your pursuit to experience all the fun things to do in Denver, Colorado, you will be surprised to know that golf courses are open year-round, outdoor dining is always a viable option, and long walks are truly rewarding.
Frequently Asked Questions about Things to do in Denver, Colorado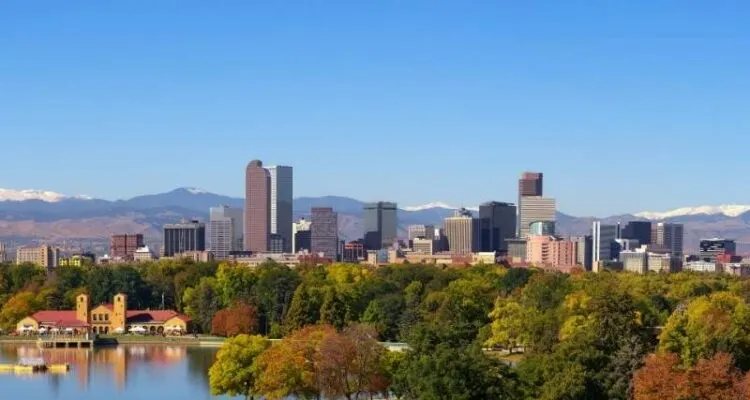 What is Denver known for?
Denver is most known for its great climate all year round coupled with terrific sights of nature.
That is why many of the fun things to do in Denver, Colorado, are connected to its thriving natural surroundings.
Denver is located on the eastern portion of the Rocky Mountain range. Because of its location, the city is bound to receive more sunshine than the other US cities such as Miami and San Diego.
Aside from these, there is something quite fascinating about the natural composition of Denver, Colorado's surroundings.
It is proven that balls in sports games are thrown farther when played on Denver's grounds. This is all thanks to the city's high altitude, which makes the air thinner. It also has less vapor, making you see a "bluer" air than usual.
Best VPN for Travel: ExpressVPN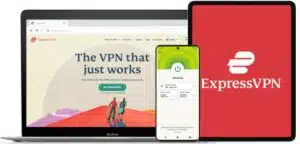 Heading abroad? Use ExpressVPN to access your social media accounts, unblock your favorite entertainment sites, and stay connected with friends and family. And get cheaper flights, of course.
Pros
✅ Next-gen, high-speed servers in 94 countries
✅ Works on iOS, Android, Windows, Mac, Linux, browsers, and more
✅ 256-bit AES encryption protects your data, even on hotel Wi-Fi
✅ Unblocks Netflix and other streaming sites
Cons
❎ No dedicated IPs
Get 3 extra months free of ExpressVPN when signing up for a 1-year plan. That's a 49% saving and a monthly cost of just $6.67! You also get a 30-day money-back guarantee.
What food is Denver most famous for?
The food item that Denver is most known for is its Rocky Mountain oysters. What makes this food so special? And before we dig further – it's seafood? Rocky Mountain oysters are actually bull calf testicles. You slice them, deep fry them, and serve them with classic sauces. Buckhorn Exchange, Denver's oldest restaurant, serves it with horseradish dip. If you want to try Rocky Mountain oysters in Denver, Colorado, head to Coors Field's Stall 144 and bite into this chewy but crispy local delicacy.
How many days do you need to visit Denver?
It is best to give yourself at least three days to do all the fun things to do in Denver, Colorado. On day one, you can give all your time to downtown Denver and explore museums, parks, and historical centers. You can spend your day two sightseeing in a rented car or with a tour group. On day three, drive to the Rocky Mountain National Park and admire nature's striking beauty.
Best Places to visit in the USA