Are you looking for the best day trips from Denver? Explore what's beyond the Mile High City and prepare for an adventure!
Denver is among the best places to visit in the USA. Thanks to its proximity to the Rocky Mountains, many people venture to this side of America to explore the world-famous national park.
However, there is more to do in Denver than just visiting this grand attraction. Learn more about things to do in Denver, including the best Denver hotels.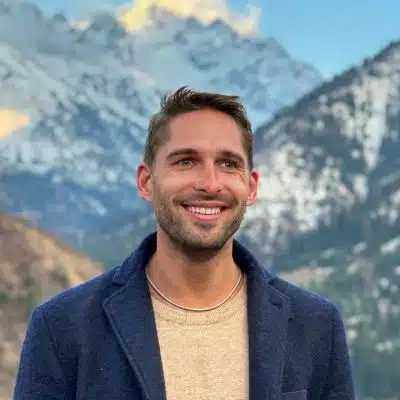 Apart from the numerous things to do in Denver, you can take part in, there is also the endless opportunity to go to nearby tourist destinations while you are there.
Before your trip, check out Where Denver is located to know the distance of the Colorado capital city from the major tourist cities surrounding it.
Thanks to its prime location, you can access mountain towns, ski resorts, and some of the best Colorado hiking trails.
This article lets us help you plan all the best day trips from Denver you can do.
Best Day Trips from Denver
1. Hike the Indian Peaks Wilderness
Recommended by Meg from Fox in the Forest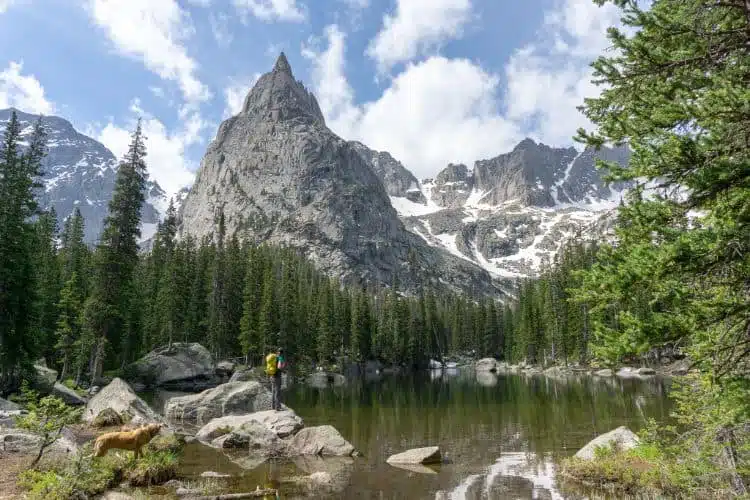 If you're looking for the ultimate day trip from Denver without the masses of crowds, head to the Indian Peaks Wilderness. As an alternative to Rocky Mountain National Park, the Indian Peak Wilderness offers up plenty of beautiful mountain scenery without the lines of cars.
Check out the famous Lone Eagle Peak, often referred to as the most beautiful mountain in Colorado. The 14-mile round-trip hike may be long, but it's absolutely stunning. Go in the morning for a chance to spot moose and see the perfect reflection off of the lake.
Intrepid visitors can opt to get a permit (reserve in advance for summer weekends) to backpack in and spend the night at the lake. You'll need to pack wag bags and proper bear protection. Permits open up in January and typically fill up for months in advance.
Alternatively, you can hike near the 4th of July Trailhead (4WD required) or visit the Brainard Lake Recreation Area. At Brainard Lake you'll find fishing, camping, hiking and plenty of options for a lakeside picnic.
One of the best parts about the Indian Peaks Wilderness area is that nearly all access points cross through some of Colorado's most scenic drives. Take the Peak-to-Peak Scenic Byway, or opt to go over Hoosier Pass for even more mountain beauty.
Each of these areas, aside from 4th of July, requires a small fee of $10 to visit for the day. However, if you have a national park's pass, it's free to visit.
Any overnights require a permit from May 15th through September 15th, and advanced reservations are strongly recommended. Dogs are allowed to use the trails here; however, they must be kept on leash.
Either way, you can't go wrong with a day trip from Denver to the Indian Peaks Wilderness.
2. Ice Castles | Dillon, CO
Submitted by Melissa from Parenthood and Passports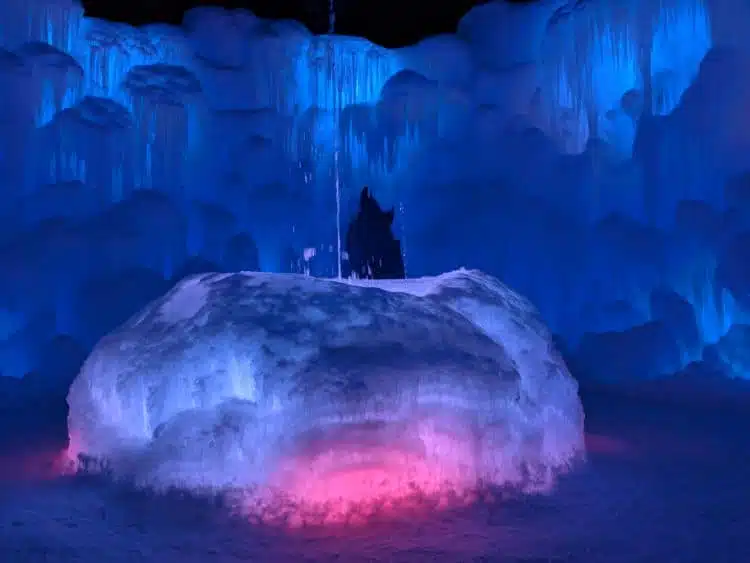 If you are looking for a great winter day trip from Denver, the small town of Dillon in Summit County offers visitors a fairytale attraction that looks like something out of Narnia.
Each winter, Dillon is home to one of the only Ice Castles in the USA. This unique, Instagram-worthy attraction is built by hand and made entirely from ice.
Each year, the experience includes ice slides, caves, slot canyons, and crawl tunnels for guests to explore. When the sun goes down, the ice is illuminated with color-changing lights that set the whole castle aglow.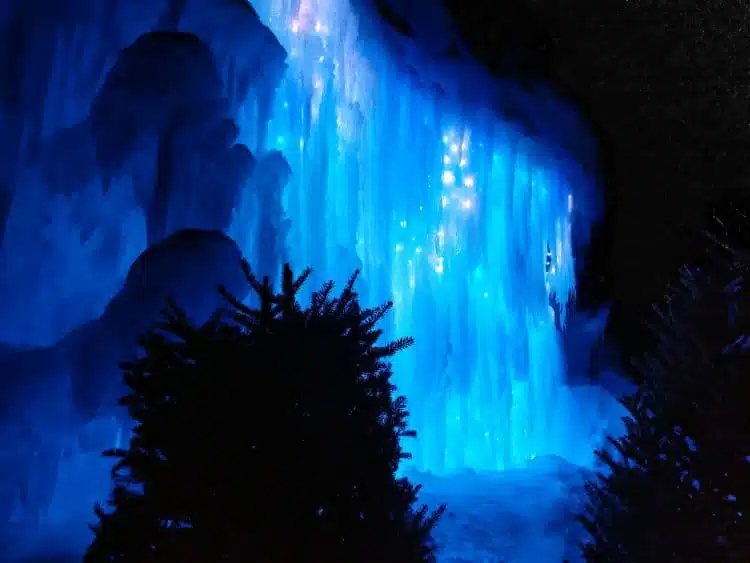 Although Ice Castles is the main attraction in Dillon, Colorado it is only around for about 3 months. From mid-December, through mid-March, this spectacularly photogenic experience draws thousands of visitors.
But once spring comes around, the icy attraction melts to the ground, only to be rebuilt the following year. Because it is only around for a limited time, tickets sell out quickly, particularly on weekends.
However, with some advanced planning, and advanced booking, a visit to Dillon's famous Ice Castles makes for a dreamy day trip and a memorable place to visit for a winter family getaway.
3. Breckenridge
Recommended by Lotte from Gezond Weekmenu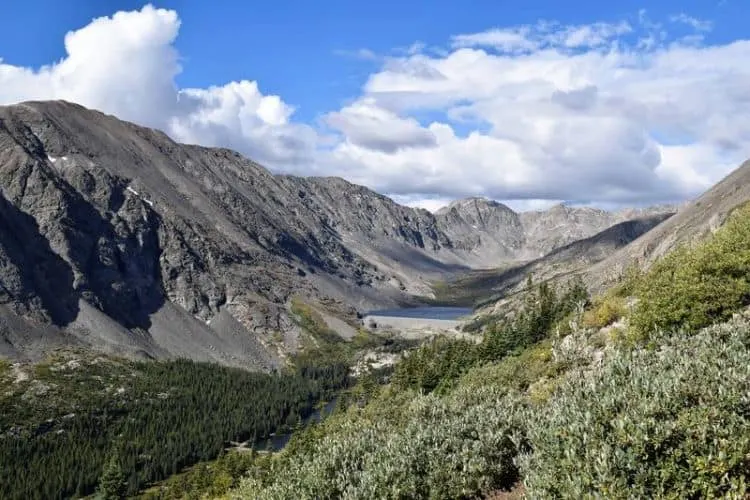 Beautiful Breckenridge is an 80-mile (2 hours) drive from downtown Denver. Situated at the base of the Rocky Mountains' Tenmile Range and surrounded by several 14-ers it's the perfect place to visit for outdoor lovers.
During summer, you can tackle one of the many trails. One of the best hiking trails near Breckenridge is the Quandary Peak summit trail.
Quandary Peak has a height of 14,271 ft and is the tallest mountain in the Tenmile Range. This 7.5-mile trail (return) takes approximately 5 hours and you'll be ascending almost 3300 ft.
It's a hike with spectacular views, especially during the fall. Breckenridge is one of the best places to watch the autumn colors due to its high elevation (at 9600 feet).
When setting out to hike Quandary Peak, dress in layers, wear sturdy hiking boots and bring a windproof jacket (it's cold and windy at the top, even in summer).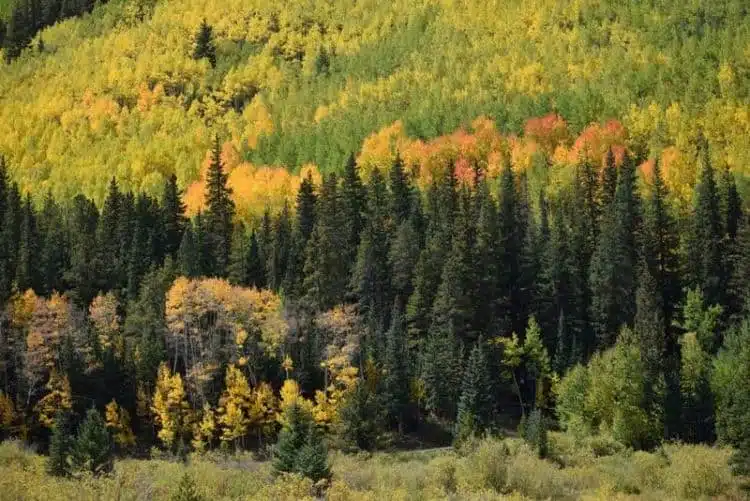 If you plan to take a day trip to Breckenridge in winter, this is when the town truly comes alive, even more so than the other seasons! Breckenridge is a very popular skiing town, it boasts over 187 trails covering 5 peaks and the highest lift-served terrain in North America.
A dream for people who love skiing and snowboarding. Buy a day pass and hit the slopes for a guaranteed fun day out! There are snowshoeing opportunities as well for those looking for more winter fun.
Spring is a perfect time to visit Breckenridge as well. Take a stroll around the Breckenridge National Historic District, the Victorian core of this former mining town, explore the boutique shops, art galleries, and have lunch or dinner at one of the many restaurants.
Altogether, Breckenridge is one of the best day trips from Denver and highly worth a visit!
4. Copper Mountain, Colorado
Recommended by Jarrod from Ramble Around the World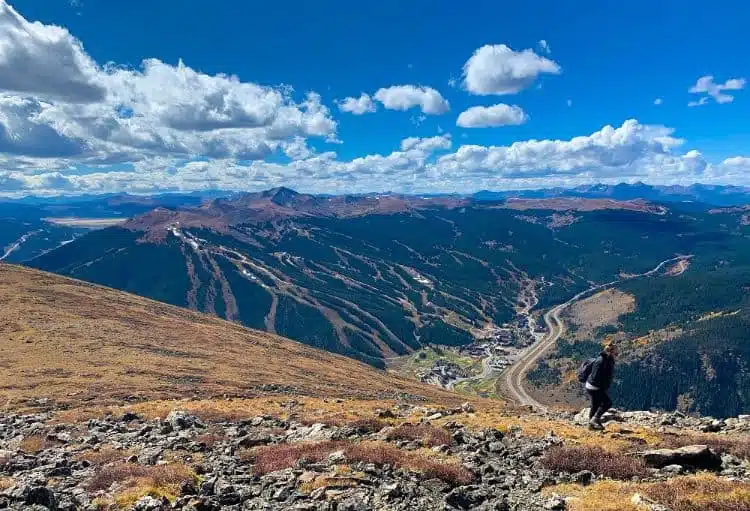 One of the best day trips from Denver — from the heat of summer to the cold of winter — is Copper Mountain, Colorado, a quaint ski resort town tucked between some of the state's most well-known slopes.
Copper's unique location between Breckenridge and Vail, two of Colorado's most famous and packed ski resorts, means that most people drive on by, missing the pristine powder during the winter and the incredible hiking during the summer.
With three mountains that feature 2,450 acres of groomed terrain across more than 140 runs, Copper Mountain is one of Colorado's best-kept secrets. Its tallest run boasts a peak elevation of 12,313 feet, making it the ninth-tallest groomed trail in the United States.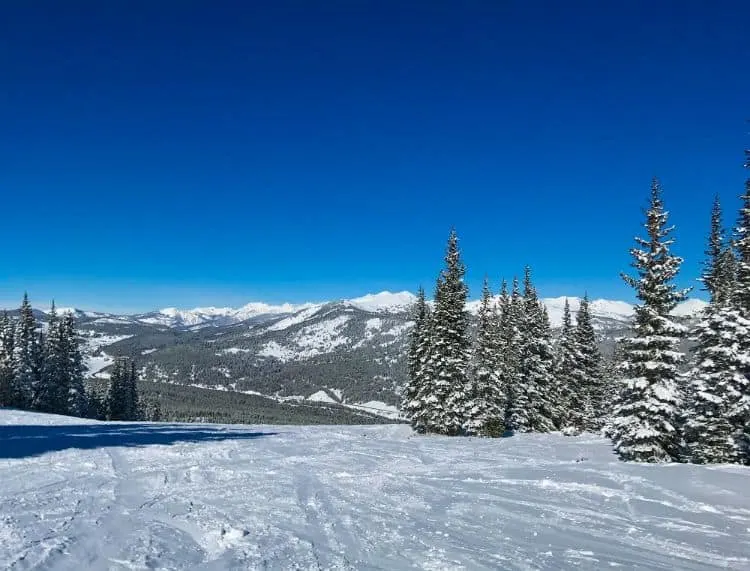 The quaint resort also has 26 lifts, including a new high-speed eight-person gondola that was added a few years ago, so you hardly ever have to wait to get to the top of a run.
Copper is also home to one of 12 Woodward facilities in the nation and the annual U.S. Grand Prix, which is a nationally televised event that hosts the world's best snowboarders and skiers.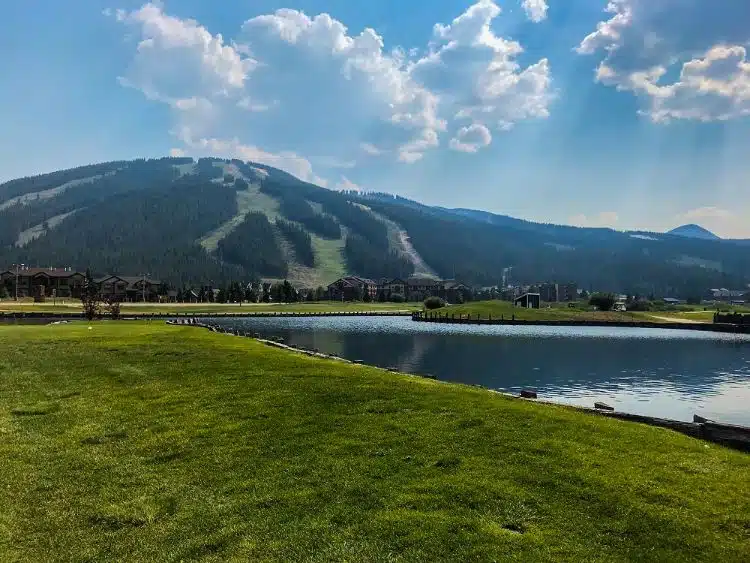 During the summer, Copper Mountain transforms into a mecca for outdoorsy people.
Its cool weather, which hardly ever gets into the 80s, creates a perfect atmosphere for everyone to enjoy the mountains, its many hiking trails, its 18-hole golf course, mountain biking, sitting on the shores of its West Lake and so much more.
5. Pike's Peak
Recommended by Ron from Unearth The Voyage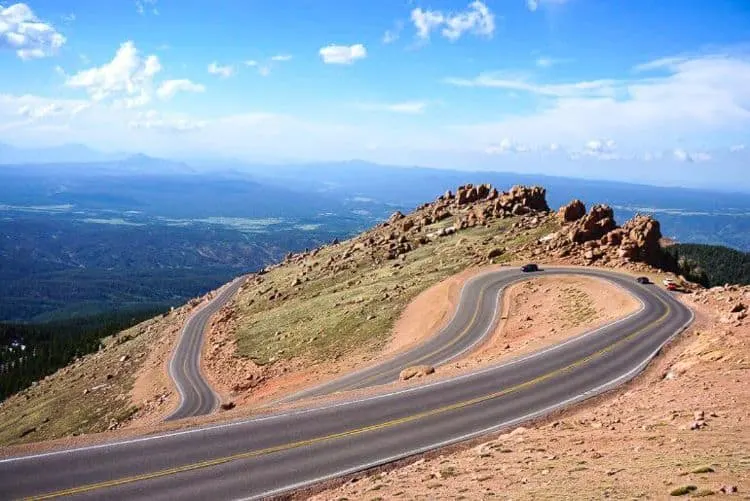 At only two and a half hours drive from Denver, Pike's Peak is the perfect destination for a day trip! Colorado has more than 50 different "14ers" (mountains more than 14,000 feet above sea-level).
However, Pike's Peak is the only 14er that has a paved road that you can drive on all the way up to the top.
While it's important to remember safety and always practice downshifting gears on the way down, the summit of Pike's Peak is a must-see.
There is a large parking lot at the summit and even a shop where visitors will find everything from Pike's Peak souvenirs to the famous Pike's Peak donuts!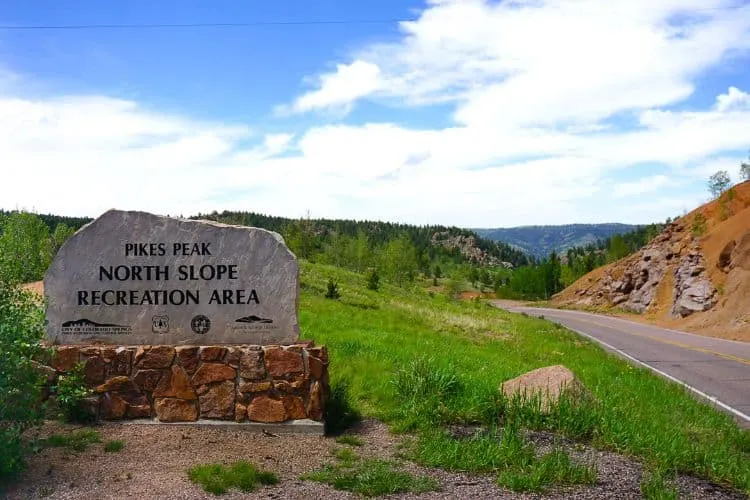 The donut shop at the summit has worked hard to craft the perfect donut. Most traditional donut recipes won't rise or cook correctly at such a high altitude, making a Pike's Peak donut truly one of a kind.
For visitors that would prefer not to drive to the top there is a train that runs from top to bottom and takes about three hours round trip.
Tickets for the train do fill up relatively far in advance and so it's recommended that visitors who plan to take the train book a ticket at least three to five days in advance.
Pike's Peak is one of a kind when it comes to mountain accessibility. Whether it's taking the train or the comforts of your own car, Pike's Peak is for everyone.
6. Boulder
Recommended by Claudia from My Adventures Across The World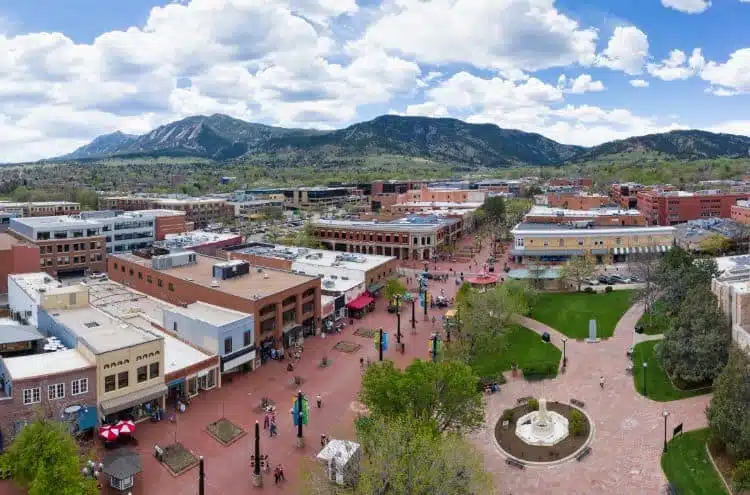 Boulder is one of the easiest day trips from Denver, at a mere 30 minutes drive and easily reached by public transportation – take FF1 from Union Station.
Located at the base of the Rocky Mountains (the iconic Flatirons are quite a sight), Boulder is a small college town with a fantastic hippie atmosphere, an incredibly friendly city (much like the rest of Colorado), and a very pleasant place to explore.
The center of town is all located around Pearl Street, where you will find lots of shopping opportunities and a bunch of good restaurants and cafés.
Yet, the best thing about Boulder is that hiking trails are easily reachable from the center of town – making it thus a great place to go hiking near Denver.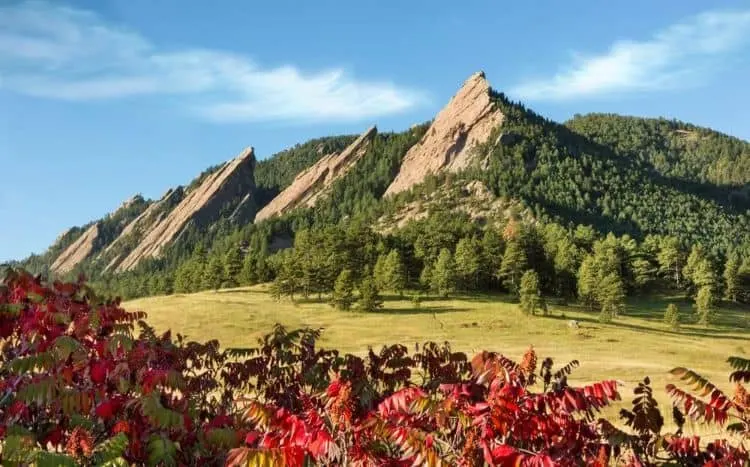 The most popular trail is the Chautauqua, an easy 1.2 miles trail that is particularly scenic in the spring when everything is in bloom, and that will offer stunning views of the Flatirons.
If you don't have a car, walk to Mapleton St. from Pearl St. and head west. At the very end of the street, you will find the entrance to Mount Sanitas trailhead – an easy to medium hike which is guaranteed to pump your lungs.
It's a local's favorite as it is easily accessible from the city, and chances are you will meet a few people walking their dogs there.
If you are in the mood for some culture, the Museum of Contemporary Art will provide plenty of inspiration too.
7. Mount Evans Scenic Byway
Recommended by Umiko from Two Worlds Treasures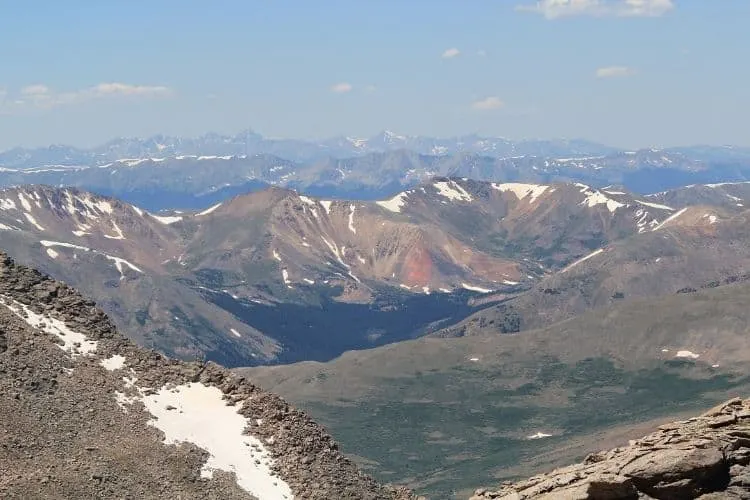 One of the best day trips from Denver is driving the Mount Evans Scenic Byway. It is one of the famous Colorado fourteeners that you can reach by car, and also the highest paved road in America.
Mount Evans is located to the west of Denver and you must plan at least 2-3 hours drive each way for your trip.
From the bottom of the mountain to the top is only 14 miles, but with twists and turns, almost no guardrails and there are steep drop-offs at certain spots, it will take you at least an hour to reach the top.
Views on the trip are breathtaking. You will see incredible mountain vistas, 2,000 year old bristlecone pine trees, 2 beautiful high-altitude lakes, wildflowers, Rocky Mountain goats or sheep, and marmots.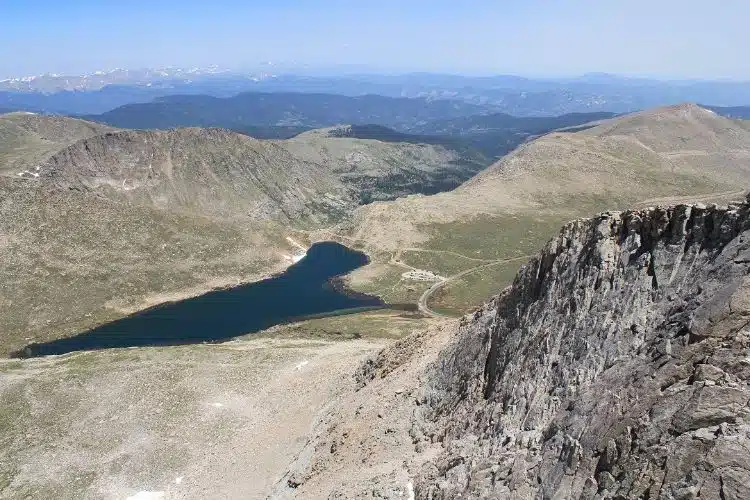 Arriving at the top, there's a short quarter-mile trail to the 14,264-foot summit. Walk slowly as the oxygen gets thinner, then you can proclaim you have summited your first Colorado 14er. ;-)
Enjoy the incredible views from the summit, but be prepared as it can be 30 degrees cooler at the top. Snow can fall at any time, and afternoon thunderstorms can be dangerous. It is wise to come down by noon.
Mount Evans is typically open the Friday of Memorial Day weekend through Labor Day depending on weather conditions. It makes a favorite spot for tourists when driving on Colorado scenic byways in the summertime.
8. Estes Park
Recommended by Kelly from Fit Fashion Traveler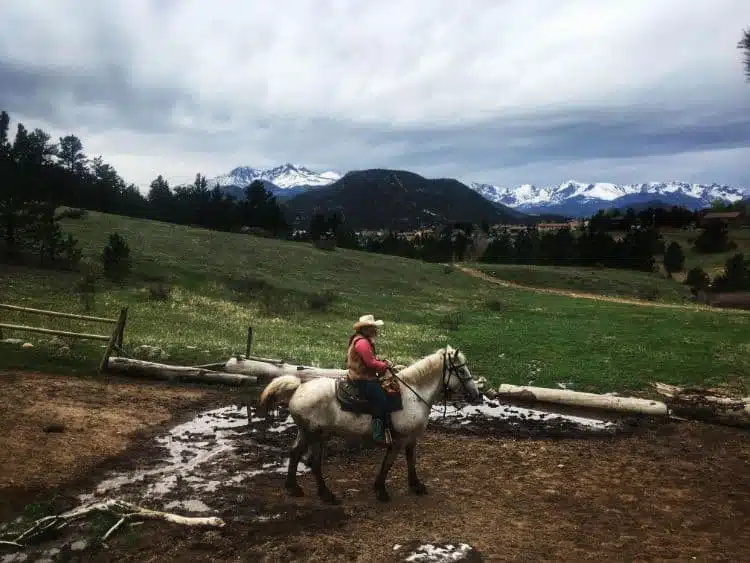 Drive ninety minutes Northwest from Denver into the Rocky Mountains and you'll come across Estes Park. This bustling mountain town makes a great day trip or even weekend trip from Denver once you've seen all the sights in the city.
The top attraction in Estes Park is the Stanley Hotel. Stephen King stayed in the hotel in 1974. He then used it as his inspiration for the Overlook Hotel in his novel The Shining.
You may recognize it from the 1997 mini-series "The Shining" because it was used as a filming location. When you visit, you can play up the perceived spookiness by taking a ghost tour, walking through the hedge maze, or relaxing at the upscale hotel bar or outdoor restaurant.
Many people who visit Estes Park will also go hiking in the nearby Rocky Mountain National Park. For a unique mountain experience, take a ride on horseback with Sombrero Stables instead.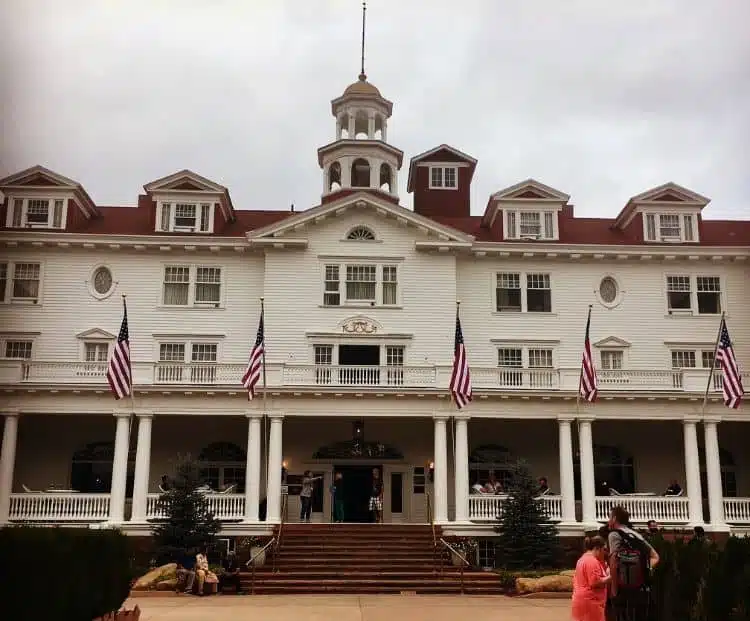 Through this experience, you can pretend to be a real cowboy or cowgirl for a couple of hours while experiencing the natural beauty and breathtaking views of many of the surrounding areas.
The trail guides come from generations of Coloradans raising and riding horses in the mountains. The knowledge they bring to your ride will add a special element to your time in the mountains.
Finish your day with dinner at Seasoned – An American Bistro, and perhaps grab a drink with the locals at The Wheel Bar before heading back to Denver.
9. Colorado Springs
Recommended by Oksana & Max from Drink Tea & Travel.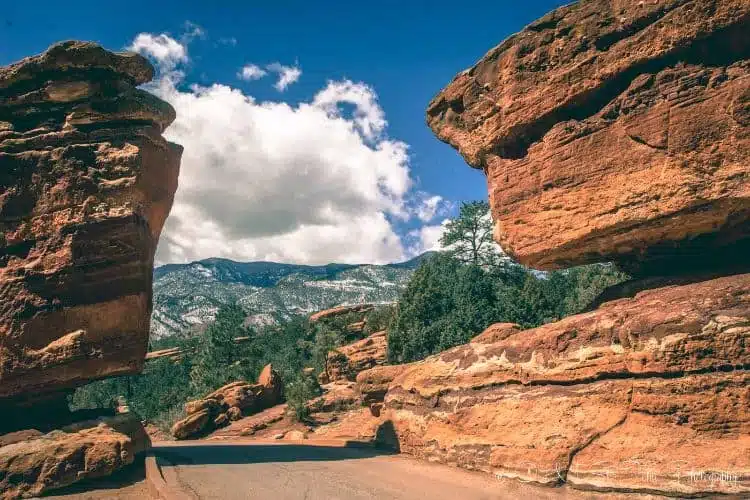 Located just over an hour from Denver, Colorado Springs is the ideal place to get back into nature. There is so much to do on a day trip!
Located just outside the city is Pikes Peak. This mountain peak is the highest in the front range of the Rocky Mountains. You can take the cog train to its submit or hike up for beautiful vistas of the surrounding area.
Another great spot is the Garden of the Gods. This park is home to an otherworldly landscape made up of red rock formations that are up to 300 million years old. You can hike throughout the park, go on a tour, take a jeep over its terrain and more.
For a dose of American history, head over to the Manitou Cliff Dwellings and its museum. The dwellings were rebuilt from ruins found at Mesa Verde National Park. Explore the dwellings and learn about the fascinating history of the ancient pueblo people who used to inhabit them.
Located near the center is Broadmoor Seven Falls, which are a series of seven cascading waterfalls. This tourism attraction has been open since the 1800's when miners descended on the area, and continues to awe visitors with its natural beauty.
When that is all done, stop for lunch at one of the many restaurants and cafes in Colorado Springs downtown core. We found the locals to be amiable on our Colorado road trip.
10. Rocky Mountain National Park
Recommended by Allison Green of Eternal Arrival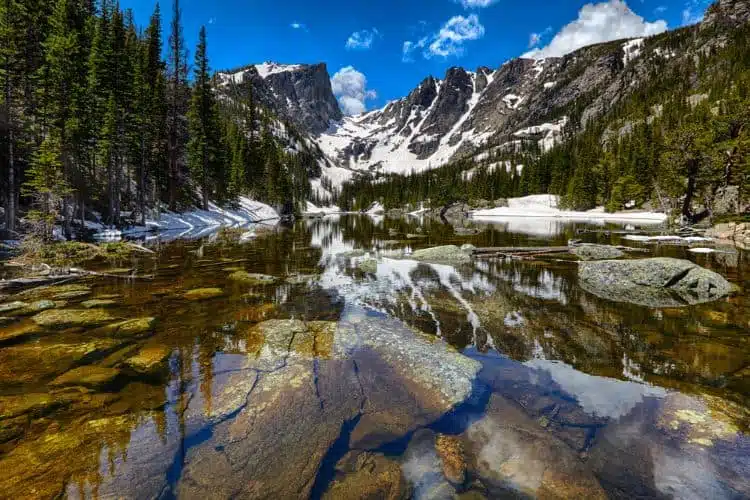 One of the coolest places to visit in Colorado is Rocky Mountain National Park This stunning national park is one of Colorado's four national parks and my personal favorite.
It's an easy day trip from Denver because Estes Park, the gateway to Rocky Mountain National Park, is about an hour and a half away by car.
Once you arrive in Rocky Mountain National Park, there are a plethora of activities to keep you busy!
Whether you are trying to spot wildlife like mountain goats and elk for wildlife photography, embarking on a hike to the most photogenic parts of the park-like Dream Lake, Bear Lake, and Sky Pond, or are getting your adrenaline pumping doing some rock climbing on the some of the best climbing routes in Colorado, you're sure to have a fantastic day out of the city.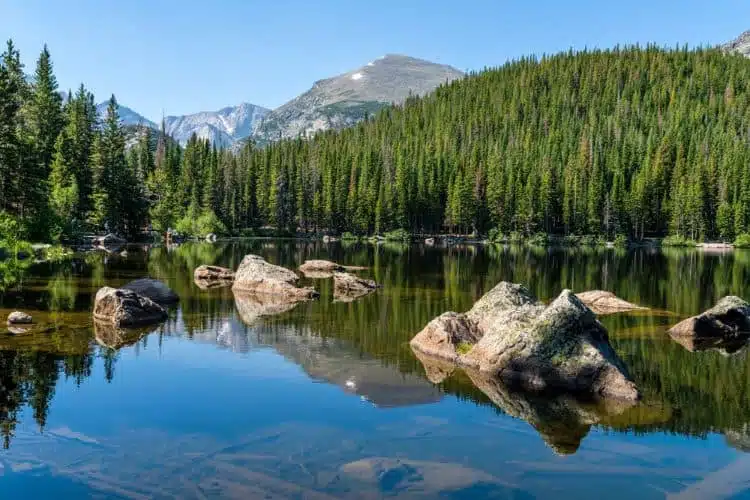 Visit in fall to see the beautiful fall colors as the aspen trees turn bright yellow, summer for beautiful blue-sky days and crystal-clear waters, spring for wildflowers, or fall for an absolute winter wonderland!
Be sure to stop by Estes Park afterward to tour the Stanley Hotel, which was the inspiration for Stanley Kubrick's film The Shining, and grab a bite to eat in one of the many amazing restaurants in town.
Frequently Asked Questions about Day Trips from Denver
Best VPN for Travel: ExpressVPN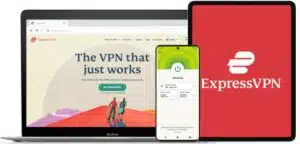 Heading abroad? Use ExpressVPN to access your social media accounts, unblock your favorite entertainment sites, and stay connected with friends and family. And get cheaper flights, of course.
Pros
✅ Next-gen, high-speed servers in 94 countries
✅ Works on iOS, Android, Windows, Mac, Linux, browsers, and more
✅ 256-bit AES encryption protects your data, even on hotel Wi-Fi
✅ Unblocks Netflix and other streaming sites
Cons
❎ No dedicated IPs
Get 3 extra months free of ExpressVPN when signing up for a 1-year plan. That's a 49% saving and a monthly cost of just $6.67! You also get a 30-day money-back guarantee.
Where can I go outside in Denver?
There are many outdoor attractions outside in Denver where you can go to. You can hike the wilderness, ski at the Breckenridge and play golf at Copper Mountain, among others.
What is the prettiest place in Colorado?
It is quite difficult to answer what the prettiest place in Colorado is because there are just so many, but if pressed for an answer it would have to be Colorado Springs. After all, it was Katharine Lee Bates' inspiration for the lyrics "America the Beautiful."
What is the best small town in Colorado?
Telluride is the best small town in Colorado, mainly because of its world-class slopes that make for a perfect ski trip. When it's not winter, this former Victorian mining town is still a great place to go hiking, sightseeing and white water rafting.
What mountain towns are close to Denver?
Some of the mountain towns that are close to Denver include Winter Park where Mary Jane Mountain is located, the mining town of Idaho Springs, and Estes Park set right in the heart of Colorado Rocky Mountains. They all make for some of the best day trips from Denver you can take.
How close is Denver to the Rocky Mountains?
Denver is close to the Rockies. The distance between Denver and Rocky Mountain National Park is 56 miles or 90 kilometers.