New Orleans is a US city blessed with a good mix of good music, rich culture, and pleasant people. Where is New Orleans located in the USA?
New Orleans is located on the southeastern side of the state of Louisiana.
It is part of the United States of America.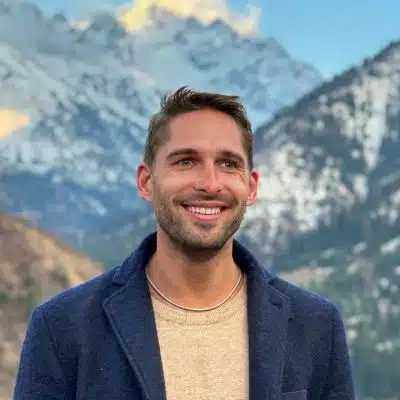 New Orleans' exact location is 29.95 latitude and -90.07 longitude. It lies between 1 foot and 2 feet below sea level.
The city of New Orleans is among the best places to visit in the USA.
Are you planning a trip to New Orleans? Make sure to check out the best things to do in New Orleans and have a look at our New Orleans hotel recommendations.
Distance to other major destinations:
New Orleans to Houston – 318 miles or 511 kilometers
New Orleans to Atlanta – 424 miles or 683 kilometers
New Orleans to Tampa – 482 miles or 775 kilometers
New Orleans to Orlando – 543 miles or 859 kilometers
New Orleans to Kansas City – 682 miles or 1098 kilometers
Where is New Orleans on the Map?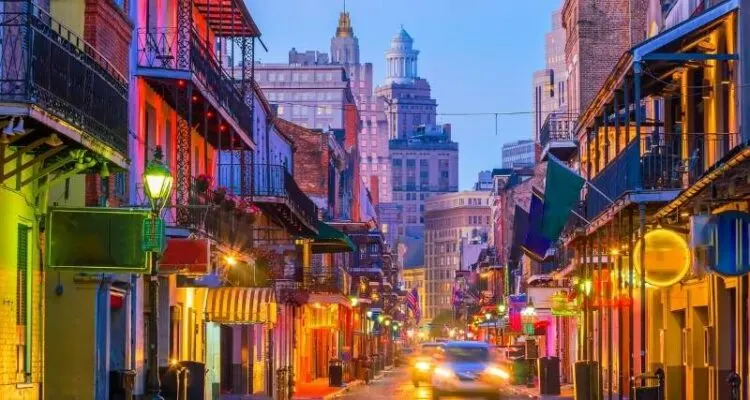 New Orleans Fun Facts
1. New Orleans was founded in 1718 by Jean Baptiste Le Moyne de Bienville.
2. The shape of the city followed the curve of the Mississippi River. That is why it is named Crescent City.
3. Many other nicknames are given to New Orleans, Louisiana. Some of them are "The Big Easy" and NOLA.
4. Many prominent personalities were born in New Orleans. Some of them are Louis Armstrong, Reese Witherspoon, and Ellen Degeneres.
5. We have the New Orleans barber named Buddy Bolden to thank for the birth of jazz music.
6. Voodoo cannot simply be excluded in conversations about New Orleans. A resident in the name of Marie Laveau was said to have performed countless voodoo rituals in the 1800s.
7. Because of New Orleans' connection to voodoo and the likes, the place is considered the most haunted city in the United States.
8. Because of the New Orleans location making the water table in the city very high, all tombs are located above the ground.
9. New Orleans has about 20 registered Historic Districts. This number is more than any other in the US.
10. New Orleans is home to many superlatives. Lake Pontchartrain Causeway, the world's longest continuous bridge, is located here – and so is the New Orleans Superdome is the world's largest enclosed arena.
11. The city of New Orleans is famous for its Creole Cuisine.
12. New Orleans is the birthplace of poker and craps.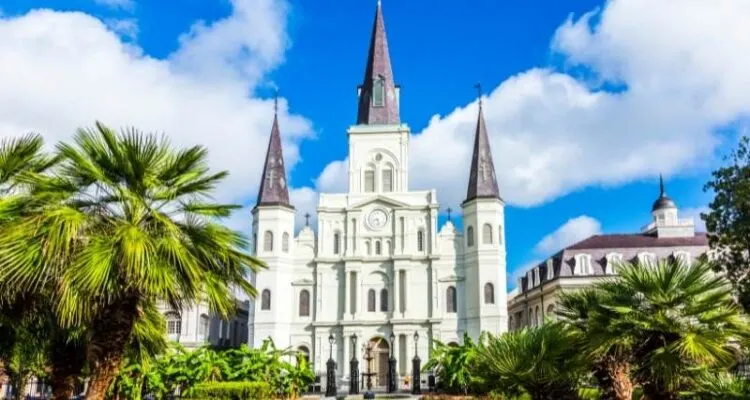 Frequently Asked Questions about Where is New Orleans located
Best VPN for Travel: ExpressVPN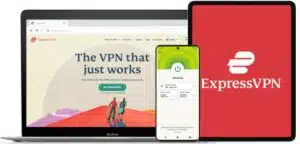 Heading abroad? Use ExpressVPN to access your social media accounts, unblock your favorite entertainment sites, and stay connected with friends and family. And get cheaper flights, of course.
Pros
✅ Next-gen, high-speed servers in 94 countries
✅ Works on iOS, Android, Windows, Mac, Linux, browsers, and more
✅ 256-bit AES encryption protects your data, even on hotel Wi-Fi
✅ Unblocks Netflix and other streaming sites
Cons
❎ No dedicated IPs
Get 3 extra months free of ExpressVPN when signing up for a 1-year plan. That's a 49% saving and a monthly cost of just $6.67! You also get a 30-day money-back guarantee.
What state is New Orleans in?
New Orleans is in the state of Louisiana, USA.
What states are near New Orleans?
Texas, Oklahoma, Arkansas, and Mississippi are the US states that are near New Orleans.
Why is New Orleans called the Big Easy?
The nickname The Big Easy does not have a single solid reason behind its creation. However, one theory greatly encapsulates what it means – the idea that life in New Orleans is laid back and easy-going.
What is New Orleans famous for?
The rich culture of New Orleans is what makes it truly famous. You have the grand Mardi Gras celebrations, the flavorful food, and the respectful homage to its history all embedded in its character. Jazz music also helped put New Orleans on the world map. The soul of the music flows in how they live their daily lives and how they respond to situations.
Is New Orleans safe?
Because New Orleans is a famous tourist destination, it is no wonder that petty crimes are prevalent. This, though, does not make New Orleans an entirely dangerous destination. Staying alert is key to making your trip to New Orleans enjoyable and crime-free.
Is New Orleans expensive?
The cost of going to New Orleans greatly depends on the season of your visit. If you are coming to celebrate Mardi Gras in New Orleans, prepare to spend more than a usual trip to the Big Easy costs.
Location Map of American Cities