Are you searching for fun things to do in Houston, Texas? We have a list of what to do in Houston, including Houston activities perfect for the whole family.
The Space City is filled with sights to see and activities to experience.
A day's itinerary will surely be filled with things about aviation, history, and nature, among others.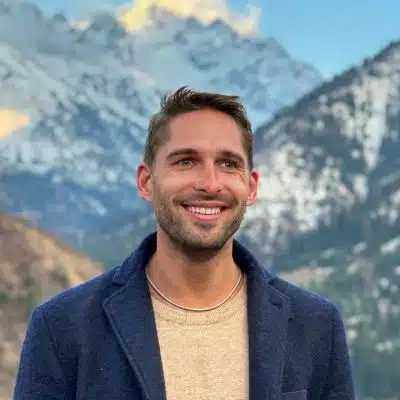 With a city this big and vibrant place, you will never run out of things to do in Houston!
Read also: What to do in the United States
Fun Things to do in Houston Texas
1. Johnson Space Center, Houston
Recommended by Neha Kulshrestha from Travelmelodies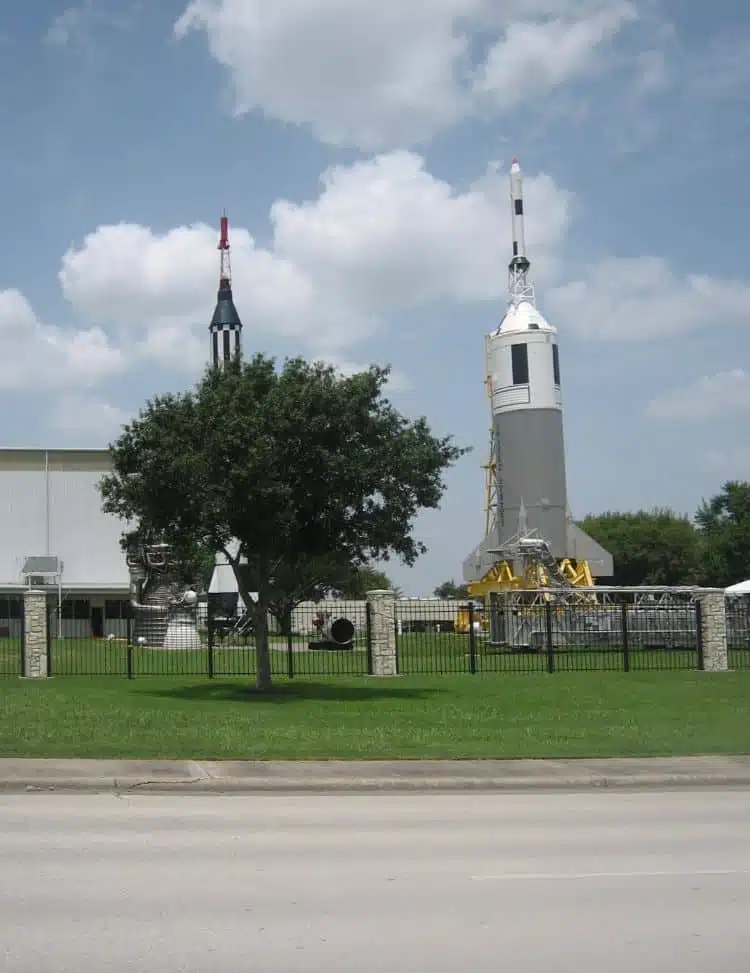 Visit Houston is incomplete without a visit to the Space Center, a 30-minute drive from Downtown Houston.
NASA, Houston is a major space station where astronauts are trained for many missions. Space Center Houston is the Official Visitor Center with many exhibits and takes through a tour of Johnson Space Center.
The Starship Gallery and the Moon Rock Vault have real spaceships from previous missions, along with space suits and rocks from the moon that you can touch.
The visitor ticket to the Space Center includes the not-to-miss Tram tour to the Johnson Space Center (JSC), where all the action takes place.
Johnson Space Center, spread over 1600 acres, has the Training Center of the astronauts and the Mission Control Center, where you might see people working.
The scientists and men from the Mission Control center are essential as they work in unison with the astronauts in space.
The Rocket Park at the JSC has the massive Saturn V rockets on display, the rockets built to send astronauts to the moon. It is exhilarating to see the rockets up close.
Do you ever wonder how the shuttle looks from inside?
Then head out to Independence Plaza, where the replica of a shuttle is on display that is mounted over an actual Shuttle carrier aircraft.
It is special as the shuttle carrier has actually carried space shuttles over 200 times.
It is advisable to spend an entire day exploring this huge campus completely and does justice.
This is one special thing to do in Houston that leaves you in awe and dreaming about mystifying outer space.
2. Houston Museum District
Recommended by Patricia Martin from Travel Fam Life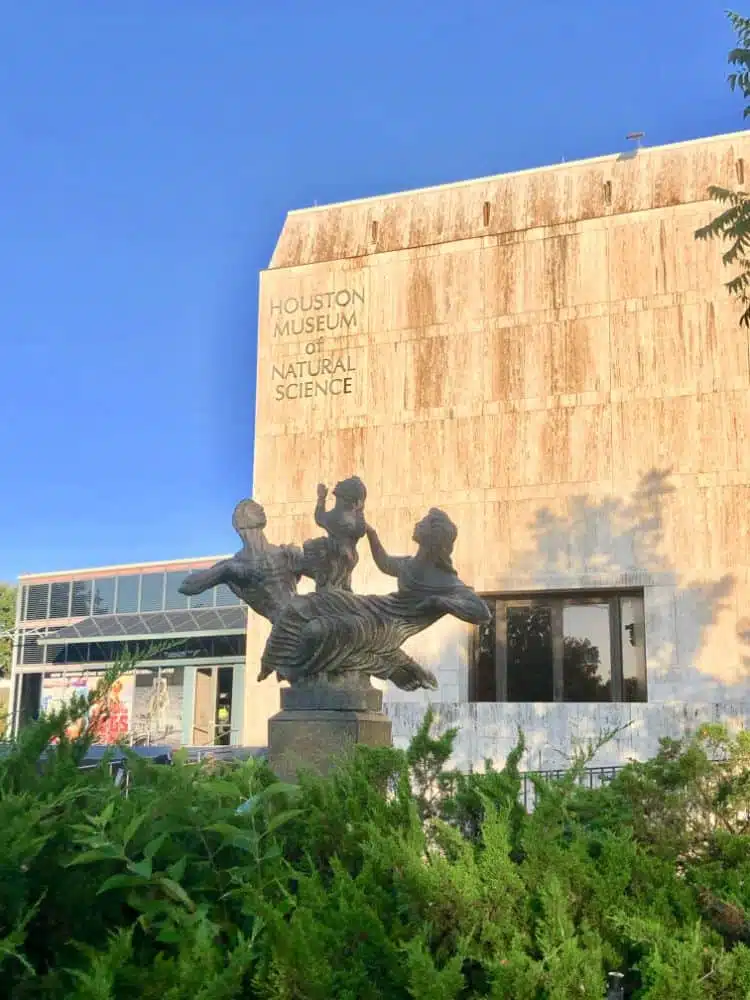 With such diversity around town, it's no surprise that Houston would deliver on its museum district.
The nine square miles area comprises 19 non-profit cultural organizations with a variety that will suit anyone's desires for the arts.
To go with the slogan that everything is big in Texas, six of the biggest art museums in the country are located in the Houston Museum District.
Created in 1977 to provide a walkable experience to residents in the area, the museum district has been growing ever since.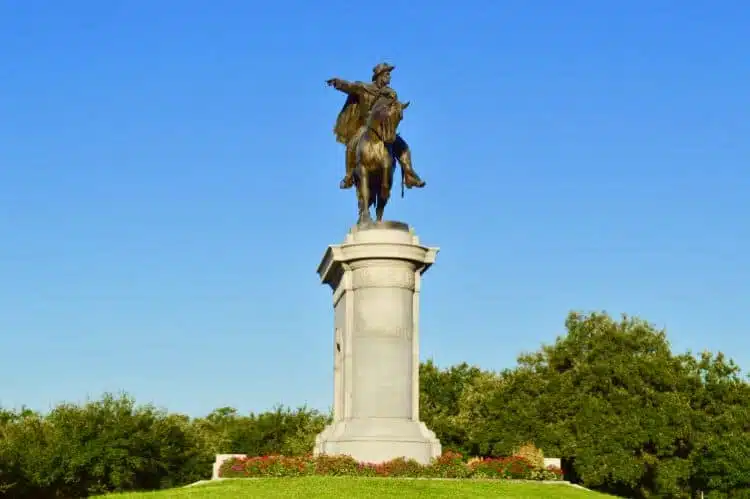 Located just south of downtown, the area is easily accessible by metro, with four stops on the route and one of them clearly dedicated to the district.
If you decide to drive there, parking can be an issue depending on the day of the week or if you are visiting on the weekend.
The district is also reachable by bike; Houston has a bike rent station distributed around town for your convenience.
While making time to tour all the museums, plan ahead to visit on a Thursday since some of the museums offer free admission.
But make sure you schedule a couple of days to see this area and enjoy the parks surrounding the district.
3. Houston Museum of Natural Science (HMNS)
Submission by Dave Chant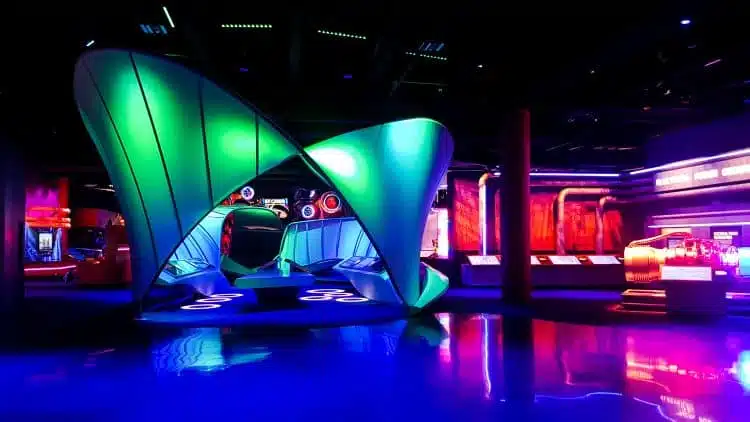 Founded in 1909 and nestled amongst the Houston Museum District, the Houston Museum of Natural Sciences (or HMNS for short) is not much to look at externally. However, there's a wealth of special and permanent exhibitions inside.
As well as an entrance ticket to get into the museum, the building also houses the Burke Baker Planetarium and the Cockrell Butterfly Center with separate tickets.
Truth be told, I opted for a ticket to the museum alone, and I'm glad I did – the place was more than enough to keep me busy. Do the combination ticket only if you have all day to explore!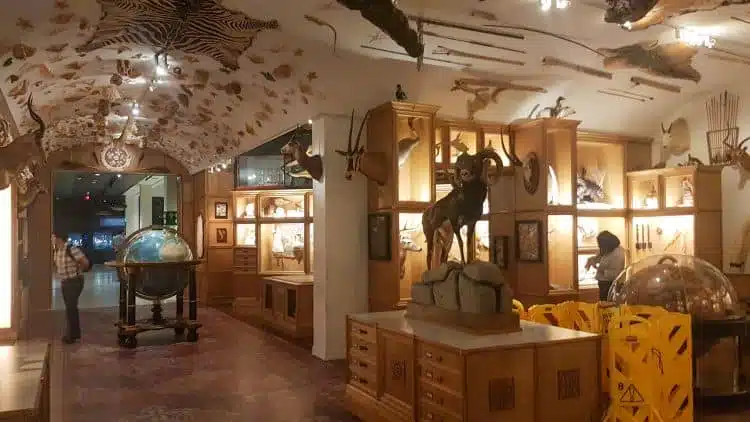 One of the most fantastic displays is the Energy City on the top floor in the Wiess Energy Hall. The whole room has a futuristic feel, and spending 30 minutes staring at the Energy City alone is easy.
Elsewhere the museum has a typical but fantastic collection in the hall of paleontology – i.e., dinosaurs – and a classy selection of Faberge eggs.
There are halls for Ancient Egypt and the Americas and stunning collections of gems and minerals.
Kids will also love the planetarium films and the butterflies if they get the time. Undoubtedly, the best thing I did in Houston and not one to miss if you're passing by for any length of time.
4. Houston Rodeo
Recommended by Wayne Dang from The Traveling Asian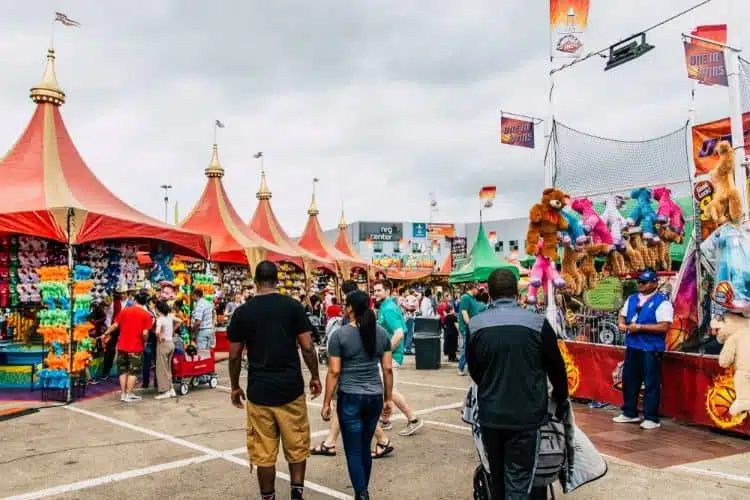 One of the best things to do in Houston is to visit the Houston Livestock Show and Rodeo.
The Houston Rodeo is the largest rodeo of its kind in the entire United States. And there are so many things for you to see and do here.
Because the name of the rodeo is "Houston Livestock Show And Rodeo," you can expect lots of livestock as well as all your regular rodeo goodness.
Some things you'll find inside are petting zoos that let you play with and pet the animals in all their glory.
They also have many exhibits that showcase different animals and teach people how animals behave and live.
Not only livestock, but you'll also find many vendors here selling some delicious Barbecue and other rodeo foods.
You can find things like brisket, ribs, giant turkey legs, fried cheesecake, and much more delicious goodness that'll have you craving for more after each bite.
Aside from all the regular things you can find at a rodeo, they also have a theme park with all sorts of carnival rides for you to have fun on.
But the best thing about the rodeo has to be the concerts which happen daily and features a different guest each and every day. Depending on what ticket you get, it may also include the concert feature, which is great.
Overall, the Houston Rodeo is definitely the place to be if you want to have some fun and get a sense of what life is like as a Houstonian.
5. Discovery Green
A visit to Discovery Green is among the top things to do in Houston.
This urban park is 12 acres wide, providing a green chunk of well-developed land to downtown Houston. What was once a public eyesore is now a vibrant space being utilized by residents and visitors alike.
If you desire to unwind right in the midst of the city, Discovery Green has lots of gardens and lawns that are conducive to relaxation.
If you are bringing the kids with you, play areas will keep them happy and occupied during the whole duration of your visit.
Are you an art enthusiast? Discovery Green is filled with art spaces and tasteful installations that will surely bring delight to your senses.
Some of the art pieces you should not miss include The House (Heart), Synchronicity of Color, and the Listening Vessels.
Food on your mind? The Grove and The Lake House are just around the corner!
6. Minute Maid Park
The Minute Maid Park is a big-league baseball field with a 41,000-seating capacity home of the Houston Astros. It is definitely one of the things to do in Houston if you are a fan of the team or the sport in general.
Go on an Astro Ballpark Tour to see the different decks and even visit the Astros dugout. Walk through the Hall of Fame Alley for the ultimate fan experience.
If you wish to go back in time, book a Touch of History Tour. The guide will pick ten well-preserved memorabilia that you can touch and look up close.
This may include the World Series Championship Ring of 2017 or even the oldest jersey in franchise history!
Do you want to explore Minute Maid Park in a different light? Go on a Ghost Tour and get to know the haunted history of the whole location.
7. Things to do in Houston – Visit the Hobby Center
The Hobby Center for the Performing Arts is a world-class venue with two proscenium theaters: the Sarofim Hall and the Zilkha Hall.
It opened in 2002 and has since played theatrical masterpieces such as My Fair Lady, Wicked, and Jesus Christ Superstar.
The Hobby Center is not just impressive when the show starts. It starts to enthrall you as soon as you step foot at the Grand Lobby.
Its main feature is a six-story glass facade that brings in natural lighting to the place.
If you are thinking of eating while on the premises, dine in at the Hobby Center's signature restaurant – the Diana American Grill.
It is named after Diana Hobby, an important part of the Houston community and the Center itself. The restaurant has been receiving high praise for its food and wine and its great customer service.
You can find The Hobby Center at Bagby Street in downtown Houston. Check out what is on schedule and add it to your list of things to do in Houston!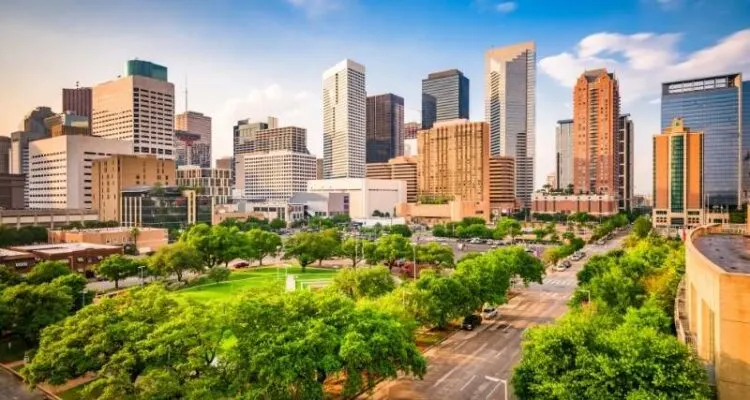 8. Hines Waterwall Park
The Gerald D. Hines Waterwall Park acts as a well-designed landscape to Houston's business center.
It covers 2.77 acres of the area, with a 64-foot high postmodernist waterfall fountain that will capture your attention.
A visit to see this semi-circular installation should definitely be included in your Houston list of things to do.
The people behind this magnificent Waterwall are Philip Johnson and John Burgee. They described their vision as a "horseshoe of rushing water," with the fountain recirculating around 11,000 gallons per minute!
186 live oaks tower on all sides of the Waterwall, and the green expanse makes it a perfect place to hold picnics. Children will have endless hours of fun running around and enjoying the whole public park.
The Hines Waterwall Park is located across Galleria's tallest building, the William's Tower. Its height of 64 feet is a nod to William's Tower's 64 stories.
9. Saint Arnold Brewing Company
If you are wondering what to do in Houston and you fancy good Texas food along with fresh draft beer, a visit to Saint Arnold Brewing Company is a must.
It is known as Texas's oldest craft brewery, with its first keg of beer shipped in 1994.
Founders Brock Wagner and Kevin Bartol chose Houston to be the location of their company because, although the city is large, there are no microbreweries in the area.
They named the brewery after Saint Arnold, who is considered "the patron saint of brewers."
Saint Arnold Brewing Company conducts tours that will show you just how massive its operations are.
If you want to go in-depth about what goes into your beer mug, this tour should definitely be part of your things to do in Houston.
After the 30-minute tour, stay a while and hang out at the beer hall. Apart from craft beers, a full food menu is waiting for you.
10. JPMorgan Chase Tower
Among the fun things to do in Houston, Texas, is visiting the jaw-dropping JPMorgan Chase Tower. It will be cool to see how high the building really is from below.
Originally designed to have 80 floors, the JPMorgan Chase Tower has 75 while standing 1,049 feet above the ground. It has 1.98 million square feet of office building space within its totality!
The tower, located at 600 Travis Street, is the largest in Houston and all of Texas.
Go on a JPMorgan Chase Tower Tour and be sure not to miss the 55-foot sculpture made by the well-celebrated Spanish artist named Joan Miró.
Entitled "Personage and Birds," the huge and colorful sculpture is made out of steel and cast bronze.
On the 60th floor, there is a free lookout for visitors to utilize. The space is filled with people – especially before the sun sets – because the views from the top are truly breathtaking.
11. 1940 Air Terminal Museum
The 1940 Air Terminal Museum is a great place to check out by aviation enthusiasts and by curious minds.
The museum is located in a building that once served as Houston's Municipal Airport. The place itself is listed in the National Register of Historic Places.
Inside the museum, many galleries are filled with interesting aviation memorabilia. You are free to tour the place on your own or go on a scheduled guided tour.
If you wish to add a visit to the 1928 Carter Airmail Hangar on your list of Houston activities, prior booking is needed.
Thanks to the Houston Aeronautical Heritage Society or HAHS, the Terminal is being preserved and serves as our gateway to significant aviation history.
They were able to open the museum (which occupied the terminal's ground floor) in 2004. Other expansion and restoration efforts are in progress.
12. iFLY Indoor Skydiving
If your list of things to do in Houston is filled with the usual tours and common places, why not take it up a notch and know what it feels like to fly?
iFly Houston will let you do just that! Tick "indoor skydiving" off your bucket list and make the wind tunnels your playground for a day.
This is one of the few things to do in Houston which are child-friendly, senior-friendly – basically, any family member who wants to try it can do so!
Don't worry about the safety of this activity. Your guides are professionally trained, and all equipment is dutifully checked. Every detail has been curated with your enjoyment and thrill in mind. All you have to do is fly!
What if you are not keen on flying and would like to watch others do it? You can do so because spectators are more than welcome to enjoy the view.
Frequently Asked Questions about Houston Texas
Best VPN for Travel: ExpressVPN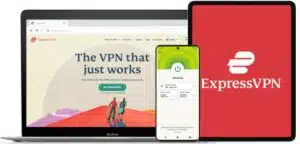 Heading abroad? Use ExpressVPN to access your social media accounts, unblock your favorite entertainment sites, and stay connected with friends and family. And get cheaper flights, of course.
Pros
✅ Next-gen, high-speed servers in 94 countries
✅ Works on iOS, Android, Windows, Mac, Linux, browsers, and more
✅ 256-bit AES encryption protects your data, even on hotel Wi-Fi
✅ Unblocks Netflix and other streaming sites
Cons
❎ No dedicated IPs
Get 3 extra months free of ExpressVPN when signing up for a 1-year plan. That's a 49% saving and a monthly cost of just $6.67! You also get a 30-day money-back guarantee.
What is Houston, Texas, known for?
Houston, Texas, is primarily known for the space exploration happening within its vicinity; one of the ultimate things to do in Houston is to visit Space Center Houston.
A massive rocket named Saturn V is housed at the Johnson Space Center. It serves as a grand reminder of Houston's key role during the first few attempts of the United States to understand space.
What is the coldest month in Houston?
January is the coldest month in Houston. The temperature in Houston during January ranges from 8 to 17 degrees Centigrade.
Does Houston have a beach?
Houston has no beaches, but its proximity to many Texas beach destinations makes swimming and enjoying the ocean totally possible.
Some of the beach communities within Houston, Texas, include the Bolivar Peninsula and Galveston.
Does Houston have 4 seasons?
Houston has four seasons: winter, spring, summer, and fall. It receives a lot of sunshine, but it also receives a lot of rain.
Winter in Houston will most likely be dry and cool, though; snow is highly unlikely to come, but the possibility of a white winter still holds.
Best Places to visit in the USA