Looking at what to do in San Diego the next time you're bound to travel there? We have listed down all the best things to do in San Diego in this article!
San Diego, USA, is jam-packed with many cool things to see and places to visit.
It is a well-rounded tourist destination, offering a bit of everything that a traveler might look for in a vacation.
Read also: BEST PLACES TO VISIT IN USA.
This beach city in Southern California is ready to pamper even the most discerning visitor.
Are you fond of being in cool waters and under the beaming sun?
San Diego might be the perfect place for you. Imagine having 70 miles of coastline as your playground, with waves perfect for easy surfing and a climate conducive to utmost chilling.
Get ready to trade your beachwear at nighttime with something hip and comfortable. Experiencing the bustling nightlife is one of the ultimate things to do in San Diego when you're there.
The morning after, ensure you have enough energy and high spirits because nature awaits!
You will never run out of what to do in San Diego because the place is filled with natural treasures you can explore. Think trail hiking, boat touring, and sunset watching.
Enjoy getting to know San Diego even more with its historical tourist spots. You have the USS Midway Museum for everything military and the Maritime Museum of San Diego for historic water vessels.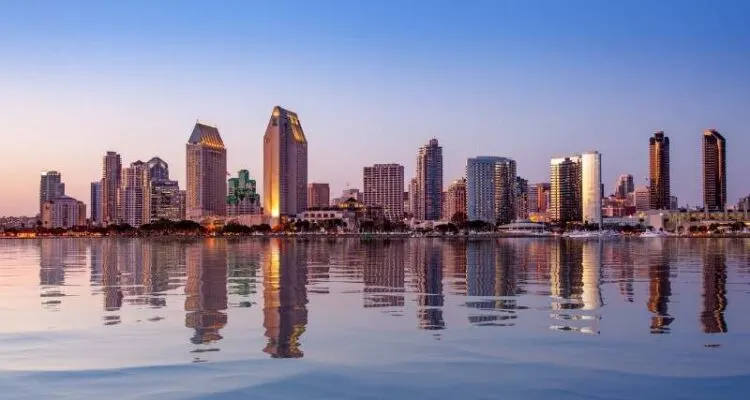 Best Things to do in San Diego
1. Visit San Diego Old Market
Recommended by Claire from ZigZagonearth.com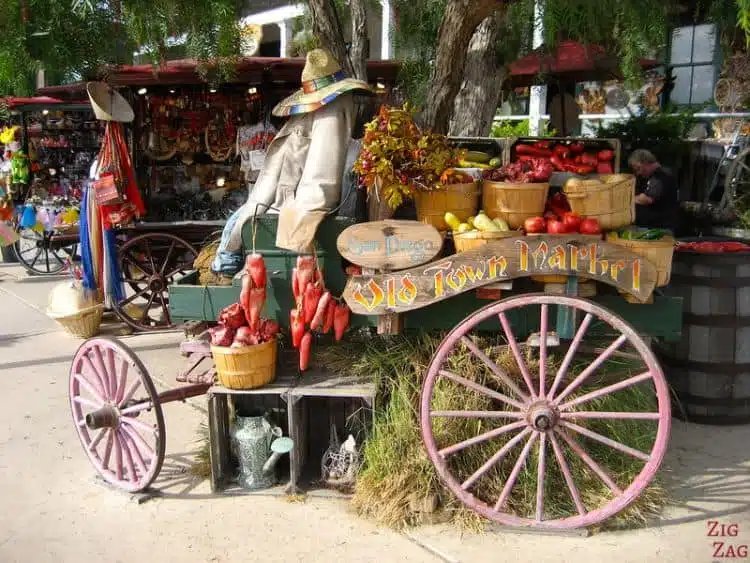 Leave the tall buildings and colorless streets from downtown San Diego to enter the old market! You will discover another world full of colors and historic buildings.
The semi-preserved area celebrates the early day of the San Diego town between 1820 and 1870 when Mexico became independent from Spain.
It is known as the birthplace of California because it is where the first permanent European settlement in California was established (although note that Native Americans had settled here for over 10000 years).
Yes, it is full of shops and attractions for tourists, but you can still enjoy the location's history.
This vibrant part of town will offer you some of the best things to do in San Diego (with a guided tour or on your own):
Historical houses – some houses are over a century old, for example, the Alvarado house from 1824
A cemetery – your tour can also include the exploration of the cemetery to read the tombstones and imagine how they lived during the previous centuries
Museums such as Whaley house museum – is it haunted?
A great variety of wonderful restaurants – I recommend focusing on the traditional flavours of the Mexican cuisine – many cafés, saloon and open-air restaurants that should satisfy your taste buds
And a lot of options for shopping – many are souvenirs for tourists, but you can also find some nice products such as colorful candles, pottery pieces or jewelry
2. San Diego Sea Caves
Recommended by Valentina from Valentina's Destinations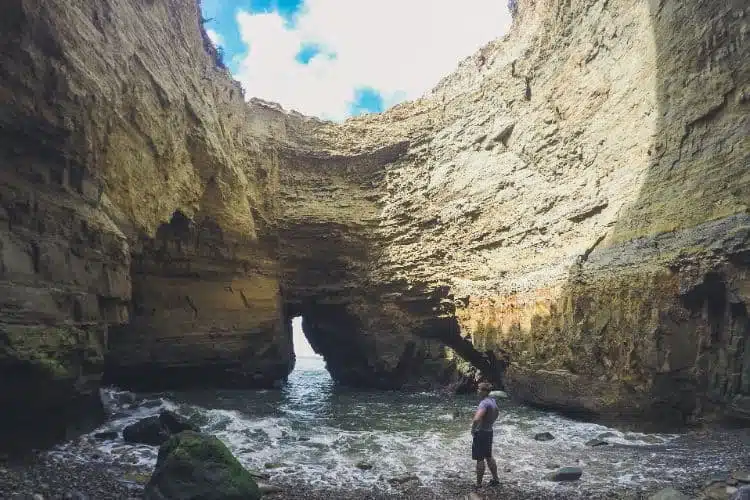 Sea caves are the hidden gems of San Diego!
Many tourists pass nearby them without even noticing. If you take the time to discover a secret sea cave in San Diego, it will be an adventure you'll never forget!
Sea caves present unique photography opportunities. They're romantic alcoves and great places to explore wildlife. There are several secret sea caves in San Diego.
You have to know where to look! There's one at Sunset Cliffs, one at the Cabrillo National Monument, and seven in La Jolla.
The Sunset Cliffs sea cave is accessible from Luscombs Point. Then you'll pass through a short stretch of shallow tide pools. Finally, you'll pass by a small cove and stumble upon the cave.
It's best to be prepared with water shoes and a bathing suit. Visiting during low tide can also make things easier.
The seven sea caves at La Jolla are best viewed from a kayak. You can book a tour with La Jolla Kayak.
The La Jolla caves have a unique history because pirates originally used them. These caves are nearly 75 million years old, and each has been given a distinct name.
One of the La Jolla caves is accessible on foot. It's a bit more touristy. This one's called the Sunny Jim Cave & it has an interesting cave store.
The Cabrillo National Monument cave is a bit tricky to get to, but you can find helpful online instructions.
Make sure to obey posted signs to prevent disturbing local wildlife. Seals like to hang out at the Cabrillo National Monument cave area.
3. Hiking Torrey Pines
Recommended by Taima from Poor In A Private Plane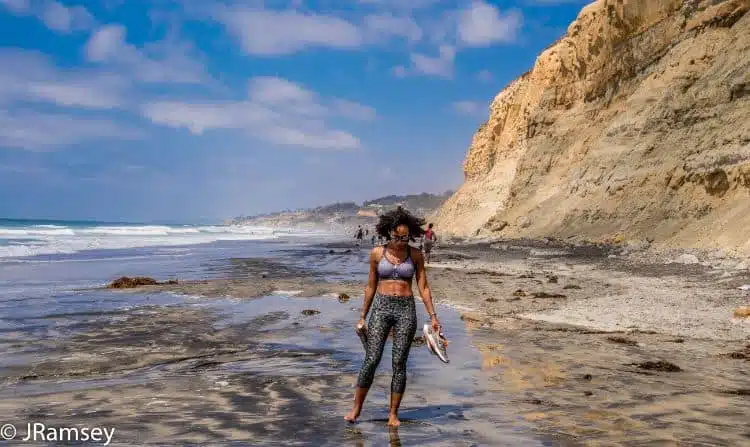 Ask anyone visiting San Diego what the best things to do in San Diego are. And one of the first responses is going to be to hike Torrey Pines.
Torrey Pines is one of few parks to have reserve status in the State of California, which means it definitely should be on your list of places to visit in the US. And at 1500 acres, there is plenty to see and do.
However, one of the draws to Torrey Pines is the views. Visitors to Torrey Pines have the option of picking from several trails ranging from ½ a mile to just under 2 miles long.
The trails are short; however, some are steep, so you will definitely break a sweat.
One of the longest trails is the Broken Hill Trail. It is a favorite for many reasons, including the views from different outlook points. The trail ends with a descent onto the beach.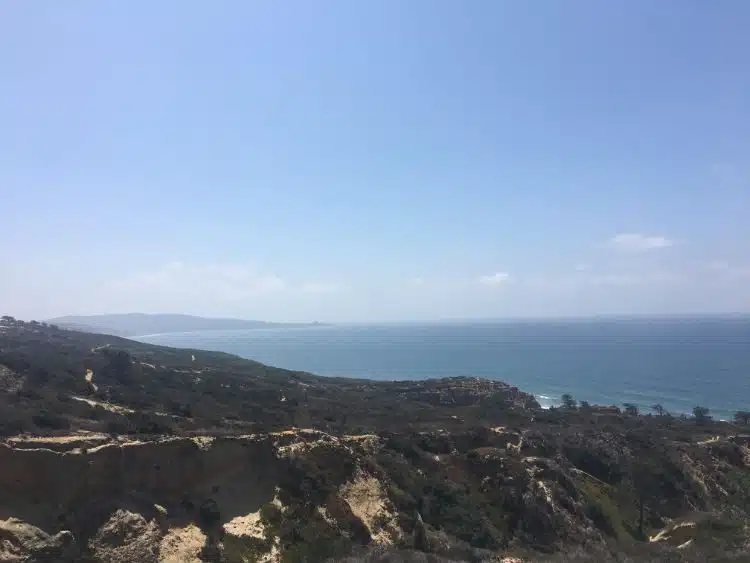 Depending on high tide, you can walk along the beach to get back to the parking lot where you may have started.
If you plan to visit Torrey Pines, keep in mind that there are rules that you are asked to follow because of its reserve status. No food is allowed on the reserve; therefore, leave your picnic at home.
Be sure to bring your camera because you're going to want to take some photos of the amazing views. However, leave your drone at home. They are not permitted.
Torrey Pines is a must-visit when visiting San Diego. It is recommended to arrive early and enjoy the trails before the crowds. Torrey Pines is a trendy place for both visitors and locals alike.
4. Potato Chip Rock Hike
Recommended by Kay from The Awkward Traveller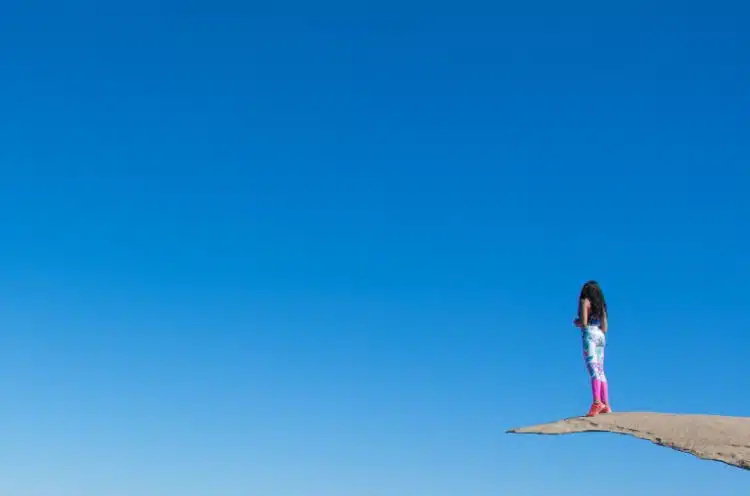 If you want to get outside and work up a sweat, the Potato Chip Rock hike is one of the best things to do in San Diego.
Well, technically, the trailhead is 30 minutes outside of San Diego, in a city named Poway. The landscape is dry and rocky, with large boulders shouldering the path to the summit of Mt. Woodson.
The length of the hike depends on the trailhead you choose to take. The most popular trailhead is the one that starts at Lake Poway, which is 7.5 miles and takes around 4.5 hours roundtrip.
There is designated parking (fee required: $5 per car), and it is the most scenic trail as it passes the giant lake and fields of wildflowers.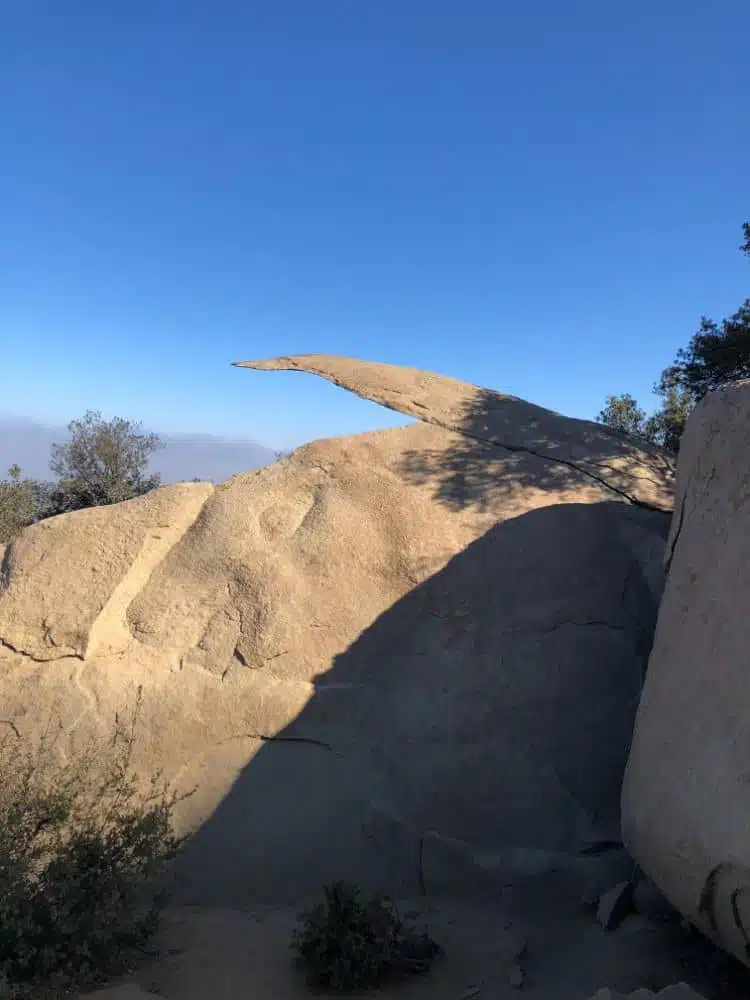 The shorter version of the hike begins at the Route 67 trailhead and is 4 miles roundtrip, taking around 2.5 hours.
The Route 67 trailhead is also the most difficult trail, with most of the hike including steep switchbacks.
Whichever path you choose, there is no shade, so be sure to bring plenty of water, sunscreen, and a hat for shade.
When you reach the summit, you will see the iconic rock that, as the name suggests, looks like a potato chip. As with any Instagram hotspot, the lines to take pictures here can get long.
So for the lowest chances of crowds, head out for your hike early in the morning on a weekday!
5. San Diego Zoo
Recommended by Dave from davechant.com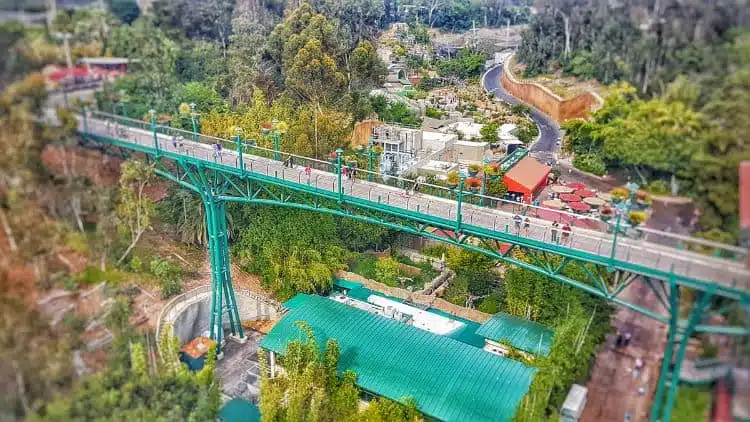 The zoo may not be your first thought when visiting a new city. However, when pitted against other zoos around the world, San Diego always falls into the Top 5. Many believe it to be the best.
Whilst views on zoos may be divisive at present, San Diego was also one of the first to pioneer cageless exhibits, giving animals a more natural environment, and the zoological society behind the zoo does great work, including begin one of the only zoos able to breed pandas.
The numbers are impressive – 3500 animals, 650 different species, and 100 acres of land in Balboa Park. It makes it the most visited zoo in America, with around 4 million annual visitors.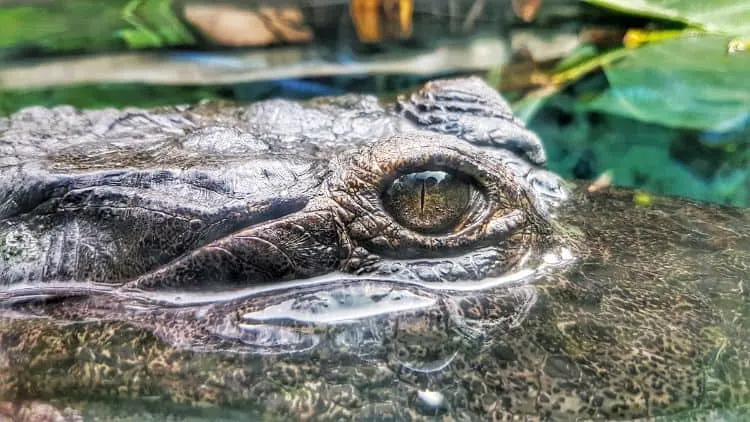 Get there early, and get the best of your favorite exhibits before the crowds come in.
The admission price isn't cheap at $58 (2020 price), but you can literally spend all day here, and it's worth it. Balboa Park is another beautiful attraction in San Diego, but it's worth an entirely separate day.
There's so much to see from elephants, bears including polar bears, big cats, elephants, penguins, snakes, monkeys, and the list goes on.
There's also the chance for full-service dining at Albert's restaurant or several more casual options dotted around.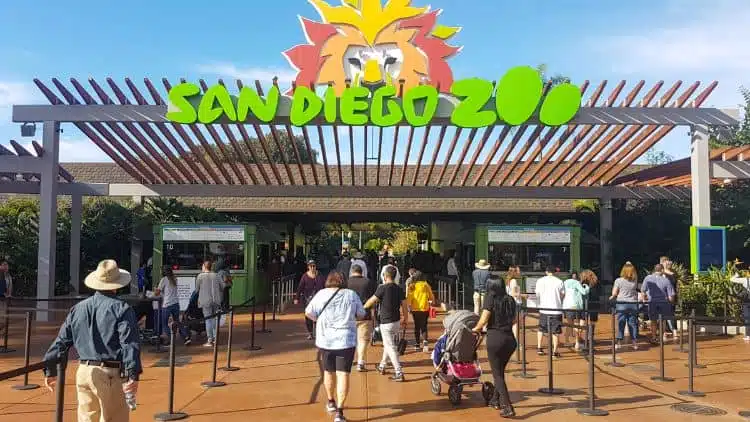 For those unable to clock up the miles on foot, a guided bus takes you around 75% of the park, and the Skyfari cableway whisks you across the zoo and gives you an aerial view.
The most interesting enclosure has to be Miley, a husky, and Bakari, the cheetah. They've been paired as part of the Animal Ambassador program, and they are inseparable. Who said cats and dogs couldn't be friends?!
6. San Diego Wall Murals
Recommended by Erin from The Gal On The Go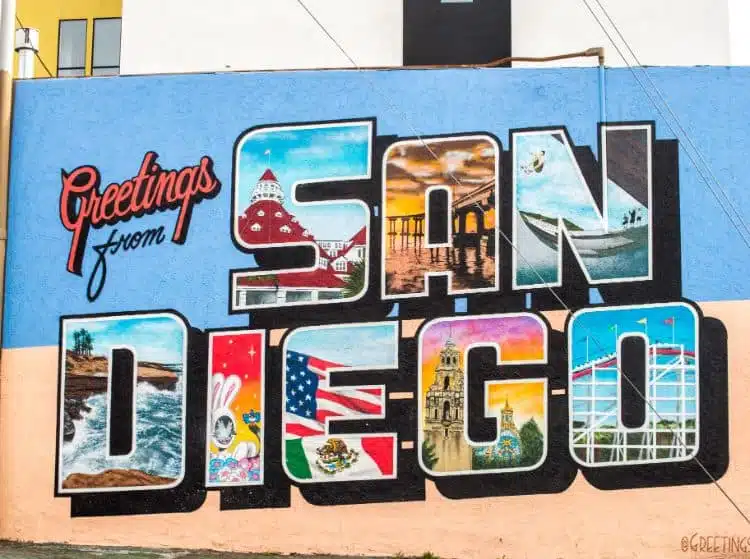 Grab your cameras! San Diego has a vibrant art culture, including a variety of wall murals that can be found sprinkled throughout the sunny beach town.
These beautiful, larger-than-life art pieces are usually found in the city center, so you won't have to look too far to find one.
A classic wall mural to capture the moment is the "Greeting from San Diego" mural.
Found at 4223 30th St., San Diego, CA 92104, painted outside the Belching Beaver Brewery, the mural is a colorful array of San Diego landmarks showcased within each letter.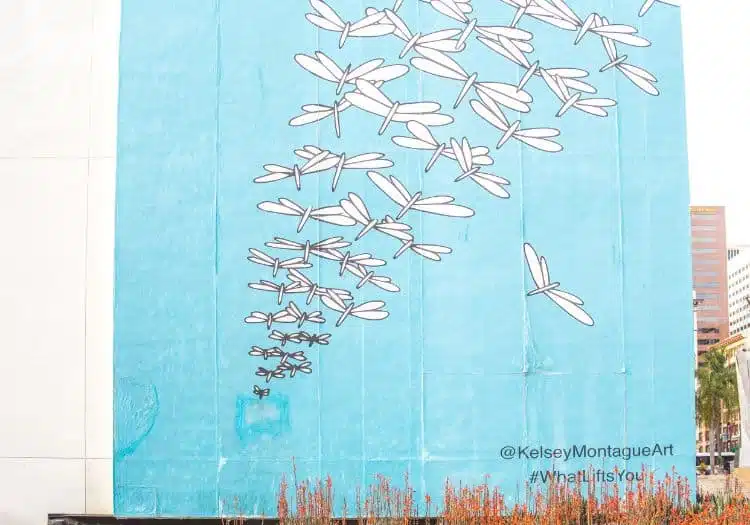 Local California artist, Persue, was commissioned for the art piece in 2016.
Another must-see wall mural and one of the best things to do in San Diego is one of Kelsey Montague's signature #WhatLiftsYou murals.
Known for her large-scale, bold, and whimsical floral and animal designs, Kelsey has a unique, eye-catching style whose popular murals can be found across the United States and the world.
Take your family and friends to snap a picture posing at this interactive painting. Found at Horton Plaza Park – 900 Fourth Ave, San Diego, CA 92101 in front of the Westfield mall, where parking can be located.
Get as low as possible for this shot to fit the entire mural in your photo!
7. Balboa Park
Recommended by Carole from Travels with Carole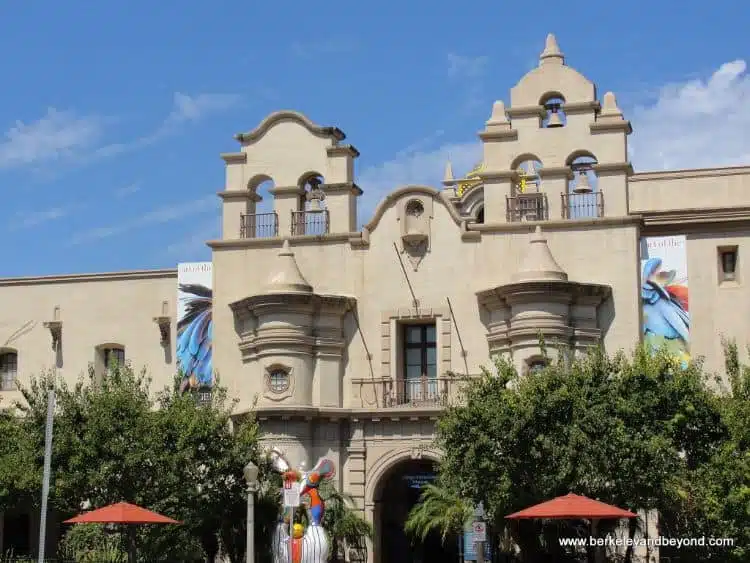 Balboa Park is larger than Central Park in NYC, older than Golden Gate Park in San Francisco, and has the largest museum complex west of the Mississippi.
And as if that isn't enough, it also is home to the famous and fabulous San Diego Zoo. It takes plenty of time to see it all.
The most efficient way to experience a good portion of it is to select a few museums from those along the Prado–perhaps the Mingei International Museum that exhibits folk art and craft, the San Diego Model Railroad Museum that is the largest permanent operating model railroad exhibit in North America, or The San Diego Museum of Art that is located inside an ornate 16th-century Spanish-style building and displays a collection including ancient Egyptian pieces, old masters, and modern artists.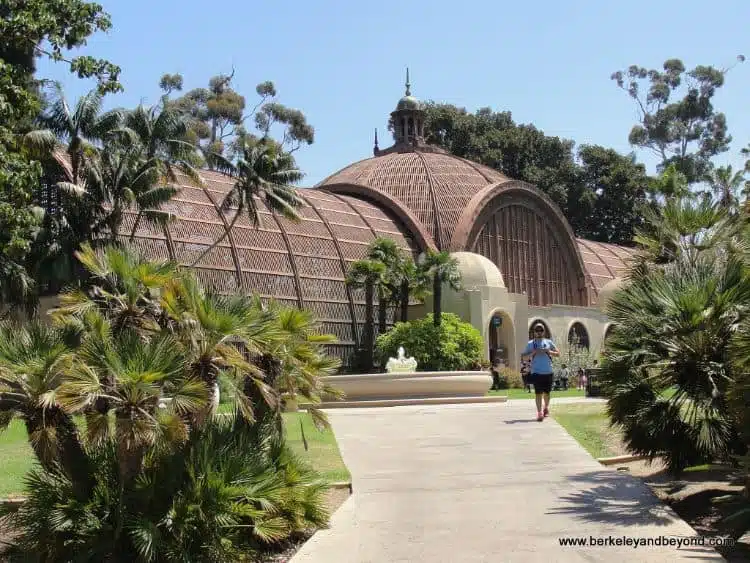 Allow time to visit one of the many gardens, maybe the Japanese Friendship Garden that symbolizes the friendship between San Diego and its sister city Yokohama in Japan, or the Palm Canyon planted with 450 different kinds of palms.
And don't miss my personal favorite attraction–the grand old 1915, wood-lath Botanical Building, which houses several thousand tropical plants and a changing display of seasonal flowers.
Shakespearean plays are presented in the Old Globe Theatre, and puppet shows take the stage at the Marie Hitchcock Puppet Theater. All this and a 1910 carousel with hand-carved animals and a miniature railroad, too!
8. Visiting the Embarcadero
Recommended by Nicholas from Rambling Feet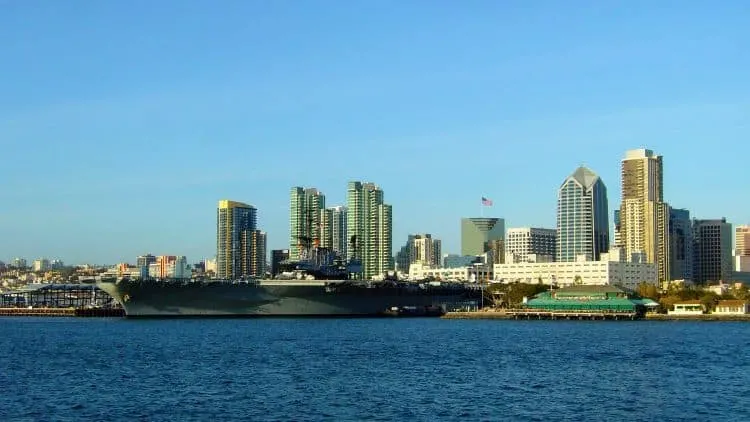 The Embarcadero is a stretch of coastline just west of downtown San Diego, and it was one of my favorite spots during my student exchange there.
One strolls along the wide path shared with tourists, cyclists, and joggers, with the sea on one side and the city on the other; getting on any of the vessels out in the bay affords a spectacular view of the downtown and especially the fancy hotels that line this prime stretch.
This is one of the best things to do in San Diego, and you could spend an entire day or even more here.
Many piers line the Embarcadero; a few small ones are home to companies that take visitors out to sea during the whale watching season.
At the northern end, there is the Maritime Museum's impressive collection of historic vessels; you can explore submarines, steamships, and sailing ships, including the oldest active sailing ship in the world, the Star of India.
If you have time for only one ship, however, make it to the USS Midway Museum. The vessel was the longest-serving aircraft carrier in US history, and now the public can explore it inside and out.
Several jets and helicopters are on display on the flight deck. At the same time, visitors can learn about how the ship evolved over the years, her involvement in the Vietnam and Gulf Wars, life on board, and even sample what the crew eats (chipped beef doesn't make my list of favorite foods, to be honest).
For those who prefer to stay on dry land, there is no shortage of public art along the Embarcadero, like the National Salute to Bob Hope and the Military and the controversial Unconditional Surrender statue.
Admiring the million-dollar view and enjoying the sea breeze is free, but if you decide to pay the premium for food along the Embarcadero, do your best to guard it against the seagulls!
9. Learn to Surf at La Jolla Shores
Recommended by Chantae from The Salt Sirens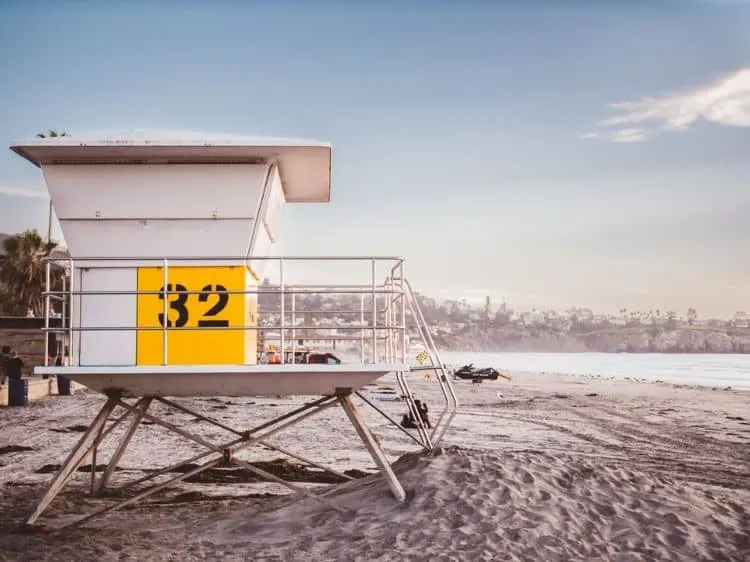 La Jolla Shores is one of the most scenic beaches in San Diego, and catching a wave here is one of the best things to do in San Diego. The beach itself is long and sandy, marked by a handful of lifeguard towers.
Along Avenida de la Playa, a handful of shops rent surfboards and offer surf lessons. Surf Diva Surf School are known for their friendly instructors, and Everyday California typically has a wide range of boards to choose from.
When learning how to surf, you'll be taught how to read the wave conditions at La Jolla Shores and practice paddling and popping up to your feet on the sand. Once this is mastered, it's time to hit the water.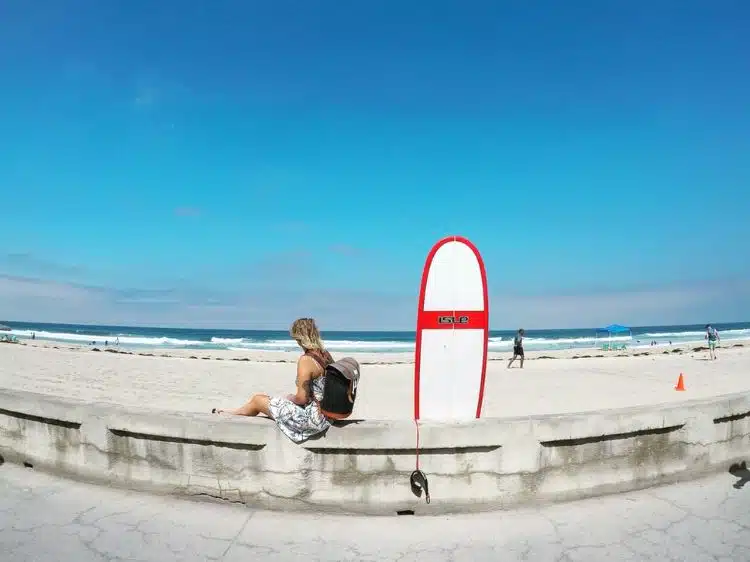 While you'll see surfers sitting outside the breaking waves, don't underestimate how much fun can be hand simply catching the whitewash.
Because the waves at La Jolla Shores break along a gentle slope, waves tend to be friendlier here than neighboring Black's Beach, a world-class surf spot and a must-visit after you get a bit of experience under your feet.
After a big day of surfing, grab a meal along Avenida de la Playa, where you can find some of the best restaurants in San Diego, or have a picnic on the spacious grassy area alongside the beach—it's what the locals often do!
There are also showers to rinse off at and a playground for kids. Stay late if you can, you won't want to miss the sky turn to a fiery orange at sunset.
10. San Diego Harbour Cruise
Recommended by Lee and Stacey from One Trip at a Time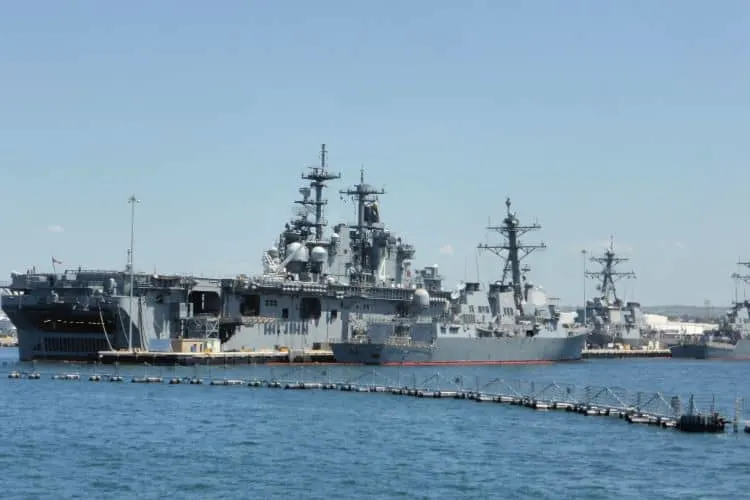 San Diego in the far south-west corner of the USA is a fantastic city to spend a weekend (or longer) in with plenty of things to do for the whole family.
A great way to while away a couple of hours and see most of the area around the waterfront is to take a harbor cruise.
There are two hour-long options available which cover different parts of the harbor, but you can also do both, back-to-back to see everything.
You'll get a great view of the San Diego skyline on the north harbor cruise as you head past some marinas.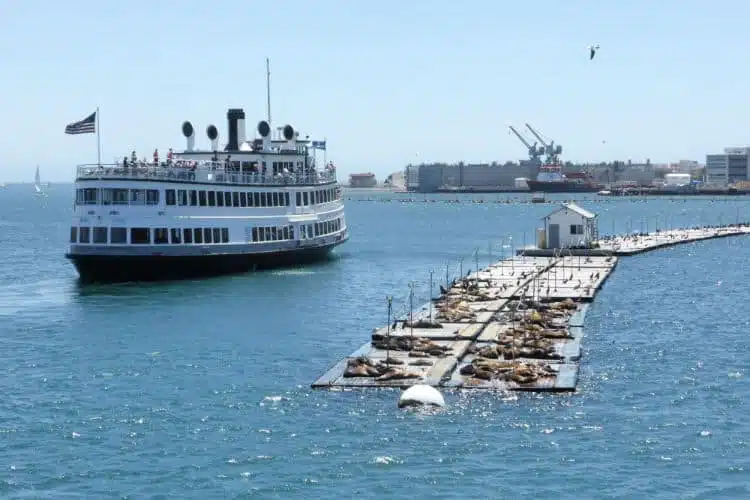 You follow the curve of the water around until you are heading south past Point Loma, where you may see a nuclear submarine or two berthed up. On your return, you can see the Naval Air Station with its plethora of aircraft parked up.
The south cruise heads into San Diego Bay past the USS Midway, a World War II aircraft carrier. Opposite this, you'll probably also see current US Navy aircraft carriers in the dock.
As you head towards and under the Coronado bridge, you sail past the Coronado waterfront as well as the Naval Amphibious Base, which is home to the US Navy seals.
Both tours are well-narrated, so you don't miss out on any of the sights, and the boats offer snacks and drinks for sale to enjoy during your cruise.
11. San Diego Taco Tour
Recommended by Kristel and Gabriel from Chef Travel Guide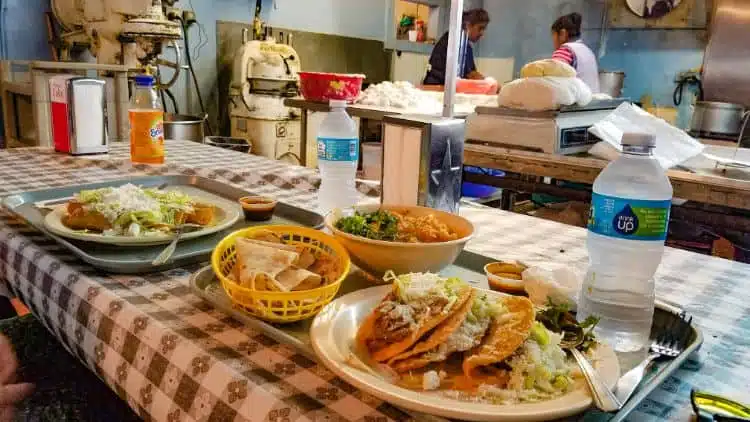 A self-guided tour featuring five of the best tacos in five different neighborhoods cannot be missed on our list of the best things to do in San Diego.
With the U.S. and Mexico border literally minutes away, it's easy to see how an entire city could fall in love with a humble taco.
In fact, this simple street food has become such a part of the culture that people are willing to wait for over an hour at many of San Diego's most loved taquerias.
The best part about San Diego's taco scene is that you can taste all the different varieties of tacos from all the regions of Mexico in a single day.
Now it's your turn to lead your own culinary adventure and eat your way through some of the best tacos north of Tijuana.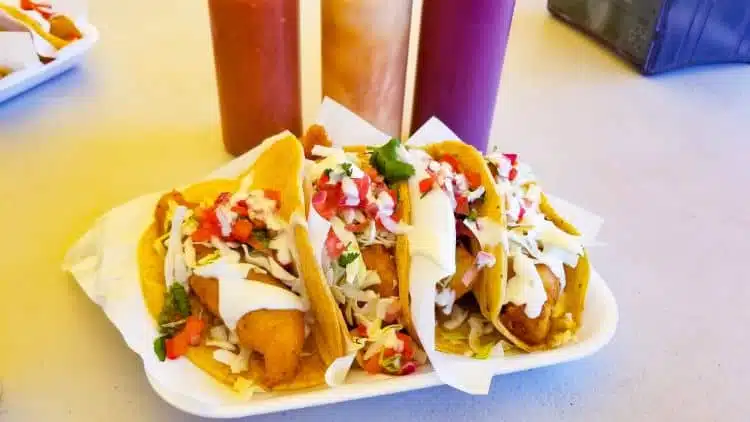 Stop 1
Las Cuatro Milpas
Barrio Logan
8:30 am to 3:00 pm (closed on Sundays)
Snack on some shredded beef crispy rolled tacos as you watch tortillas being made just a few feet from your table.
Stop 2
Mariscos German
San Ysidro
8:30 am to 7:00 pm
This taco truck that is semi-permanently parked outside a liquor store is cranking out the best-fried fish tacos we have ever tasted. Enjoy some complimentary seafood consomme while you wait.
Stop 3
Aqui Es Texcoco
Chula Vista
8:00 am to 9:00 pm
Traditional whole barbequed lamb tacos from the town of Texcoco. Simple and so delicious.
Stop 4
Carnitas Las Michoacanas
La Mesa
8:00 am to 7:00 pm (closed on Tuesdays)
Order a pound of these crispy and tender carnitas and assemble them yourself exactly how you like them.
Stop 5
City Tacos
North Park
11:30 am to 8:30 pm
There are no wrong choices at this modern take on the classic taqueria, but our favorites are the chili relleno and the chorizo asado with pineapple salsa.
12. Barrio Logan Street Art
Recommended by Eden from Rock a Little Travel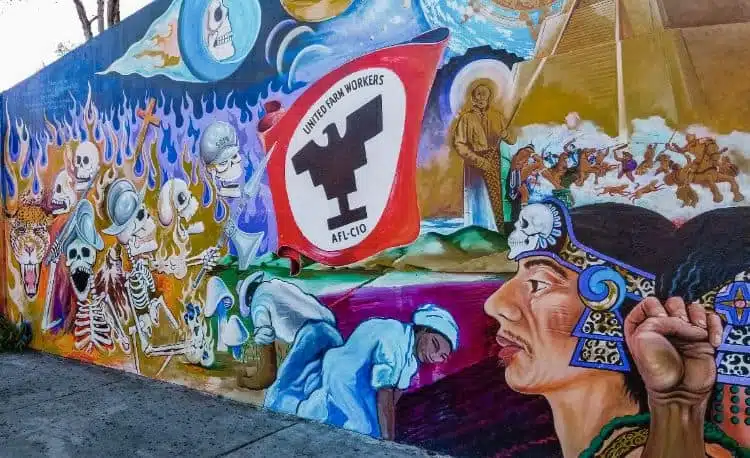 Visitors searching for the best things to do in San Diego should get over to Barrio Logan.
Located just ten minutes south of downtown, San Diego's Barrio Logan has become one of the coolest neighborhoods in Southern California.
The neighborhood is known primarily for its incredible street art and up-and-coming restaurant scene. It's also a working-class community of young artists with a proud history of activism.
One of the biggest attractions in Barrio Logan is its famous Chicano Park. This local park is the pride of the neighborhood and the ideal location for admiring the area's impressive street art.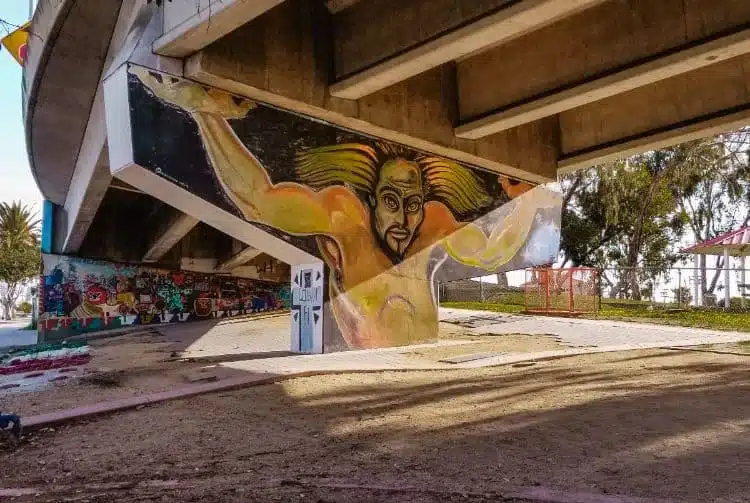 In fact, Chicano Park is home to the world's largest collection of Chicano murals. So while street art is displayed throughout Barrio Logan, it's especially prominent in Chicano Park.
Since Chicano Park is situated below a freeway overpass, local artists have taken advantage of the massive concrete support structures from the overhead roadway.
Nearly every surface beneath the roadway has been painted with art depicting stories of Chicano history and culture.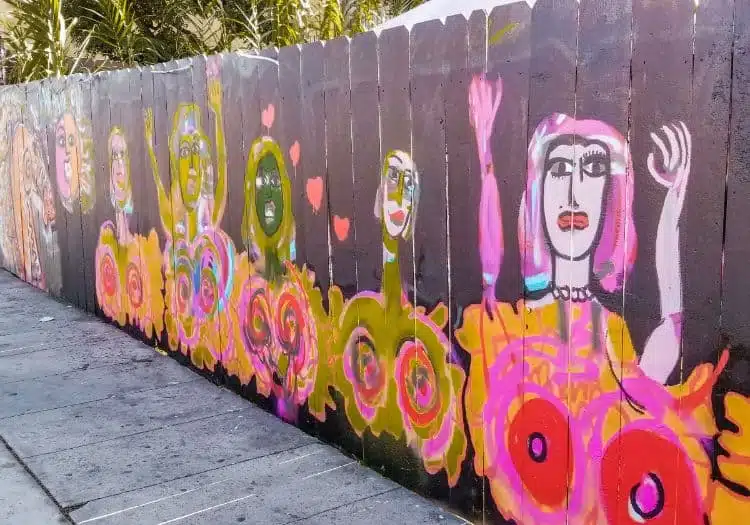 The murals and street art in Barrio Logan have been painted by both local and international artists and feature themes ranging from revolution and immigration to mythology and feminism.
You'll definitely want to have your camera with you to snap some photos of these murals.
Once you've finished admiring all the street art around Barrio Logan, be sure to head over to Logan Avenue to try a street-style hot dog from a local restaurant called Barrio Dogg.
This is a fantastic little hot dog spot with pictures of low riders and hot rods lining the walls. Their street dogs are amazing and make the perfect end to your visit to Barrio Logan.
13. Visit the La Jolla Cove
Recommended by Gina from Evergreen & Salt: West Coast Travel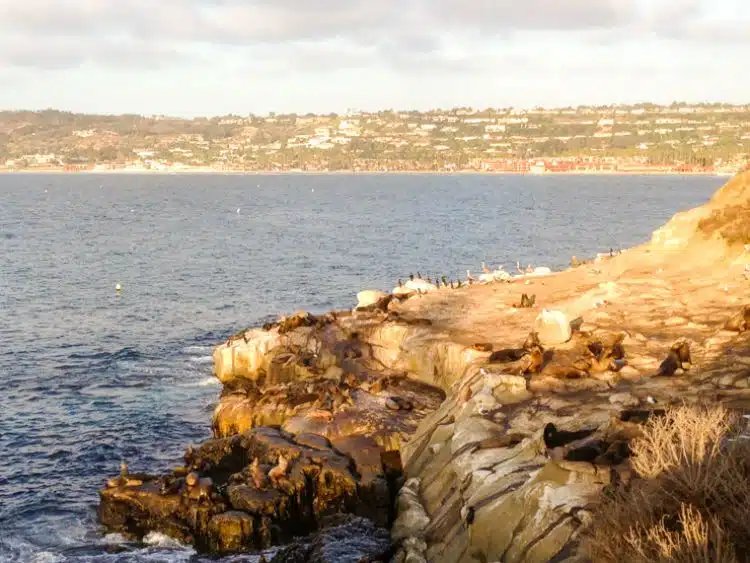 One of the best things to do in San Diego is visiting the gorgeous La Jolla Cove.
As the northernmost community in San Diego, La Jolla is known for its ritzy coastal vibe with lots of high-end restaurants and shopping.
It's beautiful to behold from the walking path lining the perimeter of the La Jolla Cove, which has benches and nearby picnic tables.
You can also take steps from the path down to small slices of sand or to tidepools where you can spot crab, mussels, sea anemones, octopus, and other sea creatures that are trapped in the tide pools until the tide comes back in.
Walk the path to the end, and you'll come to the La Jolla Children's Pool, where there are often sea lions lounging on the beach and frolicking in the water.
To have a more adventurous time at the La Jolla Cove, sign up for a sea cave kayaking excursion that takes you within those steep rock walls surrounding the cove.
La Jolla Cove is also one of the best places for snorkeling or scuba diving in San Diego, and doing so will give you the chance to see sea lions, leopard sharks, and other animals who live there in their natural habitat.
Best Places to visit in the USA
Best VPN for Travel: ExpressVPN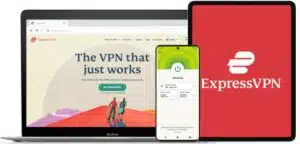 Heading abroad? Use ExpressVPN to access your social media accounts, unblock your favorite entertainment sites, and stay connected with friends and family. And get cheaper flights, of course.
Pros
✅ Next-gen, high-speed servers in 94 countries
✅ Works on iOS, Android, Windows, Mac, Linux, browsers, and more
✅ 256-bit AES encryption protects your data, even on hotel Wi-Fi
✅ Unblocks Netflix and other streaming sites
Cons
❎ No dedicated IPs
Get 3 extra months free of ExpressVPN when signing up for a 1-year plan. That's a 49% saving and a monthly cost of just $6.67! You also get a 30-day money-back guarantee.