Are you looking for fun things to do in Austin, Texas? There are many things you can do while in the city. Check out all the Austin attractions you should not miss.
You will never run out of fun things to do in Austin, Texas.
The place has live music, great barbecue, and green spaces. No wonder it is among the best places to visit in the USA.
Best VPN for Travel: ExpressVPN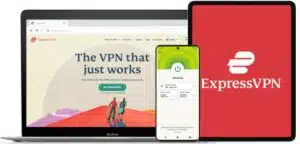 Heading abroad? Use ExpressVPN to access your social media accounts, unblock your favorite entertainment sites, and stay connected with friends and family. And get cheaper flights, of course.
Pros
✅ Next-gen, high-speed servers in 94 countries
✅ Works on iOS, Android, Windows, Mac, Linux, browsers, and more
✅ 256-bit AES encryption protects your data, even on hotel Wi-Fi
✅ Unblocks Netflix and other streaming sites
Cons
❎ No dedicated IPs
Get 3 extra months free of ExpressVPN when signing up for a 1-year plan. That's a 49% saving and a monthly cost of just $6.67! You also get a 30-day money-back guarantee.
In fact, Austin, Texas is packed with diverse activities, that having just one nickname to market the whole city is impossible.
The City of the Violet Crown, Bat City, The Live Music Capital of the World, Keep Austin Weird…
The list can go on – and you still won't be able to totally encapsulate the vibrant environment of the city in words.
Whichever name you use to describe this tourist destination, the only way to have a grasp of what the city has to offer is to indulge yourself in all the fun things to do in Austin, Texas.
1. Mount Bonnell
Recommended by Kate from Lone Star Travel Guide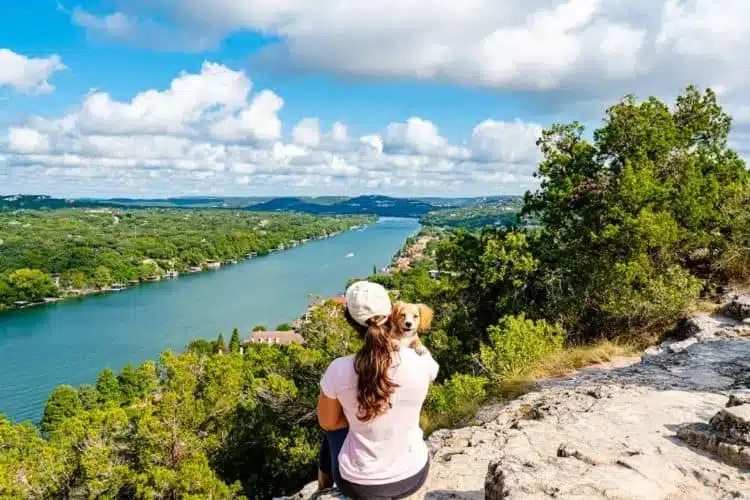 Considered the tallest point within Austin's city limits, Mount Bonnell is one of the city's original tourist attractions and one of the best things to do in Austin today!
Standing at a mere 775 feet tall, climbing to the top of Mount Bonnell requires a mere 102 steps up a shaded limestone staircase, and it's well worth the small effort.
Once you reach the top of the staircase, if you turn left and walk for a short distance, you'll be rewarded with incredible views of the Austin skyline. If you turn right and walk a short distance, you'll come to the famous postcard view of Mount Bonnell, with beautiful Lake Austin (which is technically part of the Colorado River) below.
Mount Bonnell is one of the most popular places to watch the sunset in Austin, and the golden light is wonderful to witness!
It's also considered one of the most romantic places in the city, so if you do visit at sunset, don't be surprised if you witness a few engagement photoshoots or even a proposal!
Mount Bonnell is located inside Covert Park and is free to visit. The park is open from 5:00 AM to 10:00 PM daily.
2. Barton Springs Pool
Recommended by Dan from Honeymoon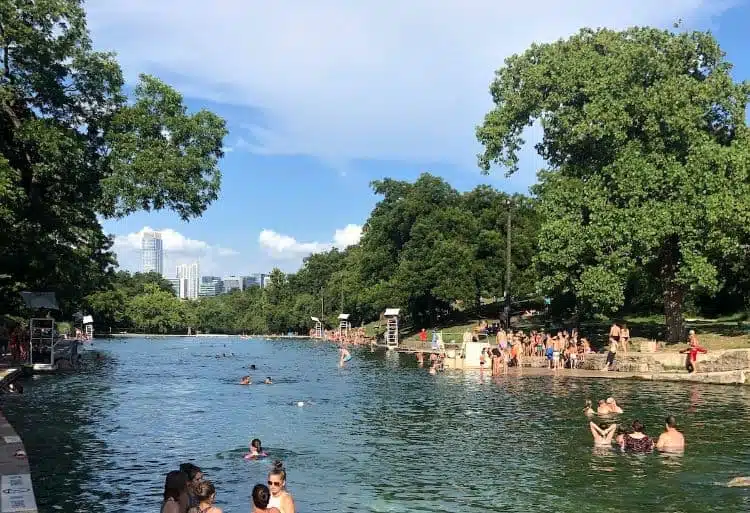 Always Located close to downtown is Austin's favorite swimming hole, Barton Springs Pool. The natural spring-fed pool is 3 acres in size and is located in Zilker Park.
With an average water temperature around 68-70 degrees, the pool is perfect for any warm sunny day, which can happen almost year-round and is an ideal date idea or family activity.
The pool has a shallow side that slopes down and can be very slippery, but water shoes will make navigating the uneven bottom easier. In the middle of the pool is a diving board followed by a deeper end that gets up to 18 feet deep, where you can use floats.
The pool can be bustling on the weekends, but it is large enough that it never really feels crowded inside once you get in.
If you are going on the weekend or a holiday, bring cash so you can pay at the window instead of at the kiosk, and don't waste your time looking for close parking.
Remember that you cannot bring food into Barton Springs, but drinks are permitted in plastic re-sealable containers. During the warmer months, a food truck is regularly just outside where you can get something to eat.
3. Lake Travis
Recommended by Erin from Sol Salute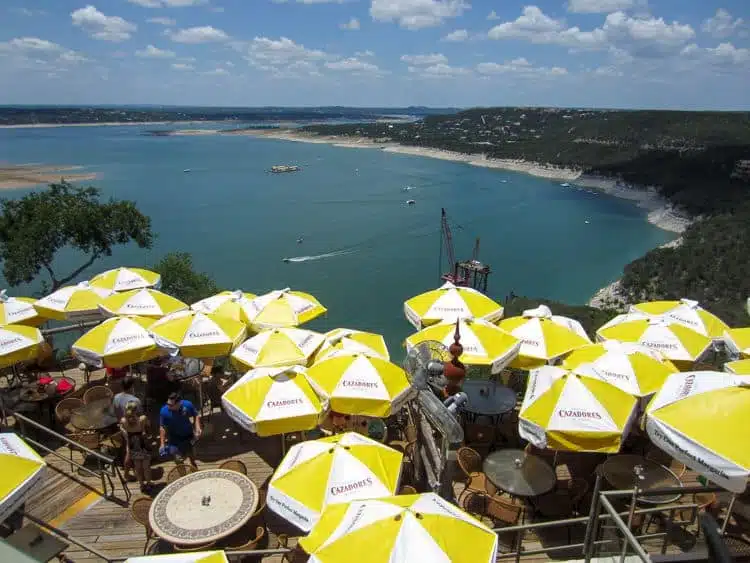 Lake Travis is one of the best things to do in Austin on a hot summer day. The lake is located just on the city's outskirts, and an entire day there is easily one of the best day trips from Austin.
There are a large number of tour operators at Lake Travis offering a wide variety of activities. There are boat rentals and party boats ideal if you have a large group of friends and want to spend a day out on the water.
Family-friendly activities on the lake include a water park and zip-lining adventures. If you'd rather be active, take wakeboarding lessons or go fishing with a guide.
However you decide to spend your day, there's only one way to spend your evening here. Go to the iconic Oasis cliffside restaurant for happy hour, dinner, and to watch the sunset.
This is arguably the best sunset view in the entire Lone Star State. If there is live music, you can stay here for the remainder of your evening or make your way back into downtown Austin to continue your night at one of the many venues in the Live Music Capital of the World.
4. Attend a yoga class at the Umlauf Sculpture Garden
Are you a yogi on travel? Don't miss out on the opportunity to do yoga in the most serene place in the city of Austin.
Head to the beautiful Umlauf Sculpture Garden, situated in the heart of Zilker Park. Attend a yoga hike and be one with nature as you open all your senses through guided meditation and intentional movements.
Check out the ongoing yoga events being offered by Umlauf Sculpture Garden so you won't miss out on the happenings that spark your interest.
The Garden usually invites yoga teachers over to hold classes for everyone who wishes to join. You can also reserve a private yoga and meditation class for your traveling group.
5. Catch a show at The Continental Club
The Continental Club has been on the scene since 1955, paving the way for many bands to launch their careers and reach their crowd.
It was once a private club and then a burlesque house before it became a venue for great music such as swing, roots, rockabilly, and country.
You won't miss The Continental Club – its iconic neon sign is truly recognizable even from afar.
Once you go inside, you'll be transported to simpler, fun times that this classic venue is most known for.
6. Explore the University of Texas campus
How can a visit to a university be one of the fun things to do in Austin, Texas?
Sure, the University of Texas at Austin is one of the 40 top universities in the world, but how can it be a tourist destination?
The UT is home to many Austin places to visit, so a trip there is truly checking off many things on your list. Some of them are the LBJ Presidential Library and the Blanton Museum of Art.
While you are there, be sure to catch a live performance at the Cactus Cafe. It has served as a venue for acoustic shows featuring Lyle Lovett, Alison Krauss, and the Dixie Chicks, among others.
7. Check out the food trucks at The Picnic
Eating great food is part of every list of Austin, Texas things to do.
To get a small bite of everything that Austin has to offer, consider going to The Picnic. This food truck park is located at Barton Springs Road.
The Picnic is where local dishes are celebrated together with international cuisines such as Thai and Italian.
Here, you'd find good ol' tacos alongside sweet cupcakes and fresh smoothies. Seating is plenty and parking is not a problem.
Don't go looking for beer here, though – but you are free to bring some yourself!
8. Bring the family to the Zilker Metropolitan Park
The Zilker Metropolitan Park is dubbed "Austin's Most Loved Park," and it is easy to understand why.
You have 351 acres of space to relax, play at, and spend quality time with your loved ones.
There are amenities for the kids, such as the Playscape and the Austin Nature and Science Center.
There are also great venues for adults, including the Zilker Hillside Theater and the Zilker Botanical Gardens.
For things to do in Austin, Texas as a family, plan a day at the Zilker Metropolitan Park and enjoy some time swimming at the Barton Springs Pool. It is a natural spring-fed pool that is three acres in size and has a comfortable water temperature that ranges from 68 to 70 degrees.
9. Discover the Cathedral of Junk
Stir up your list of fun things to do in Austin, Texas, by adding in some peculiar places to visit – one of which is the Cathedral of Junk.
Located south of Austin along Lareina Drive, the Cathedral of Junk is exactly what it is: a place where people's garbages are molded into something that truly catches your attention.
The place is the brainchild of Vince Hannemann. He started collecting and building the Cathedral during his 20s in the year 1988.
At first, he collected scraps that he thought could be of use until people started giving him their unwanted belongings so they could be part of the Cathedral.
Fact: In 2010, the Cathedral was almost taken out of the picture after neighbors filed a complaint against the place.
10. Marvel at the peacocks at Mayfield Park
You will never run out of what to do in Austin. A visit to Mayfield Park alone gives you dozens of things to do while you're there!
Mayfield Park is included in the National Register of Historic Places. The owner of the property, Mary Mayfield Gutsch, gave the park to the city of Austin in 1971.
The park consists of a beautiful cottage and two acres of lush gardens where colorful peacocks roam around.
The park is situated in the 21-acre Mayfield Preserve, where more flora and fauna can be discovered.
11. See Austin's Museum of the Weird
Among Austin, Texas, things to do is a visit to the Museum of the Weird.
Before you can even say no to this strange attraction, head over to Sixth Street and trust us on this.
The Museum of the Weird started as Lucky Lizard Curios & Gifts, owned by Steve and Veronica Busti. It was a busy gift shop, with the owners' pet lizards entertaining those who stop by.
As the collection of unusual items grew, the owners converted the place into a museum that houses difficult-to-find items such as wax figures of popular fictional monsters and life-size renditions of BigFoot and King Kong.
12. Eat some world-famous barbecue
What is a Texas trip without barbecue? Pretty unthinkable, right?
Going to famous barbecue joints in the city is among the fun things to do in Austin, Texas. There is something so comforting about this kind of cooking you can't place in words.
One of the Austin places to visit if you like good barbecue is Franklin. Don't even bother making sense out of the long line – it is existent for one good reason: the barbecue is to-line for.
You can taste Franklin's famous slow-cooked meat goodness as a sandwich or by the pound. Whichever option you choose, you are sure to taste one of Austin's best.
13. Take a trip to the past at the Neill-Cochran House Museum
Elevate your list of things to do in Austin, Texas, by adding some noteworthy museums to visit.
The Neill-Cochran House Museum is one of the Austin museums that should definitely make the cut.
This place, the tenth oldest historic building in Austin, is most known for its ode to Greek architecture. It is the only antebellum house that the public can access.
When the Neill-Cochran House was being built, the main idea was to create an opulent residence for the then owners. They owned slaves; that is why the house's structure included slave quarters and components intended to be serviced through slave labor.
14. Wander around the LBJ Presidential Library
A visit to the LBJ Presidential Library is one of the Austin, Texas things to do, even if you are not a researcher.
Aside from the thousands of books you can find here; different exhibits make learning about Lyndon Baines Johnson exciting and fun.
Fancy seeing the President's custom-built limousine? The vehicle is complete with a television, a telephone, and direct contact with the Secret Service.
Other things you can see here include a replica of the President's Oval Office, his cowboy boots, and some gifts from state visits.
15. Shop at the Texas Farmers Market at Mueller
In some of the best cities in the US, like San Francisco and Seattle, a trip to the Farmers Market is a true treat. It is the best way to meet residents, shop for local finds, and taste fresh produce.
Shopping at the Texas Farmers Market is among the fun things to do in Austin, Texas. Aside from the experiences mentioned above, you also get to
Mueller Lake Park is among the places to go in Austin for the Farmers Market and some jogging and play dating. The park is 30 acres wide and is complete with a 6.5-acre lake and adorned with public art.
16. See the futuristic Mueller SunFlowers
A trip to see the Mueller SunFlowers is among the nicest things to do in Austin, Texas.
Don't expect to see yellow tones and swarming bees, though, because the flowers belong to a garden of another kind.
The Mueller SunFlowers is part of an electric garden situated at the west entrance of the Mueller community. To see this eco-friendly installation, you can hike a trail that ends there.
By day, the SunFlowers give shade to the wandering public. At night, the same "plants" are illuminated, creating an aesthetically pleasing sight for everyone to enjoy.
17. Play a different kind of bingo at the Little Longhorn Saloon
The Little Longhorn Saloon is one of the iconic places to go in Austin.
It describes itself as "the honkiest tonkiest beer joint in town."
Locals come here for happy hour, serving good beer along with live music. However, what really makes this place stand out among the rest is the game they call "Chicken Shit Bingo."
True to the name, chickens are fed – and once they eliminate the food from their system, the number where "it" falls is the winning ticket number.
Sounds silly? This game has been running for more than 25 years!
18. Tour Casa Neverlandia
Touring Casa Neverlandia is undeniably among the fun things to do in Austin, Texas.
One of the adjectives that will surely come out of your mouth once you see this house is "bizarre."
Casa Neverlandia never fails to amaze, truly, as evident in the many features, it got from magazines and websites.
The place is owned by artist James Edward Talbot, who inspired his own life experiences and formal education.
Casa Neverlandia is one of the Austin places to visit because a short tour of this three-story home is enough to make you fascinated by the ingenuity of its creator.
19. Paddle through Lady Bird Lake
If you wonder what to do in Austin on a bright sunny day, consider going to Lady Bird Lake.
The Lady Bird Lake is part of the chain of reservoirs on the Colorado River. It was named in honor of Lady Bird Johnson, a resident of Austin and a former First Lady of the United States.
The lake has a paddling trail you can follow, wherein you can see some awesome Austin attractions along the way.
One of the best routes to take is the one passing through Congress Avenue Bridge. If you get there before night comes, you get to witness about a million Mexican Free-tailed Bats flying off from the bridge in search of insect food.
20. Shop at Allens'
A trip to Texas, be it in Austin or Houston, warrants purchasing at least one Texas-style clothing piece.
In the city of Austin, there is no better place to shop for some great merchandise than at Allen's.
They have cowboy boots that will surely be the talk of the town when you come home. They have all kinds – from shorties to knee-high, with fringe or without – you will find one that suits your style.
They also have sleek hats and durable belts that go well with your new boots.
21. Meet "Jeremiah the Innocent Frog"
Truly, art is everywhere on this side of the globe. That is why part of great Austin Texas things to do is a mural tour where you can see all of the iconic art emblems scattered in different neighborhoods.
One of the must-see murals is Jeremiah the Innocent Frog along Guadalupe and 21st. One look, and you might ask just why this simple drawing of a frog asking "Hi, how are you" has caught the attention of many.
Another mural you should not miss is the one at S.1st and Annie St., which says "Greetings from Austin." It has a vintage postcard feel to it, much to the delight of photo-loving visitors.
22. Go for a Sunday gospel brunch
Sure, going for a Sunday gospel brunch is among the fun things to do in Austin, Texas – but what is it, exactly?
The concept is a marriage of live gospel music and southern-style food, something you would definitely want to experience when you are in Austin.
One of the best in giving a great Sunday gospel brunch is Stubb's. Imagine tasting authentic Texas barbecue while being entertained by live gospel music!
To know which other places to go in Austin for Sunday gospel brunch, it is wise to ask the locals which spots they would recommend.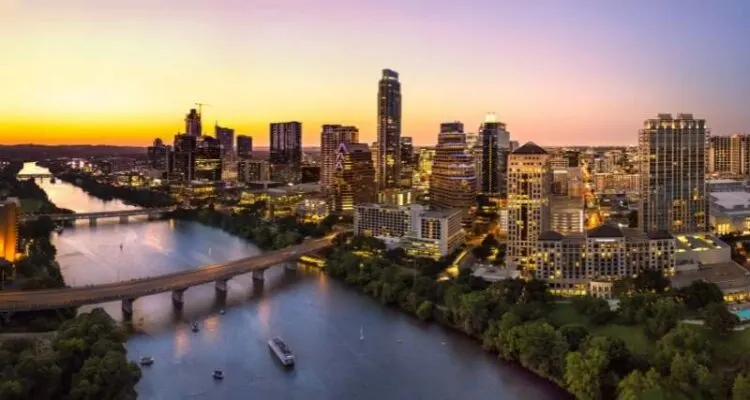 23. Hike the Greenbelt
Part of what to do in Austin is to immerse yourself in the city's lush nature.
One of the best ways to do so is to hike the Barton Creek Greenbelt. More than twelve miles of breathtaking trails await you here, whether you would like to hike, swim, mountain bike, or rock climb.
Before hiking the Greenbelt, it is essential to plan ahead and know which of the many access points you would like to take. It all depends on your fitness level and the types of sceneries you wish to see.
If you consider yourself a beginner in hiking, it is best to choose the Trail Head to be your access point and follow the Violet Crown Trail.
This trail runs for 30 miles or 48 kilometers, following Barton Creek all up to the Lady Bird Johnson Wildflower Center.
24. Visit the Blanton Museum of Art
If you are looking for fun things to do in Austin, Texas, a trip to the Blanton Museum of Art is a must.
Line it up with all the other Austin attractions to visit at the University of Texas, and you have one full day of excitement and learning.
Check out the permanent collection at Blanton Museum of Art during your visit. Over 19.000 artworks are permanently displayed here, ranging from modern and contemporary art, European art, and Latin American art.
Before you go, head to the Museum shop and score some unique finds that are perfect as gifts or as part of your personal collection.
Best Places to visit in the USA