Las Vegas, Nevada, is a highly accessible tourist destination. Here are four options that will give you the best way on how to get to Las Vegas.
1. Flying to Las Vegas
Reaching Las Vegas in no time is made possible by many carriers traveling to this ultimate destination regularly.
From different parts of the United States, several airline companies serve routes coming to Las Vegas. These include Delta, Southwest Airlines, Frontier Airlines, and Alaska Airlines.
From the UK, British Airways and Virgin Atlantic fly to Las Vegas daily. New Year in Las Vegas is popular, making it expensive to fly there.
Summer proves to be the cheapest season to go – and with the surging heat in Las Vegas at this time, we are not surprised.
Still, it is worth booking for, and if you check ahead of time and fervent enough, you might bag a bargain no matter which season you fly into.
Read also: Free and cheap things to do in Las Vegas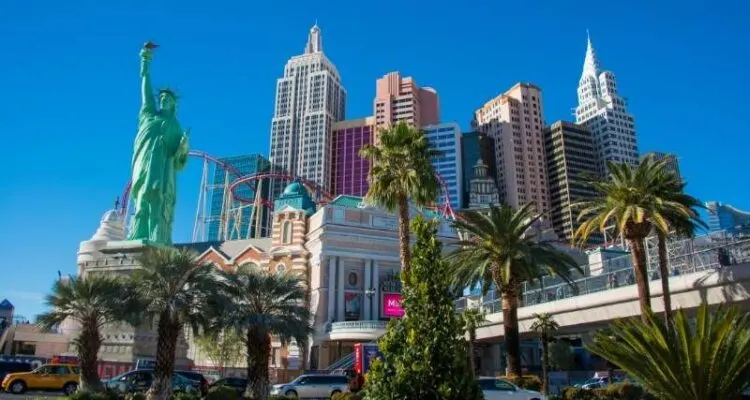 2. Riding a bus to Las Vegas
Public buses offer the convenience of traveling directly or facilitating transfers between states and then reaching Las Vegas after a long ride.
This option is highly likely to be the cheapest mode to take when traveling to this city.
Private shuttle coaches give you the comfort of having hotel pick-up options and limited seating. Snacks and refreshments are frequently included in your fare.
Going to Las Vegas via shuttle also gives you fewer stopovers compared to public buses, cutting your length of travel time to a good fraction.
Megabus, Greyhound, and Flixbus are the leading transport companies with buses and coaches traveling to Las Vegas.
3. Riding a train to Las Vegas
There is no direct train ride that you can take to reach Las Vegas.
Amtrak has different routes that you can still take up until Los Angeles Union Station. From here, you will have to take a bus or a coach to continue your journey to Las Vegas.
Something to look forward to A high-speed train is in the works and is bound to bring ease in traveling to Las Vegas from different parts of the US.
4. Driving to Las Vegas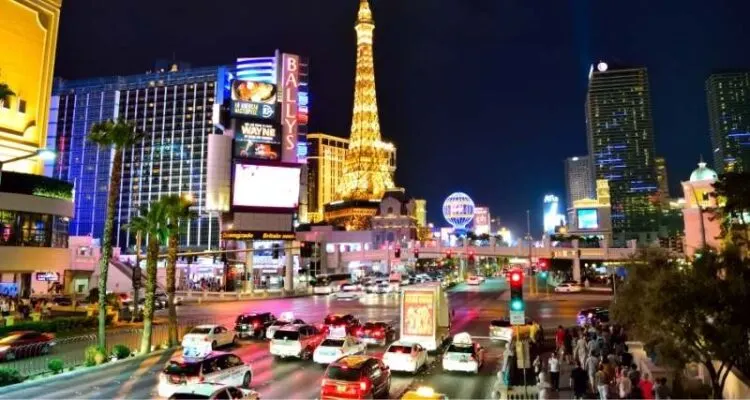 Many travelers choose to drive to Las Vegas despite the long travel time. En route to the City of Lights, there are plenty of destinations wherein you can spend a scenic stopover. This greatly appeals to many drivers.
A lot of people driving to Las Vegas uses Interstate 15 (I-15) to reach the city.
The whole route passes through California, Nevada, Arizona, Utah, Idaho, and Montana. I-15 is located in Clark County and is part of the Las Vegas Freeway.
You need to have a valid driving license from your home country when driving to Las Vegas.
If the license is in a language other than English, it is better to secure an International Driving Permit (IDP) before your trip. You have to be at least 16 years old with a full license and proof of insurance to drive in Nevada.
Cars in Las Vegas are driven on the right-hand side of the road.
How to get from San Jose to Las Vegas
Coming to Las Vegas from San Jose is made easy and convenient by different means of transportation. You can travel by plane, bus, train or at the convenience of your own car.
The fastest time to travel from San Jose to Las Vegas is one hour and 30 minutes. Other modes of transportation rake up at least eight hours of travel time, depending on if you travel during the daytime or nighttime.
The longest option will consume 16 hours from your itinerary and, unsurprisingly so, is the cheapest route to take at 41 USD.
How to get from San Diego to Las Vegas
Travel options going to Las Vegas from San Diego offer varying perks. Coming by flight and by driving are the preferred options of many travelers; bus transport is limited to one company as of the moment.
One hour and thirty minutes of travel will take you from San Diego to Las Vegas if you take the plane. That's the fastest way!
How to get from Los Angeles to Las Vegas
Coming to Las Vegas from Los Angeles is the most used route. Many bus and train rides stop at Los Angeles to facilitate transfers.
If you desire convenience and comfort with no time restraints in mind, I am sure six hours of travel time won't be a bother to you. Alternatively, the fastest way to travel to Las Vegas from Los Angeles is by flight which takes only one hour and ten minutes.
However, this will not be the case in a few years' time. A high-speed train that covers 150 miles an hour is in the works and is set to finish in 2023.
How to get from San Francisco to Las Vegas
The panoramic roads that stretch from San Francisco to Las Vegas are too tempting that the convenience of flying in is easy to overlook – even if it proves to be the cheapest mode to go at 37 USD. It doesn't come as a surprise anymore that many travelers pick to go by car.
If in a rush to get from San Francisco to Las Vegas, the most efficient option will transport you in one hour and 40 minutes. The most scenic way to do so will require twelve hours to one full day of your time. Yosemite is just along the way – who can resist?
More Las Vegas Articles
We put together a list of the best Las Vegas Tours and free things to do in Las Vegas.
Do you want to stay at one of the Las Vegas luxury hotels? Then check out my blog post about the best hotels in Las Vegas, and also don't miss the best shopping malls in Las Vegas.
Find here the best places to eat in Las Vegas, and also don't forget to check out these Las Vegas shows.