Clueless about what to do in New Orleans? It's my pleasure to help you plan your trip to The Big Easy! In this article, I'll show you all the best things to do in New Orleans.
Why is New Orleans called The Big Easy, anyway?
There are many theories surrounding the creation of this nickname. One of the best ways to explain it is through the relaxed or easy way of life that the people are accustomed to.
Read also: BEST PLACES TO VISIT IN THE USA
No wonder the feel-good music of jazz and blues were birthed here.
Many of the best things to do in New Orleans will ask you to tour around either with a group or on your own.
The great places to explore include the Bayou Country, the Garden District, and the numerous museums that speak of the city's rich arts and culture.
As known by all, New Orleans is at its grandest when the Mardi Gras Festival is around the corner.
Just be extra careful when fixing your itinerary during this festive season as many popular destinations located in the city close their doors during Mardi Gras.
If you have not made it in time for the parties and would still like to have a peek, better check out the Mardi Gras World and see the passionate artists that are behind all the colorful floats and wonderful costumes.
Some of the best things to do in New Orleans do not cost a single dime!
Visit city parks, admire the prestigious St. Louis Cathedral, and explore famous neighborhoods all for free.
When choosing among the best activities in New Orleans and the top attractions in New Orleans, make sure to get a taste of everything the city has to offer.
Drink with locals, converse with vendors, and ask questions to your guides. Doing so will make your trip to New Orleans more worth your while.
Best Things to do in New Orleans
1. Haunted History Tour"
Recommended by Lindsey of Have Clothes, Will Travel
Whether you believe in ghosts or not, taking "haunted" history tours are great fun – especially in a city like New Orleans that is rich in history. (And hey, they let you bring a drink with too!)
However, don't expect any Ouija boards or seances when taking a haunted tour in New Orleans.
These tours are a fun way to learn some of the darker more sinister events and deaths in New Orleans. (You're not actually going to be hunting ghosts!)
There are a few different times throughout the day you can book your tour, but obviously, it will be more fun to take a later tour.
Not only will it be "spookier" but the streets will be less crowded and you'll be able to hear your tour guide a bit better.
Your tour guide will take you through the French Quarter for about two hours – stopping at various spots to talk about the brutal death/ historical event that took place there.
You will also see Madame Delphine LaLaurie's house on these tours. She was a New Orleans socialite who allegedly tortured and murdered people in very brutal ways.
Her home is supposed to be quite haunted. She was also a prominent character on the show AHS: Coven, which your tour guide will tell you has gotten the history horribly wrong.
You will also make a pit stop at a "haunted" bar about halfway through this tour, to replenish your beverages.
It's one of my favorite best things to do in New Orleans, and I highly recommend adding it to any New Orleans itinerary.
2. Explore New Orlean's Cemeteries
Recommended by Talek from Travels with Talek
One of the best things to do in New Orleans is to visit the local cemeteries. The city is famous for its cemeteries and with good reason.
They are beautiful with ornate and elaborately carved statuary. They are mysterious with infamous residents like voodoo queens and mass murderers, and they are all above ground to avoid the gulf waters that frequently flood the city.
There are more than 40 cemeteries within the city limits, many with tombs dating back to the 1700s.
With so many cemeteries, which ones are the best to visit?
Locals will tell you the best one to visit is St. Louis I Cemetery. It is believed to be the most haunted in the country. Marie Laveau, the beautiful 18th-century voodoo practitioner, is buried here.
Residents believe her spirit walks the tombs at night. It's a pretty impressive place with its delicately carved statuary and stately mausoleums.
When visiting, it pays to go with a cemetery tour so you can learn all the interesting little tidbits of information like the fact that the crypts are periodically cleaned out with ten-foot poles to make room for the newly deceased.
This is where the expression "I wouldn't touch that with a ten-foot pole" comes from. Who knew?
3. City Park
Recommended by Stella from Around the World in 24 Hours
Many tourists to New Orleans spend their entire trip in the French Quarter. As fascinating as "The Quarter" is, you're missing out on some of the best parts of the city if you don't explore more of the Big Easy.
And one of the most interesting parts of New Orleans is its large and stunning City Park. This park is quite a bit bigger even than New York City's famous Central Park, so you can spend all day here and not get bored.
If you want, you can spend the day outdoors exploring the park's gorgeous oak trees and admiring the friendly ducks who live in the lake.
You can also visit some of the park's famous cultural attractions, like the Botanical Gardens, the New Orleans Museum of Art, or the Sydney and Walda Besthoff Sculpture Garden.
If you're bringing kids, take them to the Carousel Gardens Amusement Park or the Storyland playground. Once the sun sets, pop on over to nearby Ralph's on the Park for a delicious New Orleans dinner.
During the summer, grab a Sno-Ball from the stand by the Big Lake. A Sno-Ball is a shaved ice topped with your choice of sweet syrup, and it is a true New Orleans summertime delicacy.
Take the Sno-Ball to the Singing Oak near the Big Lake, and you can enjoy the sound of the wind chimes in the giant oak tree as you eat your snack.
In the winter, don't miss the stunning Christmas lights put up for the Celebration In the Oaks festival. Visiting the city park is one of the best things to do in New Orleans at any time of the year.
4. New Orleans Plantations
Recommended by Lori from Travlinmad
The Big Easy is full of history, mystery, and lots of incredible things to do and sites to see.
But visitors looking for a glimpse into the Antebellum history should head out of the city to the New Orleans plantations along the Great River Road.
Here, the stories of the past come alive in vivid and often disturbing detail.
Visitors can easily drive to one or more plantations in a day, or visit several over a few days. There are accommodations along the way and even B&B rooms at a few of the stately plantations.
There are also numerous tours from New Orleans that will visit several plantations on an organized tour.
Of the many plantations to visit, two sites are highly recommended: Oak Alley Plantation and Whitney Plantation. The stately Oak Alley is perhaps the best known of all the River Road estates.
With its Gone With the Wind good looks and tumultuous past, it's been the backdrop for countless TV shows and movies like Interview With a Vampire.
In contrast to Oak Alley and just a short ways down the road, the Whitney Plantation is dedicated to telling the story of slavery in Louisiana.
Through knowledgable tours, poignant sculptural renditions of slave children, and first-person narratives from the slaves themselves who lived there, the Whitney is one of the most unique plantations of them all.
Tours run hourly at most of the plantations so plan accordingly and you can make a full day of it — beautiful scenery, moving history, and a rare glimpse into New Orleans' history.
5. Go Kayaking in the Swamp
Recommended by Aleah of Solitary Wanderer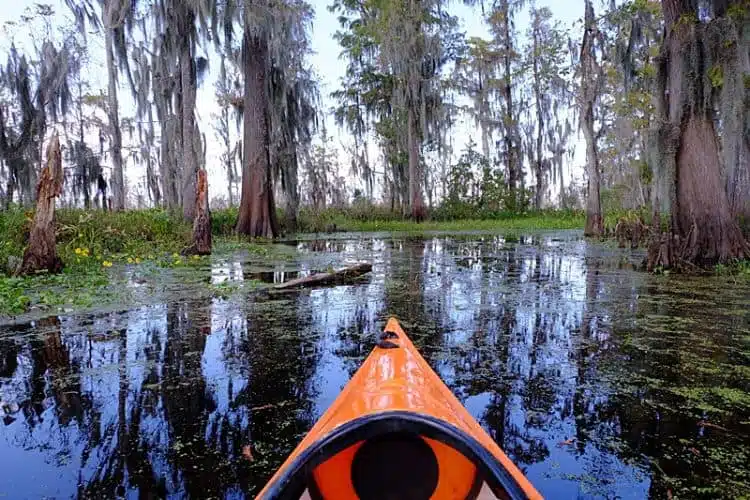 A must-do when traveling in New Orleans is kayaking in the swamp.
There are several places half an hour from the city where you can kayak in peace, with nothing to disturb the quiet and the wildlife you will see there aside from the soft sounds of your paddling.
Depending on the season, and if you are lucky, you will see alligators sunning themselves on exposed logs. Don't be scared; gators are more afraid of you and would quickly swim away if you come close.
Aside from alligators, you will also see a lot of turtles and birds. Listen to the hooting of barred owls and try to spot them in trees.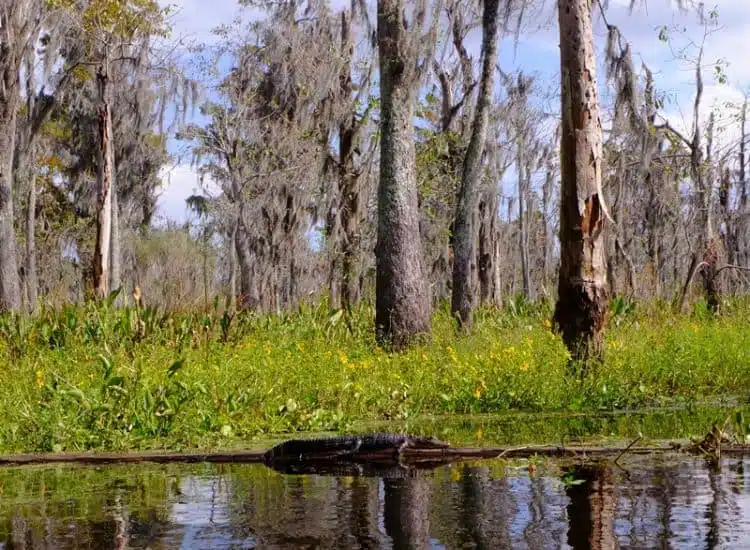 Your guide may even take you to an eagle's nest. You may also see white egrets gliding across the water, herons, and white ibis.
Look out for swimming snakes; if you see one coming toward you, just shoo it away gently with your paddle.
Avoid exploring the swamp in motorboats or pontoons; they are noisy and some agencies are even unethical. They feed gators to make sure their guests would see one during the trip.
Truly, nothing makes your New Orleans visit more special than kayaking in the swamp. It beats waking up hungover the next day on Bourbon Street.
6. Explore the Art Galleries on Royal
Recommended by Michelle of That Texas Couple
New Orleans is such a unique and diverse city. It truly just seems to be brimming with life at every turn.
It doesn't matter if you are spending 3 days in New Orleans or 3 years, each day is guaranteed to be unique and exciting. I mean, there is truly something to do for everyone.
New Orleans is known for having a fabulous music and art scene. Just walk down the street and you will see musicians and artists abound.
With that in mind, one of the best things to do in New Orleans is to explore the many are galleries that you will find on Royal Street.
Located in the heart of the French Quarter, Royal Street itself is a feast for the eyes. The historic building with their unique iron balconies just beg for you to come inside to explore.
It is here that you will find all sorts of art galleries. The galleries closer to Canal Street tend to cater to the more serious art collector, but recently there have been new artists taking over the 800 and 900 blocks of Royal.
These artist galleries allow even the most casual art enthusiast to feel right at home. No matter what your taste in art, you are sure to find the perfect piece to add to your collection on Royal Street.
7. Ride the Streetcar in New Orleans
Recommended by Annick from The Common Traveler
One of the best things to do in New Orleans is to ride the famous streetcars. With five different routes covering various areas of the city, visitors can see so much for so little.
The St. Charles line is the oldest continuously running street railway system in the world. It is also the most popular with New Orleans' visitors, taking them to the World War II Museum, Garden District, Lafayette Cemetery #1, Audubon Park, and the zoo.
The Riverfront line stops near the Cafe du Monde, one of the can't miss food experiences in New Orleans.
At just $1.25 per ride, the streetcars are one of the most affordable ways to get around the most visited areas of the city.
Visitors planning to use the streetcar system during their stay in the city should download the mobile app and purchase a Jazzy pass for unlimited rides during their stay.
The app also shows visitors how long it will take to get from one place to another and shows in real-time when a streetcar is approaching the stop.
New Orleans' streetcars aren't just a mode of transportation — they are an iconic part of the city's history and charm. Every visitor should ride the streetcars at least once!
8. Go to a Jazz Club on Frenchmen Street
Recommended by Theresa from Fueled By Wanderlust
A lot of people picture Bourbon Street when thinking of fun places in New Orleans. However, lively Frenchman Street, known for its jazz clubs, definitely gives Bourbon a run for its money, and some people like it better!
The jazz clubs on Frenchman Street are not only exciting but also significant to the history and culture of New Orleans.
In fact, the whole jazz genre began in the Big Easy during the early twentieth century, when African-American musicians began to mix their traditional sounds with the diverse array of other cultures settled in the area.
Today, people looking for a memorable evening out should head to the jazz clubs on Frenchman Street. Even if jazz isn't your thing, live music is always fun and you'll experience this unique cultural component of New Orleans.
The Spotted Cat Music Club is one of the most popular spots, but can also be the most crowded with a line out the door. Three Muses and d.b.a., are two other fun options with great music, but a bit more low-key atmosphere.
To get to Frenchman Street, you can walk or Uber depending on where you are staying. This area is located about a mile away from the French Quarter and takes about twenty minutes to reach on foot.
Do also note that many of the bars charge a cash cover to enter, which can range from $5 to $20.
9. Cafe Lafitte in Exile
Recommended by Derek and Mike of Robe Trotting
New Orleans is known around the world as a party town with amazing nightlife. It goes without saying that visiting a town like New Orleans will involve some drinks out in the vibrant nightlife of the city.
It's also a city full of rich and diverse history, so being able to grab a drink in places that are historically significant is easy in New Orleans if you know where to find them.
One of those places is also one of the most popular New Orleans gay bars, Café Lafitte in Exile. It's also the country's oldest continuously-operating gay bars, so it's a great LGBTQ heritage spot in the United States.
The bar was opened in 1933 down the street from its present location on Bourbon Street. The original location is still a bar called Lafitte's Blacksmith Shop and was once owned by a local lesbian.
It attracted a mixed crowd of lesbians, gay men, and heterosexual patrons but when tensions with the landlord rose in 1953, the bar reopened down the street at its current location.
Both bars are worth a visit and are rich with New Orleans history. Café Lafitte in Exile is a great laid-back place to have a drink, sit on the wrap-around balcony or enjoy the evening's entertainment.
They have a full calendar of events and it's never a dull night out in America's oldest gay bar.
10. Café du Monde
Recommended by Dave Chant
In 1862 Café du Monde, billed as the "Original French market Coffee Stand", opened up in Butcher's Hall and to this day they are still serving and selling coffee and beignets.
They do this 24 hours a day, seven days a week, 364 days a year – although they do close for Christmas Day and the old hurricane.
You'll find the outdoor seated café at the corner of Jackson Square in the French Quarter, a stone's throw from St Louis Cathedral.
Here, the coffee is cut with chicory. The blend is rich and dark, and the chicory makes it more bitter. It's a throwback to the Civil War when blockades made coffee heard to find.
The classic combination is with a Beignet. They are square French-style doughnuts, come in threes, deep fat fried and laden with so much powdered sugar you look like Tony Montana at the end of Scarface.
The coffee, additionally, is traditionally served black or au lait, which means it's mixed half and half with hot milk.
The café gets so busy during the day that I much prefer it after dark when it's normally easier to find a table.
Then you can really soak in the vibe of the French Quarter and be transported back in time to get a feel for the real New Orleans.
Truth be told, the coffee will divide opinion because of its bitterness, but the beignets are great. There's also no denying the Café du Monde is both an institution and a must-see when visiting The Big Easy.
11. Eat a Po'Boy Sandwich
Recommended by Wendy from The Nomadic Vegan
This local specialty is something you must taste at least once when you're in New Orleans. Not only is it delicious, but it's also well within the budget of even the most penny-pinching shoestring backpacker.
As you may have guessed, the name of this sandwich is simply the words "poor boy" as they are pronounced when speaking with a Southern drawl.
It was created by brothers Clovis and Benny Martin, who ran a New Orleans eatery back in the 1920s and '30s.
Their establishment was frequented by dockworkers, farmhands and other blue-collar laborers, and the brothers wanted to make an affordable lunch option for them with cheap but filling ingredients.
These days, po' boys are a big hit with people from all walks of life, and they are served not only in specialty po' boy shops but also in nicer dine-in restaurants.
There's a great deal of flexibility when it comes to the ingredients that should go into a po' boy.
The only non-negotiable is that it must be made with New Orleans "French" bread, which is very similar to a French baguette.
Traditional fillings are fried oysters and other types of fried seafood, but these days there are lots of more inventive options available too.
For example, a popular eatery called Killer Po'Boys serves a po' boy with roasted sweet potatoes, braised greens, and a spread made from black-eyed peas and pecans.
It's a modern twist on the classic po' boy that still features local ingredients and is also a great option for vegetarian and vegan visitors to New Orleans.
12. Mardi Gras World
Recommended by Charles McCool of McCool Travel
During a four-day New Orleans stay, I visited Mardi Gras World with my group from the Collette Tours of America's Music Cities.
At Mardi Gras World we learned Mardi Gras history, facts, and misconceptions in a fascinating documentary movie and then had a guided tour of the warehouse to see parade floats and sculptures in various stages (from concept to complete).
Some things I learned included that the French Quarter is too small for floats, there are over 75 Mardi Gras parades, Mardi Gras is a season rather than a single day, and much more.
While Mardi Gras parades are free to attend, building floats is a big business. Some floats can cost half a million dollars. Of the hundreds of floats and sculptures, we saw at Mardi Gras World, perhaps the music superstars were most appropriate since I was on a music theme tour.
I saw sculpted figures of Jimi Hendrix, Willie Nelson, KISS, and Elvis Presley. But there is countless classic, fun, erotic, ethnic, historical, quirky, and outrageous figures to see. Mardi Gras World workers are also responsible for constructing Chick-Fil-A cow sculptures and other corporate symbols.
The Mardi Gras World gift shop is a microcosm of New Orleans, more than any other store I saw in NOLA.
From King Cake vodka to voodoo dolls to kitschy New Orleans knockoff items (like Disney and Saints stuff), in addition to the standard New Orleans souvenirs and snacks, they seemed to have it all (or at least more and different items).
After many New Orleans visits, it was refreshing to do something new and I actually would visit Mardi Gras World again every year—if only to see what new floats and sculptures they are working on for the upcoming Mardi Gras parades.
13. Mississippi River Cruise
Recommended by Trijit from Budget Travel Buff
If you have a fascination with steamboats, you wouldn't want to miss the chance to enjoy a cruise on an authentic steamboat in New Orleans, one of the cheapest honeymoon destinations in the US.
Whether you want an overnight riverboat cruise with soothing jazz music or a budget boat ride across the Mississippi, you won't be disappointed here.
Although there is a cheaper option to take the Algiers Ferry ride across the Mississippi river with just $2, I will recommend choosing the Steamboat Natchez as it is not that expensive and offers a great service.
Natchez Steamboat is an authentic paddlewheel riverboat that is still plying the waters of the Mississippi River.
This 2-hour cruise journey starts from the center of the French Quarter and will take you along the Mississippi River while listening to the soulful jazz.
People who like to see New Orleans from a different angle must experience the Mississippi river cruise. Enjoy the charming ambiance and the stunning view of the French Quarter buildings and the magnificent skyscrapers of the New Orleans skyline along with a beverage.
Both indoor and outdoor seating is available. You can enjoy the view while listening to jazz music from indoor which is fully climate controlled, but most people prefer to sit on the deck to get the best view of the city, especially on an overnight cruise.
Lunch or dinner buffet options are also available on the boat. Overall, it's a great experience that you must not miss while traveling in New Orleans.
14. Go to a burlesque brunch in the French Quarter
Recommended by Margarita from DownshiftingPRO
When you think of burlesque your mind wanders to scantily clad women a bit of bump and grind in a performance that combines striptease, comedy, elaborate costumes and showmanship.
It would not be unusual to find risky business in the Big Easy but alas, what you will find at on a Saturday or Sunday brunch at SoBou is both entertaining and artistry.
World-famous burlesque dancer/instructor Bella Blue says there's been a resurgence of burlesque performances in New Orleans for the last 15 years.
A petite blonde, Bella Blue has danced since she was three years old but now she performs and instructs burlesque classes because burlesque has become so popular across the US.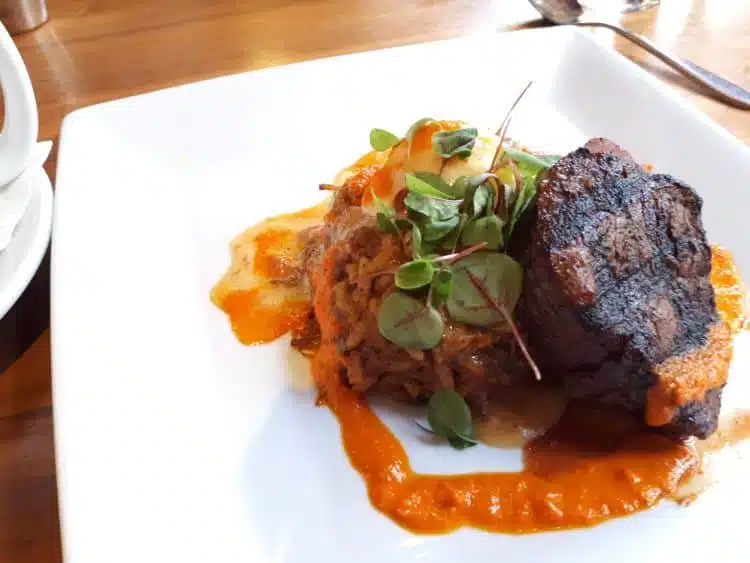 Her "Legs and Eggs" show has become so popular that you will have to make reservations in advance. With a live band playing jazz, she performs a traditional feather dance and stops by each table for a personalized shimmy, shimmy dance.
The meal was exceptional and fortunately, the only thing that was bottomless was the mimosas!
You can certainly find other venues including evening performances which may be a bit more risque but for our girl's getaway, this was the perfect treat.  
15. Walking Tour of the Garden District
Recommended by Christine from Live Love Run Travel 
One of the best things to do in New Orleans is take a walking tour of the Garden District. You don't have to pay for a walking tour as there are plenty of free walking tour maps online.
If you want to get the history of the homes and find out more about the architecture, there are quite a few tour options available in the area.
In the summer, make sure you go early as it can get very hot and humid in New Orleans. If you go in the winter, you may want to wait until the afternoon for warmer weather to walk around.
Some of the sidewalks are fairly uneven, and you will want comfortable walking shoes. For those who are unable to walk for the tour, take a drive through the area and pull into the parking spots along the sides of the street to enjoy the views.
Within the Garden District, there really isn't a bad path to take. The main walking tours stay on the roads between Washington Avenue and Jackson Avenue and then St. Charlies Avenue and Magazine Street.
Some of the more popular roads with beautiful homes to enjoy include Coliseum Street, Chestnut Street, Philip Street, Third Street, and First Street.
Whether you take a road trip to New Orleans or fly in for a few days, make sure not to skip a walking tour of the Garden District.