Clueless about what to do in New Orleans? It's my pleasure to help you plan your trip to The Big Easy! In this article, I'll show you all the best things to do in New Orleans.
Why is New Orleans called The Big Easy?
Many theories surround the creation of this nickname. One of the best ways to explain it is through the relaxed or easy way of life that people are accustomed to.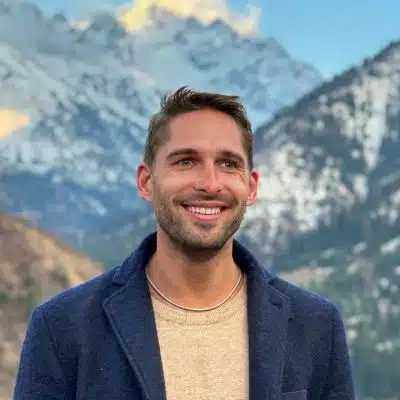 No wonder the feel-good music of jazz and blues were birthed here.
Read also: BEST PLACES TO VISIT IN THE USA.
Some of the best things to do in New Orleans do not cost a single dime!
Visit city parks, admire the prestigious St. Louis Cathedral, and explore famous neighborhoods, all for free.
Best Things to do in New Orleans
1. Haunted History Tour
Recommended by Lindsey of Have Clothes, Will Travel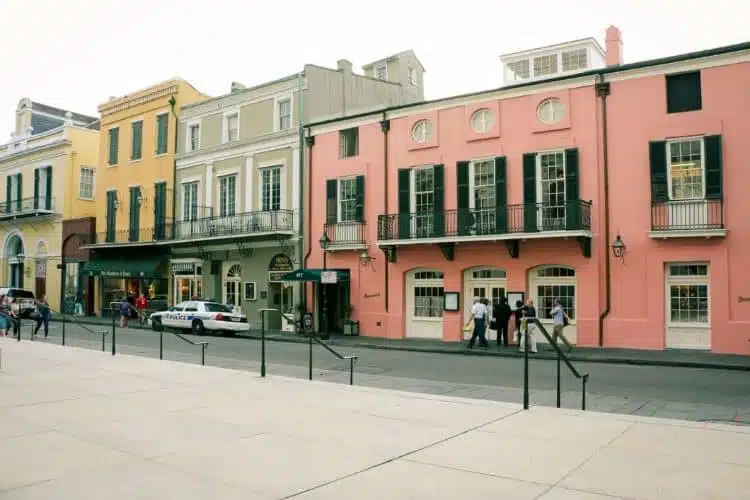 Whether you believe in ghosts or not, taking "haunted" history tours are great fun – especially in a city like New Orleans, that is rich in history. (And hey, they let you bring a drink with you too!)
However, don't expect any Ouija boards or seances when taking a haunted tour in New Orleans.
These tours are a fun way to learn about some of the darker, more sinister events and deaths in New Orleans. (You're not actually going to be hunting ghosts!)
There are a few different times you can book your tour throughout the day, but obviously, it will be more fun to take a later tour.
Not only will it be "spookier," the streets will be less crowded, and you'll be able to hear your tour guide better.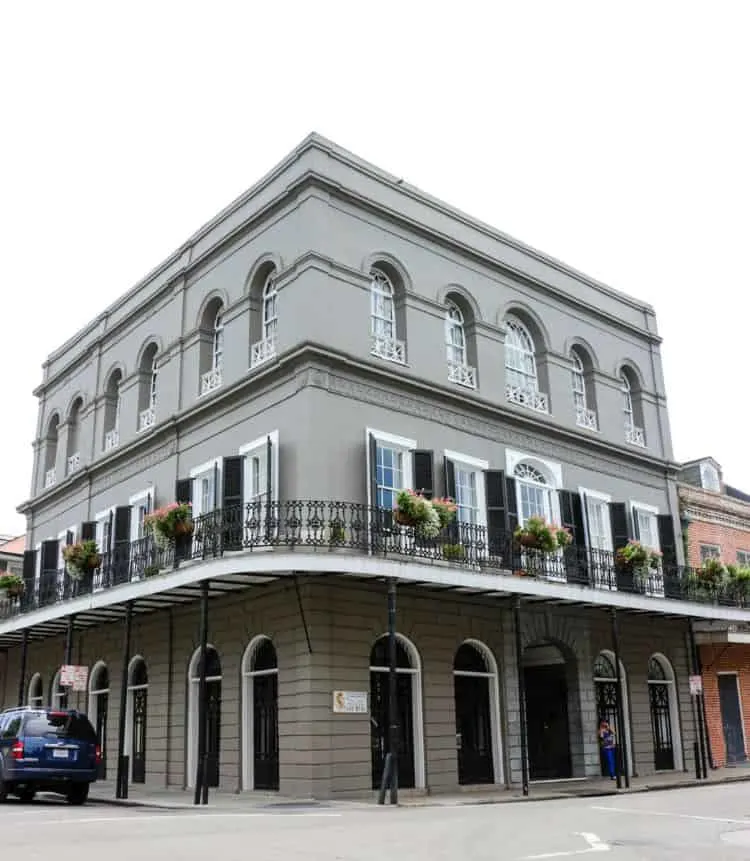 Your tour guide will take you through the French Quarter for about two hours – stopping at various spots to talk about the brutal death/ historical event that took place there.
You will also see Madame Delphine LaLaurie's house on these tours. She was a New Orleans socialite who allegedly tortured and murdered people in very brutal ways.
Her home is supposed to be quite haunted. She was also a prominent character on the show AHS: Coven, which your tour guide will tell you has gotten the history horribly wrong.
You will also make a pit stop at a "haunted" bar halfway through this tour to replenish your beverages.
It's one of my favorite best things to do in New Orleans, and I highly recommend adding it to any New Orleans itinerary.
Book your New Orleans haunted history tour:
1. New Orleans: Haunted History Crawl
2. New Orleans French Quarter History and Hauntings Tour
4. New Orleans: Drunk History Tour
2. Explore New Orlean's Cemeteries
Recommended by Talek from Travels with Talek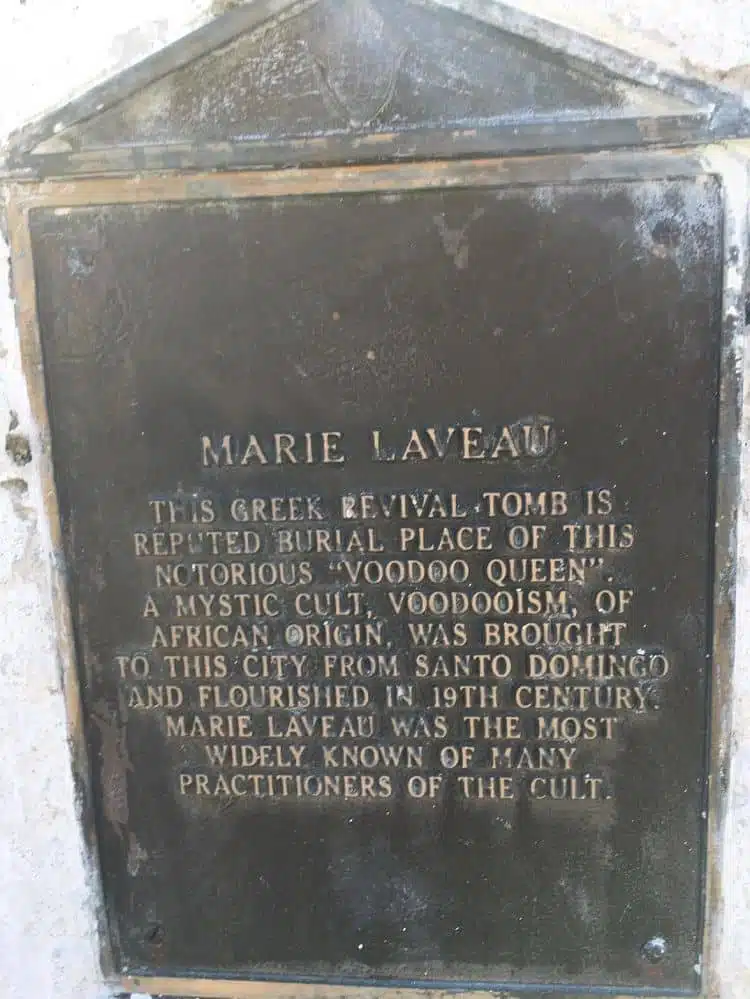 One of the best things to do in New Orleans is to visit the local cemeteries. The city is famous for its cemeteries, and with good reason.
They are beautiful with ornate and elaborately carved statuary. They are mysterious, with infamous residents like voodoo queens and mass murderers, and they are all above ground to avoid the gulf waters that frequently flood the city.
There are more than 40 cemeteries within the city limits, many with tombs dating back to the 1700s.
With so many cemeteries, which ones are the best to visit?
Locals will tell you the best one to visit is St. Louis I Cemetery. It is believed to be the most haunted in the country. Marie Laveau, the beautiful 18th-century voodoo practitioner, is buried here.
Residents believe her spirit walks the tombs at night. It's a pretty impressive place with its delicately carved statuary and stately mausoleums.
When visiting, it pays to go with a cemetery tour so you can learn all the interesting little tidbits of information, like the fact that the crypts are periodically cleaned out with ten-foot poles to make room for the newly deceased.
This is where the expression "I wouldn't touch that with a ten-foot pole" comes from. Who knew?
3. City Park
Recommended by Stella from Around the World in 24 Hours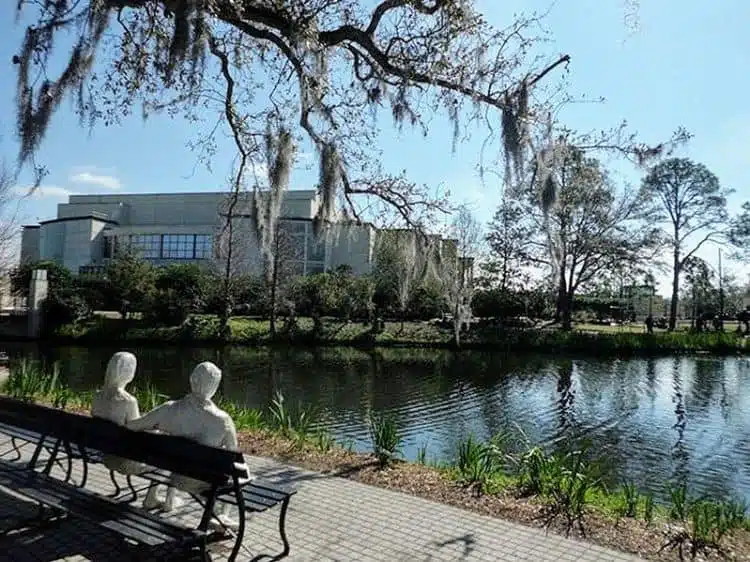 Many tourists to New Orleans spend their entire trip in the French Quarter. As fascinating as "The Quarter" is, you're missing out on some of the best parts of the city if you don't explore more of the Big Easy.
And one of the most exciting parts of New Orleans is its large and stunning City Park. This park is quite a bit bigger than New York City's famous Central Park, so you can spend all day here and not get bored.
If you want, you can spend the day outdoors exploring the park's gorgeous oak trees and admiring the friendly ducks who live in the lake.
You can also visit some of the park's famous cultural attractions, like the Botanical Gardens, the New Orleans Museum of Art, or the Sydney and Walda Besthoff Sculpture Garden.
If you're bringing kids, take them to the Carousel Gardens Amusement Park or the Storyland playground. Once the sun sets, pop over to nearby Ralph's on the Park for a delicious New Orleans dinner.
During the summer, grab a Sno-Ball from the stand by the Big Lake. A Sno-Ball is a shaved ice topped with your choice of sweet syrup, and it is an authentic New Orleans summertime delicacy.
Take the Sno-Ball to the Singing Oak near the Big Lake, and you can enjoy the sound of the wind chimes in the giant oak tree as you eat your snack.
In the winter, don't miss the stunning Christmas lights put up for the Celebration In the Oaks festival. Visiting the city park is one of the best things to do in New Orleans at any time of the year.
Get Your Guide helps you find the best tours wherever you are heading to. It's usually the first website I check when I plan a trip to a new place.

4. New Orleans Plantations
Recommended by Lori from Travlinmad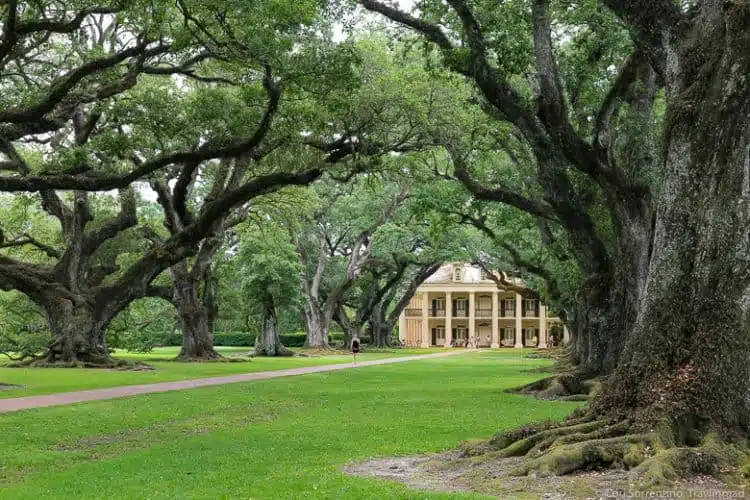 The Big Easy is full of history, mystery, and incredible things to do and sites to see.
But visitors looking for a glimpse into the Antebellum history should head out of the city to the New Orleans plantations along the Great River Road.
Here, the past stories come alive in vivid and often disturbing detail.
Visitors can easily drive to one or more plantations in a day or visit several over a few days. There are accommodations along the way and even B&B rooms at a few of the stately plantations.
There are also numerous tours from New Orleans that will visit several plantations on an organized tour.
Of the many plantations to visit, two sites are highly recommended: Oak Alley Plantation and Whitney Plantation. The stately Oak Alley is perhaps the best-known of all the River Road estates.
With its Gone With the Wind good looks and tumultuous past, it's been the backdrop for countless TV shows and movies like Interview With a Vampire.
In contrast to Oak Alley and just a short ways down the road, the Whitney Plantation is dedicated to telling the story of slavery in Louisiana.
Through knowledgable tours, poignant sculptural renditions of slave children, and first-person narratives from the slaves themselves who lived there, the Whitney is one of the most unique plantations of them all.
Tours run hourly at most of the plantations so plan accordingly and you can make a full day of it — beautiful scenery, moving history, and a rare glimpse into New Orleans' history.
5. Go Kayaking in the Swamp
Recommended by Aleah of Solitary Wanderer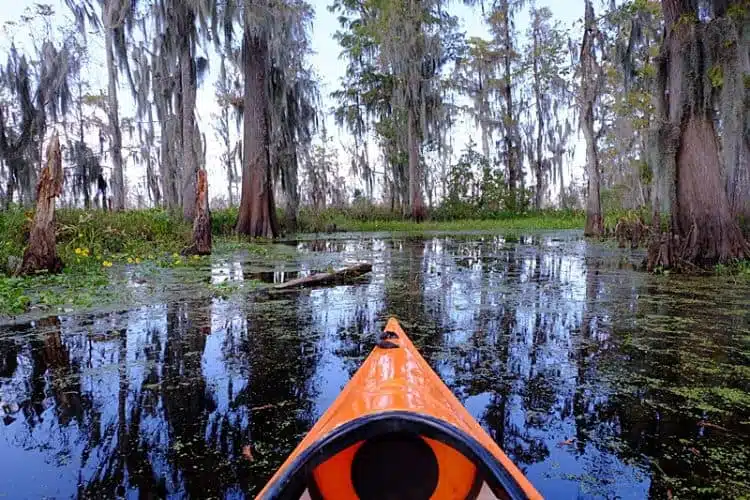 A must-do when traveling in New Orleans is kayaking in the swamp.
There are several places half an hour from the city where you can kayak in peace, with nothing to disturb the quiet and the wildlife you will see, aside from the soft sounds of your paddling.
Depending on the season, and if you are lucky, you will see alligators sunning themselves on exposed logs. Don't be scared; gators are more afraid of you and would quickly swim away if you come close.
Aside from alligators, you will also see a lot of turtles and birds. Listen to the hooting of barred owls and try to spot them in trees.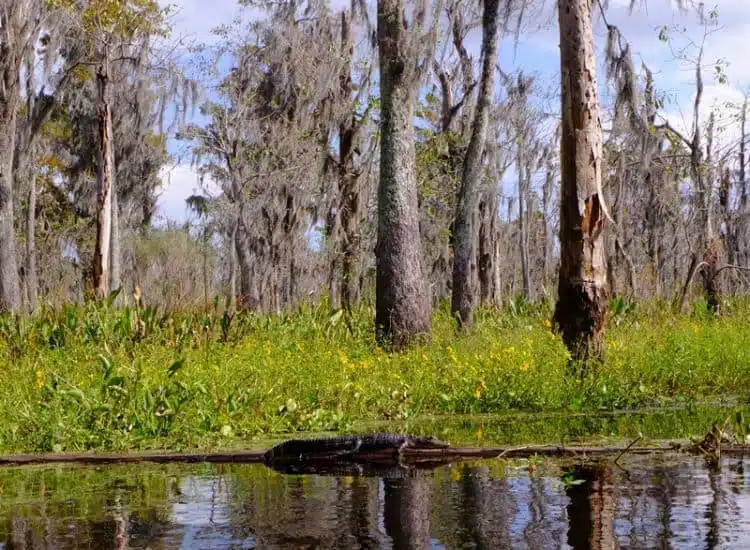 Your guide may even take you to an eagle's nest. You may also see white egrets gliding across the water, herons, and white ibis.
Look out for swimming snakes; if you see one coming toward you, just shoo it away gently with your paddle.
Avoid exploring the swamp in motorboats or pontoons; they are noisy and some agencies are even unethical. They feed gators to make sure their guests would see one during the trip.
Truly, nothing makes your New Orleans visit more special than kayaking in the swamp. It beats waking up hungover the next day on Bourbon Street.
6. Explore the Art Galleries on Royal
Recommended by Michelle of That Texas Couple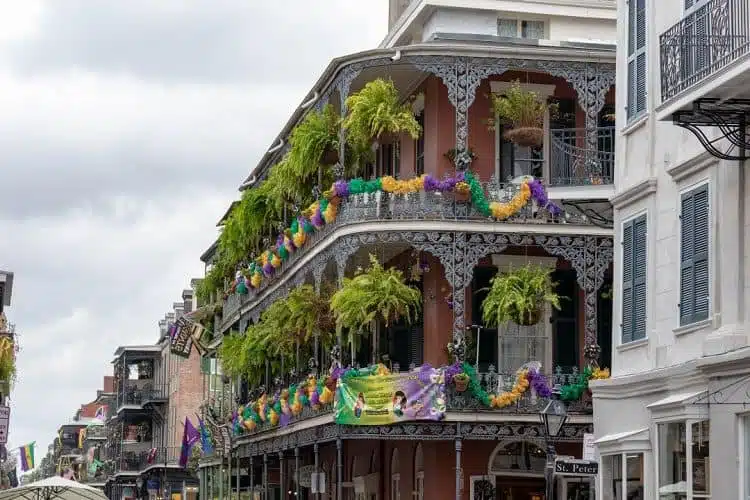 New Orleans is such a unique and diverse city. It truly just seems to be brimming with life at every turn.
It doesn't matter if you are spending 3 days in New Orleans or 3 years, each day is guaranteed to be unique and exciting. I mean, there is truly something to do for everyone.
New Orleans is known for having fabulous music and art scene. Just walk down the street, and you will see musicians and artists abound.
With that in mind, one of the best things to do in New Orleans is to explore the many are galleries that you will find on Royal Street.
Located in the heart of the French Quarter, Royal Street itself is a feast for the eyes. The historic building with their unique iron balconies just beg for you to come inside to explore.
It is here that you will find all sorts of art galleries. The galleries closer to Canal Street tend to cater to the more serious art collector, but recently there have been new artists taking over the 800 and 900 blocks of Royal.
These artist galleries allow even the most casual art enthusiast to feel right at home. No matter what your taste in art, you are sure to find the perfect piece to add to your collection on Royal Street.
7. Ride the Streetcar in New Orleans
Recommended by Annick from The Common Traveler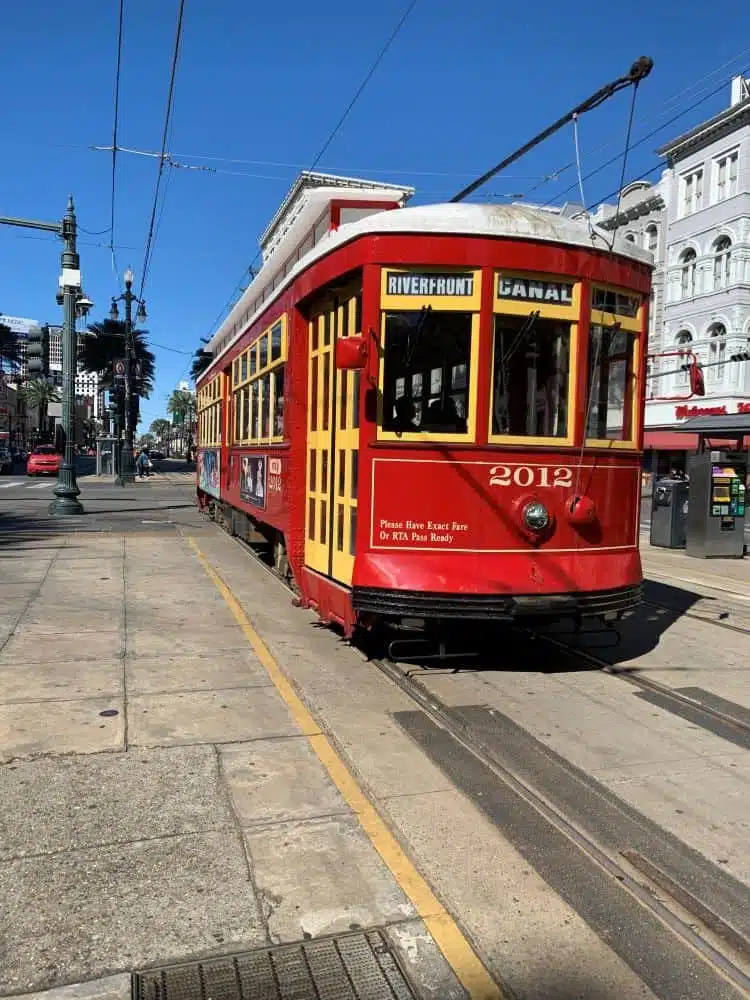 One of the best things to do in New Orleans is to ride the famous streetcars. With five different routes covering various areas of the city, visitors can see so much for so little.
The St. Charles line is the oldest continuously running street railway system in the world. It is also the most popular with New Orleans' visitors, taking them to the World War II Museum, Garden District, Lafayette Cemetery #1, Audubon Park, and the zoo.
The Riverfront line stops near the Cafe du Monde, one of the can't miss food experiences in New Orleans.
At just $1.25 per ride, the streetcars are one of the most affordable ways to get around the city's most visited areas.
Visitors planning to use the streetcar system during their stay in the city should download the mobile app and purchase a Jazzy pass for unlimited rides during their stay.
The app also shows visitors how long it will take to get from one place to another and shows in real-time when a streetcar is approaching the stop.
New Orleans' streetcars aren't just a mode of transportation — they are an iconic part of the city's history and charm. Every visitor should ride the streetcars at least once!
8. Go to a Jazz Club on Frenchmen Street
Recommended by Theresa from Fueled By Wanderlust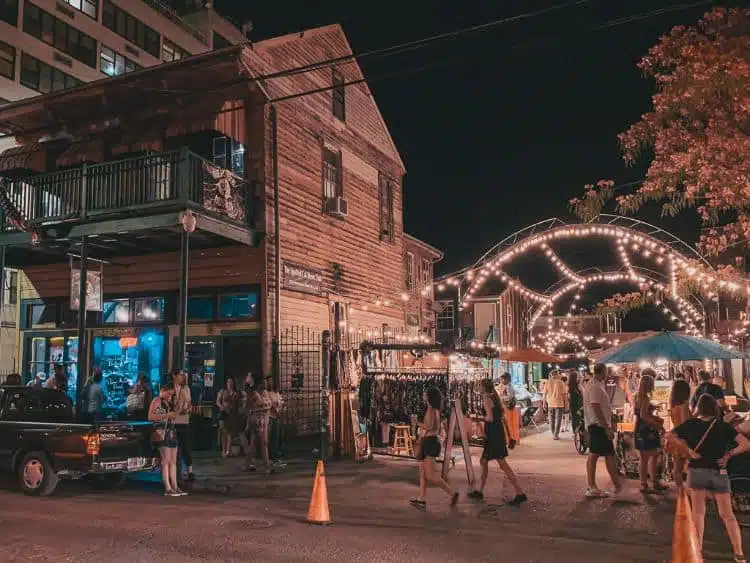 A lot of people picture Bourbon Street when thinking of fun places in New Orleans. However, lively Frenchman Street, known for its jazz clubs, definitely gives Bourbon a run for its money, and some people like it better!
The jazz clubs on Frenchman Street are not only exciting but also significant to the history and culture of New Orleans.
In fact, the whole jazz genre began in the Big Easy during the early twentieth century, when African-American musicians began to mix their traditional sounds with the diverse array of other cultures settled in the area.
Today, people looking for a memorable evening out should head to the jazz clubs on Frenchman Street. Even if jazz isn't your thing, live music is always fun and you'll experience this unique cultural component of New Orleans.
The Spotted Cat Music Club is one of the most popular spots, but can also be the most crowded with a line out the door. Three Muses and d.b.a., are two other fun options with great music, but a bit more low-key atmosphere.
To get to Frenchman Street, you can walk or Uber depending on where you are staying. This area is located about a mile away from the French Quarter and takes about twenty minutes to reach on foot.
Do also note that many of the bars charge a cash cover to enter, which can range from $5 to $20.
9. Cafe Lafitte in Exile
Recommended by Derek and Mike of Robe Trotting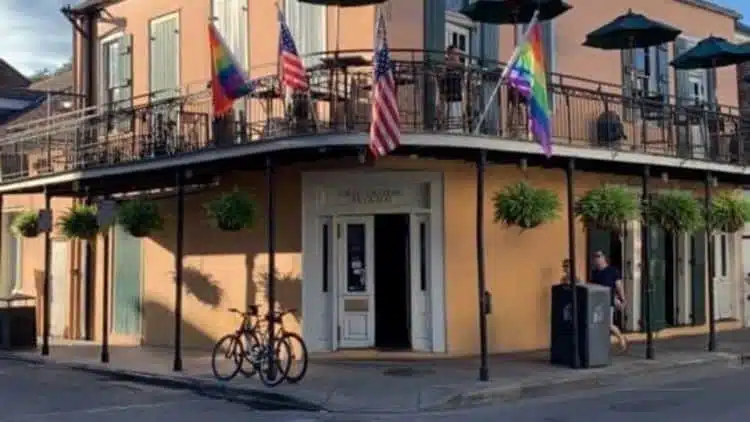 New Orleans is known around the world as a party town with amazing nightlife. Visiting a town like New Orleans will involve some drinks out in the vibrant nightlife of the city.
It's also a city full of rich and diverse history, so being able to grab a drink in places that are historically significant is easy in New Orleans if you know where to find them.
One of those places is also one of the most popular New Orleans gay bars, Café Lafitte in Exile. It's also the country's oldest continuously-operating gay bars, so it's a great LGBTQ heritage spot in the United States.
The bar was opened in 1933 down the street from its present location on Bourbon Street. The original location is still a bar called Lafitte's Blacksmith Shop and was once owned by a local lesbian.
It attracted a mixed crowd of lesbians, gay men, and heterosexual patrons but when tensions with the landlord rose in 1953, the bar reopened down the street at its current location.
Both bars are worth a visit and are rich with New Orleans's history. Café Lafitte in Exile is a great laid-back place to have a drink, sit on the wrap-around balcony, or enjoy the evening's entertainment.
They have a full calendar of events and it's never a dull night out in America's oldest gay bar.
10. Café du Monde
Recommended by Dave Chant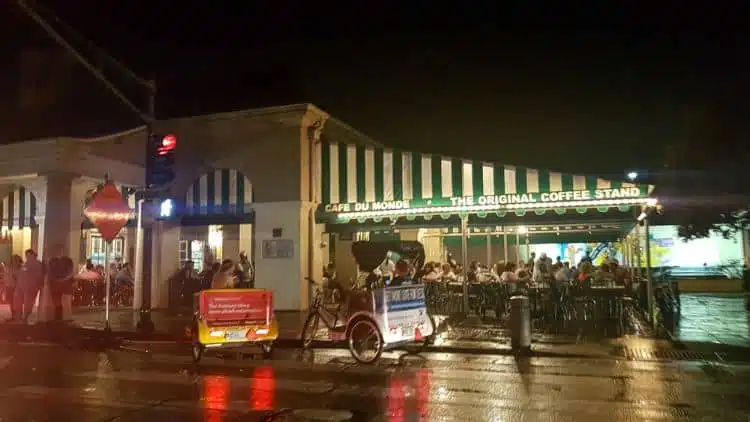 In 1862 Café du Monde, billed as the "Original French market Coffee Stand", opened up in Butcher's Hall and to this day they are still serving and selling coffee and beignets.
They do this 24 hours a day, seven days a week, 364 days a year – although they do close for Christmas Day and the old hurricane.
You'll find the outdoor seated café at the corner of Jackson Square in the French Quarter, a stone's throw from St Louis Cathedral.
Here, the coffee is cut with chicory. The blend is rich and dark, and the chicory makes it more bitter. It's a throwback to the Civil War when blockades made coffee hard to find.
The classic combination is with a Beignet. They are square French-style doughnuts, come in threes, deep fat fried and laden with so much powdered sugar you look like Tony Montana at the end of Scarface.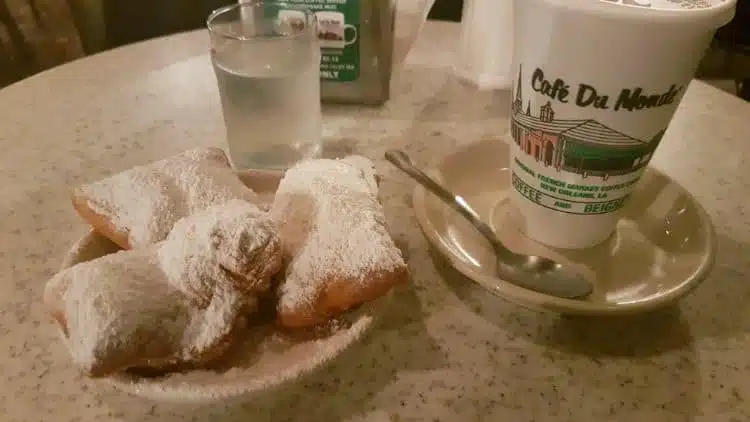 The coffee, additionally, is traditionally served black or au lait, which means it's mixed half and half with hot milk.
The café gets so busy during the day that I much prefer it after dark when it's normally easier to find a table.
Then you can really soak in the vibe of the French Quarter and be transported back in time to get a feel for the real New Orleans.
Truth be told, the coffee will divide opinion because of its bitterness, but the beignets are great. There's also no denying the Café du Monde is both an institution and a must-see when visiting The Big Easy.
11. Eat a Po'Boy Sandwich
Recommended by Wendy from The Nomadic Vegan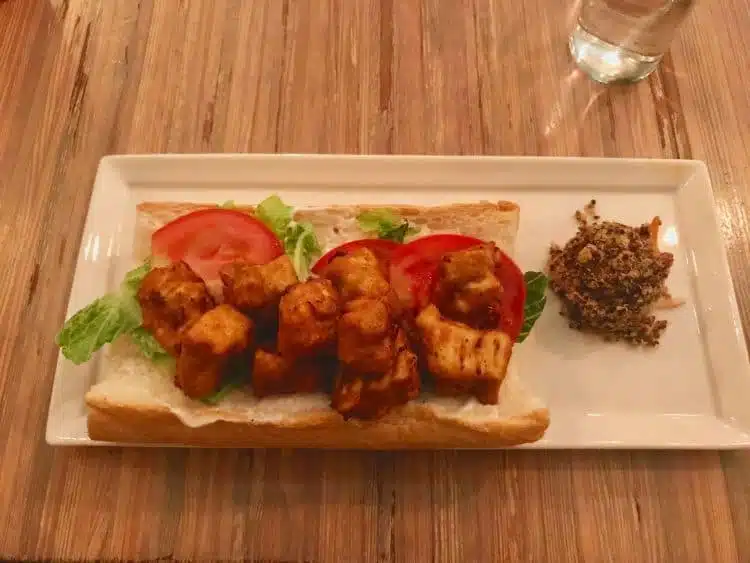 This local specialty is something you must taste at least once when you're in New Orleans. Not only is it delicious, but it's also well within the budget of even the most penny-pinching shoestring backpacker.
As you may have guessed, the name of this sandwich is simply the words "poor boy" as they are pronounced when speaking with a Southern drawl.
It was created by brothers Clovis and Benny Martin, who ran a New Orleans eatery back in the 1920s and '30s.
Their establishment was frequented by dockworkers, farmhands and other blue-collar laborers, and the brothers wanted to make an affordable lunch option for them with cheap but filling ingredients.
These days, po' boys are a big hit with people from all walks of life, and they are served not only in specialty po' boy shops but also in nicer dine-in restaurants.
There's a great deal of flexibility when it comes to the ingredients that should go into a po' boy.
The only non-negotiable is that it must be made with New Orleans "French" bread, similar to a French baguette.
Traditional fillings are fried oysters and other types of fried seafood, but these days there are lots of more inventive options available too.
For example, a popular eatery called Killer Po'Boys serves a po' boy with roasted sweet potatoes, braised greens, and a spread made from black-eyed peas and pecans.
It's a modern twist on the classic po' boy that still features local ingredients and is also a great option for vegetarian and vegan visitors to New Orleans.
12. Mardi Gras World
Recommended by Charles McCool of McCool Travel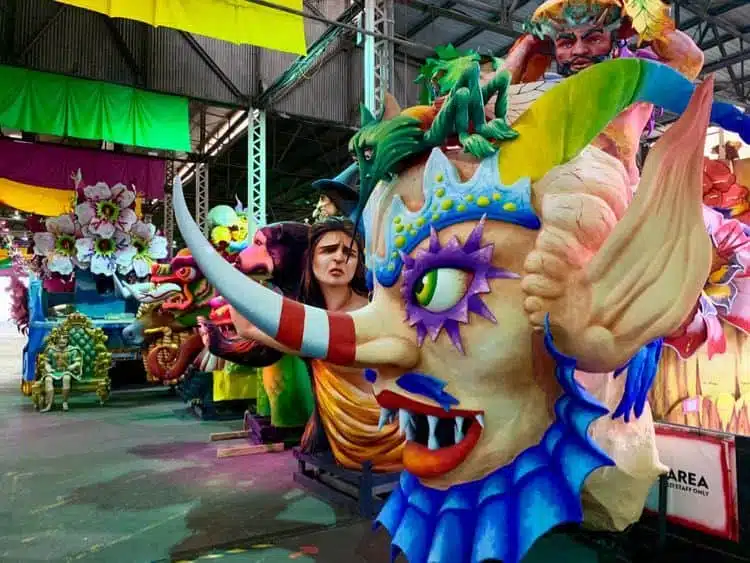 During a four-day New Orleans stay, I visited Mardi Gras World with my group from the Collette Tours of America's Music Cities.
At Mardi Gras World we learned Mardi Gras history, facts, and misconceptions in a fascinating documentary movie and then had a guided tour of the warehouse to see parade floats and sculptures in various stages (from concept to complete).
I learned that the French Quarter is too small for floats; there are over 75 Mardi Gras parades, Mardi Gras is a season rather than a single day, and much more.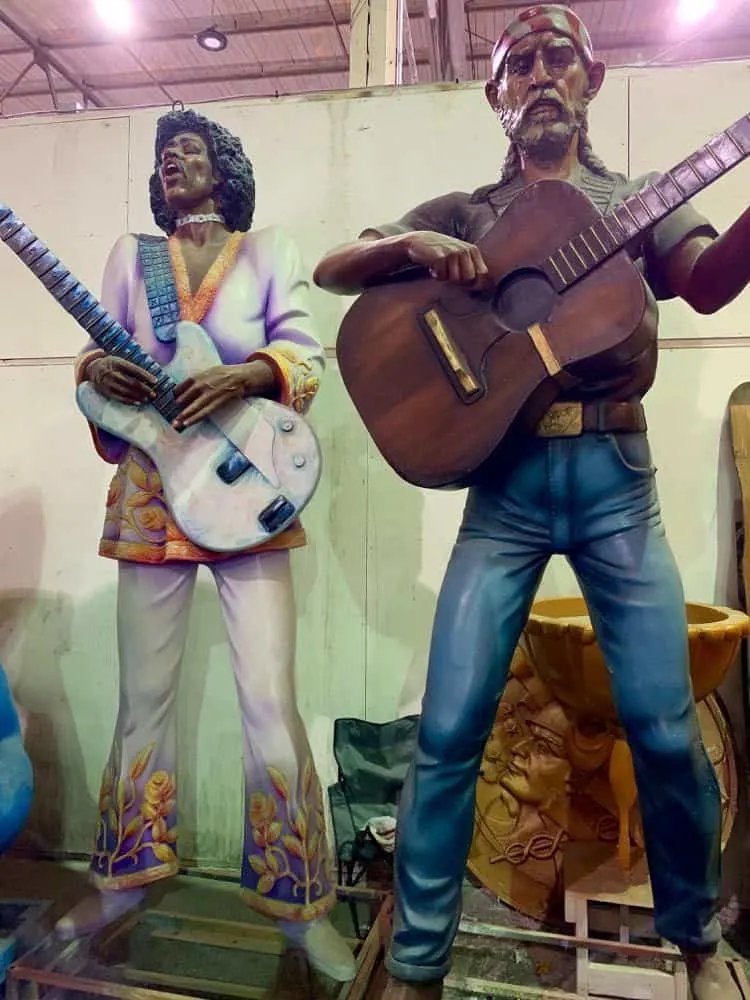 While Mardi Gras parades are free to attend, building floats are big business. Some floats can cost half a million dollars. Of the hundreds of floats and sculptures we saw at Mardi Gras World, perhaps the music superstars were most appropriate since I was on a music theme tour.
I saw sculpted figures of Jimi Hendrix, Willie Nelson, KISS, and Elvis Presley. But there is countless classic, fun, erotic, ethnic, historical, quirky, and outrageous figures to see. Mardi Gras World workers are also responsible for constructing Chick-Fil-A cow sculptures and other corporate symbols.
The Mardi Gras World gift shop is a microcosm of New Orleans, more than any other store I saw in NOLA.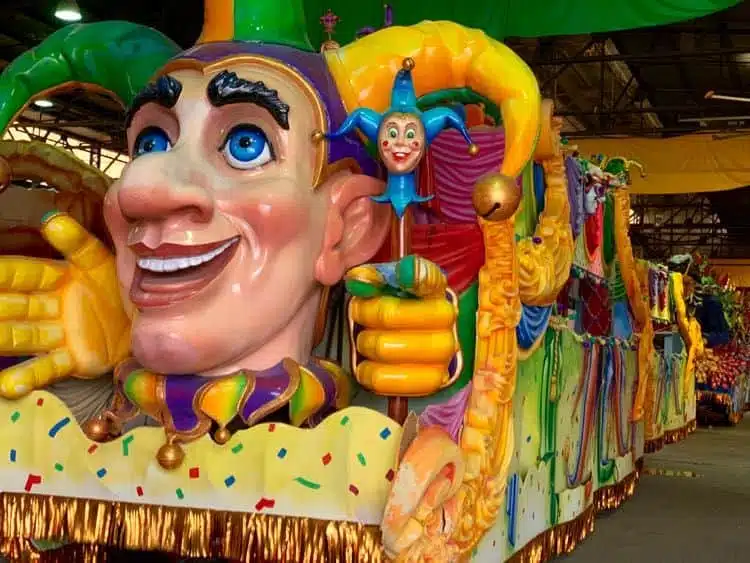 From King Cake vodka to voodoo dolls to kitschy New Orleans knockoff items (like Disney and Saints stuff), in addition to the standard New Orleans souvenirs and snacks, they seemed to have it all (or at least more and different items).
After many New Orleans visits, it was refreshing to do something new and I actually would visit Mardi Gras World again every year—if only to see what new floats and sculptures they are working on for the upcoming Mardi Gras parades.
13. Mississippi River Cruise
Recommended by Trijit from Budget Travel Buff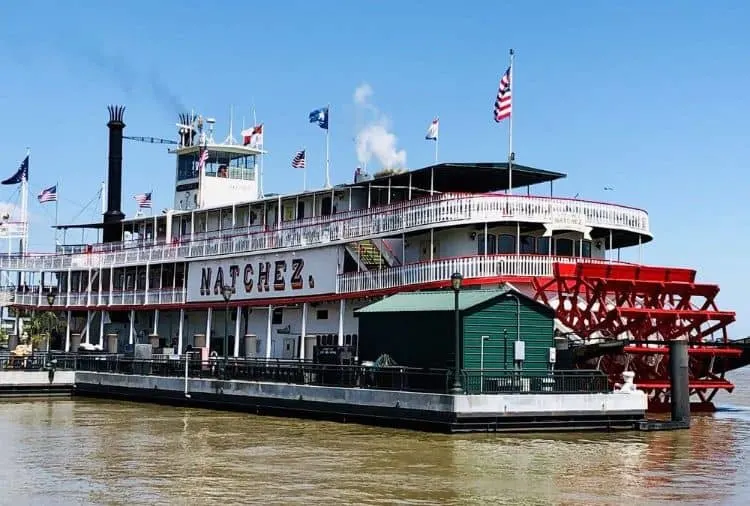 If you have a fascination with steamboats, you wouldn't want to miss the chance to enjoy a cruise on an authentic steamboat in New Orleans, one of the cheapest honeymoon destinations in the US.
Whether you want an overnight riverboat cruise with soothing jazz music or a budget boat ride across the Mississippi, you won't be disappointed here.
Although there is a cheaper option to take the Algiers Ferry ride across the Mississippi river for just $2, I recommend choosing the Steamboat Natchez as it is not that expensive and offers a great service.
Natchez Steamboat is an authentic paddlewheel riverboat that is still plying the waters of the Mississippi River.
This 2-hour cruise journey starts from the center of the French Quarter and will take you along the Mississippi River while listening to soulful jazz.
People who like to see New Orleans from a different angle must experience the Mississippi river cruise. Enjoy the charming ambiance and the stunning view of the French Quarter buildings and the magnificent skyscrapers of the New Orleans skyline, along with a beverage.
Both indoor and outdoor seating is available. You can enjoy the view while listening to jazz music from the indoor, which is fully climate controlled, but most people prefer to sit on the deck to get the best view of the city, especially on an overnight cruise.
Lunch or dinner buffet options are also available on the boat. Overall, it's a great experience that you must not miss while traveling in New Orleans.
14. Go to a burlesque brunch in the French Quarter
Recommended by Margarita from DownshiftingPRO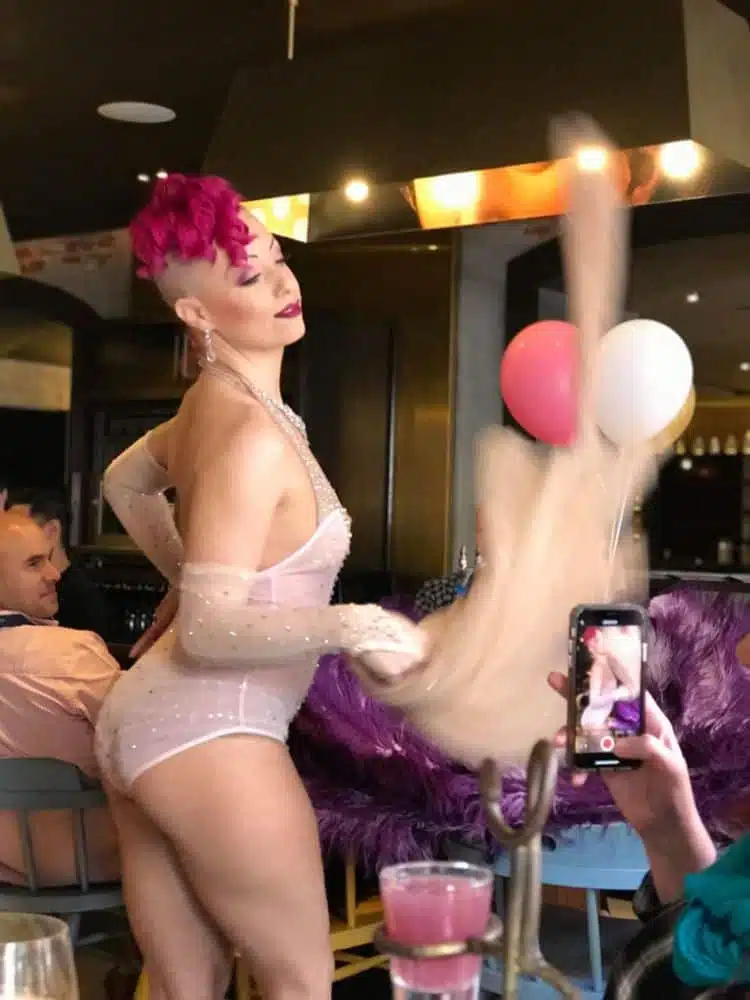 When you think of burlesque, your mind wanders to scantily clad women a bit of bump and grind in a performance that combines striptease, comedy, elaborate costumes, and showmanship.
It would not be unusual to find risky business in the Big Easy, but alas, what you will find on a Saturday or Sunday brunch at SoBou is both entertaining and artistry.
World-famous burlesque dancer/instructor Bella Blue says there's been a resurgence of burlesque performances in New Orleans for the last 15 years.
A petite blonde, Bella Blue has danced since she was three years old, but now she performs and instructs burlesque classes because burlesque has become so popular across the US.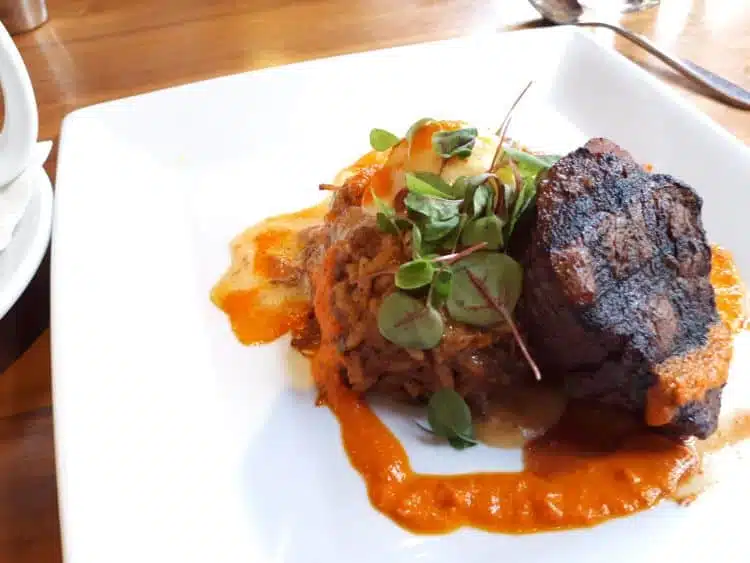 Her "Legs and Eggs" show has become so popular that you will have to make reservations in advance. She performs a traditional feather dance with a live band playing jazz and stops by each table for a personalized shimmy, shimmy dance.
The meal was exceptional, and fortunately, the only thing that was bottomless was the mimosas!
You can certainly find other venues including evening performances which may be a bit more risque but for our girl's getaway, this was the perfect treat.
15. Walking Tour of the Garden District
Recommended by Christine from Live Love Run Travel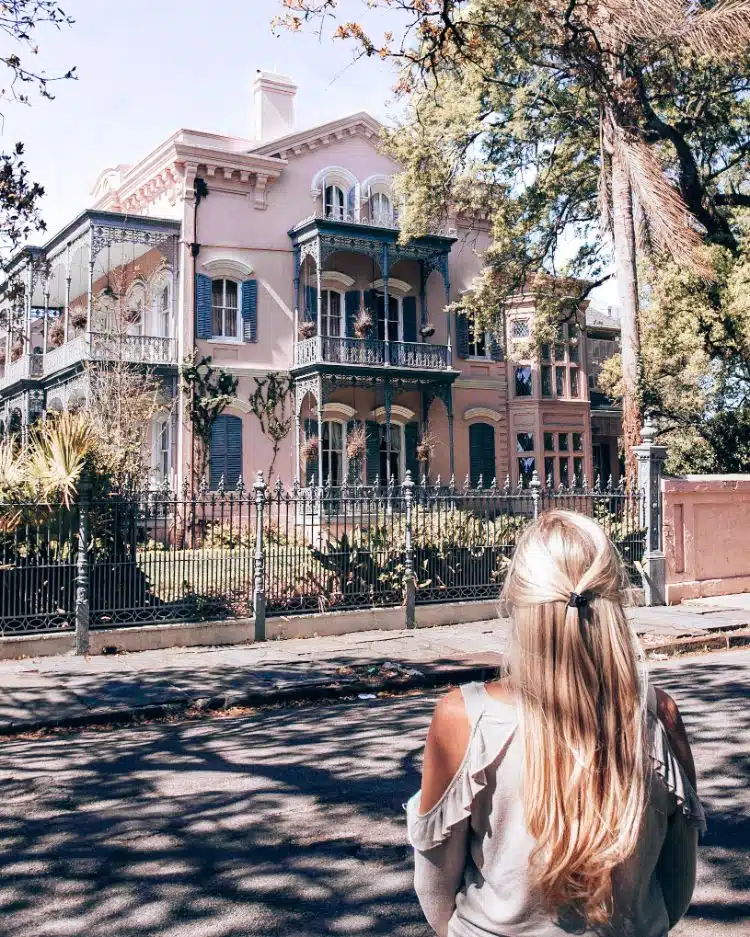 One of the best things to do in New Orleans is taking a walking tour of the Garden District. You don't have to pay for a walking tour as there are plenty of free walking tour maps online.
If you want to get the history of the homes and find out more about the architecture, there are quite a few tour options available in the area.
Make sure you go early in the summer as it can get boiling and humid in New Orleans. If you go in the winter, you may want to wait until the afternoon for warmer weather to walk around.
Some of the sidewalks are fairly uneven, and you will want comfortable walking shoes. For those who cannot walk for the tour, take a drive through the area and pull into the parking spots along the sides of the street to enjoy the views.
Within the Garden District, there really isn't a bad path to take. The main walking tours stay on the roads between Washington Avenue and Jackson Avenue and then St. Charlies Avenue and Magazine Street.
Some of the more popular roads with beautiful homes to enjoy include Coliseum Street, Chestnut Street, Philip Street, Third Street, and First Street.
Whether you take a road trip to New Orleans or fly in for a few days, make sure not to skip a walking tour of the Garden District.
16. Explore the New Orleans Jazz Museum
It only fits to find a New Orleans Jazz Museum in the place where this music genre was born.
A visit to the Jazz Museum is among the fun things to do in New Orleans. It is located inside the historic Old US Mint at Esplanade Avenue, functioning as a museum and as a performance center.
There are five rotating exhibits that you can visit that focus on the history and culture of jazz. There are two archives: the New Orleans Jazz Club Collections and the Louisiana Historical Center collection.
17. Visit Faubourg Marigny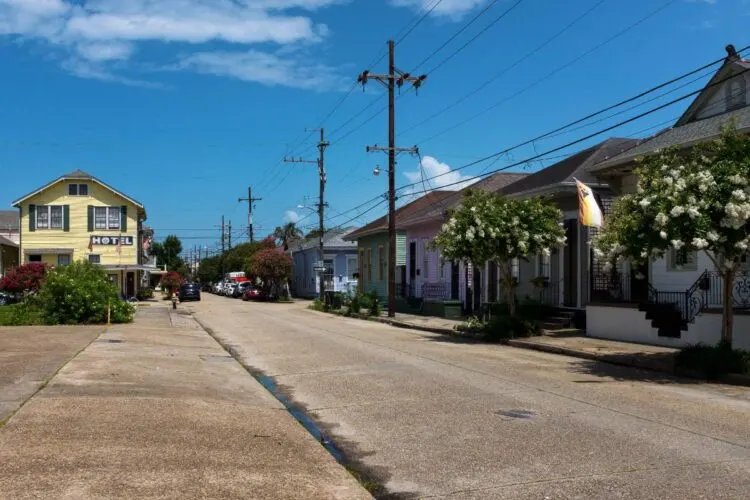 You will never run out of where to go and what to do in New Orleans. The Faubourg Marigny neighborhood, for example, will keep you occupied with its tourist attractions and worthwhile activities.
Faubourg Marigny is among the oldest neighborhoods in the city. Elysian Fields and Esplanade Avenue-bound it.
This side of New Orleans, Louisiana, is especially attractive to artists and art enthusiasts. For one, the Art Garage at St. Claude Avenue is a visually striking venue for performance art, live graffiti, and art exhibits.
A walking tour of Faubourg Marigny will also show you stunning Creole cottages and local bohemian bars.
18. Learn more about World War II
Look back at "the war that changed the world" here at the National WWII Museum.
Answer your why's, how's and what for as you dig deep into physical and digital collections with over 250,000 artifacts from the Second World War.
A visit to the National WWII Museum is among the fun things to do in New Orleans because it teaches you valuable lessons from the war and keeps you entertained with its interactive exhibits such as the 4D cinematic experience brought by Tom Hanks' Beyond All Boundaries.
19. Attend the New Orleans Jazz and Heritage Festival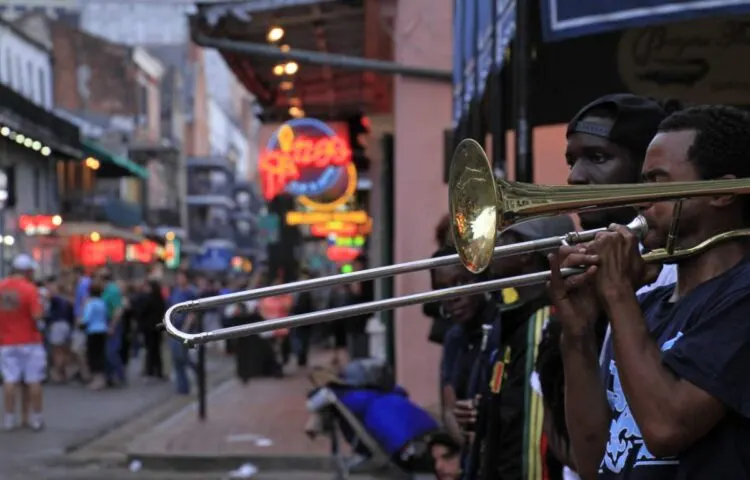 Are you searching for music-centered things to do in NOLA?
Better book your flight to the Big Easy between late April and early May so that you can catch the prestigious New Orleans Jazz and Heritage Festival.
Jazz and other indigenous music and culture of the city are highlighted in what is more commonly called the Jazz Fest.
Aside from the great music performed by notable local and foreign artists, the Jazz Fest is also known for the good New Orleans food being sold in festival stalls.
Other US cities that hold jazz festivals like that in New Orleans include Atlanta, Georgia, and Washington DC.
20. See art collections at NOMA
The New Orleans Museum of Art – NOMA, for short – is a fine arts museum located south of City Park. The institution dates back to 1911, when the museum only had nine artworks to display.
Several expansions and new collections later, NOMA is now home to about 40,000 artworks.
Aside from visiting the various art exhibits, one of the fun things to do in New Orleans can be done within NOMA. Explore the twelve-acre Sydney and Walda Besthoff Sculpture Garden, a true tourist destination of its own.
The park boasts 90 sculptures set amidst live oaks and lagoons.
21. Visit the Audubon Nature Institute
Nature and wildlife are among the great things to see in New Orleans.
The city is truly blessed to have the Audubon Nature Institute, a family composed of museums, zoos, and parks.
Under the institute, you have the Audubon Zoo, wherein you can meet different animals such as the California Sea Lion, the Malayan Tiger, and the White Alligator.
You also have the Audubon Aquarium of the Americas, a place to find and meet the African Penguin, the Southern Sea Otter, and the Sand Tiger Shark, among many others.
Of course, Audubon Park is a green space where you can play golf, tennis, and soccer.
22. Take classes at the Southern Food & Beverage Museum
Eating is undeniably one of the fun things to do in New Orleans.
How about going to a museum dedicated to food and beverage? That is primarily what the Southern Food and Beverage Museum is about.
However, expect more than just looking at items and reading captions. Here, you are encouraged to go beyond the exhibits and participate in culinary classes, dig into the cocktail scene, and more.
Inside the SOFAB museum, you will find The Museum of the American Cocktail, the John & Bonnie Boyd Hospitality & Culinary Library, and the Nitty Grits Podcast Network.
23. View public art at Studio BE
Amazed at the street art in US cities like Chicago and Boston?
You will be thrilled to know that public art is also among the top attractions in New Orleans.
Just look at the visually captivating and thought-provoking Studio BE, a 35,000-square foot warehouse filled with artworks depicting resistance, among others.
Studio BE is the brainchild of visual artist and New Orleans-based Brandan "BMike" Odums. Its massive murals and room-sized installations attract visitors from all over the world.
You can find Studio BE along Royal Street in the Bywater neighborhood.
24. Catch an event at the Mercedes Benz Superdome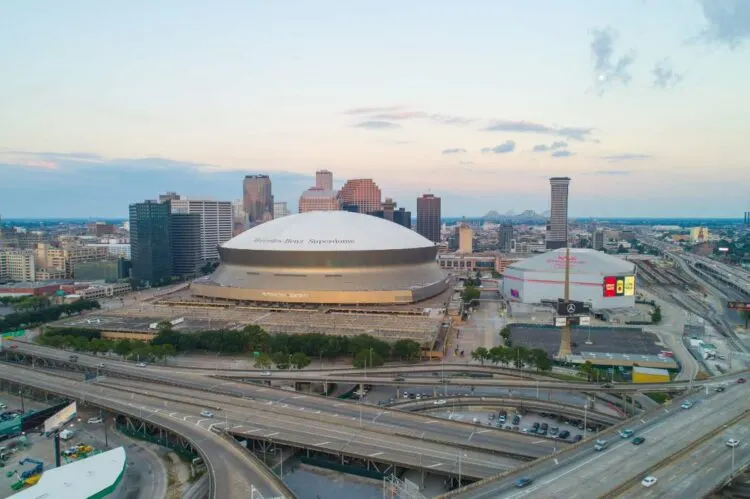 The Superdome has been the home of the New Orleans Saints since 1975. You can find the grand structure standing out in the middle of the New Orleans Central Business District.
Catching a game at the Mercedes Benz Superdome is truly one of the fun things to do in New Orleans. However, if sports isn't your thing, there are also different happenings which take place here.
The Superdome has hosted grand events such as Super Bowls and Saints home games and major concerts and festivals.
One of the Superdome's most anticipated events is the Essence Festival of Culture.
25. Relax at the Longue Vue House and Gardens
The Longue Vue House and Gardens are what you picture out a Southern home to be.
The four-story world-class house museum is set amidst eight acres of lush gardens that total 14. The place is made even more regal with the installation of 22 fountains.
If you think of what to do in New Orleans on a Wednesday, consider going to the Longue Vue House and Gardens.
An event called Twilight at Longue Vue happens here during that day. Bring your food, drinks, and mats as you lie down the grass and enjoy as local artists take center stage.
26. Meet an alligator at the Jean Lafitte National Park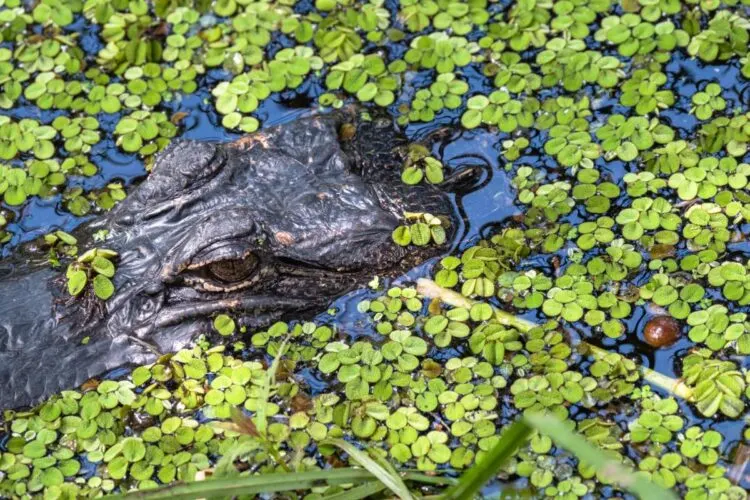 Six sites at the Jean Lafitte National Historical Park and Preserve present important historical and cultural facts about New Orleans and Louisiana.
The Chalmette Battlefield is one of the sites at the park. It is the place where the Battle of New Orleans occurred in January 1815.
The Barataria Preserve is another site at Jean Lafitte, one that is dedicated to wildlife such as birds, amphibians, and reptiles.
Having an encounter with the American Alligator at the Barataria Preserve is truly one of the fun things to do in New Orleans.
27. Book a guided tour at the New Orleans Pharmacy Museum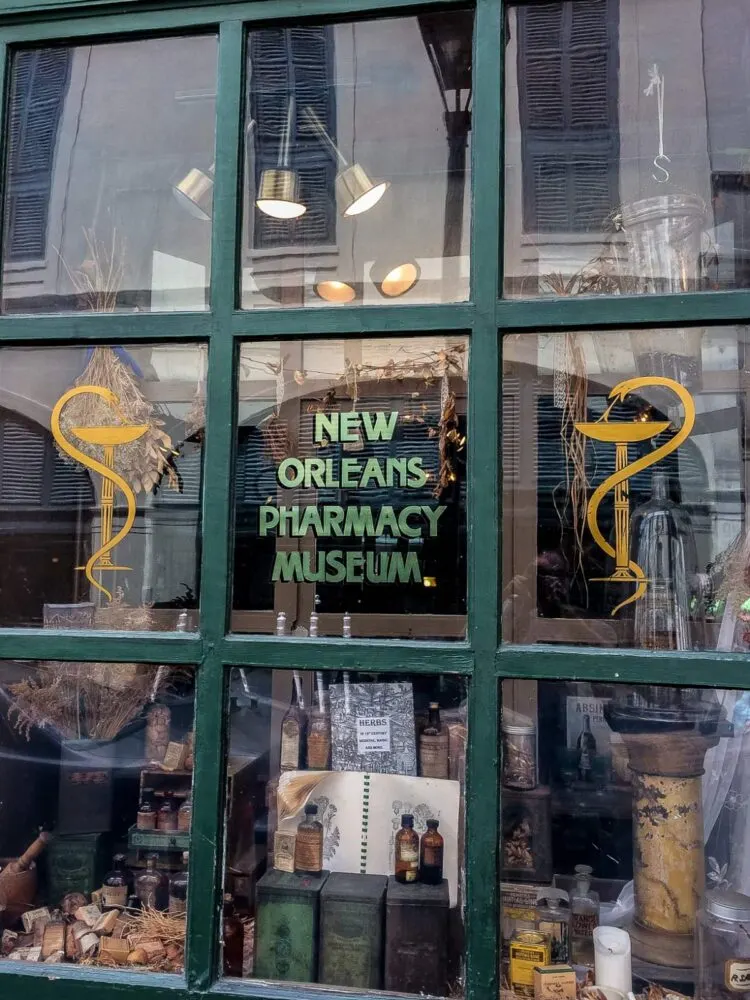 Are you in the mood for some uncanny things to do in NOLA?
Try visiting the New Orleans Pharmacy Museum. The place where the museum is located is listed at the National Register of Historic Places.
As with the name, this NOLA museum focuses on past and present matters regarding pharmacy and healthcare in Louisiana.
At the New Orleans Pharmacy Museum, you can view different items about wellness, including voodoo potions and questionable medical practices.
The museum also pays tribute to Louisiana resident Louis J. Dufilho Jr., America's first licensed pharmacist.
28. Bike through Bayou St. John
A stroll around picture-perfect Bayou St. John is one of the fun things to do in New Orleans.
This New Orleans neighborhood is best appreciated by those who would like a moment or two away from the busy city yet still feel like they are in the same eclectic space.
At Bayou St. John, you can rent a Blue Bike, New Orleans' bike-sharing program, and start exploring picturesque streets adorned with Creole homes.
Afterward, head over to the Bayou and enjoy some relaxing activities by the water. These include yoga, kayaking, and paddle boarding.
29. Marvel at the Backstreet Cultural Museum collections
The historic Faubourg Tremé neighborhood is the home of the Backstreet Cultural Museum. A visit to this museum is among the best activities in New Orleans to do for a better appreciation of the African American culture.
The museum may have just formally opened in 1999, but its history dates back further when Sylvester Francis started documenting Mardi Gras and other celebrations out of passion.
He started by photographing people and events and then giving them their copies for free. Together with other enthusiasts, the same people were the same ones who generously donated costumes and parade paraphernalia – until his collection was huge enough to form a museum.
30. Shop at Magazine Street
Shopping at Magazine Street is one of the many fun things to do in New Orleans – especially if you have grown tired of the common mall experience.
Magazine Street lets you browse through various shopping and dining options that complement the homes and bed and breakfasts tucked in between.
You are spoiled with six miles of local and international brands at Magazine Street – with a distinct bias to the former.
During the first Saturday of the month, many shops at Magazine Street offer special deals, exclusive discounts, and in-store activities.
31. Bring the kids to the Louisiana Children's Museum
Bringing the kids to the Louisiana Children's Museum is on top of our list of what to do in New Orleans for the whole family.
LCM is basically 56,000 square feet of the learning environment – with a generous dose of fun on top.
There are many types of experiences awaiting everyone at the Louisiana Children's Museum. You can choose to "Dig into Nature" and learn how animals are cared for when they are unwell.
You can also "Follow that Food" and see how your favorite fruits and vegetable journey from the farm to the grocery store and right to your table.
32. Experience the French Market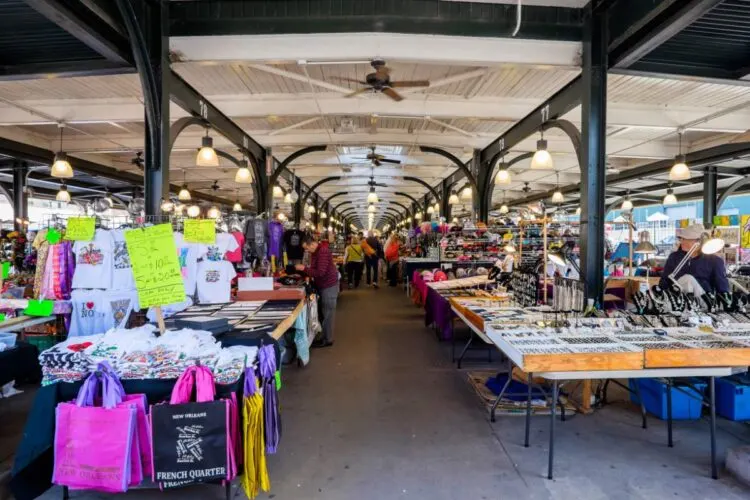 A trip to the French Market is one of the fun things to do in New Orleans. Aside from the great opportunity to score unique finds and local fares, you can also see the community at its liveliest.
The French Market's history dates back to 1791, and although the market has seen many renovations since then, the commerce and culture live on.
The open-air French Market brings the Flea Market and the Farmers Market together in one location. At the heart of this destination, you'll find the Dutch Alley, wherein art and fine crafts take the spotlight.
33. Participate in the Second Lines tradition
The Second Lines is one of the most amazing things to see in New Orleans.
What is it, and why has it become a tradition to the Big Easy?
The Second Line is a form of a parade consisting of the "first line," a brass band joined by the group members being celebrated, and the "second line," which is everyone else who would like to partake in the parade as it passed by.
The Second Lines is not exclusive to happy occasions. You can also witness ones that are done for somber occasions, such as funerals.
34. Tour the Cabildo
Touring the Cabildo is one of the fun things to do in New Orleans, not only for its great-looking building but also for its many stories to tell.
The Cabildo is located at Jackson Square, right at the center of the French Quarter. It is a historic three-story building that houses a branch of the Louisiana State Museum.
Inside The Cabildo, you will find the mold for Napoleon's death mask, among many other historical works. You will also see relatively new additions, such as artifacts that have survived the devastating Hurricane Katrina.
In the past, this Spanish Colonial building served as the seat of government during the Spanish colonial period.
35. See the St. Louis Cathedral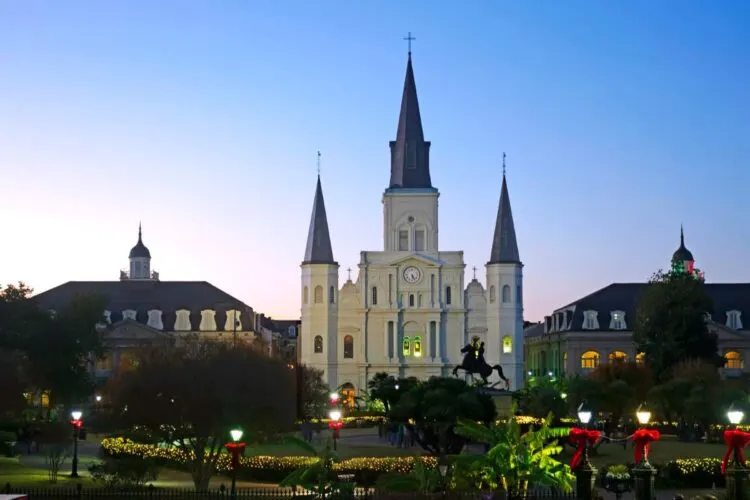 One glance at the St. Louis Cathedral, and you'll surely see why a visit to it is one of the things to do in NOLA.
Along with its equally important neighbors, the Cabildo and the Presbytere, the cathedral adds beauty and elegance to the surroundings of the French Quarter.
The current structure is not the original St. Louis Cathedral, built in the early 1700s. It was the third structure to be built in the location after the first and second had been destroyed.
Once you enter the cathedral, a self-guided brochure is available to help you know more about the place.
36. Enjoy BBQ and music time at Hogs for the Cause
Two of the most fun things to do in New Orleans are joined together at the event called Hogs for the Cause.
Imagine eating great barbecue and enjoying fabulous music – all for the benefit of Pediatric Brain Cancer patients and their families.
Hogs for the Cause, which runs for two days, brings barbecue masters, chefs, and cooks to compete in different categories.
It also provides a big venue for New Orleans musicians and national musical acts to play and entertain the masses.
37. The Presbytère Museum
The Presbytère has a very interesting history. Designed to match the nearby Cabildo and the St. Louis Cathedral, it was first called Casa Curial or Ecclesiastical House because it was built in the home of the Capuchin monks.
If you're thinking of what to do in New Orleans, visiting The Presbytère Museum is a must.
Here, you can find different costumes and artworks used in Mardi Gras celebrations.
You can also come to see the exhibit entitled "Living with Hurricanes: Katrina and Beyond." This $7.5 million addition to the museum gives you a deeper understanding of the devastation brought about by Hurricanes Katrina and Rita in 2005.
38. Attend the New Orleans Literary Festival
Officially known as the Tennessee Williams and New Orleans Literary Festival, this event in the Big Easy is a celebration of all things literature, with a special spotlight on Tennessee Williams' timeless works.
The Literary Festival runs for five days. It is among the fun things to do in New Orleans, especially if you are a traveling bookworm.
Expect to witness some great writing workshops, theater events, and book fairs in this annual festival that happens every springtime.
Also, don't miss the one-of-a-kind interviews that they have with legendary guest writers and actors.
39. Go on a Distillery Tour at the Old New Orleans Rum Distillery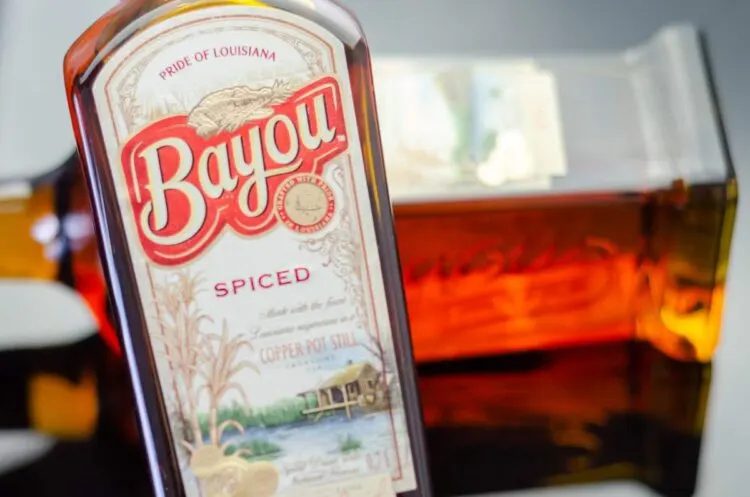 Going on a distillery tour is on everyone's list of the best activities in New Orleans.
There is no better place to do it than at the Old New Orleans Rum Distillery. Book a tour and let your experienced guide take you behind the scenes of the oldest yet still operational rum distillery in the United States.
The distillery handles tours under the name Celebration Distillation. For 45 minutes, expect to taste the best rums and learn how to make the coolest rum cocktails.
40. Relax to live jazz at the New Orleans Musical Legends Park
A trip to the New Orleans Musical Legends Park is one of the uncommon yet fun things to do in New Orleans.
Found in the famous Bourbon Street, this small park is dedicated to New Orleans musicians that helped shape the culture and heritage of the city.
Here, you'll find life-sized bronze statues of local artists such as Al Hirt, Pete Fountain, and Fats Domino.
Have a seat at one of the park's benches and listen to some live jazz music. Within the park, there is Cafe Beignet, best known for – of course – coffee and beignets.
41. Party at Mid City Lanes Rock 'n' Bowl
It's impossible to run out of what to do in New Orleans. The place is filled with interesting places offering fun activities – some of which even merge one with another.
That is exactly what's happening at the Mid City Lanes Rock 'n' Bowl. You might just ask yourself: are you in a nightclub with a bowling alley, or are you in a bowling alley with a great nightclub?
Don't bother answering, because once you're here, it would not matter anymore. What matters is that you are dancing, drinking, and bowling – all in one location.
42. Be intrigued by the Abita Mystery House
A visit to the Abita Mystery House is one of the fun things to do in New Orleans, especially if you are the adventurous type.
Originally called the UCM Museum (to jokingly sound as U-C-M-U-C-M,) this mystery house is a roadside attraction set in a vintage 1930s gas station. It is not in NOLA but is in the nearby Abita Springs in Louisiana.
The drive to the Abita Mystery House is worth it, especially if you fancy seeing weird and wonderful things such as "Crisco the Dancing Clown" and the "New Orleans Jazz Funeral."
43. Have a drink at the Carousel Bar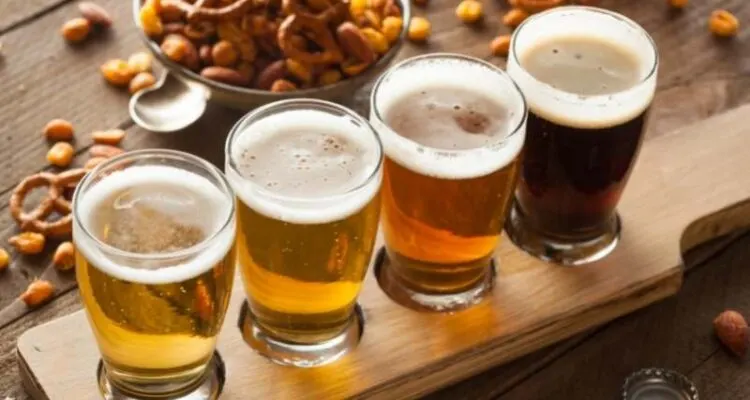 It was in 1949 that a vision of a rotating bar came to life. Dubbed as the Carousel Bar, this place in Hotel Monteleone has been serving curious visitors and VIPs for a long time.
A visit to the Carousel Bar is truly one of the things to do in NOLA. Pick one out of the 25 seats and feel the bar go in full yet slow rotation in a span of 15 minutes.
Set aside the gimmick, and you still have perfectly curated drinks waiting for you at the bar. If you're in for an original, order the Vieux Carré Cocktail or The Goody.
44. Bike through Crescent Park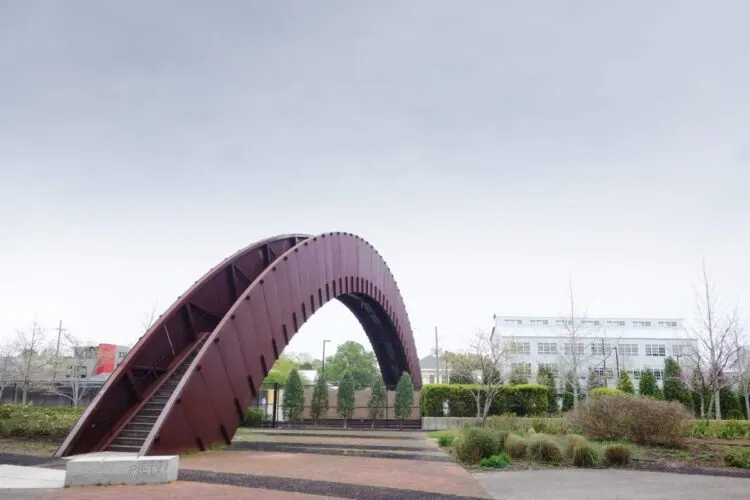 If you have exhausted all the fun things to do in New Orleans and would like a bit of relaxation, head over to Crescent Park.
Located at the French Market District, this 20-acre park is perfect for biking as it gives you endless views of the Mississippi River.
If you are also the kind to not skip exercise even during travels, Crescent Park is suitable for running, jogging and meditation.
45. Dine in at Antoine's Restaurant
Ask a local about what to do in New Orleans, and they will surely recommend you dine at Antoine's Restaurant.
What makes Antoine's Restaurant so special?
First of all, it is the oldest family-run restaurant in the United States. The establishment welcomed its first visitor in 1840.
Second, its dedication to French-Creole cuisine has given birth to some classic New Orleans dishes. Some of these include the Oysters Rockefeller and Pompano en Papillote.
Best Places to visit in the USA
About the Author
More info
Best VPN for Travel: ExpressVPN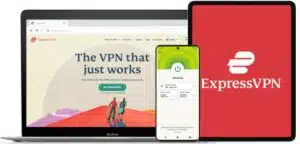 Heading abroad? Use ExpressVPN to access your social media accounts, unblock your favorite entertainment sites, and stay connected with friends and family. And get cheaper flights, of course.
Pros
✅ Next-gen, high-speed servers in 94 countries
✅ Works on iOS, Android, Windows, Mac, Linux, browsers, and more
✅ 256-bit AES encryption protects your data, even on hotel Wi-Fi
✅ Unblocks Netflix and other streaming sites
Cons
❎ No dedicated IPs
Get 3 extra months free of ExpressVPN when signing up for a 1-year plan. That's a 49% saving and a monthly cost of just $6.67! You also get a 30-day money-back guarantee.