Are you all set to enjoy the best things to do in New Orleans? Lose yourself among the best New Orleans hotels and make your stay at The Big easy, comfortable and memorable.
Many of the best things to do in New Orleans are deeply rooted in the city's history. In fact, it is among the best places to visit in the USA if you like a good mix of history and culture.
Your introduction to New Orleans' beautiful past actually starts with its iconic accommodations. Many of the best New Orleans hotels date back to as early as the 1700s, with a lot of them beautifully celebrating European-style architecture.
The Royal Sonesta, for example, has been in the business of providing luxury to guests since 1721. Hotel Monteleone, on the other hand, is a family-owned-and-operated hotel from 1886 until today.
Just imagine the historical stories they hold and the iconic people they welcomed throughout the year.
What's even better is that you have the chance to stay in any of these best New Orleans hotels on your trip to The Big Easy!
Best New Orleans Hotels
1. Astor Crown Plaza
Recommended by Michelle from That Texas Couple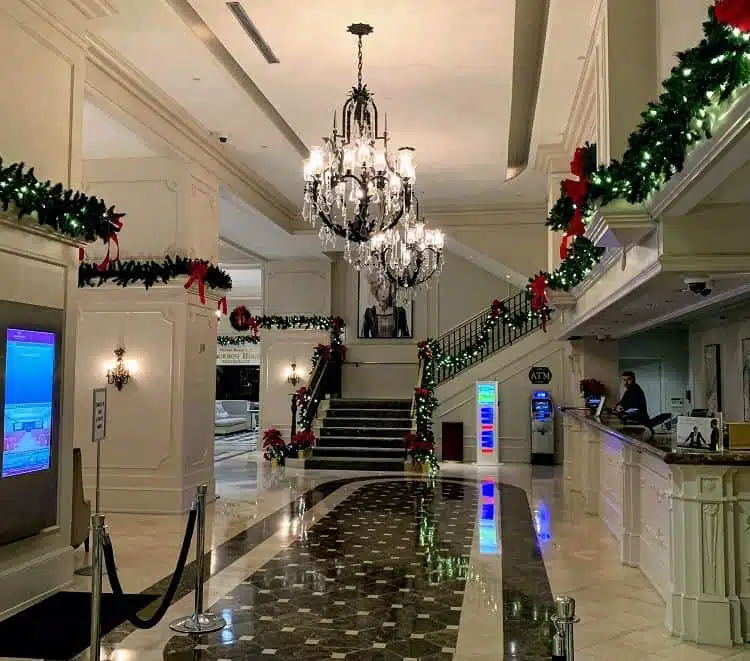 A visit to New Orleans should be on every couple's bucket list. This fabulous city is a mecca for live music, incredible history, and great food. You can visit New Orleans repeatedly and never have the same experience.
Of course, part of planning your trip to New Orleans will definitely include finding the best hotels in New Orleans.
I'm sure that you are looking for a centrally located hotel with great customer service and awesome amenities. Well, the Astor Crowne Plaza Hotel in New Orleans might be just what you are looking for.
The Astor Crowne Plaza boasts a great location right on the corner of Canal and Bourbon Streets. This prime location allows you to easily explore the French Quarter while being close enough to the trolleys so that you can visit other areas of the city as well, like the beautiful Garden District.
You will feel right at home at The Astor Crowne Plaza. The facility has spacious rooms, on-site business services, a fitness center, and a rooftop pool.
Guests will definitely want to enjoy the onsite restaurant and bar, The Bourbon House. The Bourbon House serves up great seafood and creole food, and their bar invented the famed bourbon milk punch, so be sure to try one of those for sure!
For reviews, photos, and/ or to make a booking, check: Booking.com|Agoda
2. Sheraton New Orleans
Recommended by Annick from The Common Traveler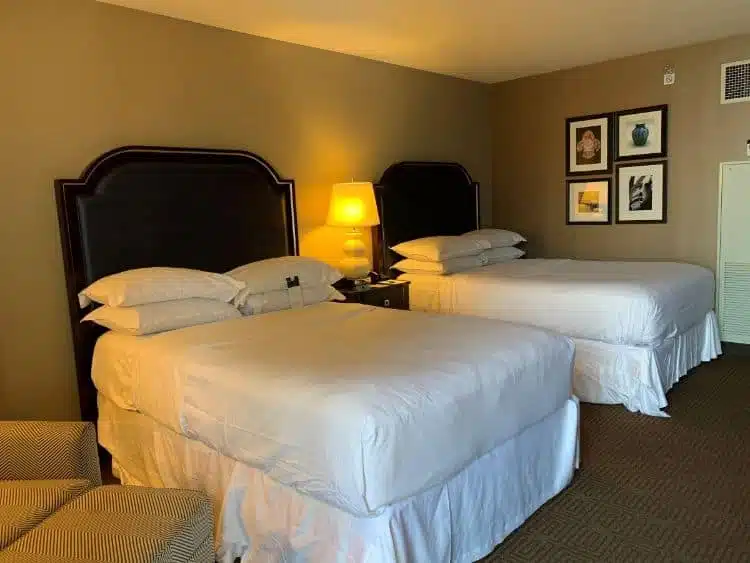 Located on the famous Canal Street, Sheraton New Orleans Hotel is ideal for enjoying your NOLA adventures.
This hotel is within easy walking distance of Bourbon Street, the Warehouse District, and the Cruise Terminal, making it an attractive stay for visitors who want to see and enjoy the best the city offers.
The New Orleans streetcars stop just outside the front steps is the perfect way to discover other areas.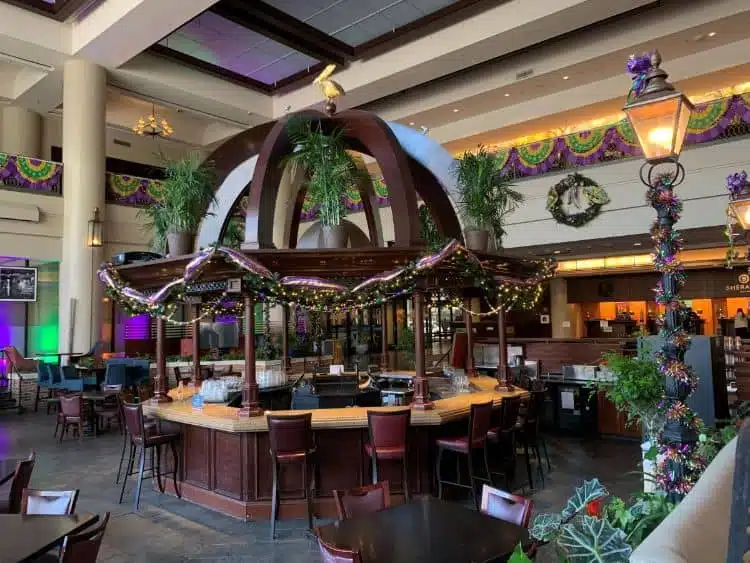 The lobby decor features the artwork of George Rodrigue, a native of nearby New Iberia, Louisiana, lending a whimsical appearance to the hotel. After checking in, guests access two banks of elevators controlled by key card access.
Settle into your room, which will include a desk, a lounge chair, and comfy bedding. The luxurious rooms feature floor-to-ceiling windows featuring the best views of the Mississippi River and the surrounding French Quarter.
Get your caffeine jolt in the morning in the Starbucks conveniently located in the hotel lobby. The Pelican Bar in the lobby serves as a meeting place for groups leading off on an adventure.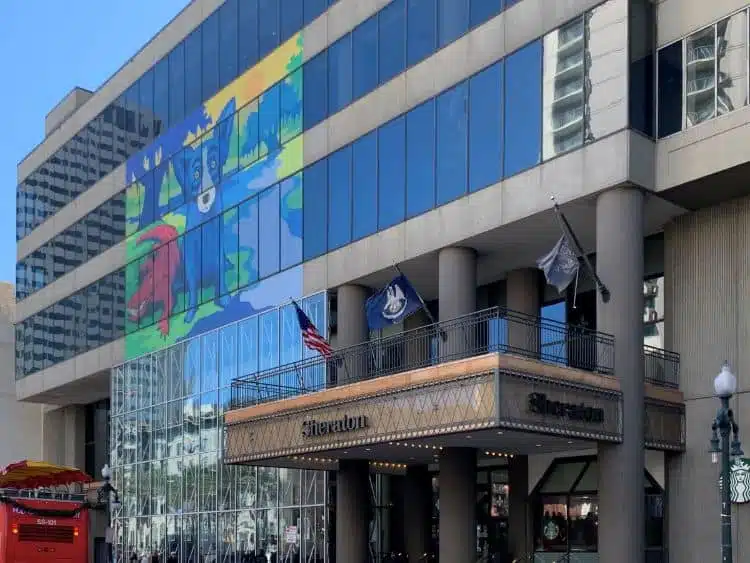 Don't be surprised if a jazz band plays by as the hotel hosts conferences and special events! After a day of exploring the city, guests can cool off in the rooftop pool.
The hotel lobby includes a gift shop where you buy some of the best souvenirs from New Orleans to return to your loved ones.
For reviews, photos, and/ or to make a booking, check: Booking.com|Agoda
3. The Eliza Jane
The Central Business District can be quite busy, but as you enter through the doors of The Eliza Jane, you'll feel as if you are in another place.
This luxurious accommodation is among the top-rated hotels in New Orleans. It is conveniently located at Magazine Street, in the oldest neighborhood in the city that is the French Quarter.
A total of 196 rooms are curated to bring an upscale residential atmosphere. Determined to keep highlights of the original establishment, the Eliza Jane proudly features brick walls and ceiling beams, among others.
The Eliza Jane is among the Hyatt boutique hotels that make up the brand's Unbound Collection.
For reviews, photos, and/ or to make a booking, check: Booking.com|Agoda
4. Windsor Court Hotel
The Windsor Court Hotel at Gravier Street is consistently on everyone's best New Orleans hotels list. Its luxurious ambiance surprisingly goes well with the city's laid-back atmosphere appropriately dubbed as The Big Easy.
It's all about space and elegance at the Windsor Court Hotel. Book one of their Premium Suites and enjoy delightfully spacious his and hers amenities and unparalleled views of the Mississippi River.
One of the property's outstanding features is The Grill Room, an acclaimed fine-dining restaurant for Contemporary American cuisine.
For reviews, photos, and/ or to make a booking, check: Booking.com|Agoda
5. Royal Sonesta Hotel, New Orleans
New Orleans' famous Bourbon Street is home to the beautiful Royal Sonesta Hotel, luxurious accommodation with 483 guest rooms and suites to boast.
If you are the type to stay where the action is, the Royal Sonesta is your choice among the best New Orleans hotels.
Book a Bourbon Balcony room and take delight in the street view that showcases the street in its liveliest.
When it's time to unwind at night, head over to The Jazz Playhouse and have a taste of New Orleans' jazz culture and enjoy it with the crafted cocktails and tasty appetizers.
For reviews, photos, and/ or to make a booking, check: Booking.com|Agoda
6. Hotel Monteleone
One look at Hotel Monteleone and you're sure the place is first class. You can see it from the way the entrance is tastefully dressed, right until you reach your luxurious suite.
From the way it elegantly presents itself to the discerning guests, it just fits to situate such a sophisticated gem at Royal Street.
Hotel Monteleone comprises 900 rooms, each taken care of by professional staff committed to representing this historic property's outstanding reputation.
The hotel, a family-owned business, has been serving the French Quarter and the whole of New Orleans since 1886.
For reviews, photos, and/ or to make a booking, check: Booking.com|Agoda
7. Ritz-Carlton New Orleans
It's hard to pass by Canal Street and miss the resplendent Ritz-Carlton. Aside from the fact that it occupies a whole city block, its 1908 Beaux Arts Maison Blanche building is also a true eye-catcher.
The Ritz-Carlton is undeniably one of the best New Orleans Hotels to date. Opt for a suite with a balcony overlooking New Orleans to make your stay sweeter.
While you're here, be sure to avail yourself of one of the 100 spa services which you can get at the Ritz-Carlton Spa, the city's biggest when it comes to size. Get intrigued and try their signature treatment which makes use of coffee and praline.
For reviews, photos, and/ or to make a booking, check: Booking.com|Agoda
8. The Roosevelt New Orleans, A Waldorf Astoria Hotel
The Roosevelt is part of Waldorf Astoria's collection of luxurious accommodations. It is located in Roosevelt Way and is a classic landmark of New Orleans.
Roosevelt has been in the luxurious scene since the early 1900s. Its 504 rooms are beautifully designed and are equipped with modern amenities fit for VIPs.
Indulge in one of their Luxury Suites and enjoy the benefits of having a private garden and a spacious living room, among others. When the evening comes, find your way to the iconic Sazerac Restaurant and order – of course – the Sazerac, the "official cocktail of New Orleans."
For reviews, photos, and/ or to make a booking, check: Booking.com|Agoda
9. Audubon Cottages
Bespoke luxury meets utmost privacy at Audubon Cottages in Dauphine Street, New Orleans.
Imagine staying at an 18th-century cottage complete with a private courtyard and top-rated customer service.
Audubon Cottages is among the few best New Orleans Hotels that give premium to privacy. Book one of their seven luxurious cottages, which come with a knowledgeable butler at your disposal.
One of the many things that make the Audubon Cottages stand out is the outdoor heated saltwater pool, which is the oldest in all of the French Quarter.
For reviews, photos, and/ or to make a booking, check: Booking.com|Agoda
10. Pontchartrain Hotel
If you want to stay away from the hustling crowd, the charming Garden District is your perfect location. The Pontchartrain Hotel is among the best New Orleans hotels in this neighborhood.
Situated in St. Charles Avenue, the Pontchartrain Hotel is conveniently located along the St. Charles Streetcar route, so exploring is a breeze.
I am just not sure how you can choose to leave such an elegant surrounding, with its 14 stories intricately designed with old-school flair and purposefully equipped with modern amenities.
Fancy drinking at Frank Sinatra's favorite? Head to the hotel's Bayou Bar and enjoy their extensive line of whiskey and beer.
For reviews, photos, and/ or to make a booking, check: Booking.com|Agoda
Best VPN for Travel: ExpressVPN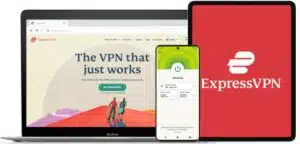 Heading abroad? Use ExpressVPN to access your social media accounts, unblock your favorite entertainment sites, and stay connected with friends and family. And get cheaper flights, of course.
Pros
✅ Next-gen, high-speed servers in 94 countries
✅ Works on iOS, Android, Windows, Mac, Linux, browsers, and more
✅ 256-bit AES encryption protects your data, even on hotel Wi-Fi
✅ Unblocks Netflix and other streaming sites
Cons
❎ No dedicated IPs
Get 3 extra months free of ExpressVPN when signing up for a 1-year plan. That's a 49% saving and a monthly cost of just $6.67! You also get a 30-day money-back guarantee.