On a hunt for the ultimate list of fun things to do in Atlanta, GA? Learn more about the different Atlanta attractions that should be on your list – including prime spots frequented by celebrities!
Atlanta, Georgia is among the best places to visit in the USA if you like to have a bite of everything – history, nature, art, food, animal life, pop culture… the list can go on.
It is truly a complete destination, with all the Atlanta attractions capturing just about anything a traveler would like to see.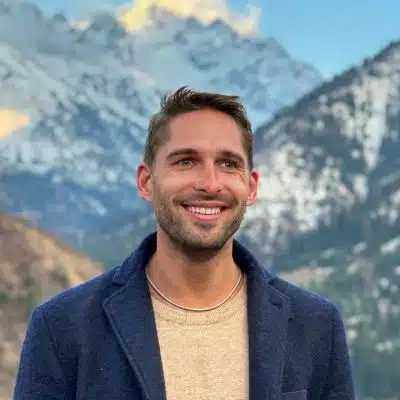 As the city of Washington DC, Atlanta is home to many destinations that help you travel back through time and learn more about politics and history.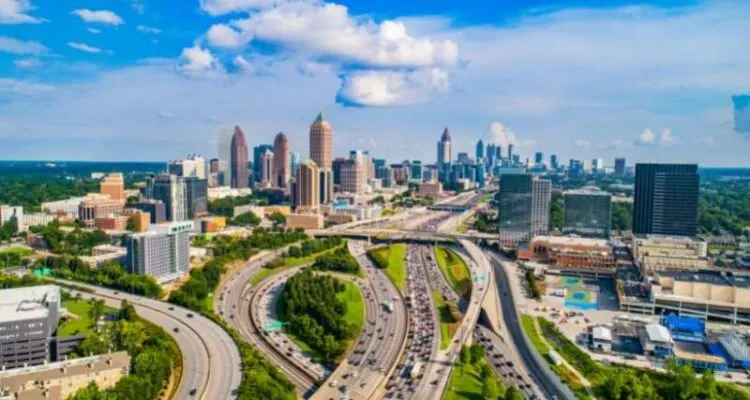 One of the world's most important figures, Martin Luther King Jr., was born and raised in Atlanta, GA.
Aside from King's burial ground being here, you can immerse yourself in the rich history surrounding the civil rights movement through various exhibits, prominent landmarks, and must-see museums within the city.
If this sounds too serious for your taste, do not worry because your list of things to do in Atlanta can easily be a mix of both historical stuff and good fun with the addition of several green locations.
The stunning parks in Atlanta, such as the Centennial Olympic Park and Piedmont Park, can truly be placed side by side with the elaborate parks in Seattle.
Atlanta shares the podium with New York and Chicago for the best places to visit in the USA when food is your primary reason for travel.
The city's range of comfort food never fails to capture the hearts of visitors trying them for the first time.
If ever you like spotting celebrities and enjoying fine things in life, Atlanta will surely be your cup of tea.
The A-lister's idea of fun things to do in Atlanta is easily yours for the taking.
Whether you feel like eating a sumptuous serving of steak with the best of the best crowds or are in the mood for a relaxing night filled with tasteful music and great cocktails, upscale Atlanta is ready to serve you.
Fun Things to do in Atlanta GA
1. Historic Oakland Cemetery
Recommended by Jordan from The Solo Life blog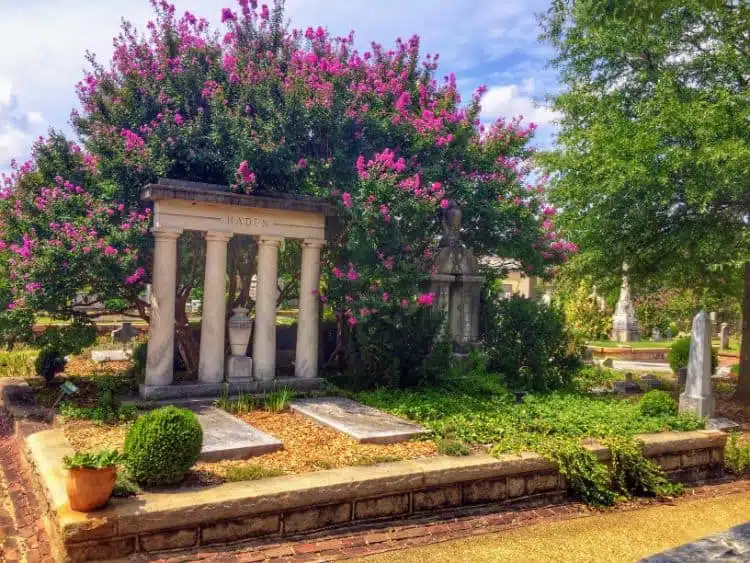 Atlanta, Georgia, is well-known for many great attractions, including the World of Coke, the Georgia Aquarium, and the College Football Hall of Fame.
But if you're more interested in hidden gems or off-the-beaten-path activities, don't miss a visit to Historic Oakland Cemetery.
Not your average cemetery, Oakland Cemetery is a 48-acre green space in the heart of downtown Atlanta that offers history, gardens, architecture, and an escape from the city.
History buffs will enjoy exploring the grounds and learning about Atlanta's history through its residents, from prominent citizens to everyday people.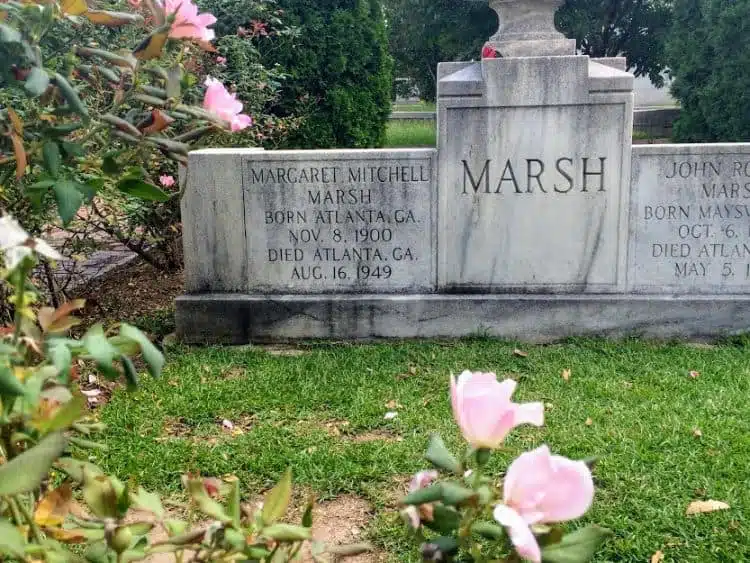 A few famous gravesites include Margaret Mitchell, author of Gone with the Wind, and the first African American mayor of Atlanta, Maynard Jackson.
For even more history, a variety of tours are offered throughout the day and festivals and events throughout the year.
For those looking for a tranquil park to enjoy the outdoors without having to leave the city, Oakland Cemetery is also the perfect spot.
With extensive gardens and green space throughout and numerous benches and places to sit, the cemetery is ideal for nature lovers.
Free parking, free entry, and the fact that dogs (on leashes) are welcome and picnics are allowed make the cemetery even more appealing.
Anyone interested in unique things to do in Atlanta involving history or the outdoors should make a trip to Historic Oakland Cemetery.
2. Martin Luther King, Jr. National Historic Park
Recommended by Francesca from Homeroom Travel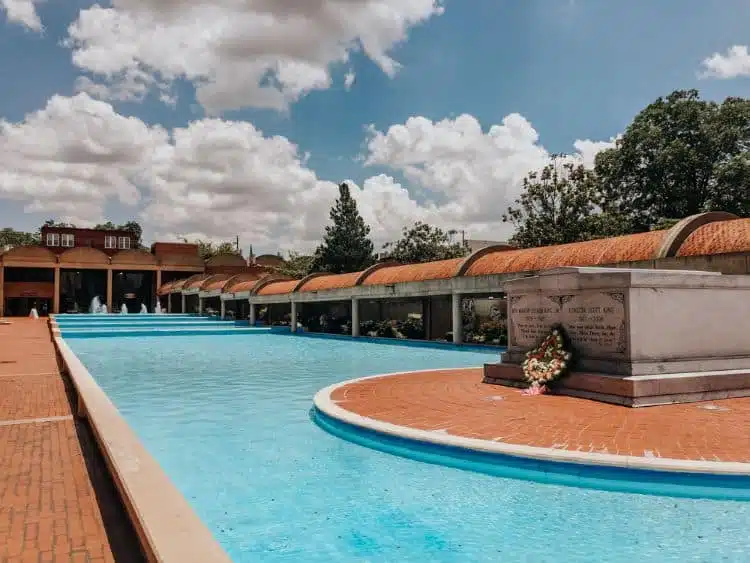 Martin Luther King, Jr. National Historic Park is one of the fun things to do in Atlanta, GA.
This National Park is dedicated to the life of Martin Luther King, Jr. and contains several buildings important in his life. Admission into this historic site is free, which is great for the budget traveler.
It is open from 9 am – 5 pm almost every day. In total, the park is 35 acres and can be seen in a couple of hours.
Visitors can opt to tour MLK's birth home. This tour lasts 30 minutes, and you will need a ticket to go on a tour. Tours are first-come-first-serve and free to the public.
Make sure to get there early in the day and get your tickets first thing if interested in touring the birthplace of MLK, Jr.
Other interesting buildings to visit include the Ebenezer Baptist Church, where King was a pastor and baptized, a historic fire station, and the Visitor's Center.
The Visitor's Center contains a museum that gives a great overview of King's life and accomplishments and the D.R.E.A.M Gallery, a rotating selection of special exhibits.
A stroll through the "I Have a Dream" rose garden makes for a lovely walk. Lastly, make sure to stop by the King Center and pay your respects to Dr. King and his wife at their gravesites.
3. Music Midtown Festival In Piedmont Park
Recommended by Lara from Both Feet On The Road
Piedmont Park is a beautiful large urban park, which is already one of the great things to do in Atlanta.
But what if I told you there is an even better way to explore Piedmont Park?
Yes, that's right, there is a unique and memorable way to spends a day in Piedmont Park! Because what's better than visiting this stunning urban park while also enjoying live music at one of the best festivals in Atlanta?
Exactly, nothing!
Music Midtown is one of those great festivals, and it's held annually every third weekend of September. You can expect a mix of rock backs, hip-hip artists, and top 40 pop artists.
Music midtown not only hosts big international names, but it also provides a platform for local smaller artists. In other words, Music Midtown has something to offer for anyone.
Even if you don't know any of the artists in the line-up, the beautiful background of Atlanta, the open-air festival, and (generally speaking) great September weather in Georgia make Music Midtown one of the best things to do in Atlanta.
As it's a two-day festival, tickets to Music Midtown are quite pricy (around 350 $), but you do get two awesome days in Piedmont Park in return.
4. High Museum of Art
Many of the best places to visit in the USA have a couple of attractions dedicated to appreciating the arts.
The Museum District in Houston alone has six of the biggest art museums in Texas!
Come to Atlanta, GA, and you shall see an art museum that is truly one-of-a-kind. The High Museum of Art starts to wow the crowd from the outside, tastefully designed by Richard Meier.
People who visit the museum speak highly of the different collections of contemporary and historical art displayed there.
The High's permanent collection alone counts to more than 15,000. What was once a stately home is now a well-regarded art museum in the Southeast.
5. Centennial Olympic Park
A visit to the Centennial Olympic Park is among the fun things to do in Atlanta, GA.
The park is 21 acres big and has served as a special place purposefully built for the 1996 Olympic Games.
As in any grand Olympic venue, it is up to the city to make the venue relevant after the competitions. Good thing, with Atlanta, the cheers may have faded, but the structures live on.
Get yourself a walking map of the Centennial Olympic Park and see the many things you can discover there for free. If you are thinking of things for kids to do in Atlanta, a visit to the park is a must.
Once they see the famous Fountain of Rings, I am sure the kids (and kids at heart) can't help playing in the water. It's the place to get soaked and have fun with the lights and sounds.
6. Piedmont Park
Fancy having a playground that covers 200 acres of lush surroundings and activity grounds?
That is exactly what Piedmont Park is. Not only is the park a beautiful place to unwind, but it is also a perfect place to hold big events. In fact, the famous Atlanta Jazz Festival is held here.
Piedmont Park is near one of the naturally beautiful Atlanta attractions, the Atlanta Botanical Garden. You can easily make a simple and relaxed itinerary containing these two places to visit in Atlanta.
If you are looking for free fun things to do in Atlanta, GA, an afternoon at Piedmont Park is definitely for you. Should you plan to use amenities at the park-like the public swimming pool, minimal charges apply.
7. Atlanta Botanical Garden
Are you the type who enjoys being surrounded by nature? Maybe, during your recent trip to New Orleans, you found immense joy in the City Park's Botanical Gardens.
You will be thrilled to know that Atlanta has its own piece of plant-filled paradise. The Atlanta Botanical Garden prides itself on being one of the gorgeous Atlanta attractions that continuously evolve.
During your visit, be caught by surprise by the larger-than-life plant installations that speak of magical themes enjoyed by visitors of all ages.
Be sure not to miss the Storza Woods, known as one of the few secondary growth mature hardwood forests left in Atlanta.
On your Garden Guide, you will find itineraries that fit your schedule – be it an hour's worth or a full day. A trip to the botanical garden is also one of the fun things to do in Atlanta with kids.
8. Fox Theatre
As the residents call it, the Fox is one of the Atlanta attractions you would not expect to enjoy as much as you will. After all, there are plenty of technologically advanced venues out there that can easily top over it.
However, as you enter the theatre, you will see just how it sets itself apart from the others and just why a visit to it is among the fun things to do in Atlanta, GA.
If you have the time, make it a point to check out in advance what's playing at The Fox so you can add it to your list of activities in Atlanta.
Should you wish to come to the Fox Theatre for all its architectural splendor, partake in their 60-minute tour led by in-house guides who are passionate about telling the stories surrounding every artistic corner – including that of the record-holding theater organ lovingly called Mighty Mo.
9. World of Coca-cola
Are you a fan of the famous soda drink? Are you curious about the great facts surrounding the well-loved beverage?
Did you know that there is a two-story establishment in Atlanta that is dedicated to all things Coke? In fact, it is near two Atlanta attractions – the Georgia Aquarium and the Center for Civil and Human Rights.
Enter the World of Coca-cola and get to know more about the history of the company. Have an in-depth understanding of the bottling process happening behind the scenes.
Don't leave the place without taking part in the unlimited tasting of the different Coca-cola types worldwide!
At the Taste It! The exhibit, a knowledgeable Coca-Cola Ambassador, will be your guide throughout your immersive experience.
Finally, purchase some memorable items to bring home or to give as a gift. From trendy hoodies to collectible merchandise, there is surely one for everyone.
10. Zoo Atlanta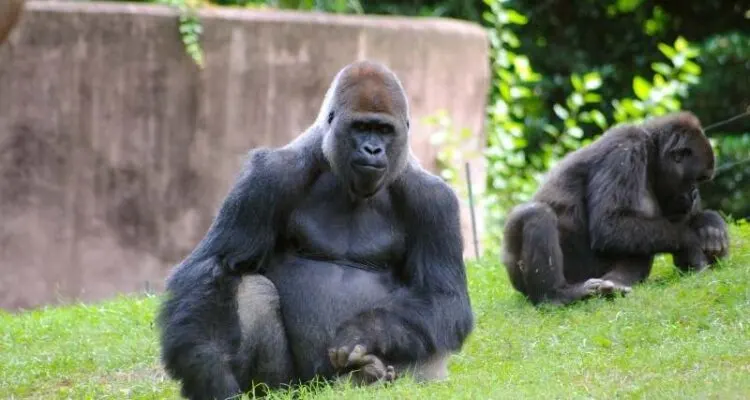 A visit to Zoo Atlanta is among the fun things to do in Atlanta, GA, especially for the whole family.
Zoo Atlanta is a special place because not all zoos in the United States have giant pandas in their care. Should you wish to be near these gentle giants, an Exhibit Interpreter will guide you within a safe distance from the pandas' habitat.
Make your encounter with them extra memorable by signing up to feed an adult panda. All protective gears will be provided onsite to ensure a safe experience.
Aside from the giant pandas, you can also have close encounters with lions, elephants, and Aldabra tortoises. These are experiences that are definitely for the books!
There are three main areas in Zoo Atlanta: The Ford African Rainforest, The Asian Forest, and the Kidzone.
11. Chattahoochee River
What is so special about the Chattahoochee River?
Once you reach the capital of Georgia, you will surely find people asking you to add "shoot the 'hooch" to your list of fun things to do in Atlanta, GA.
The remark means that you must not miss the opportunity to conquer the rapids of the Chattahoochee River.
Near Atlanta, you have 48 miles of pure fun that can be experienced by tubing, canoeing, kayaking, or stand-up paddleboarding. It all depends on whether you would like to go hard or take it easy.
You can also go fishing in the cool waters of the Chattahoochee River. Some of the fishes you can catch here include trout, bass, and catfish.
Before fishing, make sure to educate yourself with Georgia's fishing regulations. The Georgia Department of Natural Resources can help you with that.
12. Georgia Aquarium
Imagine exploring more than ten million gallons of water that are filled with marine species of different kinds! That is possible here at the Georgia Aquarium.
This venue is one of the Atlanta tourist attractions that are perfect for the whole family. Young kids and adults alike will surely enjoy roaming around to see over 100,000 animals.
Among the most famous parts of the Aquarium is its gallery called the Ocean Voyager. The said exhibit is home to whale sharks and manta rays, among others.
Your experience is not limited to just sightseeing. You can actually dive and swim with the sharks at the Georgia Aquarium!
Aside from Atlanta, Georgia, another of the best cities to visit in the USA if you are fond of marine animals is Tampa in Florida. It has the Florida Aquarium, which houses over 14,000 animals.
13. Skyview Atlanta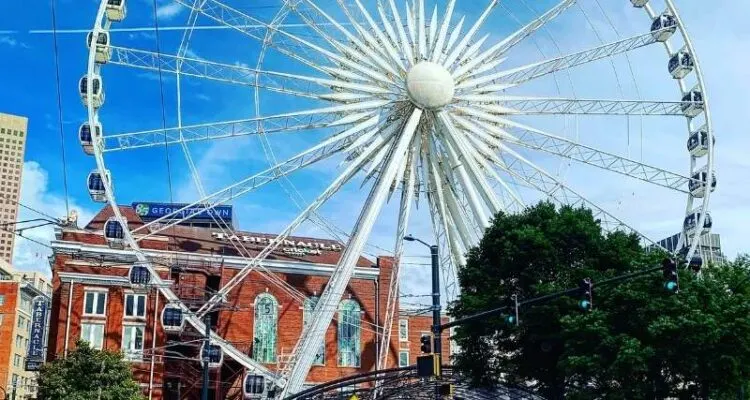 There is arguably nothing more magical than seeing the sky lit up by stars and the skyline colored by the city lights.
That is what you get to experience at Skyview. Dubbed as one of the places to visit in Atlanta, this destination is flocked by residents and visitors alike during nighttime.
Skyview Atlanta is a massive Ferris wheel towering over the capital city of Georgia. It is 20 stories tall, offering an incomparable panoramic view of Atlanta.
You can choose your ride among the 42 air-conditioned gondolas set up to take you safely high up in the skies.
If you feel extra, you can choose to ride the VIP gondola, complete with Ferrari-style seats and glass flooring. This option is perfect for date nights and other special occasions.
If you like taking nice photographs as keepsakes for your travels, a visit to Skyview Atlanta is definitely for you.
14. Fernbank Museum of Natural History
Science and history enthusiasts will find Atlanta, GA, to be definitely rewarding.
A visit to the Fernbank Museum of Natural History is truly one of the fun things to do in Atlanta, GA, especially if the whole family enjoys learning together.
One of the highlights of Fernbank is its immersive 3D Theater which has a massive screen that employs top-notch digital laser projection, which does not only work for 3D but 2D as well.
This museum gem is, in fact, a gift from a local entrepreneur in the name of Dante Stephensen. He desires to foster an encouraging learning atmosphere that will last through generations.
Aside from the museum and the theater, Fernbank also has an outdoor area called the WildWoods and Fernbank Forest. Rain or shine, you get to explore the exhibits and sceneries that makeup 75 acres of the property.
15. Center for Puppetry Arts
Among the Atlanta, Georgia attractions which will speak to your inner child is the Center for Puppetry Arts.
At first, this may sound like a venue only for kids, but if you are a fan of the Muppets – and in general of Jim Henson's work of art – this place is for you.
It is exciting to be inside the Global Collection Gallery. Here, you will find different kinds of puppets from around the world, how they differ but also how they are similar at the same time.
The Jim Henson Collection Gallery, on the other hand, houses the biggest collection of the artist's work. In fact, only 20 percent of the total collection can be displayed at a time.
As described by the Center, Jim Henson is an animator, inventor, filmmaker, screenwriter, and puppeteer. Some of his most celebrated works are for Sesame Street.
16. Ponce City Market
A day at the Ponce City Market is on our list of free and fun things to do in Atlanta, GA.
Ponce City Market is located inside the classic Sears, Roebuck & Co. Building in Atlanta. The historic structure is now reused and repurposed to be a vibrant commercial hub while keeping its ageless interior intact.
If you hunt for some of the best bites in the city, you have to check out the Central Food Hall. The food hall likens itself to Manhattan's Chelsea Market – aptly so because both are under the same developers.
Should you decide to visit Ponce City Market on the weekend, be sure to see what's in store at the Ponce City Farmers Market located just outside the building. From April through November, several local farmers bring their seasonal produce to sell here.
17. Skyline Park
There is a special gem waiting to be found at the rooftop of Ponce City Market.
Literally and figuratively, Skyline Park is on every visitor's list of top things to do in Atlanta. You can find this amusement venue soaring above the historic Old Fourth Ward.
Bring the whole family to a wholesome, fun day full of games and rides at Skyline Park. Some of them are miniature golf, basketball, and horse derby race.
The putt-putt course is a true hit to the kids. The play place is set in the style of Coney Island.
For the ones who like exciting rides, be sure to try the three-story slide. It's 44 feet tall, made from metal, and can accommodate three sliders at a time.
Then, there's the Heege Tower. Climb, strap on and get ready to see the best views of Atlanta.
18. Atlanta BeltLine
The Atlanta BeltLine is a massive project that combines numerous parks and trails. It seeks to connect Atlanta to the people and the people with each other.
You can choose to walk, ride a bike or step on a bus to see the many facets of this Atlanta destination. Should you plan on joining a guided tour, a reservation is made in advance.
A couple of the parks found within the Atlanta Beltline are Arthur Langford, Jr. Park, the Historic Fourth Ward Skatepark, and the Rose Circle Park.
There are also different trails to explore. From north to south, east to west, there are dedicated paths that you can take to reach specific destinations.
While the Atlanta BeltLine is still a work in progress, there are already many phases that you can explore. The project is said to be finished by the year 2030.
19. Stone Mountain Park
Stone Mountain Park is considered one of the most visited attractions in Georgia. Make sure you add a visit to this park to your list of fun things to do in Atlanta, GA.
It is impossible to miss one of the main highlights of the park: the Confederate Memorial Carving. It features three prominent Confederate leaders, namely Jefferson Davis, Robert E. Lee, and Stonewall Jackson.
Aside from viewing the huge sculpture, there are also other activities that you can do within Stone Mountain Park. These include hiking, playing golf, and camping.
Christmas is especially festive at Stone Mountain. The Christmas Parade is one of the many events that residents and locals of Atlanta look forward to each year.
Frequently Asked Questions about Atlanta GA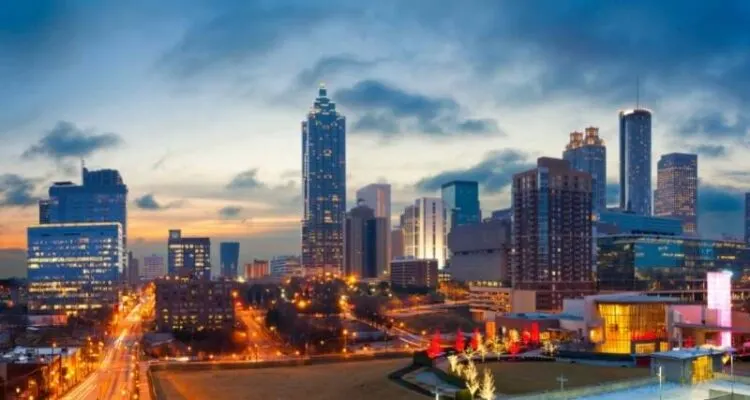 Best VPN for Travel: ExpressVPN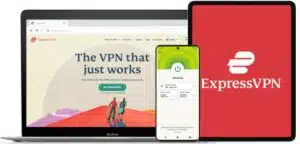 Heading abroad? Use ExpressVPN to access your social media accounts, unblock your favorite entertainment sites, and stay connected with friends and family. And get cheaper flights, of course.
Pros
✅ Next-gen, high-speed servers in 94 countries
✅ Works on iOS, Android, Windows, Mac, Linux, browsers, and more
✅ 256-bit AES encryption protects your data, even on hotel Wi-Fi
✅ Unblocks Netflix and other streaming sites
Cons
❎ No dedicated IPs
Get 3 extra months free of ExpressVPN when signing up for a 1-year plan. That's a 49% saving and a monthly cost of just $6.67! You also get a 30-day money-back guarantee.
What is Atlanta famous for?
Atlanta, GA, is best known for its huge iconic sites such as the World of Coca-cola and the Georgia Aquarium.
Aside from these, Atlanta is also famous for attractions that tell stories about the Civil Rights Movement.
Several prominent people also helped put Atlanta, GA, on the map. They include the leader Martin Luther King, Jr. and the actress Julia Roberts.
What is a must-eat in Atlanta?
With Atlanta being in the south, it is only natural for good fried chicken to be part of your list of must-eat foods in the city.
Aside from this staple favorite, comfort food reigns supreme. You have delectable barbecues, juicy burgers, and sweet treats dominating the restaurant scene.
Is Atlanta a dangerous city?
According to Forbes, Atlanta ranks sixth in the top ten most dangerous cities in the United States.
In their research, there is a Violent Crime Rate of 1,433 per 100,000 residents in Georgia's capital city.
While these statistics make Atlanta a dangerous city in general, your safety when traveling there primarily depends on whether you are going to neighborhoods that residents and guides will advise you to avoid.
Where do celebrities hang out in Atlanta?
If you desire to spot some celebrities on your trip, your fun things to do in Atlanta, GA, must include a nightlife spent in posh places around the capital city.
There is a reason why the place is dubbed as the Hollywood of the South.
Compound Night Club is known to give a good time to plenty of A-listers that happen to be in the area. The Clermont Lounge at the Clermont Motor Hotel is also a famous hangout spot for celebrities when in Atlanta.
Do you want to dine in with the stars? Head over to the famous STK Steakhouse on Peachtree Street and enjoy an upscale dining experience with the chance to spot famous personalities.