Stretching from north of the Equator to as close to Antarctica as you can get (without getting your feet wet), the best places to visit in South America hold plenty of opportunities for every type of traveler.
South America is one of the most varied and culturally rich continents on the planet.
The continent has something for everyone. Foodies will treasure Lima, Peru, voted the best food location in the world. Beach lovers can soak up the sun in Rio de Janeiro.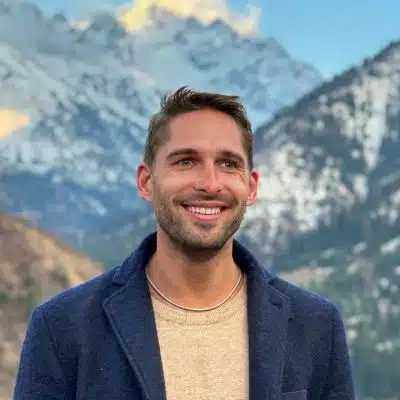 Backpackers can hike the ancient Incan trail or explore the Amazon rainforest. Snowboarders can carve down the slopes of Patagonia or try their hands and sandboarding the dunes of the Peruvian desert.
And perhaps best of all, those who embark on South America vacations will find the continent holds some of the warmest peoples and cultures humanity has to offer.
With so many great options, it can be tough to decide on the best countries to visit in South America.
To lend a hand, I've paired up with a few blogger friends to share our favorite locations.
From Easter Island to Patagonia, Columbia, Iguazu Falls, and more check out this ultimate list of the best places to visit in South America.
1. Banos de Agua Santa, Ecuador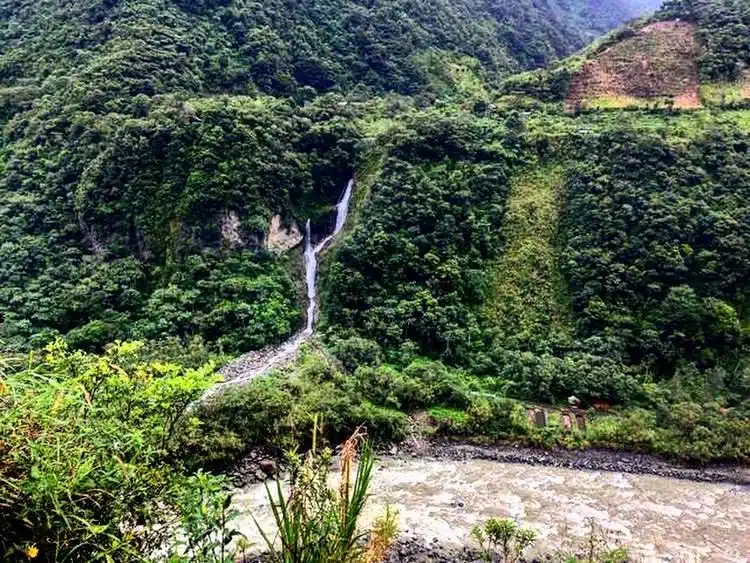 The Ecuadorian city of Baños de Agua Santa (more commonly known in short as Baños) is a must-visit for anyone traveling South America… and I mean anyone!
Whether you're an adrenaline junkie looking to zipline across a valley, an avid hiker seeking new terrain to explore, or just somebody looking to relax and take it easy for a few days, Baños can and will deliver.
Read also: 2-Day-Itinerary Baños, Ecuador.
Some of the more popular activities in Baños are kayaking, rafting, canyoning, and bridge-jumping. Still, the city is also the perfect base to explore the nearby areas, including the remote Llanganates National Park and the Amazon Basin.
Baños is also the starting point of a wonderful cycling route known as the Ruta de las Cascadas, which takes you past some of the most astonishing views and culminates at a fierce waterfall, Pailón del Diablo.
If adrenaline sports and waterfalls aren't your things, you can relax in one of the many hot springs in the area, after which the city was named (Baños de Agua Santa translates into English as Baths of Holy Water).
Finally, featured on the bucket list of every man and his dog, no trip to Baños would be complete without a visit to the world-famous "La Casa del Arbol," better known in the English-speaking world as "The Swing at the End of the World."
You know the one, right?
Although in real life, the swing isn't quite as dramatic as social media leads you to believe, the view of Tungurahua Volcano peaking through the clouds on the opposite side of the valley is absolutely outstanding.
Recommended by Rhiannon from Wales to Wherever
2. Best Places to visit in South America – Perito Moreno Glacier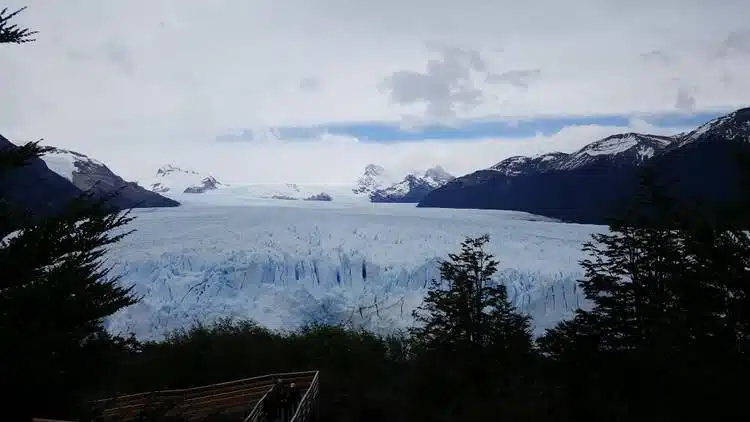 If you're planning on heading to Patagonia in the deep south of South America, then there's one place you simply must visit, which is Perito Moreno Glacier.
Read also: Ultimate List of Best things to do in Patagonia
It is easily one of the world's most famous and most astonishing glaciers and one of the best places to visit in South America. We were fortunate enough to visit in late 2016 and had a truly incredible time.
What's great is that the glacier is constantly melting and moving, with huge chunks of ice breaking off throughout the day.
It's good fun just to stand there, watching the large chunk break away and hearing the loud booming noises as the ice crashes dozens of feet down into the water below.
What this also means is that the glacier looks different throughout the year. It can grow and recede by several meters depending on the weather, so everyone's visit can be different.
Getting to Perito Moreno Glacier is pretty straightforward, and you can catch buses that run regularly from El Calafate.
You might also wish to purchase a trekking tour which takes you in a boat over to the glacier so you can walk across it!
Recommended by Bradley from Dream Big Travel Far
3. Visit the Amazon Rain Forest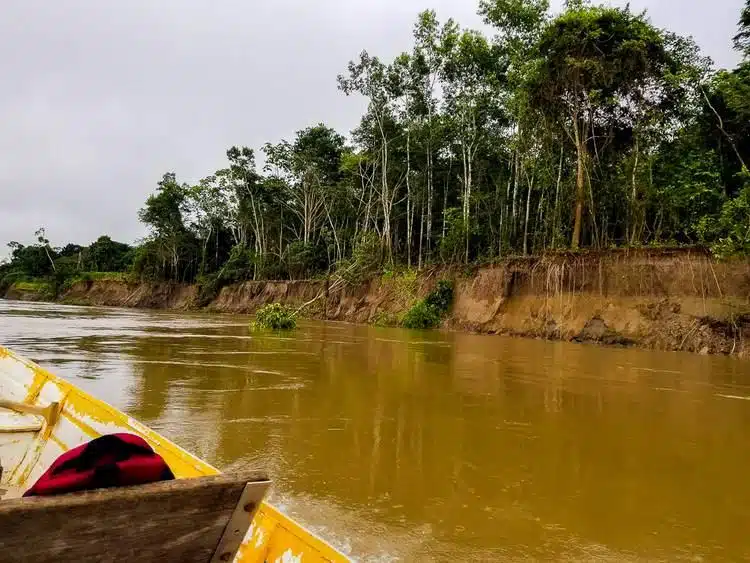 South America is a fantastic combination of great metropolitan cities and beautiful nature. When you think of South America, a few things definitely come to mind, and one of these, for most people, is the Amazon Rain Forest.
The Amazon Rain Forest covers 5.5 million square kilometers and has parts of it in 9 different countries!
While it covers portions of Brazil, Peru, Colombia, Venezuela, Ecuador, Bolivia, Guyana, Suriname, and French Guiana, one of the best countries to explore the Amazon from is actually Peru.
Read also: Ultimate List of Best Things to do in Peru besides visiting Machu Picchu.
This is because, unlike in some of the other countries, you only have to travel a few hours from the nearest airport to experience the Amazon Rain Forest.
Because of its accessibility, visiting the Amazon Rain Forest in Peru is a must to visit South America. I'd recommend spending at least 3-4 days in the Amazon to get the most out of it, but do whatever your itinerary will afford in terms of time.
The best way to maximize your time in the jungle is to stay in a lodge!
It'll give you the experience of actually staying in the jungle and will allow you to get the most out of your visit. Most lodges will help to organize activities that take a lot of the guesswork out of the experience.
The Amazon has a ton to offer, and some of the things to do include water activities on the Amazon, fishing for piranhas, hiking, star gazing, searching for wildlife, and so much more.
Obviously, the Amazon Rain Forest is fairly off the grid, so there are some things to keep in mind, but if you plan ahead for your visit, it'll be a life-changing experience!
Recommended by Liliane from My Toronto, My World
4. best places to visit in South America – Boipeba Island, Brazil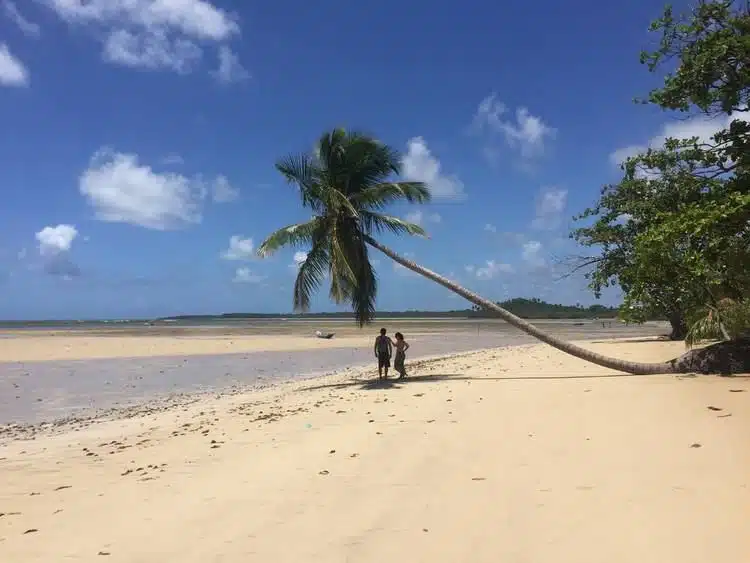 Even though Trip Advisor elected Ilha de Boipeba in 2013 as the second-best island in South America, many people outside of Brazil have never heard of this place.
Located in the Tinharé Archipelago, 240 Km (150 mi) from Salvador, Bahia's capital, Boipeba Island is home to a dense Atlantic forest, with salt marshes, sand dunes, and extensive mangroves, with luscious coconut trees framing the beaches and numerous coral reefs.
It has an incredible ecosystem and is a world of ecological diversity.
The island has a very simple structure and many gorgeous beaches. In fact, some of the best beaches in Bahia are located in Boipeba.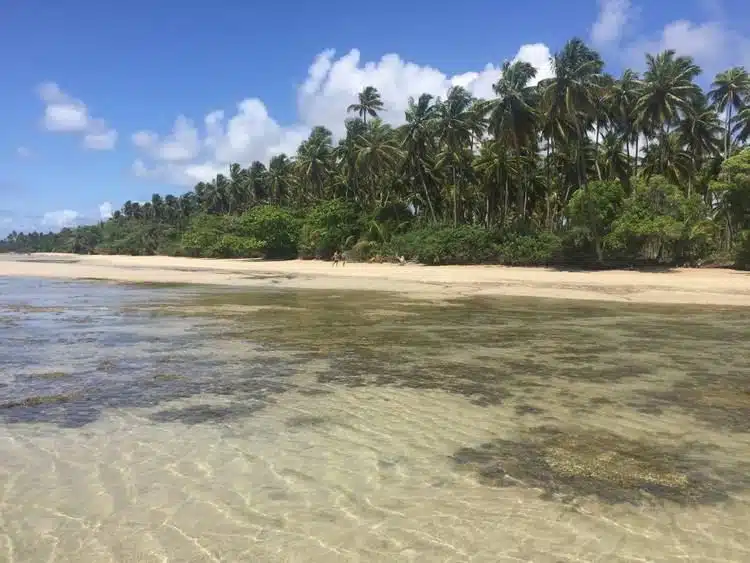 I visited the island in February 2016 and was enchanted by its charming village with cobblestone streets and colorful houses and delighted by the spectacular beaches with soft sand and unbelievably warm water.
Ilha de Boipeba is perfect for those who are looking for tranquility and being in nature. You should definitely visit Boipeba next time you're in Brazil.
It's one of the best places to visit in South America, and I promise that you will just love it as much as I did.
Recommended by Péricles from 7 Continents 1 Passport
5. Santiago de Chile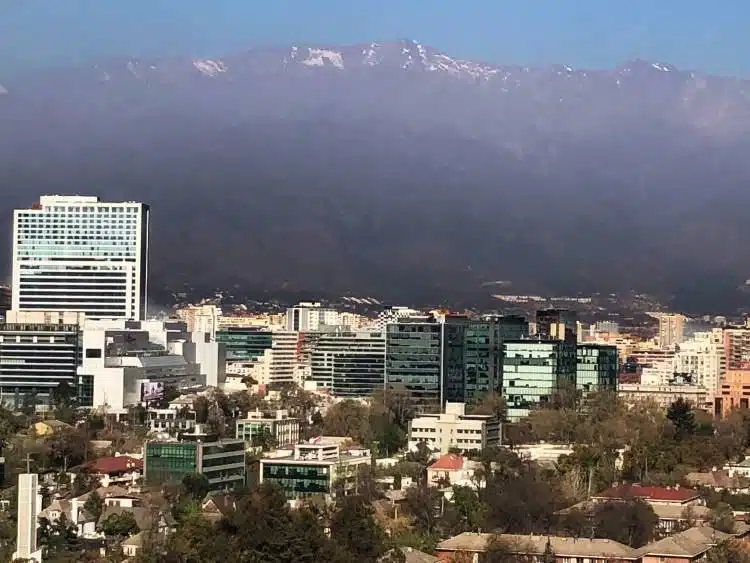 Santiago, the capital of Chile, is spectacularly located at the foot of the Andes. In clear weather, the sight of the Andes looming majestically behind the city is jaw-dropping.
There are several things that you must do when you visit Santiago.
Read also: Ultimate List of Best things to do in Santiago, Chile
Take a food tour to get an overview of local food, markets, and sights. Sample sandwiches, smoothies, seafood, and sweets.
Visit the Mercado Central/ Central Market, where the freshest seafood is sold, and Vega Market, where the locals do their daily shopping.
Stop at the Plaza de Armas, the main square in historic Santiago, to visit the neoclassical cathedral and see the fascinating indigenous peoples' statue.
Take the funicular to the top of Cerro San Cristobal for incredible views, especially on clear days (just after rain is when the views are best).
The sight of the city stretched out below, framed by steep mountains thousands of feet high, is one of the highlights of any visit to the city.
Santiago is a clean, modern city that is easy to get around. Take the metro to the San Domingo artisan market to stock up on souvenirs and have lunch in one of the outdoor cafes.
Don't miss the changing of the guard outside the Palacio La Moneda (Coin Palace), the home of the president, every second day at 10:00 am.
Head to the Bellavista neighborhood for restaurants and nightlife, where Calle Pio Nono and the parallel Calle Constitucion are lined with entertainment and dining options.
For a great day trip, head out to one (or more) of the many wineries in the nearby Maipo Valley, one of Chile's wine-growing industry centers.
There is no shortage of things to do in Santiago!
Recommended by James from Travel Collecting
6. Colca Canyon, Peru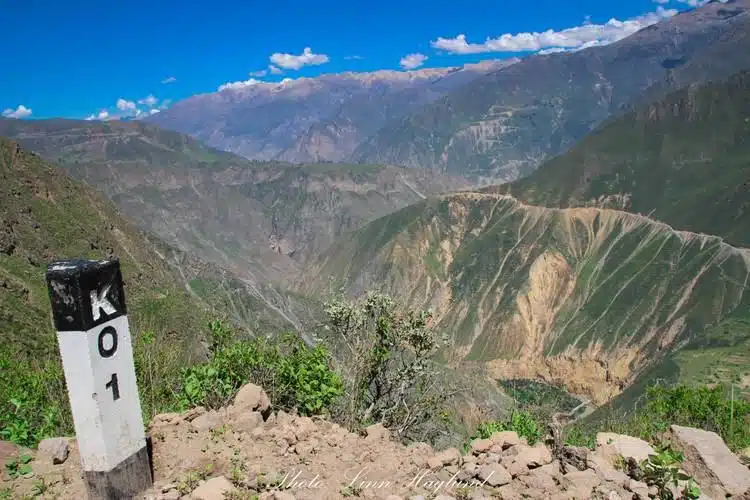 One of my absolute favorite best places to visit in South America is Colca Canyon in Peru.
The canyon is one of the deepest in the world, and the majestic mountains will totally take your breath away.
The mountains on each side are lush green with small rural villages in between. There is an abundance of avocado trees, fig-trees, and Barbary figs so that you won´t go hungry.
Colca Canyon is famous for its population of the Andean Condor, and tours go daily from Arequipa to spot the endangered species.
In the early morning, you are assured of seeing them up close at the popular viewpoint "Cruz del Condor," where the giants fly in large circles to hunt.
If you are the adventurous type of traveler, a two-day hiking trip to the canyon is necessary. On the first day, you descend the canyon with constant picturesque views and endless photo opportunities.
The grand mountains around you make the perfect background for any perfect image. The hike takes you along the bottom of the canyon, where you pass through tiny villages. You will encounter various types of fruit trees and plants typical to Peru.
At dusk, you might be lucky and see Condors crossing the valley.
If you start your 1200 meters ascent before sunrise on your return, you will likely walk through the clouds and get a mesmerizing view once you pass the cloud layer as the morning sun lights up the peaks around you.
This is one of the absolute best hikes I have been on in South America so far.
Recommended by Linn from Brainy Backpackers
7. Mendoza, Argentina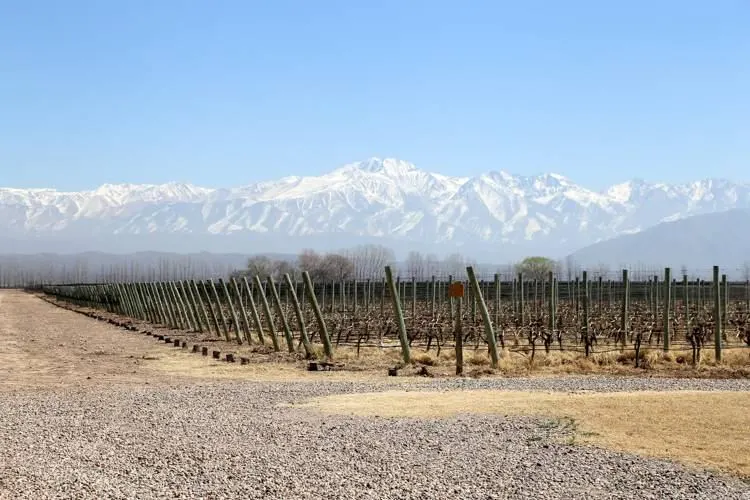 Malbec has taken the world by storm, so what better place to visit in Argentina than the home of this smooth red varietal, Mendoza.
Mendoza is easy to get to, with a 2-hour flight from Buenos Aires or even shorter hop over the Andes from Santiago in Chile.
Once there, prepare yourself for a lot of wine tasting at Mendoza's best wineries.
There's an option for everyone in Mendoza. Budget backpackers can take a bus to Chacras de Coria and rent a bike from Baccus.
The wineries surrounding this small town just 20 minutes from Mendoza proper are excellent, and you can enjoy views of the Andes as you cycle from winery to winery.
Mendoza's most beautiful wine region is further from the city but worth every minute you spend in a car to get there.
45 minutes south of the city is the Uco Valley, home to the best wine in Mendoza due to its high altitude and dry climate.
Hire a private driver to usher you from winery to winery; you'll need help driving after the generous wine tastings offered in Argentina.
There are several wineries to choose from, and all are excellent. My favorites are SuperUco, run by four brothers who are all well-known in their own right on the Mendoza wine scene.
Reserve lunch at Bodega la Azul to end your day in the Uco Valley.
Their outdoor tables set at the foot of the Andes offer the best dining "room" in the country.
And don't forget to buy a few bottles to bring home with you for the perfect souvenir.
Recommended by Erin from Sol Salute
8. Torres del Paine National Park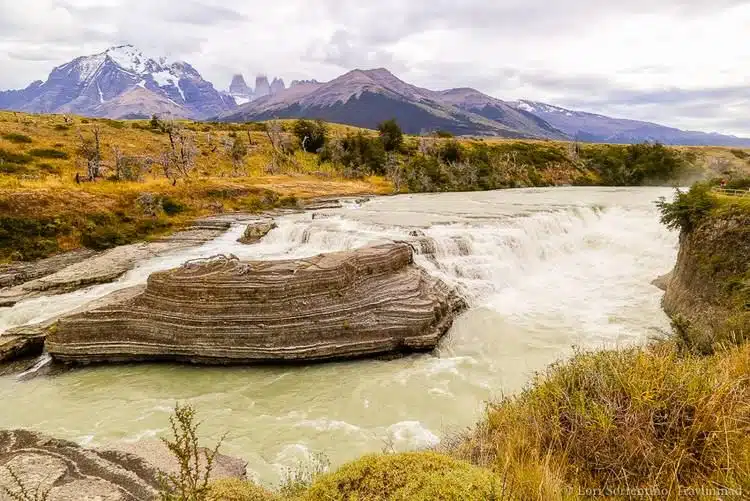 One of the most scenic landscapes in South America and one of the best places to visit in South America is far south in Patagonia.
Torres del Paine National Park in Chilean Patagonia is known for its soaring granite mountains, snow-covered peaks, luminous blue icebergs that continue to cleave off glaciers that spill onto freezing glacial lakes.
The austere pampas grasslands that seem to roll on forever are home to wildlife that's both rare and some that are rarely seen, as the mountain puma.
Herds of the ever-present sheep and guanaco graze one minute and flee at lightning speed the next.
Some of Torres del Paine's most iconic sites are the horn-shaped peaks of Cuernos del Paine, a range of peaks that glow bright orange at sunrise, and the three granite towers, or Torres, which gives the Park its name.
Most visitors come to hike on their own or the Park's famous W Trek, but a visit to Chilean Patagonia requires some planning and the right gear, depending on where and how you'll be traveling.
Thanks to the conservation efforts of the Chilean government and nature-loving philanthropists like the late Douglas Tompkins, the Park's natural beauty is well-preserved for future generations.
Despite these efforts, places like Glacier Grey — one of the world's most important glaciers — is receding at alarming rates every year due to climate change.
Torres del Paine National Park is a treasure and should be on every traveler's list — a quiet wilderness that humbles and inspires, with a landscape that'll truly take your breath away.
Recommended by Lori from Travlinmad
9. Cajas National Park in Ecuador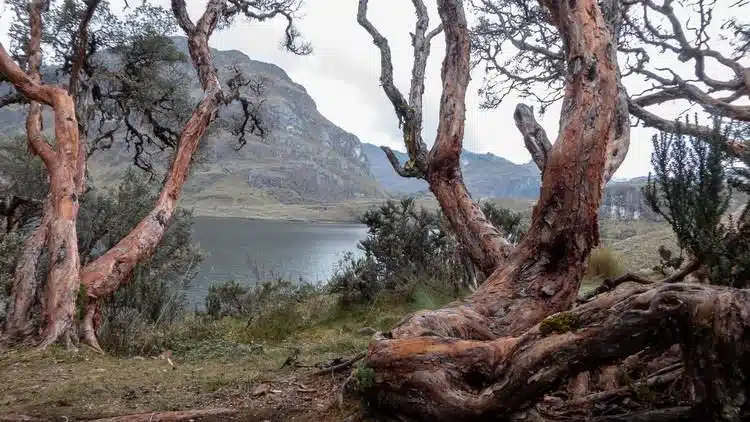 Ecuador is an underrated traveler destination in South America, known mainly for its majestic Galapagos Islands.
Whilst these are an attraction in their own right, Ecuador has plenty of hidden gems for the adventurous wanderer.
Read also: Ultimate List of Best things to do in Ecuador
Cajas National Park is located just 33 km outside of popular ex-pat city Cuenca, and it is the perfect fantasy land escape. A mix of towering peaks, glassy smooth lakes, and trees with paper-like bark gives this place an otherworldly feel.
You'll soon forget you're in Ecuador and feel instead like you have been dropped into an episode of Game of Thrones!
This is a must-visit for hiking enthusiasts as Cajas National Park provides a stunning backdrop and some great trails to suit all abilities.
The hike up to the 'Tres Cruces' is highly recommended and gives way to amazing views.
Be warned, to reach the top of 'Tres Cruces,' you will have to ascend to over 4000 m, so make sure you get acclimatized before attempting the trek. This is one hike that is quite literally breathtaking!
Without a doubt, one of the coolest things about Cajas National Park is the abundance of Polylepis trees there.
These trees, which are flaky in appearance, have earned them the nickname of paper trees.
They only grow high in the Andes and are actually protected under Ecuadorian law. This is because they have some of the slowest growth of any trees on earth!
Cajas can be visited as a day trip from Cuenca or visited independently. Tours are very easy to arrange from the majority of agencies in the city.
There are designated camping areas available for those who want to get up close and personal with nature.
Recommended by Sheree from Winging the World
10. Galapagos Islands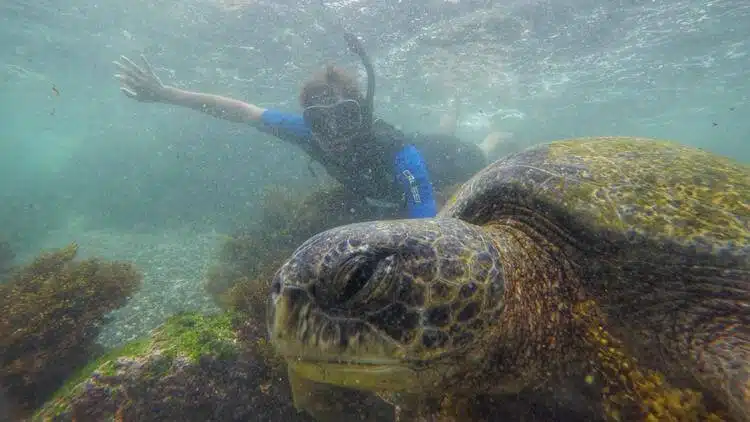 There is no other place on earth like the Galapagos Islands in Ecuador.
Read also: The Ultimate Guide to Land Based Travel In The Galapagos Islands
In fact, that's one of the reasons why the Galapagos are one of the most famous island archipelagos in the world and one of the best places to visit in South America.
The islands are home to many animal and plant species that exist nowhere else on earth.
These include the massive Galapagos tortoise, the only penguin species to live north of the equator, and the seven species of "Darwin finches."
The archipelago holds 18 major islands, but none had permanent human settlements until the 1800s, when the first permanent resident, a marooned Irish sailor, arrived.
Today, however, some 25,000 people live on the islands, and nearly a quarter of a million visit every year.
The islands offer plenty of opportunities to witness one-of-a-kind wildlife while snorkeling, hiking, biking, and more.
11. San Pedro De Atacama, Chile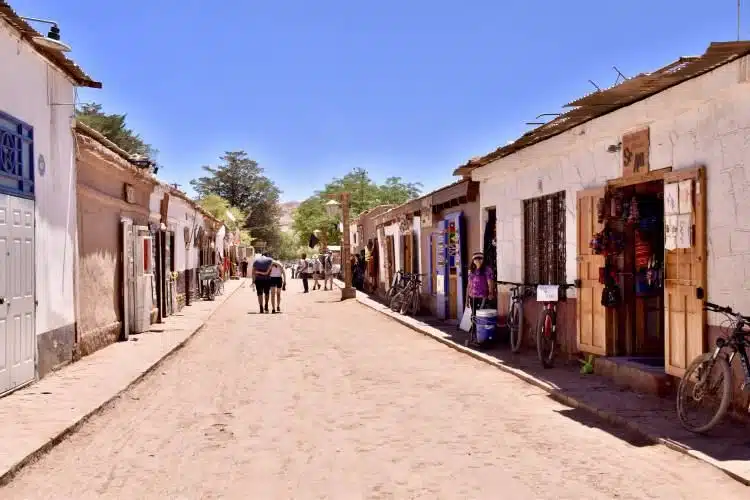 San Pedro De Atacama and the nearby Moon Valley are well worth visiting if you are traveling to Chile. I fell in love with the quirky little town, full of fancy restaurants and quirky art galleries.
It's the sort of place where you might see a cowboy and his horse casually strutting down the main street. There are so many things to do in San Pedro De Atacama, and beyond, you certainly won't get bored.
One of the most popular day trips is to see The Moon Valley – the Atacama desert scenery is literally out of this world.
Watching the sunset over the rocky lunar-like landscape is an absolute must!
You can also take horse rides and 4WD tours in the local area and visit hot springs and marvel at the incredible scenery. Being close to the Chile-Bolivia border, you can also pop into Bolivia to visit the Altiplano for a day trip.
At night as well as enjoying one of the many incredible restaurants, you will also get the opportunity to enjoy some stargazing at one of the best places in the world to see stars! Sadly it was a full moon when I was there, but I hope you have more luck!
Recommended by Leanne from The Globetrotter GP
12. Kaieteur Falls, Guyana
There is little doubt that one of the most incredible places to visit in South America, if not in the whole world, is Kaietur Falls.
Located in the rainforest of Guyana – one of the smallest countries on the continent – this waterfall is known for being the widest single-drop waterfall in the world.
Visiting Kaieteur Falls is a once-in-a-lifetime experience.
As the waterfall is completely isolated, the only way to get there is either via a strenuous hike that lasts a minimum of 5 days and goes through the thick jungle, up rivers and battles with the heat and bugs of the forest; or on a day trip that can depart from a variety of locations around the country and that involves a charter flight which can carry no more than 12 passengers at once.
The flight is simply spectacular and provides jaw-dropping views of Kaieteur Falls from above.
Once at the site, a guide welcomes the passengers and takes them on a walk around the premises, through the forest (where it's possible to see several species of birds, including the colorful cock of the rock, as well as plants), and to the main viewpoints.
As only one plane can be on the airstrip at all times, this means that no more than a total of 12 people can be visiting Kaieteur Falls at the same time. In other words, the few visitors have the place to themselves.
It's not a cheap place to visit, but completely worth the money.
Recommended by Claudia from My Adventures Across The World
13. Best places to visit in South America – Easter Island
While Easter Island is physically located in the middle of the South Pacific, it is arguably part of the South American continent, thanks to Chile's annexation of this amazing island.
Easter Island, locally known as Rapa Nui, conjures up the idea of a mysterious and mythical place for many.
It is a UNESCO World Heritage Site, and the island is constantly the subject of study and restoration projects looking to unearth more of its history.
Easter Island is famous for its unique Moai statues. You can see the remaining 400 massive heads scattered around the small island.
Some of the Highlights of Easter Island are the Moai "birthplace" at Rano Raraku quarry, Ahu Tahai and Ahu Tongariki platforms, the dormant Rano Kau volcano, and Anakena Beach – the only white sand beach on the island.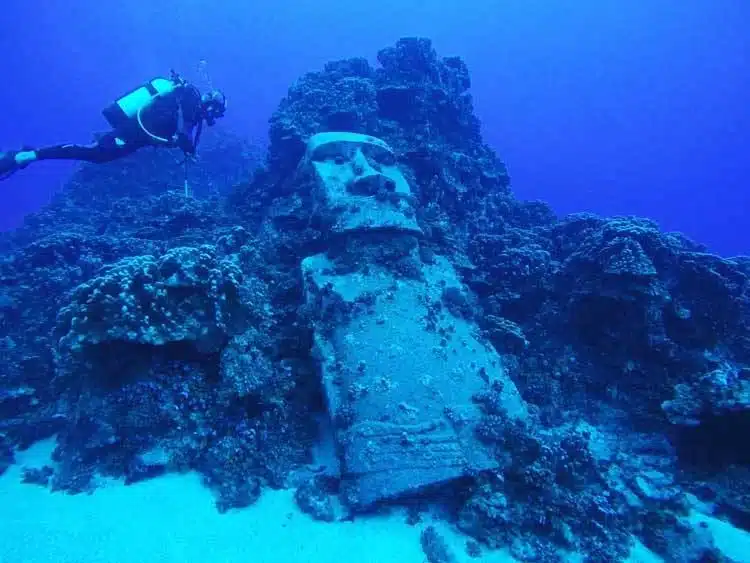 Don't miss the humble but overwhelming Anthropological Easter Island Museum, not far from the capital of Hanga Roa.
At this museum, you'll learn more about the Rapanui culture, as well as see some rare artifacts related to the Moais and Easter Isnald's mythical creation.
Even better, if you are a certified scuba diver, you can dive in the crystal clear waters surrounding the island. You can even meet an underwater Moai face to face during your dive in Hanga Roa Harbor!
There are only two ways to get here: a four-hour flight from Tahiti or a nearly six-hour flight from Santiago de Chile.
Either way, it demonstrates how remote this island is, but it is one of the top bucket list destinations in South America.
Recommended by Halef and Michael from The Round The World Guys
14. Jardin, Colombia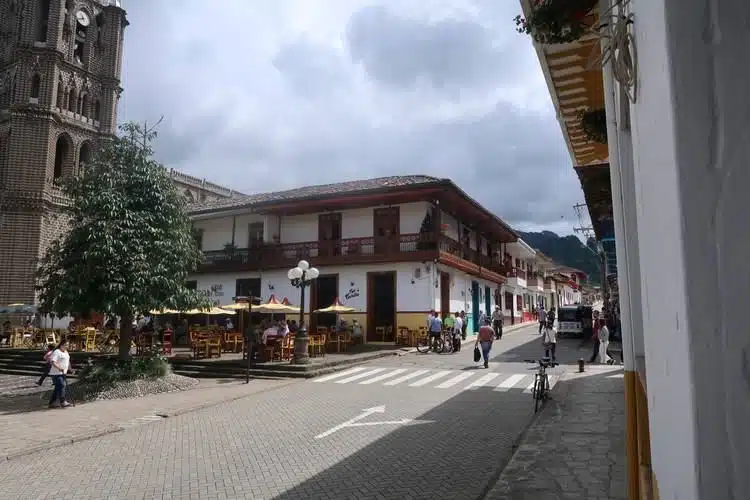 If you are going to be in South America and thinking of passing through Colombia, you won't want to miss out on Jardin.
Read also: Why Colombia Should be Your Next Travel Destination.
For me, it has been one of the best towns in Colombia to visit. Here you'll get a taste of some of Colombia's finest Organic coffee, well-preserved culture, and the laid-back way of life.
Depending on the roads, it only takes around 3 hours from Medellin by bus to arrive. The journey is very scenic, and Jardin is a magnificent place that will allow you to step from the hustle and bustle of the city.
On arrival, you'll get a feel for how Paisa's culture lives. There are various activities, from coffee tours to horseback riding and some amazing hikes that you can do out in the open countryside.
If you are learning Spanish, this is the perfect place to be able to practice with locals. I recommend between 2-3 nights here to really get a feel for the town and to be able to enjoy some of the excursions on offer.
So, if it wasn't already, Jardin should now be on your list of best places to visit in South America if you are traveling to Colombia.
Recommended by Daniel from Layer Culture
15. Cali, Colombia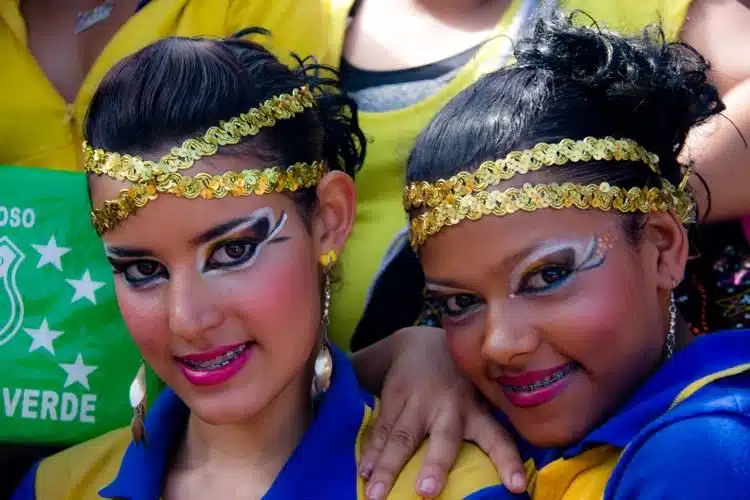 Cali Colombia is most well known for being the former home base for drug baron Pablo Escobar.
Since then, things have changed greatly, and Colombians are working hard to show that their country is so much more than the drug trade.
And what most people don't know is that it is widely considered the salsa capital of the world.
Children start dancing from a very early age, and unlike in Cuba, where reggaeton has taken over, salsa is still very much part of the nightlife in Cali.
One of the best spots to mingle with locals is at the salsa bar Tin Tin Deo. Colombians are incredibly friendly and welcoming to travelers.
If you want to make a good impression, your best bet to integrate is to learn a bit of Colombian slang and buy a bottle of aguardiente to offer to tables next to you.
Offering a drink is the best way to meet people, and most will certainly offer one in return.
If you're shy and just prefer to watch every year, Cali is home to the world salsa championships.
All over the city, in auditoriums and the city's open-air amphitheater, over 5,000 dancers of all ages compete. It's an incredible spectacle, especially the impressive footwork.
Recommended by Ayngelina from Bacon is Magic
16. Salento, Colombia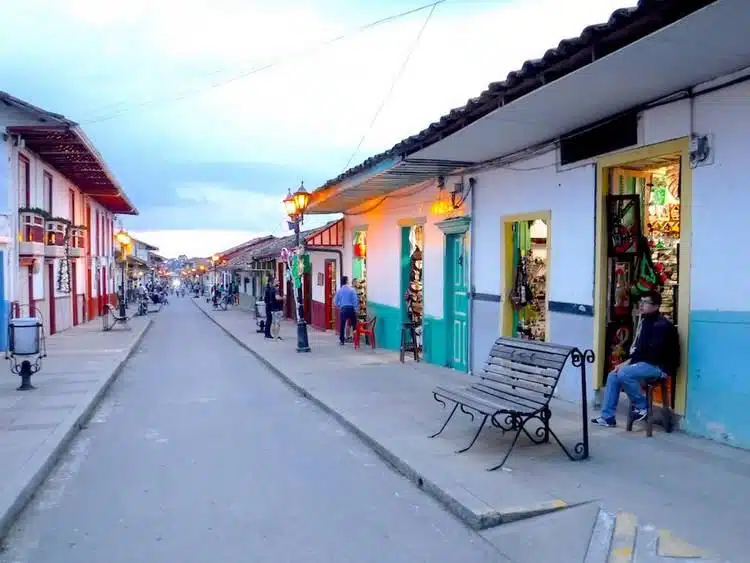 While visitors to Colombian cities like Medellín, Bogotá, and Cartagena will discover the country's vibrant culture, those who make it to Salento will entirely discover another world.
Read also: Ultimate List of Best things to do in Bogotá, Colombia
It was definitely one of our favorite towns we visited during our three weeks in Colombia. Salento is nestled in the coffee region of Colombia and surrounded by green rolling hills and babbling rivers.
The colorful town is a lovely spot to relax for a few days, and there are many things to do to keep you busy.
The main plaza is bustling with food options. Be sure to try a local dish of trucha, or trout, and the patacones, which are unlike other areas.
Take a walk up to the mirador above town for a fantastic view. This is the perfect place to learn about the world-renowned Colombian coffee with a coffee plantation tour.
You'll be taken through the entire process and even get to lend a helping hand before tasting a few samples.
Salento is also the jumping-off point for the stunning Cocora Valley (Valle de Cocora). Visitors can hike through pastures, across streams, and climb mountains for incredible views in all directions.
The jewel in the crown is the valley filled with endemic wax palms, the tallest palm tree in the world. This is one activity that is not to be missed.
Nightlife in Salento is rather limited, but a few local bars are a great spot to absorb the local culture over a beer.
Learn the traditional Colombian game of tejo, basically like horseshoes with gunpowder, or play some pool with new friends.
Salento is the perfect break from the hustle and bustle of Bogota and Medellin and easy to reach from either.
Recommended by Claire from Past the Potholes
17. Huascaran National Park, Peru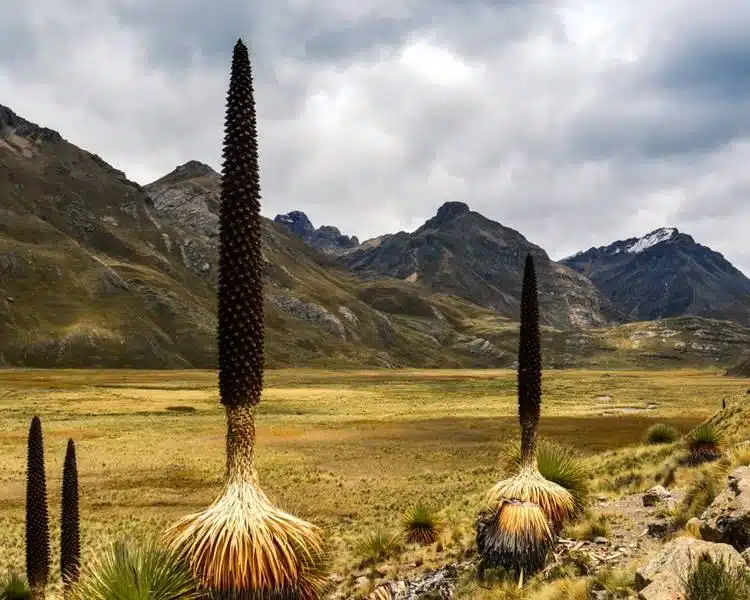 There are many beautiful best places to visit in South America, but the one which I could hardly ever forget is Huascaran National Park in Peru.
Just about 7 hours north of Lima lies the city Huaraz, the base for travelers coming to visit this natural wonder.
Read also: Ultimate List of Best things to do in Lima, Peru
This park is covering the snowy mountain peaks of Cordilleras Blanca. It is attracting nature and hiking lovers from all over the world to cross it on popular day treks or climb one of the highest Peruvian mountains, Alpamayo (5947 m).
But there is more to Huascaran than just the widely popular treks Huayhuash and Santa Cruz, which are a great challenge even for the fittest people.
In Huascaran, you can visit one of the oldest Peruvian ancient ruins, Chavin de Huantar, a mystical 3000 years old pyramid-like ruin full of old energy and unexplained rituals.
You can walk around the slowly melting Pastoruri glacier at 5000 m of altitude and see its beauty before it completely disappears, be amazed by peculiar huge flowers called the Queen of the Andes (Puya Raimondii), or visit several beautiful mountain lakes of different sizes and colors – some of them can be even reached by car!
Read about the 8 most beautiful mountain lakes near Huaraz here. Whether you are a city person, lover of history, or outdoor activities, Huaraz and Huascaran will inscribe into your heart just like they did into mine.
Recommended by Tereza from czickontheroad
18. Machu Picchu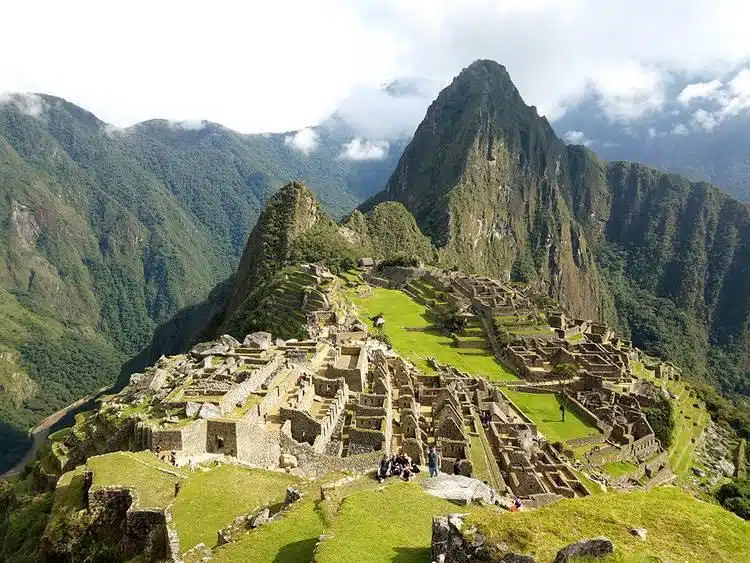 Everyone's heard of Machu Picchu by now – the famous Inca ruins in southern Peru.
It's the most visited destination in Peru, and one of the topmost visited best places to visit in South America.
If you haven't been to Peru yet, rest assured that when you do, everyone will ask you when you return home, "Did you visit Machu Picchu?"
My friend Kris came down to see me in Peru, and we made the trip together for the first time.
There's no easy way to get to Machu Picchu because no roads will take you there, so driving is out of the question. You've either got to take the train, hike there, or a combination of bus rides and hiking.
Read also: Different ways to get to Machu Picchu.
Kris and I chose the most adventurous (and probably the most dangerous way). We rode motorcycles as far as the roads would take us and then hiked the remaining 2 hours to Aguas Calientes, the town adjacent to Machu Picchu.
Thousands of people spend hours on planes, trains, and buses every year, and a lot of money to visit this historic landmark, but is Machu Picchu worth it?
And my answer is… Absolutely!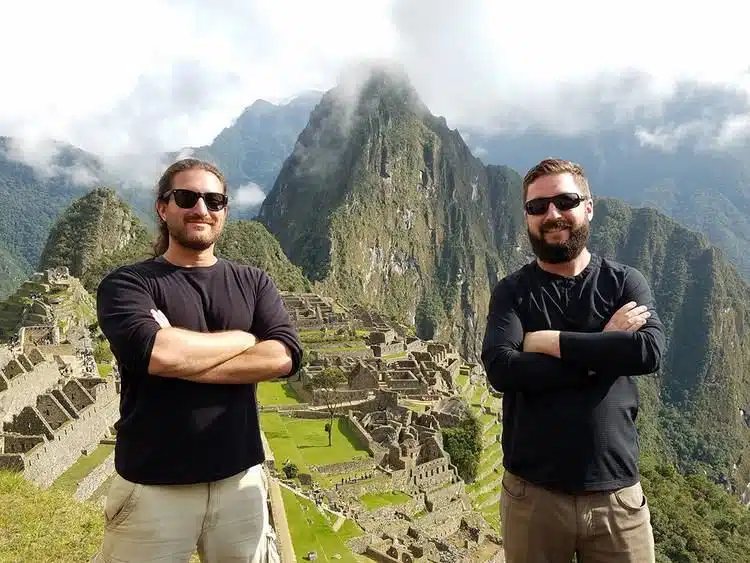 Highly visited, but not at all overrated, Machu Picchu, in my opinion, is a destination not to miss while in South America.
Just be sure to book your train tickets, hotels, and entrance tickets as early as possible because they often sell out weeks in advance, depending on what part of the year you visit.
While it's possible to get last-minute train tickets, usually the economy seats are booked up in advance, so your only last-minute option would be the more expensive first-class tickets which can you run several hundred dollars.
And while entry tickets to Machu Picchu are readily available last minute, the tickets for Huayna Picchu and some of the other nearby sites sell out weeks or months in advance.
However, don't let that 'early bird' disclaimer dissuade you… Kris and I showed up last minute with no plans, with no accommodation secured, and no entry tickets, and still found a great economical place to stay in Aguas Calientes.
We had an amazing time at Machu Picchu – and I'm confident you will too.
Recommended by Paul from Travel is Life
19. Bariloche, Argentina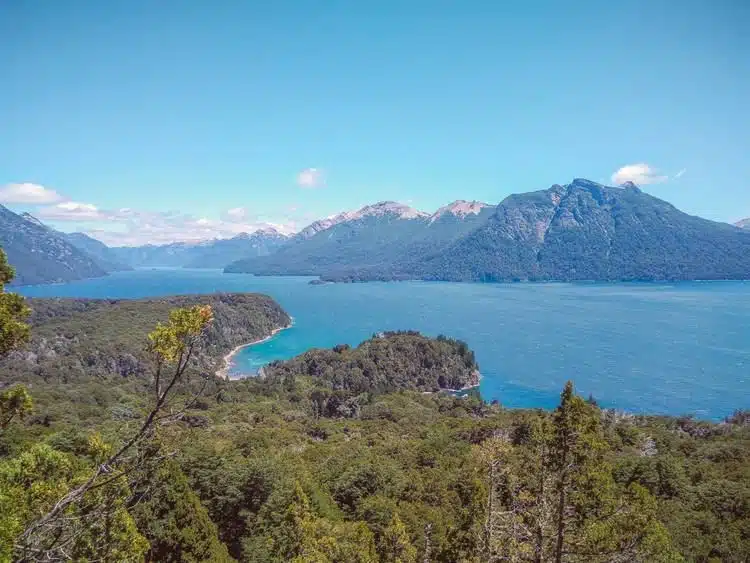 San Carlos de Bariloche is a city in the Patagonia region in Argentina, sitting on Nahuel Huapi Lake and settling in the Andean Mountains' foothills.
This region is well-known for its raw and wild natural landscapes, but Bariloche is a Patagonian gem where you can find more than that.
While during the winter it is a popular ski destination, in summer, it is all about relaxing on the lake or hiking around the city.
Bariloche has some European vibe thanks to its city center's Alpine-style architecture, where all the action happens.
It's also the Argentinian capital of ice cream and chocolate, so don't be surprised if you're smelling melted chocolate while walking down the street.
Around the city, you can find relaxing beaches and many hikes that uncover incredible views (and not all are difficult). You can also enjoy other outdoor activities such as kayaking, biking, and rafting.
If you're in for another type of adventure, take the classic road trip 'Ruta de Los Siete Lagos.' It passes through seven different lakes, and it takes 1-2 days to complete.
You can see why Bariloche is where every type of traveler can find something to enjoy, so if it's not yet on your South America bucket list, now is the time to add it.
Recommended by Or from My Path In The World
20. Pantanal, Brazil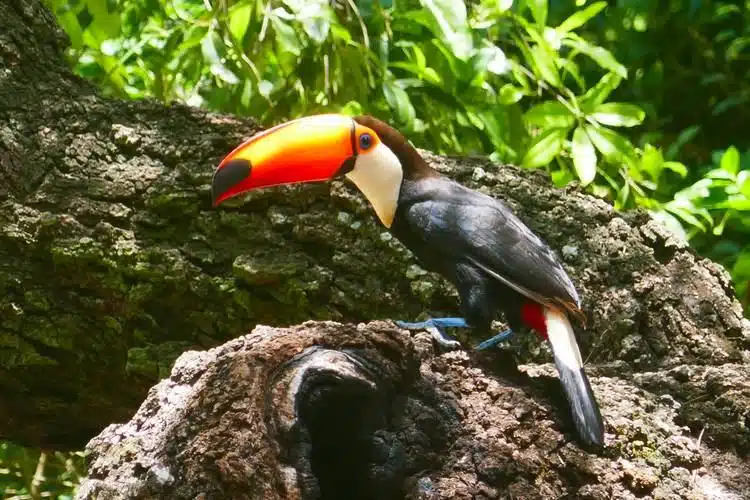 Even though the Amazon is the most famous location for nature and wildlife viewing in Brazil, you actually have a much better chance of seeing wildlife in the Pantanal, in the south of Brazil near the border with Bolivia.
The Pantanal is the world's largest wetlands area and is home to capybaras, caimans, jaguars, anteaters, and many other species of South American animals.
Whereas in the Amazon, the animals often stay hidden in the jungle, the Pantanal is full of grassy plains and wide-open spaces.
This is why it's so much easier to spot wildlife on a Pantanal tour. The Pantanal is a birdwatcher's paradise, and you are guaranteed to see dozens of bird species at any time of year.
You'll see the most birds in the dry season, though, as this is when they are nesting and breeding. Hyacinth macaws, toucans, and the famous Jabiru storks can all be found here.
The dry season is also the best time for spotting jaguars and other mammals, so try to visit at this time if you can.
Thanks to climate change, though, the seasons have become a bit unpredictable lately.
In the past, the dry season started in July and ended in October, but the rains have started much earlier for the past couple of years.
Overall, September is the best month to visit, as you'll avoid both the rain in autumn and the influx of Brazilian tourists in July.
Recommended by Wendy from The Nomadic Vegan
21. Cusco, Peru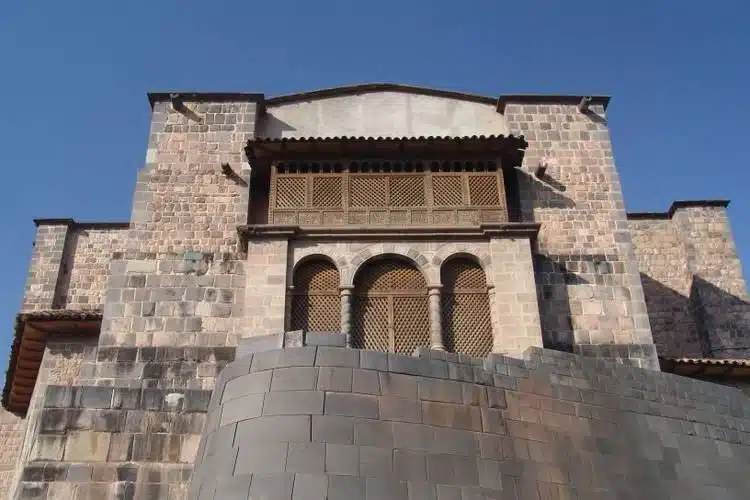 Cusco, Peru, was once the capital of the Inca Empire and is now a UNESCO World Heritage Site and the gateway to the most important Inca sites in the region.
The city itself is fascinating and is full of life and color. It's definitely one of the best places to visit in South America.
You will see many indigenous Quechua people here in their traditional dress. Sit on a park bench and watch the locals strolling in the main square, known as the Plaza de Armas, in the late afternoon.
Most travelers use Cusco as a jumping-off point to explore the world-famous ruined Incan city of Machu Picchu. Still, you should definitely take a few days to explore Cusco itself and the other less touristed sites nearby.
The layers of history here are immediately obvious when you wander Cusco's stone-lined alleyways.
Take a look at the walls around you, and you will see many different layers of stonework on the buildings from different periods.
One of the most famous examples is the 12-sided Inca stone that has been held in place for more than 700 years without any mortar.
There's plenty of Spanish colonial architecture, which was often built next to or even on top of ancient Incan sites.
Don't miss the magnificent church of Santo Domingo, which was built on the site of an Incan temple. The ancient stone wall surrounding the church is remarkable.
There's also a vibrant, tourist-fueled nightlife and plenty of good restaurants, including some that serve vegetarian and vegan Peruvian food.
Once you're ready to explore beyond the town, Sacsayhuaman is a spectacular Incan site that can be reached on foot from the Plaza de Armas in 45 minutes.
On the way, you'll pass Qollqanpata, the first Incan palace, which offers a great view of the city.
Recommended by Wendy from The Nomadic Vegan
22. Iguazu Falls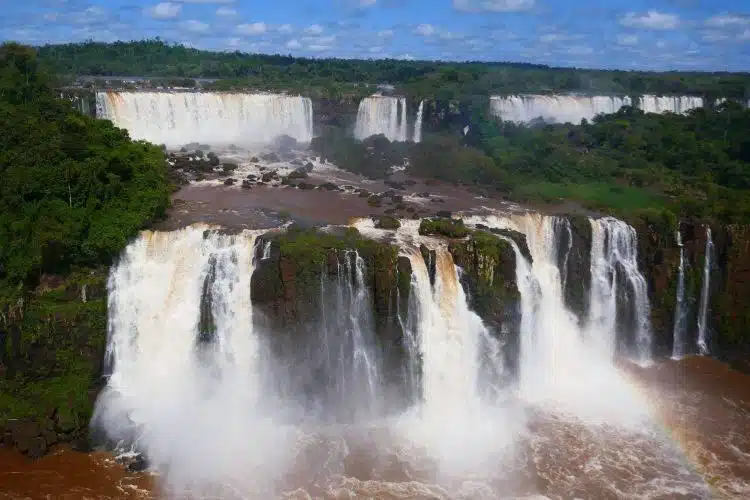 No matter how many waterfalls you have seen in your lifetime, you are sure to be completely blown away by the waterfalls at Iguazu.
They are generally considered the most spectacular falls in the world, beating Victoria Falls and Niagara Falls by a long shot. Even Eleanor Roosevelt said "poor Niagara" when she saw them.
The falls straddle the border between Brazil and Argentina, and both sides can be visited. I recommend taking at least two full days to see both sides, as you'll have a very different experience at each one.
Most of the falls are on the Argentine side and are protected by the Iguazú National Park of Argentina.
When visiting this park, you'll be able to get up close and personal with the falls and be awed by the power of the water thundering all around you.
There is a lot to do here, including several walking trails that will take you to different vantage points to view the falls from the top and from below.
The Garganta del Diablo, or "Devil's Throat," is the highlight for most visitors, as this is both the highest and deepest of the many waterfalls that make up Iguazu.
But don't write off the Brazilian side just yet! I may be in the minority, but I actually prefer this side. From here, you can enjoy spectacular vistas as you look across the river at the falls in Argentina and admire them from afar.
Yes, you're a bit further away from all the action, but this is the only way to take it all in at once and get a panoramic, sweeping view of this magnificent work of nature.
Recommended by Wendy from The Nomadic Vegan
ARE YOU KEEPING UP WITH MY SOUTH AMERICA SERIES
One of the best places to visit in South America is the SALAR DE UYUNI, THE SALT FLATS IN BOLIVIA. Another great adventure is CYCLING ON THE DEATH ROAD IN BOLIVIA.
The Galapagos Islands are one of the most famous island archipelagos in the world. Check out my 10-DAY LAND-BASED ITINERARY GALAPAGOS ISLANDS and my COMPREHENSIVE GUIDE ABOUT THE GALAPAGOS ISLANDS.
One of my favorite cities in South America is RIO DE JANEIRO, and one of the best countries for adventure tours is ECUADOR.
Was this post about Best Places to visit in South America helpful? If so, be sure to pin it to refer to later!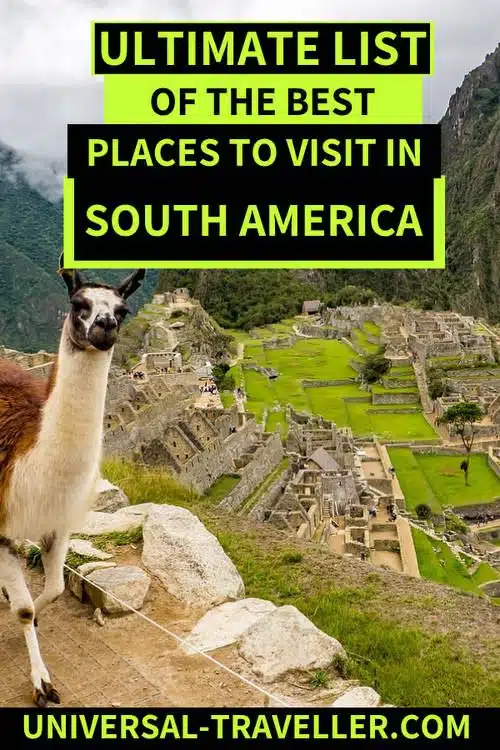 Best VPN for Travel: ExpressVPN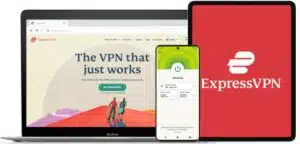 Heading abroad? Use ExpressVPN to access your social media accounts, unblock your favorite entertainment sites, and stay connected with friends and family. And get cheaper flights, of course.
Pros
✅ Next-gen, high-speed servers in 94 countries
✅ Works on iOS, Android, Windows, Mac, Linux, browsers, and more
✅ 256-bit AES encryption protects your data, even on hotel Wi-Fi
✅ Unblocks Netflix and other streaming sites
Cons
❎ No dedicated IPs
Get 3 extra months free of ExpressVPN when signing up for a 1-year plan. That's a 49% saving and a monthly cost of just $6.67! You also get a 30-day money-back guarantee.