Salar de Uyuni, the Salts Flats in Bolivia, is one of the places you must visit in South America. This article tells you everything you need to know to plan your Bolivia Salt Flats Tour in Uyuni.
Imagine an other-worldly place. A desert that stretches out in front of you, perfectly flat, for what seems like an eternity.
Imagine nothing but crystal blue sky and pale white salt in every direction.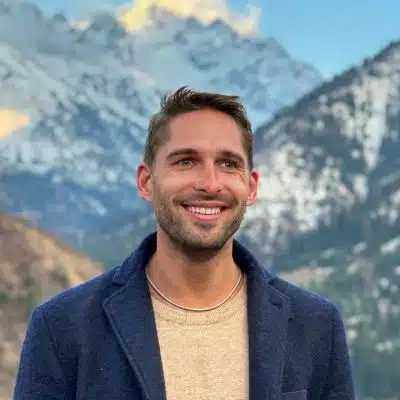 Read also: BEST ADVENTURE TOURS & TRIPS.
Salar de Uyuni, Bolivia, is just such a place. The Uyuni salt flats are one of South America's hidden treasures.
Look:
Though photos of Salt Flats, Bolivia have long captivated audiences, the Uyuni Salt Flats aren't visited by nearly as many travelers as South America's other, more popular attractions.
The real magic of Salar de Uyuni emerges during Bolivia's rainy season.
That's when the flats turn into, hands down, one of the best places to visit in Bolivia (and maybe South America).
When enough rainwater collects, the flats transform into the Bolivia Salt Lake, which stretches out across several thousand square miles.
Though never more than a foot deep, the water is perfectly still. It acts as a crystal clear mirror, reflecting the empty blue sky.
This result?
An unforgettable illusion—a horizon that seems to stretch forever yet never arrive at all.
For this alone, Salar de Uyuni is one place you can't afford to miss!
What is a salt flat?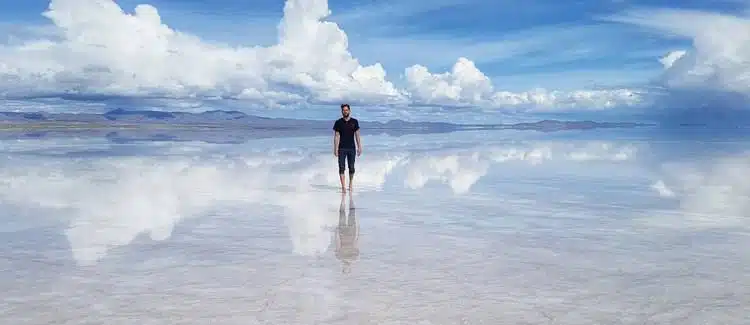 The salt flats of the world have captured humanity's attention for millennia. But what are they, exactly?
The most simple salt flat definition applies the term to any flat area of land covered in salt. But that definition doesn't really answer the question for those who want to know, how are salt flats formed?
Salt flats are often relics from ancient, salty seas.
Much like The modern Dead Sea or North America's Great Salt Lake, these bodies of water gathered increasingly salty water because they could not carve out outlets to the ocean.
Eventually, the water evaporated, but the salt remained.
Together, the Uyuni Salt Flats make up the largest salt flat in the world (another reason to visit!).
Aside from the Bolivia salt flats, the world's other largest salt fields include the Bonneville Salt Flats of the United States (where drivers gather to break land speed records), Death Valley, and Chott el Djerid in the Tunisian Sahara Desert.
How to get to Salar de Uyuni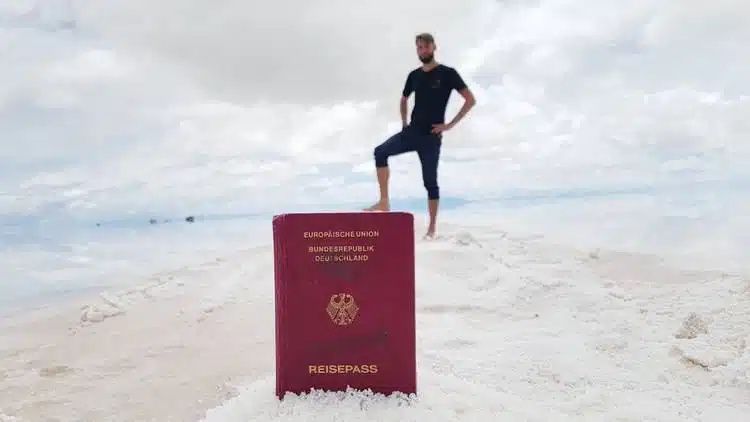 Salar de Uyuni isn't as often visited as other stunning South American locations because of its austere isolation. Where are the salt flats?
They're located in Southwest Bolivia, within the Altiplano region. On average, they rise almost 3700 meters above sea level.
That elevation, coupled with the extremely dry environment, makes the flats a challenging trip for travelers, especially those coming from coastal settings.
Still, the determined will discover several ways for reaching this salt desert Bolivia holds. Most visitors opt to take either a plane or bus from La Paz to Salt Flats, Bolivia.
A few local airlines offer flights on the route. Both evening and morning flights are available daily, and each takes about 45 minutes.
Flight tickets can be purchased for just over $100. But seats fill up fast, so it's important to book a ticket ahead of time if you need to lock in a good price.
If you'd rather not fly, or if you're planning a visit to the Salt Flats on a shoestring budget, an overnight or all-day bus ticket can be booked for $15-USD 40.
Know, though, that this is a long trip. It's not uncommon for a bus to take over ten hours to traverse the route between La Paz and Uyuni.
When is the best time to travel to the Salt Flats, Bolivia?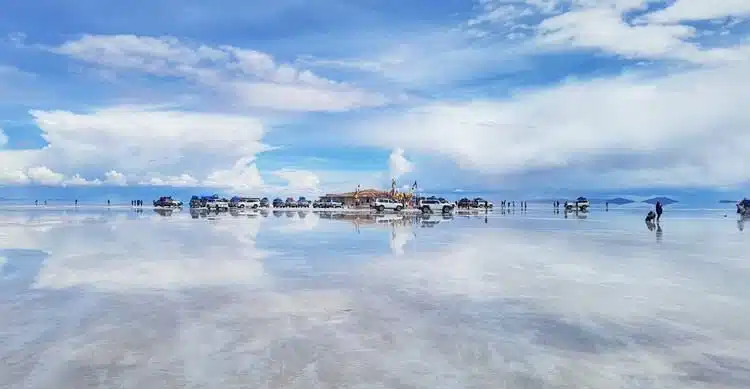 If you're planning to visit Salar de Uyuni, the best time to go may have crossed your mind. There are really two options here: the rainy season and the dry season.
Both have their benefits. So to help you make a decision, let's run through them.
The Bolivia Salt Flats' rainy season spans from November to March. And though the general advice when visiting South American attractions is to avoid the rainy season, the Bolivian Salt Flats are one exception to this rule.
That's because, as I mentioned above, the flats actually become a gargantuan salt lake during these months.
Though the sea is only a few centimeters deep, it stretches out, crystal clear, for kilometers in every direction. It's actually not uncommon to hear people refer to the rainy season Uyuni as "the world's largest mirror."
The still water looks like an immaculately polished pane of glass, mirroring the horizon and sky so flawlessly you may have a tough time telling where one ends and the other begins.
This experience alone makes a rainy season visit a great option, but a visit during the dry season, which runs from May to October, can also be quite the adventure.
For one, there's more area to explore. And, when dry, the salt of the flats aligns in strangely alluring geometric shapes and patterns. This makes for some equally stunning photo opportunities.
How to choose the right Salar de Uyuni Tours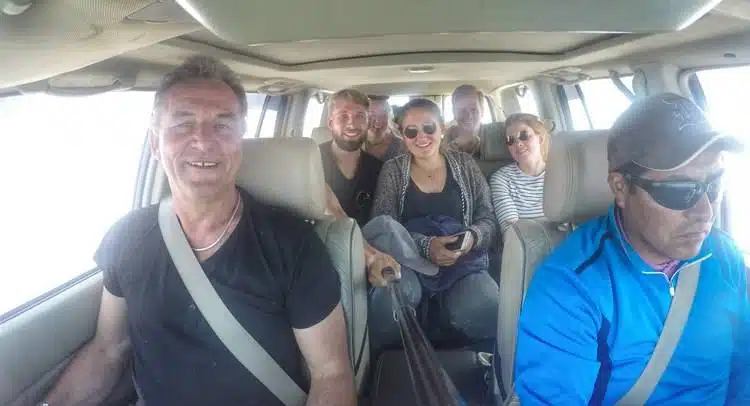 The Great Salt Flats of Bolivia isn't exactly a do-it-yourself adventure. Several factors—the lack of freshwater, extremely arid landscape, absence of natural shelter, and high elevation—make exploring the flats on your own unwieldy (and even dangerous).
Thankfully, several different companies offer tour packages with a wide range of accommodations.
A Uyuni Salt Flats tour can range from a signal day outing to a two or three-day excursion deep into the Salt Flats and surrounding area.
Almost every one-day Bolivian Salt Flats tour covers the same three attractions: the salt hotel, the train cemetery, and of course, the Salt Flats themselves.
A multi-day tour will include these three stops, as well as some additional time exploring and observing the unique and thriving environment the flats have helped foster.
You'll get the chance to see wild flamingos bathing in blood-red water, hot springs, snow-capped volcanoes, and other nearby landmarks, like the Salvador Dali Desert and Laguna Colorada.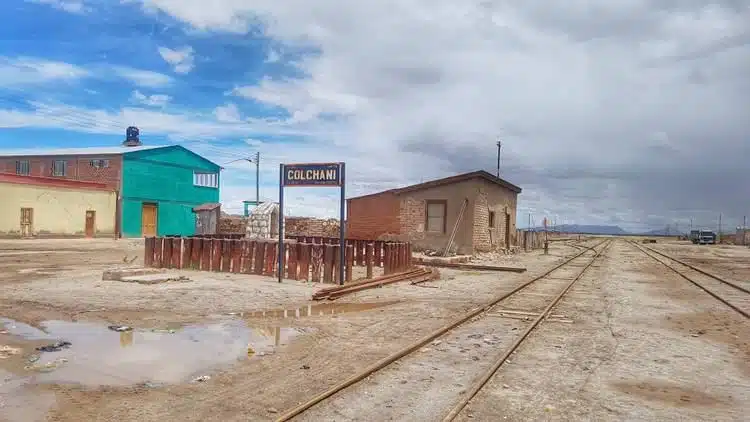 It's possible to book Salar de Uyuni, Bolivia tours departing from La Paz or another nearby city.
However, you'll find the best prices for tours of all duration when you book a package that departs directly from Uyuni.
One last note about choosing the right tour for you—the level of accommodation your tour company arranges directly reflects the price you'll pay. And these accommodations can vary widely.
If you're on a budget, you may need to settle for dormitory/hostel-style sleeping arrangements.
On the other hand, if your wallet is a bit more flexible, you can opt for heated single rooms or a stay at Salt Hotel.
How Much Does it Cost to Visit the Bolivia Salt Flats?
As with any organized tour trip, the cost of a visit to Bolivia's Salt Flats can vary quite a bit.
Single-day tours typically start at around USD 75, and multi-day tours with basic accommodations can be booked for not much more: as little as USD 110.
Though many companies offer tours from Uyuni, their attractions and experiences are very similar.
Though prices may be listed or appear set in stone, don't be afraid to bargain or shop around at a few different companies.
How to Take Great Photos of Salar de Uyuni, Bolivia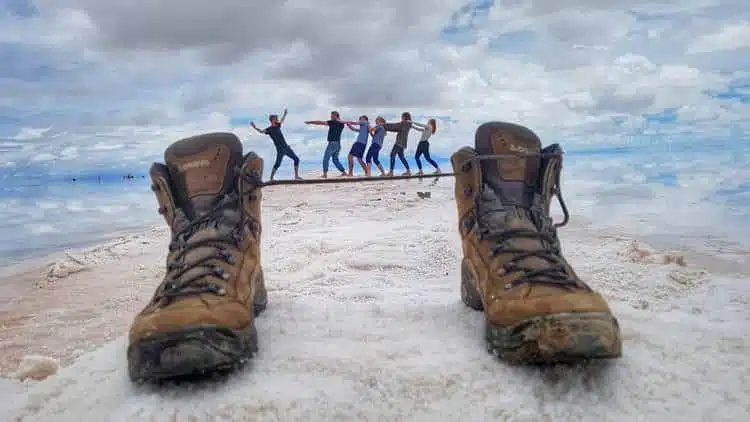 Even if you've never heard of Bolivia's Salt Flats, there's a good chance you've seen or admired some stunning Salar de Uyuni pictures online.
The flats are incredibly photogenic, and most visitors spend at least some of their time trying to capture their austere and expansive beauty with photos.
But taking a compelling photo of the Salt Flats can prove a bit of a challenge, especially for those who don't have much experience in landscape photography.
So, to make sure you get that perfect shot on your tour, I've put together some pointers for taking Bolivian Salt Flats pictures.
1. Have realistic expectations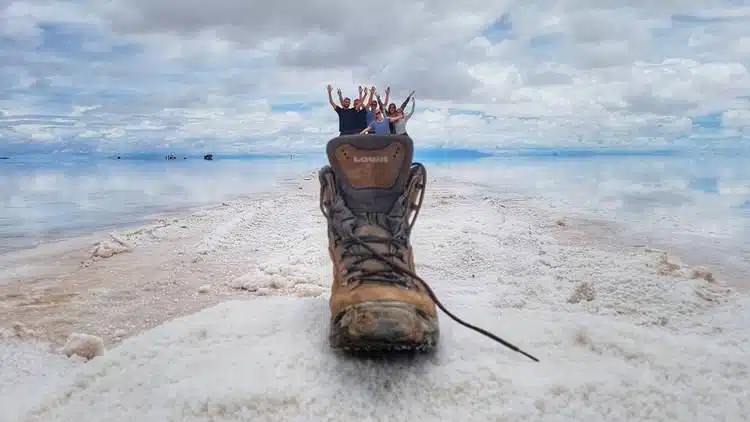 Professional photographers spend years practicing and perfecting strategies for taking photos that convey the same beauty and awe that our eyes see. And even after all that work, they accept that the perfect photo doesn't exist.
Instead of spending all your time peering through a viewfinder or trying to make out the image on a screen in the bright sunlight, snap a few photos of what draws your eye.
Then, put the camera away and appreciate the flats with your own eyes. Later on, when you look back at the photos you did take, you'll remember them more fondly.
2. Play with perspective.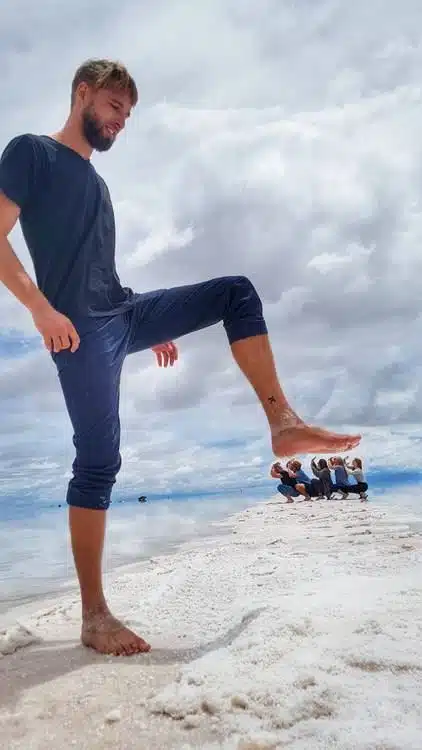 Salar de Uyuni is almost perfectly flat, and there are no real landmarks or landscape changes for kilometers at a time.
As a result, the flats can play tricks on our brains' attempts to determine perspective and depth.
What does this have to do with taking photos?
Well, the lack of perspective can trick your eyes into thinking a dinosaur figurine that's a few inches away from the camera is larger than life and chasing some a friend who's dozens of meters away.
Taking funky photos like this is surprisingly entertaining. Even everyday props—boots, water bottles, or hats—can be made to look larger than life.
Just remember that the closer your camera is to the ground, the cooler the photo will look. So, don't be afraid to get a little salty.
Three day tour from Uyuni, Bolivia to San Pedro de Atacama in Chile
For my visit to Salar de Uyuni, I booked a three-day tour with a local company: Salty Desert Aventours.
Our tour took us from the Salt Flats to the colorful lagoons of Eduardo Avaroa National Park, volcanic hot springs, and eventually across the border to Chile's San Pedro de Atacama.
Day 1: Visiting the Salt Flats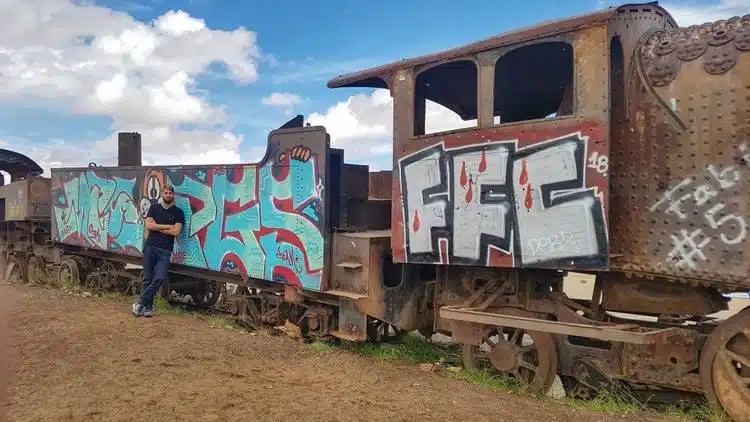 Our first day began at around 10:30 am. Salty Desert Aventours picked us up from the travel agency in Uyuni, and we promptly set out for our first stop: the Train Cemetery.
The Train Cemetery, also called the Great Train Graveyard, was just a few kilometers away from our starting point in Uyuni.
This seemed like an ancillary stop when I first read the tour's itinerary. But it turned out to be well worth the visit.
Dozens of abandoned trains rise against the otherwise flat horizon. Large iron and steel locomotives, iron-red from rust yet preserved by the arid climate, stand on long-forgotten railroad tracks.
It was fun to explore and climb within the twisted wreckage.
Our next stop of the day was Colchani. This small Bolivian town is home to just 600 people. Only a few buildings flank the main road through town. It serves as the primary gateway for those visiting the Salt Flats.
We stopped for a few minutes for a quick tour of the town's small salt factory. There, we learned about how the salt is mined from the flats and exported to other areas of Bolivia and the world.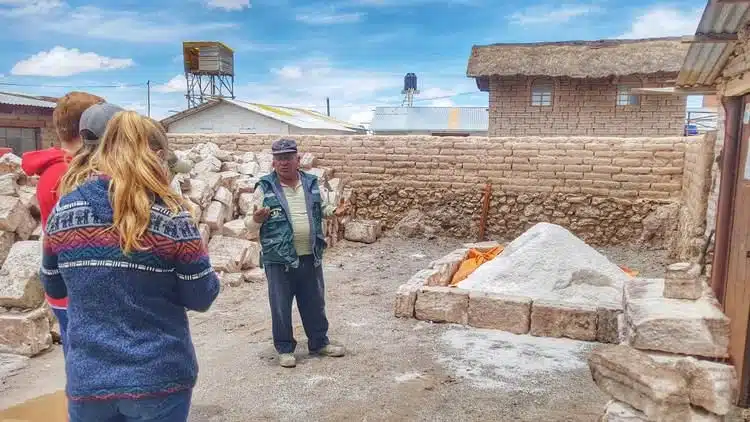 Normally, our tour would have embarked on a drive across the Salt Flats themselves to our final destination of the day: San Juan.
But unfortunately, heavy rains earlier that week had made the rainy season lake that covers the flats a bit deeper than usual (and too deep to traverse by car).
So, after we took photos in the Salt Flats, we ended up back-tracking through Uyuni and taking the main road to San Juan. There, we lunched at the Salt Hotel and settled in for the night.
Accommodations at Salt Hotel in San Juan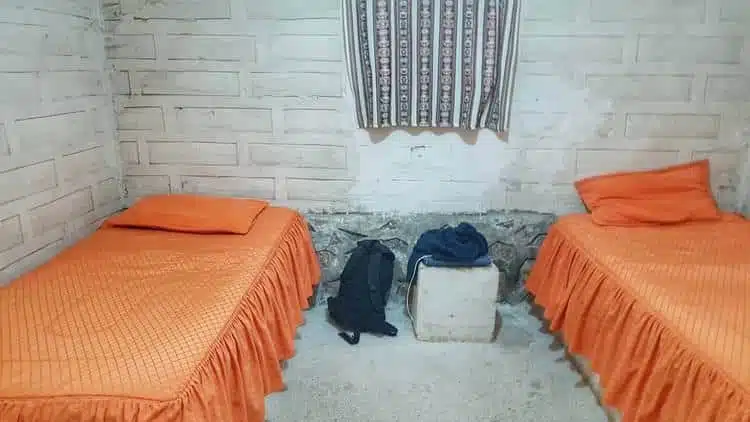 When I heard we'd be spending our first night of the tour in a hotel made entirely of salt, I wasn't quite sure what to expect. But, as it turns out, the Salt Hotel in San Juan is exactly as it sounds.
Almost every part of the structure was made of salt. The walls were made of salty bricks the size of cinder blocks.
The floor was covered in a soft white salt. Even the table and stools where we sat to eat were made of salt (though, thankfully, we did have seat cushions and table cloth).
Aside from its curious construction, the Salt Hotel was pretty plain. But I think that's pretty understandable given San Juan's isolation and size.
That said, the dinner we enjoyed there after our tour to the Train Cemetery, Colchani and Salt Flats, was tasty and filling. We had salad, meat, sausages, and potatoes.
Day 2: Lagoons and Eduardo Avaroa National Park

After a night of sleeping in salt rooms, our tour group set out to see the lagoons surrounding Salar de Uyuni.
Staring out at near-endless desert and salt, you might be convinced that no living creature could call this place home. But, as it turns out, if you know where to look, you can find places absolutely teaming with life.
Take Laguna Colorada, for example. This lake's water takes on a fascinating reddish aura, a color that stands bright against the green and purple snow-capped mountains that line its shores. A
nd in that blood-red water, you'll see hundreds of flamingos gathered together, each gracefully perched on one leg.
There are actually three species of flamingo endemic to the area. Though they're all pink, so you may have a tough time telling them apart.
They come to the lagoons surrounding Salar de Uyuni every year to mate.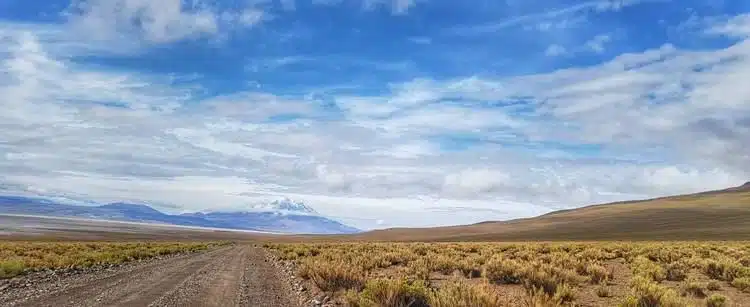 The picturesque views you'll witness from Laguna Colorada match (and perhaps even surpass) the most beautiful vistas of South America.
The things we saw on this tour day definitely made a multi-day tour from Uyuni worth the extra price and time.
Because of the geography of the lagoons, flats, and Avaroa National Park, we ended up spending a good chunk of the day in the car.
Upon entry to the national park, we had to pay a 150 BOB fee. At the time of writing, that converts to about USD 20.
After a day of beautiful scenery and extended car rides, we settled in for some rest and prepared for our final tour day.
Day 3: Hot Springs and Border Crossing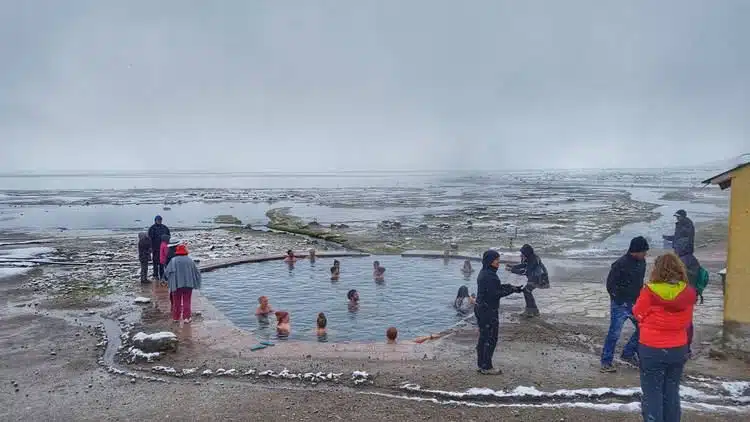 Our last morning was the earliest of the tour. With a busy day ahead, we roused ourselves at 4:30 am, ate some breakfast, and then set off to explore the area's volcanic attractions.
Many of the prominent mountains circling the horizon of Salar de Uyuni are actually volcanoes. Though most are dormant or asleep, it's not uncommon to see trails of smoke or ash eerily rising from their peaks.
Due to this volcanic activity, Avaroa National Park and the surrounding area hold several geysers and hot springs. We spent our morning exploring these. First, we stopped at one very active geyser. Then, we took a dip in the hot springs.
After this morning of fun, we piled back into our vehicles and set out for the Chilean border and the Chilean city of San Pedro de Atacama.
Many multi-day tours are organized to return you to your starting destination (Uyuni).
This is the best option for those planning to continue to travel in Bolivia, but those planning to leave the country can save a few bucks by booking a tour that ends across the border.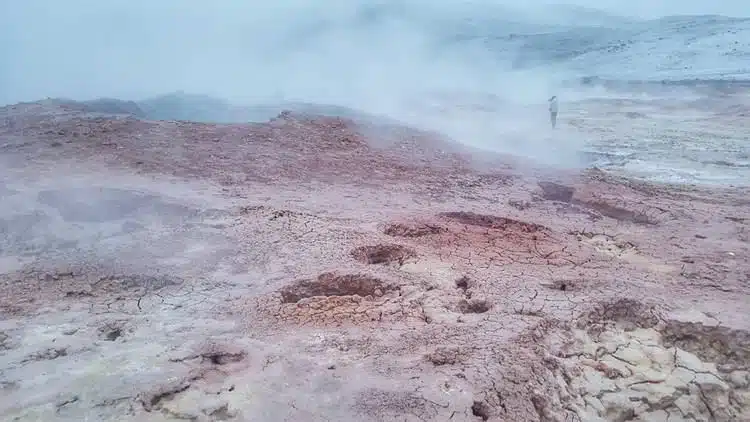 Unfortunately, this isn't an option I can confidently recommend because the border crossing itself was quite an arduous affair.
From start to finish, the process took nearly three hours, and there was little information or documentation available to help guide us through the ordeal.
The border officials ended up checking every single bag for produce and contraband. Fruit and other organic materials aren't allowed across the border, so if you have packed some snacks, make sure you dispose of them before reaching the checkpoint.
Finally, we were granted entrance to Chile and allowed to board a bus to our final destination, San Pedro de Atacama.
This city was a slight letdown, as it seemed quite touristy and expensive. Still, after waking at 4:30 and our border misadventure, I was happy to arrive.
My thoughts on the Salty Desert Tour
I have a few thoughts on my time with Salty Desert Aventours. First, the accommodations they provided were quite simple and bare bones.
The meals were basic and nothing extraordinary. You had to pay an extra fee to take a shower, and the bathrooms at each overnight location weren't always very clean.
However, I think these things are understandable, especially when you consider that Salar, Bolivia is literally a desert.
Uyuni Salt Flats, Bolivia, is a very isolated place, making potable water and good food difficult to provide.
This tour, and really every tour around Salar de Uyuni, is far from luxurious. It's an adventure—so expect it to be a bit uncomfortable at times.
That said, I think Salty Desert Aventours did a phenomenal job in other areas of the tour.
They were well organized and stuck to the schedule, and the guide was a great photographer with a lot of experience. He took some great shots of the Uyuni Train Cemetery and shared them with everyone.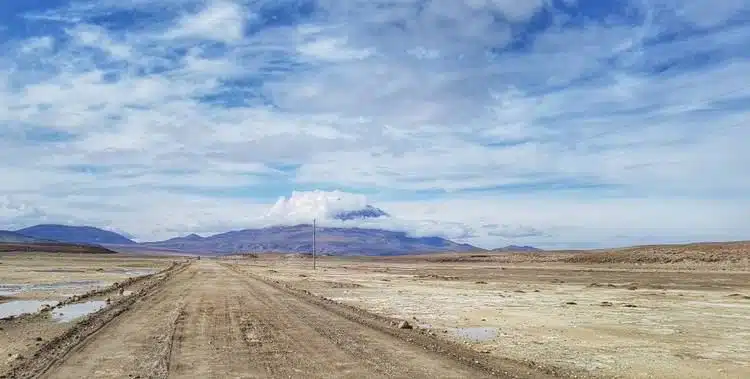 The company also went the distance by negotiating private rooms for us. Other groups had to overnight in communal/dormitory-style rooms with multiple people. This attention to detail is what made me happy with the experience in the end.
That said if I visit the world's largest salt flat again, and money is no object, I will likely decide to book a private tour.
The strict schedule of this group tour prevented us from lingering in places we enjoyed or skipping places we weren't interested in. A private tour enables that extra flexibility.
Salar de Uyuni Packing List
There are a few items you absolutely must pack for your visit to Salar de Uyuni:
1. Sunglasses – the glare off the water and white salt of the flats is almost unbelievably bright, and there's no shade. A pair of sunglasses will make the Salt Flats much more enjoyable and help prevent headaches.
2. Flip Flops – though the salt looks like sand, it's actually pretty coarse and not comfortable enough to walk on barefoot.
3. A good camera – if you have a dedicated camera, you'll definitely want to bring it with you. The salt flats are one of the most photogenic places on earth.
4. Sunblock – the high elevation and dry heat make the sun especially dangerous in Salar de Uyuni. And, even if you wear a sunhat, don't forget to apply sunblock to your face. The bright glare that reflects off the ground is enough to burn.
5. Local currency – as I mentioned above, you'll likely have to spend a few extra dollars to shower and enter Avaroa National Park. Make sure you visit the ATM before starting the tour.
6. Extra water – tours provide water; it's often only offered at lunch and dinner. I recommend bringing a bit extra with you to make it easier to stay hydrated.
More Photos from our Salt Flats Tour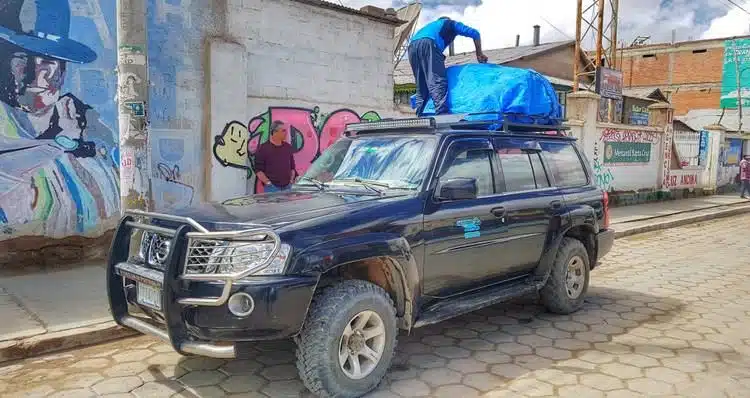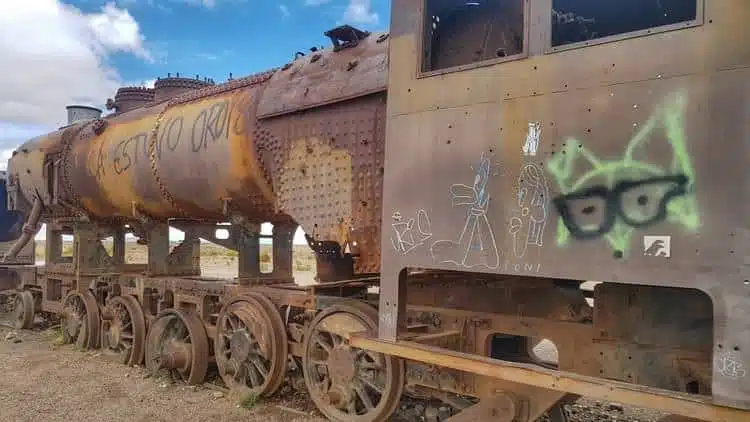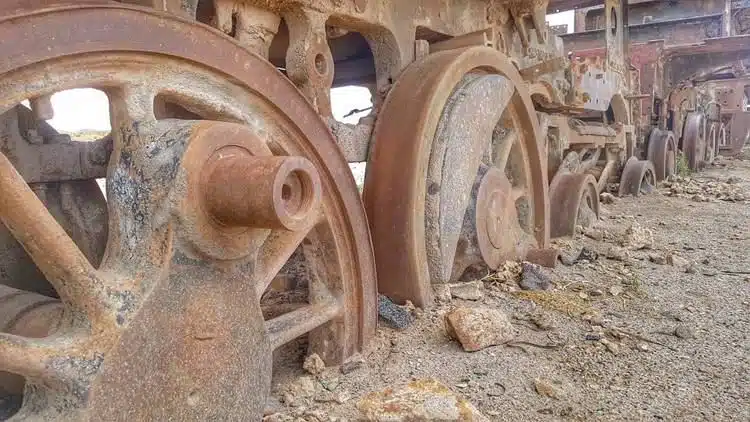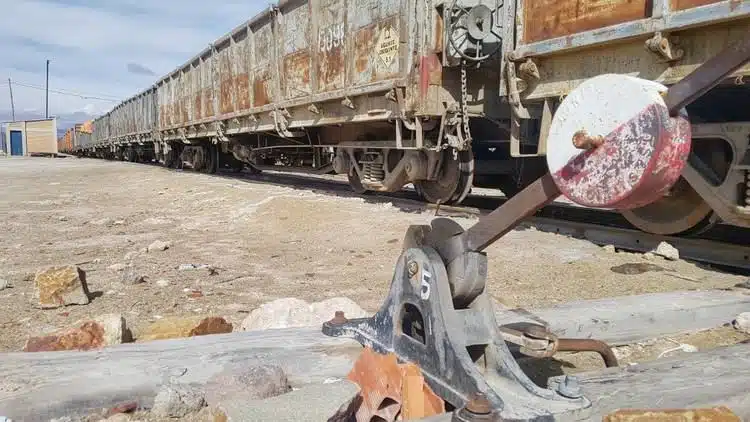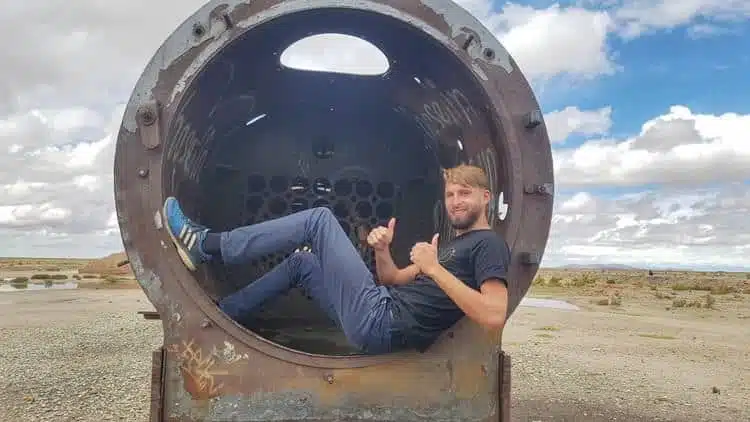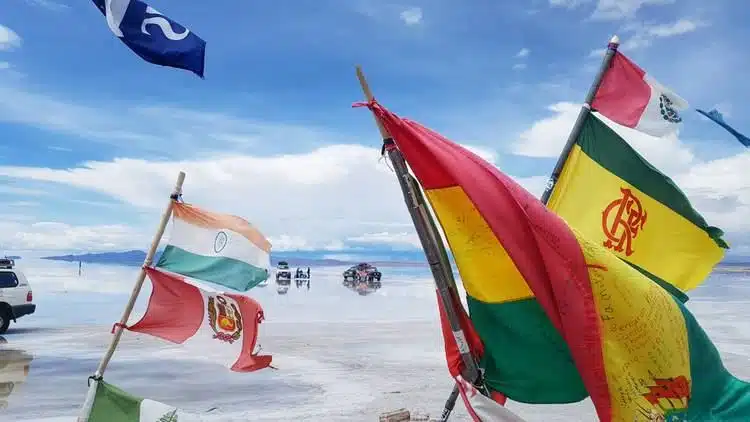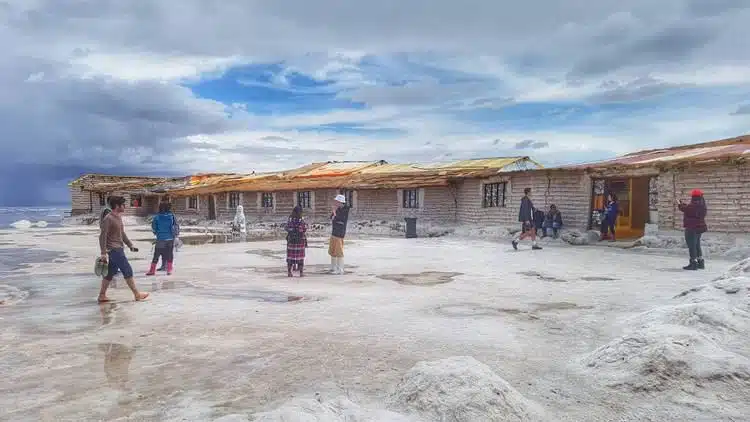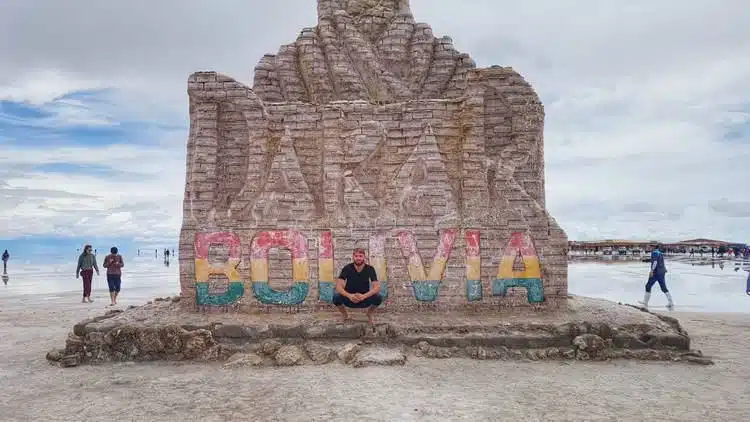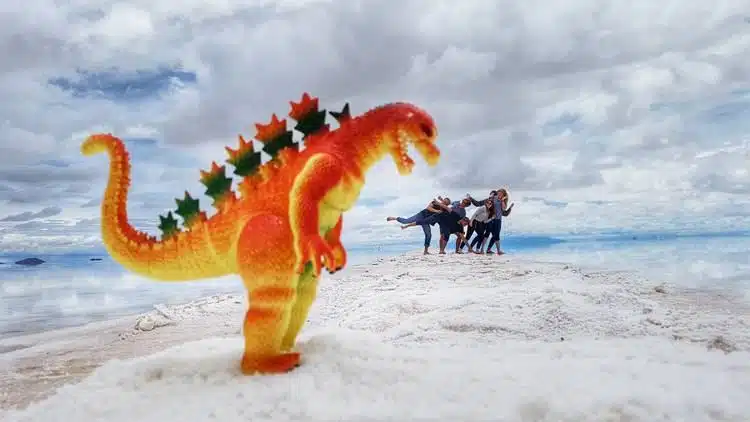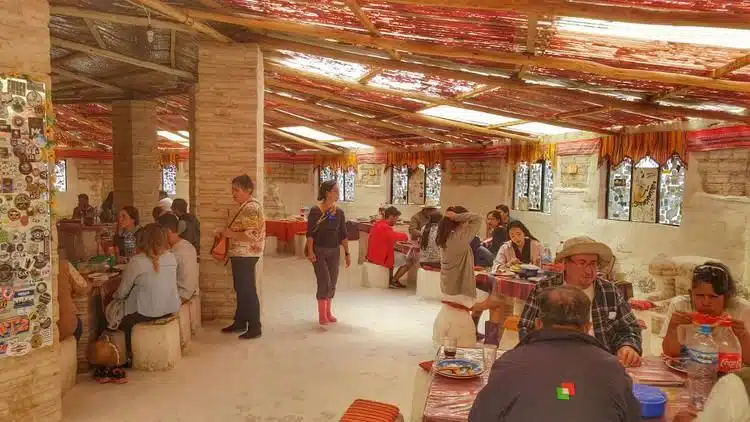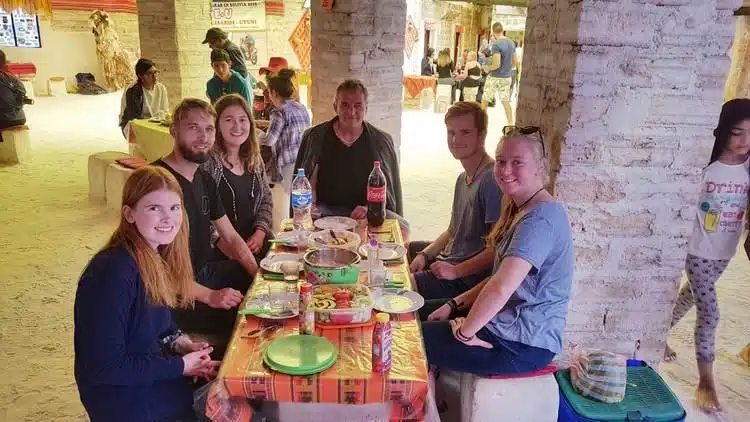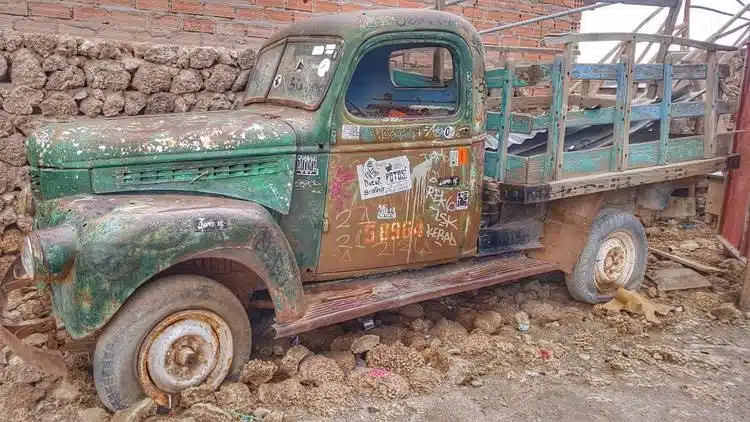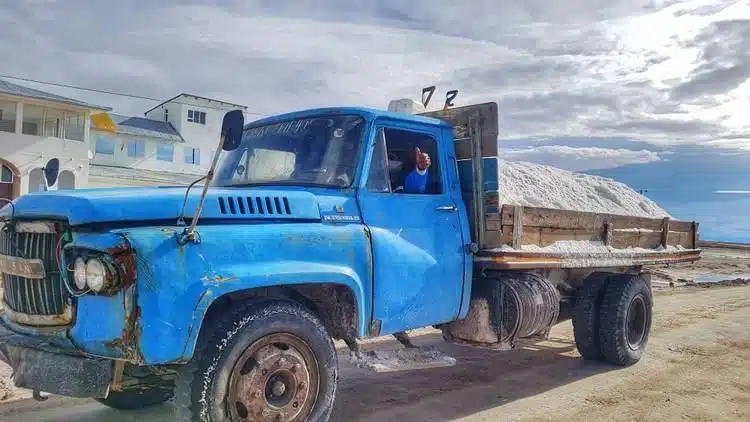 Was this post helpful? If so, be sure to pin it to refer to later!

Disclaimer: I was invited by Salty Desert Aventours. My opinions, as always, are solely my own.
About the Author
More info
Best VPN for Travel: ExpressVPN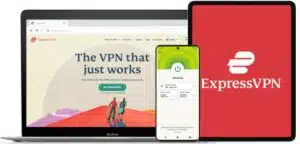 Heading abroad? Use ExpressVPN to access your social media accounts, unblock your favorite entertainment sites, and stay connected with friends and family. And get cheaper flights, of course.
Pros
✅ Next-gen, high-speed servers in 94 countries
✅ Works on iOS, Android, Windows, Mac, Linux, browsers, and more
✅ 256-bit AES encryption protects your data, even on hotel Wi-Fi
✅ Unblocks Netflix and other streaming sites
Cons
❎ No dedicated IPs
Get 3 extra months free of ExpressVPN when signing up for a 1-year plan. That's a 49% saving and a monthly cost of just $6.67! You also get a 30-day money-back guarantee.