Show someone a picture from Patagonia—perhaps a snapshot of the imposing Monte San Valentin or precious Perito Moreno Glacier, and chances are they'll guess it's a photo from somewhere else: British Columbia, maybe, or the Alps or Himalayas.
Fair or not, South America isn't the first place most of us think of when we picture snow-capped mountain ranges and enthralling hiking trips.
But maybe we should.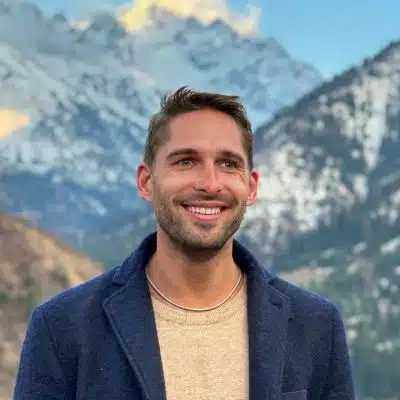 The continent hosts an exhaustive list of adventure opportunities, and some of the best are in Patagonia.
Patagonia covers some 400,000 square miles of the southernmost part of South America.
East to west, the region stretches between the Chilean Pacific and Argentine Atlantic coasts. North to south, it runs from about 40 to 55 degrees south (the same range as between Northern Spain and Northern Scotland in the northern hemisphere).
All this space holds a great diversity of things to see and do. You could spend your entire life exploring Patagonia's most remote, stark, and desolate yet beautiful corners (and many have).
So, to help you decide what you should do during your visit, I've asked a bunch of travel bloggers what they recommend.
From helicopter tours to multi-day hiking excursions up steep mountain trails, here's what they recommend:
1. Peninsula Valdes
Recommended by Melissa from Family Voyage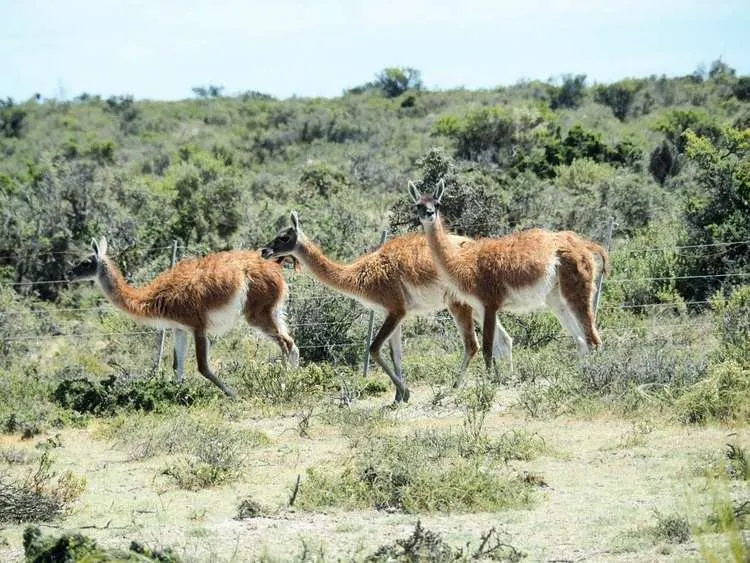 One of the coolest things to do in Argentine Patagonia is get up close with the native wildlife.
There are many species on land and in local waters – guanacos and Southern Right whales among them – but none as special as the colonies of Magellanic penguins living on Peninsula Valdes.
This amazing tour took us to the Estancia San Lorenzo, a private ranch with a beachfront that the penguins can't get enough of.
At Estancia San Lorenzo, you'll see thousands of penguins, and unlike nearby (and more famous) Punta Tombo, the property is exclusively available to tour participants.
November is the beginning of the tourism season in Patagonia and the best time of year to see local wildlife. On the one hand, it's the tail end of the whale-watching season in Golfo Nuevo; on the other hand, it's the beginning of penguin hatching season!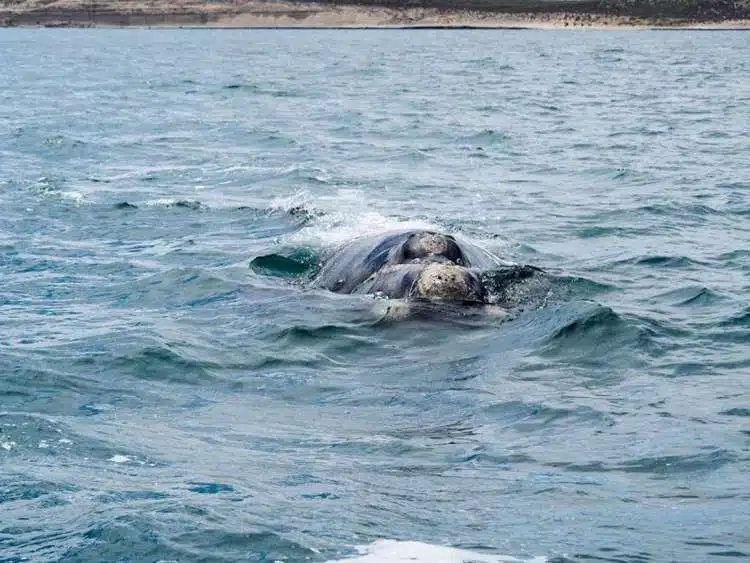 We were fortunate to visit during the first week of hatching, and we could see the signs of new life all around. There were adorable chirps of tiny chicks, and right next to them were tiny eggs split neatly in half.
Mom and dad penguins waddled casually past visitors along the pathways between burrows as they took turns caring for their new twins.
If you are fortunate to add a visit to Chubut province in northern Patagonia to your itinerary, you'll never forget this up-close encounter with these little penguins!
2. Helicopter Ride over General Carrera Lake and Glaciers in Aysen
Recommended by Fran from La Vida Nómade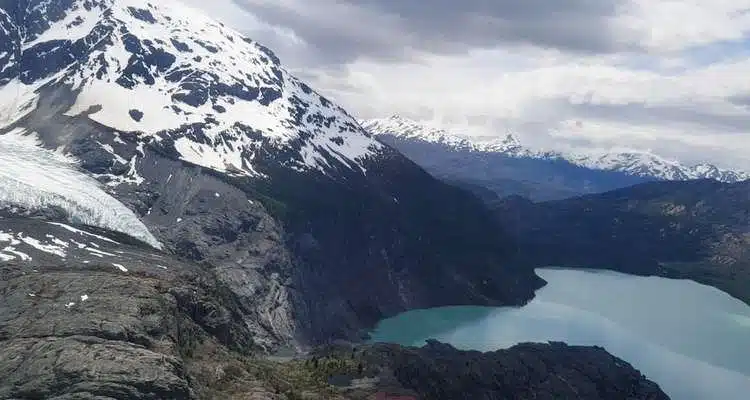 I was traveling with other journalists in Aysen, in the northern part of Patagonia, Chile. We got up at 8 am, and we head off to the road.
It took us through amazing landscapes: wetlands, cliffs, and lakes. Half dizzy due to the curves, we arrived at our destination: Puerto Guadal.
A great surprise awaited us there. As soon as we entered the Terra Luna lodge, I saw a wooden sign reading "Helitours." I had never flown by helicopter. I was afraid, but our pilot was an experienced former member of the Air Force, which gave me confidence.
They gave us the instructions, and the helicopter took off. The wind was on our side, and the device barely stirred. We went over the majestic General Carrera lake (the biggest lake in Chile) towards the Meliquina glacier, where we had a good time enjoying the scenery.
Then we went back to the helicopter to fly over the glacier and into a canyon. I felt like in an action movie.
Once back at the Terra Luna lodge, we were all very happy and excited. It was an absolute dream to see the glacier and the General Carrera lake from the heights.
3. Huemul Circuit
Recommended by Kristin from Be My Travel Muse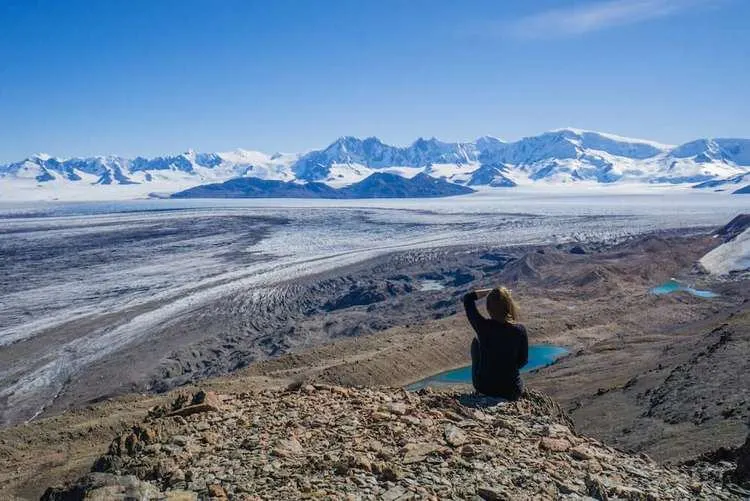 If you are up for a (real) challenge in Patagonia, look no further than the Huemul Circuit.
This circuit is difficult and technical enough to keep most people away, and it's one of the only trails in Patagonia that you can see the Southern Patagonian Ice Field.
Most of the trail is not marked, 3 hours of the trail is almost straight down, and you must carry absolutely everything you will need on the trek, and I mean everything, including a carabiner and harness that you can rent from shops in town.
The hike takes about 4 days. Day 1 would be a pleasant hike from El Chaltén through a bit of forest and a few open areas.
On day 2, you begin by strapping yourself on a harness and pulling yourself across a wire rope, right above the rivers.
The next few hours will be spent climbing over a rocky glacier moraine, then climbing hand and foot up a gravel trail for 1000 meters. This is easily one of the steepest trails I've done, but the view is amazing during this part of the trail.
Day 3 would be the toughest day to conquer – the trail narrowed to the point that one false step would mean falling all the way to the ice field. However, the reward on top is the glorious, intense aquamarine glacial, coupled with the crystal clear water from the glacier.
On your final morning, you will be greeted with shades of gold and red as well as icebergs floating around at the Viedma glacier before ending this challenging trek with a bus ride back out.
4. Carretera Austral
Recommended by Warren from Sling Adventures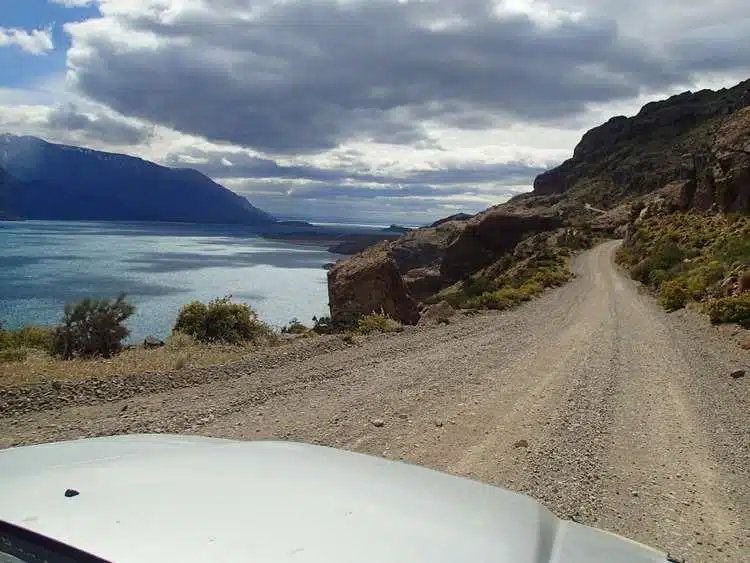 The Carretera Austral is a triumph of Chilean engineering and a relic of the ruthless Pinochet dictatorship.
It connected the isolated northern Patagonian towns and built over 20 long years of blood, sweat, tears, and frostbite. Nowadays, independent travelers take on this graveled, dusty, and twisty trail by any means possible.
The Carretera Austral is known as Ruta 7, a 1,240km stretch of Chilean highway. It starts in the gritty, industrial transport hub of Puerto Montt and extends south to an isolated dead-end point at Villa O'Higgins.
The Carretera Austral is definitely a time when the journey versus destination cliché comes into its own.
Travelers are drawn by the magnificent mountain vistas, sleepy towns, gorgeously green national parks, hilltop hikes, crevasse riddled glaciers, and packs of friendly free-range dogs.
It is a reward for stepping out into the unknown and taking on the significant challenges that face those willing to take on the road less paved.
5. Perito Morino glacier
Recommended by Lora from Explore with Lora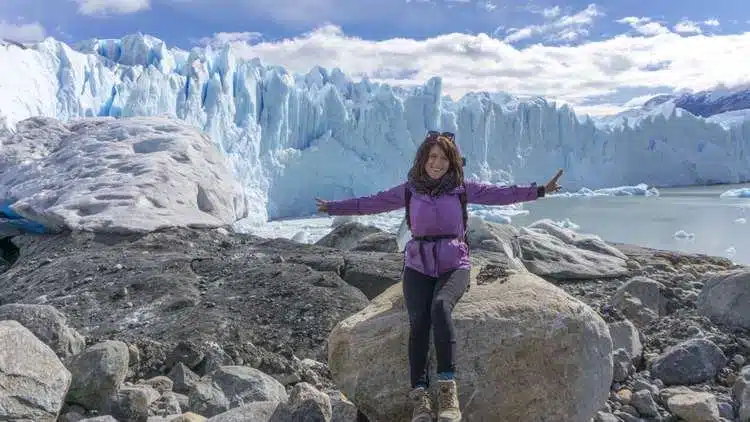 Perito Morino glacier is an impressive 30km long glacier located near El Chatlen, Argentina.
Various tours run from town but one of the best and most immersive experiences you can do is a glacier trekking tour with Hielo Adventura. I did the mini-trekking which was a great experience.
The tour starts with pick you up at your accommodation in El Calafete. Once you arrive at the park, you continue a stunning 20-minute drive through gorgeous scenery to the boat dock.
From there you take a 20-minute boat ride closer towards the glacier where you will meet your guides for the trek who will provide you cramp-ons for walking on the ice.
On the trek the guides will stop for photo ops and to introduce you to the fasciniating landscape of the glaciers: streams, small lagoons, gulloes, cravasses and plenty of ice formations of the most incredible blues.
The guides provide explanation about the flora, fauna and general glaciology of the region that produced this incredible glacier. As a bonus, at the end of the tour we got to go inside an ice cave which was carved by a river that flowed through the glacier.
It was so magical inside, with blue natural fluorescent light and ice formations that looked like pieces of art. After the trek the guide will take you a spot for lunch near the ferry dock where you can admire the glacier from a distance.
It is incredible to watch pieces break off from it, as the large chunks fall off it creates a huge wave through the ocean. After lunch you take the boat back and head to the balcony viewing section.
The balconies provide some impressive views of all sides of the glacier to full take in the scale of the glacier.
6. Visit the Cave of Hands
Recommended by Michael from Time Travel Turtle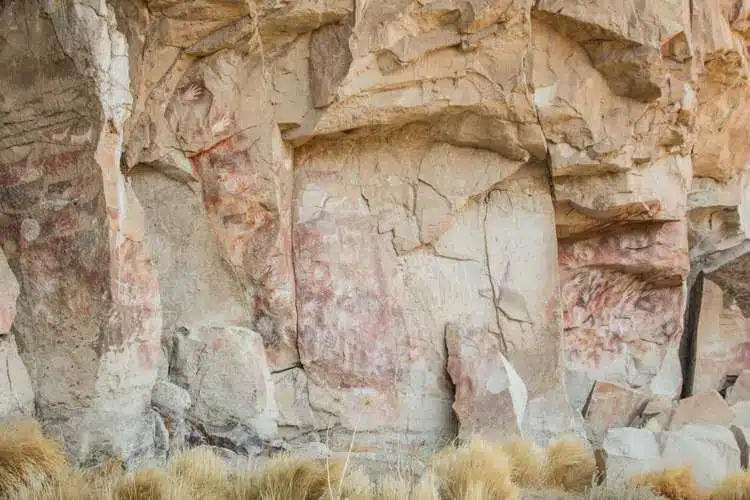 It can be an adventure in itself getting to the Cave of Hands. It's in the middle of nowhere, about a day's bus trip from anywhere you might want to go, seemingly not worth the effort.
But it is well worth it – because you will be among the few people who visit for one of the most special places in Patagonia The Cave of Hands are where the hunters of this region would stay as they passed through more than 9000 years ago.
They followed the animals and the seasons and would spend time here each year. On the walls, they left their mark with handprints and paintings of their lives.
These ancient images in the caves show animals, humans, hunting methods, and aspects of daily work. It is not just a testament to the ancient history of Argentina – it's also a view into the lives of humans well before the rise of civilisations and society as we know it today.
The fact that these paintings have survived for so long is quite incredible. When I visited, I was the first person to come that day.
The local guide showed me around on my own, which gave me a much more intimate experience. It's nice to have a calm and quiet atmosphere at the Cave of Hands because there's a lot to think about when you see something this special.
ARE YOU KEEPING UP WITH MY SOUTH AMERICA SERIES
One of the BEST PLACES TO VISIT IN SOUTH AMERICA is the SALAR DE UYUNI, THE SALT FLATS IN BOLIVIA. Another great adventure is CYCLING ON THE DEATH ROAD IN BOLIVIA.
The Galapagos Islands are one of the most famous island archipelagos in the world. Check out my 10-DAY LAND-BASED ITINERARY GALAPAGOS ISLANDS and my COMPREHENSIVE GUIDE ABOUT THE GALAPAGOS ISLANDS. Another great adventure in Patagonia is HIKING IN TORRES DEL PAINE NATIONAL PARK.
Was this post helpful? If so, be sure to pin it to refer to later!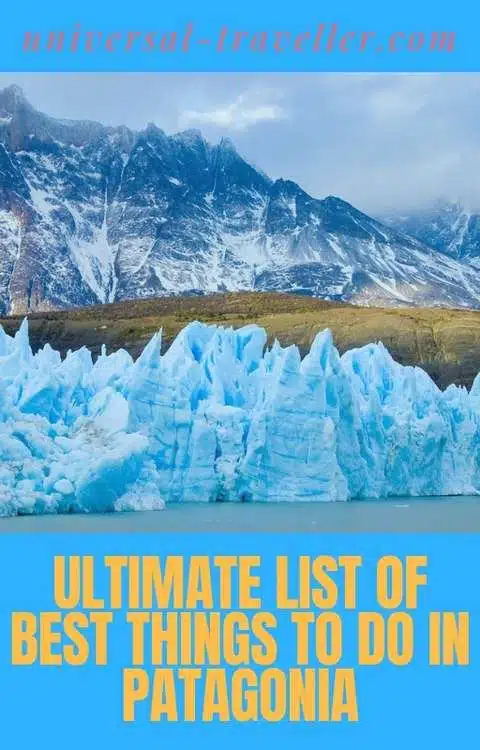 Best VPN for Travel: ExpressVPN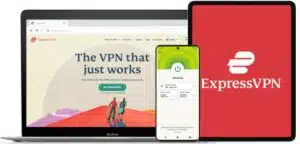 Heading abroad? Use ExpressVPN to access your social media accounts, unblock your favorite entertainment sites, and stay connected with friends and family. And get cheaper flights, of course.
Pros
✅ Next-gen, high-speed servers in 94 countries
✅ Works on iOS, Android, Windows, Mac, Linux, browsers, and more
✅ 256-bit AES encryption protects your data, even on hotel Wi-Fi
✅ Unblocks Netflix and other streaming sites
Cons
❎ No dedicated IPs
Get 3 extra months free of ExpressVPN when signing up for a 1-year plan. That's a 49% saving and a monthly cost of just $6.67! You also get a 30-day money-back guarantee.