Medellín, Colombia, a city nestled high within the Colombian mountains, has a rich cultural history. Its architecture is stunning, spanning from Spanish colonial to works of modern renown.
The city has also received acclaim as an emerging eco-tourism hotspot.
But, unfortunately, when most international travelers think of Medellín, they jump to the city's darker past.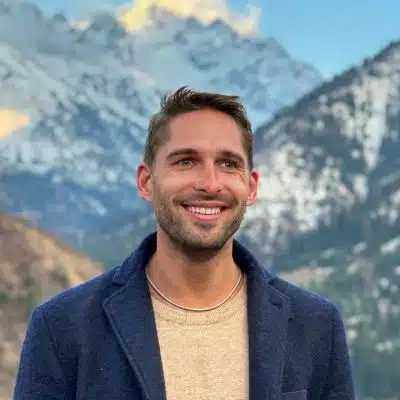 In the 1980s, Medellín, Colombia, was considered by many to be the most dangerous city in the world.
The danger and crime that blanketed the city resulted from the cartel wars instigated and fought by the infamous Medellín Cartel and its leader, Pablo Escobar.
Related Posts:
Escobar has been thrust back into popular culture due to the Netflix series Narcos and other recent portrayals in film and television.
Yet, many don't know that Medellín has left these dark days behind in more ways than not. In the years since Escobar's death, city-wide reform efforts have dramatically lowered Medellín's crime rate, and the city is now considered safer than several in the USA.
And that's a great thing because it means travelers like us can feel confident and safe exploring the best Medellín has to offer.
To help you know where to start, I asked a bunch of travel bloggers about their favorite activities and places in Medellín.
From a cable car ride over Arvi Park to cycling, sculpture, modern art, and more here's what they said:
1. Take the Cable Car to Arvi Park
Recommended by Stefan and Sebastien from Nomadic Boys – Gay Travel Blog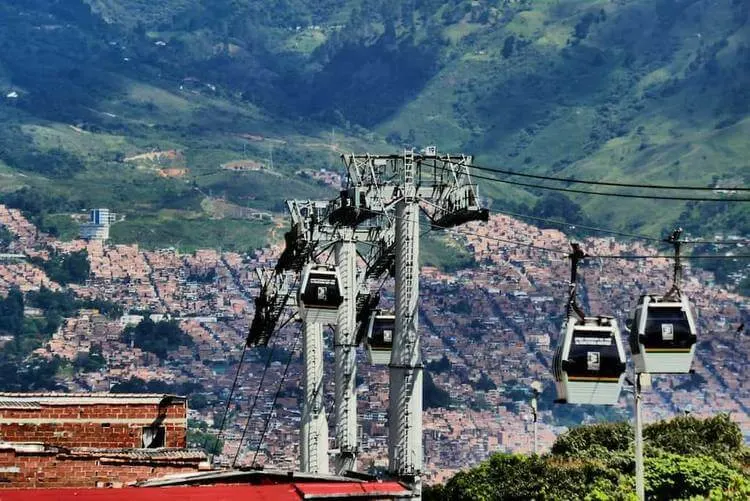 Medellin used to be considered the crime capital of Colombia, but over the past 10 years has completely transformed to become one of the safest and most advanced places in the entire country.
Medellin is the only city (as of 2018) to have a metro system; this extends to the cable cars that cross the various peaks of the city.
Medellin is located at an altitude of around 1,495 meters (4,904 feet) but has many peaks around the city, particularly in the main touristic hub of Poblado.
One of the best ways to see the city's skyline from above is to take the cable car from the Acevedo metro station all the way to Arvi Park. It starts at 1,900 meters (6,230 feet) altitude and rises to 2700 meters (8,860 feet) high.
Metro tickets for this ride are inexpensive, but the ride itself is quite long and goes on for a good 20 minutes. It's well worth the trip and was one of the best things we did when touring Medellin.
Arvi Park itself is also worth exploring and great for picnics. Tip: bring a jumper – there's a slight drop in temperature the higher you go!
2. Free Walking Tour Comuna 13
Recommended by Vicky from Buddy The Traveling Monkey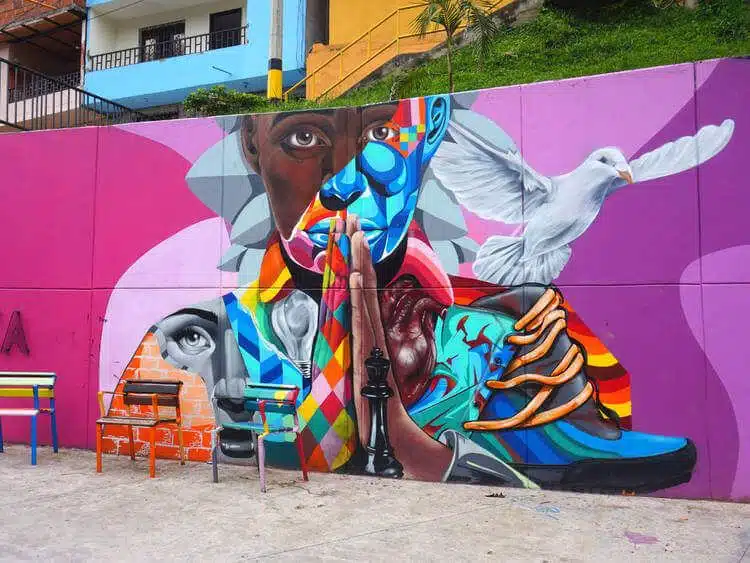 Medellín was known for being a dangerous city, and no area had a worse reputation than Comuna 13. Medellín is divided into 16 communes, and Comuna 13 went through decades of turmoil because of guerilla and paramilitary fighting.
It was located in the perfect location for drug smuggling, so factions fought over it fiercely. A lot has changed over the last few years, though.
Now, the guerillas and paramilitary are out of the area, so it is a lot safer. The city has also invested a lot of money in Comuna 13, which had never been done in its history.
In 2011, a set of electrical escalators were built that would benefit the locals immensely. Now, someone could go up over 380 meters in six minutes, whereas before, the steep climb would take at least 25 minutes. The escalators were a first of their kind since they were the first escalators built for social purposes in the world.
Aside from the escalators, Comuna 13 is also now famously known for its graffiti. Locals have painted impressive murals all over. Many have messages of hope and rebirth, a testament to the strength of the local community. During our visit to Medellín, we took a free walking tour with Zippy Tours.
Our guide, who grew up in Comuna 13, gave us a very personal account of the area's history. She took us all around the neighborhood, and we were able to ride the escalators and take photos of the street art.
It was an incredible experience, and to be able to learn about the area from someone who had seen and been through so much made it even more special. We definitely recommend that anyone visiting Medellín take this walking tour.
3. A Day Trip to Guatapé
Recommended by Claire from Tales of a Backpacker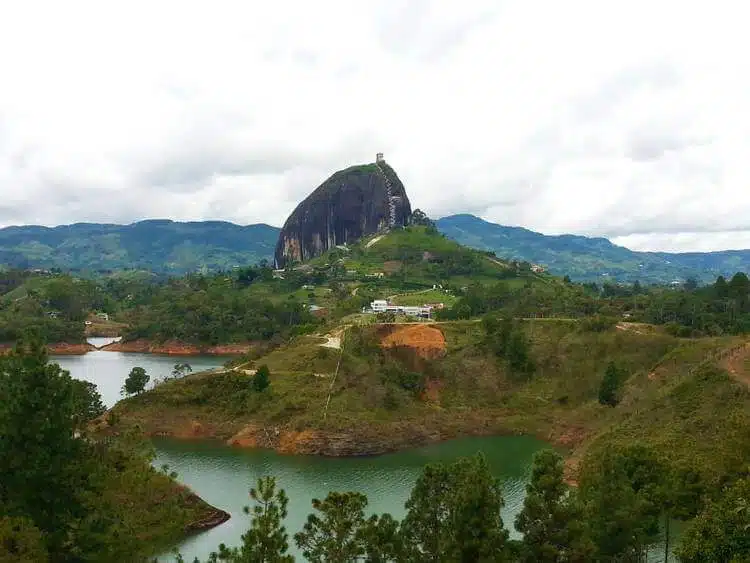 Guatapé is a pretty little town around two hours drive from Medellin. Most people choose to visit Guatapé on a day trip, although there are plenty of hotels and hostels in Guatapé if you want to stay overnight.
Guatapé is famous for its giant rock, known as El Peñón de Guatapé or El Peñol, but the town itself is also worth exploring. El Peñol is a striking landmark, a huge rock looming over the lakes and islands below.
The rock was worshipped by the area's indigenous people and was only climbed for the first time in 1954. Now, 740 steps are zig-zagging up one side so visitors from all over the world can climb up to the top and admire the view.
The views from the top of the rock are spectacular and are definitely worth the effort!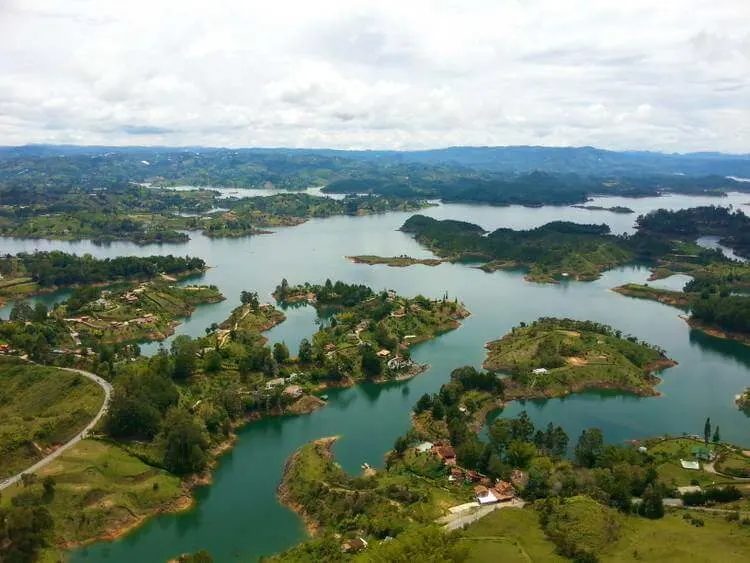 Once you have scaled El Peñol, head into the town to explore the maze of streets. Guatapé is one of the most colorful towns I have ever seen. Every house is lovingly decorated with brightly painted carvings on the bottom section of the wall and the rest of the walls, each painted in different colors.
Many of the carved images relate to the products sold in the shops, the occupation of the residents, or their beliefs, and each design is different.
The houses often have hanging baskets full of flowers, and the people of Guatapé are clearly proud of their town, a must on your visit to Medellín!
4. Ciclovía Medellín
Recommended by Jen from Long Haul Trekkers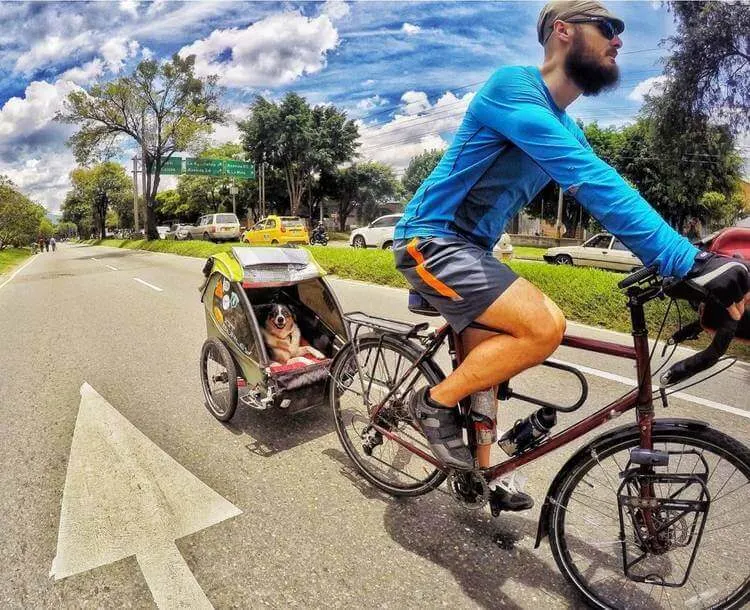 Famously one of the most passionate cycling countries in the world, Colombia is not surprisingly the creator of the movement known as ciclovía.
Started in Bogotá in 1974, Medellín has also been hosting the event for over 20 years. Every Sunday, holiday, and on Tuesday and Thursday evenings, INDER, the city's parks and recreation department, shut down major thoroughfares to traffic so that cyclists, runners, rollerbladers, and walkers can enjoy a car-free space to recreate for several hours.
The largest ciclovía is on Sundays and holidays, when the city shuts down over 60km of roads, including connections to nearby municipalities between 7 am and 1 pm. The Tuesday and Thursday ciclovías take place between 8 pm and 10 pm along a much smaller route.
The purpose of ciclovía is to provide a safe space for residents to recreate regularly. Throughout the route, people can also participate in various aerobics classes, like dance or strength training.
Alternatively, you can take a break at one of the many food vendors along the route to try some local fares. Over 100,000 people from Medellín participate each week, taking over the roads in a collaborative effort to get moving and commit to a healthier lifestyle.
Medellín has spring-like weather nearly year-round, making it easy to get outside and ride along the route. If you're visiting, there are various shops in the city where you can rent reliable bicycles to participate in the event.
5. Botero's sculptures Medellín
Recommended by Elisa from World in Paris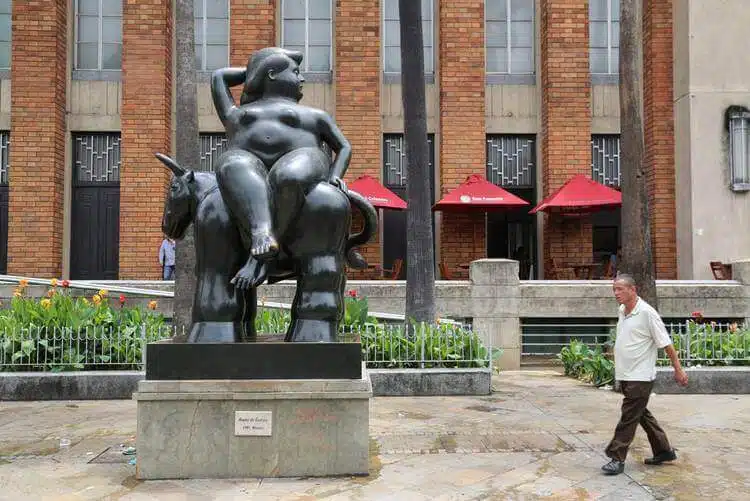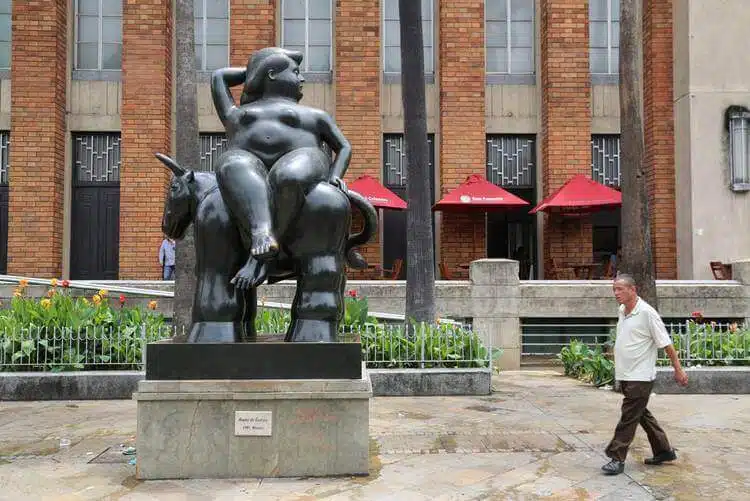 I found Medellin a very cool city, with lots of (good) things happening and a good vibe.
Medellin is the birthplace of Fernando Botero (1932), the great Colombian sculptor and painter known for his artworks with round forms. Despite its international fame and reputation, Botero never forgot its origins and the city of Medellin is populated by his women and fluffy horses and cats, being Botero's artwork one of the Medellin's main sights.
It won't be difficult for you to follow Botero's steps in Medellin as his art is unmistakable. You can start your DIY walk (there's no need of guided tour) downtown at Plaza Botero (Parque Berrio metro stop), where you will find his first sculptures.
Then just walk around, it won't be difficult to find the next ones. I must confess my favorite Botero sculpture is the fluffy cat but in the end, they are all very cool.
Once you are done with the sculptures perhaps you want to see some of Botero's paintings?
You will find a nice collection and Museo de Antioquia, a museum located right on the square. This museum has a very big collection of Botero drawings and paintings, most of them donated by the artist himself.
The Best of Medellín from a bird's eye view:
6. Museo de Antioquia Medellín
Recommended by Yariella from The Beauty Backpacker
If you're travelling through Medellin, you definitely don't want to miss the Museo de Antioquia, the brilliant art museum located right in the city's famous Botero Square.
Rain or shine, wandering through this institution's hallowed halls is a lovely way to spend an afternoon in South America's coolest city. Open since the late 1800's, this museum has certainly been through the ringer, but it was fully revamped in the late 1990's following the devastation of the Escobar era.
But what makes a visit to this museo really worth your while is the fact that it houses one of the largest Botero collections (the most celebrated Colombian artist – known for his rounded figures) in the world.
A collection that the artist himself donated to help support and grow the museum. Entry will cost you 18,000 COP (aprox $6) and will give you a flavour of not just Botero's work but also introduce you to other renowned South American artists.
Finish your tour with a stop in the museum shop, where you'll find everything from textiles and jewellery created by some of Colombia's most up-and-coming designers.
7. Museum of Modern Art
Recommended by Daniel from Layer Culture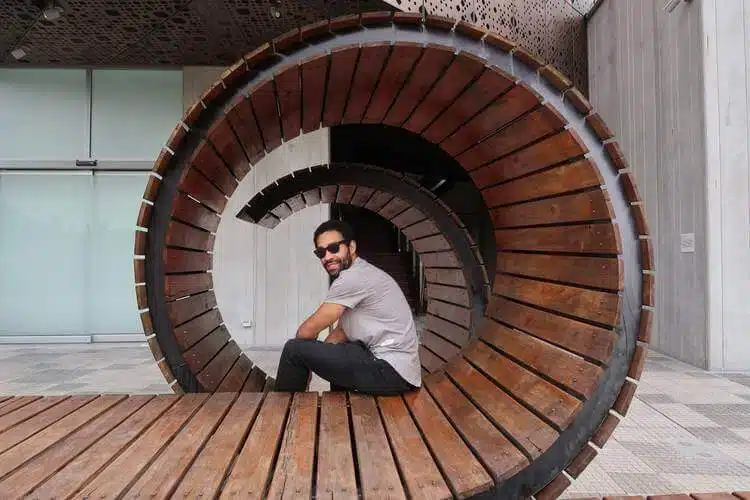 If you're an art lover and have already passed by Medellin, you'll know it has some amazing street art. However if you have more than 24 hours in the city I highly recommend you get yourself down to the museum of modern art.
Not only will you find signature work from Botero, a famous Colombian artist whose sculptures you can find scattered around the city centre, you'll also find works from many young local artists that are on the rise in Colombia and Latin America.
For just 10,000 pesos you can enter the museum and spend the morning or afternoon. I loved that the museum is designed to showcase contemporary art from in and around Colombia.
My favourite part of the whole museum experience was walking around and discovering different parts of the building; especially the top-floor, where you'll find an open rooftop area equipped with designed spaces to relax and take in the view.
Inside, I found the gallery rooms to be well designed and lit, they even gave a flavour of the former steel mill constructed back in the 1930's, which was once situated in the same spot.
So if you find yourself in Medellin looking for things to do, be sure to check out the Museum of Modern art.
8. Medellín Flower Festival
Recommended by Gearoid from Unlatinoverde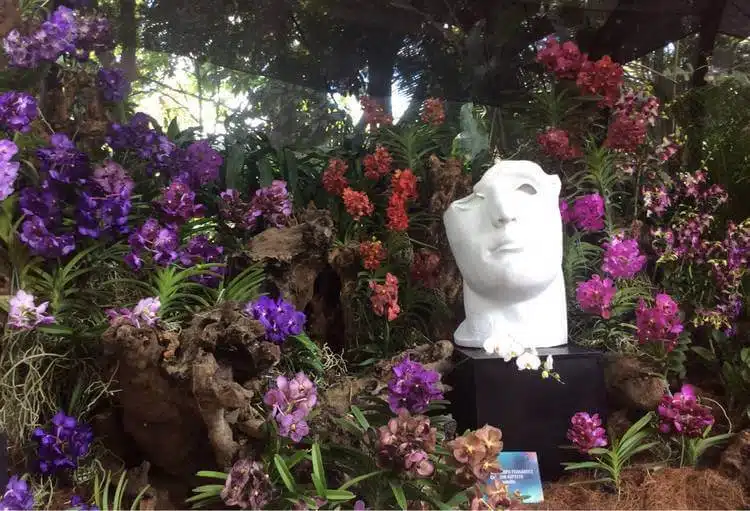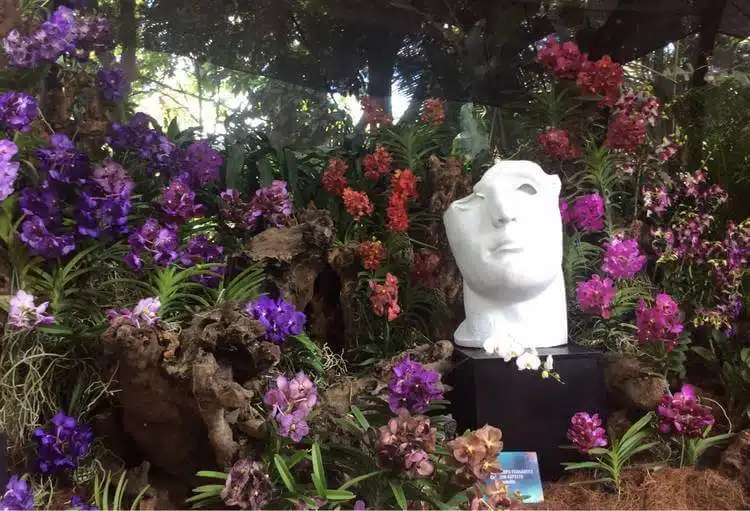 Medellín – the name of the city alone once evoked violence and terror.
Fast forward a few decades and one of the highlights of its social calendar is a flower festival. Largely based in the city's Botanic Gardens, the main exhibition mixes orchids, birds, and a wide variety of colourful flowers.
The annual event takes place in the first week of August. Apart from the floral parades around the city, it's the main exhibition that really attracts the crowds.
Friends and families line up to take photos against a background of fiery reds, flashy pinks, and royal blues. Then, there are the centrepiece displays- flower trains, dangling sunflowers, and floral Easter eggs.
If the endless flowers get a bit tiring, there's still more to do. A craft fair sells a big selection of women's bags, children's toys, and other items. No need to worry about presents for the folks back home- you could easily fill up your backpack or suitcase here.
Need a bite to eat? There's sure to be a stand selling everything from a local paisa dish to creamy Belgian waffles. Finally, if you tire of the crowds, head to the palm garden. It's so quiet there that you can hear the wind blowing through the trees.
Entrance tickets usually cost about $7- a small price to pay to witness the victory of flower power over violence. For me, the annual festival is a symbol of Medellín reborn, an unmissable highlight in one of South America's most progressive cities.
ARE YOU KEEPING UP WITH MY COLOMBIA SERIES
Read here WHY COLOMBIA SHOULD BE YOUR NEXT TRAVEL DESTINATION.
To help you plan your trip to Colombia, I compiled a list of THE BEST THINGS TO DO IN MEDELLÍN and BEST THINGS TO DO IN BOGOTÁ.
If you want to extend your stay in South America, don't forget to check out my ultimate list of BEST PLACES TO VISIT IN SOUTH AMERICA.
More Internet Resources:
Was this post helpful? If so, be sure to pin it to refer to later!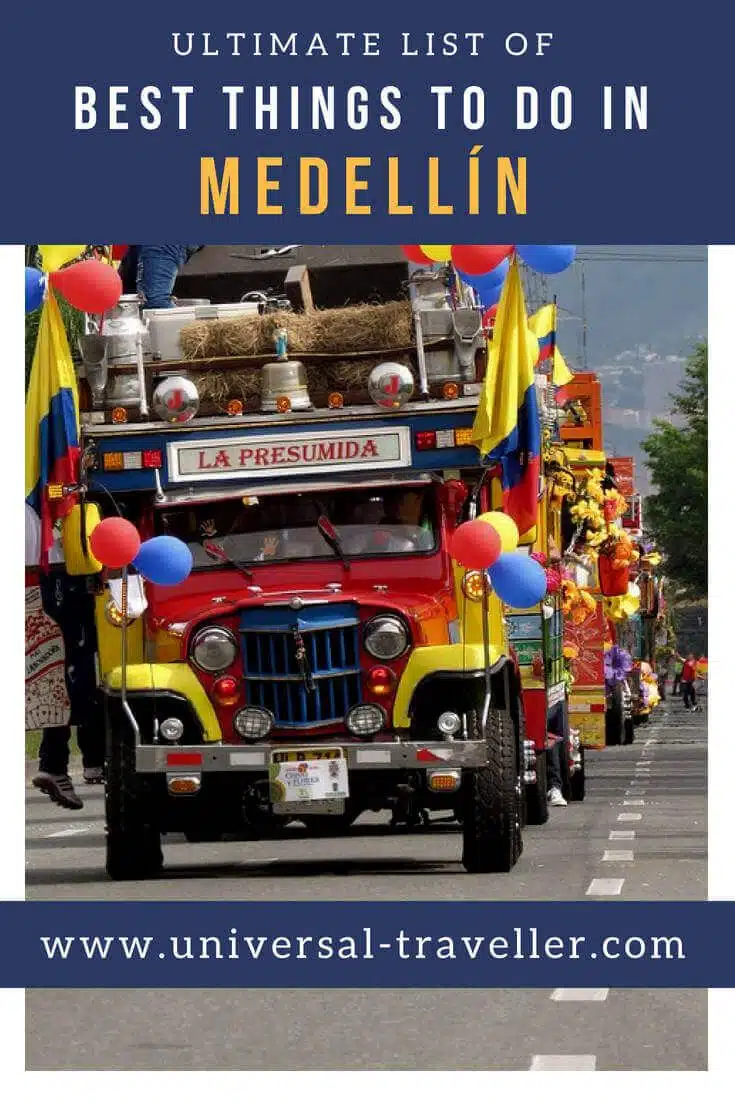 Best VPN for Travel: ExpressVPN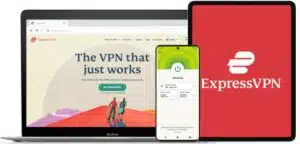 Heading abroad? Use ExpressVPN to access your social media accounts, unblock your favorite entertainment sites, and stay connected with friends and family. And get cheaper flights, of course.
Pros
✅ Next-gen, high-speed servers in 94 countries
✅ Works on iOS, Android, Windows, Mac, Linux, browsers, and more
✅ 256-bit AES encryption protects your data, even on hotel Wi-Fi
✅ Unblocks Netflix and other streaming sites
Cons
❎ No dedicated IPs
Get 3 extra months free of ExpressVPN when signing up for a 1-year plan. That's a 49% saving and a monthly cost of just $6.67! You also get a 30-day money-back guarantee.