Bogotá is the heart of modern Colombia and, with 8 million inhabitants, the largest and most populated city.
It was regarded as unsafe for tourists and is now home to a vibrant restaurant and nightlife scene, a beautiful colonial quarter with impressive architecture, and world-class museums.
I have asked a bunch of bloggers about their favorite activities and places in Bogotá.
That's what they said:
1. Monserrate Mountain
Recommended by Campbell & Alya from Stingy Nomads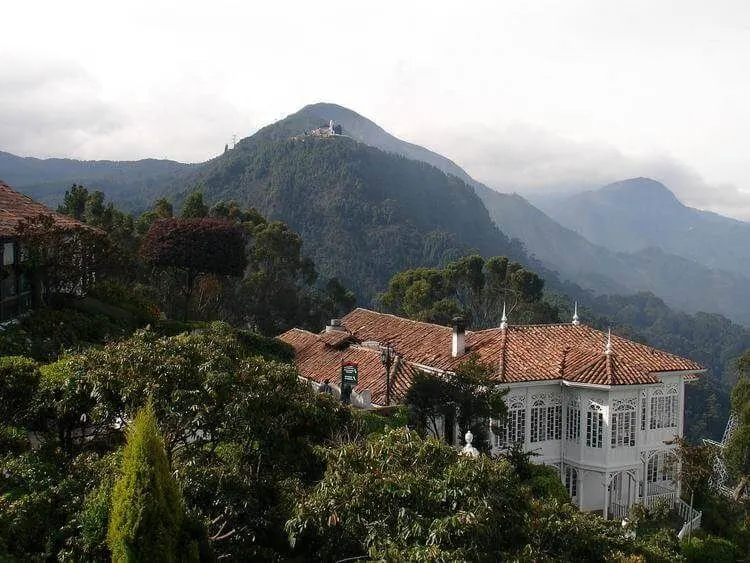 One of our favorite activities in Bogota is going up Monserrate mountain in the Guadalupe neighborhood, where you can see the whole city like on the palm of your hand.
There are two ways of getting to the top; walking up or taking a cable car.
The walk is quite tough; the mountain is 3152m high – a steep and long ascent to the top.
Related Posts:
We walked up twice, both times on weekends when many people were going up – we were never alone, it felt quite safe, plus several guards are patrolling the area.
The trail is opened from 5 am to 1 pm; after that time, you won't be allowed to start walking up.
Don't forget to take enough water with you for the walk you'll get thirsty.
If the walk sounds like too much of a mission, rather take a cable car or a funicular – it's easier, faster, and safer.
Both rides offer spectacular views of the area. As an option, you can combine two different experiences; walk one way and take a cable car back or take a funicular up and cable car back.
On the top, you can visit basilica del Senor Caido de Monserrate – a beautiful colonial church built-in 1920.
There are several cafes and souvenir shops around the church where you can have lunch or coffee with a stunning view over Bogota.
Tip: You can also book a tour of the Monserrate Sanctuary. Enjoy stunning views of Bogotá from more than 3.000 meters above sea level.
2. Salt Cathedral
Recommended by Stefan and Sebastien from Nomadic Boys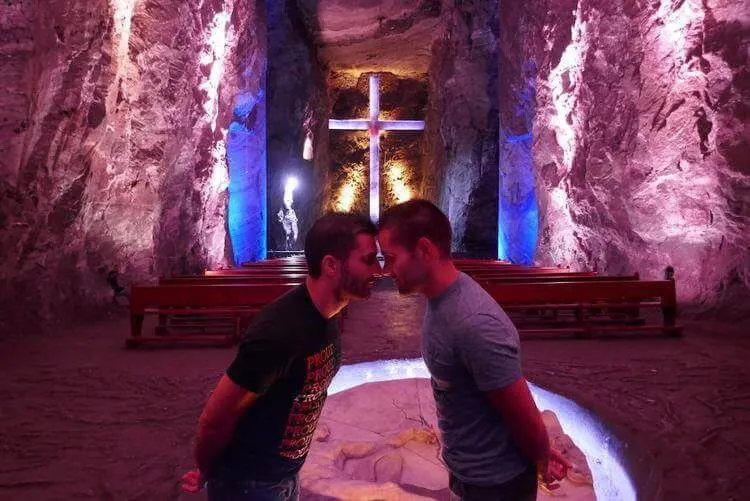 The Salt Cathedral of Zipaquirá, or "Catedral de Sal," was one of our favorite day trips from Bogota.
It is an imposing, and massive underground cathedral carved entirely from salt.
Interestingly, it is only one of three such structures in the world – the other 2 are located in Poland.
It was voted as the #1 of the 7 Wonder of Colombia in a poll in 2007.
The Salt Cathedral includes a guided tour in English and shows all the many different salted structures, including a detailed history.
There is also an array of souvenir shops where you can buy replicas of the different structures. The tour also includes a fascinating light show in one of the large salt rooms.
The Salt Cathedral is located in Zipaquirá, around a 1-hour drive from downtown Bogota (depending on traffic, which can get really bad in Bogota due to lack of public transport).
You can easily arrange a taxi to take you, which should cost around $20.
Tip: Experience what it is like being a salt miner 60 meters under the surface. Learn more about the history of salt in the salt mine of Nemocón. After a typical Colombian lunch, visit the Salt Cathedral of Zipaquirá.
3. Rent a bicycle during Ciclovía
Recommended by Jen from Long Haul Trekkers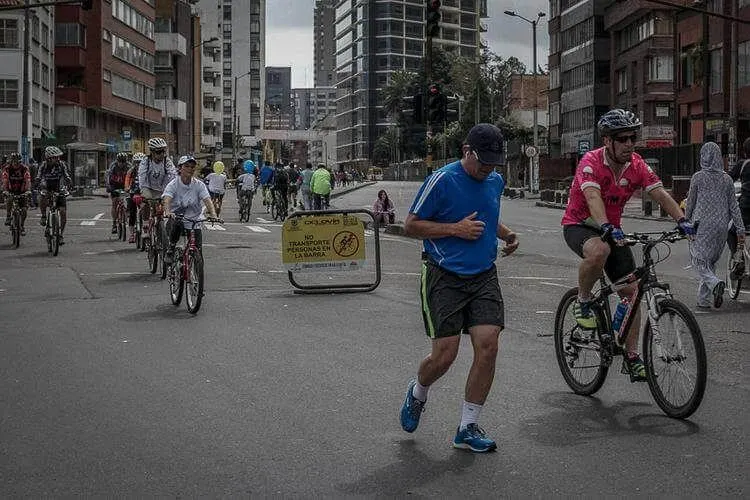 Rent a bicycle and see Bogotá from an entirely different perspective during Ciclovía.
Every Sunday and holiday from 7 AM until 2 PM, Bogotá closes over 70 miles worth of roads to car traffic, opening the lanes to bicycles, runners, and other recreators for Ciclovía.
Launched as a pilot program in 1976, the city has hosted the longest-running and largest Ciclovía in the world.
When Mayor Enrique Peñalosa governed the city from 1998-2001, he famously created 350km of bike lanes in the capital city, advocating that cities should be designed for people, not for cars.
His goal was to demonstrate "that a citizen on a $30 bicycle is equally important as a citizen on a $30,000 car."
The weekly event attracts millions of people, drawing them to the car-free streets filled with entertainment.
City parks become fitness centers, with free Zumba classes, bike mechanics set up pop-up maintenance stations, and vendors sell Colombia foods like arepas, empanadas, and salpicón, a juice drink with chunks of tropical fruit.
Tip: Discover the less-touristy side of Bogotá on a 4-hour bike ride through the city's historic center, hidden markets, and local neighborhoods.
Visit a traditional fruit market and a small coffee factory on an intimate excursion.
4. El Museo del Oro
Recommended by Elisa from World in Paris
El Museo del Oro (the Museum of Gold), located in central Bogota', is one of the best museums in Colombia and perhaps in the whole world!
The museum displays the history of Colombia's indigenous peoples from their birth until the arrival of the colonialists through amazing pieces of gold.
These gold objects, sometimes hundreds of years old, are beautifully carved using complex techniques.
Apart from the history of these peoples, visitors can also learn about their social organization, religious organization, and way of life in general.
The display of gold artifacts is complemented by other media supports like models, drawings, or other archaeological findings to give the full picture.
The Museum of Gold also analyzes the different techniques used by the different communities to work the gold.
It is amazing to see how some of the techniques used centuries ago appear to us very complicated, even using the most modern tools!
This beautiful museum is divided into different floors, and everything is so interesting that we recommend starting your day with this museum and dedicate at least 2-3 hours.
5. Free Walking Tour
Recommended by Eoin from Dollys Quest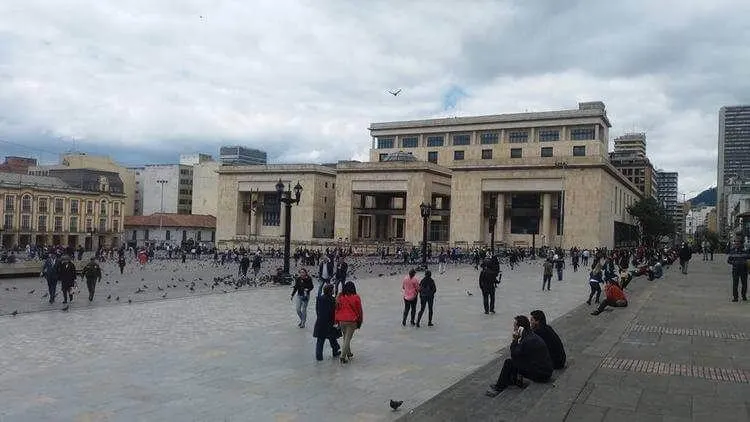 Like most major cities throughout the world, Bogota now has several free walking tours that show you different parts of the city.
These are varied and based upon the most popular parts of Bogota.
Two of the most popular are the Bogota street art tour and the La Candelaria tour.
Both are interesting, and I took part in both tours during my time in the city. I found the La Candelaria tour to be the most insightful and interesting of both tours.
Although the tour encompasses aspects of Bogota's history and culture from pre-Columbus times, it is heavily focused on recent events in the city and country, primarily around the political district of the city.
This is a brilliant tour for those interested in Colombian history and how the country has moved from its dark recent past to a pioneer in peaceful resolutions to its problems and relative economic security, especially in contrast to its recent past.
As the tour is tip-based, you only pay what you think it is worth, but I am sure you will find it very informational and interesting.
6. Museo Botero
Recommended by Thais from World Trip Diaries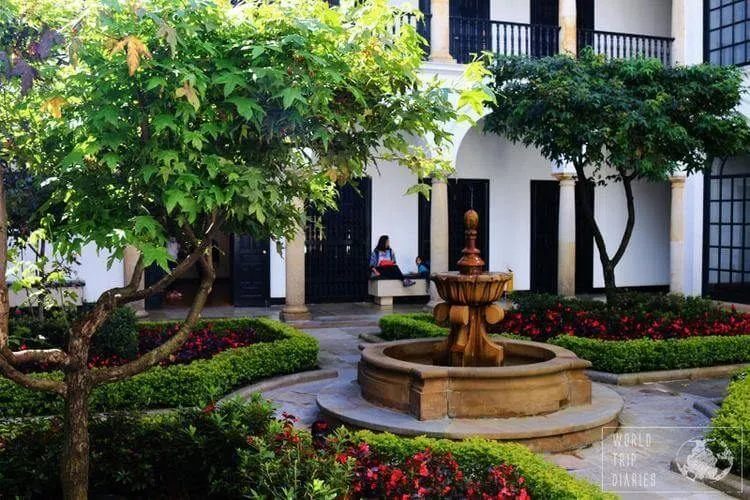 Colombia is full of Fernando Botero's art. Everywhere. His 'curvy and sexy' style is unique and easily recognizable.
In Bogota, you can visit Museo Botero, with artwork by many famous artists from all around the world.
They belonged to Botero's own personal collection, which was donated to museums around Colombia to enjoy the public.
There's the sculpture of a hand at the entrance, and you can clearly see who the artist is.
The museum is located in a beautiful house with a small garden in the middle to stop and rest for a moment.
It's closed on Tuesdays and opened for the rest of the week from 9 am to 7 pm. On Sundays, it's only open until 5 pm.
They offer many free activities for children and adults throughout the year.
It's an outstanding museum for people with an interest in art – even if it's just a little.
7. Market Tour & Cooking Class
Recommended by Claire from Tales of a Backpacker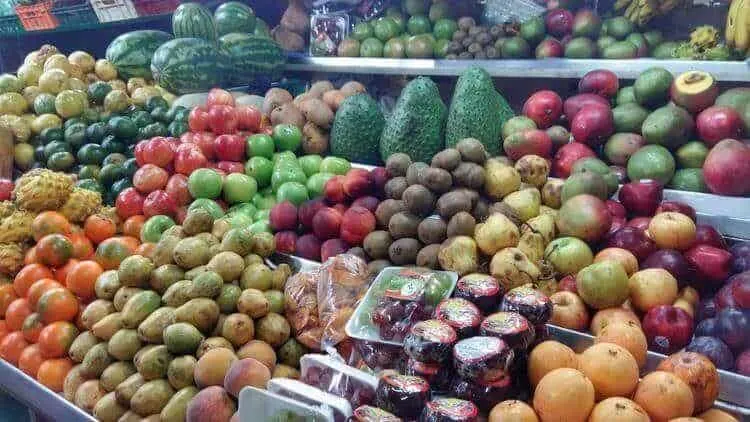 A great way to learn more about the culture and people of Bogota is to interact with the people who live in the city, and a market tour and cooking class give you the chance to do that.
The morning began at a market in the Chapinero district of Bogota, outside the usual tourist area of Bogota, so I already felt like I was venturing into the unknown!
Diana, my guide, met me outside the market, and we went inside to visit some of Diana's favorite stalls and buy the ingredients for our meal.
After sampling strange fruits, Colombian coffee, and buying everything we needed, we took a taxi to Diana's home.
She explained the menu we were going to make, and together we rustled up a delicious Colombian meal.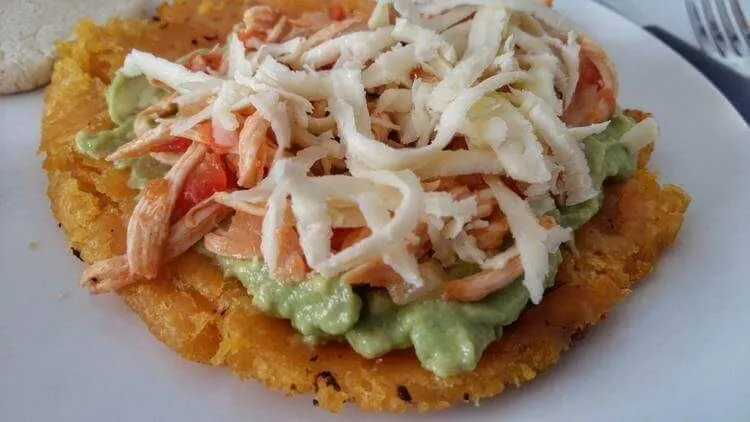 The tour and cooking class were informal and friendly, and I learned a lot about what it really means to be Colombian.
Diana dispelled myths of what a 'typical' Colombian is; in fact, there is no such thing anymore, especially in big cities like Bogota!
If you want to experience something beyond the 'typical,' I definitely recommend this tour with 5Bogota!
Bogotá Food Tours:
8. The National Sanctuary of Our Lady of Carmen
Recommended by Kaila from Nom List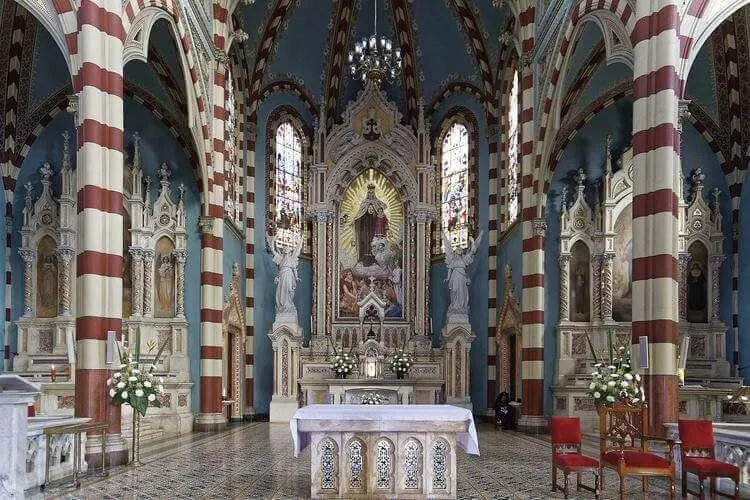 When visiting Bogota, make sure to make a trip to The National Sanctuary of Our Lady of Carmen, also known as the Santuario Nacional de Nuestra Señora.
This church is dedicated to the Virgin Mary and is a Catholic church.
It's unique, featuring festive, Christmas-y candy-caned stripes along its exterior, making for the perfect photo ops.
Find it in the historic area of Bogotá, specifically in the barrio La Candelaria.
The design in the interior and exterior feature Arabic, Florentine Gothic, and Byzantine design elements.
The shrine of this building was declared a National Monument on April 30, 1993.
You can't miss it as you walk through the old town; the imposing structure adds a bright pop of color to the historical and colonial-style streets of the city.
It was completed in just 1938, making it the youngest building in this old city. It's definitely a must-visit monument when visiting Bogota!
9. Graffiti Tour around La Candelaria
Recommended by Patrick from German Backpacker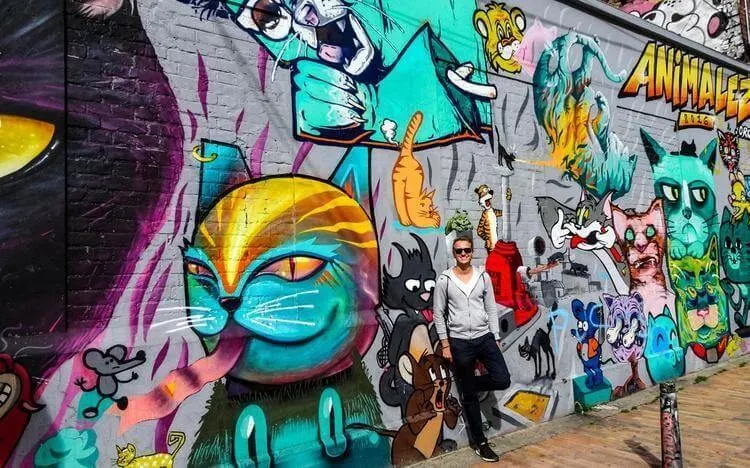 One of the best things to do in Bogotá is going on a Graffiti tour around La Candelaria, the historic city center of Bogotá.
The Colombian capital is famous and known for its extensive street art culture. By walking through the city's streets, you will quickly realize and see all the paintings, which are literally around almost every corner.
While you can obviously watch the paintings by yourself, I suggest going on a graffiti walking tour to learn more about the history and story behind it.
These tours are two times a day and based on tips – therefore, everyone can join the graffiti tour and, in the end, you're welcome to give a tip to your guide if you enjoyed it.
This guarantees you a fun and enthusiastic tour guide!
I enjoyed my tour a lot, and it's been very entertaining and interesting to hear about all the stories. For example, our guide explained how Justin Biber actually started a huge graffiti revolution a few years ago!
Tip: Join the Bogotá Capital Street Art Tour to meet and learn about young artists and the meanings, colors, textures, images, and symbols embodied in a variety of beautiful pieces of street art.
10. Carne De Res
Recommended by Megan & David from Half This World Away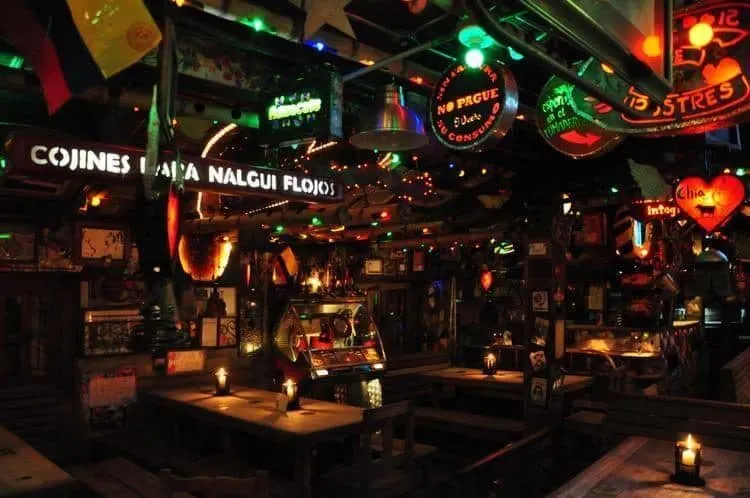 If there is one eating experience you need to have, not only in Bogota but in Colombia as a whole, it has to be Carne De Res.
Carne de Res is a pilar of the Bogota restaurant scene; this legendary place is sure to blow you away.
The original restaurant is located about 1 hour from central Bogota. Most locals say that this is the best one; a sprawling 2.76-mile restaurant that possesses 11 dining areas, 2 dance floors, and, eh, a climbing wall?!
Whether you travel to the one outside the city or visit the city center restaurant, you will be enchanted by the surreal decor.
Once described as "Alice in Wonderland meets Moulin Rouge," this theatre, like a restaurant with a 75-page long menu and endless live entertainment, promises a dining experience like no other.
11. Emerald Museum
Recommended by Margarita from DownshiftingPro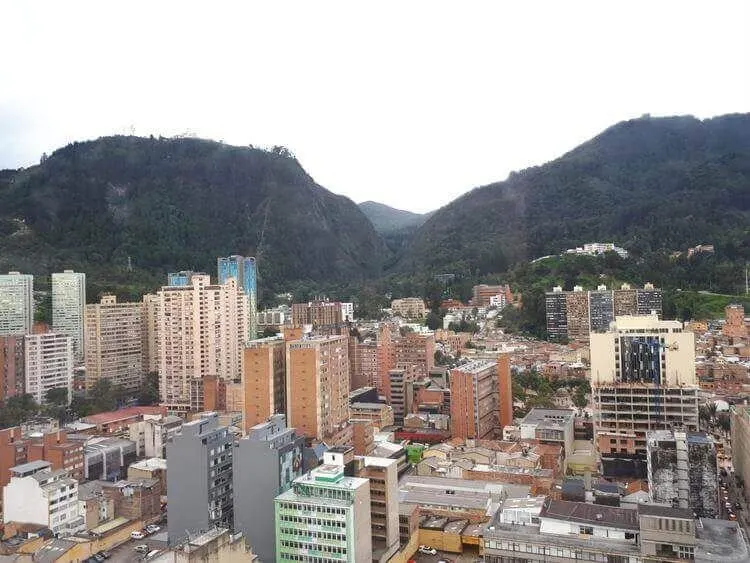 Do not miss the Emerald Museum when you visit Bogota. It's a small museum tucked away on the 23rd floor of the Avianca Building in downtown Bogota.
My cousin has lived here her whole life and never knew it existed. It is conveniently located across the plaza from the more famous Museo de Oro (the Gold Museum) and el Banco de la Republica.
The Emerald Museum has a unique tour through a re-created "mine" simulating what a vein of emeralds looks like.
As you progress down the corridor, the guide lights up each station to divulge what it takes to create one of the most expensive gems in the world.
Colombia is the largest producer of Emeralds in the world. You will see some beautiful examples in private collections on loan to the Museum.
This is a tiny exhibition (not really a museum), but there is a jeweler on-site to assist you should you desire to buy one.
Bring a big wallet; they are pricey but guaranteed.
As a bonus, you'll be allowed to take pictures of the panoramic views of Bogota.
Read here WHY COLOMBIA SHOULD BE YOUR NEXT TRAVEL DESTINATION.
To help you plan your trip to Colombia, I put together a list of THE BEST THINGS TO DO IN MEDELLÍN and BEST THINGS TO DO IN BOGOTÁ.
If you want to extend your stay in South America, don't forget to check out my ultimate list of BEST PLACES TO VISIT IN SOUTH AMERICA.
Best VPN for Travel: ExpressVPN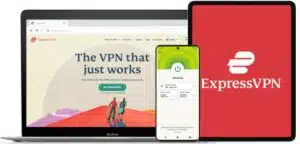 Heading abroad? Use ExpressVPN to access your social media accounts, unblock your favorite entertainment sites, and stay connected with friends and family. And get cheaper flights, of course.
Pros
✅ Next-gen, high-speed servers in 94 countries
✅ Works on iOS, Android, Windows, Mac, Linux, browsers, and more
✅ 256-bit AES encryption protects your data, even on hotel Wi-Fi
✅ Unblocks Netflix and other streaming sites
Cons
❎ No dedicated IPs
Get 3 extra months free of ExpressVPN when signing up for a 1-year plan. That's a 49% saving and a monthly cost of just $6.67! You also get a 30-day money-back guarantee.