Cusco is an ancient and intriguing city. One of the only major cities in the world located at above 11,000 feet, the city would be a marvel in modern times. But Cusco's history makes it even more impressive.
Cusco is an ancient capital. Nestled high in the Andean mountains, it served as the seat of Incan power for hundreds of years. And, it was here that, in 1532, Pizarro and his Spanish invaders confronted Incan Emperor Atahualpa and forever changed Peru and the world.
Related Posts: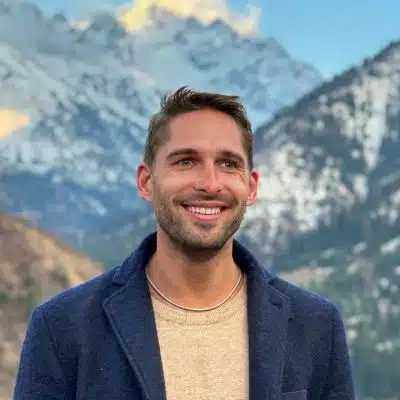 2. Different ways to get to Machu Picchu
Today, Cusco's biggest draw is the Machu Picchu. Perhaps the most famous and widely recognized archaeological site in the world, these gripping ruins once served as the imperial palace and quarters of Incan emperors.
Machu Picchu is truly a sight to behold. Still, it's certainly not the only thing worth seeing in and around Cusco (in fact, we've actually got a whole post dedicated to what to do in Peru besides Machu Picchu).
We also got a post about the best things to do in Lima.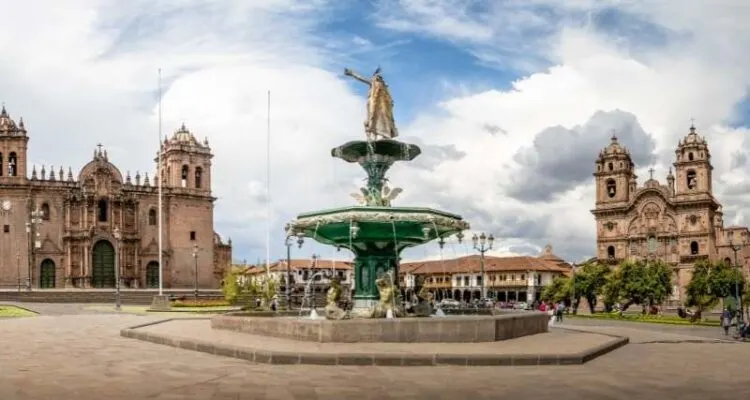 To help you decide what to do while visiting, I asked a bunch of travel bloggers about their favorite activities and places in Cusco, Peru.
From archaeological wonders to mountain lakes and sacred valleys, here's what they said:
1. The Maras Salt Ponds
Recommended by Jenny & Steven from Tales From The Lens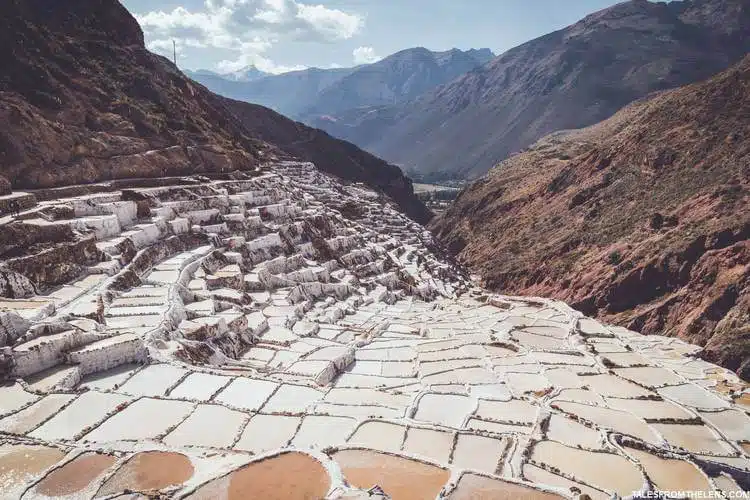 The "Salineras" of Maras, also known as the Salt Ponds, is incredible to visit near Cusco.
Situated in the Sacred Valley near Ollantaytambo, the salt ponds have only found fame from visitors in the past few years. They are easily accessible with a tour or a taxi from the city of Cusco within 40 minutes.
Far from the sea, but used for salt production since pre-Incas time, the ponds are actually alimented in iodine by an underground stream and then through tiny channels across the area. The terraced puddles are gradually filled by the water, which, once evaporated, leaves thick slices of salt for the worker to collect.
Maras is run by families who sell their salt via a local cooperative. Each basin belongs to a local family from the community, and its capacity is defined depending on the family's size. Visit the Maras Salineras, and you will see grandparents working along with their kids and grandchildren.
The entrance of the Maras Salt Pond is not included in the Boleto Turistico. Visitors will need to pay 10 soles upon entering the place. It is without a doubt one of the highlights of Cusco's surroundings.
To read more about Maras and why not hiking the sacred valley without a tour, check Tales From The Lens' post.
Tip: Explore Moray and the Salt Mines with a Quad Bike Tour starting in Cusco. Click here for more information, photos, and/ or to make a booking.
2. Rainbow Mountain Cusco
Recommended by Kristin from Be My Travel Muse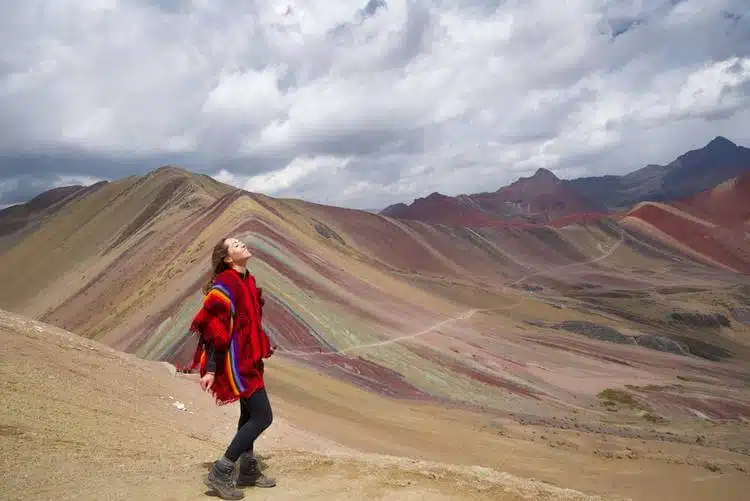 This gorgeous mountain with layered shades of red, yellow, and green recently exploded in popularity, and I'm going to have to point the finger at Instagram. I led a tour there earlier this year, and everyone absolutely loved it.
That said, it's a challenging hike due to the altitude and not to be taken lightly. Rainbow Mountain sits at 5200 meters in elevation, which is over 17,000 feet. As anyone who has hiked at altitude knows, you can hardly breathe in air that thin.
The day hike itself is not particularly difficult; however, the altitude makes it infinitely harder. Please don't make this the first thing you do upon arriving in Cusco. Give yourself at least a few days to acclimate.
Most visitors visit for just one day since the multi-day track is challenging and very high up. To do the day hike from Cusco, you can book with a local tour operator to pick you up between 3 and 4 AM in town.
The drive to the start of the trail takes about three hours and begins around 4000 m. Entrance to the Rainbow Mountain costs 10 soles, or it may be included in your transport fee.
Unless it's super high season and you're concerned about availability, I'd wait to book a horse until you arrive rather than paying ahead of time online for 10x more.
Yes, the Rainbow Mountain is touristy, but that doesn't make it any less amazing. As long as you're prepared for the altitude, dressed warmly, and willing to take a horse if you need to, it's totally worth checking off the bucket list.
Book your tour to Rainbow Mountain here. The tour includes roundtrip transportation from Cusco, breakfast & lunch, a professional English & Spanish speaking guide, and the entrance ticket to Rainbow Mountain.
3. Machu Picchu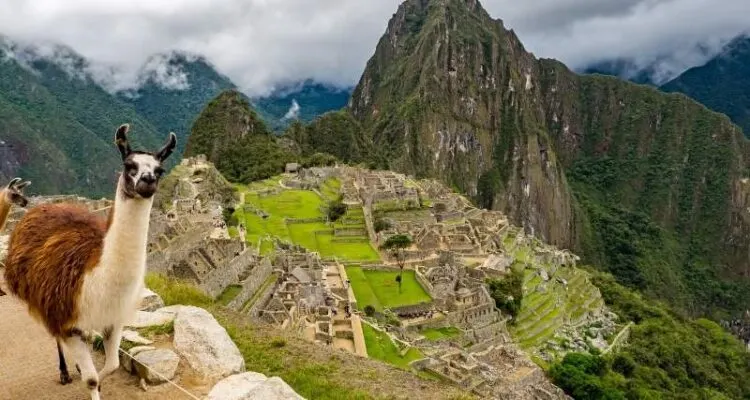 If you're visiting Cusco, you must see Machu Picchu. This mountaintop archaeological site was once the imperial palace of the Incan emperors and earned its fame as the "lost city of the Inca" when Europeans rediscovered it in the early 20th century. Still, the ruins were never really lost to locals.
Unlike Cusco, the Incan capital city, Spanish invaders never discovered Machu Picchu or plundered its wealth. One theory why the Spanish never found the palace is that Spanish horses, unlike Incan llamas, couldn't climb the winding, treacherous mountain stairs and pathways.
At its peak, the palace housed some 750 permanent occupants (most of whom were the imperial family's servants and staff). That's a far cry from what the UNESCO World Heritage Site sees today.
Each year, over a million people visit Machu Picchu to connect to its rich history and stunning beauty.
There are several ways to make the trip from Cusco. If you'd like to truly connect with the ancient Incans that called the site home, you can follow in their footsteps with a multi-day hike along the famous Inca trail.
If you have some room in your budget, you can purchase a ticket for a luxury train that takes you right to the ruins.
Or, if you're on a stricter allowance, you can opt for a self-guided approach that mixes hiking and buses.
If you'd like more information or inspiration on reaching the site, check out this article we wrote on the different ways to get to Machu Picchu.
4. Sacred Valley
Recommended by Claudia from My Adventures Across The World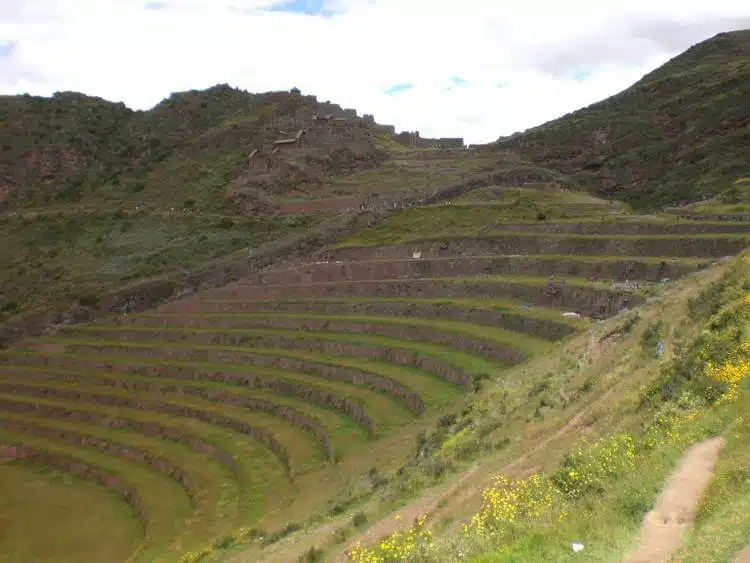 Cusco is one of the nicest places to visit in Peru, yet it can get overwhelming at times, as it is packed with tourists. One of the best things to do there is to get away from it, explore the surrounding region, and discover some incredible archaeological sites.
One of the most recommended tours is that of the Sacred Valley. Tours depart every morning from Cusco and can either return there or drop tourists in Ollantaytambo, the last stop along the tour.
This tour is a great opportunity to discover and learn more about the Inca civilization, as it visits at least 3 incredible sites. The first stop typically is the Pisaq site, which is wonderful to explore.
After a quick visit to the local market, the tour continues to visit other places in the area, such as Moray, a unique site that shows the advanced cultivation techniques used by the Inca.
The last stop on the tour usually is the incredible Ollantaytambo, a lovely village with one of the most beautiful sites.
The site is divided into two parts: the main one is usually visited during the tour. The one on the other side of the village can be visited independently, and from there, there are incredible views of the village below.
The Salt Mines are hardly visited on a guided tour, but the valley pass usually includes a ticket to visit them. That's why it is recommended to spend an extra night in the valley before either going back to Cusco or heading to Aguas Calientes to visit Machu Picchu.
Tip: Click here to book your Full-Day Sacred Valley Tour from Cusco. The tour includes hotel pick-up and drop-off, a small group tour, a professional guide, and a buffet lunch.
5. Sacsayhuaman
Recommended by James from Travel Collecting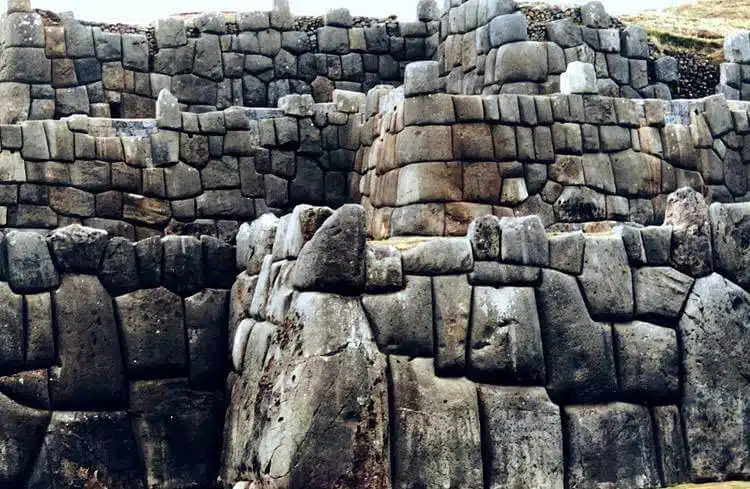 There are only a few walls in the world that are worth making an effort to see, and Sacsayhuaman is one of them. This Inca site, the remains of a citadel, sits on the hill directly above Cusco. The easiest way to get there is to catch a bus up.
There is a large grassy plaza area and an Incan throne or altar at the top of the small hill, but the three walls really impress. They are made of huge, irregular-shaped rocks that are all perfectly fitted together.
The Incas' masonry skills are truly awe-inspiring – the walls have no mortar holding them together, but hundreds of years later, there are still no gaps at all in the seams. The stones are massive – some of the largest of the entire Incan empire.
Unfortunately, the Spanish used many of the stones in the Sacsayhuaman fortress to make colonial Cusco, but what remains still gives a real sense of the skills of the Incas.
On a clear day, you can also enjoy spectacular views of Cusco nestled in the valley below (dress warmly – the wind gets cold up there). To return to Cusco, you can take the path and walk down the (steep) hill directly to the Plaza de Armas in the center of Cusco.
Click here for more information, photos, and/ or to book a tour of the Archaeological Park of Sacsayhuaman.
6. Eating Like a local at Central Market of San Pedro
Recommended by Elisa from World in Paris
One of the best things to do in Cusco is to taste the local food, and there is no better place to do it than in the Central Market of San Pedro.
The Central Market of San Pedro is a food market where the locals do their everyday shopping. Apart from the classic food and drink stalls and other stalls with basic items for the house, there are a couple of eateries to eat for a few pesos.
These eateries were originally thought for the market staff, and they were also frequented by some locals working nearby. However, eating in the market has become another of Cusco's tourist attractions, especially for people traveling on a budget. This is a great way to cut down costs and get a glimpse of local life.
What can you eat at San Pedro Market?
Don't expect anything fancy; it's all about basic food like soups, meat, or sausages with sides like potatoes, rice, or a little bit of salad (which I don't recommend).
People sit on long benches, and they share their lunch with other guests in a nice atmosphere. Sometimes somebody is serving the dishes, sometimes you order, and you get your meal at the counter.
The Central Market of San Pedro is located in the center of Cusco, not far from Plaza de Armas. It is open every day from 6 am to 8 pm.
If you want to learn how to prepare delicious Peruvian dishes, I'd recommend you to join a Cusco cooking class.
7. Humantay Lake
Recommended by Joella from Roving Jo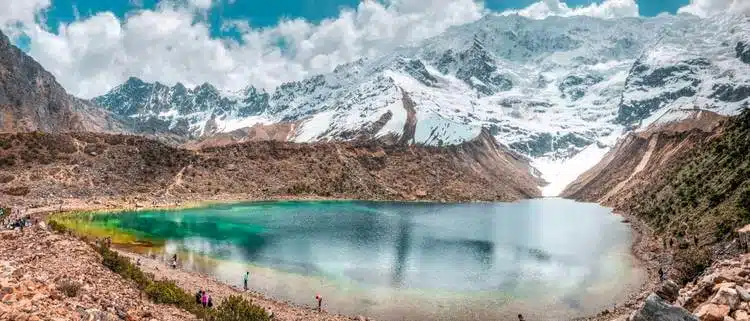 If snowcapped mountains and turquoise waters are your things, then you must add Humantay Lake to your Cusco itinerary. Best of all, these amazing views are easy to get to as a day trip from Cusco.
Humantay Lake is still a bit of a hidden gem. Still, as pictures of its snowcapped mountains and crystalline turquoise waters spread over social media, this tour is quickly becoming popular.
The trek starts with a 3-hour drive to the trailhead. Most tour groups will pick you up from your hotel around 3 am and stop for breakfast along the route.
Then you will have a steep 1.5 hr hike to reach the breathtaking views of Lake Humantay. The trail that most follow to the top is well marked, and because it is steep, you will find locals offering rides on horses and mules for a small fee.
Since I am not a fan of early wake-up calls or big crowds, I hired a private tour guide instead of joining a group tour. Not only did I get to sleep in, but our guide forged his own trail, and we missed most of the crowds.
Regardless of how you make it to the top, make sure to take time to sit by the water and contemplate the beauty of the landscape all around you.
Enjoy the stillness of the lake and the perfect reflections it produces. Clear your mind and replenish your energy and simply enjoy the majestic beauty of the high Andes mountains!
PRO TIP: Wear layers as the weather changes, and it can get cold at high elevations. And make sure you have acclimatized to altitude before trying this hike, as Lake Humantay is located at 4,200 meters/13,779 feet above sea level.
Tours to Humantay Lake:
8. Pisac
Recommended by James from Travel Collecting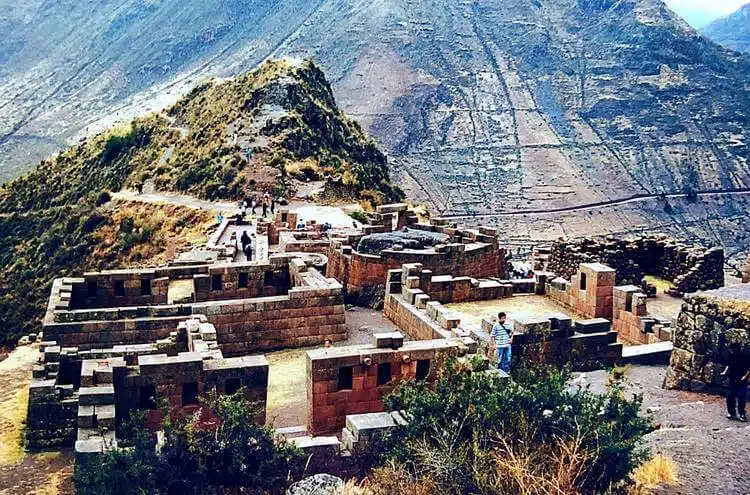 Pisac, an easy day trip from Cusco, is the site of the ruins of an Incan fortress. The fortress is spectacularly situated on the tops and sides of a large mountain with a view of the Urubamba (Sacred) Valley and another side valley that literally took my breath away.
Sunday is market day in Pisac village, and it is a good place to pick up some souvenirs. Then head up the path from the market to the ruins. You will see ancient broad, straight Incan terraces and spectacular views of the valley below as you climb up the stairs.
The first part of the fort is perched on a large overhanging rocky outcrop. Continue up and around; below are roofless buildings and corridors in a semi-circle. Around another corner, you will get to the central section of the fortress, which has magnificent masonry and interesting places to explore, including palaces of the moon and stars, solstice markers, baths, and water channels.
Note that if you take a tour, the bus will drive you to the top here, which is easier than climbing uphill, but the tours miss a large part of the site. After this central section, take a high path that skirts along the cliffs and go through a tunnel to find military buildings perched on a steep hill and accessible by a ladder that has been put there.
Continue across more terraced fields and the agricultural workers' homes, then down to the lower path that heads back towards the village, visiting the semi-circular ruins first seen from above, along with a series of roofed mud buildings clinging to the hillside, and then down the terraces to the village.
From the village, finish the day by walking a short way up the opposite hill to get photos of the terraces, then take a passing bus back to Cusco. Pisac is an absolute must-see when you visit Cusco.
9. Eating Cuy
Recommended by Vicky from Buddy The Traveling Monkey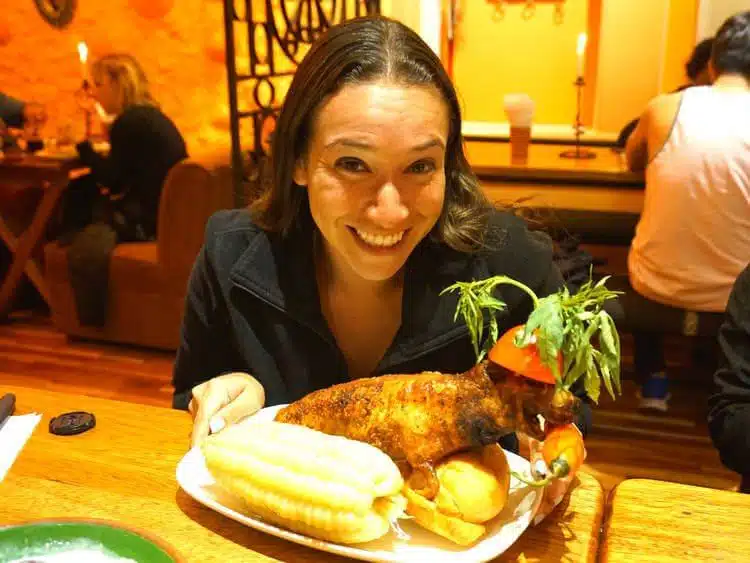 Cusco is often a city that is visited quickly; it's a stop on the way to Machu Picchu. But Cusco itself is a beautiful city with lots to do and eat. One of the best things to do in Cusco is eating like the locals, which means eating cuy (guinea pig).
A lot of people make a face at the thought of eating a guinea pig. Even if they're not a vegan or vegetarian, many people don't like the idea of eating something they might have had as a pet.
However, the local people have been eating cuy for centuries. They actually weren't even seen as pets until the Spanish started taking them back to Europe in the 16th century.
While we were in Cusco, we tried cuy at KusiKuy. The restaurant had some of the best reviews, and it was close to our hostel. KusiKuy is family-owned and beautifully decorated. It takes a while to cook, but the cuy was good and almost tasted like chicken.
They actually bring out the cuy two times. Since they know foreigners aren't used to eating guinea pigs, the first time they bring it out ready for photo ops.
Our cuy came with a little tomato hat! Once everyone has taken photos, the waiter takes them back to the kitchen, and they chop it up into regular-sized portions to eat (no head, feet, etc.)
So we definitely recommend eating cuy while you're in Cusco. It's one of those things you just have to do while you're there!
10. Take a City Tour
Recommended by Claire from Tales of a Backpacker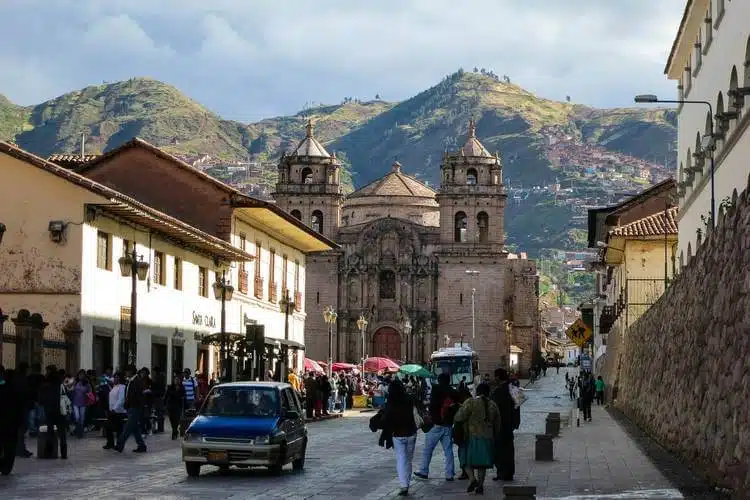 Most people who travel to Cusco will fly into the city and immediately feel the effects of the high altitude.
Cusco is at an elevation of 3,399 m (11,152 ft) above sea level, so before attempting to do anything strenuous like a trek to Machu Picchu, it is important to take it easy for a day or two and give your body time to acclimatize.
A great way to explore without over-exerting yourself is with a tour of the city of Cusco. If you are feeling up to it, a walking tour of the city will take around three hours, and you can expect to visit all the key sites in the city.
San Pedro Market is a wonderful local market where you can try some Peruvian street food and see the local people selling all kinds of fresh produce. The Quirkancha temple is a beautiful temple that used to be covered in gold until the Spanish arrived and quickly found other uses for it!
You will also visit the San Blas neighborhood, where there are fabulous art markets and, as well as the city's Main Square and Cathedral.
If you prefer not to walk around too much, then a bus tour may be better for you, which will also include some walking around the narrow streets in the city but will also include trips to the nearby Inca sites of Sacsayhuaman, and usually Qenqo as well.
Whatever you decide to do, drink lots of water and eat light meals to help your body adjust, and be sure to let your guide know if you start to feel ill at any time.
Click here for more information, photos, and/ or to make a booking.
Where to stay in Cusco?
1. Skylodge Adventure Suites in Peru
Recommended by Leo from Safari Nomad
If you are one of those extreme travelers, ready for new adventures, we have a new option for you – spending a night in the Skylodge suites.
"What are the skylodge suites?" you might ask.
Well, it's the world's first and only hanging luxury lodge that hangs from the top of the mountain, 1,312 feet above the Sacred Valley of Cuzco, Peru. The place is located 10 minutes away from Ollantaytambo or 1 hour outside the city of Cuzco.
The feature of this hanging bedroom is a transparent capsule that allows you to admire a breathtaking view of the valley and the sky full of stars. The capsule is hand-crafted of aerospace aluminum and is weather resistant.
The suite is equipped with four beds, a dining area, and a private bathroom (a dry ecological toilet and sink), isolated from the other area. The lighting system consist is powered by solar panels and store energy in batteries.
The Skylodge suites are accessible by climbing 400 m or via Ferrata or hiking a trail to ziplines. Do not worry if you are not a seasoned climber, as the guides will be there for you.
Once you reach the suite, you will experience delicious Peruvian gastronomy with a bottle of wine accompanied by thrill.
This is the moment you just can't miss and will remember all your life.
Click here for more photos, information, and/ or to make a booking.
Was this post helpful? If so, be sure to pin it to refer to later!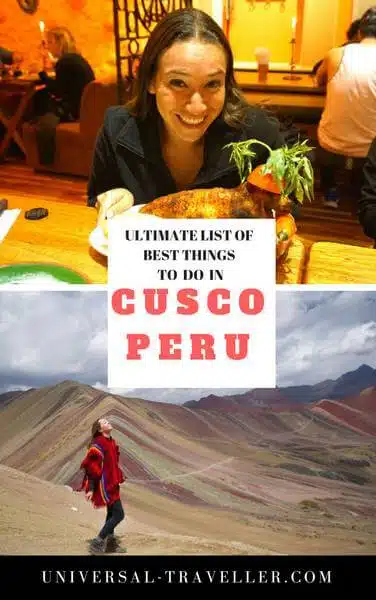 About the Author
More info
Best VPN for Travel: ExpressVPN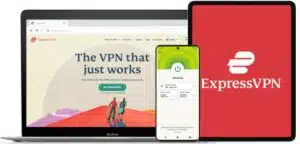 Heading abroad? Use ExpressVPN to access your social media accounts, unblock your favorite entertainment sites, and stay connected with friends and family. And get cheaper flights, of course.
Pros
✅ Next-gen, high-speed servers in 94 countries
✅ Works on iOS, Android, Windows, Mac, Linux, browsers, and more
✅ 256-bit AES encryption protects your data, even on hotel Wi-Fi
✅ Unblocks Netflix and other streaming sites
Cons
❎ No dedicated IPs
Get 3 extra months free of ExpressVPN when signing up for a 1-year plan. That's a 49% saving and a monthly cost of just $6.67! You also get a 30-day money-back guarantee.