Join one of the greatest adventures and cycle the Death Road Bolivia (North Yungas Road), one of the most dangerous roads in the world.
Deep within the Andes, Death Road, Bolivia winds its way along with narrow cliff faces and harrowing blind curves.
Sheer rock and mountain climb hundreds of meters into the air to one side of the narrow pass.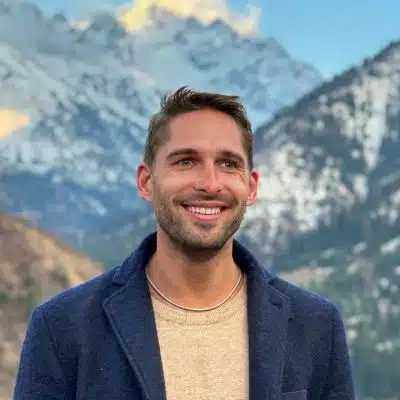 On the other, there's nothing but empty air and a kilometer drop; no one can survive.
Death Road, Bolivia, or officially North Yungas Road, Bolivia, has been a frequent source of international attention since it was named one of the most dangerous roads in the world in 1995.
Read also: Best Adventure Tours & Trips
Look:
North Yungas Road
Bolivia – Bolivia Death Road
In the 1930s, the Bolivian government built the road with Paraguayan POWs captured during the Chaco War.
After construction, the road had only one narrow lane, no guardrails, and no asphalt.
The lack of drainage infrastructure also made mudslides and erosion dangerously common.
Read also: Ultimate List of Best things to do in Bolivia
Still, for the next 80 years, Death Road served as the only connection between La Paz and the town of Coroico.
As a result, the road saw a constant stream of heavy traffic and, in the process, claimed thousands of lives.
How did Bolivia's Death Road get its name?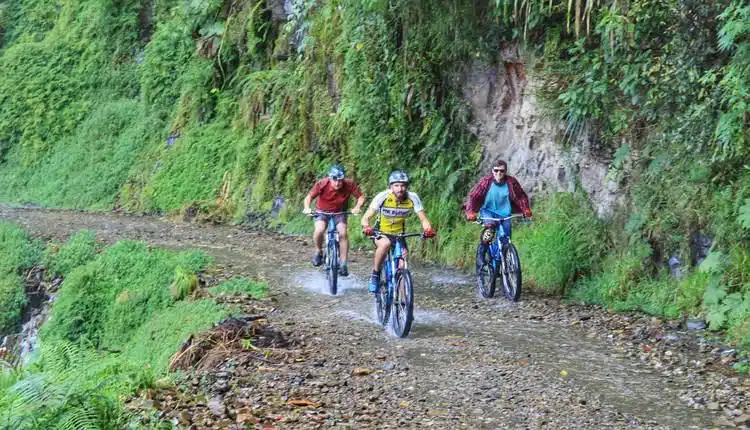 Death Road earned its grim name due to the almost impossibly high death count it incurred over its lifetime.
As late as the mid-1990s, 200-300 motorists veered off-road and plummeted down the cliff face to their ends—almost one death per day.
One of the worst accidents in Bolivian memory, which cemented North Yungas Road as the most dangerous road in Bolivia, occurred on July 24th, 1983.
The road claimed over 100 lives on that day when an overcrowded bus slid from the mountain and met a terrifying end.
Thankfully, in the last 20 years, the deadly road conditions travelers braved for so long have been corrected.
In the late 2000s, a new Yungas Road modernized parts of the original with wide, two-way paved lanes, guardrails, and drainage ditches.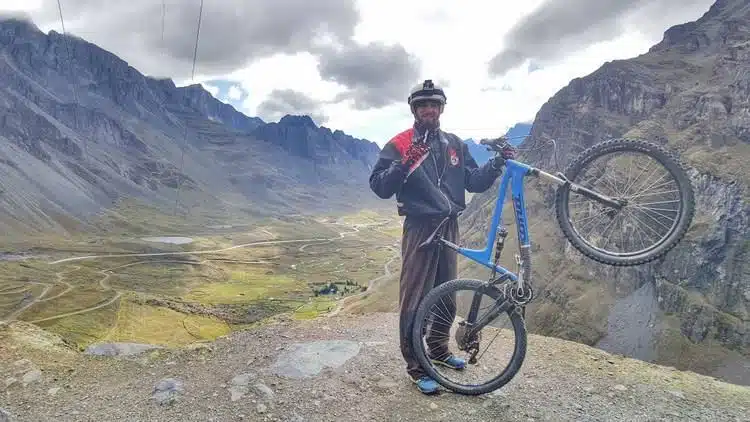 The architects of the new road opted to bypass the most dangerous part of the old road in favor of an entirely new stretch along with another, less infamous pass.
As a result, the original Death Road is today frequented mostly by locals bound for rural destinations only serviced by the old path.
Yet, the road's reputation now also attracts a different type of traveler—the adrenaline-fueled adventurer hoping to survive the most dangerous bike ride in the world.
How to choose the right company?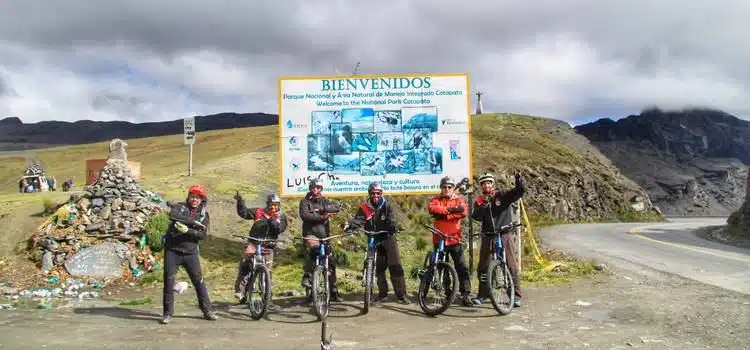 If you want to tempt fate and try your hand at cycling Bolivia Death Road, you'll first have to choose the right tour company.
Several adventure tour companies have sprung up to help cyclists conquer the road. Almost all are based in the Bolivian city of La Paz.
Tour prices can vary widely from company to company, from $50 to USD 150.
Given the road's reputation, I didn't want to risk any additional mishaps due to inexperienced guides or poor equipment.
That's why I chose to work with one of the most reputable companies: Gravity Bolivia.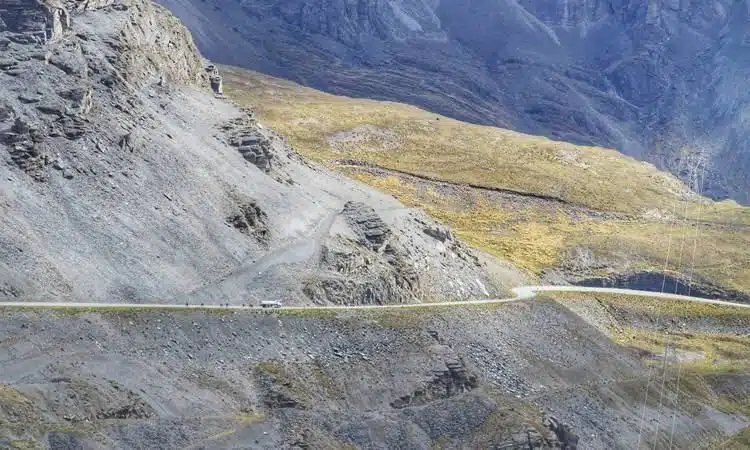 Of all the companies offering Death Road bicycle tours, Gravity has been in business the longest.
And as I worked with them, I could see why. Their guides were professional, and their bikes were high-end and well-maintained.
They also went out of their way to make sure we all made it back at the end of the day.
The bikes had excellent, well-calibrated brakes, and helmets and other protective gear were also provided.
Our guides even stopped us ahead of hazardous stretches of road to give detailed and precise safety briefings and instructions.
The Tour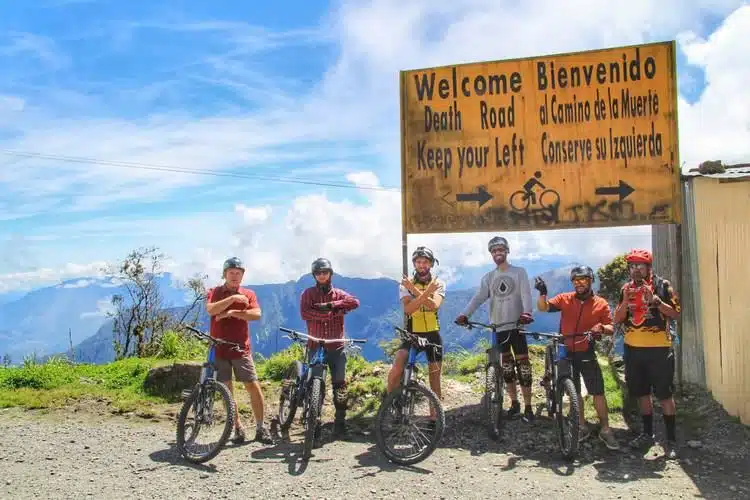 The tour began early in the morning in La Paz, where the eight of us (five adventurers and three guides) piled into a van and set out for Death Road's highest point.
The drive to the top took an hour. Thick teeming jungle gave way to majestic stark mountains as we ascended.
Usually, that would be enough to entertain anyone, but we were all a bit nervous, wondering what we had gotten ourselves into.
The adventure began at the top, nearly 5000 meters above sea level. We disembarked the vehicle, stretched our legs, checked our bikes one last time, and then set off down the narrow mountain road.
Luckily, the first kilometer of the ride was paved, but after that, we hit the chunk of old Death Road that hadn't seen much improvement in nearly a century.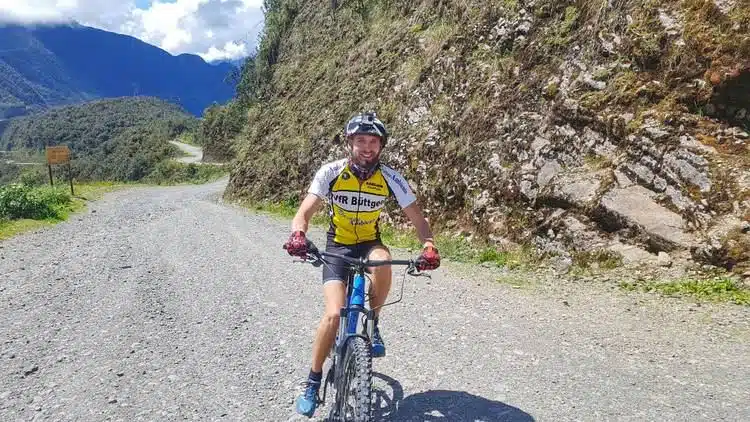 For the next 40 kilometers, we coasted and peddled along with the rocky, wet dirt of the world's most dangerous road. Our knuckles went white when we first started, and our hearts pounded.
I'm not too afraid of heights, but with the cliff's edge just meters away and the ground a kilometer below that, it was hard to look out and enjoy the road's vast valleys and stunning yet imposing natural beauty.
Still, as we grew accustomed to the road's many ruts, rocks, tight corners, and ever-present drops, we relaxed and enjoyed ourselves.
Though Gravity gears its tours toward adrenaline junkies, the ride offers some of the best views in South America.
The road took us behind waterfalls cascading down the mountain from hundreds of meters above.
Over the five-hour drive, we descended some two kilometers: from stark mountaintops and cold, thin air through the sweltering jungle and thick rainforest fog.
It was an experience like nothing else.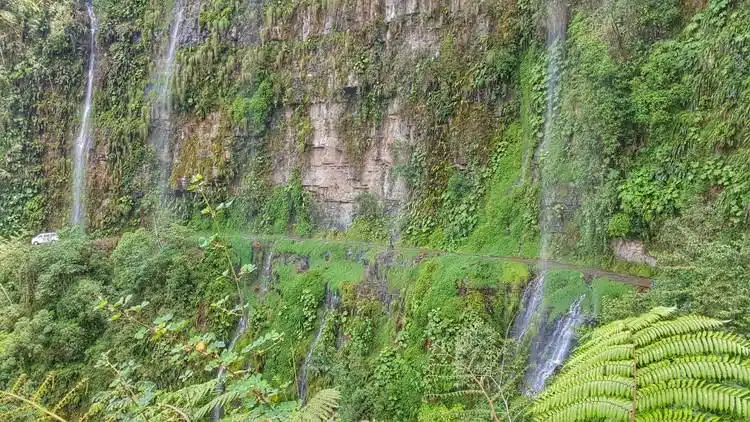 Our guides were happy to share their favorite viewpoints with us. We often stopped and dismounted for photos and gazed out at the unforgiving wilderness.
As a bonus, I was glad to find out afterward that the guides documented our journey with their photos. Gravity made it all available to us via Dropbox, free of charge.
Still, it wasn't all fun and games. The danger of riding off the edge was ever-present. When researching the ride, I'd read that some parts of the road skirt 1000-meter drops.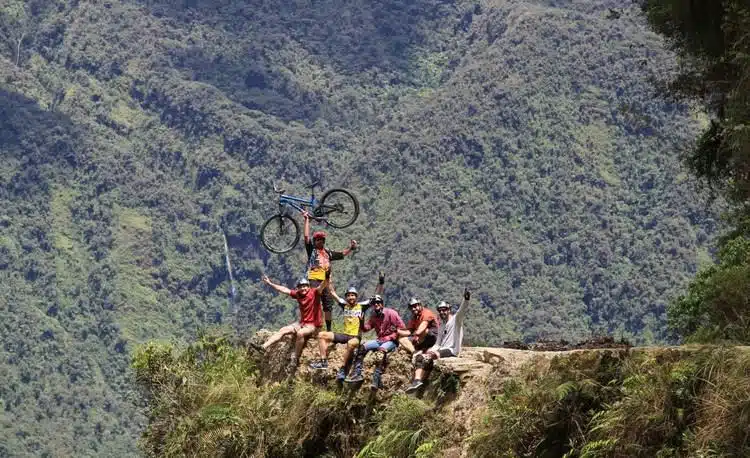 I had no idea what a kilometer straight down looked like. And seeing it for myself was unreal.
Crosses and momentos littered the road's edges, each a memorial to a loved one whose life the road had claimed.
When we reached the end of our ride in the Bolivian town of Coroico and paid our 50 bs tourist fee, we were exhilarated but also exhausted and more than a bit relieved.
Things to know before visiting the Death Road Bolivia
On paper, cycling Death Road Bolivia doesn't seem too difficult. Yes, at 40 kilometers, it's a longer ride than most non-cyclists are accustomed to, but it's almost entirely downhill.
So, even if you're not a regular cyclist, it's still doable, as long as you're not afraid of heights.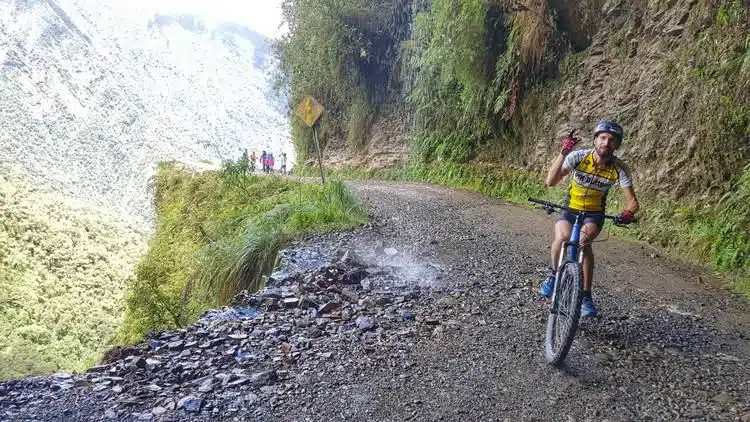 Here are some things to know before visiting Death Road.
1. It's an exhausting day.
Cycling the road isn't something to do on a whim after a night out on the town. Many tours disembark from La Paz before sunrise and don't return until dark.
And what's more, for a large part of the day, you'll be under immense physical and psychological strain.
Make sure you're well-rested and do your research to have a better idea of what to expect.
2. Make sure to wear layers.
Death Road descends over two kilometers from a peak height of 4700 meters. When you start, the air can be cold and numbing.
But, a few hours later, you'll find yourself surrounded by sweltering humidity and dense rainforest.
Wear a thermal or two underneath your rain jacket that you can strip off when it gets too hot.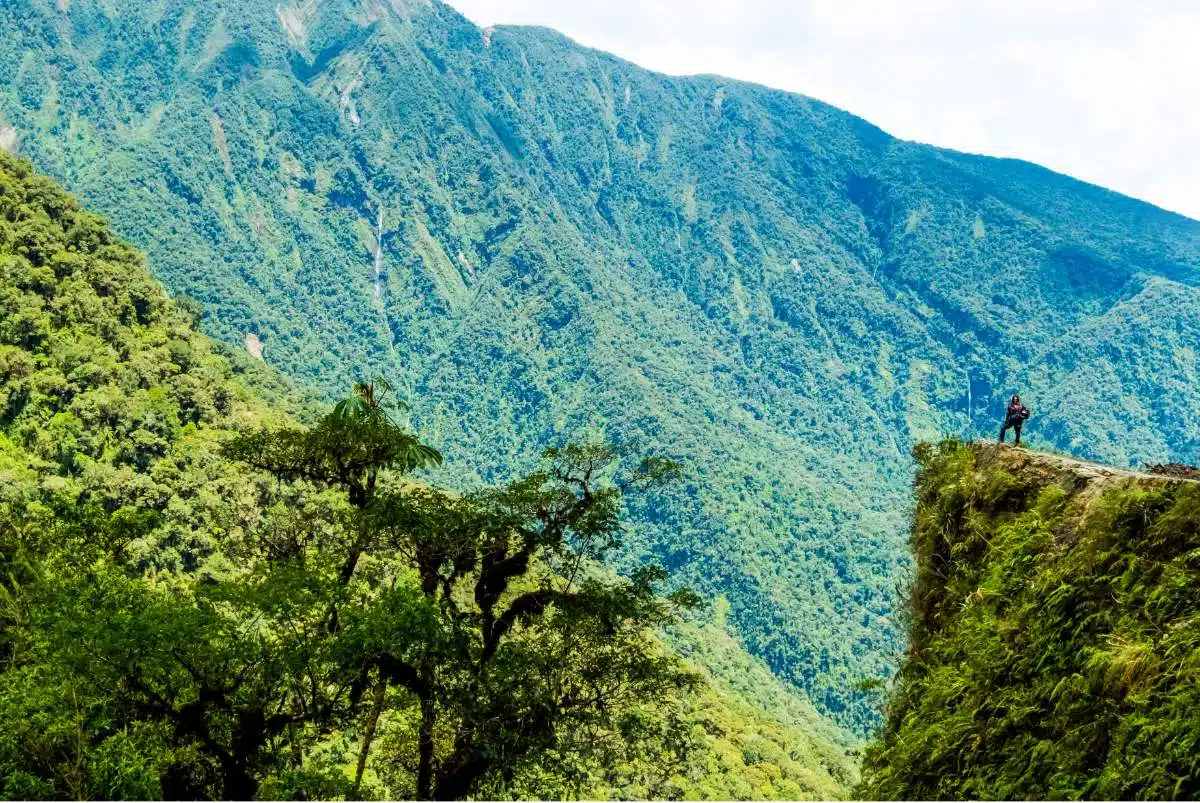 3. Death road earned its name for a reason.
This isn't a sanitized tour. Most of the road is unpaved, and erosion often unearths large rocks that can throw you from the saddle if you're not vigilant.
There are no guardrails, and nothing but your wits and skill will keep you safe.
Rules of the Road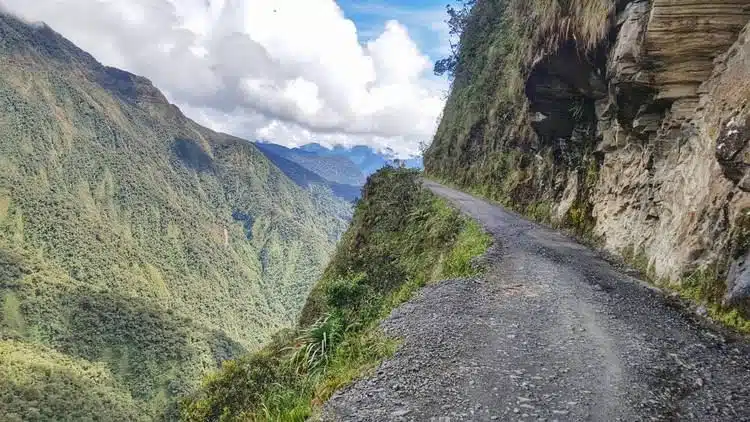 One interesting rule of the road unique to Death Road is that everyone drives (and rides) on the left side.
Like most of the world, elsewhere in Bolivia, drivers drive on the right side of the road. But, because of the old road's precarious drops and lack of guardrails, both cyclists and vehicles must stay to the left.
On our tour route, that meant fighting our instincts and riding closer to the cliff edge than the mountain. But, once we got used to it, the rule made sense.
By riding on the left, next to the cliff, passing motorists could overtake next to the mountain with less risk of careening off.
Another note: Riders will come across other vehicles although the road sees much less traffic than it used to.
When that happens, it's best to ride predictably and not make any sudden turns or movements.
It's also not uncommon to be greeted by oncoming traffic when rounding a sharp bend, so take the corners slowly.
Death Road statistics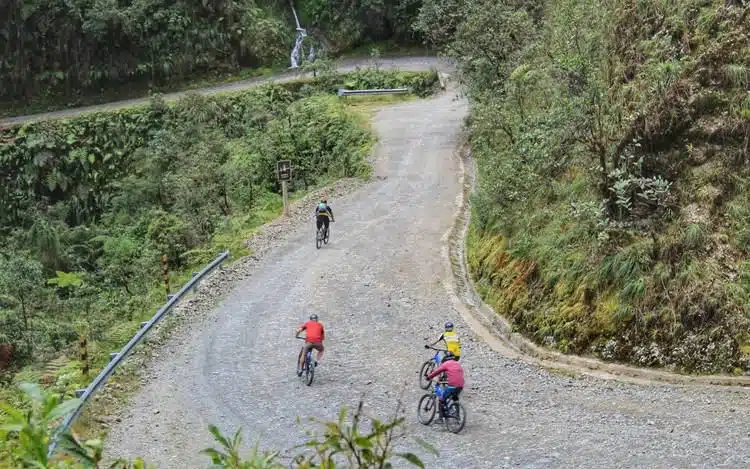 Though there's no way to fully prepare for a ride on Death Road, the statistics and numbers surrounding the road do paint a foreboding picture:
1 lane wide—the majority of the old road is only wide enough for a single vehicle. That makes passing always dangerous and only possible along certain stretches.
900-meter drops—along its steepest, highest stretches, there's nothing to stop your fall for nearly a kilometer
300 dead—the average number of motorists killed each year at the height of the road's use. In total, the road has claimed thousands of lives.
22 dead—the number of cyclists who have died riding the road since 1998.
Is Death Road Still Dangerous?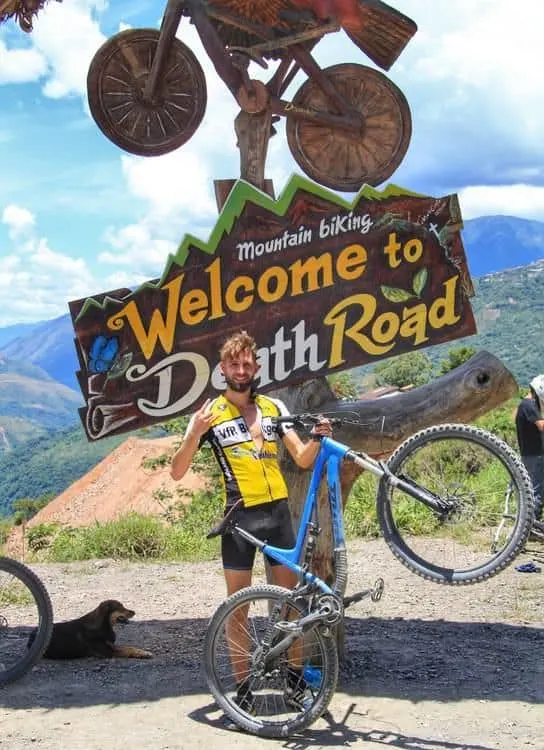 The short answer: absolutely!
But, in reality, the odds are still very good you'll survive.
There have been 22 documented cycling deaths since 1998 (an average of one death per year).
Much of Death Road remains unimproved and just as dangerous as it was back in 1995 when it earned its title of the most dangerous road in the world.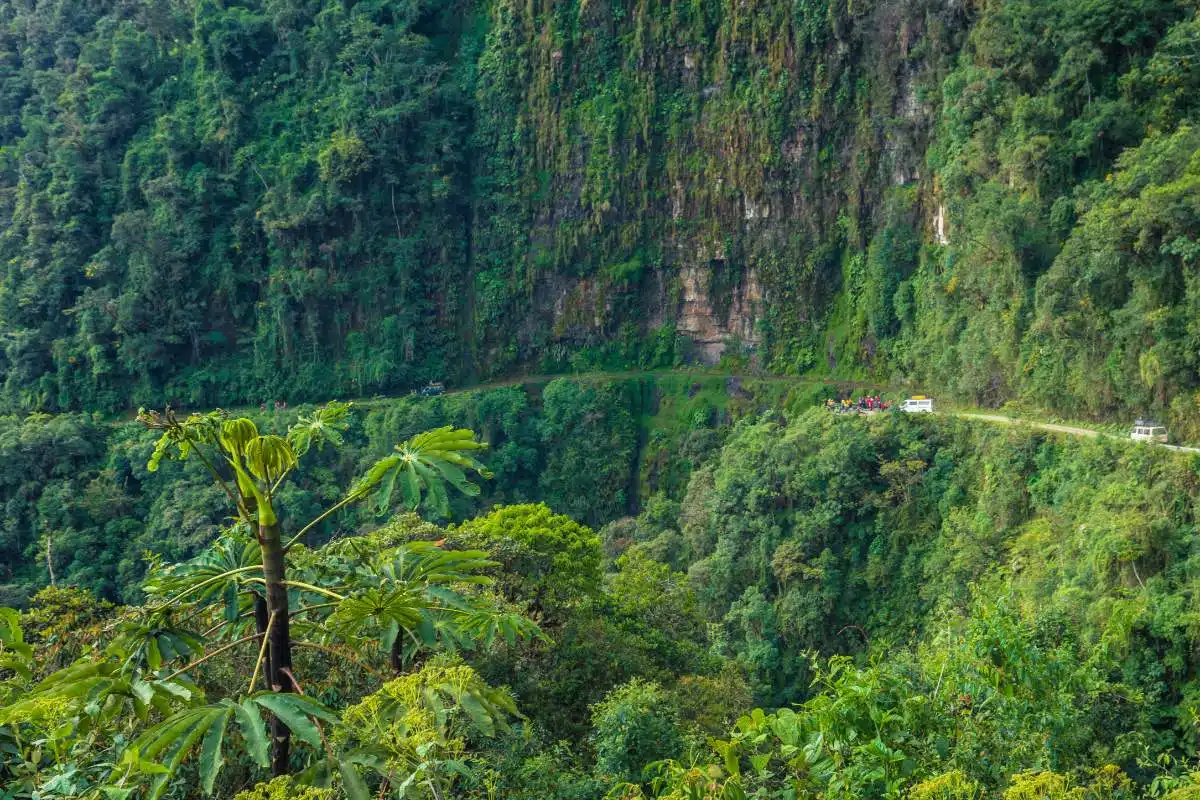 Yet, these days, thanks to a new and much safer bypass between La Paz and Coroico, far fewer people meet their end on the road.
If you're planning to cycle Death Road, the best thing you can do is pick a good tour company with modern bicycles, certified safety equipment, and knowledgeable guides.
If you haven't biked in a while, you should probably try a less deadly route.
Are you looking for inspiration to travel around South America? Check out my articles about Argentina, Bolivia, Brazil, Chile, Colombia, Ecuador, and Peru.
More Photos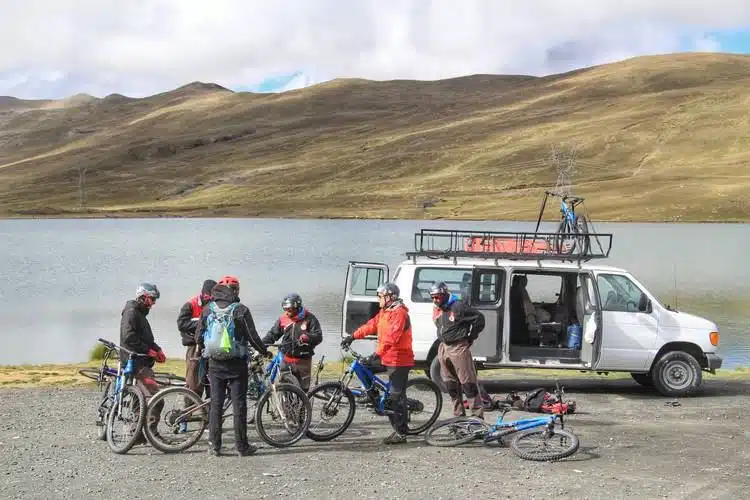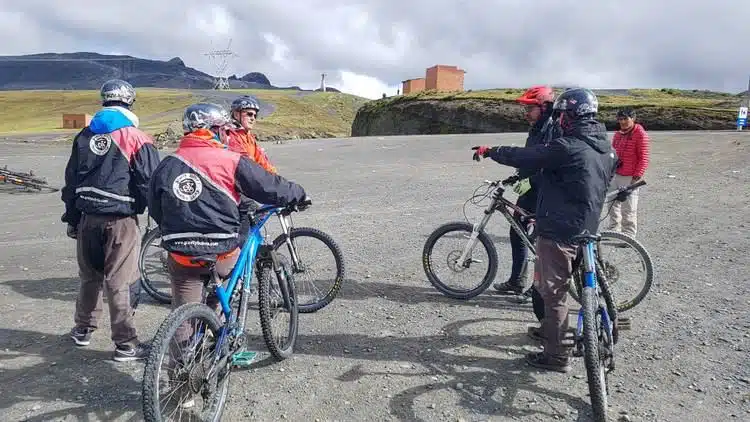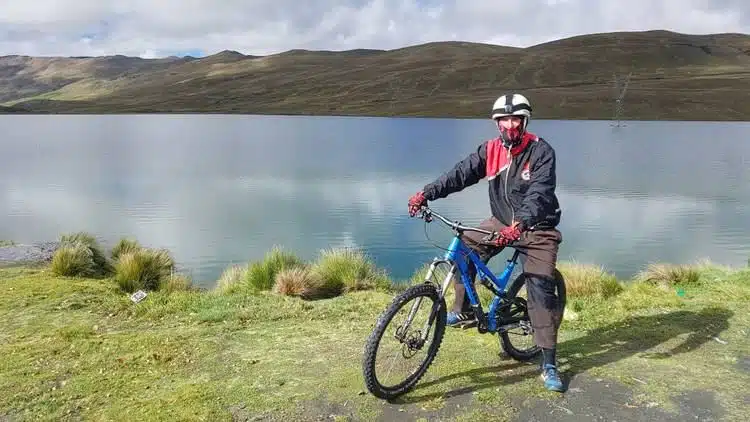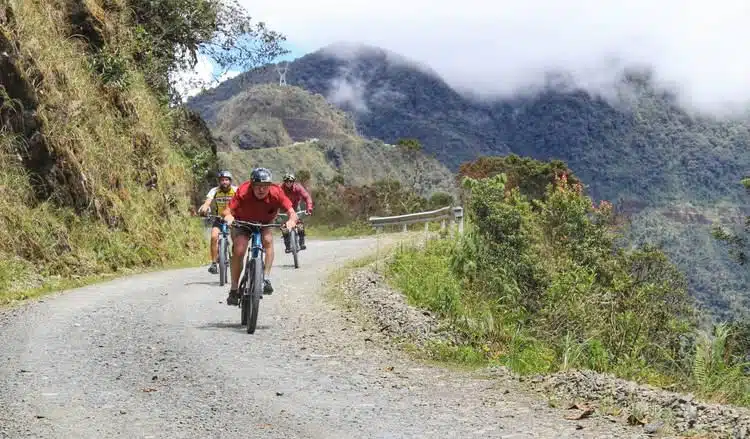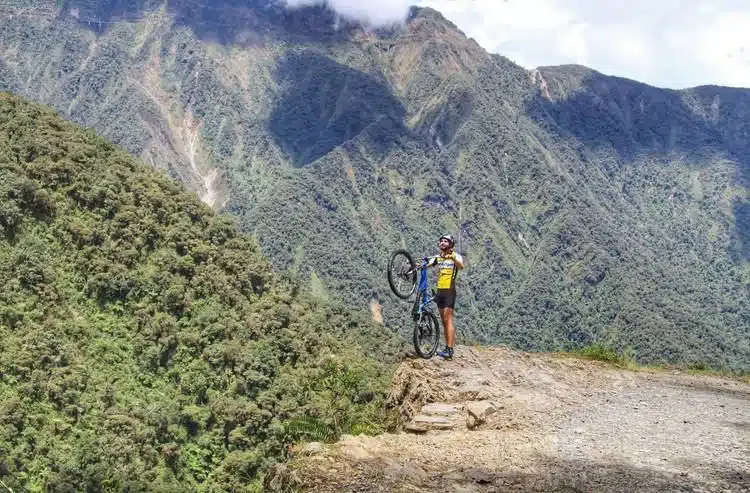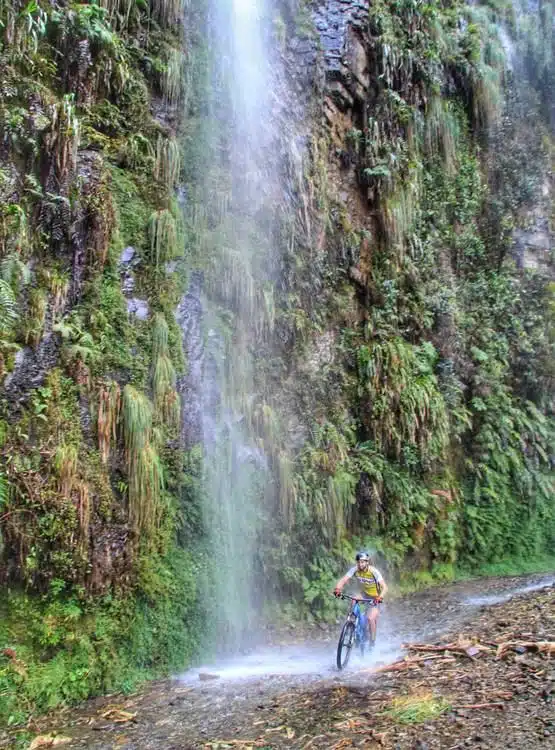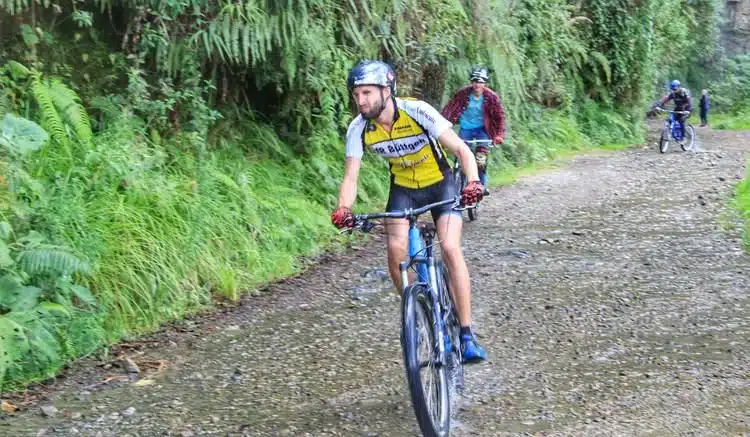 Was this post helpful? If so, be sure to pin it to refer to later!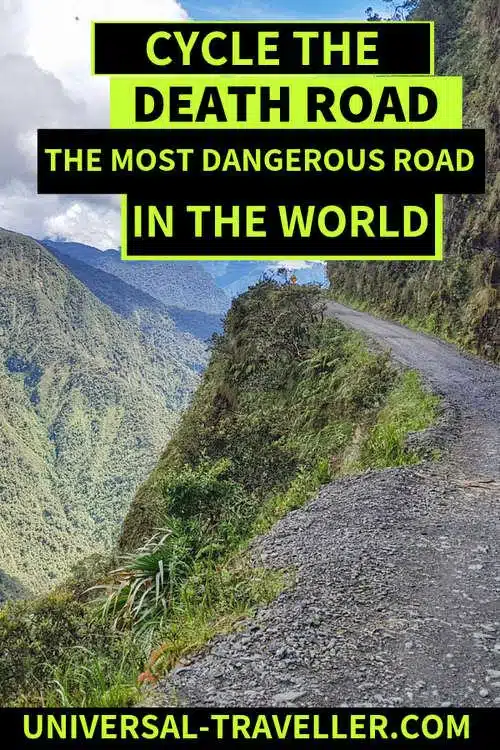 About the Author
More info
Best VPN for Travel: ExpressVPN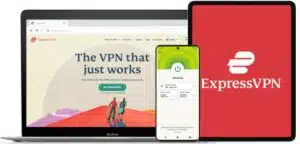 Heading abroad? Use ExpressVPN to access your social media accounts, unblock your favorite entertainment sites, and stay connected with friends and family. And get cheaper flights, of course.
Pros
✅ Next-gen, high-speed servers in 94 countries
✅ Works on iOS, Android, Windows, Mac, Linux, browsers, and more
✅ 256-bit AES encryption protects your data, even on hotel Wi-Fi
✅ Unblocks Netflix and other streaming sites
Cons
❎ No dedicated IPs
Get 3 extra months free of ExpressVPN when signing up for a 1-year plan. That's a 49% saving and a monthly cost of just $6.67! You also get a 30-day money-back guarantee.