The city's first European settlers and sailors named Buenos Aires, or "good airs," chose the name thanks to the strong winds that brought them to the South American continent.
As the capital of Argentina, some 14 million people call Buenos Aires home. It's actually the second most visited city in Latin America (and the first most visited in South America).
For centuries, Argentina's pampas have been used as grazing land for some of the world's best cattle, and that's why Buenos Aires rarely disappoints those looking for great cuisine.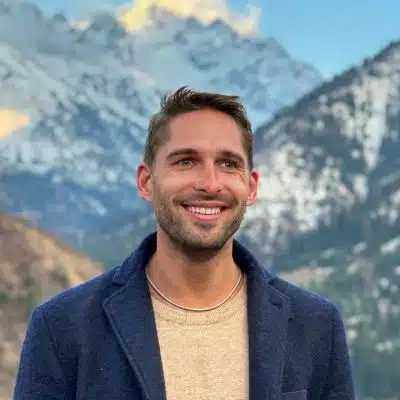 You definitely won't have any trouble finding the best steak south of the equator here.
But the city has so much more to offer.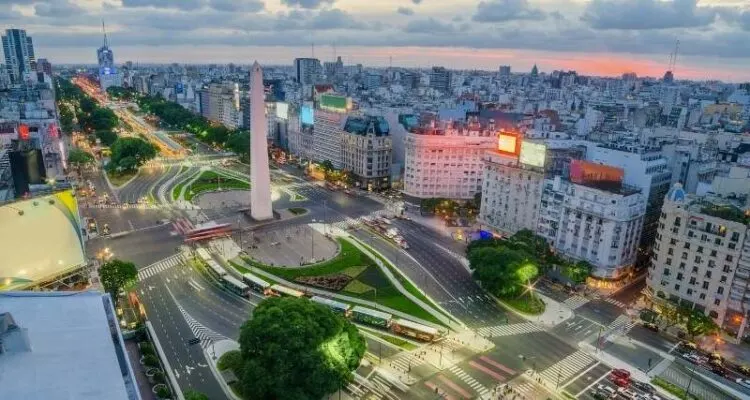 Its striking atmosphere is a unique balance of both cosmopolitan and local. The city's markets, plazas, and museums also help define the city's one-of-a-kind ambiance and culture.
To help you decide what to do during your visit to Buenos Aires, I've asked a bunch of travel blogger friends about the best things they have done in and around the city.
Here's what they recommend: street art and historic cemeteries, bicycle tours, delicious microbrews, and secret cocktail bars.
1. Graffiti Mundo Street Art Tour
Recommended by Carol from Wayfaring Views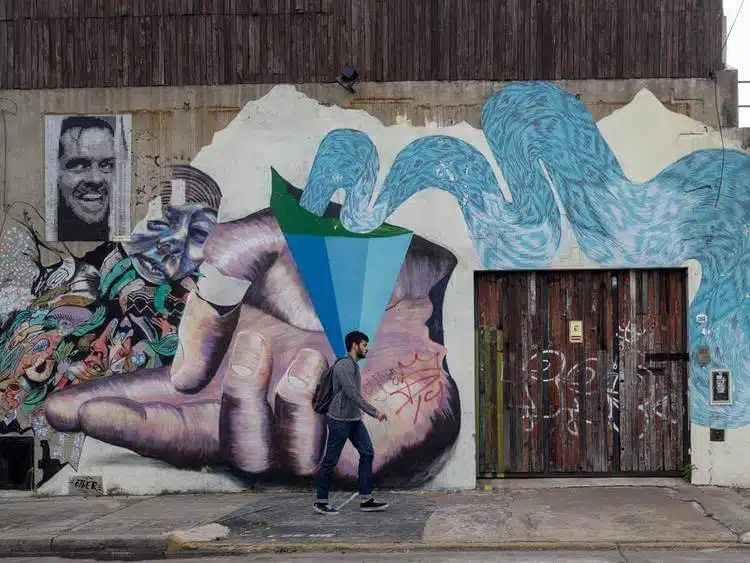 Sure, there is the genteel side of Buenos Aires with the wide boulevards and stately neighborhoods of the Retiro and Recolets. But there is an edgy side of the city too.
Spend some time wandering around San Telmo, Palermo Soho, or Chacarita, and you'll get a hip scene with cafes, art galleries, boutiques, and a big dose of urban art.
Buenos Aires has a strong tradition around graffiti, paste-ups, and murals as a form of protest and social expression.
You can wander around on your own looking for it, but I recommend a street art tour with Graffiti Mundo as the most efficient and informative way to find street art in Buenos Aires.
Graffiti Mundo is a nonprofit organization dedicated to "raising awareness of the rich heritage and dynamic culture of Argentine urban art." They run street art tours, workshops, and an urban art gallery.
They offer three different tours that go to six different neighborhoods. On tour, you'll learn about the history of visual arts as a form of activism in Argentina, the modern movement of self-expression, and see local and global artists.
2. H
ave a beer at a Microbrewery
Recommended by Peter from Where Is Your Toothbrush?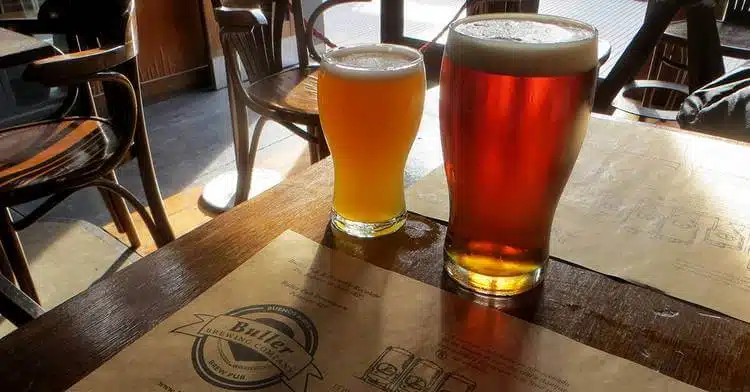 Argentina may be the world's top wine producer, but lovers of craft beer, or cerveza artisanal, can have a blast here too.
Several microbreweries in Buenos Aires serve up some of the best beer in South America. Three stand out.
Antares has several locations in BA (and many more around Argentina), each of which is a hive of trendy beer drinkers (you may even have to wait for a table, especially in the Palermo pub).
The beer bears no trace of the watery stuff they used to make, but skip the clásicas and go for the seasonals like Honey Beer, a unique pale ale with a touch of, yes, honey, or the light, caramelly Cream Stout.
Breoghan offers a nice complement to the San Telmo fair. Tucked in a side street a block away, the brick-walled pub decorated with beer paraphernalia from around the world is a cozy haven.
Beer here is more than decent and seasonal brews round out a solid offering; be sure to try the San Telmo Fire IPA.
Buller brewery's pub in Recoleta, too, benefits from its excellent location—and an even better beer. The pub is airy and long across from the famous cemetery (come at sunset for an extra dose of symbolism).
The Hefeweizen is as bright as the sun in Argentina's flag, while on the other end of the spectrum, the Stout is thick and creamy with dark-as-night caramel and coffee notes.
3. The Cementerio de la Recoleta
Recommended by Talek from Travels With Talek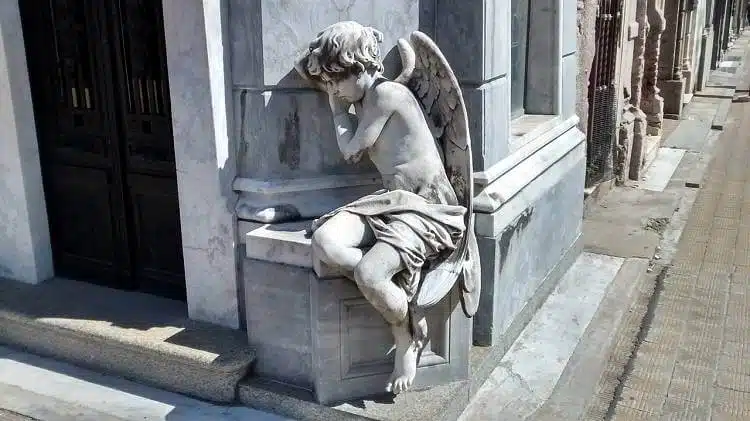 The Cementerio de la Recoleta is arguably the most famous cemetery in Latin America.
In fact, CNN and the BBC hailed it as one of the most beautiful cemeteries in the world. It is in the upscale Buenos Aires neighborhood of the same name, famous for its stately homes.
Laid out in blocks as in city streets, the cemetery has its origins in the early 1700s when a group of monks established it around their church in the outer reaches of Buenos Aires.
Over the centuries, the cemetery grew to 14 acres containing 4691 above-ground vaults. Almost 100 of these vaults have been declared National Historical Monuments.
Many of the mausoleums and monuments are works of art constructed in styles from Art Deco to Baroque. Besides the artistry of the funerary statuary, perhaps the most notable feature of the cemetery is its residents.
The presidents of Argentina are buried here, as are Nobel Prize winners and Argentina's distinguished artists, athletes, and scientists.
There is even a granddaughter of Napoleon.
But certainly, the star attraction is Eva Peron, the charismatic former first lady of Argentina. Although she died in 1952, her tomb has always had fresh flowers on it every day since then.
4. Have a cocktail at a secret bar
Recommended by Rebecca from Rebecca and the World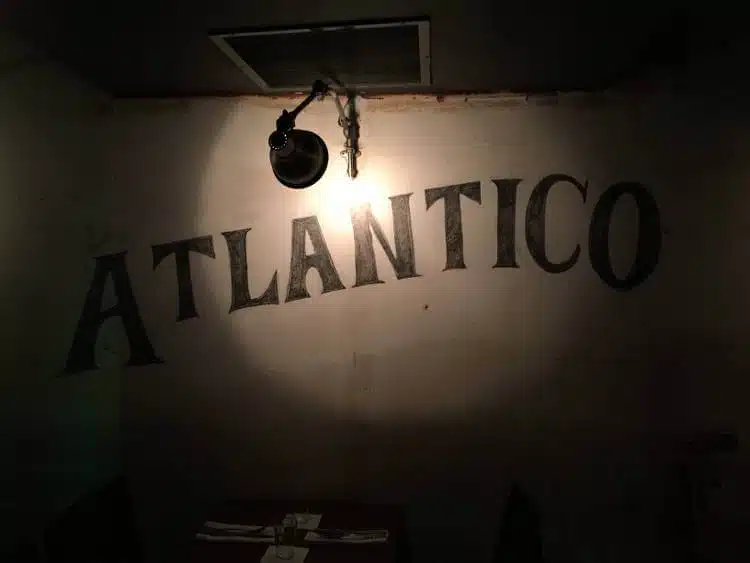 One of the most intriguing aspects of Buenos Aires' bar scene is the number of secret bars hidden around the city.
Clandestine bars that require passwords can only be entered through hidden doors or speakeasies that are members-only.
Here are a few to check out on your visit to Buenos Aires.
If you're told to head to the bar located at Arroyó 872 in the upscale Recoleta neighborhood, you might be surprised to find yourself in a florist. But open the huge refrigerator door and descend the short flight of stairs, and you'll find yourself in one of the hippest bars in Buenos Aires, Florería Atlántico.
To enter Frank's Bar (Arévalo 1445), you'll need to start at the bar's Facebook page and attempt to figure out that week's password.
But the test isn't over yet: you'll need to then give that password to the doorman, who will tell you another code to enter into a phone booth at the back of the bar. The door will then open to reveal the bar. Very James Bond!
Café and bakery by day, speakeasy by night. No passwords are required at Victoria Brown (Costa Rica 4827), but you may still have trouble figuring out how to enter. Push on the brick wall at the back of the café, and you'll enter the elegant bar, filled with plush leather couches.
One of the most exclusive cocktail bars in Buenos Aires, Harrison Speakeasy, is a members-only bar. But there's still a way to get in. Have a meal at Nicky NY Sushi (Malabia 1764), and if you're lucky, the waiter may invite you to visit the "cellar."
5. Bicycle Tour Buenos Aires
Recommended by Kimmie from Adventures & Sunsets
Biking Buenos Aires has got to be the best way to see the city in one day. Sure, you can rent bikes and explore, but doing a biking tour of the city gives you tons of insight into the culture and quite turbulent history of the different parts of the city. This is as well as an expert guide who knows exactly where they're going!
My biking Buenos Aires tour started in San Telmo and first looped down to the Boca Juniors stadium and the colorful houses of Caminito a La Boca. We stopped frequently to learn all about certain parts of Argentinian history and cultural activities that were associated with that area.
For instance, we learned that the futbol stadium is the 'Argentinian church,' along with tons of info about the country's recent rough times in La Boca.
Next, we came back around for a delicious sandwich on the boardwalk of Puerto Madero. We enjoyed it in the sun before riding to to Microcentro to check out the center of the town and government buildings.
During my tour we happened upon a huge demonstration in the Microcentro, which was another incredible insight into the country's political activism.
We then headed to Recoleta to learn all about the Cemetery and the amazing Floralis Generica sculpture as we looked at them with our own eyes.
Before heading back, our guide taught us all about the Argentine mate culture, and how to properly drink the popular tea while obeying all the unwritten rules of drinking it with your friends!
We stopped past the federal building on the way back to San Telmo, where we enjoyed a fernet together (after learning all about it outside La Boca stadium), and reflected on our amazing day learning so much about Bueno Aires.
Click here to book your bicycle tour.
6. Mataderos Market
Recommended by Erin from Sol Salute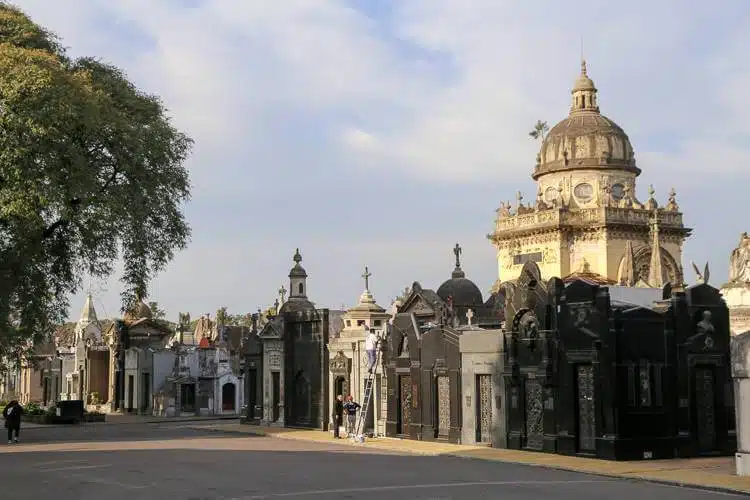 There are a couple famous markets in Buenos Aires that figure onto most visitor's itineraries. And while the markets in San Telmo and Recoleta are fantastic, if you want to step off the beaten track look to the western edge of the city in Mataderos.
This weekly market takes place every Sunday and public holiday from March to December. Leave behind the Tango in La Boca, in Mataderos you'll experience folkloric music from around the country, particularly Chacarera and Zamba from the North and Chamame from the province of Corrientes.
Most dancers are locals that come every Sunday, dressed in their best traditional clothing. They'll dance all day, taking breaks only for the live performances that take place on the main stage.
I never tire of watching them dance, the music here is much happier than the solemnity of tango.
Another Mataderos Market highlight is the food. The stands surrounding the main square offer delicacies from northern provinces like Salta and Tucuman.
You can try hearty stews like Locro or empanadas from different regions (I'm a fan of the Tucumanas!). Obviously, wash it all down with a cheap glass of Malbec.
There is also a wonderful market that branches off the main square in every direction. The vendors sell artisanal goods like woven ponchos, jewelry or meats, and cheeses from farms in the province.
If you really want to experience the Argentine culture, then make the extra effort to get to the neighborhood of Mataderos on a Sunday, you won't regret it.
7. Chacarita Cemetery
Recommended by Erin from Sol Salute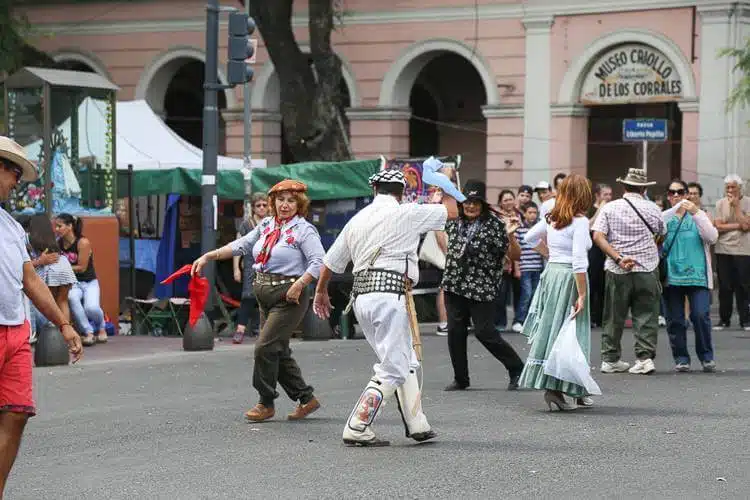 Everyone knows about Recoleta and its infamous cemetery filled with dignitaries and war heroes.
However, on the other side of town in Chacarita lies another cemetery that is still in active use today. It's expansive at nearly 240 acres! It's where nearly every citizen of Buenos Aires is laid to rest today.
The cemetery in Chacarita has a dark history (but does any cemetery have a happy history?).
When the yellow fever epidemic struck Buenos Aires at the end of the 19th century, a new cemetery needed to be constructed to accommodate the deaths.
At the time, this plot of land was located in the countryside. Today the city has grown around it and it's in the heart of a bustling urban neighborhood.
Just passed the imposing columned entrance, you'll find large mausoleums similar to what you find in Recoleta. Some belong to syndicates and unions, where their members can choose to be buried.
The most notable is the actors' and the musicians' mausoleums, where many of the city's artists are buried. Due to so many fans visiting to pay homage to their artist or tango star of choice, the most notable were moved to an area in the middle of the cemetery.
Here you can visit the country's most famous tango stars, painters and more. Carlos Gardel is buried in Chacarita as well (if you've heard Tango, you have heard Gardel) and receives a constant influx of visitors.
The neighborhood of Chacarita is quickly becoming a hot spot for new bars and cafes. There are traditional pizzerias across the street and a wonderful organic market a block away.
All of this makes a visit to Chacarita a great way to see a local's perspective in Buenos Aires.
8. El Ateneo Grand Splendid Bookstore
Recommended by Henry & Zory of This Life Of Travel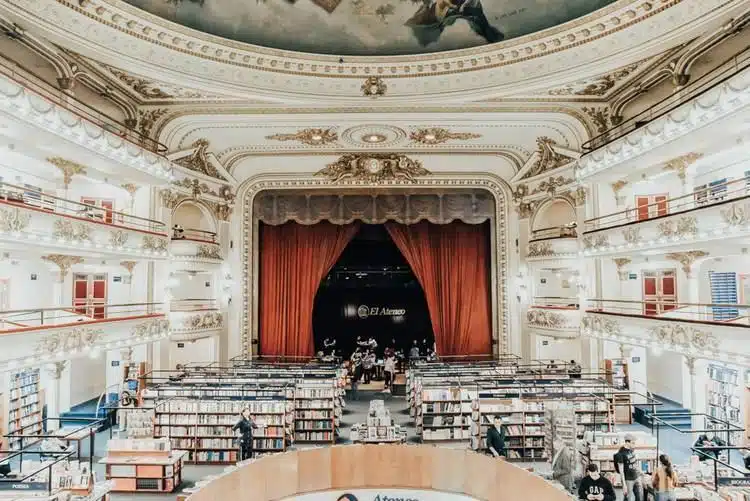 El Ateneo Grand Splendid is one of the most beautiful bookstores in the world and a must-see if you're visiting Buenos Aires.
Located in the Barrio Norte neighborhood, the building was designed by Pero and Torres Armengo and originally housed a famous theater, the Teatro Grand Splendid. It seated up to 1,050 people and had some of the most famous shows by famous tango dancers Carlos Gardel, Ignacio Corsini, and Roberto Firpo.
In the 1920s, the theater was converted into a movie theater and was among one of the first to show films with sound. It was a hit with film lovers all around.
For a short time, the cinema was converted into a theater in the early 1970s, with actress Mirtha Legrand starring in a stage performance in 1973. Then it resumed with films thereafter.
The last film that was shown before its closing was American Beauty, directed by Sam Mendes. In 1991, the cinema was closed but was saved from demolition when the Ateneo publishing house stepped in and bought the building because of the poor economy.
After a $3 million restoration, Grand Splendid reopened in 2000 as a wondrous bookshop. The Ilhsa Group, which owns the Ateneo publishing house, hired architect Fernando Manzone for the renovation.
He removed the sitting area and installed bookshelves but kept the stage area as a coffee shop. The El Ateneo Grand Splendid is now the number-one store of the Ilhsa Group and is a major draw for tourists and locals alike.
Where to stay in Buenos Aires
1. Palacio Duhau
Recommended by Michelle from The Wandering Queen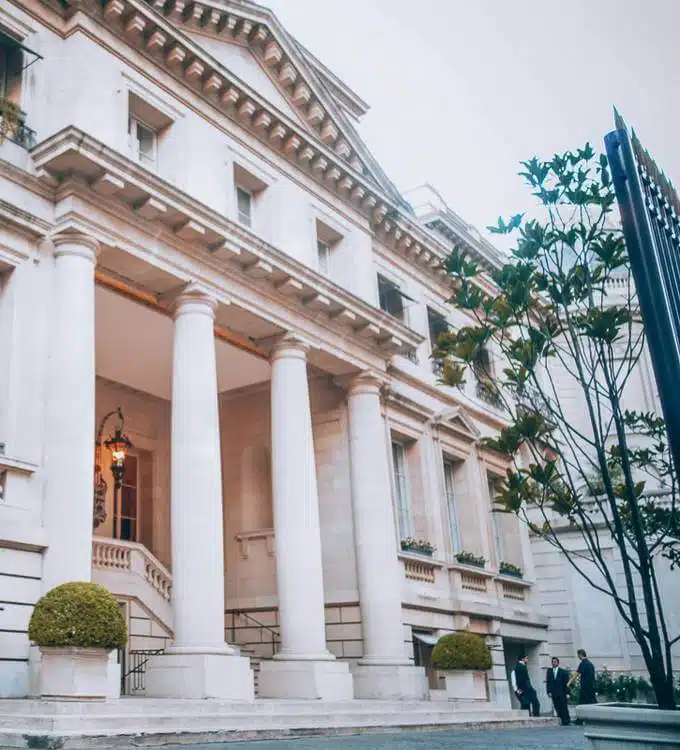 Palacio Duhau is one of the most beautiful hotels I have ever witnessed. The hotel consists of two buildings: a restored stunning palace built in 1934 and a modern contemporary building that overlooks the city.
I was lucky enough to experience both sides. Even today, it isn't easy to pick my favorite side.
The historic site of the hotel was built in 1934 by Mr. Luis Duhau, one of the most powerful men in Argentina during that time. The building was designed to resemble the same style of architecture built during Louis XVI's reign.
Once completed, the palace remained in the family for approximately 50 years. In 2002, the building was named a historic national monument, and soon thereafter, Hyatt elected to restore the stunning hotel.
One of my favorite areas of the hotel is the beautiful garden located in-between the two hotels. The garden stretches about 4,400 square meters and has various trees, rose bushes, topiary, and colorful flowers.
There are also terraces with views of the lovely garden to enjoy a savory meal and a refreshing beverage. Beneath the garden, the hotel has an underground walkway featuring galleries of art and sculptures.
To this day, I am confident that Palacio Duhau has been my favorite hotel experience by far. The modern feel combined with the historical architecture was an experience like none other.
Palacio Duhau is one of the best accommodations in Buenos Aires and a part of Buenos Aires' history.
Click here for more information, photos, and/ or to make a booking.
More Buenos Aires Internet Resources:
1. Explore Buenos Aires to Patagonia: A 21 Day Photo Tour
One of the BEST PLACES TO VISIT IN SOUTH AMERICA is the SALAR DE UYUNI, THE SALT FLATS IN BOLIVIA. Another great adventure is CYCLING ON THE DEATH ROAD IN BOLIVIA.
The Galapagos Islands are one of the most famous island archipelagos in the world. Check out my 10-DAY LAND-BASED ITINERARY GALAPAGOS ISLANDS and my COMPREHENSIVE GUIDE ABOUT THE GALAPAGOS ISLANDS.
One of my favorite cities in South America is RIO DE JANEIRO, and one of the best countries for adventure tours is ECUADOR.
Was this post helpful? If so, be sure to pin it to refer to later!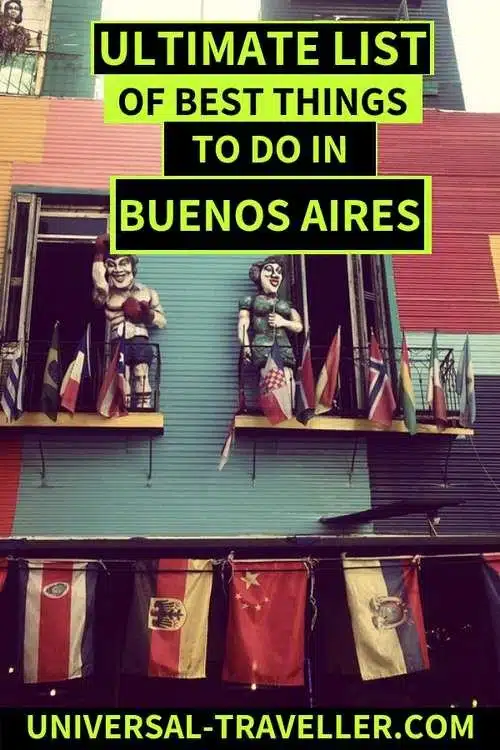 Best VPN for Travel: ExpressVPN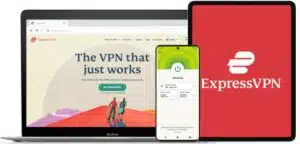 Heading abroad? Use ExpressVPN to access your social media accounts, unblock your favorite entertainment sites, and stay connected with friends and family. And get cheaper flights, of course.
Pros
✅ Next-gen, high-speed servers in 94 countries
✅ Works on iOS, Android, Windows, Mac, Linux, browsers, and more
✅ 256-bit AES encryption protects your data, even on hotel Wi-Fi
✅ Unblocks Netflix and other streaming sites
Cons
❎ No dedicated IPs
Get 3 extra months free of ExpressVPN when signing up for a 1-year plan. That's a 49% saving and a monthly cost of just $6.67! You also get a 30-day money-back guarantee.