If you're in Ecuador and looking for an adventure (or at the very least, a very lively weekend), I recommend a visit to Baños de Agua Santa, Ecuador.
This jungle mountain town is named for its thermal baths. Each day, hundreds of locals and travelers flock to these healing mineral waters to enjoy their soothing benefits.
But Baños, Ecuador isn't just about relaxation. It's quickly earning a reputation as the adventure capital of the country.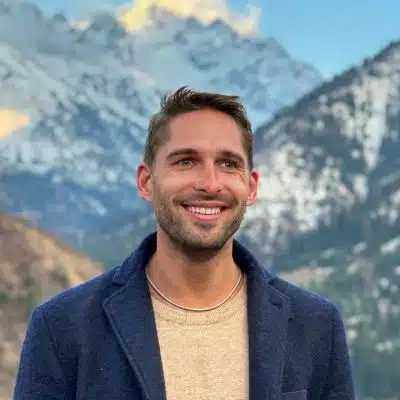 Here, you can whitewater raft, swing from jungle trees, go canyoning, and even zip line across 2 kilometers of a rainforest canopy.
And between adrenaline rushes, Baños offers plenty of other leisure opportunities. You can enjoy waterfall views, volcano tours, a luxury spa day, and great food and wine.
Read also:
1. Ultimate List of Best things to do in Ecuador
2. Ultimate List of Best things to do in Quito
3. Everything you need to know and do while visiting the Galapagos: A Comprehensive Guide
To help you decide what to do while in Baños, Ecuador, I've compiled this 2-day itinerary, complete with a list of can't miss activities.
Read on for the details.
Day 1:
Morning: Rafting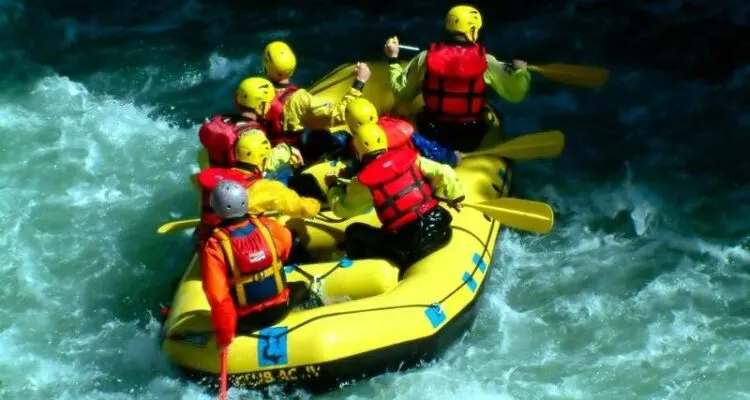 The best rafting in the area surrounding Baños is, hands down, the Pastaza River. This river is actually pretty famous within the Ecuadorian rafting scene. It winds its way between Llanganates Park and Sangay volcano through miles of the Amazon rainforest.
If you're a more experienced rafter, level IV rapids can be reached along the Alto Pastaza segment of the river, between San Francisco and Topo. But this route is only reliably open during the summer.
If you're new to rafting or looking for a guide who knows the river well, I recommend signing up for one of Imagine Ecuador's river rafting sessions. Rafters gather at the company's offices in Baños at 9 am and then go by van to the river.
All equipment, including safety gear (and lessons on using it effectively while out on the water), is included. After riding the rapids, Imagine treats rafters to lunch and returns them to town by 2 pm. I can't think of a better way to spend your first morning in Baños.
Afternoon: Casa del Arbol's Swing at the End of the World
After a morning on the rapids of the Pastaza River, it's time to check out the world's most intense swing set. The Casa Del Arbol swing brings back that thrill and excitement you experienced on the playground as a kid, but at a whole new level.
La Casa del Arbol directly translates to "treehouse," and that's exactly what it is. And I mean exactly. It's a literal house with an A-frame roof, shingles, and siding, built between two massive tree branches.
You'll get to ride the sky swing from that house, which provides phenomenal 360-degree views of the surrounding jungle mountains. On this Baños Ecuador Swing, you'll feel like you're soaring among the clouds, completely weightless. It's a true one-of-a-kind experience.
You can reach La Casa del Arbol either on foot (via a 90-minute hike from Café del Cielo), by bus, or by hiring a taxi.
Though the hike is pretty fun, I'd recommend taking a vehicle at least one way. That way you'll have plenty of time for evening activities.
Sunset: The Luna Volcan Pools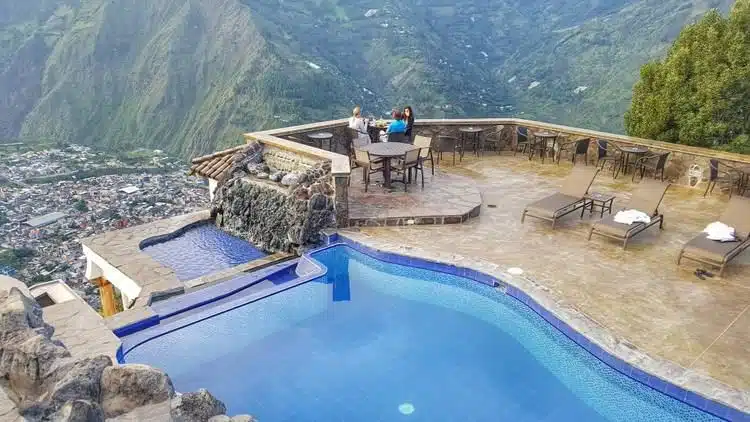 After returning from Casa del Arbol, I recommend seeking a relaxing spot to enjoy the sunset over Baños and the surrounding mountains and rainforest.
The city has several public baths with very affordable entrance fees. But these can be busy, especially in the evening. If you want a more solitary place, perhaps one where you can chat with friends or relax in peace, I can't recommend the Luna Volcan Pools enough.
Nestled on a hill above the city, the Luna Volcan pools come with an extraordinary view of Baños and her countryside.
There are three pools to choose from (plus a jacuzzi), and they're always much less packed than other baths closer to the city center. In my opinion, that makes them well worth the more expensive entry fee ($20 for 3 hours pool time).
Dinner at Chozon Bar and Grill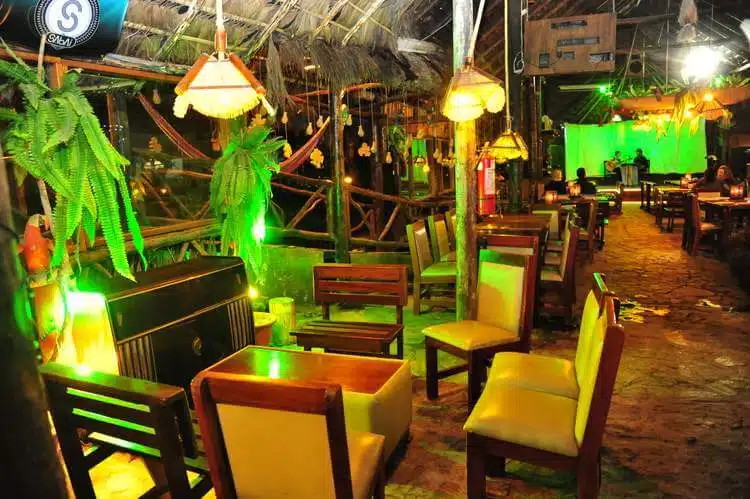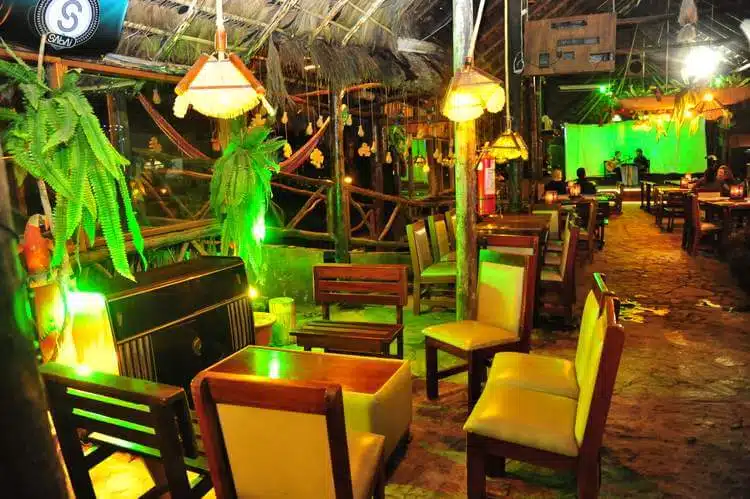 After an evening of lounging around in the volcanic waters, I recommend you grab a bite to eat at the Chozon Bar and Grill.
Located within Baños's Sangay Spa Hotel, Chozon is one of the best places in town for barbeque and grilled seafood.
If you're hungry, order their ribs. And try a glass of wine here as well—I was quite impressed by their selection. If it's a weekend, you may even catch some live local music here while you eat.
Day 2:
Morning: Canyoning
It's day two of our trip to Baños, and we're jumping right back into action. Canyoning is one of the most intense sports I've ever taken part in. Imagine rappelling tens of meters down the sheer face of a canyon with only a rope and harness to slow your fall.
Now, imagine doing that soaking wet in the middle of a waterfall.
That's what you're in for when you sign up for Imagine Ecuador's canyoning experience. After meeting up again at the company's offices in Baños at 9 am, we piled into a van for the 20-minute drive up to Rio Blanco.
There, our guide talked us through the basics of canyoning, including how to use the equipment and how to control ourselves during descents.
The canyoning took about two hours and ended with a waterslide crafted by mother nature. It was quite an adrenaline-fueled experience, and it was made even more memorable by the spectacular waterfall views. I can't wait to give it another try.
Coffee and Tea Break at Picadilly Café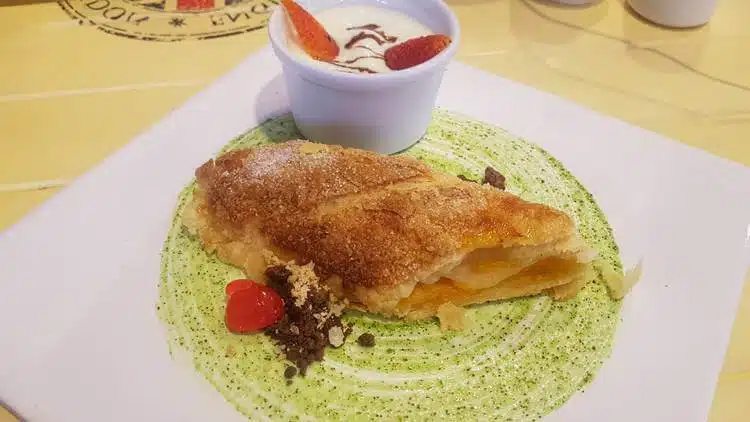 To unwind and warm up after a morning out canyoning, I recommend stopping into the Picadilly Café for a cup of coffee or tea. If you're hungry, spring for something sweet.
Everything I tried on their dessert menu was absolutely amazing.
Afternoon: Ziplining
After a morning up close and personal with waterfalls and jungle canyons, it's time to get a bird's eye view. The Canopy is a 2000-meter long zipline course that winds through the rainforest outside of Baños, Ecuador. The six zip lines take you above the trees, across a stunning jungle landscape, and along a river and waterfall.
The attraction is located at the base of Sangay National Park and begins in Puntzan, about 15 minutes from Baños. The afternoon tour starts a 3 pm, and it took us between two and three hours to complete the course.
More things to do in Baños, Ecuador
Looking for more Baños Ecuador things to do? If the itinerary plans don't quite fit your fancy, don't worry—I have a few more recommendations for Baños Ecuador activities.
1. Thermal Baths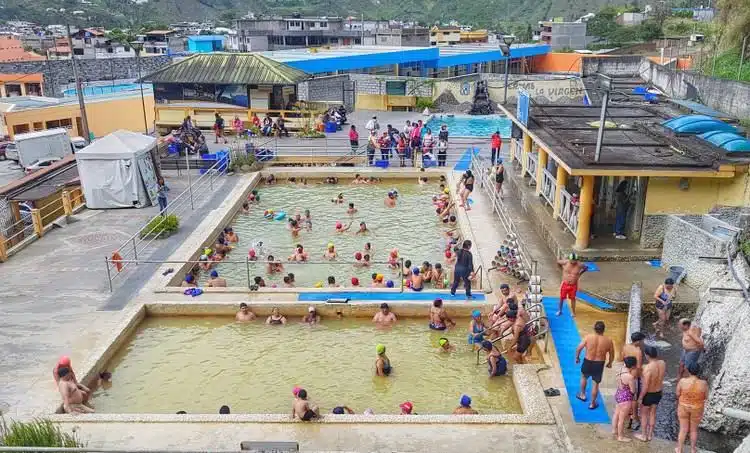 Baños is famous for its hot springs. Each day, the town's many public baths are filled with revitalizing mineral water that springs from the earth, warmed by lava flowing beneath your feet.
I recommended an evening spent lounging in the water at the Luna Volcan Pools in the itinerary above. These private pools were definitely my favorite in Baños, but the city has many other baths that fit every budget.
If you'd like to mingle with the locals or enjoy some time in and around the water for a bit less, I recommend taking a soak at Termas de la Virgen. This large pool is often pretty busy, but entry costs just $2 or $3 (depending on the time of day).
If you don't like crowds, try to go either early in the morning or on a weekday. The water is flushed and refilled each evening.
2. Visit the Waterfalls by Bicycle
The area surrounding Baños is ecologically protected by the Sangay and Llanganates National Parks. One of the coolest things to do in this mountainous jungle ecosystem is checking out the many waterfalls. There are over 60, ranging in size from peaceful and babbling to downright majestic.
In my opinion, the best way to check out Baños, Ecuador waterfalls, is by renting a bicycle from one of the many places in town and riding along the Ruta de Las Cascades.
This path runs along steep rocky cliffsides, connecting four of the best waterfalls in the parks. While you occasionally have to move over to share the road with cars and trucks, there are barriers to keep you from riding off a ledge and down the mountain, and I never felt unsafe or out of control.
The ride from Baños runs mostly downhill, which means you won't have to pedal too much. You'll be greeted with opportunities to appreciate the jungle mountain views at every turn along the way.
3. Enjoy a Massage and Spa Day at Sangay Spa Hotel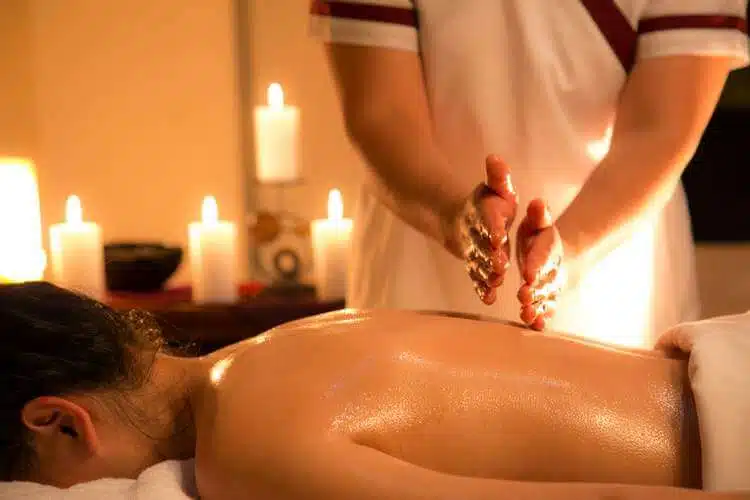 If a hot springs bath in one of Baños's pools leaves you looking for another opportunity to relax, consider booking a massage at the Sangay Spa Hotel.
The masseuses are versed in 36 distinct styles of massage. And there are plenty of other ways to be pampered: hair treatments, facials, manicures and pedicures, and more.
When I went for a massage, I was quite impressed by the service. My therapist sat with me and discussed where I was feeling pain and what she could do to relieve it. After the massage, I recommend booking a Turkish bath or spending an hour or two in the sauna.
It's a great way to unwind after a day of rafting or canyoning.
4. Double Decker Bus Ride to Café del Cielo
Along the road to the thrilling Casa de Arbol swing (the same one I recommend on day one of our itinerary), you'll find a quaint mountain café with a stunning view of the nearby Tungurahua volcano.
The vafé opens at 1 pm every afternoon and serves delicious brews. It's definitely worth stopping over for a cup on your way to the giant swing.
If you're looking to make an event out of your visit, though, you can book a ticket on a double deck.
How to get to Baños:
From Quito
1. Bus
Because Baños is a popular getaway spot for Ecuadorians, buses from Quito to Baños are frequent and affordable. One tip, though—always remain alert and within arm's reach of your possessions.
Unfortunately, personal theft is pretty common on buses in Ecuador, and stories about having bags stolen with passports, wallets, or worse aren't uncommon.
Stay awake, and keep your possessions on your lap whenever possible.
2. Shared Car
From other cities
If you're looking to travel to Baños from somewhere other than Quito, it's typically a good idea to book a bus ticket to the next town over, Ambato.
Ambato is better serviced by Ecuador's cross-country bus system. Once you arrive there, you'll be able to catch a ride on one of many frequently departing, hour-long bus rides to Baños.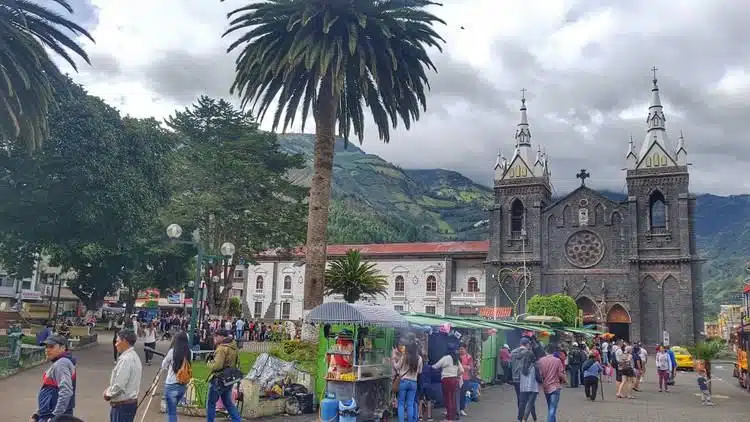 Hotel Recommendation Baños
1. Sangay Spa Hotel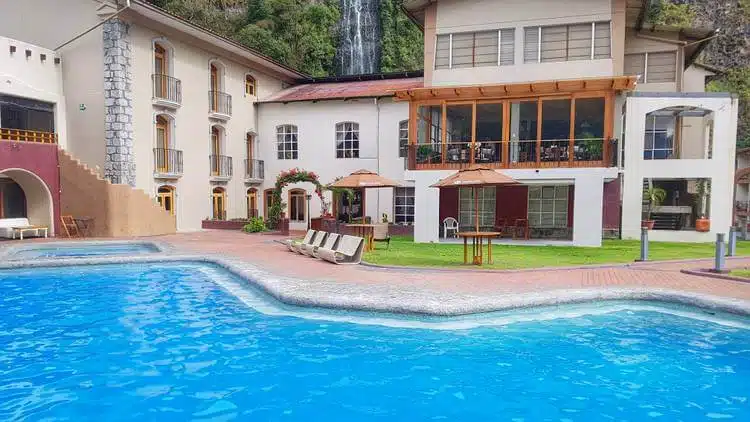 Baños offers hotels and accommodations to fit almost every budget. If you're a solo traveler looking to rough it, hostel beds can be booked throughout town for around $15 a night.
But for those looking for a more luxurious and relaxing place to stay, I recommend the Sangay Spa Hotel.
This resort and spa combo comes with a ton of extra features that can take your stay from merely memorable to absolutely extraordinary. The hotel is centrally located, right across the street from one of the city's most popular thermal baths and just a few minutes on foot from the central market.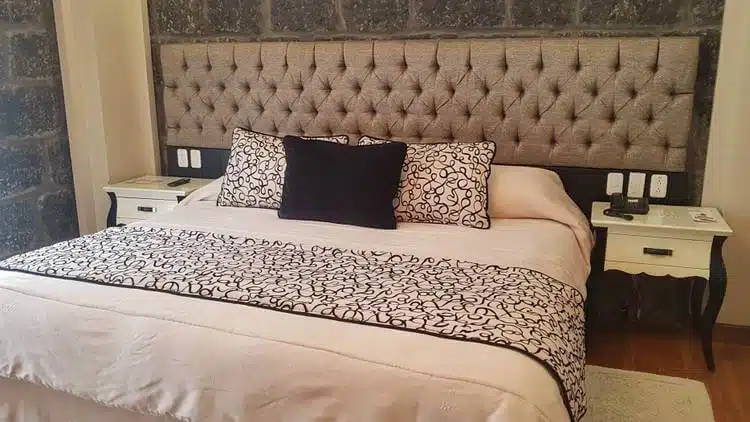 The property is also at the foot of a majestic waterfall, which provides great views from many of the hotel's common areas, including the pool and jacuzzi.
If you can, try to book a room facing the waterfall. The private view from our balcony made for several relaxing mornings.
If you're traveling with kids, Sangay Spa Hotel even has a "Kid's Club" every weekend that's designed to keep children entertained and supervised so parents can enjoy some well-deserved peace. Best of all, this service is included in the price for your room.
Click here for more information, photos, and/ or to make a booking.
2. AirBnB
If you'd rather not stay at a hotel or hostel, Baños does offer some stellar properties and deals via AirBnB. Private rooms typically list for between $10 and $30 per night, but entire houses and apartments are available for well south of $100.
One note: because Baños is a popular getaway spot for locals, the good deals can go fast. If you're able, try to plan your stay off-peak (during the week) and book accommodations ahead of time.
This article is now available as a mobile app. Go to GPSmyCity to download the app for GPS-assisted travel directions to the attractions featured in this article.
Disclaimer: I was invited by Sangay Spa Hotel, Luna Volcan, and Bucket Pass. My opinions, as always, are solely my own.
About the Author
More info
Best VPN for Travel: ExpressVPN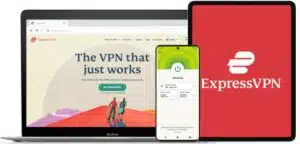 Heading abroad? Use ExpressVPN to access your social media accounts, unblock your favorite entertainment sites, and stay connected with friends and family. And get cheaper flights, of course.
Pros
✅ Next-gen, high-speed servers in 94 countries
✅ Works on iOS, Android, Windows, Mac, Linux, browsers, and more
✅ 256-bit AES encryption protects your data, even on hotel Wi-Fi
✅ Unblocks Netflix and other streaming sites
Cons
❎ No dedicated IPs
Get 3 extra months free of ExpressVPN when signing up for a 1-year plan. That's a 49% saving and a monthly cost of just $6.67! You also get a 30-day money-back guarantee.