Peru is a stunning country rich in both cultural history and natural wonders.
Those looking for the best things to do in Peru will find that the country holds a bit of everything, from sand dunes and desert caravans to one-of-a-kind ecology and island life and a truly unique cultural heritage.
Those familiar with Peru's tourist attractions know that the country also once held the Incan Empire, the strongest empire in South America, for hundreds of years until the Spanish invasion of 1532.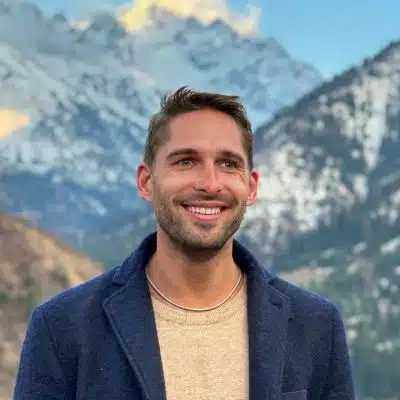 The Inca and other indigenous peoples of Peru built truly awe-striking structures and cities, and many remain the most popular points of interest in Peru.
Chief among them is the former Incan imperial palace, Machu Picchu, nestled high in the Andean mountains near Cusco, the old Incan capital.
Related Posts:
1. Ultimate List of Best things to do in Cusco, Peru
3. Ultimate List of Best things to do in Lima, Peru
4. Different ways to get to Machu Picchu
Machu Picchu is perhaps the most widely recognized archaeological site in the world and definitely one of the most popular things to see in Peru. Its architecture and remarkable natural setting draw over 1 million visitors each year.
Many visit Peru only to see this extraordinary sight.
But that's a shame because Peru holds so much more worth seeing.
I asked a bunch of travel bloggers about their favorite activities, places, and things to see in Peru (other than Machu Picchu).
From white-water rafting along the Apurimac River to multi-day expeditions into Colca Canyon and treks into the Amazon, here's what they said:
1. Paracas National Reserve
Recommended by Sara from Travel Continuum
With its archaeological wonders, rich colonial heritage, and dense Amazonian jungle, Peru stuns the senses. But one of the places that most sticks in my mind is the rare ecosystem of Paracas National Reserve, near Pisco, where the parched desert meets the crashing waves of the Pacific Ocean.
As you first cross into the stark peninsula, you're struck by just how desolate the landscape is – almost as if you've landed on Mars! Covering a total land/sea area of over 3000 square kilometers, the reserve is not only an important and protected habitat, but it's also strikingly beautiful and ethereal, with red beaches, plunging golden cliffs, and rocky islands.
The views at the apex of the headland are spectacular but are prepared to be blown away in another sense – it's also pretty wild and blustery out there but worth every second.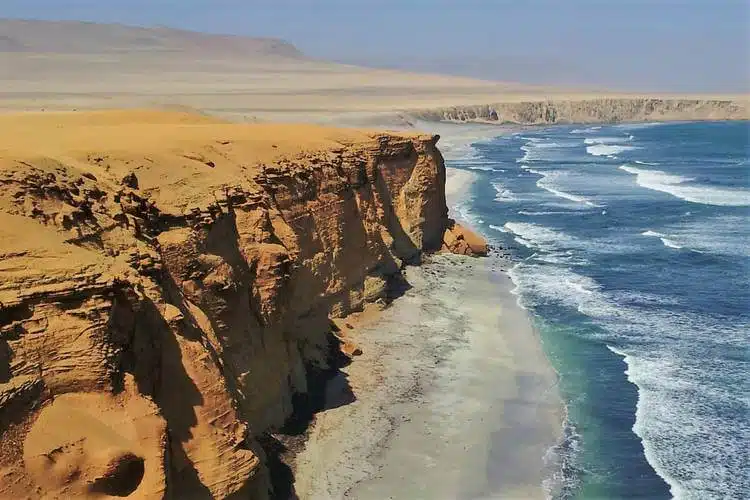 The marine biodiversity in these waters is due to its rich nutrients, swept in by the Humboldt Current. Sea lions, otters, whales, turtles, penguins, flamingos, and petrels, as well as many crustaceans and over 150 species of fish, all share in the abundance of this unique spot.
Make sure you stop by the Centro de Interpretación building to learn about the conservation work with both the environment and the artifacts of the ancient Paracas people.
We booked via our hostel for convenience, but many different agencies and operators offer tours (you can visit independently by bicycle but plan carefully – it's a harsh environment!).
Tours cost from around S/25 per person, including the entrance fee to the reserve.
2. Off the Tourist Radar (so far): Ayacucho in Peru
Recommended by Juergen from dare2go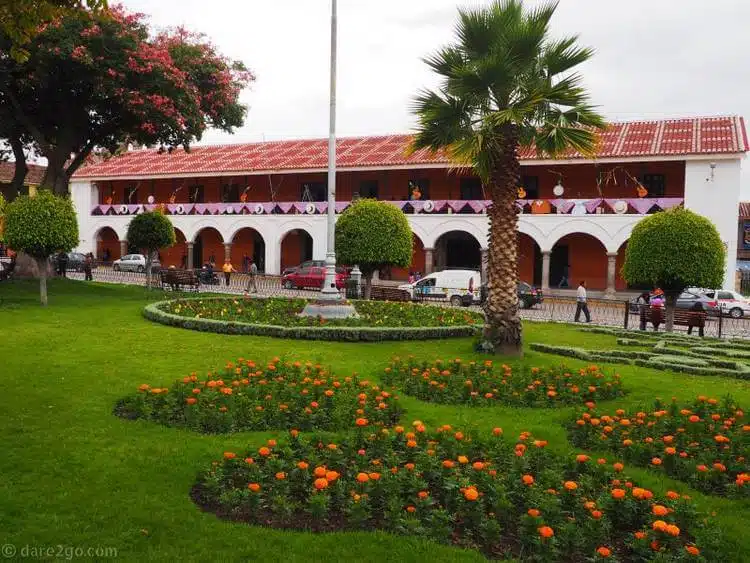 The colonial town of Ayacucho, north of Cusco, has remained off the main tourist radar. This is even though the town, and surrounding region, have a lot to offer visitors.
Ayacucho is an authentic historic town, with very friendly and welcoming people – but without the hustle and bustle. Beautiful old colonial buildings surround the pleasant main plaza.
Just off the plaza, you will find the helpful iPeru tourist information, where you can enquire about all the nearby attractions. There are so many interesting sights, within easy reach of the town, that you could easily spend three or four days based in Ayacucho.
The town, and villages around it, are known for their unique handicrafts, mostly pottery and wood carvings. Retablos are the region's best-known craft items. They are shrine-like wooden boxes with 2 doors, overflowing with really colorful hand-painted figurines, assembled in scenes depicting rural life or religious themes. You can find them at the Shosaku Nagase Handicraft Market (just 5 blocks from the plaza), in all sizes.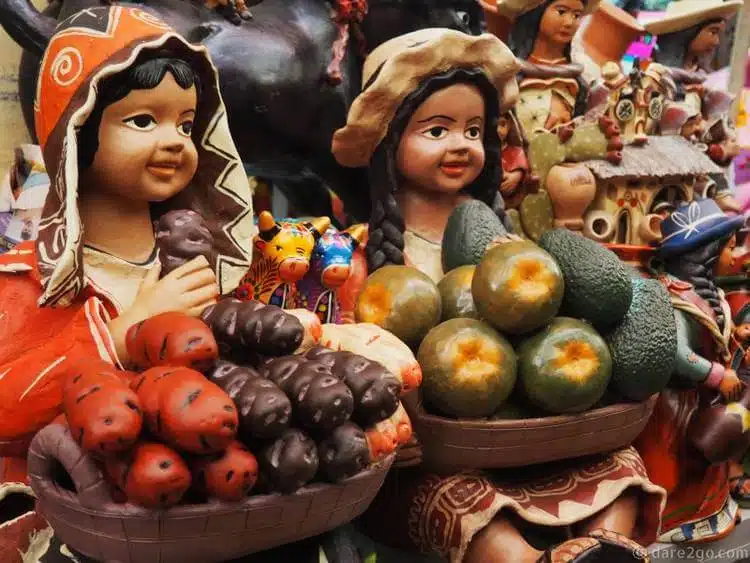 The small village of Quinua, only 40 kilometers from Ayacucho, is known all over Peru for its unique and colorful pottery.
The large ceramic churches, with crooked, bent towers, which you will see in many places around Peru, originate from here. They also produce life-like colorful figures and pots.
But the most significant sight is roughly halfway between Ayacucho and Quinua: the ancient ruins of the Wari people. This tribe, once the most dominant in the Peruvian Andes, ruled from around 500 to 1000 AD, long before the rise of the better known Inca empire.
If you travel by road from Lima to Cusco, Ayacucho is only a small detour along with one of the main routes. So it would make the perfect stop-over to acclimatize and explore. At 2,700 meters, it is significantly lower than Cusco.
3. White-Water Rafting Apurimac River
Recommended by James from Travel Collecting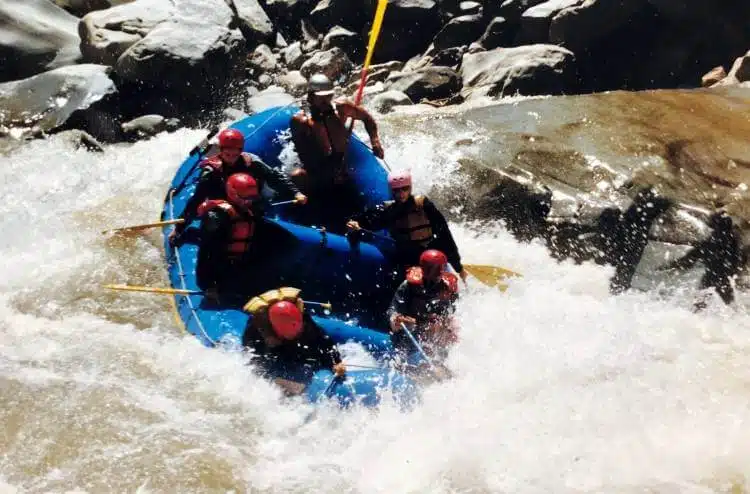 The three-day trip white-water rafting down the Apurimac River through the Black Canyon is considered one of the top ten rafting trips in the world. It is not for the faint-hearted, however.
There are many Class IV and some Class V rapids (to give you a sense of this, class VI rapids are unnavigable)!
This is exciting stuff!
A four-hour drive from Cusco takes you to the river, where you learn essential instructions. Then before each of the serious rapids, you need to get out and learn the best way to get through them and what to do (which sometimes is just to hold on for dear life).
The rapids are a crazy maelstrom of waves splashing over you, the raft rising almost vertical and then plummeting down huge drops as you lean forward and paddle as hard as you can.
This is every adrenaline junkie's paradise. In between rapids, you can enjoy being in a steep canyon with the occasional condor circling overhead.
If you are adventurous, this is an absolute must-do in Peru.
4. Visit the Ballestas Islands
Recommended by Juliana from The Discoveries Of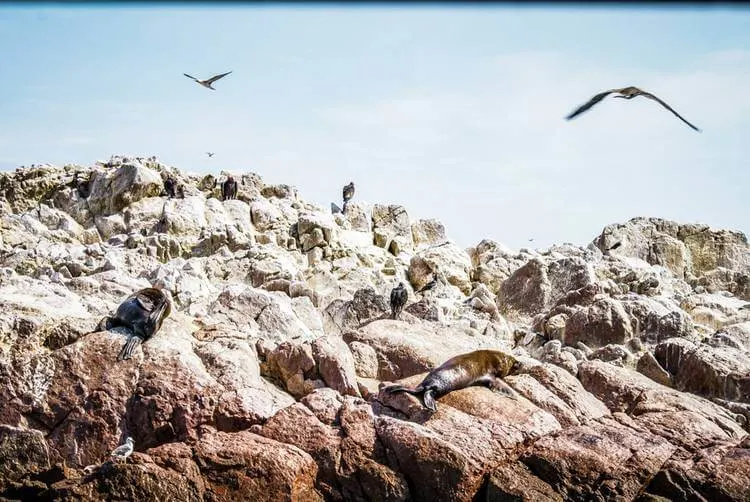 If you are traveling to the south of Peru, I'd highly recommend stopping in Paracas to take a tour of the Ballestas Islands.
The Ballestas Islands are a small group of islands about 12 miles off the coast of Peru. Teeming with wildlife, the islands are a haven for Humboldt Penguins, pelicans, boobies, cormorants, and seals – plus, there's the chance of spotting killer whales and dolphins if you're lucky.
It's no wonder they're nicknamed "The Poor Man's Galapagos" – a name that doesn't really do them justice, to be honest.
You're not allowed to disembark on the islands, as they're a protected reserve – so the only way to see them is on a boat tour.
The tours depart from a few locations, the most popular of which is Paracas. It takes about 30 mins to get to the islands (the waters can be choppy so take some seasickness tablets if you're not great with boats).
The tours normally spend around an hour circling the islands – with a guide pointing out the wildlife and telling you about the different species you're seeing.
Our guide was a font of knowledge – talking us through the islands' history – they actually fuelled Peru's guano (bird poop that was used as fertilizer – boom and why they're protected today.
Bonus Tip?
Try and book in for a tour on a smaller boat as it gives you a much more intimate experience.
5. Colca Canyon
Recommended by Carly from Fearless Female Travels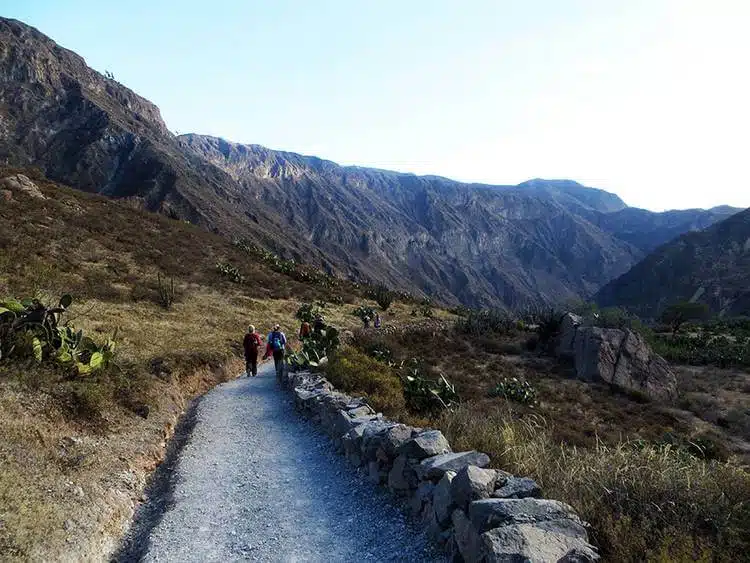 Putting the Grand Canyon to shame, Peru's stunning Colca Canyon is a must-see for anyone visiting Peru. If you're an active traveler, a day trip to the Colca Canyon simply won't suffice.
You will want to book a full hiking tour of the canyon, which you can extend over two or three days. Either way, the route is the same, but the pace is a lot more rigorous on the two-day hike.
Your journey will begin at the edge of the canyon, where you can watch Andean condors, whose wingspans can approach ten feet, glide through the air. Then you'll drive to the trailhead and begin your descent through the picturesque desert surroundings.
Going down to the riverbed below is fairly easy, and you'll have plenty of time to stop for a home-cooked lunch and a cool drink (or even a swim on the three-day hike!).
A few more hours of hiking will take you to a rustic guesthouse (sorry, there's no hot water) in Sangalle village, where you'll be given dinner and information about your early-morning departure.
Of course, what goes down must come back up, and it's the final day of the hike (either Day 2 or Day 3, depending on the tour you've selected) that will really test your physical stamina.
Starting in complete darkness, you will hike straight uphill for approximately four hours, watching the sunrise overhead, until you arrive in the town of Cabanaconde, where a hearty, hot breakfast – and a feeling of immense personal satisfaction – awaits.
On my trip, about half of the hikers reached the bottom of the canyon and realized they wouldn't be able to get back up the next day. Fortunately, your guide can arrange an ascent by donkey if you're worried about your fitness level!
6. Cordillera Huayhuash Circuit
Recommended by Megan from Appalachian Trail Girl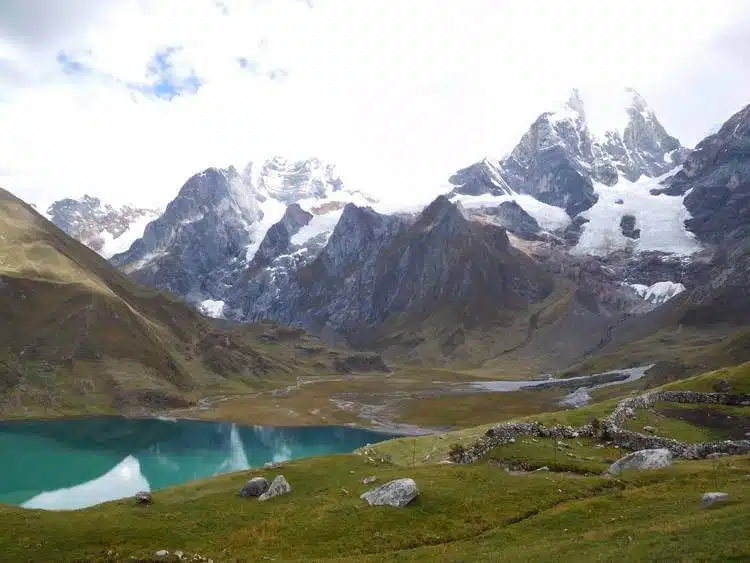 The Cordillera Huayhuash Circuit is the place to go if you're looking for a trail that is high-altitude, physically challenging, and doesn't get a lot of tourists. It's said to be one of the most beautiful hikes in the Andes, and it takes over a week to complete.
The Huayhuash region was made famous by the book Touching the Void, which recounts a near-death mountaineering accident that took place in the Cordillera Huayhuash mountains. Don't worry, though; you will only be hiking, not climbing peaks.
Some of the more appealing aspects of this hike are the towering snow-covered mountains and the turquoise alpine lakes. It's not uncommon to see locals herding mule trains along the trail to carry supplies for groups or villages.
One of my favorite experiences along the way was a natural hot spring that weary trekkers could soak in.
The Cordillera Huayhuash is much less crowded than its Cordillera Blanca counterpart. During my whole trek, I only met a few organized groups and a few individuals. I was not totally alone, and yet I often had views all to myself.
If you're looking for a difficult hike with rewarding scenery, the Cordillera Huayhuash Circuit is for you.
7. Trek Gran Vilaya
Recommended by Elisa from World in Paris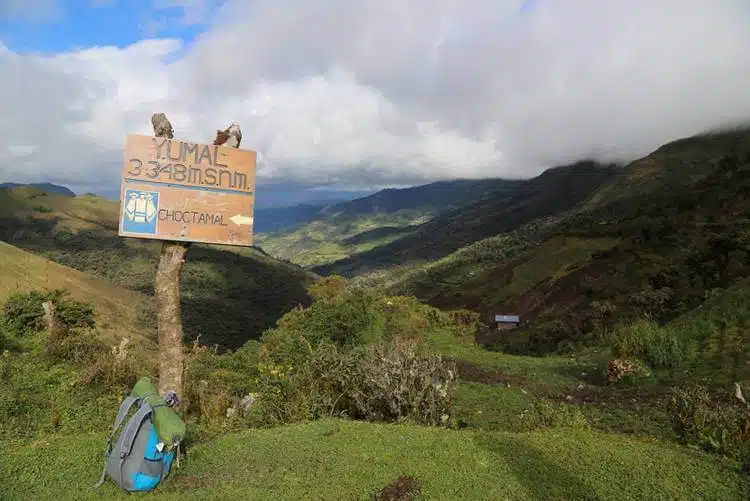 The Trek Gran Vilaya, in the Cordillera Central, is one of the coolest treks I have done in Northern Peru. During 4 days and 3 nights, trekkers explore the Chachapoyas culture through incredible archaeological sites and amazing landscapes.
The Chachapoyas were warriors who controlled this area from AD500 until its defeat by the Inca Empire in the XVth century. Because of its similarities with the Inka Trail, from Km 82 to Macchu Picchu, the Gran Vilaya Trek is often called the Inka Trail of the North.
The Gran Vilaya Trek starts at the colonial city of Chachapoyas in Northern Peru and ends in Kuelap, the Chachapoyas' sacred city. This is a moderate – difficult trek, with important slopes (+1400 m, -1000m) and long walking days (6- 7 hours a day), so you need to be fit.
In terms of landscape, the Gran Vilaya trek goes through the thick jungle, beautiful river valleys, and the highest altitudes of the Amazonian forest.
From a cultural point of view, you will learn about Chachapoya culture by visiting 2 religious sites, the fortified citadels of Pirquilla and Lanche (the latest uncovered from the jungle only 3 years ago) Kuelap, the Chachapoyas' main citadel and center of their power.
8.

Taquile Island
Recommended by Gemma from Two Scots Abroad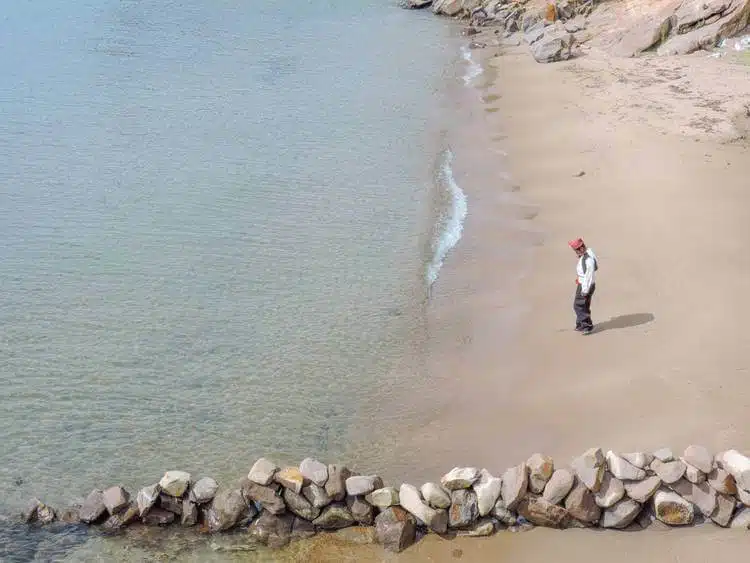 Taquile Island is an island on the Peruvian side of Lake Titicaca. It is home to 2000 locals who live off the land. There are no cars and no WiFi.
Tourists can visit as part of a day tour or do a homestay on Taquile Island. Since the locals mostly speak Puno Quechua, and only a small number know Spanish, you need to have a good grasp of Spanish too to get by.
Our homestay Dad spoke Spanish, and the child was learning at school. The Mum did not, but we conversed through smiles and gestures.
During the homestay, the families cook lunch (you arrive for lunchtime), dinner, and breakfast. Our family made us soup and also a trout dinner which is typical for a Taquile meal. There was also plenty of coca tea on offer; it is Peru after all!
There are not really any shops that you can buy food for yourself so do keep that in mind. Day tour visitors dine at one of the family restaurants, and the island rotates which restaurant to ensure equality for all.
Apart from the fellow homestay guests, we never met (or saw) another tourist on the island during our overnight stay. It's the most peaceful place I've visited!
There isn't much to do apart from learning about the island culture from the homestay family, hiking around the island, and visiting the eerily quiet beach.
9. Explore Madre de Dios area in the Amazon Rainforest
Recommended by Ashley from DashinAsh
When I was planning my trip around Peru, I really had no idea how diverse the landscapes are there. When I found out that the Amazon Rainforest extends across Peruvian borders I knew I had to go.
The closest airport is Puerto Maldonado. From there, there are multiple ways to visit the Amazon Basin, from luxury all inclusive resorts to backpacking trips, but single day trips from Puerto Maldonado are difficult to find.
The Peruvian Amazon is situated around the Madre de Dios river, and the wildlife there is abundant and varied. We were treated to views of caimans, giant otters, spider monkeys, sloths, and howler monkeys.
There were birds of beautiful colors flying through the tree tops, and tarantulas watching as you hiked past.
I feel like Lake Sandoval is the best culmination of the multitude of the Amazon basin activities. One has to take a boat down Madre de Dios, followed by a flat three mile hike, and then most tours take you out in canoes to best experience the lake.
We watched the sunset over the lake, with giant otters swimming alongside our canoe, and then made our way back through the dark. That's a testament to how easy the hike is, you hardly have to worry about tripping over anything.
The experience was unique and invigorating, and a lovely break from the more typical sights in Peru.
10. Arequipa
Recommended by Ariana from World of travels with kids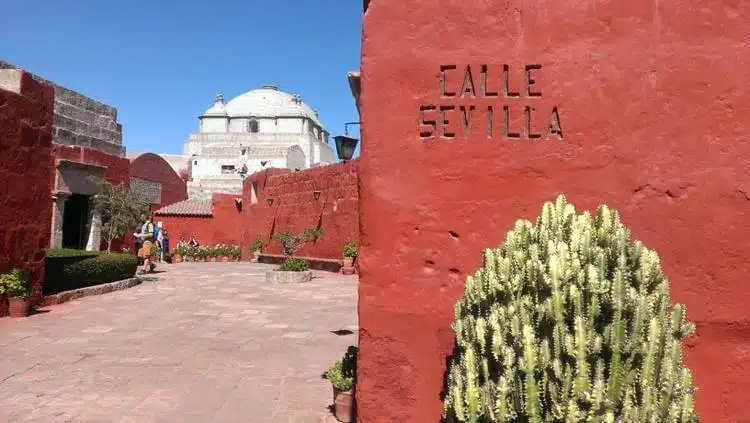 The stunning white city of Arequipa should not be missed from a Peru itinerary!
While it is Peru's second largest city, you mostly feel like you are in a Spanish colonial city of yesteryear with many gorgeous Colonial buildings around the centre. The volcano El Misti provides an evocative backdrop and is visible from many parts of Arequipa.
While Arequipa 2,328 metres (7,638 ft.) is often used for acclimatisation purposes on a trip "up" to Cusco, or as a jumping off point to see the Colca Canyon, it easily merits 2 days in our opinion.
Not to be missed are the beautiful Plaza de Armas – easily the most attractive in all of Peru!!! (That is saying something as there are many beautiful Plazas). While the Cathedral of Arequipa is certainly not the oldest in Peru, it is extremely pretty and open in the evenings.
The museum dedicated to the Mummy Juanita (The Ice Maiden) is worth a visit as you learn a lot about Incan culture. Our favourite place to visit is in Arequipa is the Monastery of Santa Catalina which is a photographer's (or instagrammer's paradise).
Beautiful architecture, combined with bright colours and religious relics make it a remarkable place to visit.
11. Marcahuasi
Recommended by Claudia from My Adventures Across The World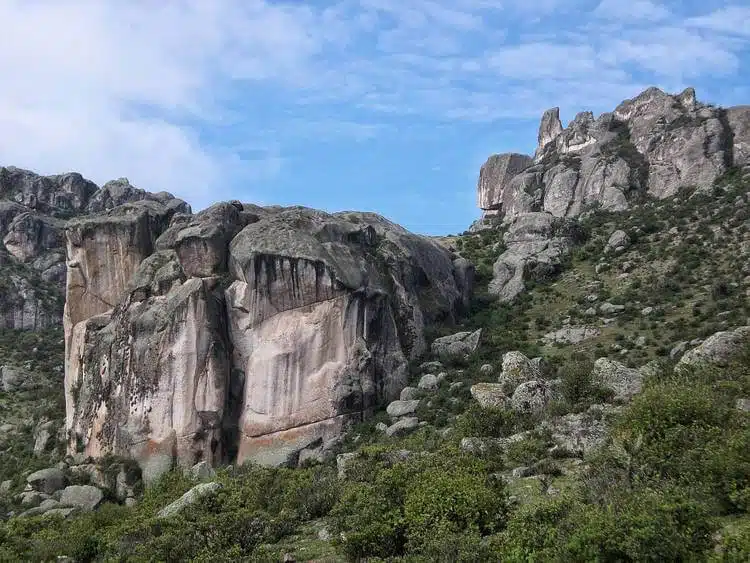 Most people who travel to Peru go straight to Machu Picchu. Mention Marcahuasi, however, and most have never heard of it. In fact, not even Peruvians know where it is most of the time.
This little known archaeological site (though there is still a debate whether it is man made or natural!) is set at over 4000 meters above sea level, and getting there requires a 4 hours walk (one way) from San Pedro de Casta, a village of around 500 inhabitants located at around 100 km from Lima.
Marcahuasi is an interesting place to visit. What is special there is the eroded rocks shaped into animals and humans – turtles, seals, etc.
Make sure not to underestimate the distances in Peru. Although at only 100 km from Lima, it takes at least 5 hours to get from Lima to San Pedro de Casta: take the bus to Chosica and once there another one to San Pedro de Casta. Buses back to Chosica are supposed to leave at 2:00 pm every day, but they pretty much go when the driver feels like it.
Other than the distance from Lima, the change in altitude is so dramatic that it is better to consider spending a day in San Pedro do adapt to it. Camping in Marcahuasi is permitted, though there are no roads taking there so it would be necessary to carry pretty much anything.
There is a very basic Ospedaje Municipal (and one or two basic "restaurants" to eat) in the village. The Ospedaje has no hot water; no running water after 8:00 pm; no heating.
It gets freezing cold up there after the sun sets, and in fact even during the day, so make sure to wear appropriate gear and take plenty of warm clothes.
12. Surfing in Mancora
Recommended by Claire from Tales of a Backpacker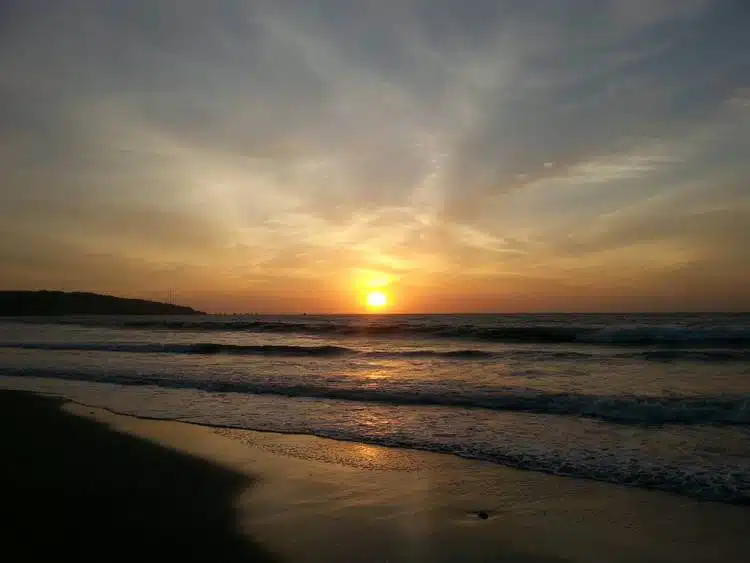 Mancora is small beach town in the north of Peru, about two and a half hours' drive from the border with Ecuador. If you are travelling through Peru, Mancora is a great places to stop off on your way to or from Ecuador to catch some waves and chill out on the beach.
Surfers flock to Mancora for the long beaches and great waves. There are several surf schools here to choose from, so if you've never surfed before Mancora is the perfect place to learn.
The waves aren't too strong, and the sandy beaches make good places to begin – but watch out during lower tides for rocks peaking out of the water, the higher tides are safer for beginners.
More advanced surfers will have no shortage of waves to catch either, the wind is often quite strong here, especially from April to December.
If you're not a keen surfer then there is plenty of beautiful sandy beach to stretch out on, and you can also dive, snorkel or try your hand at kite-surfing too.
And then there is the nightlife! As well as being a surfing hotspot, the international crowd has brought with them a party atmosphere with bars and restaurants popping up all over town. Be sure to bring your mosquito repellent though, they are vicious!
13. Huancayo
Recommended by Alyssa from Ojos Extranjeros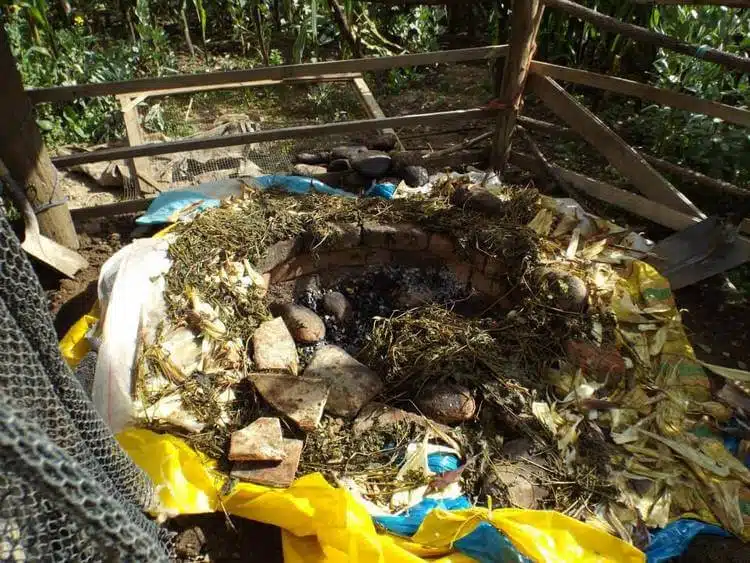 Huancayo is a roughly 7 hour drive or bus ride from Lima. The capital of the Junin region, Huancayo is a bustling city filled with life, culture, & great food!
In fact, Huancayo is the cultural capital of the Peruvian Andes. Take a walk around the city center and you can see stunning colonial buildings mixing with new more modern buildings. The best part, anywhere you look you get a stunning view of the surrounding mountains.
Being a cultural capital, the streets are filled with different merchants selling their handmade, artisanal goods, stalls selling fresh juices, or salchipapa. If you're in Huancayo, you can't miss a trip to Parque de la Identidad Huanca (Park of the Huanca Identity).
Inspired by Parque Guell in Barcelona, this stunning park has intricate stonework, statues, and other art which represent the characteristics of the region and the indigenous history of the Huanca people who founded the city.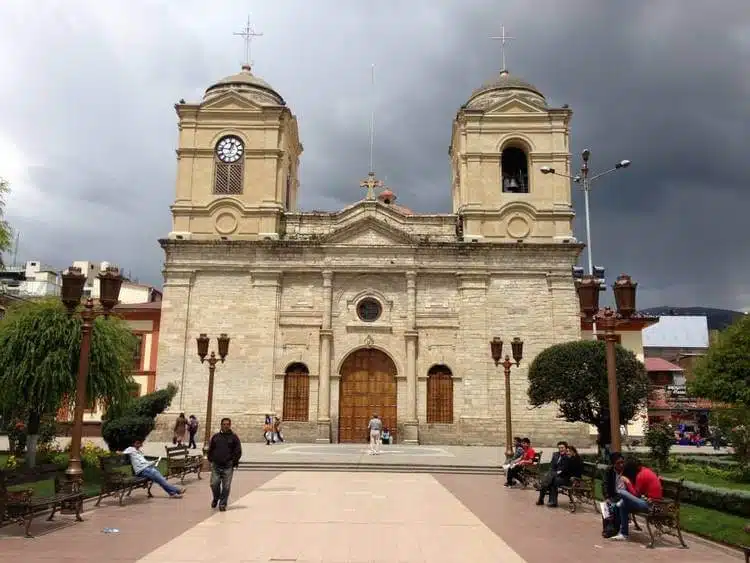 There are replicas of traditional Huanca homes along the park, and if you're lucky you will run into people in the traditional Huanca clothing! Another great experience in Huancayo is a riverside Pachamanca meal.
Pachamanca is the traditional cooking of food by use of hot stones. Meat, usually lamb, pig, or guinea pig, is placed in a hole in the ground along with potatoes and corn. The hole is lined and then covered by these heated stones, and covered tightly with dirt.
Don't worry, your food is not dirty! The result is delicious meat cooked perfectly by the earth, and eaten with your hands! Afterwards, a shot of Pisco will help aid the digestion of the heavy meal.
A few days in Huancayo will do your body good, plus it is off the beaten path which means very little tourists in any season!
14. Sandboarding in Huacachina
Recommended by Vita from My Walk in the World
View this post on Instagram
Huacachina is a town surrounding a natural lake in the desert. It's also home to some of the most beautiful and largest sand dunes in South America. If the oasis and the surrounding dunes aren't captivating enough, the adrenaline of sandboarding makes this a must-do destination in Peru.
Sandboarding is like snowboarding, but instead of snow, you slide down sand dunes.
Haven't snowboarded before or feeling nervous?
Don't worry!
You can still experience sandboarding in full, only instead of standing up, you can lay down. It's safe and sometimes can be more fun because you tend to go faster!
If you stay at a local hostel, there are places where you can hire boards by the hour or half/full day.
However, there are great tours that leave several times a day to the best and highest sand dunes. Professional drivers take out groups in dune buggies that last between one and two hours.
This way everyone gets a chance to sand board down several dunes and get to experience driving in the open-air dune buggies. Tours cost around $22-25 and include sand board hire, shoes, buggy and guide.
15. Glamping with the Misiminay tribe in Moray (near Cusco)
Recommended by Kaila from Nylon Pink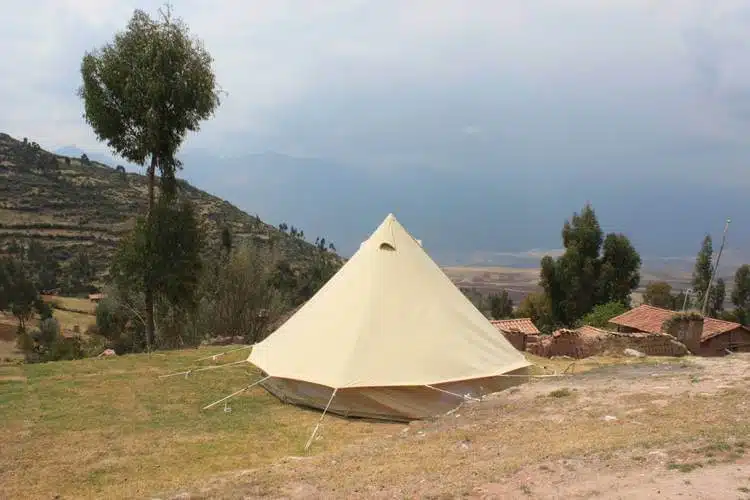 Glamping with the Misiminay Tribe is truly a one in a million experience, plus it is sustainable and educational. You will get a lovely glamping tent that is complete with all the comforts of home, like a mattress, down covers, and decoration that matches the Andean tradition.
The tents are nice and warm, and you will always feel at home. The employees of the glamping site can show you just how to get around and can even arrange a transfer for you from Cuzco or Sacred Valley if you are coming in from those places.
You can engage in many wonderful cultural activities, like cooking class, stargazing, or mud-brick building. You can also explore the nearby terrain and take the path to the Moray viewpoint and have a look.
From there, you can go down to the archaeological site and have a look, too. After all the fun is done, get ready to eat a traditional meal prepared by your hosts, who can accommodate any dietary restriction you ask them about.
The food is organic and carefully prepared. After this is done, you can enjoy a little time by the fire before turning in for the evening.
And don't be afraid to wake up early-the sunrises are lovely here.
16. Ausangate Circuit Trek
Recommended by Jen from Long Haul Trekkers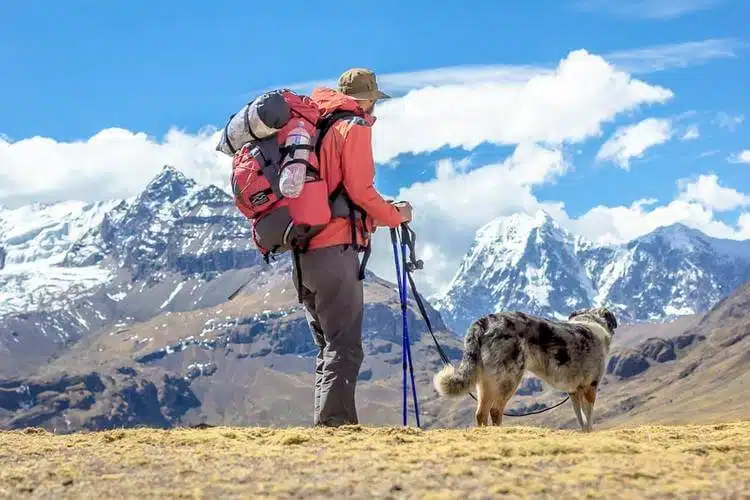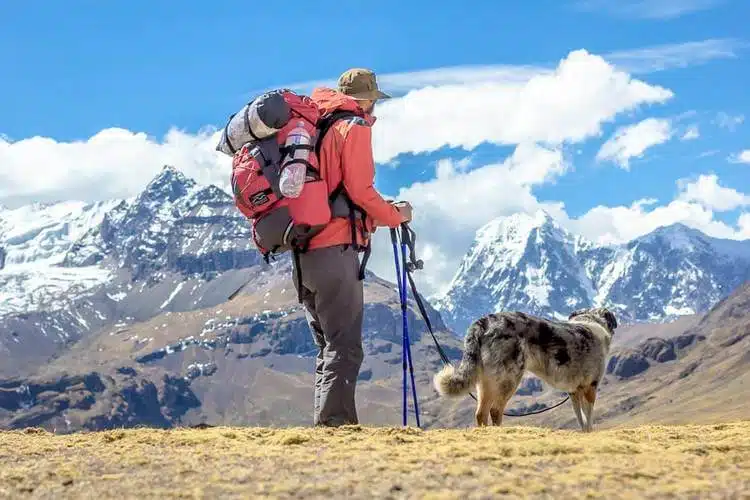 The 95km Ausangate Circuit is one of the most beautiful treks in Perú and because most tourists high tail it to the Inca Trail and Machu Picchu, the trails are practically empty.
As a bonus, the six-day trek also includes a visit to Rainbow Mountain, so you won't have to worry about missing out.
Inhabited by llama and alpaca herding communities, the region is he to the last remaining pastoralist societies in the world. Ausangate Mountain, is the fifth tallest mountain in Peru, standing at a towering 6,384 masl (20,926 feet).
While it is entirely possible to hike the Ausangate Circuit on your own, the extreme elevation will pose a challenge to those not well-acclimated. There are three difficult mountain passes, including two over 5,000 masl.
With the unpredictable mountain weather, demanding passes, high likelihood of altitude sickness, and unmarked trails, booking with a company will ensure a more comfortable and successful adventure. The knowledgeable and hospitable guides know the area well and the mule team will carry the bulk of the weight.
In addition to giant peaks all around, the hot springs in the tint village of Pacchanca costs all of a dollar and will soothe your aching bones after a few days in the mountains.
17. Choquequirao
Recommended by Taylor from Travel Outlandish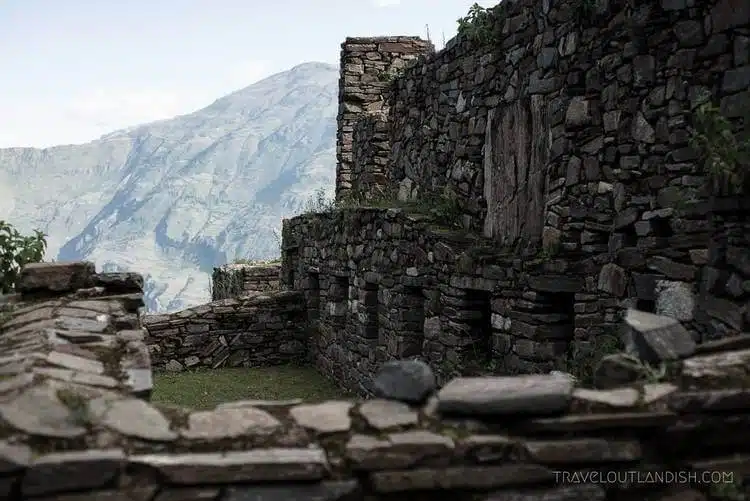 Everyone wants to visit Machu Picchu on their trip to Peru, but Choquequirao is a similarly expansive Incan complex that you may have never heard of.
The ruins sprawl more than 18km though they're presently just 30% excavated. And perhaps the best part of Choquequirao is that the ruins average 20 visitors per day compared to Machu Picchu's 2,500.
The reason is that the Choquequirao ruins are so under-visited is because they're set atop the Apurimac Canyon and are currently only accessible by a particularly challenging trek.
The Choquequirao Trek takes hikers between 4-9 days and is characterized by a steep plunge into the canyon, some tough switchbacks, and particularly remote campsites and trekking routes.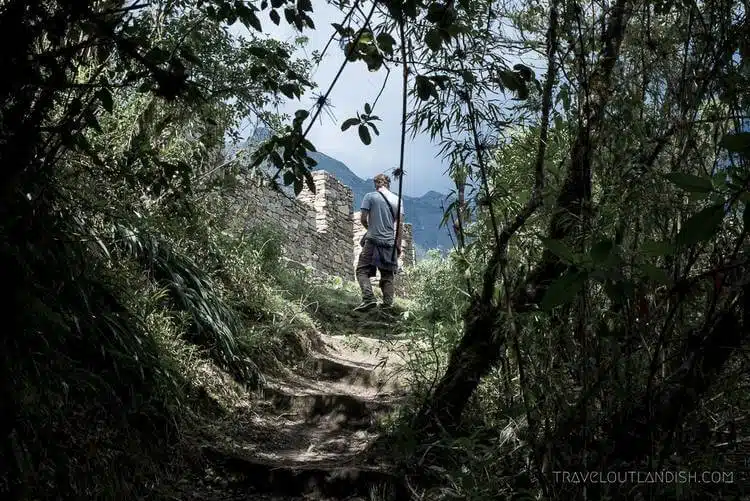 And while Choquequirao pulls its weight as "something to do in Peru besides Machu Picchu", the Choquequirao Trek is unique in that it can be considered an Inca Trail Alternative.
For anyone determined to experience both sets of ruins, there is a 9-day trek past Choquequirao that finishes in Aguas Calientes so you can make it to Machu Picchu by sunrise.
18. Huaraz
Recommended by Thea from Zen Travellers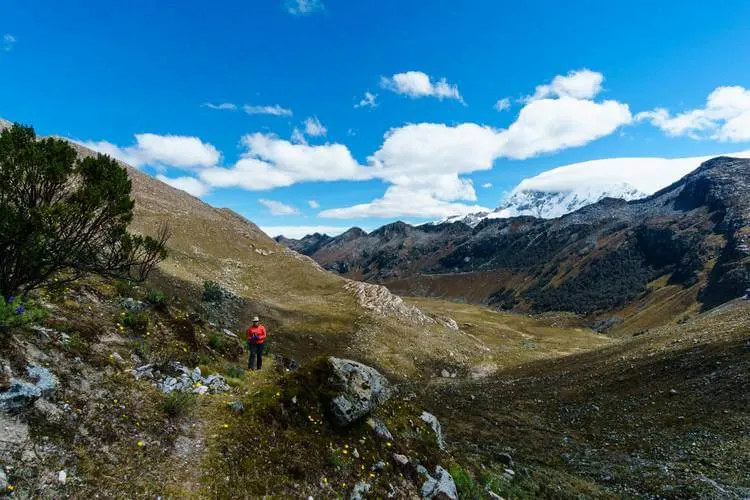 Huaraz is the ultimate destination in Peru for high altitude adventures. Often cited as the "Switzerland of the South", Huaraz is so called because the sky high peaks of the Cordillera Blanca mountain range can be seen from right in town.
While the town itself may lack the charms of a quaint Swiss mountain village, the trekking in the Cordillera Blanca is superlative. From the understandably popular 4 day Santa Cruz trek, to challenging multi-day summits, there are alpine pursuits for all abilities and budgets.
We opted for a couple quieter alternatives to the Santa Cruz trek and spent 3 days on the Alkipo-Ishinca trek and then summited Matteo Peak at 5125m once we were sufficiently acclimated.
The views of the glaciated peaks, alpine lakes, and nearby valleys in the Cordillera Negra were breathtaking and will stay with us for some time I'm sure. As such, we are already planning our second trip back to Huaraz!
19. Tour to the Amazon Rainforest
Most who travel to Peru think of stunning mountains and captivating archaeology, and Peru definitely has a ton of that. But Peru is also home to a portion of the Amazon rainforest. And, if you're in Peru and looking for a way to spend a few days, we recommend a jungle tour.
The Amazon offers some truly unique opportunities for travelers. You can fish for piranhas or bird watch from a riverboat.
If you're up for it, you may even get the chance to learn some rainforest survival skills, like building an emergency shelter, finding clean water, or even creating impromptu bug spray.
Huacari Tours is one company that provides a host of these awesome Amazon jungle experiences. While their Lodge is a bit sparse (it is a jungle, after all), they make up for it with their flexible activities and excellent local guides. Food is included.
More Peru Internet Resources:
1. More Places to visit in Peru
Was this post helpful? If so, be sure to pin it to refer to later!
About the Author
More info
Best VPN for Travel: ExpressVPN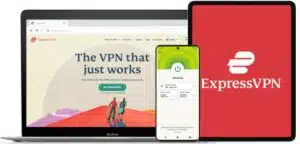 Heading abroad? Use ExpressVPN to access your social media accounts, unblock your favorite entertainment sites, and stay connected with friends and family. And get cheaper flights, of course.
Pros
✅ Next-gen, high-speed servers in 94 countries
✅ Works on iOS, Android, Windows, Mac, Linux, browsers, and more
✅ 256-bit AES encryption protects your data, even on hotel Wi-Fi
✅ Unblocks Netflix and other streaming sites
Cons
❎ No dedicated IPs
Get 3 extra months free of ExpressVPN when signing up for a 1-year plan. That's a 49% saving and a monthly cost of just $6.67! You also get a 30-day money-back guarantee.