Unlock the Magic of Peru's vibrant capital! Discover the ultimate list of the best things to do in Lima. From foodie delights to historical wonders, get ready for an unforgettable adventure!
Lima has been deemed the gastronomic capital of the Americas.
And that's for a good reason — the Peruvian capital city has three of the world's 50 best restaurants.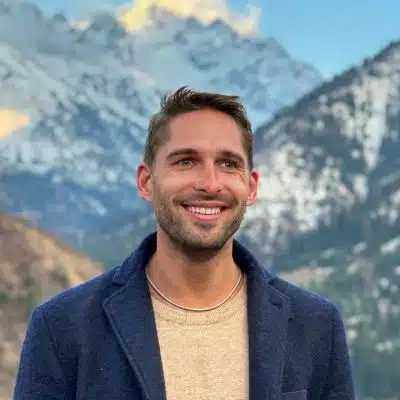 But Lima has so much more to offer than great eats: stunning ocean views, opportunities for unforgettable adventures, and an immersive history seen nowhere else.
The city's colonial and pre-Columbian history date back thousands of years. The city was founded in 1535, just three years after Pizarro defeated the Incan ruler Atahualpa.
Related Posts:
1. Ultimate List of Best Things to Do in Peru
2. Ultimate List of Best Things to Do in Cusco
3. Different ways to get to Machu Picchu
Much of the city's colonial architecture still stands for you to admire.
And although Peru's most famous monumental archaeological sites lie further inland, Lima is the home of Peru's National Museum of Archaeology. The city is a great starting point for those hoping to explore the rest of the country.
Here, you'll find no shortage of things to do, eat, and see.
To help you narrow down your options, I've consulted several bloggers about their favorite activities and places in Lima.
From the cliff walk around Miraflores to paragliding, local food tours, archaeological wonders, and more, here's what they said:
1. Paragliding in Miraflores
Recommended by Ale from Universo Viajero
When we think about things to do in Lima, eating and walking through the city's historical streets are the first everybody thinks about.
But, there is something that would give you a whole different perspective of the city and some adrenaline for the ones that like it:
Paragliding
In Miraflores, on the park boarding the coast and near the "Plaza del Amor," we find a greenfield made especially for the take-off and landing of paragliders.
Here you can buy a 10 minutes flight with optional photography and video recording; the pilots are certified, and all the necessary security measures are taken.
Why is this a must?
The price is very accessible and will give you a completely different perspective of the coast of Lima.
You will get to see the famous cliffs of the city from the heights, observe the district of Miraflores calmly and, of course, enjoy some adrenaline in the meanwhile.
If you have never done paragliding before and would like to try it, this a chance you should not miss.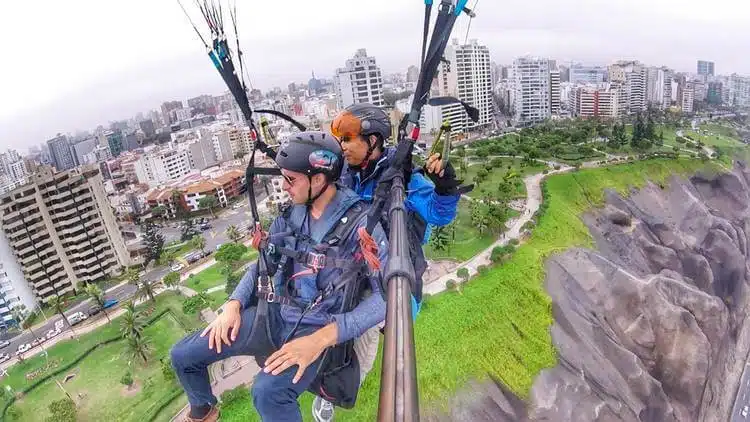 Thank you, Parapuerto Miraflores, for the great flight. I had a lot of fun and enjoyed seeing Lima from above!
Visit Parapuerto Miraflores for more information about the Flights, and check out their Instagram for more photos.
2. Swimming with Sea Lions in Lima
Recommended by Arestis and Sebastien from Nomadic Boys – Gay Travel Blog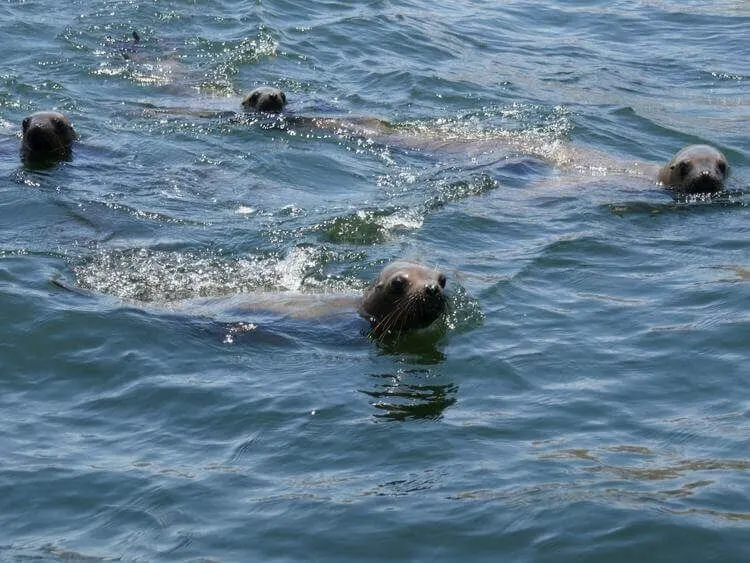 One of our favorite activities from our trip to Lima was swimming with sea lions.
Just off the coast from the mainland is a series of islands you can easily reach by boat from Lima. These are the Palomino islands, where you can experience a variety of wildlife, particularly sea lions.
There is a colony of penguins as well as sea lions who reside here. The sea lion pups are curious and will come and play/ interact with you in the water.
We took a boat trip with Mar Adentro Excursiones, who gave us wet suits and a detailed explanation of the best way to interact with the sea lions – you lie back in the water with your feet out in front of you, and the sea lion pups will come over to check you out.
Nothing is more adorable than watching playful sea lion pups interact with you.
However, these are really cold waters, and whilst the wet suits are amazing at keeping you warm, after around 15-20 minutes, you really start to feel it. Therefore at this stage, the guides start to call people back to the boats.
Click here for more information, photos, and/ or to make a booking.
3. Magic Water Circuit Park Lima
Recommended by Suzanne from PhilaTravelGirl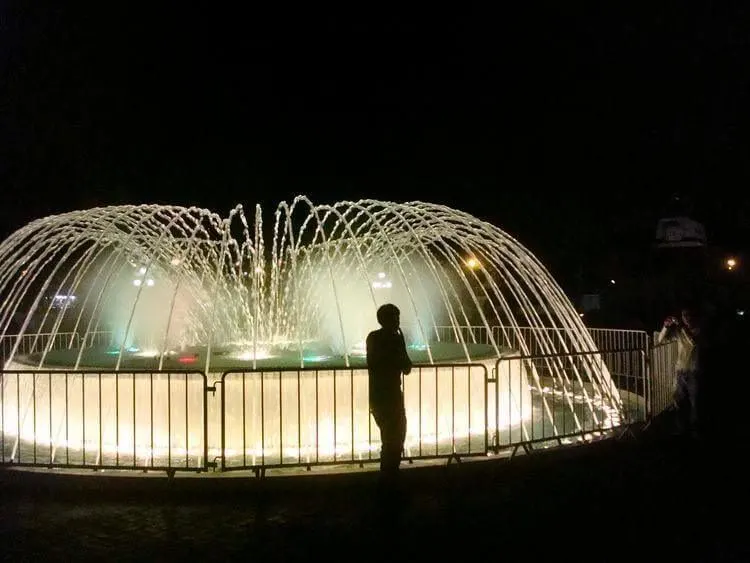 It's funny how quickly you can turn into a child – full of wonder and awe – when seeing water fountains that dance.
At the Magic Water Circuit in Lima, the municipal project in Reserve Park, all our inner children are free to have fun. The thirteen groundwater fountains dazzle with color, lights, sounds, and artistry.
At first, when the hotel concierge suggested I visit the fountains to kill time before my night flight home to the U.S., I was confused – water fountains in a park? What's unique about that?
When I entered the grounds (minimal entry fee of 4 SOL which is about USD 1.22) as the sun was setting, I was instantly enamored. I walked under and through a water tunnel without getting wet.
I watched the fountains put on a show, not unlike the spectacular Las Vegas or Walt Disney water shows, just much smaller in scope. And I saw the happiness on the faces of pretty much everyone.
This was truly a happy place in Lima and precisely what I needed to boost my mood before my vacation ended and I boarded the plane home.
4. Eating at Maido
Recommended by Nicole from Travelgal Nicole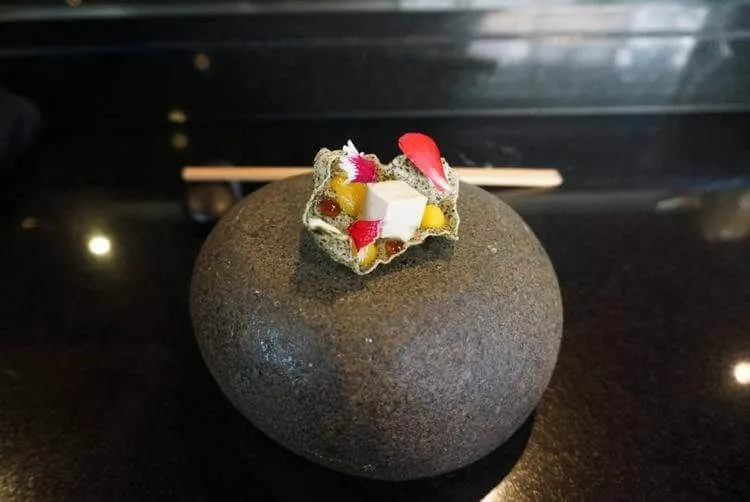 One of my favorite things to do in Lima is to eat!
Lima has some of the best restaurants, and even one that is ranked in the top 50 restaurants in the world – Maido. Maido means welcome in Japanese, and the restaurant has a Peruvian-Japanese menu.
Maido is listed as the number 8 restaurant in the world, and their tasting menus are a colorful journey through Peruvian cuisine with a Japanese twist. I started with an amuse bouche presented on a flower.
My main course was the show's star with the grilled octopus and vegetables. For dessert, I had the bird's nest mousse, which is a beautifully presented white chocolate on candy floss.
Everything at this restaurant is delicious, and they are known for their slow braised ribs. I was really lucky as I was staying at the Tierra Viva Hotels in Miraflores, and Maido was just around the corner.
5. Huaca Pucllana
Recommended by Thais from World Trip Diaries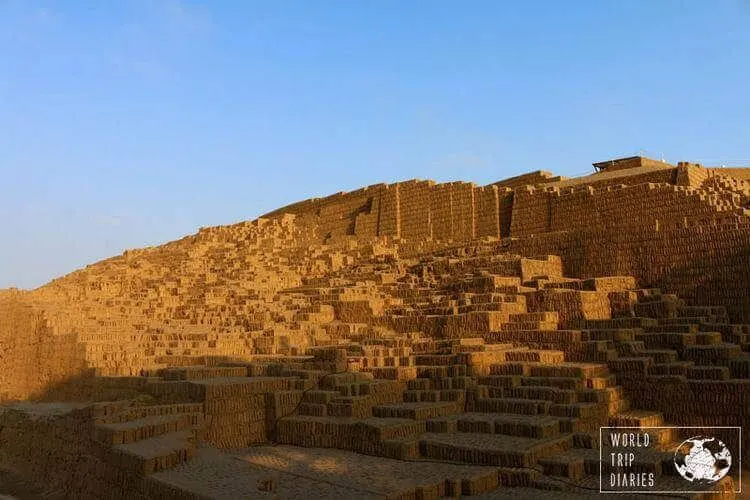 We tend to only think about Machu Picchu when we think about ruins, the Incas, and Peru. But the truth is that Lima has many, many ruins and ancient historical sites.
One of them is Huaca Pucllana. It's a big site (though not as big as Machu Picchu) in the middle of Lima (more accurately, in Miraflores).
It's dated from 200 AD to 700 AD and was primarily used by the Lima Culture, Even before the Incas.
Although in ruins, the pyramid is incredible and you can climb to the top and see the tombs!
Visits are guided; you need to be in one of the groups – there is no roaming around freely. They happen fairly frequently, and you can show up and wait for the next tour.
There is a restaurant/bar there, so you can comfortably wait for your tour. If you'd rather, you can stroll around the museum and the shop.
It's an awesome and unique experience!
Tip: Explore the ruins of Huaca Pucllana and Huaca Huallamarca illuminated for the night before an enjoyable dinner at a restaurant with a relaxing garden.
6. Walking around Miraflores
Recommended by Claudia from My Adventures Across The World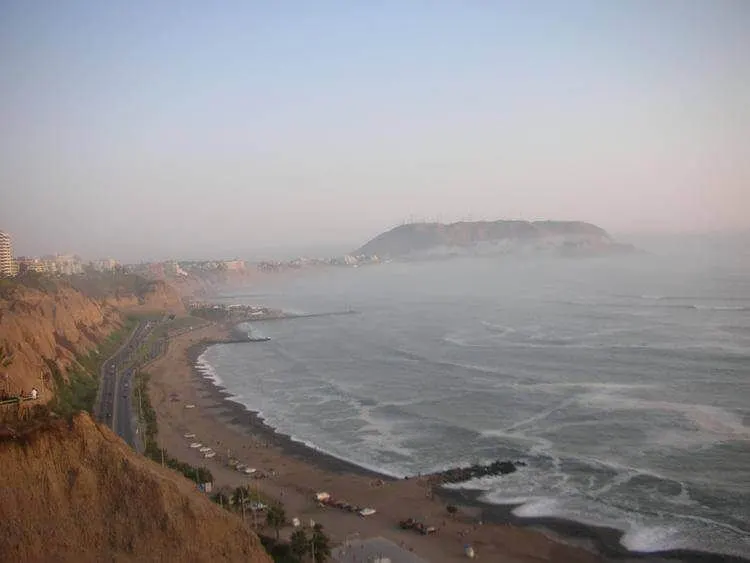 One of the nicest things to do in Lima is walking around Miraflores and then all the way to the clifftop walk to admire the sunset.
On a hot summer day, while people in the rest of the city are bothered by the terrible heat and the intense sun, Miraflores is very hazy and almost cool because of the cold air coming from the Pacific Ocean.
But right before sunset, when the temperature goes down, the haze disappears to reveal the most beautiful view one could hope for.
Looking down at the Ocean, it is possible to see people riding the waves with their surfboards; others paragliding; some running or playing football at the beach; and many simply enjoying a walk with their better halves.
It's a great show, and it's 100% free.
7. Food Tour with a local
Recommended by Suzanne from The Travelbunny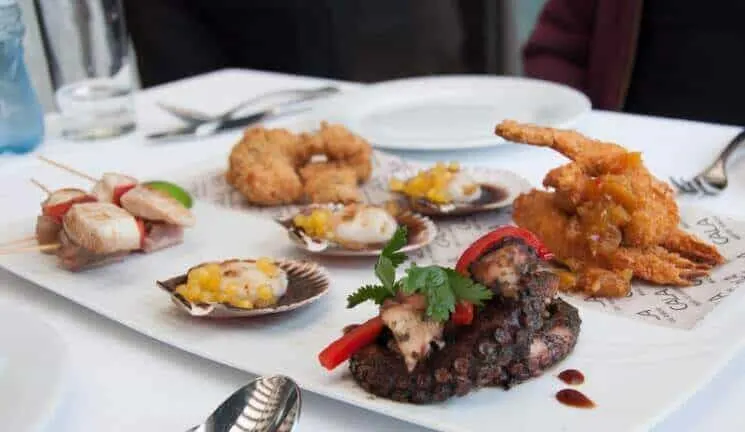 I can't think of a better way to get to know a destination than through its food, flavors, and gastronomic traditions. We learned about Lima by taking a food tour with a local.
Our guide, a Limeño called David, has spent his whole life in Peru's vibrant capital. He introduced us to the city during an immersive gastro-cultural tour with Da Taste of Peru.
We learned about Peru's sandwich culture and tried the corn drink chicha Morada and the superfood Lúcuma smoothie. David gave us all the inside info on Lima's best restaurants, and we had a seafood feast at one of Lima's best.
We explored street art in the Barranco, three types of coffee, and three different methods to make it in a neighborhood coffee shop. We discovered Lima's food market and historical center and saw dancing in the streets.
Our gastro-food fest was interspersed with forays into Lima's architecture, history, and culture to make for an excellent and memorable day getting to know Peru's capital city.
8. Visit the Historic Center of Lima
Recommended by Kaila from Nylon Pink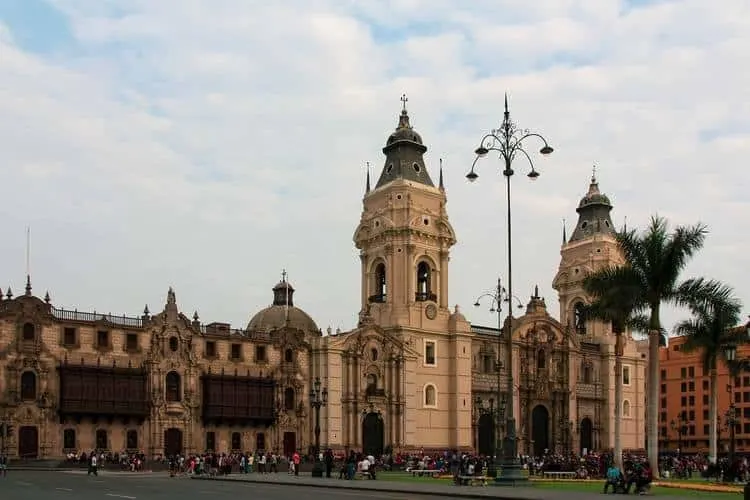 This is arguably the most important part of your Lima, Peru visit. There is so much to see here, so make sure your camera is ready. There are 1600 beautiful balconies to see on all the historic structures.
You must also see the breathtaking houses of worship in the Centre. Basilica Cathedral is a stunning monument, especially when lit up in the evening.
If it is an art that you crave, consider checking out the Museum of Italian Art. It is the only European art museum in the nation with an impressive collection.
If you are traveling with an architecture buff, check out the Basilica of Our Lady of the Rosary. It took fifty years to build due to delays.
The church is composed of three naves and features fixtures made of cedarwood and beautiful masonry work. The interior features depictions of the city's first years, making it an educational and beautiful sight to behold.
9. Speciality Coffee Tour of Lima's Best Cafes
Recommended by Steven & Jenny from Tales From the Lens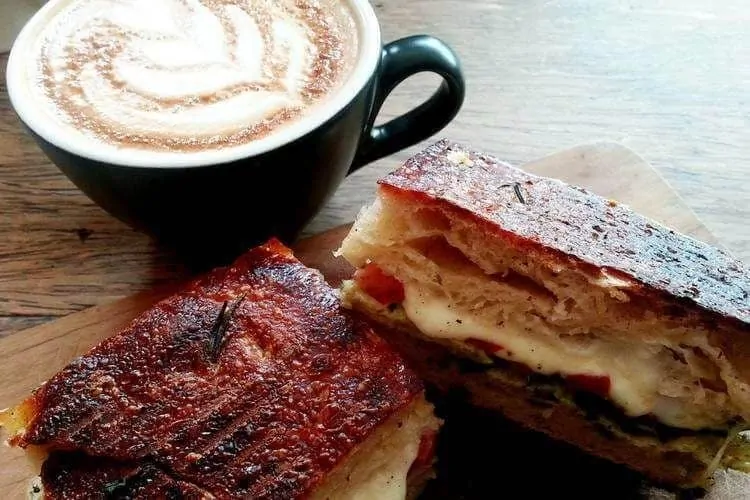 Lima may be known as the culinary capital of South America, but the city also has a thriving speciality coffee scene.
So if you only have a short time in Lima and want to see all of the tourist spots in Miraflores and Barranco, grabbing a good cup of coffee is the best way to get your day of sightseeing started.
In Miraflores, the cafes are perfectly placed to explore Parque Kennedy and the Malecon. Look for Café Aromia and Espresso Café.
While in Barranco, Tostadora Bisetti is a must. The coffee shop is one of the oldest in Peru and serves the best coffee the country has to offer.
One of the best parts is that these cafes serve only the highest quality coffee beans from Peru, which before visiting, we had never tried before.
10. Barranco
Recommended by Elisa from World in Paris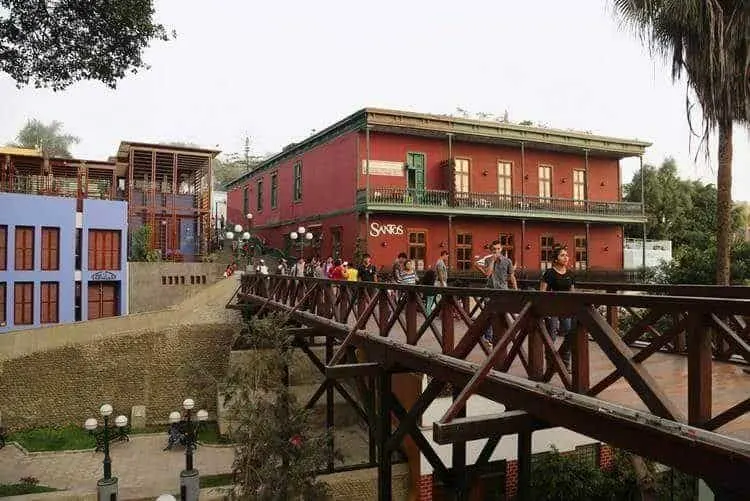 One of my favorite places in Lima is the artsy neighborhood of Barranco, located by the Pacific Ocean right after Miraflores' neighborhood. Barranco has a colorful, sometimes grand architecture and a bohemian atmosphere.
The neighborhood is full of nice cafes with good cakes, eateries, and art galleries, and although there are no tourist sites, it is a great place to spend some hours around, especially if the weather is nice.
The main sight in Barranco is El Puente de Los Suspiros (the Bridge of Sights), a wooden bridge popular with lovers (hence its name) leading to the beach. Also, the main square is beautiful, full of colorful flowers, sculptures, and nice colonial buildings.
Finally, Barranco is a good place to taste more or less sophisticated dishes, with plenty of restaurants to choose from.
For example, Amoramar and La Canta Rana restaurants are great for Peruvian ceviche and seafood.
11. Eat Delicious Peruvian Dishes
Recommended by Claire Sturzaker from Tales of a Backpacker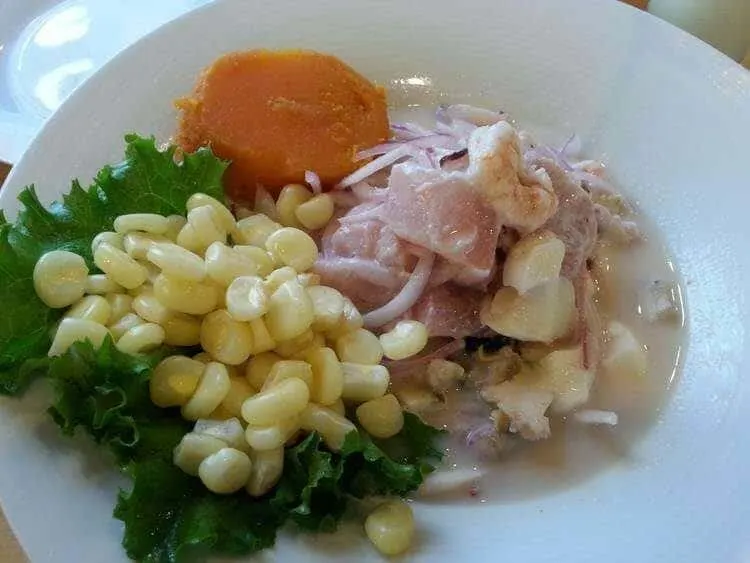 Peru is renowned for its cuisine, which is some of the most exciting and delicious food in the world.
In Lima, you'll find everything from incredible street food to Michelin-starred restaurants, so it is the perfect place to enjoy Peruvian food at its best.
Classic Peruvian dishes you have to try include 'ceviche,' made with raw fish marinated in lime juice and chili, 'Lomo saltado,' which is stir-fried steak served with fries and rice, and 'aji de gallina,' a chicken dish smothered in a yellow creamy, spicy sauce.
You'll find grilled corn on the cob at street stalls, meat skewers of chicken, and if you're brave enough, beef heart, known as 'anticuchos'.
Eating guinea pigs, or 'cuy,' may seem barbaric for some people, but the animals are easily reared, environmentally friendly, and taste like chicken.
The only hurdle you must overcome is looking at their little faces before you tuck in!
If that sounds too much, try 'Arroz chaufa,' a Chinese-style rice stir fry, or 'rocotto Relleno stuffed peppers in the batter, which are just as tasty.
Vegetarians can also sigh relief as avocados are popular and delicious in Peru, as 'palta' as they're known are plentiful here! Once you've tried all the delicious food, don't forget to try a pisco sour to wash it all down.
12. Lima Food Tour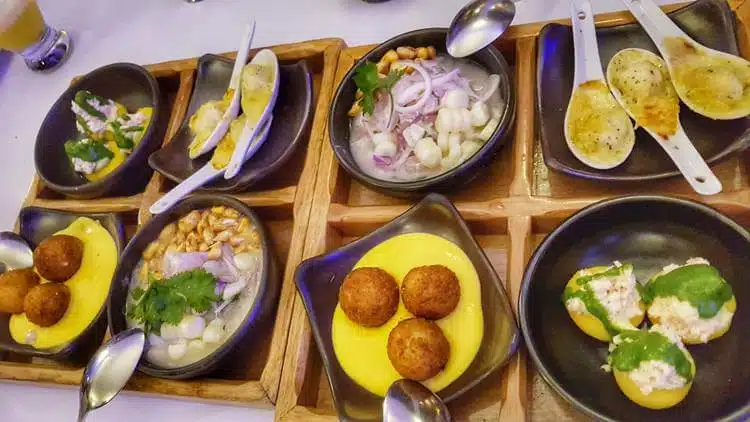 Though the city isn't widely known as a culinary hot spot, Lima has won renown among foodies worldwide as a great place to experience some delicious cuisine.
The city even holds two of the world's top ten restaurants!
One great way to experience the quality and variety of foods Lima offers is through a food tour.
Food tours, which typically let you taste a dozen or more dishes from several restaurants, offer an opportunity to learn about and explore Lima's geography and history alongside its food.
One tour company we recommend, The Lima Gourmet Company, offers an awesome tour that covers three of the city's best food districts.
They'll take you to taste over 20 dishes in just five hours. You'll enjoy cocktails made with fruit from the Amazon, dinner among Pre-Incan ruins, and even get the opportunity to make your own Amazonian ceviche!
Their tours cover all food and drink, and evening and midday tours are available. Hotel pick-up and drop-off are complementary.
Was this post helpful? If so, be sure to pin it to refer to later!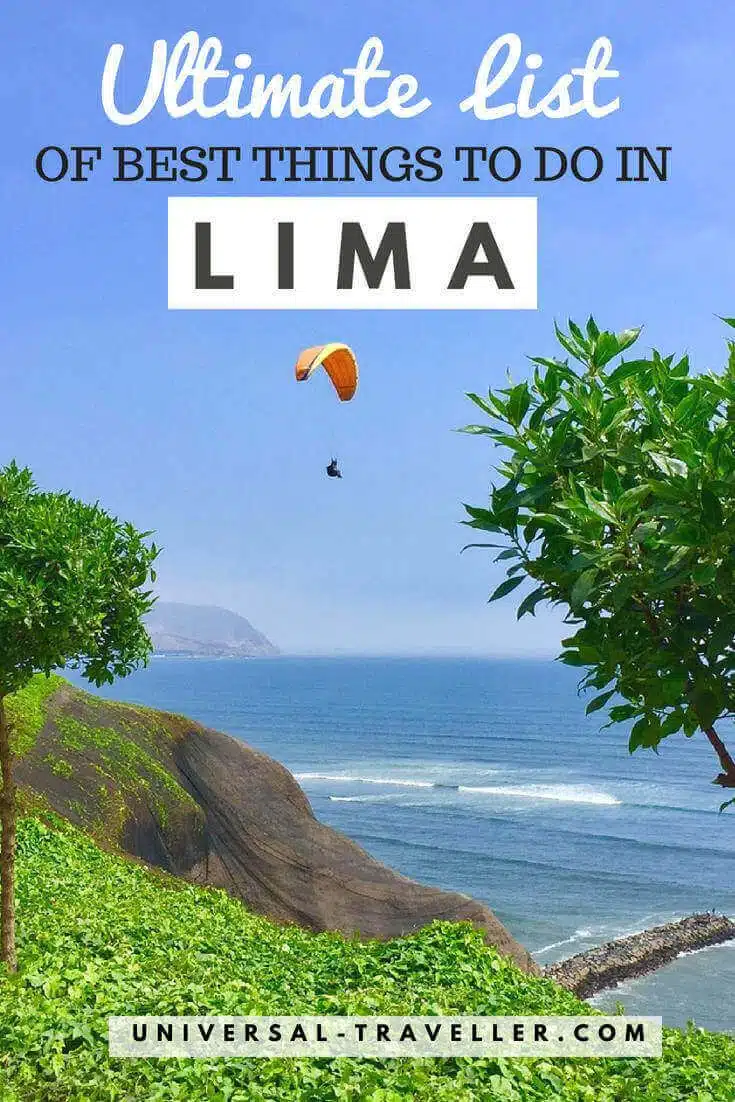 Disclaimer: I was invited by Parapuerto Miraflores and The Lima Gourmet Company. My opinions, as always, are solely my own.
About the Author
More info
Best VPN for Travel: ExpressVPN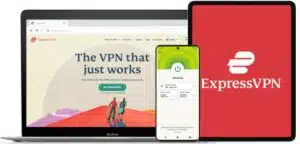 Heading abroad? Use ExpressVPN to access your social media accounts, unblock your favorite entertainment sites, and stay connected with friends and family. And get cheaper flights, of course.
Pros
✅ Next-gen, high-speed servers in 94 countries
✅ Works on iOS, Android, Windows, Mac, Linux, browsers, and more
✅ 256-bit AES encryption protects your data, even on hotel Wi-Fi
✅ Unblocks Netflix and other streaming sites
Cons
❎ No dedicated IPs
Get 3 extra months free of ExpressVPN when signing up for a 1-year plan. That's a 49% saving and a monthly cost of just $6.67! You also get a 30-day money-back guarantee.