I asked a bunch of travel bloggers for their ultimate best things to in Ecuador and Ecuador tourist attractions.
The Republic of Ecuador is a country that has long captivated travelers. The first indigenous peoples settled here around 12,000 years ago, and since then, the land has hosted a rich human history.
Today the artifacts of that past mingle with the country's vibrant present. Both provide visitors much to marvel at.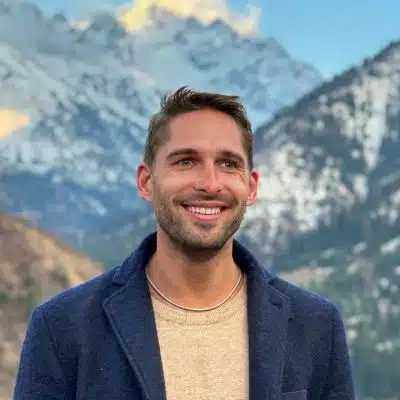 You'll find Inca Empire ruins, Spanish colonial architecture, vibrant indigenous cultures, and cosmopolitan cities when you visit.
Ecuador is also often hailed as one of the best ecological tourism hot spots in the world. The country's boundaries contain some of the most bio-diverse and breathtaking plant and animal life in the world.
In the east, Ecuador's landscape stretches out into the rainforests of the Amazon river basin. And, in the west, some 600 miles across the ocean, Ecuador's Galapagos Islands rise from the waves.
At this archipelago, Charles Darwin first encountered the evidence and ideas that would drive him to discover natural selection and propose his theory of evolution.
With so much to see and do, it can be more than a bit intimidating to put together an itinerary for your visit to Ecuador.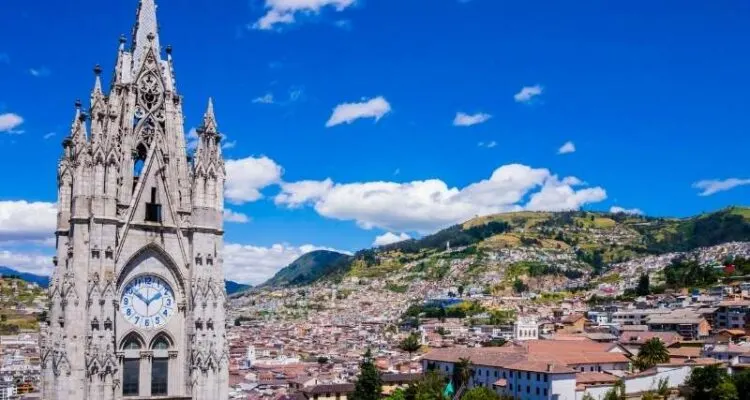 But never fear, to help you decide what to see while you're exploring the middle of the world, I asked a bunch of travel bloggers for their ultimate best things to in Ecuador (but just for the mainland, if you're planning to visit the Galapagos—which I strongly recommend—I've put together an entire guide about Everything you need to know and do while visiting the Galapagos).
From icy volcanic climbs to jungle bike rides and chocolate tours, here's what they recommend:
1. Cuyabeno National Park
Recommended by Sonia from Ticking the Bucketlist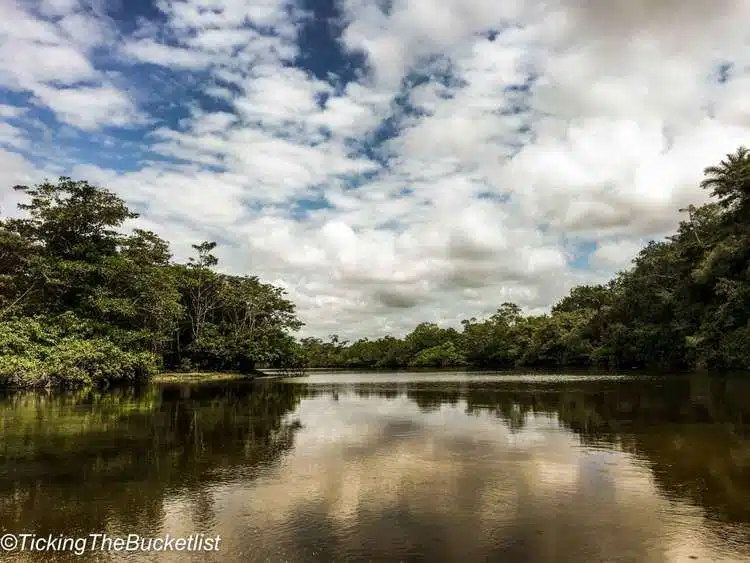 When it comes to exploring the Amazon, many people head to Brazil. However, the Amazonian lungs span the continent, and often, the smaller countries offer peace and quiet that is taken over by hordes of tourists in popular destinations.
This was the reason why I chose to have my tryst with the Amazon in the Cuyabeno National Park in Ecuador.
The park is accessible from the sleepy little town of Lago Agrio. It takes about 7-8 hours to get to Lago Agrio from Quito, and there are plenty of buses connecting the two towns.
From Lago Agrio to Cuyabeno, transport is typically handled by the host camp or lodge that you have decided to stay in. The journey consists of a bus ride followed by a boat ride to your lodge.
Behold and keep your eyes and ears open…you might have some interesting wildlife en route. Take in the greenery and breathe air as clean as it can be!
I spent four days at Cuyabeno National Park in Nikki Lodge. I went on numerous boat safaris and saw caimans and monkeys. I saw the tucans fly over my head and the parakeets tweet. I heard cicadas sing and frogs croak.
I had never been this close to Nature and this away from city life. Swimming in the Amazonian lagoon was better than swimming in an Olympic-sized swimming pool, and the sound of the pouring rain was more calming than any meditative music.
The yuca bread that I made with the locals was more delicious than any five-star meal I had ever had!
If Nature is what makes you tick, the Cuyabeno National Park has to be on your bucket list!
2. Visit Otavalo Market
Recommended by Ingrid from Second-Half Travels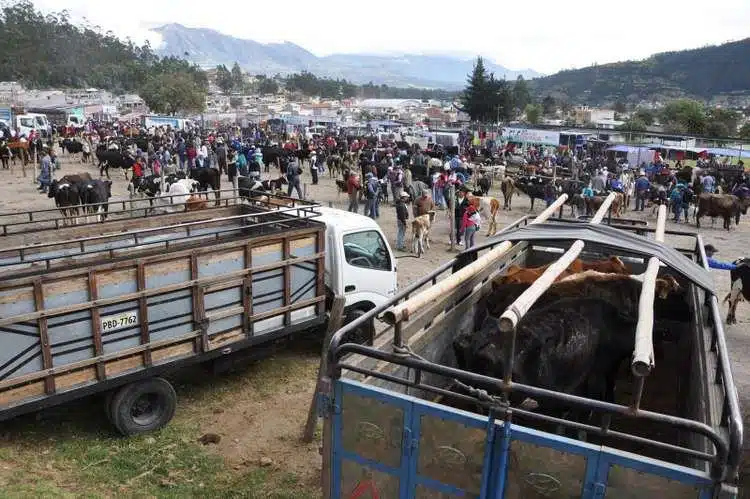 If you're visiting Quito, don't miss a day or, better yet, an overnight trip to Otavalo's legendary Saturday market. For hundreds of years, this small mountain town, two hours by bus from Quito, has hosted one of the most important markets in the Andes.
Otavalo is world-famous for its indigenous population, the Otavaleños, many of whom travel around the world selling their famous handicrafts or playing in Andean folk music groups. The Otavaleños are considered the most economically successful indigenous group of Latin America.
While the market can be visited as a day trip from Quito, it's best to spend Friday night in Otavalo to visit the market before busloads of tourists arrive midmorning on Saturday.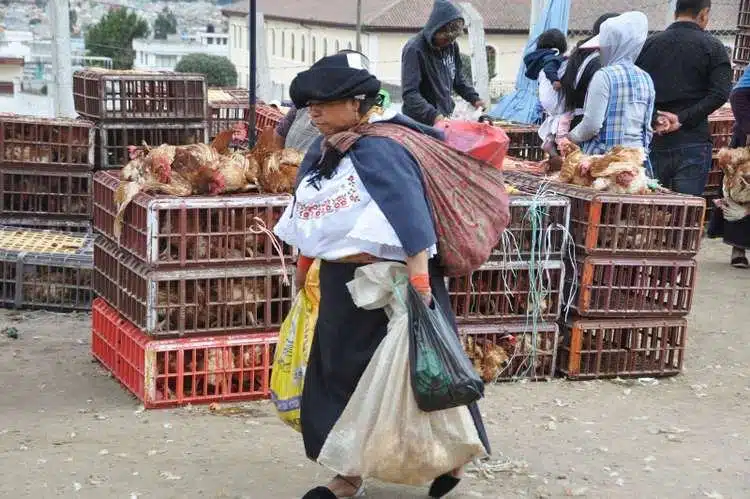 On Saturdays, most of the town's streets are filled with market stalls selling everything from food to traditional indigenous dress.
There are actually several markets in Otavalo. A short walk out of town, the animal market starts in the early morning and starts wrapping up around 10 am. The animal market is not for the faint of heart but provides a fascinating glimpse into local culture.
If you're interested in buying blankets, sweaters, or other souvenirs, check out the colorful artisan market centered on Plaza de Ponchos. It's the most touristy part of Otavalo but provides a great handicraft selection.
3. Pacari Chocolate Tour
Recommended by Jen from Long Haul Trekkers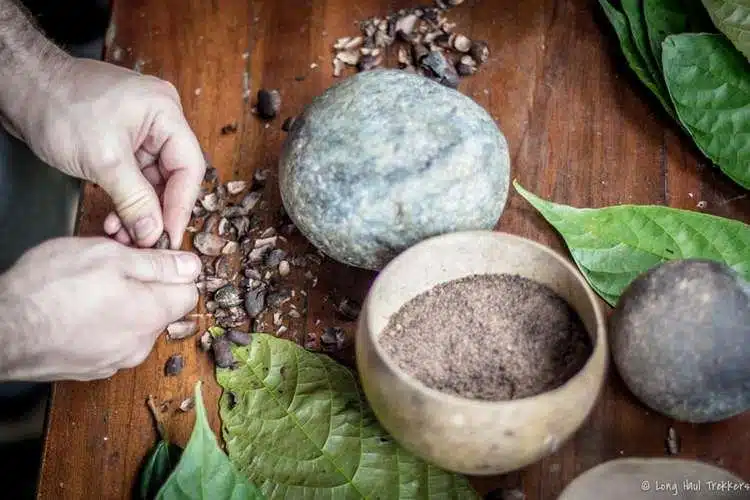 Ecuador produces some of the finest chocolate in the world; in fact, Ecuadorian chocolate maker Pacari has won 128 international prizes in recognition of their chocolate, including the World's Best Chocolate in several categories.
Pacari prides themselves on their sustainability and social responsibility practices. They are known to pay the highest wages to cocoa producers, support conservation of diverse cropping ecosystems, and maintain close relationships with the farming communities.
The Pacari chocolate tour takes place in the indigenous Kichwa community in Santa Rita, about three and a half hours outside of Quito. The community of fewer than 800 members has produced chocolate on a small scale for over 30 years.
The cacao grown in Santa Rita is entirely organic, uses zero chemicals, and the crops are all maintained by hand.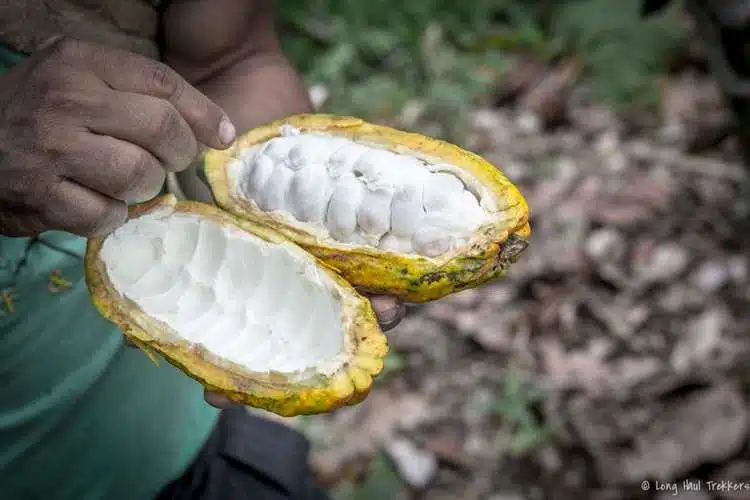 After a light breakfast and a welcome introduction from the president, visitors work with women from the community to prepare a lunch of palm hearts, fern fronts, and fish (vegan options available).
They cook over a fire while visitors tramp through the mud and the cacao "chakra." The guide tells the history of the specific cacao and shows you what a cacao pod looks like inside, as he explains the production from bean to bar.
After a fabulous lunch, it's time to make chocolate. The guide leads guests through the process of chocolate making, including peeling dried beans, grinding with a mortar and pestle, and cooking over the fire to make a delicious, edible paste.
4. Climbing Cotopaxi Volcano
Recommended by Miguel from Travelsauro
Located about 50 km south of Quito, Cotopaxi has become one of the biggest tourist attractions in Ecuador.
While most visitors don't climb beyond the shelter of this active stratovolcano, a few venture onto the challenging summit, if you decide to attempt this beautiful mountain, keep in mind that it's not a walk in the park.
Cotopaxi is nearly 6,000 meters high, and while it is not technically difficult, it definitely requires some extra effort. It takes around 6 hours to climb up to the summit and 3 more hours to get back to the shelter.
The hike is done during the night so that you won't see any further than your torchlight. Moreover, you'll feel cold, fatigue, and lack oxygen.
Don't worry; I'm not trying to scare you here. I want you to know the facts as more than half of the tourists attempting Cotopaxi simply don't make it.
If you don't have much hiking experience, it's alright; you can visit the shelter at 4,800 meters and enjoy superb views.
However, if you are in good shape and properly acclimatized, go for it!
You shouldn't have any problem. After all the effort and cold, the summit will reward you with unforgettable views of the huge glacier and the other volcanos around.
5. Cycle from Baños to Puyo
Recommended by James from Travel Collecting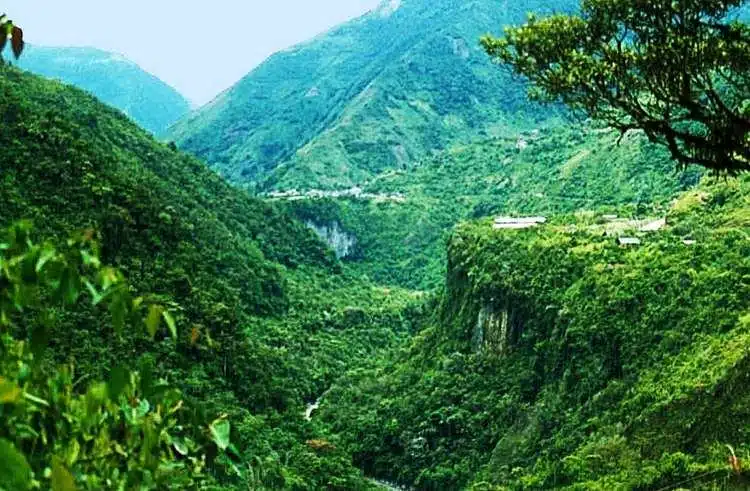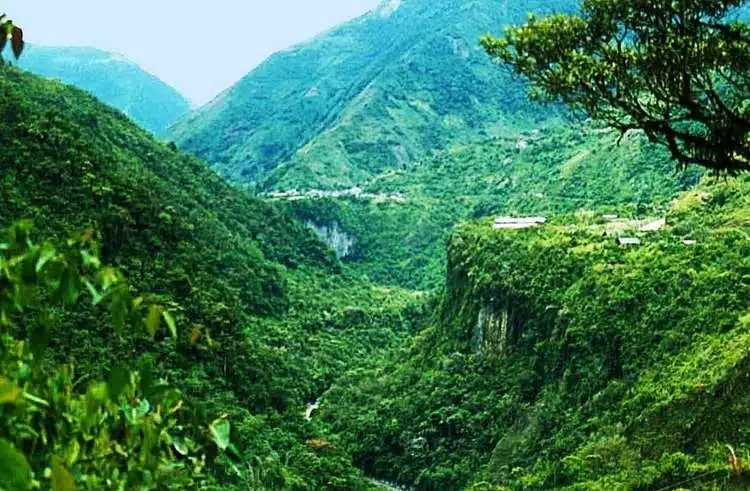 Baños is a small town nestled high in the Andes between an active volcano and a dramatic gorge on the other. It is named after the hot springs you can enjoy in town.
An awesome experience is to rent a bike from one of the many outfitters in town and cycle down the Andes along the Route of the Waterfalls. The climate and scenery change as you slowly descend out of the Andes and into the tropical rainforest.
Along the way, you will pass waterfalls cascading down the adjacent cliffs and even across the road. Stop off at the Devil's Cauldron about halfway down and walk a short way along wooden boardwalks and down steps to see the most dramatic falls on the route.
The huge volume of water thundering down out of the rainforest, causing millions of drops of water to fly around, sparkling in the sunshine, is dramatic.
Near the end of the route, there are views of the Amazon rainforest spread out below, reminding you of the incredible diversity of this small country.
To get back to Baños? Take a bus from Puyo, with your bicycle on the roof, or flag down a passing truck if you decide to head back sooner.
Back in Baños, soak in one of the hot springs to recover and enjoy melcocha taffy, a local specialty.
Check out Ecuador from a birds-eye view:
6. Visit Latitude 0 0 0
Recommended by Cacinda from PointsandTravel
An easy and fun day trip from Quito, Ecuador is a trip to the "Mitad del Mundo" or the "middle of the world". This is on the equator line and is what is considered the earth's midpoint at 0 degrees latitude, 0 minutes, and 0 seconds or latitude 000.
The funny thing about this destination is that when the monument was erected to mark the spot of the midpoint of the earth, it was a little off! Scientists calculated the length of a degree of latitude at the Equator to be within 150 feet of where the monument was erected.
So now that we know exactly where it is according to GPS, this mistake created a chance for you to see two spots! The Monument to the Equator and the Museo Etnográfico Mitad del Mundo is one and the other is the Intinan Solar Museum.
So really, this is two spots to visit, one at the monument location and the other where the exact middle of the world is actually located!
You do, however, how to give the people credit who build the monument, as they didn't have the scientific know-how that we have today, but they came pretty close to the exact point!
It is said that people come from all of the world to stand at this very spot to learn about the effects that the Equator line has on the local community.
It is a fun day trip from Quito, so check it out!
7. Laguna Quilotoa
Recommended by Elisa from World in Paris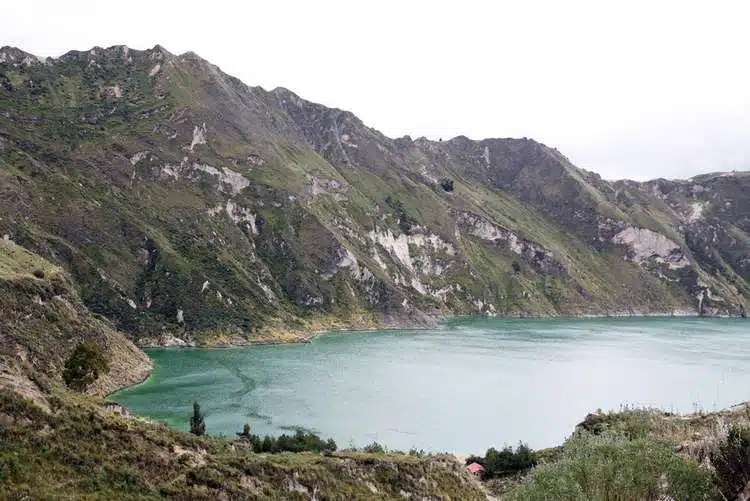 Laguna de Quilitoa makes a nice getaway from Quito. It is located in the West of the country, at 175km South West of the capital city.
Quilotoa is a sleeping volcano 3,914 m high with a huge water-filled caldera named Laguna (lagoon in English) Quilotoa, famous for its emerald waters. Laguna Quilotoa is a great day hike not much difficult except for the distance (10 km the whole tour).
You can walk around the crater rim or, if it's too windy, you can walk down to the laguna's beach. During the high season, there are a couple of bars opened and some kayaks to rent but it is also cool to bring your own sandwiches and drinks and enjoy a picnic laying under the sun at the laguna's shore.
There are few transportation options to reach Laguna Quilotoa so I recommend staying at Laguna Quilotoa at least one night. If you are traveling out of the high season, there is no need to book accommodation in advance and you may even bargain a little bit for the room price.
Things are definitely different during the high season. From Quito, take a minibus traveling to the town of Zumbahua. Once you reach this town, there are some pick-up trucks traveling up to Laguna Quilotoa for a couple of US dollars.
Start your journey early in the morning.
8. Mindo
Recommended by Claire from Tales of a Backpacker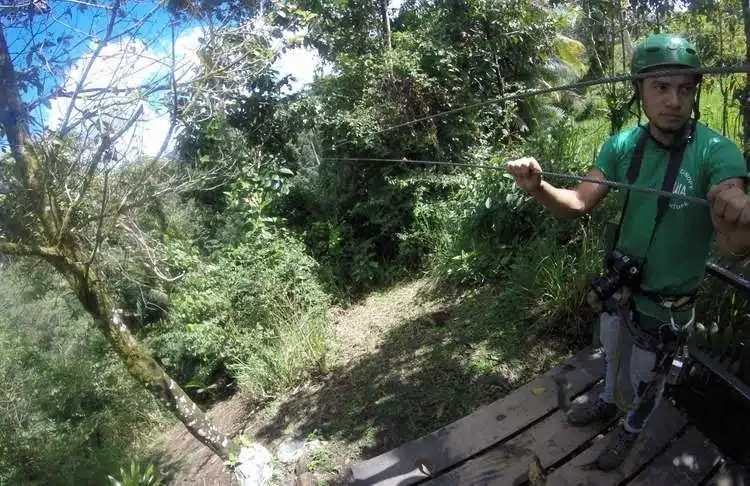 Mindo is a couple of hours' bus journey from Quito, yet it feels a world away from the bustling capital.
This quaint little town is surrounded by cloud forest in the Mindo-Nambillo Reserve and is a wonderful place for nature lovers. Here you will find many bird, butterfly and orchid species which are abundant in Mindo, and you can take bird watching tours with local experts to help you spot the most elusive creatures.
The Mariposas de Mindo butterfly garden is filled with beautiful butterflies and is a definite must-do here, as is a visit to the chocolate makers at El Quetzal de Mindo. Here you can take a chocolate tour, or just try one of their famous brownies.
One of my favourite things to do in Mindo had a little more adrenaline though, zip-lining through the cloud forest! There are several companies which offer zip-lining in Mindo, Mindo Canopy Adventure has the highest review ratings, and I wasn't disappointed with my choice.
We zipped across several lines, trying out different positions like the 'superman' and the 'butterfly' and I had an absolute blast.
If you like these kinds of activities there is plenty to do here from rafting and rappelling to hiking and biking.
Mindo is a great place to visit to escape the cities and get close to nature in Ecuador and get an adrenaline rush too!
Where to stay in Mindo?
El Septimo Paraiso
If you're looking for a place to stay while visiting Mindo, I recommend the Septimo Paraiso Lodge. This stunning property is located just five minutes away from Mindo (a $3 taxi ride) and 90 minutes from Quito.
That makes it a great destination for those hoping to get out of the capital city and spend a few days exploring the country's beautiful cloudforest landscape.
The lodge has actually dedicated a section of land as a formal cloud forest preserve.
Over the last twenty years, the forest has flourished under this protection, and as you walk through the hotel's private trails, you'll get to experience all this beauty for yourself. If you're into birding, the lodge even offers organized bird watching tours.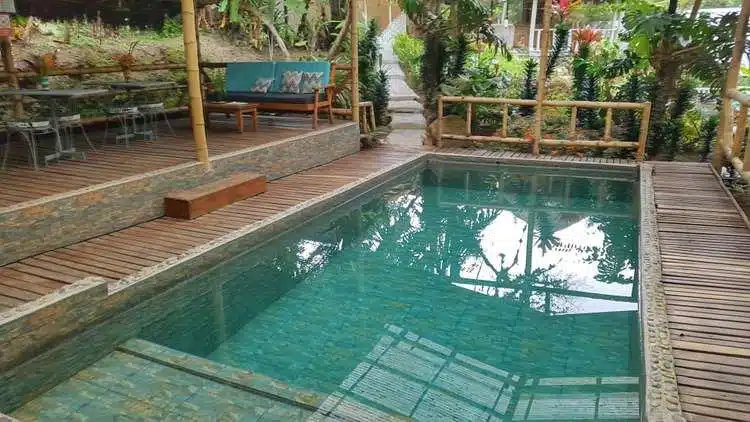 The rooms, which vary slightly in size, are all homey and full of earthy, welcoming woods. This, paired with the quietness of the place, made the property a great place to relax for a few days and enjoy both nature and the accommodations.
Though this hotel moonlights as an austere jungle paradise, with lots of exposed wood and a natural aesthetic, it actually has all the amenities of a typical urban hotel: an expansive pool, a delicious restaurant, a wine bar, and even conference and game rooms.
Click here for more information, photos, and/ or to make a booking.
More Internet Resources:
1. Top 5 Recommended Hikes in Ecuador
2. Eating Guinea Pig in Ecuador
Was this post helpful? If so, be sure to pin it to refer to later!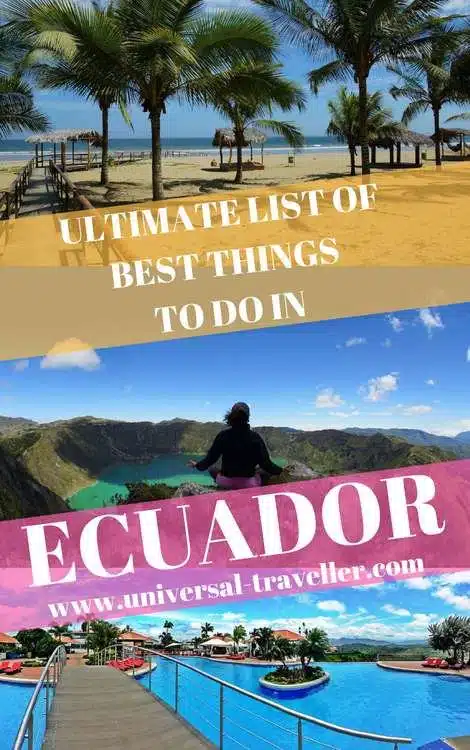 Disclaimer: I was invited by El Septimo Paraiso. My opinions, as always, are solely my own.
About the Author
More info
Best VPN for Travel: ExpressVPN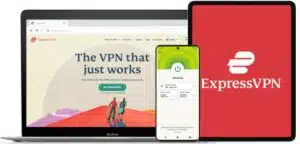 Heading abroad? Use ExpressVPN to access your social media accounts, unblock your favorite entertainment sites, and stay connected with friends and family. And get cheaper flights, of course.
Pros
✅ Next-gen, high-speed servers in 94 countries
✅ Works on iOS, Android, Windows, Mac, Linux, browsers, and more
✅ 256-bit AES encryption protects your data, even on hotel Wi-Fi
✅ Unblocks Netflix and other streaming sites
Cons
❎ No dedicated IPs
Get 3 extra months free of ExpressVPN when signing up for a 1-year plan. That's a 49% saving and a monthly cost of just $6.67! You also get a 30-day money-back guarantee.