The ultimate list of the top places to visit in Costa Rica for extreme adventures and luxurious relaxation.
Costa Rica is perfectly located between the Caribbean and the Pacific Ocean, with volcanoes and rainforests completing the whole tropical package. It is the happiest place on earth and contains 5 percent of the world's bio diversity!
Ecotourism is the shared passion of every community in Costa Rica.
With 29 national parks and 27 other reserves, both the government and private entities strive not only to bring tourists in for economic gains but also to educate the masses regarding the essentiality of rainforest and wildlife conservation.
Vacations in Costa Rica are not complete without visiting at least one national park!
Check out the most popular places to visit in Costa Rica and get ready for "Pura Vida".
Top Places to visit in Costa Rica
More cool places to visit in Costa Rica
1. Cerro Chirripó
The highest mountain in Costa Rica is the Cerro Chirripo, making the place an ideal hiking destination for people excited with the idea of reaching the topmost part of the country.
Several provinces serve as an entrance to this Costa Rican tourist spot, and these include Cartago and San Jose. The 25-kilometer hike to the summit may be physically daunting, but the views of the Pacific Ocean and the Caribbean from the top are mesmerising.
Only 60 visitors are allowed per day to explore the park. In here you will find trails that have hardly undergone any modification so that even hiking enthusiasts find it exhilaratingly challenging to traverse.
While you are there, pay a visit to the village of San Gerardo de Rivas and let the locals take you on a unique coffee exploration. Before you leave, relax in the natural hot spring in Rio Chirripo.
Crestones Base Lodge is the only accommodation inside the Chirripo National Park. It offers basic amenities to hikers and a resting place for the ones wanting to see the captivating sunrise from the mountains the next day.
2. Playa Sámara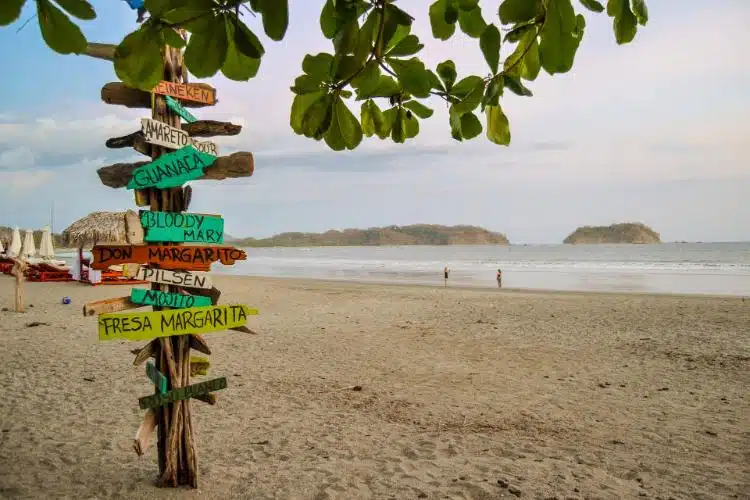 Playa Samara in Guanacaste, Costa Rica is one of the best parts of Costa Rica to visit. Samara's good reputation as a small, safe town makes it a popular choice. The beach itself is a 5-kilometer haven for ocean lovers.
Aside from the beach, Samara hosts yoga practices, horseback riding and stand-up paddle boarding. As a form of livelihood, locals go for farming and fishing.
Sámara has an airstrip for small planes and Liberia International Airport & the Nosara Domestic Airport are close to the town.
Hotel Punta Islita is hard to miss when in Samara. This luxury hotel allows guests to do popular Costa Rican adventures all in the comfort and splendor of its 3,000 acre property.
Another town gem is the Villas Playa Samara Beach Front Resort. 116 rooms and villas make up this wedding-ready tropical destination.
3. Montezuma
Here is yet another beach destination in Costa Rica – good thing they're all too beautiful to get tired of.
Montezuma is proud of its white sand beaches, majestic waterfalls and snorkeling sites that attract adventurers wanting to experience the natural wonders that Costa Rica is widely known for. Montezuma's temperate weather is best enjoyed anytime between December to August.
Going to Montezuma means paying a visit to one of the top destinations in Costa Rica, the Cabo Blanco Absolute Natural Reserve. It is located at the south of the Nicoya Peninsula and can be reached through Mal Pais as well.
Inside the reserve, you can go on a hiking expedition and spot different animals such as armadillos, howler monkeys and raccoons.
There are also beautiful beaches where you can enjoy the diverse marine ecosystem. These beaches are the Playa Cabo Blanco and Playa Balsitas.
Costa Rica Travel Information
Climate in Costa Rica: Costa Rica has two seasons: high season (dry) and green season (wet). Its climate varies greatly among the different locations of each city and province.
From December to April, the country experiences high season which is great for travelling. September and October are subject to green season, making them popular months to go surfing in Costa Rica.
Temperatures in Costa Rica: The country's temperature ranges from 12 to 27 degrees Centigrade. The place that is said to have the best weather in the country is the Meseta Central plateau.
It enjoys a temperature of 22 degrees Centigrade. In the high areas, the temperature can reach up to 17 degrees Centigrade. In all the other areas, 26 degrees Centigrade is the average temperature.
What to bring to Costa Rica: While on tours, bring a dry bag, high SPF sunscreen, insect repellent, sun visor, closed hiking shoes and an underwater camera.
Are you keeping up with my Costa Rica Series
While working for a local tour company in the capital city of San José, I did many of the best things to do in Costa Rica and visited the best places in Costa Rica.
To help you plan your trip to Costa Rica I put together a detailed Costa Rica guide, including information about Costa Rica transportation and the best luxury hotels in Costa Rica.
Costa Rica is well-known for its beautiful beaches and hot springs. Find here the most beautiful beaches in Costa Rica and the best hot springs in Costa Rica.