Arenal Volcano National Park is an excellent destination for adventure seekers and anyone looking to experience Costa Rica's most active volcano up close! Check out our detailed Arenal National Park guide if you want to learn more about the best places to visit, activities, weather, and all the must-knows!
If you are an active adventurer, Arenal Volcano National Park is your place! It's a great place to return to nature and relax from La Fortuna.
This national park offers a variety of activities, including hiking trails, beautiful views, and the excitement of standing next to an active volcano.
The Arenal Volcano National Park receives visitors from all over Costa Rica and the world who come to see this active volcano up close.
The large, beautiful volcanoes and rugged terrain of Arenal Volcano National Park make it one of Costa Rica's most visited national parks!
With four hiking trails for experienced and novice hikers, hot springs, waterfalls, and glorious views of Arenal Lake and the crater lakes surrounding it, this place is a great way to immerse yourself in nature in one of the most breathtaking places in Costa Rica!
From its diverse flora and fauna to the active volcano that rests on top of it, Arenal Volcano National Park is an excellent destination for anyone looking for an adventure.
If you're looking to plan a vacation in Costa Rica, then Arenal Volcano National Park is an absolute must!
Planning a trip to Costa Rica? Sometimes, it's easy to be overwhelmed by all the options. That's why booking a customized vacation using a local partner makes it so much easier!
Let us arrange everything for you when you plan your trip to Costa Rica. All we want to do is make sure you enjoy your holiday even more!
Just share your travel dates, places of interest, and other details that would make your trip to Costa Rica simply unforgettable in the form below, and we'll get right on it!
Where is Arenal Volcano National Park located?
The Arenal Volcano National Park is part of the broader Arenal Conservation Area, which includes 16 reserves between the Tilarán and Guanacaste mountain ranges.
It is located in Costa Rica's northwest, roughly 90 kilometers northwest of San José, in the Alajuela province, the canton of San Carlos, and the La Fortuna district.
Tip: A trip to The Arenal Volcano National Park is one of the many activities you can experience while staying in La Fortuna. Click here to learn about the best things to do in La Fortuna, Costa Rica!
About Arenal Volcano National Park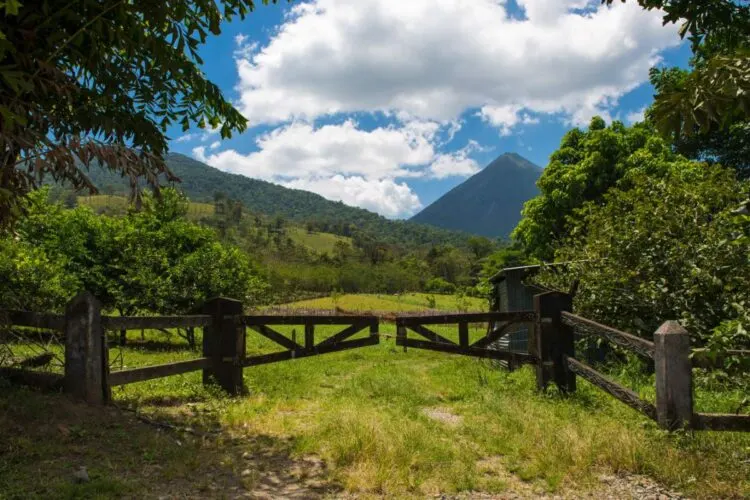 Located in the center of Costa Rica, the 29,692-acre Arenal Volcano National Park is a popular tourist destination!
Many hiking trails and viewpoints inside the Arenal National Park make it a fantastic activity if you stay at a hotel near La Fortuna.
Additionally, it's a fantastic opportunity and a way to get up close and personal with an active volcano!
Within the park's limits are two volcanoes:
Mount Arenal and Chato. The highest point of Chato is 3,740 feet or 1,140 meters, and the summit of Mount Arenal rises to a height of 5,357 feet or 1,633 meters.
Even though Arenal stands out, most tourists enjoy visiting Chato because of its collapsed cone and brilliant lake inside the caldera.
At the volcano's foot lies Lake Arenal, which, coupled with the volcano, composes for a beautiful scene!
Before the volcano experienced a large eruption in 1968, it was believed to be dormant. However, it has shown some level of activity for most of that time. It has only recently gone back to being more inactive.
The park is a portion of the 790 square miles of Arenal Tilaran Conservation Area, founded in 1991.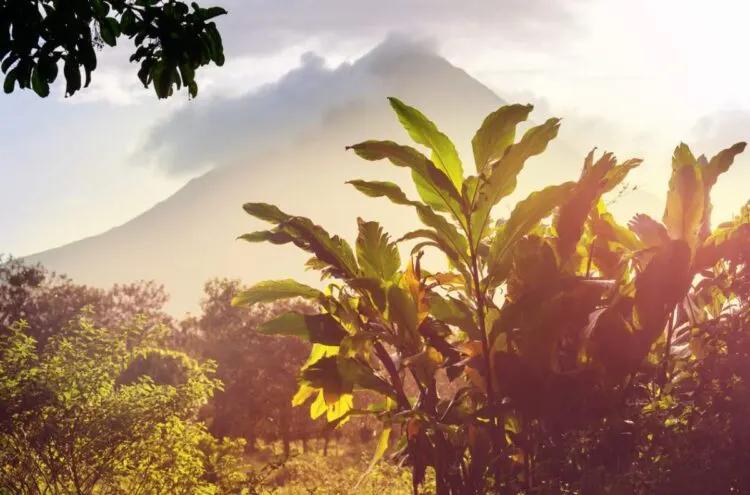 Arenal Volcano National Park is among Costa Rica's 26 national parks, which together cover 23.4% of the nation's land area and account for 43% of all travel!
The park is home to around 850 different bird species. The endangered resplendent quetzal, known for its vibrant plumage, can be spotted by bird watchers that comb the park region.
The jaguar, monkeys, deer, capuchin monkeys, and coatis are a few of the popular wildlife species to see in Arenal National Park. But, aside from the profusion of birds, monkeys are the species that people are most likely to see.
Flora fans can expect to see a variety of plants, including bromeliads, ferns, laurels, palms, orchids, and heliconia.
Tip: Planning a trip to Costa Rica? Read here all you need to know to plan your Costa Rica vacation!
What to See: Arenal Volcano National Park, Costa Rica
1. Arenal Volcano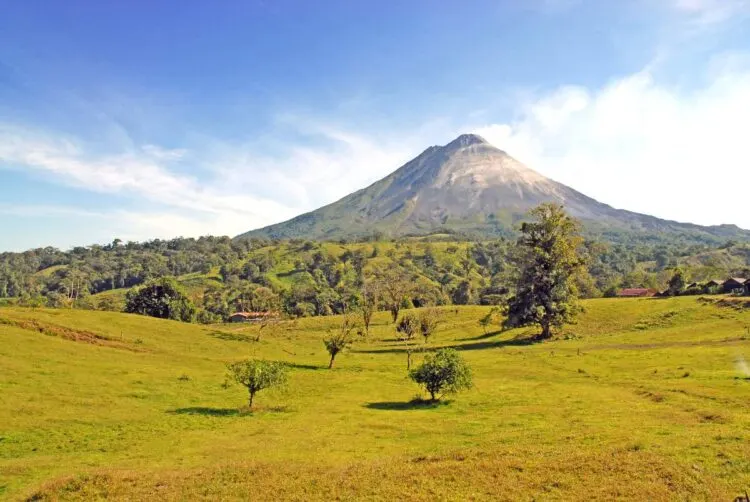 Costa Rica's Arenal Volcano is a popular hiking destination! Thousands of visitors come to the Parque Nacional Volcán Arenal daily to hike the trails around the Arenal Volcano!
At its peak, the volcano stands at approximately 5,357 feet (1,633 meters) above sea level, making it Costa Rica's 10th tallest volcano. Despite being only the 10th highest volcano in the country, it's Costa Rica's most popular tourist attraction!
Known worldwide for its consistent activity, the Arenal Volcano is among the most active volcanoes worldwide.
Check out this video to learn more about the recent eruptions:
Even though there were no large eruptions of lava in recent years, there were occasional eruptions of steam and rocks.
This volcano and neighboring Arenal lake make for one of the most beautiful volcanic landscapes on the planet!
2. Cerro Chato
Cerro Chato is another volcano in the national park that not many people are aware of. The last eruption of this dormant volcano occurred just over 5,000 years ago. It features a lopsided crater surrounded by a little lake that is pleasantly brisk even after a sweltering hike up!
Despite being located inside Arenal National Park, both trails leading to the crater enter the park through private property, where there is a fee to cross.
One trail begins near Arenal Observatory Lodge to the southwest, while the other starts near La Fortuna Waterfall. Due to recent rains and maintenance, some sections of the trail may be quite muddy and rutted.
Toward the lagoon, portions of the path are almost vertical, and you have to use tree roots and branches as a crude ladder. It gets cold and wet at the bottom at night, so be sure you can climb back up. There's no other way out, and you need to be confident that you can do it.
3. Lake Arenal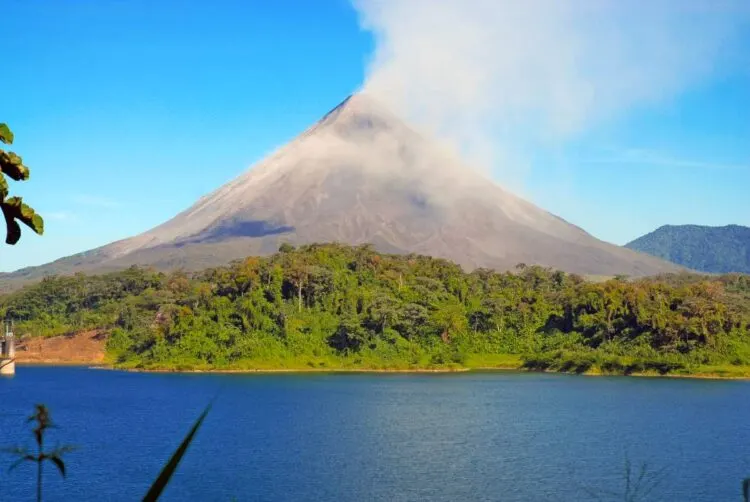 Right next to the Arenal Volcano, you will find the magnificent Lake Arenal, which is also part of the protective zone of Arenal.
Today, Arenal Lake is one of La Fortuna's most popular attractions. Kayakers, fishing enthusiasts, windsurfers, sailors, and people with jet skis or boats flock to the lake to enjoy its limitless opportunities and beauty!
Lake Arenal is also a wetland. It is a type of habitat that is home to multiple species of animals and plants.
This lake has evolved into a valuable life zone that combines mountains and rivers and is now a haven for native tropical birds, reptiles, animals, and fish, among other species.
So, if you're hiking around Arenal Volcano, make sure you witness the beauty of Lake Arenal!
4. Waterfalls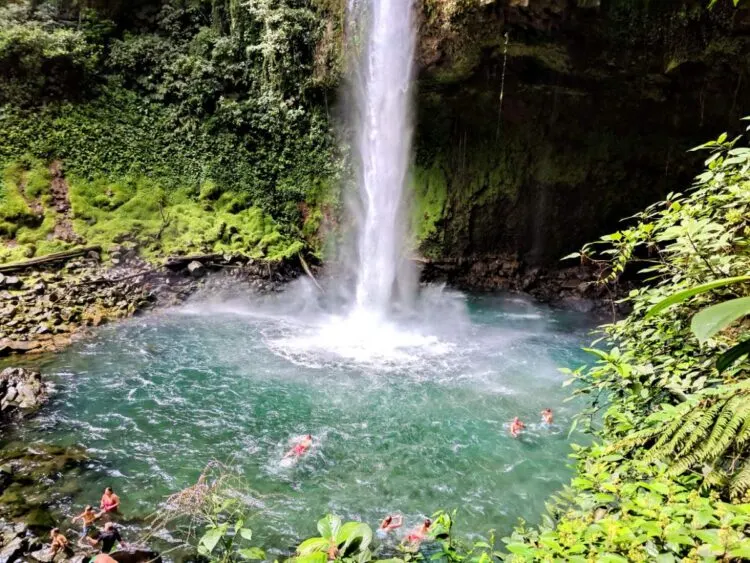 Near the border of Arenal Volcano National Park, in a 210-acre transitional premontane tropical wet forest biological reserve, is where you'll find the Fortuna River waterfall!
It is situated 520 meters above sea level and is where the waters for the Fortuna River and the mountains originate. A local community development organization oversees this stunning Costa Rica waterfall, charging roughly USD 20 to enter.
The waterfall is a one-hour walk away from downtown Fortuna, or you may drive the first 3 kilometers. Taking day trips and guided tours are also an excellent way to see the captivating waterfall!
Metal steps have been installed in place of the slick trail that formerly descended the canyon, and at the bottom, you will find a natural pool beneath the falls, which is excellent for a refreshing plunge on a hot day.
Check out our detailed guide to learn more about La Fortuna Waterfall and available day tours!
5. Hot Springs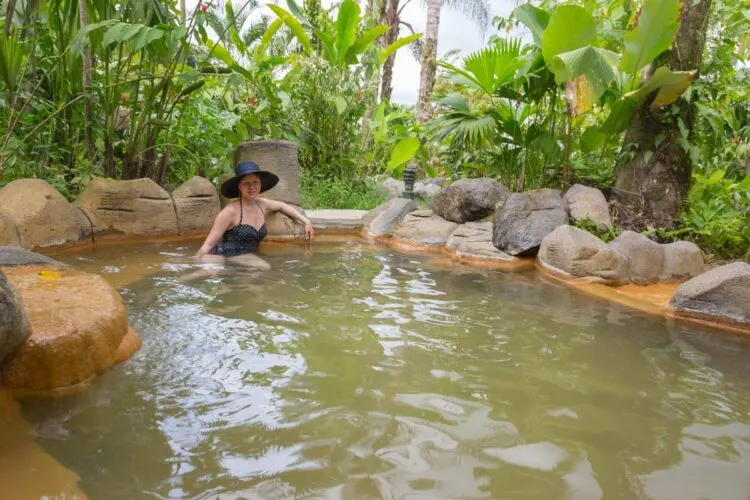 The Tabacon Hot Springs offer a serene rainforest setting with several naturally heated streams and pools. It's a true heaven!
One of the most calming and refreshing activities is strolling along the lush garden walks or taking a warm bath while listening to the waterfalls.
The opulent Balneario Tabacón Gran Thermae Spa, the first and most prominent of the thermal pools, is fueled by hot water from the Rio Tabacón.
The resort owns most of the surrounding land.
The location features hot waterfalls, swim-up bars, and natural mineral pools with various temperatures. You can complete your relaxation with massages, hot rocks, water jets, salt rubs, and volcanic mud packs.
Read also: Best hot springs at Arenal volcano.
6. Hiking Trails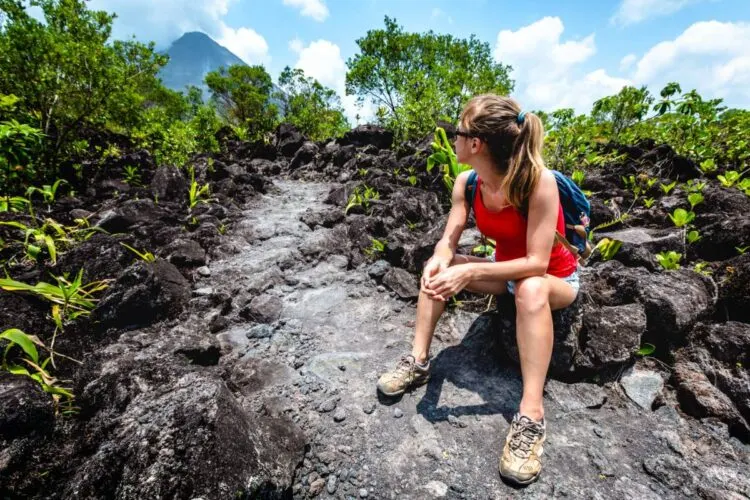 An incredible journey awaits you on a hike through the Costa Rican jungle in the Arenal Volcano National Park!
Experience the tropical jungle while hiking around the Arenal Volcano to get various, one-of-a-kind views of Mount Arenal.
Visitors can explore the lava fields, and woodland left behind by earlier eruptions on short routes ranging from 2 to 3.4 kilometers.
The Main Visitor Center and The Sector Peninsula are the two sectors of the national park.
Lava Field Trails Sector:
Lava Flow Trail
El Ceibo Trail
Heliconias Trail
Arenal Volcano National Park Peninsula Sector:
There is another section of the national park that offers stunning views of Lake Arenal and the Arenal Volcano. There are two flat, clearly signposted routes with scenic overlooks there.
These pathways are excellent for people who cannot walk for extended periods of time on uneven surfaces because they do not pass through any lava flows or rocks.
There is an observation tower there with breathtaking views of Arenal Volcano and lake, and it is less busy than the main visitor center.
Miradores Trail
Tororoi Trail
Tip: Read here everything you need to know about all the Arenal volcano hikes!
How to get to Arenal Volcano National Park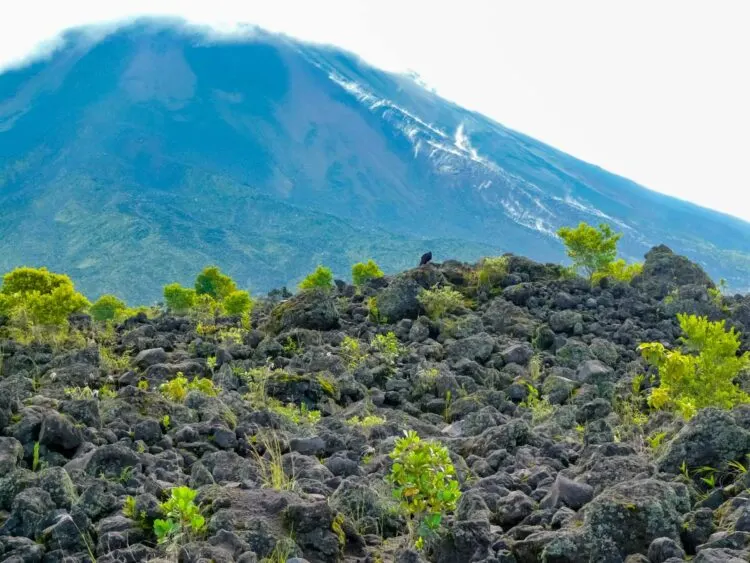 The nearest town to Arenal Volcano National Park is La Fortuna, which is about 20 minutes away by car.
It is the largest town and the center of tourism for the region. However, Arenal Volcano is also a popular day-trip destination from San Jose, located 148 kilometers or 92 miles to the northwest.
Due to the lack of public transportation to Costa Rica Arenal National Park, renting a car or taxi to get to one of its main entrances is necessary.
But this shouldn't be a problem! The Arenal National Park is easily accessible.
Alternatively, you can also join a day tour of the Arenal Volcano National Park.
Taxi or Uber from La Fortuna
Taxis from La Fortuna will charge you between USD 10–USD 20 for a one-way trip. You can easily locate an official taxi In La Fortuna's central park.
Additionally, Uber is accessible in La Fortuna and the surrounding national park area, so you may use the app to call and order a ride there. The cost should be comparable to that of a taxi, however, if you can get an Uber, we highly recommend it because it is so reliable!
Do you need help organizing your transportation to Arenal volcano national park?
Fill out the form below, and one of our Costa Rica experts will contact you!
Rental Car from La Fortuna
It is also possible to rent a car in La Fortuna for a reasonable rate and drive yourself to the national park. There are two visitor centers which you can enter from, that will provide you with parking.
It takes about 20 minutes to drive from La Fortuna to Arenal Volcano National Park. There is no need to have a 4×4 if you want to visit Arenal Volcano National Park. Simply set your GPS to "Arenal Volcano National Park Visitor Center," and you'll be directed to the main parking lot for the lava flows trails!
The Peninsula Sector is opposite the main visitor center of Volcan Arenal National Park. You can reach it by setting your navigation device's destination as "Volcan Arenal Sector Peninsula National Park." The driving time from La Fortuna is about 30 minutes.
As soon as you turn off the main road, the road is not paved, so drive cautiously if you do not have a high-clearance vehicle.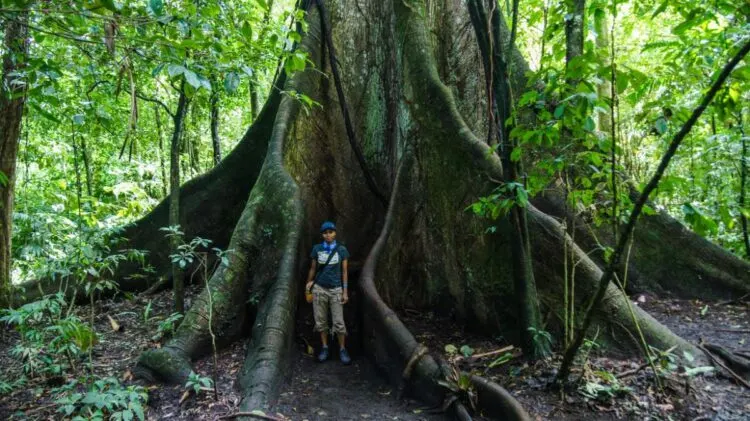 Visiting Arenal Volcano National Park on a Guided Tour
If you want, you can visit the Arenal Volcano National Park without a guide and all on your own. However, a tour is fantastic if you want to understand more about the volcano, the nearby rainforest, and the surroundings and experience everything this natural wonder offers!
Therefore, booking a guided tour to visit the Arenal National Park is an excellent and popular choice for most visitors!
You get transport to the park and an array of activities packed in one day trip to get the best experience and discover Arenal on the deepest level!
Luckily, we can help you find the ideal tour for your adventure through Arenal Volcano National Park.
So, keep reading to discover some of the best tours in the area!
Arenal Volcano National Park: Know Before You Go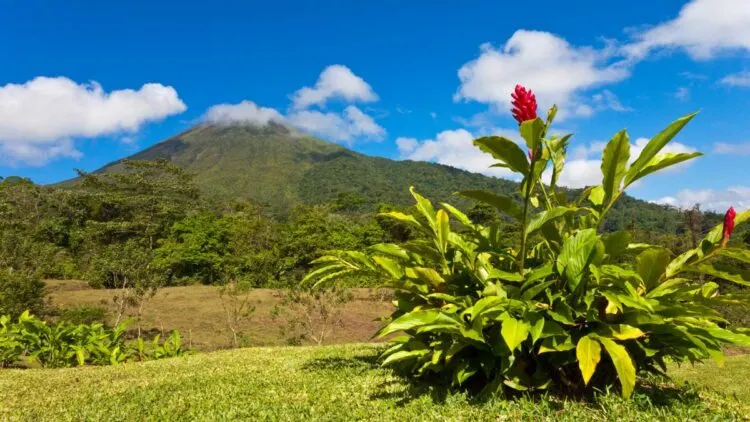 Arenal Volcano National Park Entrance Fee:
USD 15 (Adults)
USD 5 (Children)
Hours of Operation:
Every Day – 08:00 AM to 04:00 PM
The Peninsula Sector – 08:00 AM to 05:00 PM
Telephone: +506 2200-4192
Arenal Volcano National Park Weather:
The climate in this region is tropical, with wet and dry seasons. Around December to April is the dry season, while May to November is the wet season.
However, because this region in the Northern Highlands is a true rainforest, it may rain at any period of the year, even during the dry period.
But even during rainstorms, most rain only lasts for a few hours in the afternoon.
The Caribbean Sea and the Pacific Ocean affect the weather and are responsible for a significant portion of the rainy season.
The range of the temperature is 69.8 F to 81.5 F. However, the warmer days might feel quite uncomfortable due to the humidity.
While it takes a little bit of luck to see the volcano clearly, it is possible to do so all year long. At around six in the morning, you can see the volcano clearly.
The Best Arenal Volcano National Park Tours
1. La Fortuna Waterfall, Arenal Volcano, and Hot Springs Tour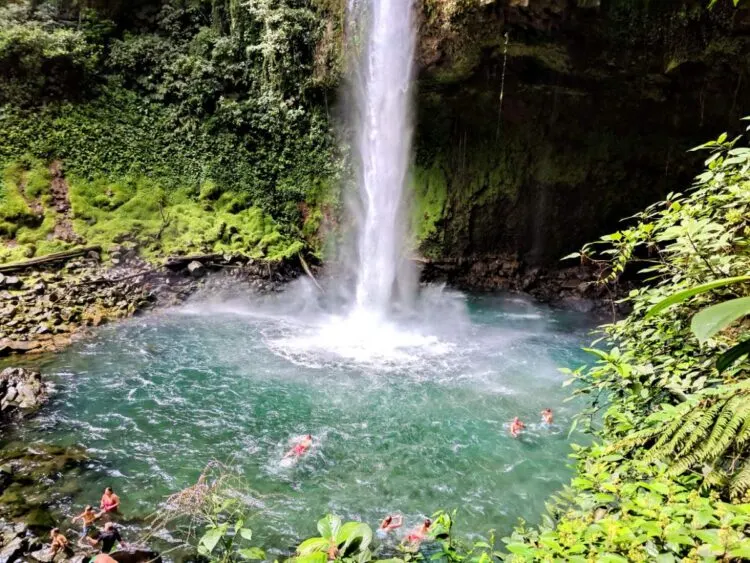 Explore the Arenal National Park and La Fortuna's natural surroundings by going on a guided hike!
This tour also includes pickup from your accommodation and transport straight to the beginning of the Arenal tour.
One of the many stops on this guided trip is the magnificent La Fortuna waterfall! You'll be in awe of the lush vegetation covering the 70-meter-high walls of the beautiful falls, the massive volcanic rocks at its foot, and the water pouring down into its fantastic pool!
You are welcome to go swimming or just to take in the scenery!
Afterward, you will carry on your journey to the tiny Maluku Indian village, where you may rest and unwind as the expert tour guides explain the Malukus tradition, art, and history!
After all that sightseeing, you will finally get to savor a delectable lunch and conclude your journey in the natural hot spring resort!
You are given a complimentary beverage and a facial with volcanic mud as you relax for about an hour in the water's soothing heat.
After the day tour, transportation back to your accommodation is also provided!
Book this fantastic la Fortuna waterfall, Arenal volcano, and hot springs tour and experience all the national park landmarks in one day filled with adventure!
2. Arenal Volcano Hike (The petrified Lava Trail)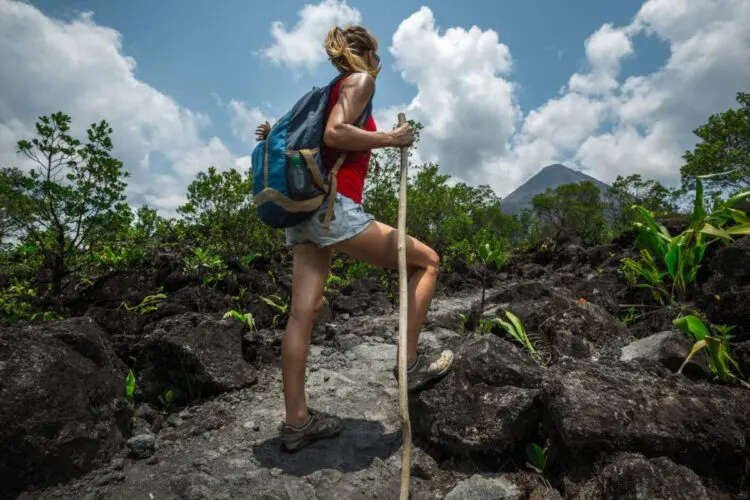 This guided tour is a stroll through a historical and scenic wonderland! The Arenal Volcano Tour begins with a drive to the volcano's western slope! After being picked up from your hotel, you'll be driven to the start of the hiking trail.
This tour includes free transportation, park entry, plus food and drinks for you to enjoy along the way!
The Los Tucanes Trail, which crosses a huge 1992 lava flow and travels through a rainforest, will be your route after you arrive. On this amazing trip, you can observe all kinds of plants, animals, and stunning lava formations!
Once you reach the top of the lava flow, you will be treated to a breathtaking panorama of Arenal Lake. If the weather is good, the climb ends at a viewing area where you can take in the Arenal Volcano's breathtaking sights!
Bilingual tour guides who are well-informed about the area will lead the excursion and provide interesting historical details about the magnificent mountain's past and the Arenal Volcano National Park.
The tour ends with a relaxing stop at the hot springs, although visitors are not compelled to go there because entry is not included in the tour cost.
Visit this page for more details, pictures, and book the petrified Lava Trail Tour!
Tip: Up for adventure? Check out the top la Fortuna day trips and tours!
3. La Fortuna Waterfall, Volcano, and Hanging Bridges Combo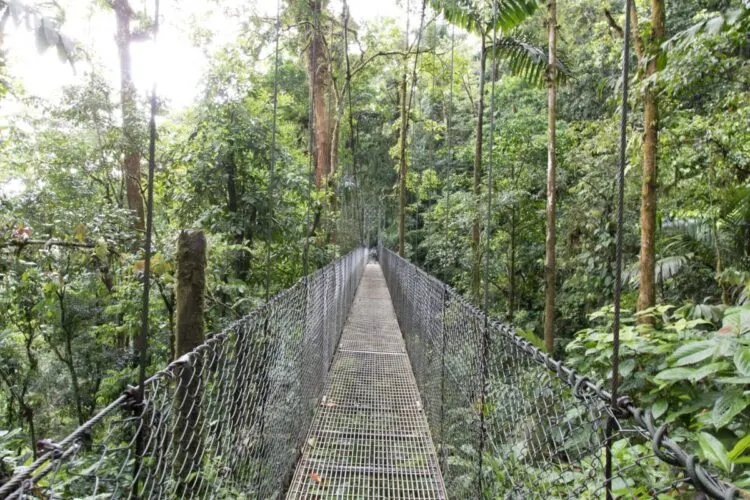 On this La Fortuna Waterfall, Volcano, and Hanging Bridges Combo Tour, you get picked up from your La Fortuna accommodation before traveling to Arenal Volcano to hike the trails encircling the magnificent summit!
The Arenal Volcano National Park, home to the bulk of Costa Rica's 850 bird species, is a great place to reconnect with nature. Other wildlife to watch out for include deer, jaguars, and white-faced capuchin monkeys.
Explore the primary rainforest with amazing species among the hanging bridges and the secondary rainforest with stunning beauty at the park's base.
You may travel across the forest in Mistico Park using a network of 15 suspension bridges that range in difficulty.
Once you reach the La Fortuna waterfall, you can swim to cool down and snap some amazing pictures!
Join this adventure by booking the La Fortuna Waterfall, Volcano, and Hanging Bridges Combo tour!
4. Half-Day Arenal Volcano Hike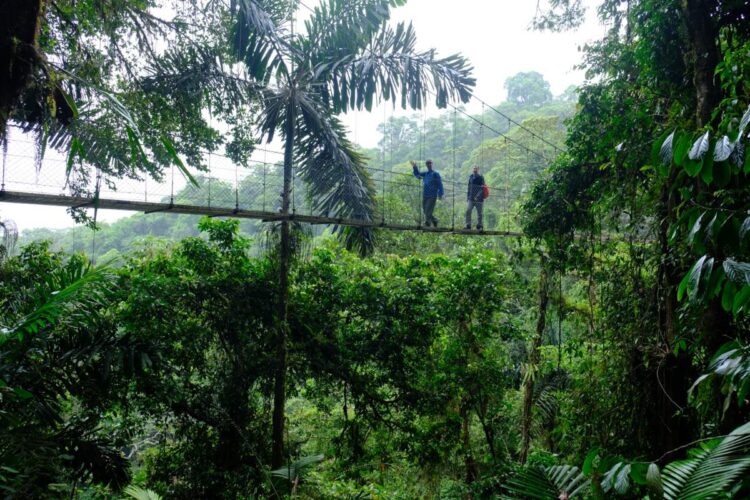 Arenal Volcano National Park has 3.1 miles of trails with various primary and secondary forest plants that you may explore on the half-day Arenal Volcano Hike.
One of the best spots to witness the Arenal Volcano is from this location. You will have the chance to explore and discover a variety of species, animals, volcanic rock formations, and Arenal Lake.
In addition, you can learn about the Colossus of Arenal and its significance for economics and culture on this historical walk.
There aren't many ups and downs on this family-friendly climb, but the goal is to arrive at a Dry Lava Field, which is where the terrain gets more difficult. This 6-kilometer hike around the volcano's base is the program's most challenging climb.
With this tour, you may explore the base of the Arenal Volcano while learning vital facts about its past and witnessing the contrasts between a primary and secondary forest.
So, check out all the details and book this Half-Day Arenal Volcano Hike now!
Frequently Asked Questions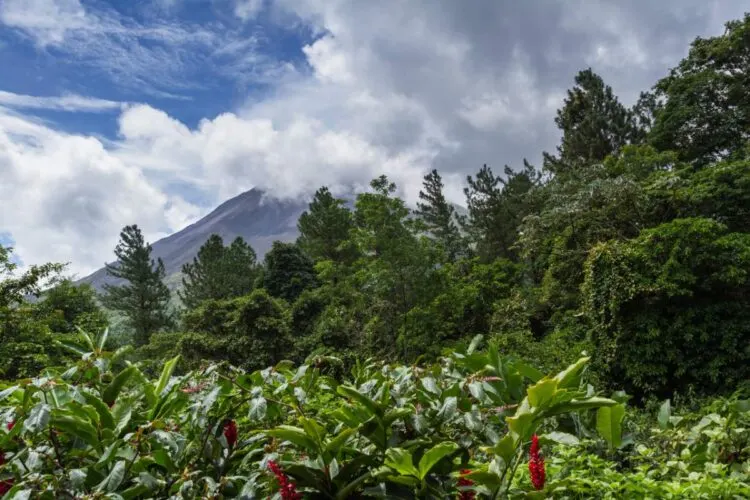 Best VPN for Travel: ExpressVPN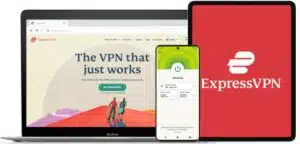 Heading abroad? Use ExpressVPN to access your social media accounts, unblock your favorite entertainment sites, and stay connected with friends and family. And get cheaper flights, of course.
Pros
✅ Next-gen, high-speed servers in 94 countries
✅ Works on iOS, Android, Windows, Mac, Linux, browsers, and more
✅ 256-bit AES encryption protects your data, even on hotel Wi-Fi
✅ Unblocks Netflix and other streaming sites
Cons
❎ No dedicated IPs
Get 3 extra months free of ExpressVPN when signing up for a 1-year plan. That's a 49% saving and a monthly cost of just $6.67! You also get a 30-day money-back guarantee.
What are Arenal Volcano and National Park?
One of Costa Rica's most popular national parks, Arenal Volcano National Park, has several hiking paths and viewing areas, making it a wonderful day trip from La Fortuna. Additionally, it's a fantastic way to get up close and personal with an active volcano- Arenal Volcano!
What is Arenal Volcano National Park known for?
Arenal Volcano National Park is one of Costa Rica's most popular national parks, with numerous hiking paths and viewpoints. It's known for the active Arenal Volcano, Lake Arenal, and plenty of adventurous experiences it provides to its visitors!
Where is Arenal Volcano National Park?
The Arenal Volcano National Park is situated 15 kilometers northwest of Fortuna in Costa Rica, between the San Carlos lowlands and the Cordillera de Tilaran mountain range's foothills.
Is Arenal Volcano worth visiting?
The Arenal Volcano is a breathtaking sight and a popular tourist attraction. That said, in our opinion, going to the Arenal Volcano National Park is a must-do Costa Rica adventure!
How much does it cost to go to Arenal Volcano?
It costs USD 15 per person to enter Arenal Volcano National Park.
What is the best month to visit Arenal, Costa Rica?
The weather in La Fortuna, a town renowned for its falls and hot springs, and the Arenal Volcano National Park resemble those in the Caribbean. Arenal is most enjoyable during September and October.
How difficult is the Arenal Volcano hike?
The hiking trails in Arenal Volcano National Park range from easy to moderate, and there are multiple you can choose from depending on your capabilities.
How long is the hike to the Arenal Volcano?
The climb to the volcano can take two to three hours one way.
What is the best Arenal Volcano hike?
The Arenal 1968 private reserve is one of the best locations for a trek up the Arenal Volcano. It provides breathtaking views of the Arenal Volcano and volcanic fields and is located next to the national park.
Is Arenal a rainforest?
Nearly 30,000 acres of rainforest make up the Arenal Volcano National Park, a fantastic location to view the volcano up close from several routes. Choose from many hiking trails that depart from the park's entrance; some last between 30 minutes and several hours.