Where is Vancouver located? Locate Vancouver on the map, read fun facts, and get answers to some of the most frequently asked questions about Vancouver.
Vancouver is located at the coast in the southwest corner of British Columbia in the most westerly province of Canada.
Vancouver's exact location is 49.25 latitude and -123.12 longitude.
Vancouver's distance to other major Canadian and American cities:
Vancouver is with a population of around 2,264,823 people the third-largest city in Canada and the most populous city in the province of British Colombia.
Where is Vancouver located on the map?
Check out the following map to see where Vancouver is located in the world.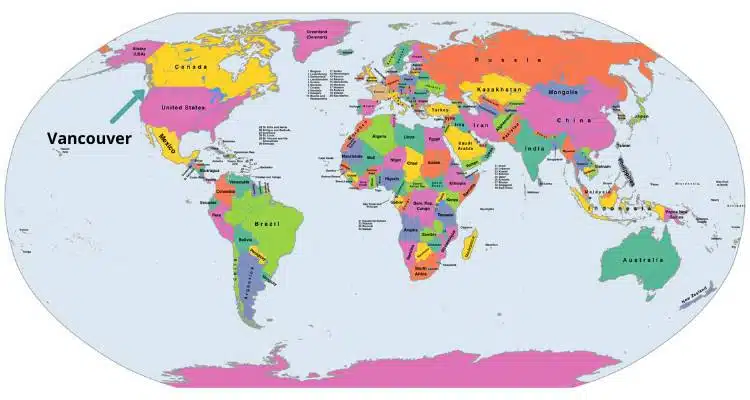 Vancouver Fun Facts
1. Vancouver is surrounded by water on three sides and embedded by mountains.
2. Vancouver in the Top 10 of the best cities to live in.
3. The city is named after his explorer British Captain George Vancouver.
Frequently Asked Questions about Where is Vancouver
1. What province is Vancouver in?
Vancouver is located in Canada's most western province British Colombia.
2. What country is Vancouver in?
Vancouver belongs to the North American country Canada.
3. What is Vancouver best known for?
Vancouver is well-known for its amazing landscape. The city is surrounded by breathtaking mountains and blue waters.
It is a great place for all kinds of outdoor activities like Wintersports, Hiking, Mountainbiking, and kayaking.
The Stanley park is the city's most famous landmark and covers more than 400 hectares. Vancouver is also famous for fresh seafood, especially delicious salmon.
4. How cold does Vancouver get?
Winter in Vancouver does not get as cold as you might think.
The temperatures usually go down to minimum zero to five degrees Celsius and rain is more common than snow.
5. What month is usually the hottest/ coldest in Vancouver?
August is with an average temperature of 64°F (18 degrees celsius) the hottest month in Vancouver.
January, on the other hand, with an average temperature of 38°F (four degrees celsius) the coldest one.
Vancouver is one of my favorite cities, mainly because it offers so many outdoor activities. You can find here the BEST THINGS TO DO IN VANCOUVER.
To help you plan your trip to Vancouver I put together a list with the BEST LUXURY HOTELS IN VANCOUVER and the BEST TOURS IN VANCOUVER. Read here more about the BEST TIME TO VISIT VANCOUVER.
I highly recommend a trip to Vancouver Island. Check out these post about VANCOUVER TO VANCOUVER ISLAND FERRY and BEST THINGS TO DO ON VANCOUVER ISLAND.