What is the currency in Costa Rica and what is the symbol?
The Costa Rica currency is called colón. In plural, it is regarded as colónes. It was named after Christopher Columbus, the explorer who discovered Costa Rica during his 1502 expedition.
Columbus' original name was Cristóbal Colón, so the Costa Rica monetary unit was coined after his surname.
The colón wasn't the first currency used in Costa Rica. Peso was used before it; however, several more years back, cacao seeds were treated as coins.
The Costa Rica currency symbol is ₡, the alphabet C with two parallel lines slanted vertically to the right.
The currency code for Costa Rican colón is CRC.
How to use Costa Rican currency
Have a quick look at pictures of Costa Rica money and you will find six banknotes.
These come in denominations of 1,000, 2,000, 10,000, 20,000 and 50,000. Their coins come in 5, 10, 25, 50 100 and 500.
The money bills and coins of Costa Rica feature the best highlights of the country – its notable leaders in front and its rich nature and wildlife at the back.
Some of the animals which can be found printed on the bills are the white tailed deer, the crab monkey and the volcano hummingbird.
What is the best currency to use in Costa Rica?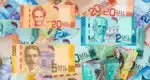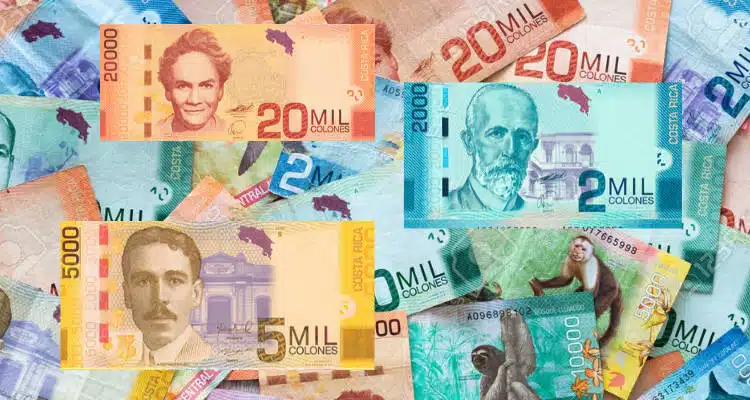 The best currency to use in Costa Rica is still colónes. Even though the US dollar is widely used in the country.
Having colónes with you saves your trip from potential hassles of needing to convert USD to colónes in the middle of a jungle.
Always check the Costa Rica currency exchange rate before your trip to make the most out of your dollars.
How many colones are in a dollar in Costa Rica?
For a quick way on how to calculate money exchange – Costa Rica currency to USD – you can say 500 colónes is equivalent to 1 dollar.
You will find many local vendors using the same quick conversion on you, but insist on using the current rate. As of January 2020, 1 USD is equal to 566.54 CRC.
If you use the 500-colónes conversion in official transactions, you will lose part of your dollar. Therefore, make it a point to be updated on the conversion rates in order to efficiently convert dollar to Costa Rica colón during your purchases.
As an exercise: how much is 1000 dollars in Costa Rica? Using our quick conversion tip, 1000 dollars is easily half a million colónes.
Using the going rate, 1000 dollars is actually 66,000 colónes more than your previous conversion.
Are US dollars accepted in Costa Rica?
Colon vs dollar – should you really bother exchanging your money? US dollars are widely used in Costa Rica, especially in areas that attract many tourists.
The need to exchange your dollar to colón is no longer of high importance. This saves you time and effort in going to currency exchange and having your money converted to the local currency.
If you see that your bill is presented in US dollars, it is better to pay in the same currency.
Using dollars in Costa Rica
Like I said, US dollars are accepted in Costa Rica. However, do not expect that you will be given change in dollars all the time. Chances are, vendors and operators will give you Costa Rica money as change.
Take the opportunity to use these colónes to pay for small purchases, especially in rural areas which cannot accept dollars or cards payments.
When using dollars in Costa Rica, be sure to carry with you small bills as some establishments refuse to take dollar bills with large denomination.
Where is the best place to exchange money in Costa Rica?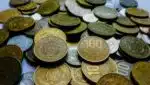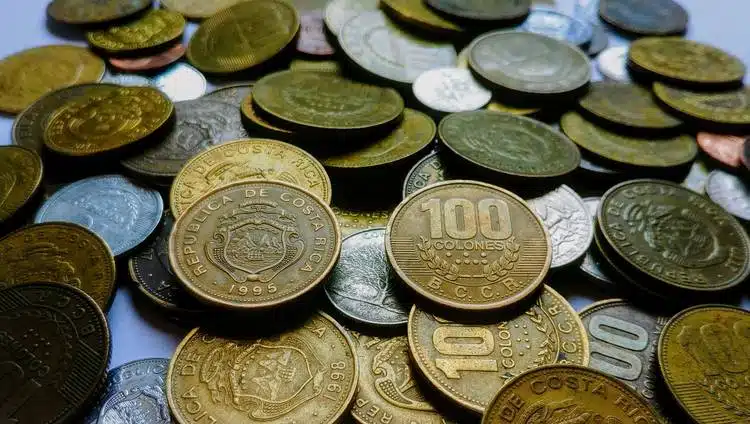 Can you exchange currency at any bank? Do you go to the bank to know where to go to exchange change for cash?
The answer is yes.
The best place to exchange money in Costa Rica is through local banks. They charge no fee to use this service but do expect a long line at the counters.
There are ATM machines in Costa Rica in major locations and some small towns wherein you can dispense money from your account.
You can choose to get your money either in USD or in colónes. Don't assume that there will be a readily available ATM wherever you are heading to Costa Rica.
Is it better to use ATM or currency exchange? While ATM machines in Costa Rica are able to change your money to colónes, bank charges apply and bank exchange rates differ from one to another.
Such prove the same with money exchange shops. You can find them in most tourist-frequented towns and cities.
Ultimately, go for the option which offers less exchange fee and/or better exchange rates.
When exchanging money – be it in colónes or dollar – make sure that your bills are in good condition or they will get refused.
Should I exchange currency before I travel to Costa Rica?
Is it really better to exchange money abroad or at home? My choice is to do it once I arrive in Costa Rica, especially if you are planning to use colónes throughout your journey.
The best way to handle money overseas is by having ample dollars in your wallet.
This applies if the country you are travelling to (like Costa Rica) uses USD widely. Not all foreign currencies are readily accepted by money exchange providers.
How much cash can you take into Costa Rica?
There is no limit to the amount of cash that you can bring into Costa Rica. However, as it is an international protocol, you have to declare at the airport if you are carrying 10,000 USD cash and above.
Can I use my credit card in Costa Rica?
Probably one of the most raised questions by modern-day travelers – are credit cards accepted in Costa Rica?
Yes, they are, although not all establishments are ready to take your card.
Mid-range and high-range businesses have the capability to process your transactions via credit card, but small ones in general have none. Specific tourism services such as car rental do require for you to have a credit card.
When using your credit card overseas, expect to see international fee charges on your next billing.
While working for a local tour company in the capital city of San José, I did many of the best things to do in Costa Rica and visited the best places in Costa Rica.
To help you plan your trip to Costa Rica I put together a detailed Costa Rica guide, including information about Costa Rica transportation and the best luxury hotels in Costa Rica.
Costa Rica is well-known for its beautiful beaches and hot springs. Find here the most beautiful beaches in Costa Rica and the best hot springs in Costa Rica.