The best places to eat in Las Vegas are not limited to the Las Vegas Strip restaurants – although, truth be told, these are your sure-fire choices. Read this article and find more options than ever before.
When you search online for the best places to eat in Las Vegas, chances are you will be swamped by the most luxurious and undeniably expensive choices that can be found within the city.
While it is true that great food requires great ingredients that most of the time call for inflated prices, it is good to know that your choices for breakfast, brunch, and dinner are not limited to the high-end casinos and hotels in Las Vegas.
If you are the type, who wants to be in the middle of the happening crowd, several Las Vegas Strip restaurants are yours for the taking.
Many of these places are award-winning, with the best chefs leading their kitchen and operations teams.
Las Vegas, being the popular travel and entertainment destination, is no stranger to regular celebrity diners and high-profile guests.
Should you like to be away from the regular gambling and upbeat nightlife, there are also sweet spots tucked within and near the city.
From comforting Vietnamese dishes to upscale breakfast favorites, there is no scarcity of choices on cuisines available in the area.
It takes a bit of asking and research – which is primarily why we are here to give you the list of the best places to eat in Las Vegas.
Best Places to eat in Las Vegas for Breakfast/ Lunch
1. Yardbird Southern Table
Recommended by Kay from The Awkward Traveller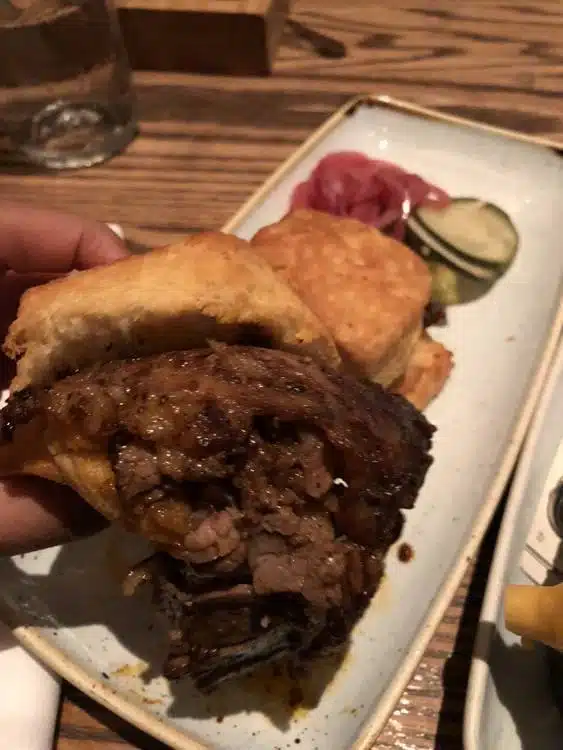 Located right in The Venetian, YardBird Southern Table is the perfect place to start the day with a hearty breakfast!
First of all, The Venetian offers free parking if you have a rental, and there is also a bus stop right outside the entrance near YardBird Southern Table.
There might be a little bit of a wait on the weekend just because it is a popular spot (and for a good reason!).
If possible, try visiting either earlier in the morning when they open or visit on a weekday. The atmosphere is warm and inviting, perfect for families and lively groups, as well as cozy couples.
There are even enough small tables for a quick turnaround for single diners! Yardbird is most known for its chicken and waffle dish, though you can't go wrong with any of their fried chicken dishes.
Their chicken is ethically sourced and GMO, and hormone-free. Also, a word of advice, order the buttermilk biscuits. They fall apart right on your tongue.
Aside from their biscuits and chicken, other house favorites include Southern street corn, deviled eggs, and brisket.
To wash it down, YardBird Southern Table has a wide range of creative cocktails and beers on tap to get your buzz going before your next daytime pool party!
2. Primrose
Recommended by Kay from The Awkward Traveller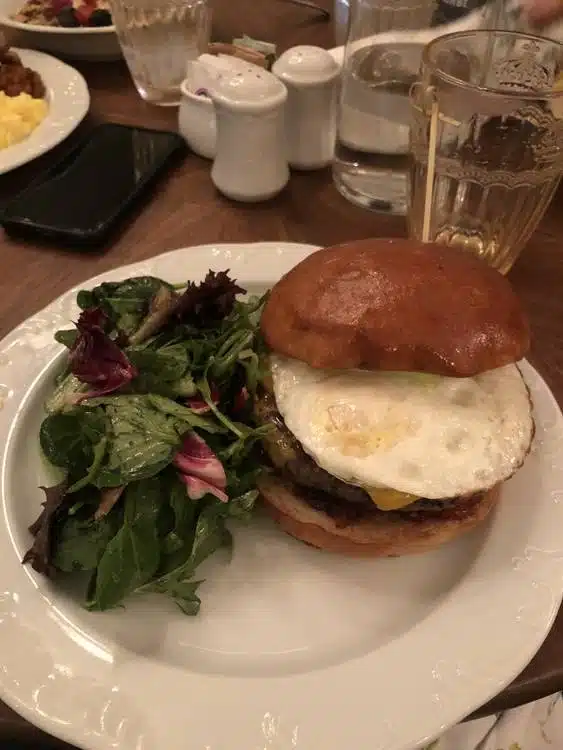 If you're looking for more French flair for breakfast, head to Primrose at the MGM Park, one of the strip's newer remodeled hotels.
While the restaurant does get busy towards 10 am, Primrose does accept reservations! The service is also great, even when the tables are all packed.
The food is more on the expensive side for breakfast, but most of the options are excellent. The ambiance is more of a relaxed and cozy cafe vibe, true to its French theme, so it's not a fast eatery if you have time-sensitive plans after.
Some of the stand-out dishes are the breakfast croissants, the pancake stack, the breakfast burger, and ANYTHING with a side of potatoes.
If you need a nice refresher before pool time, they have great draft selections at a good price and fantastic mimosas.
Or, if you're recovering after a long Vegas night out, Primrose can whip up a delicious Bloody Mary for some good ol' fashioned hair of the dog treatment.
Either way, it is highly recommended to take your beverages to Primrose's beautifully quaint outdoor patio.
Overall, Primrose is a great choice for small adult groups and couples, but it may be too long a breakfast to keep young children entertained.
Las Vegas Strip Restaurants
1. Best Places to eat in Las Vegas – Joel Robuchon
With over 30 Michelin Stars throughout his career, Joël Robuchon's namesake restaurant is consistent with his taste for food excellence.
This high-esteemed French restaurant is located at the prestigious MGM Grand in Las Vegas, next to Cirque Du Soleil's KÀ theatre. It is the only Three Michelin Star and AAA Five Diamond restaurant in the city.
If you want to have a special dinner in a fine dining restaurant along The Strip, Joël Robuchon is a must. One concept that speaks boldly of the restaurant's exquisiteness is its 16-course degustation menu.
All your senses are definitely in for a treat, from fine food such as scallops to exotic ones such as frog legs. Complete your experience with wine pairings to make your dinner even more special.
The late Joël Robuchon liked things simple, and by doing simple food, he believed that only the best seasonal ingredients must be used for the flavors to shine through.
His passion for food is evident not only in this Las Vegas restaurant but in every other owned establishment around the world.
2. SW Steakhouse
If you are craving the best steak, you can get in The Strip and head over to the SW Steakhouse. Located in the Wynn, this steakhouse is registered with the prestigious Kobe Beef Association in Japan.
Reserve a table at the outdoor patio. Overlooking the resort's Lake of Dreams, this part of the dining room enjoys a 40-foot artificial waterfall as its staple entertainment.
The breathtaking view adds elegance to the whole atmosphere – as if it needed more.
Be wowed by their 41-page wine menu, ready to be presented to you by their credible sommeliers. Go all out and order the chile-rubbed double rib-eye together with a serving of charred teriyaki green beans on the side.
This steak created by Executive Chef David Walzog grew a following after it got featured at Food Network's "Best Thing I Ever Ate." Be warned, though, as one serving can probably feed three diners.
While having your fill of the juiciest steaks, be sure to have room for dessert: Order SW's famous funnel cakes and strawberries to share.
The dish is a mix of two opposing sides of the spectrum – it is crisp and soft, giving out a taste of both salty and sweet notes simultaneously.
This popular dessert is a perfect end to an exquisite night at The Strip.
3. Nobu Ceasars Palace
With a whopping 11,200 square feet of the dining room to boast, the Nobu Hotel Restaurants at Caesar's Palace is a popular place at The Strip to socialize while enjoying great food, specialty drinks, and celebrity sightings.
Located right in the hotel's heart, this place is most celebrated for its imported fresh Asian and Japanese fish and seafood.
Opt for the Teppanyaki tasting menu and see Chef Nobu's signature food experience prepared at your Teppan table. Enjoy every bite as each piece is crafted right before your eyes and served with the Chef's signature sauces.
This experience allows you to taste the restaurant's finest offerings presented exclusively to your table.
In the mood for after-dinner drinks? Try Nobu's exotic handmade sake lines from the Hokusetsu brewery in Sado Island, Japan.
The Nobu lounge is the perfect spot to host parties and enjoy items that are exclusive to Nobu at Caesar's.
4. Picasso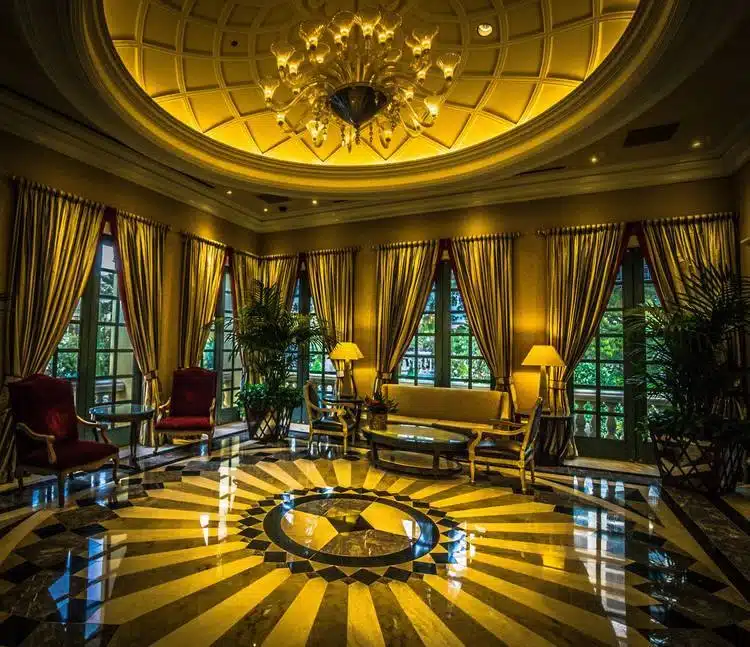 Recommended by Noel from Travel Photo Discovery
Las Vegas really is a foodie paradise for those visitors that want to have an exceptional dining experience, especially in the high-end dining scene.
Of all the most impressive restaurants in Las Vegas, there are too many to mention. One really does stand out as the ultimate foodie experience.
Picasso restaurant in the Bellagio is sublime the moment you walk in the door.
Not only are you seated next to so many real and original Picasso's in the restaurant and celebrate two famous Spanish personalities – Picasso and executive chef Julian Serrano, who masterfully creates a five-star menu for this two-star Michelin restaurant.
The Bellagio's signature restaurant offers inspired Spanish regional cuisine at its best, offering degustation Prix fix menus starting at $125 that come with excellent food and dining service.
Of course, there are extras like wine pairings and added luxury upgrades. Still, the basic Prix fix is already dining perfection at its best to be experienced once in a lifetime, especially for the best of the Las Vegas dining scene.
You'll enjoy all the nice touches from linen service, changing plates and utensils, brushing between settings, and even remembering the names of the guests dining at the table.
For wine or cocktail connoisseurs, the elaborate drinking menu has a master sommelier that can help with basic to more sophisticated drinking palates; select appropriate drinks for each pairing, or you can also opt for a set drink pairing menu prepared for the Prix fix in advanced.
You'll find this dining experience at Picasso to be a once-in-a-lifetime culinary experience that will always be at the top of your bucket list experiences for Las Vegas.
So definitely make a booking for Picasso when you really want to have one of the best experiences in your life.
5. Restaurant Guy Savoy
Restaurant Guy Savoy at Caesar's Palace is French dining at its finest. The chef's best signature dishes feature the menu includes classics such as the decadent Fondant au Chocolat.
As you dine in with Restaurant Guy Savoy, prepare to be mesmerized by the well-crafted customer service from the wait staff.
They serve discreetly and professionally, with the Restaurant going the extra mile not to allow them to wear any perfume on duty to preserve the aroma of the food being served.
Dining at Restaurant Guy Savoy is an experience of a lifetime. Why not make it truly special?
Book for a Krug Chef's Table and enjoy a one-of-a-kind dining experience good for 6 guests.
At the exclusive Krug Chef's Room, you will be presented with a ten-course meal prepared right before your eyes. This booking comes with two glasses of Krug's top-quality Champagnes.
6. Mizumi
Mizumi is a restaurant at the Wynn that specializes in Japanese cuisine. Not only does its food speak of Japan, but its interiors also speak of bold Japanese inspirations, complete with a Japanese garden, a koi pond, and a 90-foot waterfall outside.
Mizumi has rooms dedicated to robotayaki and teppanyaki, along with a western-style dining area. A floating pagoda table can be booked for the best Mizumi experience.
Imagine eating fresh sashimi and sushi at the most picturesque spot on the property.
Be spoiled with the healthiest choices as the Chef creates counterparts of Mizumi's best dishes featuring lower calories.
These scientifically-tested versions may be of less caloric content, but they still prove to be flavor-packed. Some of these items are the Rainbow Roll sushi specialty and the Chilled Shigoku Oysters.
For cocktails, consider ordering the Mizumi Cloud. If in the mood for sake, there are over 60 sake choices on the menu, which the sake sommelier will be glad to introduce to you.
7. Blossom at Aria Resort & Casino
In the mood for good Chinese food? Blossom at Aria Resorts will not disappoint. Chef Chi Kwun Choi gives a modern twist to the well-loved Chinese delicacies in this bar and restaurant.
With over 100 items to choose from, it's hard not to find anything you're craving for at the moment.
Definitely, one of the highlights of Blossom's Chinese menu is the Peking duck. Served with either steamed buns or thin pancakes, scallion, cucumber, and hoisin sauce.
Try their signature tasting menu and savor a serving of every best thing Blossom has to offer. A sample tasting menu includes crisp-fried eggplant for the appetizer, beef tenderloin for the main course, and mochi ice cream for dessert.
Go ahead and add a wine pairing to your experience, as it adds another level of sophistication to your food.
The interiors of Blossom are another thing to rave about. Their chandeliers are a tasteful mix of birdcages and crystals. Private dining is made possible by partitions and dedicated rooms for those who would like such an option.
8. Jean-Georges Steakhouse
Jean-Georges Steakhouse is another exceptional restaurant located at Aria Resorts right on Las Vegas Boulevard. It has a 266-seating capacity which includes private areas, boardrooms, and chef's tables.
Chef Jean-Georges Vongerichten's vision for this lounge and restaurant is to bring a modern and world-class elegance to the traditional steakhouse scene.
Right before you enter the place, Jean-Georges already speaks of elegance. It starts with the Art Deco-inspired gate, which welcomes you to the black-and-gold dining venue. There's no going down in expectations from this point.
Tempting as they are, you are sure to order the 42-ounce Wagyu Tomahawk and the Kobe A5. Grilled in a wide variety of wood, these choice steaks have distinct flavors that can only be acquired from perfecting the process they obviously had.
Perfect accompaniments to these are the indulgent bone marrow and the half-pound king crab legs.
Aside from steaks, Jean-Georges also has a high-quality array of seafood and other meats. Don't skip on dessert. Otherwise, you'll miss out on its world-famous Market Apple Pie delightfully served with maple-pecan ice cream.
9. Hell's Kitchen
Recommended by Claire from Curious Claire
Las Vegas is home to many fantastic restaurants from some of the world's best chefs.
I've long been a fan of TV Chef Gordon Ramsay, but until recently, I had never been to one of his many restaurants around the world. I decided that I needed to change on a recent trip to Las Vegas.
While Gordon Ramsay has five restaurants in Las Vegas, there was one I knew I had to dine at. Being a fan of his TV show 'Hell's Kitchen' for many years, I was excited to go to the Hell's Kitchen restaurant in Vegas.
While it's not the same kitchen used for filming the show that actually happens in L.A, the restaurant does look similar.
In the show, the blue kitchen and red kitchen compete to complete dinner service each night, with 1 member of the losing team getting eliminated each time.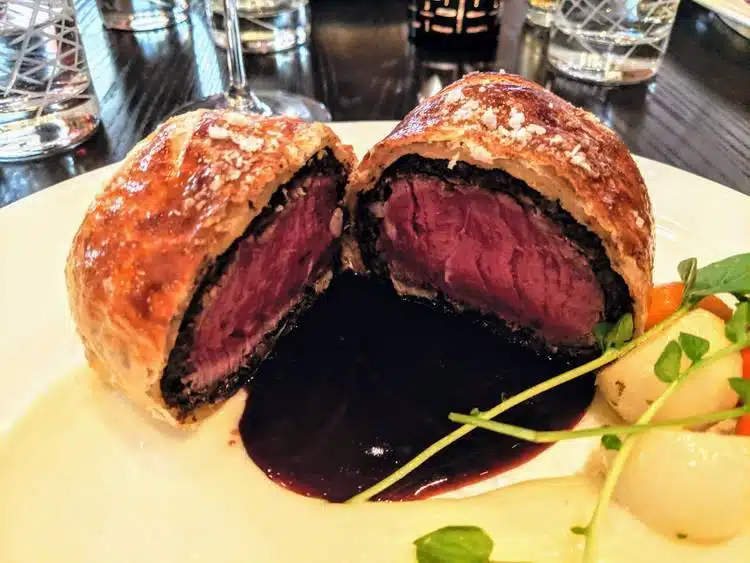 I loved the Vegas restaurant because they had recreated the red/blue kitchen divide, so it looks like you're dining on the show.
Fans of the show will get to choose from the dishes cooked on the show, such as the lobster risotto and pan-seared scallops.
I couldn't resist ordering Gordon Ramsay's signature dish, the mushroom wellington, and it was just as delicious as I had imagined it to be. It was so juicy and tender and just melted in my mouth.
If you also want to dine at Hell's Kitchen in Las Vegas, do make sure to book in advance to save disappointment. If you try and book on the night, you may have to wait until 10 pm to get a table!
I would recommend trying to book 2-3 weeks in advance if you can.
10. Twist by Pierre Gagnaire
Pierre Gagnaire's only restaurant in the US is located at the Waldorf Astoria. Widely considered one of the best places to eat in Las Vegas, Twist is a stylish restaurant that is perfect for a special occasion or a rare visit to the City of Lights.
It is one of the rare places in the bustling city where you'll dine in relaxed and rejuvenated.
Opt for the six-course Grand Tasting Menu to have a good grasp of Pierre Gagnaire's capability to transform an unassuming ingredient into a hero component.
There is even a Vegetarian Tasting Menu option thoughtfully dedicated for vegetarians.
If you are celebrating a highly memorable occasion, you may want to consider the Lucky Number 7 Tasting menu. For 777 USD, you will be treated to seven courses that are perfectly paired with the best wines in Twist.
All components of your food speak of the different notes that are in your glass. Let Chef de Cuisine John Miranda surprise you with his ever-changing tasting menu.
11. Aureole Las Vegas
Wine-inspired American cuisine – this is how Aureole defines its food concept. The restaurant is located in the stunning Mandalay Bay and is one of the most talked-about Las Vegas Strip restaurants.
A four-story wine tower, arguably Aureole's focal point, is home to over 2,000 varieties and 50,000 bottles of wine. It, therefore, does not come as a surprise that all 24 items on the menu come with two suggested wine pairings.
"Wine Angel Stewards" come up the tower in full acrobat mode and complete harness set up to get your choice of bottle.
It is not all flamboyant displays, though, because Chef Charlie Palmer's food is enough reason to visit this place.
If in Aureole for a romantic dinner, ask if you can be seated at the Swan Court, where a swan-filled lagoon awaits.
13 tables have a spectacular view of the quiet waters, the white swans, and the palm trees. Whichever you end up ordering, be sure to give the Dessert Sampler a Go.
12. Costa Di Mare
Fine dining in Costa Di Mare is nothing short of spectacular. This Italian restaurant, formerly known as Bartolotta Ristorante di Mare, is located at the Wynn in Las Vegas.
It boasts of its daily mission to give you the freshest catch of the day, wherever part of the world may come from.
With Chef Mark LoRusso's leadership in the kitchen every night. Costa Di Mare promises only the best Italian seafood dishes and delectable pasta on your plate.
Their ocean-to-table approach of the restaurant has remained solid as time passed, with over 50 fresh fish varieties offered daily. One of the most celebrated dishes features fresh langostinos flown in fresh and straight to the kitchen.
Costa Di Mare speaks of a clean Mediterranean vibe. Many parts of the property are marine-inspired and are cool to the eyes. If you have the option, and if the weather permits, stay at one of the intimate cabanas beside the dramatic lagoon.
13. Bacchanal Buffet in Caesar's Palace
Recommended by Yen from Swing Abroad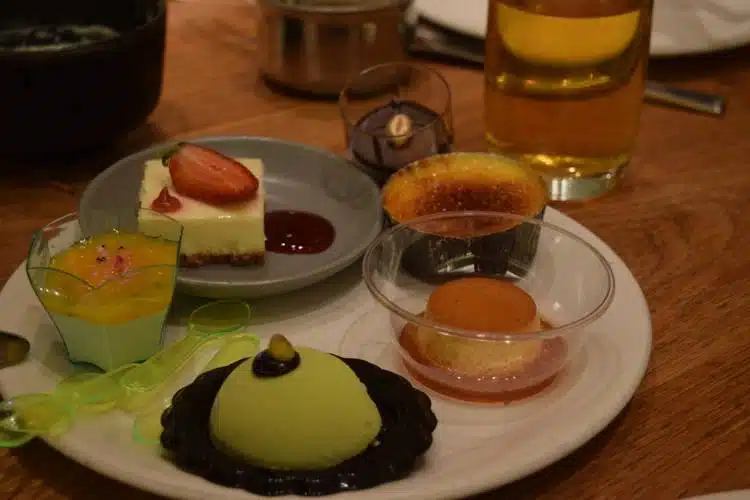 Being named as the number one buffet in Las Vegas multiple times, Bacchanal Buffet in Caesar's Palace is the one you should never miss during your trip to Las Vegas.
What I love about the buffet is the variety of choices (500+ different dishes). Featuring nine open kitchens serving different cuisines from all around the world, all you have to worry about is choosing because you can't possibly stuff everything in.
The service provided by the buffet is also top-notch, with waiters or waitresses nearby at all times.
The most popular dishes there would be the Wagyu slices and the crab legs, which are served after 3 pm on weekdays and the whole day on weekends.
However, I personally find the Japanese and Chinese cuisines less impressive. The sushi didn't look attractive during my visit, but I tried, and they tasted okay.
The dim sum was normal and tasted like they weren't prepared fresh in the kitchen. You might find it different during your visit, who knows?
Another great thing about this buffet is the amazing desserts. I was too busy stuffing the Wagyu and turkey slices, so I was too full to try all the desserts. However, among all those I've tried, they didn't fail to amaze me.
If I had the chance to revisit Las Vegas, this is the buffet I'll visit again!
More Places to eat in Las Vegas Off the Strip
1. Vic & Anthony's Steakhouse in the Golden Nugget
Recommended by Michael from Go, See, Write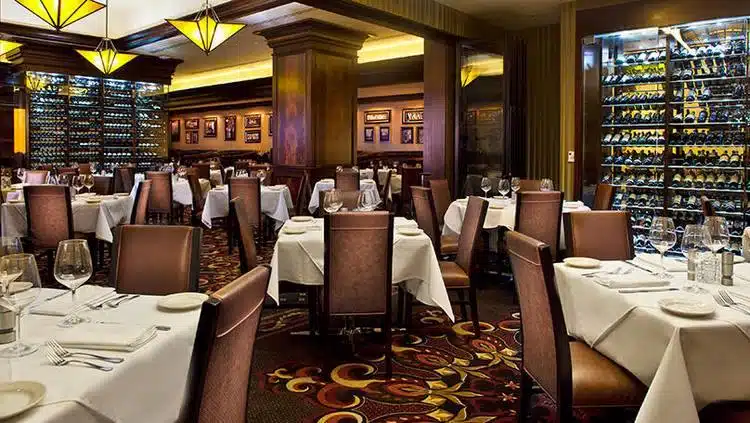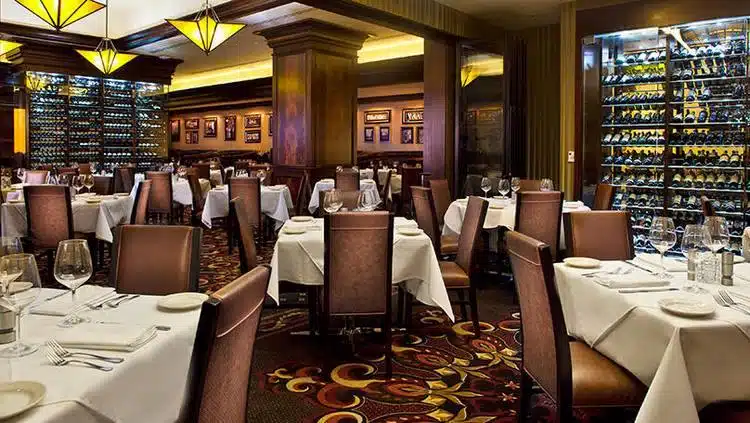 The last few times I have gone to Vegas, I've decided to stay in the downtown area instead of the Strip. I enjoy the atmosphere and the vibe of the Fremont Street area more than the massive size and insanity of the Strip.
One of the things I pleasantly discovered on my last trip was Vic & Anthony's Steakhouse in the Golden Nugget.
Before my trip, I did a little research online and was surprised to find this was a top 10 rated steakhouse in the US on a few rating services. It did not disappoint.
Fair warning — this is not a cheap Vegas eats kind of place. You will drop some money on your meal here, but that's befitting how excellent the quality of beef you are going to be getting.
That said, the prices are lower here than I have found in several other large US cities.
Service was impeccable, which for me is an absolute must in any restaurant of this price and reputation. I started with the calamari, which also had some Shishito Peppers and a lovely aioli sauce.
The main course was a 16 ounce NY strip steak (price = $54), cooked medium rare on the rare side, and it was perfectly done.
Vic & Anthony's is open from 5 pm to 11 pm, seven days a week. Reservations are recommended. It is located in the Golden Nugget Hotel downtown, which is at 129 East Fremont Street.
2. The Black Sheep
The Black Sheep is located along Warm Springs Road in Las Vegas and is a short drive away from The Strip.
It is an American-Vietnamese restaurant conceptualized by Chef Jamie Tran and her partners Andy Hooper and Jon Schwalb. The design of the place is industrial, complete with a grey background and a play on mirrors.
Forget the fancy dresses and the casual don'ts. Come as you are in this nook, yet still, be served with phenomenal dishes and nice wines.
Be sure to taste their bao sliders featuring house-maid buns and pork sausage. Go heavy and order the slow-braised short rib complete with horseradish risotto and other tasty side dishes.
The most celebrated dish at The Black Sheep would have to be their Vietnamese Imperial Rolls. Chef Jamie can mix Duroc pork with shrimp, finishing it with pickled heirloom carrots.
The Black Sheep is open daily for dinner. On Sundays, it welcomes guests for brunch until two in the afternoon.
3. Kitchen Table
Kitchen Table should be your choice for breakfast. Don't expect your usual morning fanfare, though. Chef Javier Chaves takes the cue from his mother, serving inspiring flavors to the table.
The first Kitchen Table restaurant is located at Horizon Ridge in Henderson, Nevada.
The vision that Chef Javier had for Kitchen Table when he opened it was that people would come together and exchange stories over good food, which can only be found in his restaurant.
The concept was a success, paving the way for Kitchen Table Squared to be opened soon after in Russell Road, Las Vegas.
One quick look at the menu, and you'll see your usual breakfast suspects. However, an ingredient or two will leave you dumbfounded, asking yourself if it can actually come together.
Chef Javier does not disappoint, as his dishes speak of both comforting familiarity and witty innovation.
Fancy some French Toast with Seared Foie? How about a cup of Mexican Hot Chocolate with Charred Marshmallows? The choices vary much, and the temptation of getting more than one dish is inevitable. We say go ahead.
4. Lotus of Siam
Lotus of Siam is situated in Flamingo Road, Las Vegas. Its ode to Northern Thai Cuisine has proven to succeed, paving for them to have a second location while their Sahara Avenue branch is being remodeled.
The restaurant has won awards over the years, including Best Thai Restaurant in the United States.
You will be spoiled with 150 menu choices that call for you to go back and try new ones on your next visit. For starters, order the Nam Kao Tod, a serving of crispy rice mixed with sausage, peanuts, and green onion.
The classic Sa-tay Chicken is ever-present, yet the restaurant has its way of presenting this usual dish in the best way possible.
You can control the spiciness of each dish you order. If the heat proves to be too much for you to bear, make it your valid excuse to order a serving of Coconut Ice Cream with Sticky Rice. This lovely Thai dessert serves as a great way to cool off your palate.
More Las Vegas Articles
We put together a list of the best Las Vegas Tours.
Do you want to stay at one of the Las Vegas luxury hotels? Then check out my blog post about the best hotels in Las Vegas, and also don't miss the best shopping malls in Las Vegas.
Also, don't forget to check out these Las Vegas shows.
Best VPN for Travel: ExpressVPN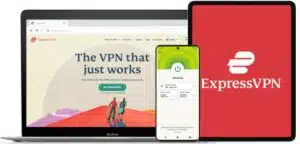 Heading abroad? Use ExpressVPN to access your social media accounts, unblock your favorite entertainment sites, and stay connected with friends and family. And get cheaper flights, of course.
Pros
✅ Next-gen, high-speed servers in 94 countries
✅ Works on iOS, Android, Windows, Mac, Linux, browsers, and more
✅ 256-bit AES encryption protects your data, even on hotel Wi-Fi
✅ Unblocks Netflix and other streaming sites
Cons
❎ No dedicated IPs
Get 3 extra months free of ExpressVPN when signing up for a 1-year plan. That's a 49% saving and a monthly cost of just $6.67! You also get a 30-day money-back guarantee.