The best Luxury Las Vegas Hotels are what makes the City of Lights even more vibrant than it already is.
The Golden Strip, embellished with elegant architecture and a luxurious atmosphere, is home to many hotels that offer the ultimate Las Vegas experience.
Whether you feel the need for a place that is brimming with richness or are in search of an oasis in the middle of high-end living, the city of Las Vegas will feed it to you – in excess, from a golden spoon.
Best VPN for Travel: ExpressVPN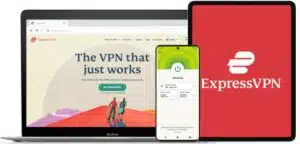 Heading abroad? Use ExpressVPN to access your social media accounts, unblock your favorite entertainment sites, and stay connected with friends and family. And get cheaper flights, of course.
Pros
✅ Next-gen, high-speed servers in 94 countries
✅ Works on iOS, Android, Windows, Mac, Linux, browsers, and more
✅ 256-bit AES encryption protects your data, even on hotel Wi-Fi
✅ Unblocks Netflix and other streaming sites
Cons
❎ No dedicated IPs
Get 3 extra months free of ExpressVPN when signing up for a 1-year plan. That's a 49% saving and a monthly cost of just $6.67! You also get a 30-day money-back guarantee.
Yearly, millions of people travel to Las Vegas for nights of fun and excitement. It is home to world-class gaming, unparalleled hotels, and extravagant entertainment.
A 380-dollar night's stay in one of the city's top-rated five-star hotels promises you nothing but exceptional amenities and generous customer service.
As with several high-ranking properties in Las Vegas, you shall truly get the lavishness that you pay for.
Go big or go home: that's what people always say. This speaks the truth in this lively city.
Many hotels offer a comfortable stay in the midst of Nevada's most happening place, but only the top hotels in Las Vegas can give you a night of pure ecstasy and zest for life.
Read also: Free and cheap things to do in Las Vegas
Luxury Las Vegas Hotels
1. Bellagio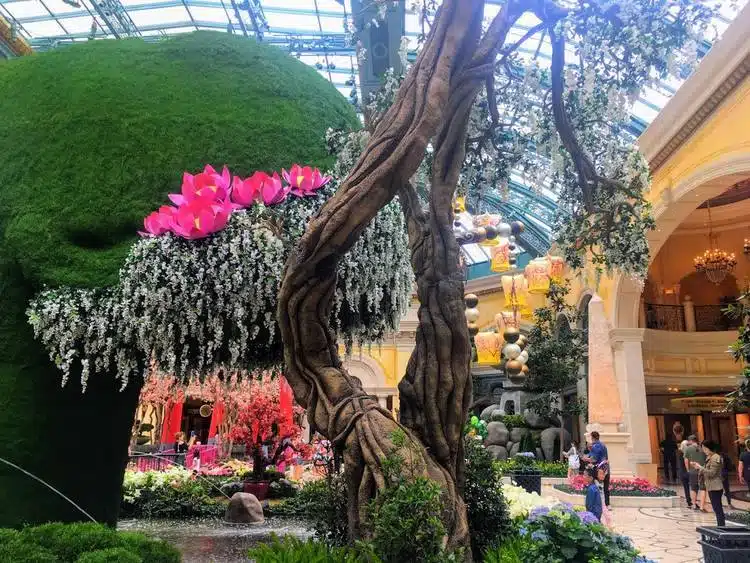 Recommended by Stella from Around the World in 24 Hours
The Bellagio in Las Vegas is truly one of a kind and one of the best Luxury Las Vegas Hotels. There's so much to do in the Bellagio; you don't even need to leave the hotel your entire time in Vegas to have an amazing time.
After all, the hotel has its own gallery of fine art, conservatory, and botanical gardens.
The sculptures and plants in the botanical garden change with the seasons, so you could visit several times a year and see a different display each time.
The restaurants at the Bellagio are some of the best in the United States. Enjoy the French-Spanish tasting menu at Picasso, which has two Michelin stars.
Pablo Picasso's work inspires the decor, and there are even real Picassos on the walls. Celebrity chefs like Wolfgang Punk and Jean-Georges Vongerichten also have outstanding restaurants at the Bellagio.
If you'd rather have something sweet, the Bellagio is also home to the largest chocolate fountain in the world. If you're looking for a show in the evening, buy a ticket to Cirque de Soleil's O show.
This aquatic-themed show, with both acrobats and synchronized swimmers, will leave your jaw on the floor. Stars from all over the world come to perform special concerts at the Bellagio, from Lady Gaga to Fleetwood Mac.
But if you're looking for the best free show in town, don't miss Bellagio's magical fountain display at night. It was one of the stars of Ocean's 11, after all!
2. The Palazzo Las Vegas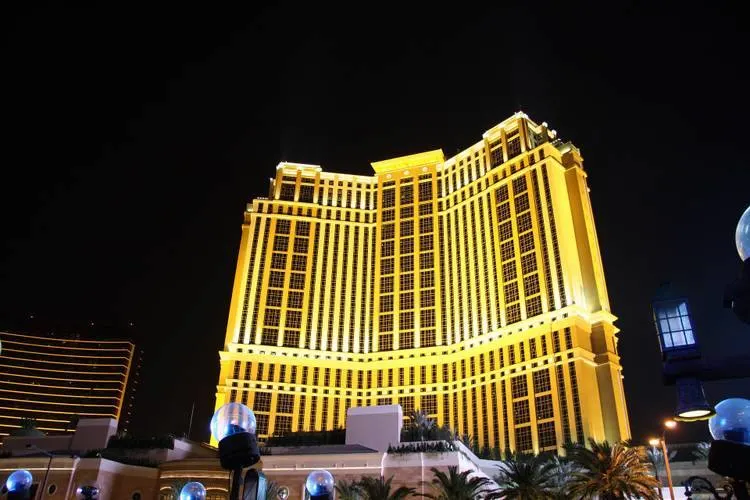 Recommended by Lydia from Africa Wanderlust
I have learned a few things since the last time I visited Las Vegas in 2018. First, I noticed the striking similarity between Las Vegas's climate and Namibia's, one of the safest countries in Africa.
Second is a little bit of due diligence goes a long way. Although where we stayed in Vegas was not horrible, if I had to do it over again, I will opt to stay at the Palazzo, and here are the reasons why.
The Palazzo is located on the Vegas strip, which makes it a great option if you plan on participating in several activities the city has to offer, such as city tours, gambling, shows, nightclubs, cocktail lounges.
This hotel is one of the best Luxury Las Vegas Hotels because it features five-star restaurants with celebrity chefs and several types of cuisine from all over the world.
Its standard room is double the size of an average room in Las Vegas, and you will have access to additional luxury amenities, a private check-in, continentals breakfast, pools, spas, and evening cocktail reception.
If you enjoy shopping, then the luxury retail mall will be at your fingertips with dozens of upscale boutique stores from designers like Ralph Lauren, Jimmy Choo, and Michael Kors.
An interesting fact about this hotel is that it is also the tallest building in Nevada, and the hotel complex itself is the second largest hotel in the world.
If you like luxury paired with modern amenities and artwork from renaissance times, then you will love the Palazzo Las Vegas.
3. The Luxor Hotel and Casino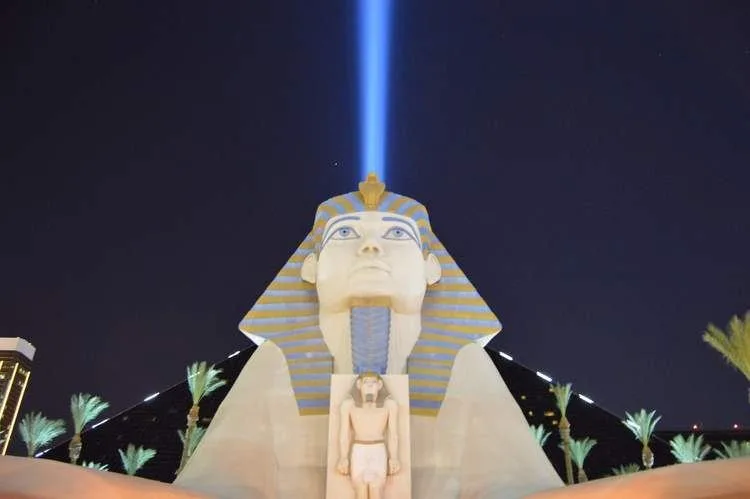 Recommended by Emma from Emma Jane Explores
Visible from the airplane on the approach into Las Vegas is the enormous black pyramid of The Luxor Hotel and Casino, situated at the southern end of the famous Vegas Strip.
This Egyptian-themed luxury hotel is a thirty-story giant which was, for a time, the tallest building on the Strip.
The Luxor is named after the Egyptian city of the same name, and if there was any doubt about the hotel's theme, the giant Sphinx out the front gives it away.
Like most Luxury Las Vegas Hotels, there are slot machines galore in the casino, ringing out and flashing all day and night, but there's plenty here to see even if gambling isn't your jam.
The Luxor features the largest atrium in the entire world, and the most notable feature of the structure has to be the incredible Luxor Sky Beam – the brightest beam of light in the world, which shoots straight up from the top of the pyramid.
If you're wandering up and down the Vegas strip and are getting a little lost, it's easy to follow the beam of light back to the hotel!
Though it is a luxury hotel, a room at the Luxor is not too expensive, with the advance purchase rate starting from around USD 74 per night. It is a great way to experience a bit of Vegas opulence without breaking the budget.
The Luxor is a great choice for those who want to stay on the strip and explore the wider Las Vegas area – Downtown Vegas, for example, is only a short Uber ride of around ten minutes or so.
4. The Flamingo Resort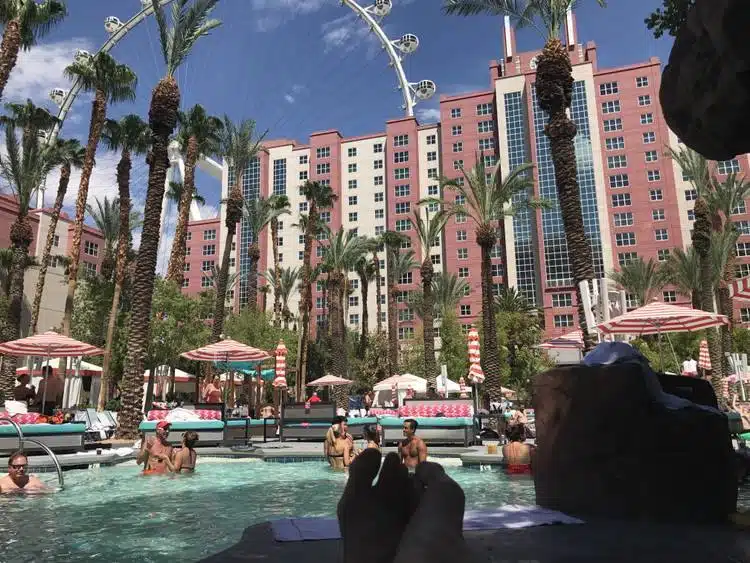 Recommended by Josh from Peanuts or Pretzels Travel
Las Vegas has more hotel rooms than any other city in the USA. So the issue isn't finding a hotel; it's choosing the right hotel in Las Vegas for your interests and your travel budget.
We are not big gamblers, so the casino is not what we look for in a hotel in Las Vegas. Instead, we look for a centrally located place to the action — which means being on the famous Strip.
Next, we look for an awesome pool where we can cool off during those hot days in Vegas. Lastly, we don't want to break the bank because we want money for drinks, shows, dining, and other Vegas fun.
And while we've stayed at many Luxury Las Vegas Hotels over the years, our favorite is the Flamingo!
The Flamingo Resort is actually one of the "Classic Hotels" on the strip in Las Vegas. So it's got some really cool history and stories behind it over the years. Plus, the location is great.
They have several shows onsite, but even if you don't want to see those shows, the Flamingo is practically in the middle of the Strip, surrounded by awesome shows! They have a great sports room, and even better…the resort is pet-friendly!
However, one of the best things we love about The Flamingo Resort is its pool. For the price point, this is honestly one of the best pools on the Vegas Strip, and it's known to be quite the party.
In fact, the "Go Pool," as they call it, is actually a 21+ Day-Club, and it is FREE to Flamingo hotel guests. However, if a party isn't your style, then don't worry; there is also a family pool at the Flamingo as well.
Overall we love staying at The Flamingo Resort in Las Vegas because it has everything we love about staying on the strip in Vegas.
5. Treasure Island
Recommended by Kay from The Awkward Traveller
If you're looking for a Vegas resort that is more budget-friendly, then Treasure Island is the perfect compromise for you!
It is located in the center of the strip and has a handy dandy 24/7 bus stop right outside of the hotel. It is also one of the few hotels on the strip that offer free parking!
Along with its convenient location, Treasure Island is also home to several attractions like the Cirque du Soleil show Mystere, Battle of Buckenneer Bay, and the famed Volcano Show.
With a slight pivot from its earlier "family exclusive" days, Treasure Island has its own club and daytime pool and bar. Though, it is also still a great resort for families, with lots of fun restaurants.
The rooms are large and updated, with views of the neon streets. The best feature is arguably the large bathroom, though the helpful staff is a close second.
Treasure Island is a less hectic hotel than others in the same price range and less snooty than those above. When you're ready to step out of the hotel, there are even pedestrian bridges connecting it to the Palazzo for some of Vegas' best shopping!

6. Westin Lake Las Vegas Resort & Spa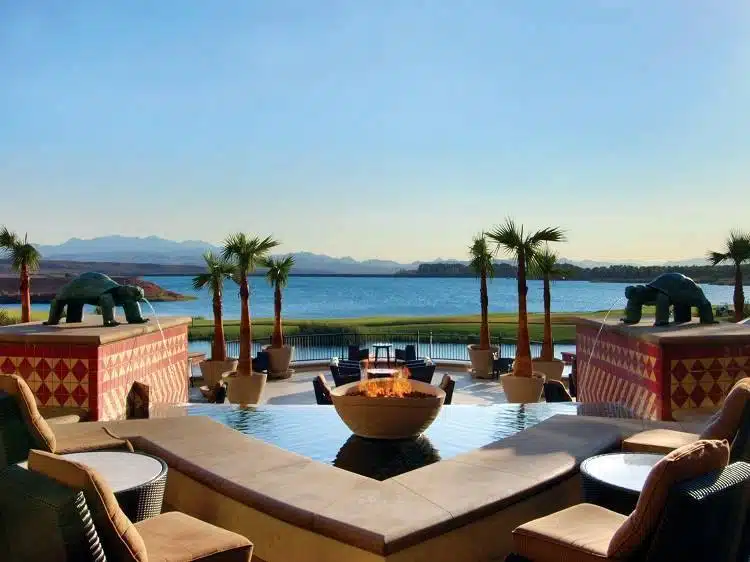 Recommended by Erin from kidventurous
You won't find any raucous pool parties or noisy slot machines, but that's the appeal of the Westin Lake Las Vegas Resort & Spa.
This popular Vegas resort is close enough to the Strip when you want to see a show, like one of a half-dozen electrifying Cirque du Soleil productions, but far enough away that you can conveniently break from the glitz and gaming.
The casino-free Westin Lake Las Vegas Resort & Spa is a desert oasis with two heated outdoor swimming pools. The Upper Pool is ideal for those eager to take in the views and relax with a tropical libation, while the Lower Pool is perfect for kids and families thanks to a twisty water slide.
When you're ready to eat, this sprawling resort is ready to please with four diverse and vibrant eateries, including Rick's Café. This airy Mediterranean-style restaurant wows adults with flavorful menu items like Seared Salmon and Sundried Tomato Pasta.
Kids will be won over when they see Green Spaghetti on the menu (spaghetti with pesto sauce).
Thanks to a ping-pong table, giant chess and checker sets, and cornhole boards, there's plenty to do across the property.
Enjoy the views of Lake Las Vegas from the private lagoon at Riatta Beach, or get out on the water on a kayak or stand-up paddleboard. Get in a round of golf next door at the award-winning Reflection Bay Golf Club.
Once you've spent a few days luxuriating at the Westin Lake Las Vegas Resort & Spa, set your GPS due north to hook up with Nevada's out-of-this-world Extraterrestrial Highway, a quiet stretch of road that runs between Hiko and Warm Springs.
Savor the far-reaching desert views and keep your eyes open for aliens as you pass the turn-off for Area 51.
Movie hotels in Las Vegas
Another city's highlight is the many famous Movie Hotels in Las Vegas – a must-visit for all movie fans.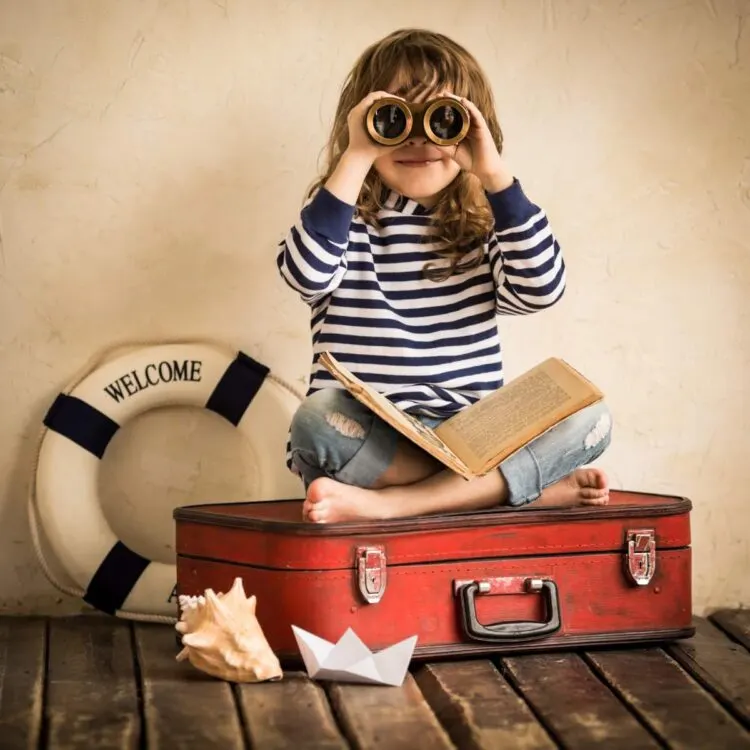 Protect your trip: With all our travel experience, we highly recommend you hit the road with travel insurance. SafetyWing offers flexible & reliable Digital Nomads Travel Medical Insurance at just a third of the price of similar competitor plans.