They say you have not really gone to Las Vegas if you did not witness a show during your stay. We've narrowed down the list of all the best Las Vegas Shows – so that you don't have to!
I am not overacting when I say that Las Vegas shows are simply incomparable.
Top entertainments in the City of Lights fall in a wide spectrum: a variation of magic, music, comedy, acrobatics, mystery… the list seems endless, and as visitors to this lively destination, we feel unworthy and worthy at the same time of all these great choices.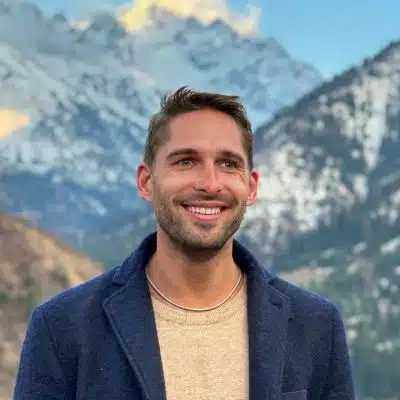 It's a tricky situation to be in – something we are privileged to accept on any given day.
Read also: Free and cheap things to do in Las Vegas
As if a once-in-a-lifetime kind experience of the Las Vegas brand of entertainment isn't enough, the city will lure you back in repeatedly.
Several travelers who once visited the city rather briefly, experiencing a local show or two, find themselves coming back season after season.
Las Vegas, Nevada, is truly and undeniably the Entertainment Capital of the World.
It's your turn to feel this kind of euphoria that only the best Las Vegas Shows can bring – and we can't wait for you to experience it!
1. Blue Man Group
Recommended by Ivan from Mind The Travel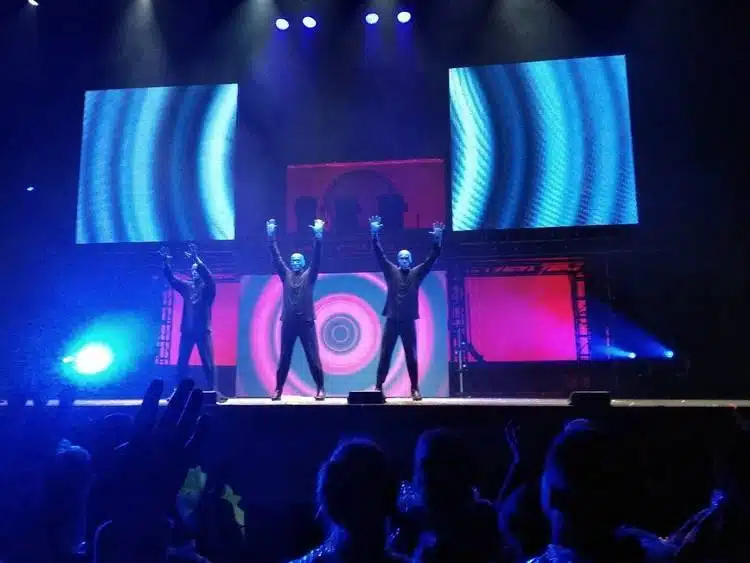 The Blue Man Group comprises three masked men who fully paint themselves blue for the show. The weird universe of the Blue Men revolves around a stunning mix of technology and raw imagination.
There's also many comedy, rock, special effects, dance, all in a single spectacle. However, there is a catch: these guys don't talk!
The blue trio mimes out all of their actions, but still, the audience can easily decode what they mean. As an audience member, you don't just watch the show. You become involved in figuring out the story they're trying to tell you.
So very soon, one realizes – it's not just three men painted blue dancing around a stage even though that's a big part of it.
This multi-sensory show combines loud music, spectacular lights, and highly creative segments that street performers originally did.
Take the art of miming and illusion, some blue body paint, a ton of cool effects, PVC pipes and drums, and you have yourself a show that will leave its mark on every visitor, blow your mind and rock your world.
The show is a lot of fun, but it also makes you think.
Some of their sketches tackle unexpected situations like when the Blue Men appear to be perplexed by common artifacts of modern society or what the audience would do when they get information overload.
There is a lot of audience participation and shooting of stuff into the audience. The three blue men do so masterfully that they can speak to you without words, so there's no language barrier.
The first few rows are considered the wettest place to place yourself, and the staff provides raincoats for you to wear 'just in case.
These seats can be expensive, but you can always pay half the price to sit on the edges of the splash zone, where you'll get the same experience for a much lower price.
The Blue Man Group also has a parade through the hotel each night, so arrive early! Enjoy the Blue Man Group show in Las Vegas at Luxor Hotel and Casino.
2. Las Vegas Shows – Beatles LOVE
Recommended by Annick from The Common Traveler
Everyone loves the Beatles, and almost all of us grew up with their songs as part of the soundtrack to our lives, no matter what age.
Housed at the Mirage Hotel on the Las Vegas Strip, Cirque de Soleil has re-interpreted some of the most beloved Beatles classics in its Beatles LOVE show.
Mesmerizing concert-goers since 2006, LOVE combines the acrobatic skills of Cirque de Soleil set to Beatles' songs.
The 90-minute show (not including intermission) keeps its audience spellbound and on the edge of their seats. You'll find yourself singing along to well-known hits like Yesterday, Twist & Shout, and All You Need Is Love.
Unfamiliar with the lyrics? No worries, your foot tapping and clapping along is appreciation enough!
The show strikes a good balance between nostalgic tunes like Here Comes the Sun with more upbeat songs like Help!
The choreography highlights the tone of each song perfectly, and those images will remain ingrained in your memory for a long time to come.
A note about children and those with light and sound sensitivities: While the show is marketed as suitable for ages 5 and up, there are times when the theater is in complete darkness, lights flash, and other loud noises occur.
If you plan on attending with a person who may be sensitive to these or afraid, perhaps reconsider whether this is the right show for them.
Whether it is a couple swinging on a trapeze, skaters performing flips and jumps in what seems like an impossibly small arena, or beautiful ladies performing aerial yoga, the Cirque de Soleil troupe never fails to amaze its audience, and it is definitely one of the best Las Vegas Shows.
From brightly colored costumes, strobing lights, and dazzling acrobatics, you won't want to miss a single second of this show!
3. David Copperfield
Recommended by Anisa from Two Traveling Texans
We actually hadn't planned to see David Copperfield while we were in Vegas, but we thought, when we found discounted tickets, why not?
Looking back on the experience, I think it's one of the best Las Vegas Shows. The magic will mesmerize and stump you.
There was plenty of action too. He used all kinds of props to demonstrate his skills. Some of the things he made disappear from the theatre were so large I wondered how they got into the theatre in the first place!
David Copperfield is the star of the show, but the audience plays a big part too. This made some of the stunts even more shocking.
At times, I thought the audience participant must be a plant, but the randomness in how they were picked made that seem unlikely.
The trick that I couldn't stop thinking about used our cell phones, which we locked away in boxes at the beginning of the show. Once the show ended, we got our phones back.
We could see a message sent at the beginning of the show that detailed everything that happened during the show – including the names of audience participants.
On my next trip to Vegas, I want to see the show again to see if I can figure out how he does some of his tricks!
4. Le Reve at The Wynn
Recommended by Wendy from Empty Nesters Hit The Road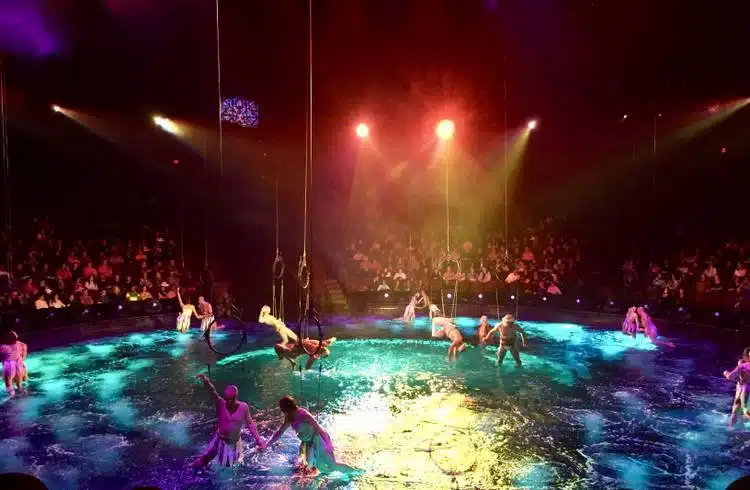 Every year, after the holidays, my husband and I take a few days off to go hiking in Red Rock Canyon near Las Vegas.
While we are there, we take the opportunity to head to The Strip, enjoy a nice dinner, and see one of the Las Vegas Shows. Fortunately, Vegas offers a wealth of great entertainment!
Over the years, we've seen many terrific shows, but among our favorites is Le Reve. This show, located at The Wynn, features a circular pool in the middle of a round theater.
Performers move in, out, around, and even above the pool of water. Through the creative use of lights, music, and fire, drama is added to each and every movement.
Sometimes a single performance is featured, possibly high above the pool on a trapeze. While at other times, a dozen dancers entertain with synchronized swimming.
There are definitely similarities to a Cirque du Soleil show, but I found the experience felt quite different, possibly because of the theater in a round set-up.
So if you've seen several Cirque shows and are looking for something different, Le Reve is a great option.
Le Reve has been voted the Best Production Show in Las Vegas for nine years in a row. And just recently, the show was updated with new costumes, music, and choreography.
5. Cirque du Soleil
Recommended by Rosie from Flying Fluskey
The story of Cirque du Soleil is that of a runaway success. They have shows across the world, wowing audiences and challenging preconceptions of what circus is.
Cirque du Soleil transports theatergoers to magical lands and far-off dreamlands through beautiful costumes, giant sets, and stunning visual storytelling.
Cirque has three shows in Las Vegas, but arguably the most distinctive is their aquatic spectacular "O." You'll find O at the Bellagio.
On stage, pools develop and disappear along with the changing acts. This water element gives the show its name, and it's a unique place in the Cirque universe.
Clowns fight sinking ships and rising tides, and trapeze artists fling glistening droplets across the sky.
The pool changes depth effortlessly, allowing characters to splash through it ankle-deep, glide through it to perform synchronized swimming routines, and even plummet into it from terrifying heights.
The highlight of the show had to be a troupe of glamorous Busby Berkeley divers.
These lovely ladies are launched from a series of swings and fly across the stage whilst performing stunning swan dives, perfect pikes, and serious somersaults.
Having seen many Cirque du Soleil shows, I am not often on the edge of my seat, but this had my heart in my mouth. I gasped, I twitched, and I applauded wildly when the company survives the act.
More Las Vegas Articles
We put together a list of the best Las Vegas Tours.
Do you want to stay at one of the Las Vegas luxury hotels? Then check out my blog post about the best hotels in Las Vegas, and also don't miss the best shopping malls in Las Vegas.
Find here the best places to eat in Las Vegas.
About the Author
More info
Best VPN for Travel: ExpressVPN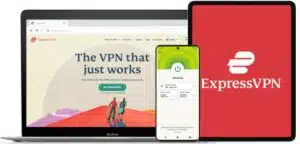 Heading abroad? Use ExpressVPN to access your social media accounts, unblock your favorite entertainment sites, and stay connected with friends and family. And get cheaper flights, of course.
Pros
✅ Next-gen, high-speed servers in 94 countries
✅ Works on iOS, Android, Windows, Mac, Linux, browsers, and more
✅ 256-bit AES encryption protects your data, even on hotel Wi-Fi
✅ Unblocks Netflix and other streaming sites
Cons
❎ No dedicated IPs
Get 3 extra months free of ExpressVPN when signing up for a 1-year plan. That's a 49% saving and a monthly cost of just $6.67! You also get a 30-day money-back guarantee.