Las Vegas Mall – Ultimate list of the best Shopping Malls in Las Vegas. Check out this article to find the right Shopping Center in Las Vegas for you.
The best Shopping Malls in Las Vegas, Nevada recommended by Sigrid from My Travel Diary USA
In the well-known casino metropolis, there are great hotels and casinos and a variety of shopping malls.
Many of the shopping malls in Las Vegas are located on the Strip and are within easy walking distance or just minutes away by car.
These Vegas Shopping Malls do not only offer an upscale selection of shops but are also a wonderful place to spend an afternoon or even the whole day at.
1. Open-Air Downtown Container Park – Las Vegas Mall
Address: 707 Fremont St, Las Vegas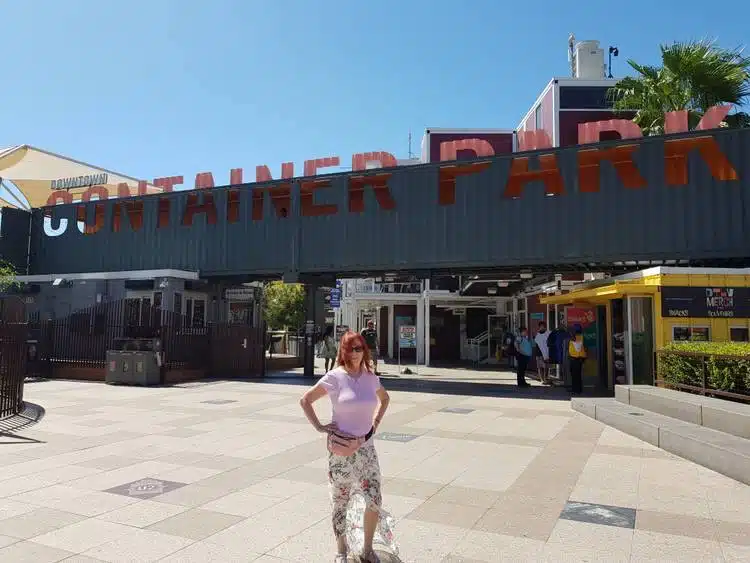 Downtown Container Park in downtown Las Vegas houses every store in a container. Here you will find everything from clothing, art articles, upscale restaurants, to food stalls.
The shopping center Las Vegas is considered a shopper's paradise because you can find unusual items that you will not find anywhere else.
There are plenty of seating areas where you can eat or enjoy the nice weather in the outdoor area.
For children, there is a playground with a large slide and a treehouse.
Las Vegas Shark Reef Aquarium
Experience the fascinating underwater world of the iconic Shark Reef tunnel with more than 2,000 animals, including rays, sharks, Komodo dragons, and sea turtles.
Click here for more information, photos, and/ or to purchase your ticket in advance.

2. Luxury Crystals Shopping Las Vegas Mall
Address: 3720 S. Las Vegas Blvd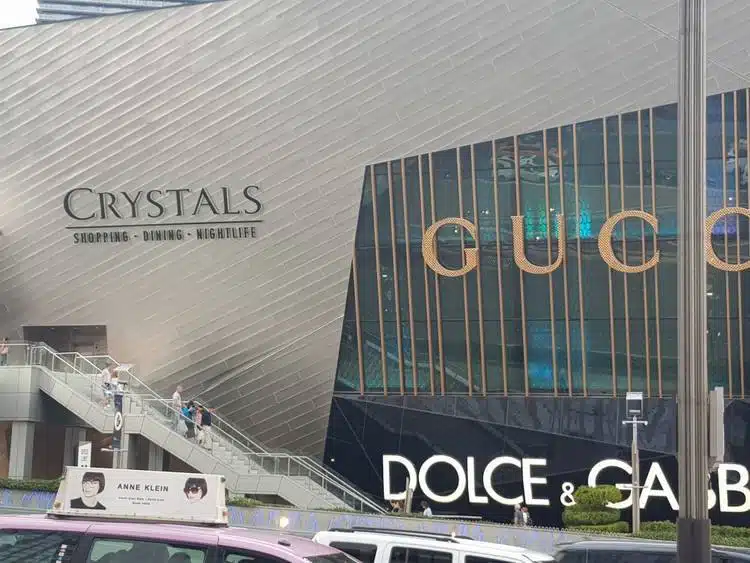 The Crystals Shopping Las Vegas Mall is an impressive, very upscale Las Vegas Strip Mall whose glittering facade shows from the outside that something special awaits you.
Located in the heart of the Las Vegas Strip next to the Aria, it houses some of the most exclusive luxury shops in the world.
From Louis Vuitton, Prada, Gucci, Dolce & Gabbana Women's to Mikimoto, Paul Smith, Porsche Design, and Tourbillon, all well-known brands have a store here.
Of course, there are also several restaurants such as Mastro's Ocean Club and Wolfgang Puck Pizzeria & Cucina.
Stroll in this comfortable environment, past the water features, wonderful floral arrangements, and a look into the luxurious windows.
3. Fashion Show Las Vegas Mall
Address: 3200 S Las Vegas Blvd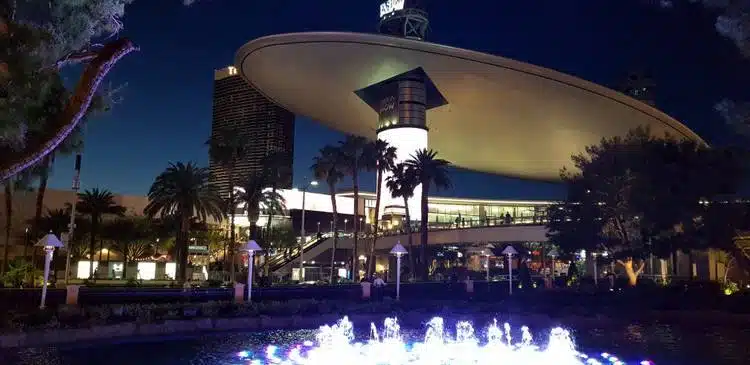 If you want to escape the hot temperatures for some time, this Las Vegas Mall offers a stroll.
Located at the western end of the Las Vegas Strip, it is one of the best shopping malls in Las Vegas.
There are more than 250 boutiques and luxury brands and a variety of everyday brands such as Express, Banana Republic Nordstrom, and Forever 21.
The mall features a great food court for those who want to eat a bite, offering everything from KFC Express to Hot Dog on a Stick.
We especially like to go to this Vegas Strip Mall when it starts to get dark. From the 2nd or 3rd floor, you can watch the many colorful lights of the Las Vegas Strip.
4. The LINQ – Shopping Mall Las Vegas
Address: 3545 S Las Vegas Blvd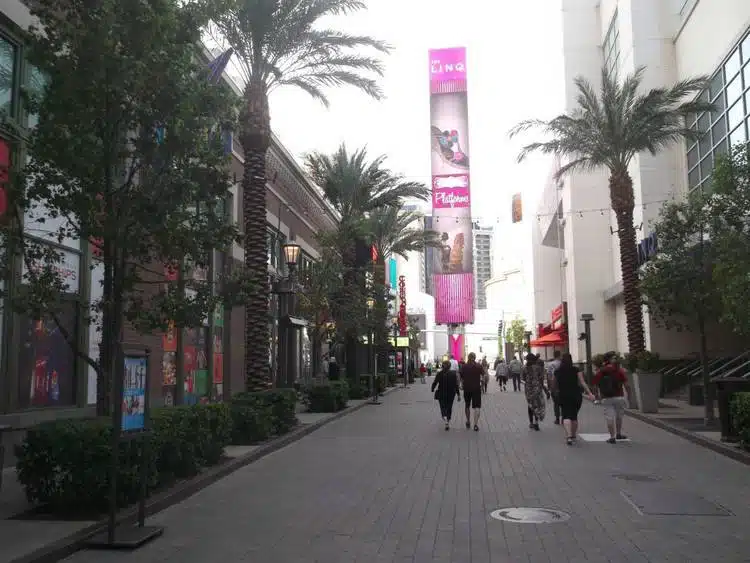 The LINQ Promenade, located between The LINQ Hotel and the Flamingo Hotel, is one of the newer shopping malls in Las Vegas.
This small but beautiful boulevard offers a wide range of shopping in small boutiques and pretty shops.
Of course, there are also great bars, restaurants, and live music, just what the Las Vegas vacationer wants.
The atmosphere is similar to on the strip, but because it is between two hotels, it is a little quieter, and you feel like in another place.
What should not be missed when visiting this promenade is a ride in the High Roller, the largest Ferris wheel in the world.
From a height of 167 meters, you have a fantastic view of the Strip and Las Vegas.
Stripper 101 Pole Dancing Class Las Vegas
Learn the secrets of Las Vegas' sexy strippers with the Stripper 101 pole dancing class.
Click here for more information and to purchase your ticket!

5. Forum Shops at Caesars Palace
Address: 3500 S Las Vegas Blvd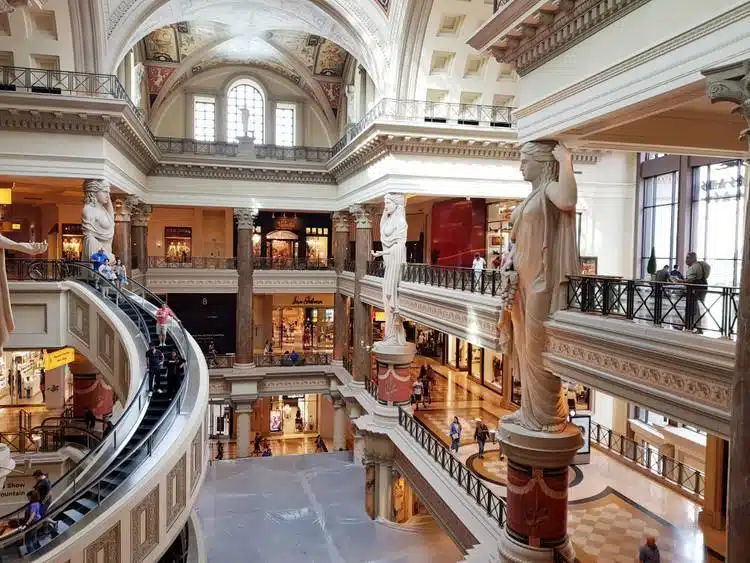 The Forum Shops in Ceasars Palace are considered the queen of shopping malls in Las Vegas with their unique spiral escalators.
There are countless shopping options, and I have to say that personally, I have never seen so many luxurious and wonderful shops in one place.
Among them are Versace, Louis Vuitton, Armani, Jimmy Choo, Gucci, Christian Louboutin, and Christian Louboutin, to name a few.
You can stroll past impressive Roman statues and a huge aquarium under a sky that can change its color and looks deceptively real.
Be sure to check out the Atlantis Fountain Show with the imaginative water & fire show and talking statues. We are thrilled every time.
6. Grand Canal Shops at Venetian
Address: 3377 Las Vegas Blvd S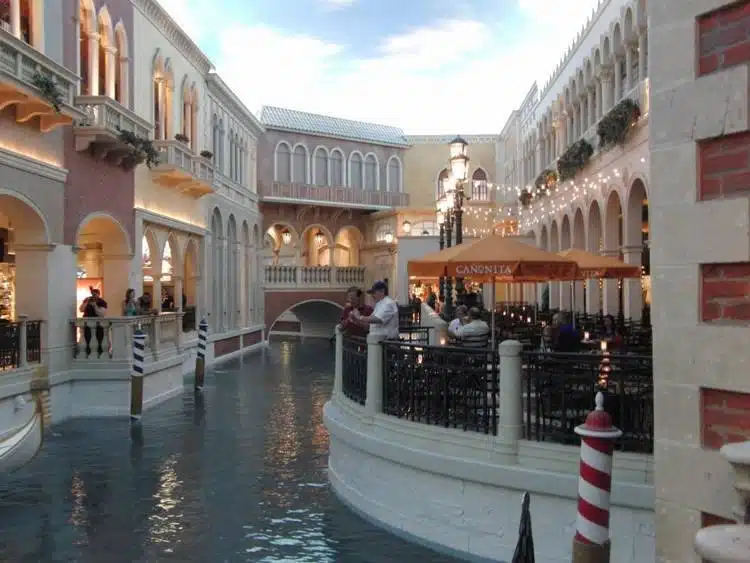 When you enter the Grand Canal Shops of the Hotel Venetian, you immediately feel trapped by the unique atmosphere of this place.
You can stroll along cobblestones, under painted ceilings along with the replica of the Grand Canal, past luxurious shops.
The Grand Canal Shops feature some of the world's leading luxury brands such as Diane von Furstenberg, Tory Burch, Burberry, or Michael Kors and is by no means one of the average shopping malls in Las Vegas.
Also, the number of small and large restaurants such as the Postro Bar & Grill, Mercato Della Pescheria, or the Delmonico Steakhouse is incredible.
As in the Ceasars, the shops are geared towards well-heeled visitors, but the ambiance is worth a stroll.
7. Shopping at Bellagio
Address: 3600 S Las Vegas Blvd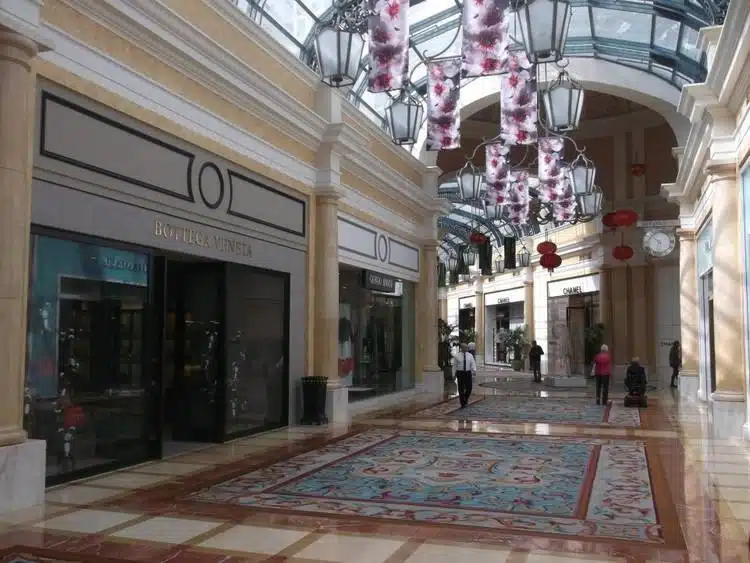 The Hotel Bellagio is designed in an exquisite style and, of course, has a lovely shopping mile which houses many luxury shops.
In this Las Vegas Mall, you walk over noble tiles and carpets under high glass ceilings past small but fine designer shops.
You will find many world-famous designers such as Chanel, Gucci, Giorgio Armani, Louis Vuitton, Tiffany & Co, or Dior.
This shopping street at Hotel Bellagio is considered one of the most luxurious on the Las Vegas Strip.
8. Grand Bazaar Shops
Address: 3635 S Las Vegas Blvd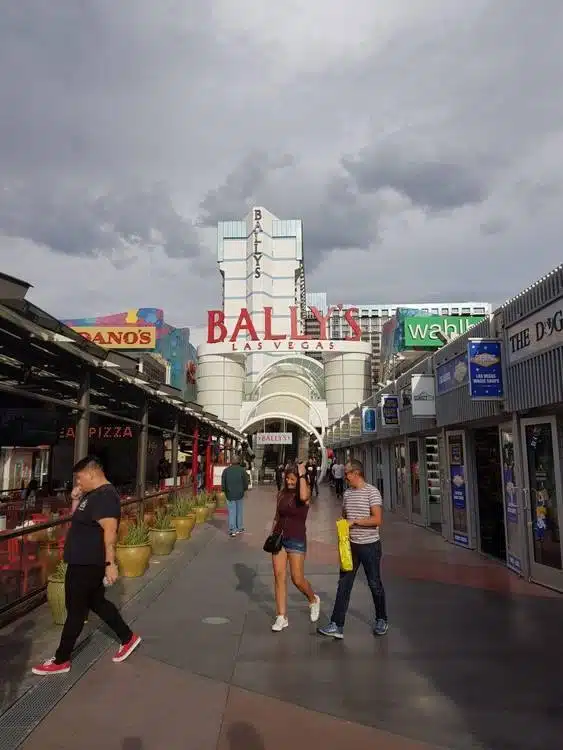 In front of the Bally's Hotel in Las Vegas, you will find the Grand Bazaar Shops.
The location in the center of the Las Vegas Strip with the Bellagio across the street and the Eiffel Tower from the Hotel Paris next door is truly unique.
While strolling past souvenirs, presents, and clothing past small, colorful shops and restaurants, you will feel on a bazaar.
If we walk along the Strip, we like to stop there, stroll through the shops, eat a burger at Wahlburgers, or a hot dog at Dirt Dog.
Of course, there are other restaurants such as Blue Ribbon Fried Chicken, Ramen-Ya, or Deep Dish Pizza.
Get Your Guide helps you to find the best tours wherever you are heading to. It's normally the first website that I check when I plan a trip to a new place.

9. M & M's World in Las Vegas
Address: 3785 S Las Vegas Blvd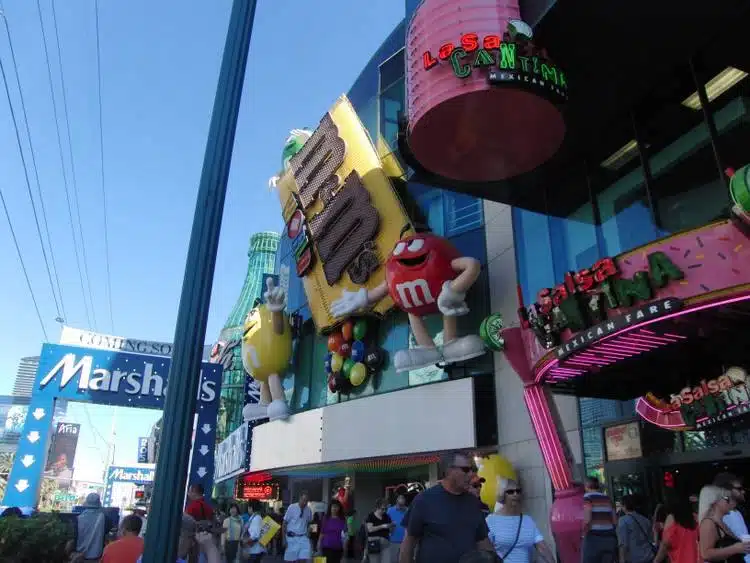 You will hardly believe what there is to see. Four floors packed with funny items and sweets around the colorful chocolate lentils.
You can even create personalized M & Ms or buy ready-made items such as T-shirts or figures.
The shop is always an experience, and we visit it every time we stay in Las Vegas.
For us, it's impossible to leave the store empty-handed. We can not resist the temptation even if $ 7 for 50 grams is not exactly cheap
10. Hersheys Chocolate World Las Vegas
Address: 3790 S Las Vegas Blvd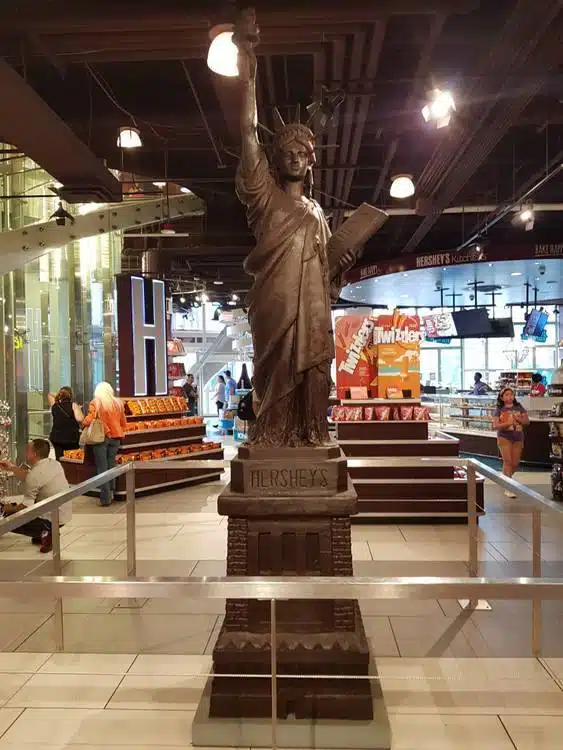 Chocolate, chocolate, and more chocolate are what Hershey's Chocolate World in Las Vegas is all about.
When you enter this shop, the first thing you see is a large Statue of Liberty made entirely of chocolate.
Every time we stay in Las Vegas, we visit this shop at the New York New York Hotel.
There is a wide selection of chocolate gifts, from candy bars to candles that smell like Hershey's chocolate.
There is always something to try, and in the bar, you can have wonderful chocolate drinks conjured up.
In the upper section is the Reese area, with everything that Reese has to offer.
These are my top 10 Las Vegas Malls. I hope you enjoy shopping.
Are you keeping up with my Las Vegas Series?
We put together a list of the best Las Vegas Tours and free things to do in Las Vegas.
Do you want to stay at one of the Las Vegas luxury hotels? Then check out my blog post about the best hotels in Las Vegas.
Find here the best places to eat in Las Vegas, and also don't forget to check out these Las Vegas shows.