The best Costa Rica Day Tours combines three things: nature, adventure, and fun. Book these ultimate Costa Rica tour packages and see the best of Costa Rica.
If you plan to have a Costa Rican escapade, chances are you are a nature buff, an extreme sports enthusiast, or an adventurous traveler.
Whether you are coming here alone or traveling as a group, Costa Rica's nature-packed provinces are sure to excite you.
Best VPN for Travel: ExpressVPN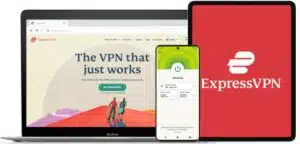 Heading abroad? Use ExpressVPN to access your social media accounts, unblock your favorite entertainment sites, and stay connected with friends and family. And get cheaper flights, of course.
Pros
✅ Next-gen, high-speed servers in 94 countries
✅ Works on iOS, Android, Windows, Mac, Linux, browsers, and more
✅ 256-bit AES encryption protects your data, even on hotel Wi-Fi
✅ Unblocks Netflix and other streaming sites
Cons
❎ No dedicated IPs
Get 3 extra months free of ExpressVPN when signing up for a 1-year plan. That's a 49% saving and a monthly cost of just $6.67! You also get a 30-day money-back guarantee.
Imagine this: In the first hour, you find yourself on a hanging bridge, floating amid the cloud forest. The next hour, you are at the foot of a majestic waterfall, ready to take a dip.
A few moments later, you are in the comfort of a Costa Rican kitchen, savoring the traditional delicacies made with local ingredients and cooked passionately.
A tour of Costa Rica is indeed energizing to the body, relaxing to the soul, and rewarding to the spirit.
Best Costa Rica Day Tours
1. Arenal Volcano, La Fortuna Waterfall, and Hot Springs Tour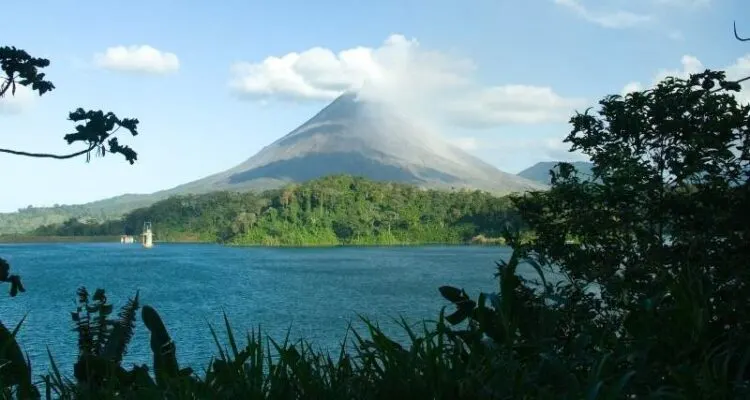 Go on a full-day nature trip, including the Arenal Volcano, the La Fortuna Waterfall, and some of the best hot springs in Costa Rica.
Start with a forest walk that will take you through the La Fortuna jungle, bravely crossing suspension bridges and marveling at the rich vegetation surrounding you.
Rest in the midst of the Maluku Indian village where stories rich and old will fill your ears – until you continue your journey to the Arenal Volcano.
After plenty of walking and exploration, take time to relax your senses and regain your energy with a dip at the hot springs and volcanic mud facial with a complimentary cocktail to boot.
Included:
Pick-up and drop off at your accommodation in La Fortuna
Local guide
National Park fees
Natural hot spring resort fee
Lunch and beverages
2. San José: Arenal Volcano, Hot Springs, & Zip Lining w/ Meals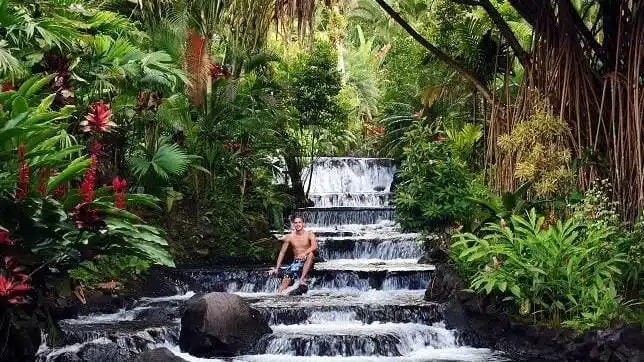 All the best Costa Rica activities can be found on this full-day tour. Your itinerary involves multiple stops at many popular destinations frequented by San Jose tourists and locals alike.
Learn more about the Costa Rican coffee culture as you take a trip to a coffee plantation, using all of your senses to have a deeper grasp of what goes in your daily cup.
Wildlife watching is on your priority list, with an experienced guide who keeps the group well-informed about the animals that call the Fortuna jungles their home.
It is definitely not an ultimate San Jose tour if zip lining and swimming in hot springs aren't involved. Relax and be one with nature through the many activities that you can do in La Fortuna.
Included:
Round-trip transportation from most of the hotels located in the San José area
Bilingual guide
Entrance fee for zip lining (including all equipment); or rainforest walk if not doing zip lining
Entrance fee to the hot springs
Visit to La Paz Waterfall, San Fernando Waterfall and iguanas & hummingbirds viewing points
Lunch and dinner
Mini coffee tour with coffee degustation
3. Costa Rica Day Tours – La Fortuna Waterfall, Volcano, and Hanging Bridges Combo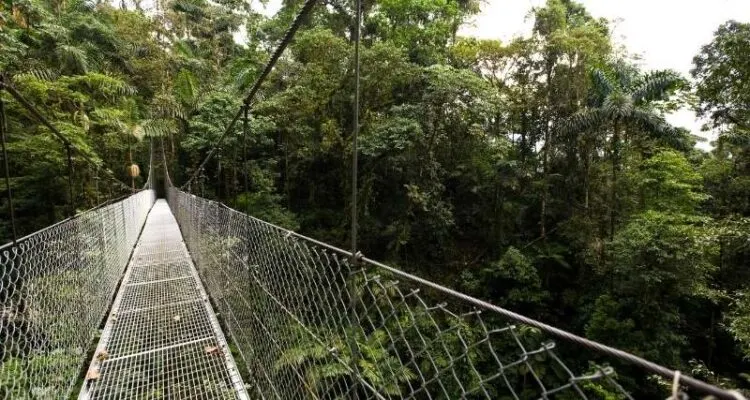 Conquer your fear of heights as you trek towards the foot of Arenal Volcano in Costa Rica. Enjoy exploring the national park where birds and other wildlife happily reside.
Go from one hanging bridge to another as you traverse all fifteen of them to see the beauty surrounding the Arenal Hanging Bridges Park.
#The park has three trails to choose from, depending on the type of you wish to get along with your level of fitness: the main trail, the accessible trail, and the bird observation trail.
All inhibitions go out the window once you reach the La Fortuna Waterfall. This 70-meter wonder is a great spot to have your souvenir photos taken or have a quick snack by the natural pool.
Jump and swim in the refreshing waters as you relax after a full day of nature exploration.
Included:
Pick-up and drop off at hotels in the La Fortuna area only
English-speaking guide
Entrances fees
Water bottle
Lunch
Traditional food from Costa Rica
4. 3-Day Tortuguero National Park Tour from San Jose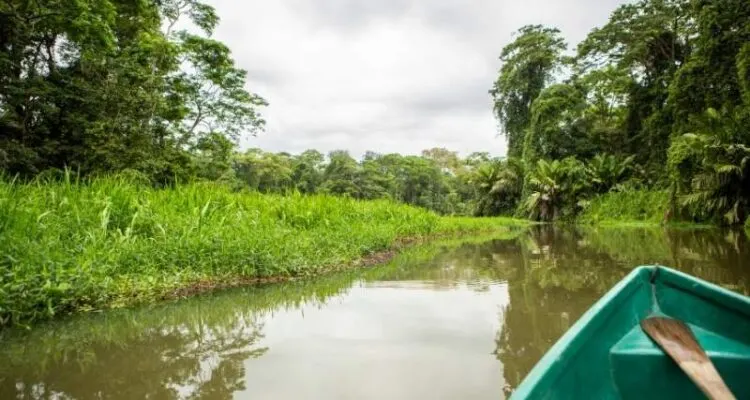 Take your time to explore the rich wildlife that thrives at the Tortuguero National Park. For three full days, the 21,000-hectare reserve is your natural playground, with different plant and animal species enlivening your time at the park.
The surroundings of the Tortuguero National Park are widely known to be an important nesting ground for leatherback sea turtles, hawksbill sea turtles, and loggerhead sea turtles in Costa Rica.
Fun fact: Tortuguero in Spanish actually translates to Region of Turtles – a fitting name, indeed.
This ultimate tour from San Jose is inclusive of great accommodations set in the heart of the national park, allowing you to be one with nature and be in your most relaxed state.
An expert guide will be with you as you explore the area from night until the day, providing valuable information about Tortuguero's reputation as one of the best ecotourism destinations in Costa Rica.
Included:
Shuttle guided ground and boat transfers
2 nights at Laguna Lodge
Guided boat tour in the Tortuguero National Park
Tortuguero town tour
5. Poas Volcano, Doka Estate & La Paz Waterfall Combo Tour
From San Jose, go on a full-day tour exploring the beautiful Alajuela. There will be interesting stops on your way there, including the Agriculture Monument, the Monument to Juan Santamaria, and the Mango Park.
When you reach the Doka Estate Coffee Plantation, you will enjoy hours of learning about the coffee culture that Costa Rica is popular for. See how a coffee bean is planted, processed, and poured into your cup.
The Poas Volcano awaits as you go through the cool cloud forest. See evident volcanic activities throughout your hike.
It is one of the five active volcanoes found in Costa Rica and is considered the biggest open volcano in the entire world.
A few hours before your itinerary comes to an end, take time to enjoy the natural park of La Paz Waterfall Gardens, reaching the majestic White Magic Waterfall further on.
Included:
Pick-up and drop off at central San Jose hotels
English-speaking tour guide
Breakfast
Lunch
Entrance fees
6. Full-Day Rio Celeste Tour from La Fortuna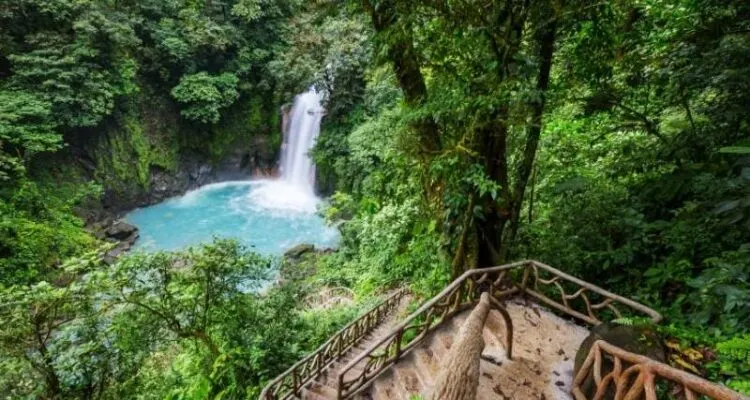 A full day of exploration may not be enough to discover the vast beauty that makes up the Tenorio Volcano National Park, but it is definitely a day tour worth taking.
You will go deep into the Costa Rican jungle for four hours and learn about the diverse flora and fauna residing in the area.
As one of the youngest natural parks in Costa Rica, Tenorio Volcano National Park is visited primarily for the Tenorio Volcano. It is an active volcano with an almost perfectly symmetrical cone.
To reach its prime spots, you have to trek through the cloud forest that is home to ocelots, jaguars, and cougars, among others.
It is a tiring itinerary, honestly, but the continuous stunning views and worthwhile stops will definitely energize your bones.
Rio Celeste is a natural spot to look forward to; imagine seeing a blue river that looks as if it came straight out of a fairytale.
Included:
Entrance fees
Lunch at a local restaurant
Professional guide
Pick-up and drop off at hotels in La Fortuna's central area
7. Manuel Antonio National Park from San Jose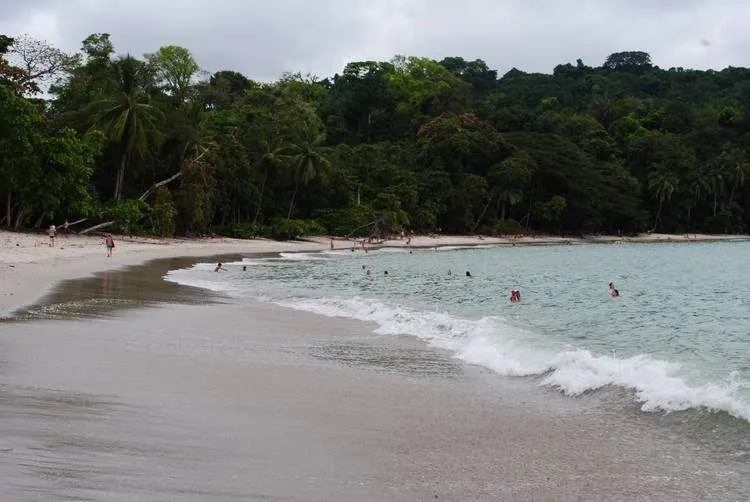 Manuel Antonio National Park is one of the most famous natural reserves you should visit in Costa Rica. From San Jose, you can join this combination tour which transports you to Manuel Antonio from your hotel doorstep.
It will be quite a long drive, but the way to your destination is filled with great stops that are worth checking out. Have a hearty Costa Rican breakfast along the way before you venture out into the wilderness.
Start your guided hike at the Manuel Antonio National Park and get to know the monkeys, sloths, and birds that staple residents of the province. Stunning beaches await, so better get pack your swimwear with you during this tour.
The adventure doesn't stop once you leave the park. On your way back to your hotel, you will pass by Jaco Bay, Tarcoles Beach, and the crocodile bridge.
Included:
Round-trip transportation from most of the hotels located in the San Jose area
Bilingual guide
Entrance fee for Manuel Antonio National Park
Visits to the Crocodile Bridge, scarlet macaws observation place, fruit stand, and the Jaco Beach lookout point
Breakfast and lunch
8. San José: Arenal Volcano, Waterfalls, Coffee and Hot Springs
The Arenal Volcano is right around the corner of your San Jose hotel. Take the time to explore this natural beauty that is a must-include in any Costa Rica itinerary.
Choose this whole-day combination tour which drives you through a scenic route, passing by a coffee plantation and allowing you to know more about one of the world's well-loved brews.
La Paz and San Fernando Waterfalls are your next stops, home to many toucans and other wildlife finds.
Once you reach the base of the Arenal Volcano, take a much-needed lunch break and enjoy an authentic Costa Rican meal in one of the restaurants in the area.
Paradise Hot Springs Resort will be your venue for relaxation and rejuvenation. As you head back to San Jose, indulge in a scrumptious dinner along the way.
Included:
Transport by air-conditioned vehicle
Hotel pickup and drop-off from most San Jose area hotels
Professional bilingual guide
Lunch and dinner
Coffee tasting with local snacks
All entrance fees
Visits to La Paz Waterfall, San Fernando Waterfall, exotic bird gallery, coffee plantation, and iguana center
9. From San José: Monteverde Hanging Bridges Day Trip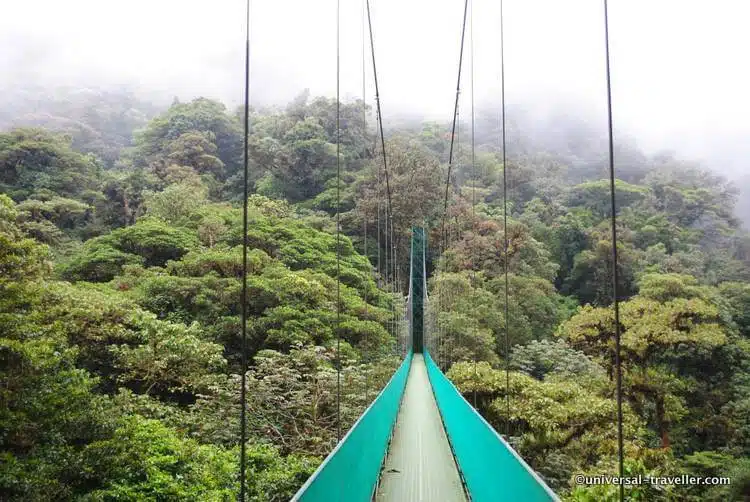 From San Jose, go north and let yourself be taken to the Monteverde Hanging Bridges, where an extreme adventure awaits.
This tour allows you to traverse the cloud forests of Monteverde, with a local experienced guide introducing you to the plant and animal species that thrive in the area.
Exploring the forest by walking through hanging bridges actually gives you the freedom and comfort that canopy rides and zip lines may not fully offer.
At your own pace, you get to see the natural surroundings that make Monteverde the tourist destination today.
Some of the animals you should not miss are monkeys, emerald toucans, and coatimundis. You also have a high chance of spotting the rare resplendent quetzal, a common sight in Monteverde.
Before calling it a day, drop by the hummingbird gallery and observe these aerial creatures in their natural habitat.
Included:
Pick-up and drop-off at your accommodation in San José
Transportation in an air-conditioned vehicle
Professional bilingual guide
Lunch
Entrance fees
10. San José: Arenal Volcano, Hot Springs, & Zip Lining w/ Meals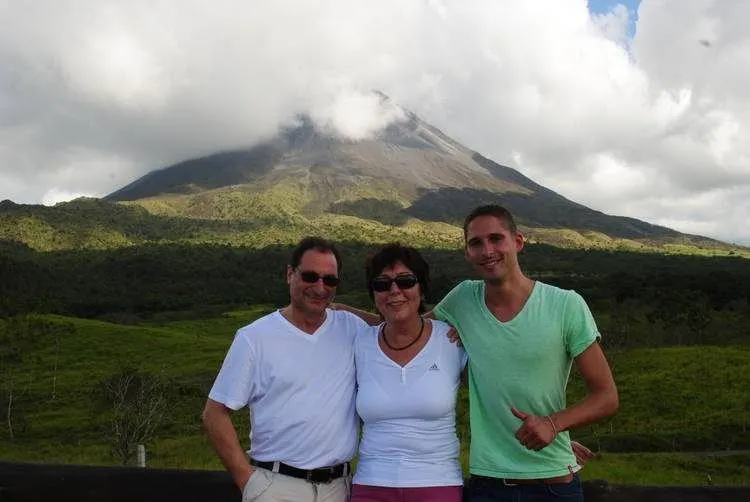 If you are traveling as a group, consider booking this full-day San Jose tour. It brings you to some of the most-visited natural tourist spots in Costa Rica.
Learn more about coffee and how it is handled from start to finish as you drop by a coffee plantation on your way to Arenal.
Further, a trip to the La Paz and San Fernando Waterfalls is to be looked forward to in your itinerary. Pass by the popular iguana bridge, aptly named for the numerous iguanas lurking in the area.
Rest your bones at the Paradise Hot Springs and go for a well-deserved hot spring dip. Dinner will be provided before your trip back to your accommodation.
Included:
Round-trip transportation from most of the hotels located in the San José area
Bilingual guide
Entrance fee for zip lining (including all equipment); or rainforest walk if not doing zip lining
Entrance fee to the hot springs
Visit to La Paz Waterfall, San Fernando Waterfall and iguanas & hummingbirds viewing points
Lunch and dinner
Mini coffee tour with coffee degustation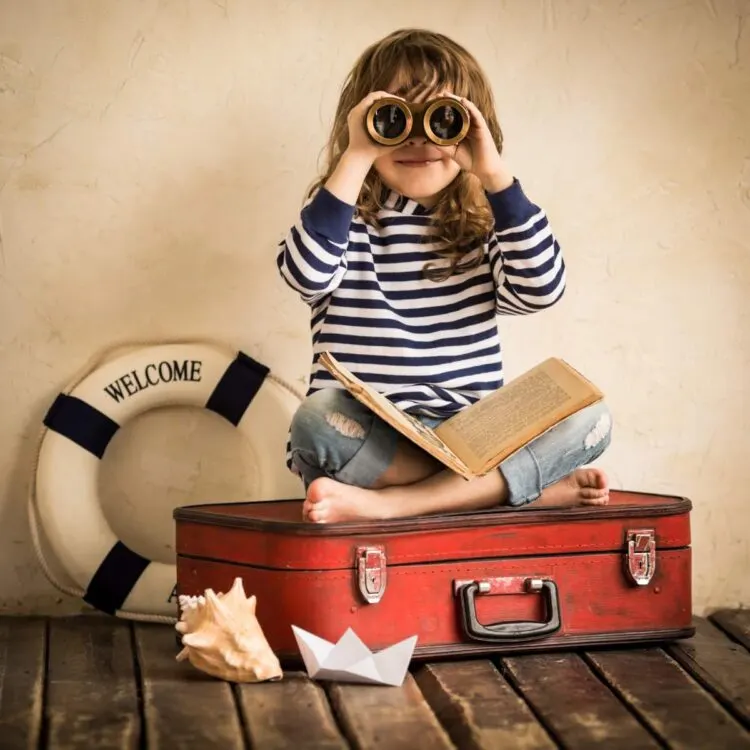 Protect your trip: With all our travel experience, we highly recommend you hit the road with travel insurance. SafetyWing offers flexible & reliable Digital Nomads Travel Medical Insurance at just a third of the price of similar competitor plans.