Hiking Arenal Volcano is an unforgettable adventure that allows you to discover some of the best views of the famous volcanic hotspot while wandering through the Costa Rican jungle! Check out our detailed guide to the best Arenal Volcano Hikes!
Costa Rica is one of the most beautiful countries in Central America and is home to several national parks—including Arenal Volcano National Park.
Therefore, Arenal Volcano is one of the most popular hikes in Costa Rica, and for a good reason.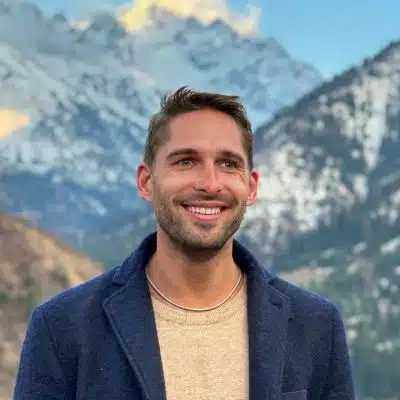 The Arenal Volcano hiking trails attract thousands of travelers to the park daily!
They allow hikers and horseback riders to walk through the lush wilderness surrounding Arenal and enjoy the spectacular views of its massive crater lake, crater lakes, and hot steam vents.
So, whether it's an Arenal Volcano hike on your own or you want to join some of the best guided Arenal Volcano hikes, here is the ultimate list of the best hiking trails that will give you the perfect opportunity to get some fresh air and experience Costa Rican nature firsthand!
We help you organize your dream vacation to Costa Rica
With our local tourism agency partner onboard, organizing a customized Costa Rica vacation has never been this hassle-free!
Share your travel dates, places of interest, and other details that would make your travel to Costa Rica simply memorable.
After completing this form, one of our Costa Rica experts will contact you. Tours, transport, other travel services – you name it, we'll arrange it!
Where is Arenal Volcano
Costa Rica's Arenal Volcano towers majestically above La Fortuna in the country's northwestern part. The Arenal Volcano is surrounded by the Arenal Volcano National Park, located within the Arenal Conversation Area.
The active volcano is easily accessible since it's just 3 hours away from San Jose, the country's capital!
About Arenal Volcano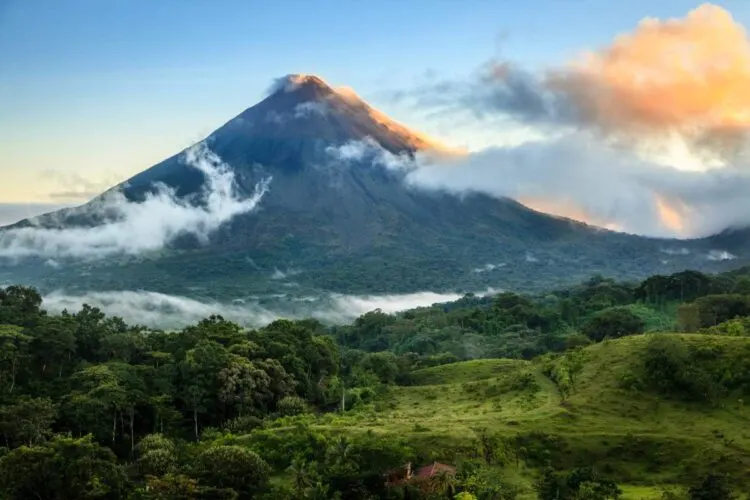 Since three craters on the Arenal Volcano blasted apart on July 29, 1968, destroying nearby villages and drastically altering the terrain, there have been continuous lava flows.
Crater C is still producing lava and frequently has explosions that produce volcanic gas emissions and eruptive material.
At night, you may see the mesmerizing sight of bright red and orange lava flowing out from the crater and down the volcano's sides. During the day, smoke and cinders are also visible.
Although the Arenal Volcano is highly active, this is only one aspect of the overall situation. The long-extinct Chato Volcano boasts an exquisite blue lagoon inside its collapsed caldera.
The fantastic landscape locals call Volcan Arenal comprises around fifty percent tropical rainforest.
Watch for animals as you travel across Arenal Volcano National Park. A wide range of animals, birds, reptiles, and other wildlife calls this incredible ecosystem home!
Tapirs, deer, vibrant parrots, toucans, and orioles are a few of the important wildlife species that call the area home. There are also curious white-faced capuchin monkeys and loud howler monkeys that can be seen!
All of these things make hiking Arenal Volcano an exciting and memorable experience! So, look at some of the best Arenal Volcano trails and prepare for the most fantastic Costa Rica Volcano hike!
Tip: Check out our Costa Rica Travel Guide – All you need to know to plan your vacation!
Best Hiking Trails in La Fortuna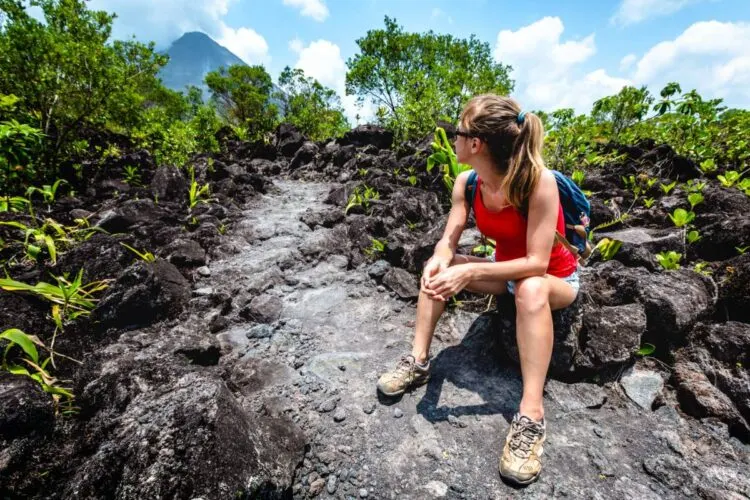 1. Arenal Volcano Hikes – Arenal 1968 Private Reserve
Difficulty Level: Moderate-Difficult
If you're looking for longer hikes and the lava flows are what you're most interested in, the Arenal 1968 Private Reserve is a great choice.
You may get fantastic views of the volcano and its lava fields from this point, located just north of Arenal Volcano National Park.
November through April are the ideal months to hike one of the two trails in this area!
Either trail is an excellent choice for taking in this distinctive terrain because they intersect close to an amazing perspective of the Arenal Volcano and Lake Arenal.
The old lava flows that have solidified into rock can also be seen, along with a few volcanic rocks left over from the 1968 eruption.
The shorter and simpler of the two is the Colada Trail. This easy 2.4-mile or 4-kilometer hike provides some of the best sights of Arenal Volcano, and the lava flows from the 1968 eruption, although sometimes a little challenging.
As you move toward the viewpoint, the path progressively ascends from a relatively flat beginning point.
The Bosque Trail, 3 miles or 4.7 kilometers long, takes you through meadows and thick forests before bringing you to the lava fields and volcanic vistas.
In addition to seeing some wildlife, you'll cross Lago Los Patos (Duck Lake), formed by the eruptions. This trail is substantially less visited and considered moderate to difficult, with some steep sections.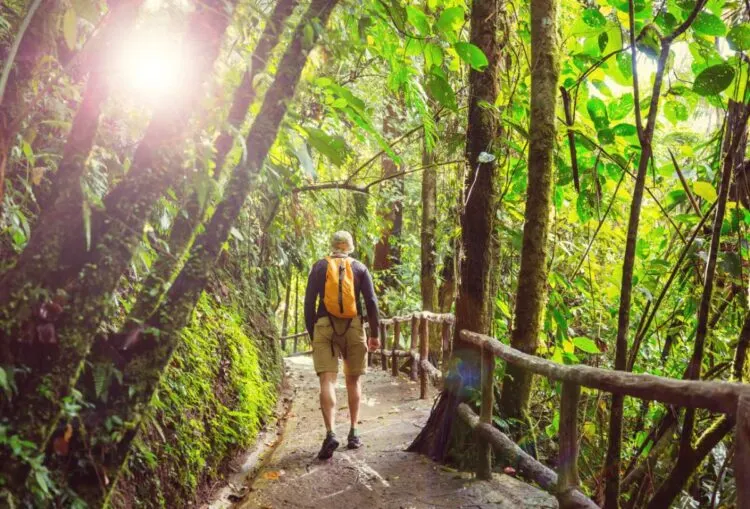 2. Arenal Volcano National Park (Main Sector)
Difficulty Level: Easy
Numerous hiking trails wind through secondary forests and old lava fields at Arenal Volcano National Park. The park's two designated hiking areas are the Main and the La Peninsula Sector.
The most visited routes with views of the volcano are in the Main Sector, while the La Peninsula Sector, which borders Lake Arenal, has paved pathways ideal for families with young children and people with mobility problems.
If you have the time, we suggest completing the entire route since the two main trails in this sector come together to form a scenic 2.5-mile loop. However, there is also a third hiking option!
This straightforward one-mile hike, also called the Lava Flow Trail, is a terrific choice to explore the old lava flows and witness how the forest has recovered after the eruptions.
You'll leave the woodland and enter the lava plains by taking a mostly flat path. You can reach an area with breathtaking views of both the Arenal Volcano and Lake Arenal after a short, steep trek up some rocky stairs.
The hike to the viewpoint begins at the point where the Lava Flow Trail finally meets the El Ceibo Trail. The 1.5-mile short, flat, and easy trek takes you to Sendero El Ceibo, a giant Ceiba tree.
The Heliconias Trail, which makes its own loop, draws fewer visitors than the other two choices.
However, with a completion time of only 30 minutes, this is the park's quickest path. This flat, easy hike takes you through a forest, but it doesn't provide vistas of a lake or a volcano.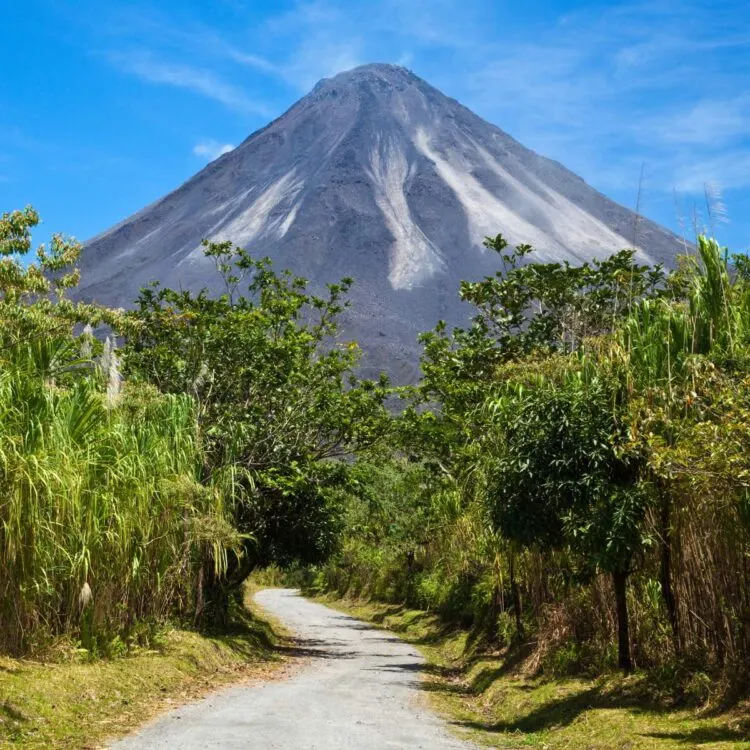 3. Arenal Volcano National Park (La Peninsula Sector)
Difficulty Level: Moderate
Consider hiking in the La Peninsular Sector, which has two main trails, if you're more fascinated by Lake Arenal or bird watching whilst also admiring volcanic scenery.
The La Peninsula Sector provides a flat, paved track less than one mile long. Even though the trail is paved, you'll still feel as though you're out in nature because of the lush woodland surroundings.
You can ascend to the top of a viewing tower about midway through the journey, which gives breathtaking views of Lake Arenal and Arenal Volcano.
Tororoi begins to the left of the La Peninsula entry, whereas Miradores begins to the right. Due to its steep fall at the beginning, this route presents a little bit of difficulty.
Five hundred meters into your descent into the forest will bring you to the Miradores Trail. You'll miss the lake views Even while you can go from Tororoi to the Peninsula's tip and reach the viewing tower.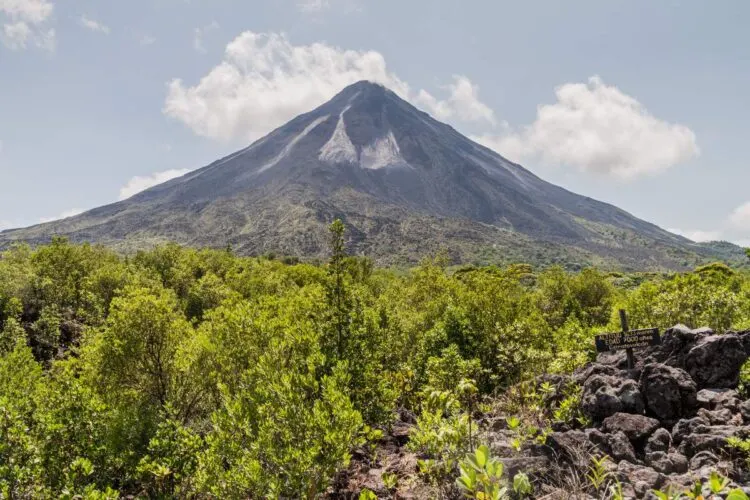 4. Arenal Observatory Lodge and Spa
Difficulty Level: Easy-Difficult
In addition to being a place to stay, the Arenal Observatory Lodge and Spa has 7 miles of hiking paths within its own private reserve.
You can easily access two viewing towers and two hanging bridges along these routes.
Within the reserve, there are five distinct hiking trails to choose from:
La Catarata (Waterfall Trail):
This trail takes you to a stunning 20-foot-tall waterfall.
The moderately challenging path is slightly over 0.5 miles or 1 kilometer long. Be aware that there are roughly 50 steps to descend to reach the waterfall's base.
Saino Trail (Peccary Trail):
You can reach the lodge's beautiful gardens by hiking this simple, flat, paved trail through the woods. The 650-meter track, slightly under 0.5 miles long, is a great place to see wildlife and birds.
This track is the hardest in the reserve despite being the shortest. The route travels into primary and secondary forests for just 0.25 miles or 450 meters. It's a fantastic trip for seeing wildlife as well.
Los Cangrejos Trail (The Crabs):
This simple to moderate hike is about 0.3 miles or 500 meters long and is perfect for those who enjoy forests. You can witness guava, naked Indian, cecropia, and pilon trees, to name a few.
Lava Vieja (Old Lava) Trail:
This walk is a little difficult because of the uneven terrain and the descent to the Agua Caliente River.
You can't go past the river since the high-risk section of the volcanic zone leads to the Arenal Volcano's base. You can see, though, how the local vegetation has regenerated after the eruptions.
Whether you're staying at Arenal Observatory Lodge or not, take advantage of your visit by participating in the daily 08:30 AM free guided morning trek, which covers a section of all the paths.
You'll walk down to the river, cross hanging bridges, see wildlife, take in the waterfall, and so much more!
Tip: Need ideas for your Costa Rican adventure? Learn about the best things to do in La Fortuna!
Best Arenal Volcano Hikes Tours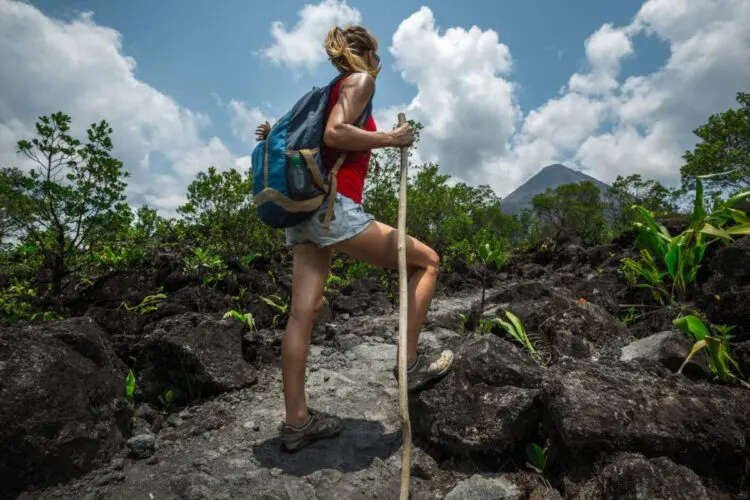 While you may independently explore the region around Costa Rica's Arenal Volcano, guided tours give you much greater access to various experiences.
If you enjoy exploring new places and you're someone who loves adventure, we recommend booking a guided hike to discover Arenal Volcano and enhance your overall experience!
Local experts are trained to lead the trip along the trails, point out local species, explain the 1968 eruption, and highlight the flora and fauna of the area.
In addition, many guided activities offer transport to and from the trails, making tours a convenient and hassle-free option!
So, let's take a look at some of our favorites and help you book your ultimate Arenal Volcano hiking experience!
Tip: Staying in La Fortuna? Discover the Top La Fortuna Day Trips and Tours here!
1. Arenal Volcano Hike (The petrified Lava Trail)
This first Arenal Volcano Hike (The petrified Lava Trail) is an easy stroll rich with history, wildlife, and breathtaking scenery.
Driving to the western side of the volcano is the first step on the Arenal Volcano Tour! You will be picked up from your accommodation and taken to the beginning of the hiking trail.
Along with free transportation, this tour also includes admission to the park and some snacks and beverages for you to enjoy along the route!
Once there, you will begin a journey along the Los Tucanes Trail, which spans a sizable lava flow from 1992 and traverses a rainforest.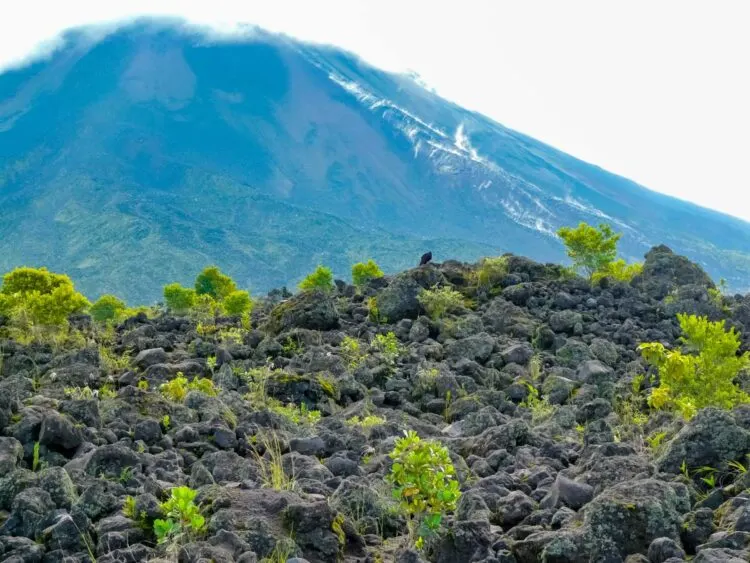 Numerous types of vegetation, animals, and stunning lava formations can all be seen on this magnificent hike!
You will enjoy a stunning view of Arenal Lake once you are atop the lava flow. The hike finishes at a viewing location where, if the weather cooperates, you can enjoy breathtaking views of the Arenal Volcano!
The tour will be led by knowledgeable bilingual guides sharing intriguing facts about the spectacular mountain's past and information about the Arenal Volcano National Park.
The tour closes with a leisurely stop at the hot springs, but guests are not required to do so because admission to the hot springs is not included in the tour price.
Click here for more information, photos, and to make a booking.
2. Arenal Volcano Hike, Hanging Bridges & Waterfall
On this exciting Arenal Volcano Hike, Hanging Bridges & Waterfall tour, you will get a full day of hiking all the way to Arenal Volcano, walk over hanging bridges, and witness the magnificent waterfall of La Fortuna!
You will get to explore the region's flora and fauna, swim in the water at the foot of the waterfalls, and hike in the forest.
Take exhilarating hanging bridge hikes as you meander through the rainforest. Enjoy this beautiful park's many interconnecting hanging bridges and the opportunity to immerse yourself in nature entirely and get a birds-eye perspective of the beautiful jungle.
On this journey, you will come down 500 stairs to reach the beautiful waters of the famous La Fortuna waterfall.
You may take in the canyon's beauty as you descend the stairs. After arriving at the falls, you can swim and relax before returning to the route.
After a relaxing trek and swimming at the waterfall, replenish with the best supper in Costa Rica, made with organic and regional farm fare. Then, spend time at a family ranch and make new friends while learning about the local way of life!
Then, it's time to resume your day's travel and continue towards the volcano after enjoying a homemade meal.
You will be hiking along lava paths to get as near this massive volcano as possible. Book this fantastic tour to explore the rainforest, the rich wildlife, culture, incredible scenery, and intriguing past!
Click here for more information, photos, and to make a booking.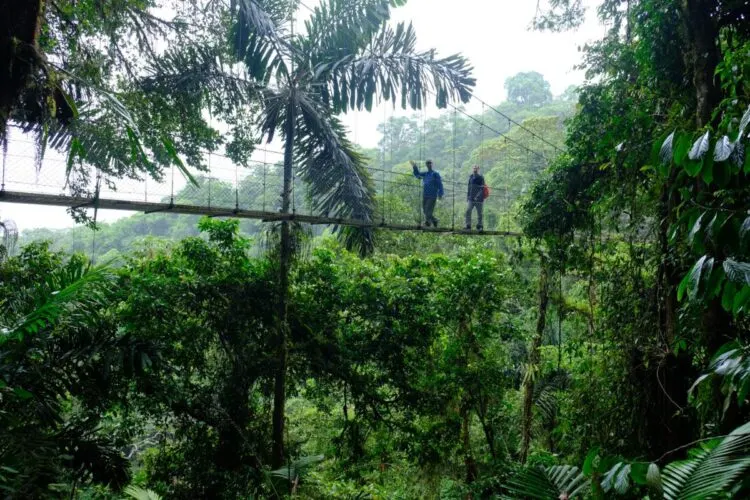 3. Arenal Volcano Hike 3.5-Hour Rainforest Natural History Walk
During your stay in La Fortuna, take a day trip by booking this Arenal Volcano 3.5-Hour Rainforest Natural History Walk to explore the volcano and its surroundings!
A naturalist guide will take you on a 3.5-hour stroll through the El Silencio Mirador nature reserve to learn about the natural history of the rainforest. You can take in the spectacular scenery of the Arenal Volcano while listening to the lava flows!
On this thrilling excursion, you will hike through the primary rainforest close to Arenal National Park.
Hikers can witness a wide range of local flora and animals along the trail, including old-growth trees like ceiba, guarumo, and trumpet.
The devastation of the 1992 lava fields and the 1968 volcanic eruption will be visible as you hike through these places.
The volcano's ongoing activity, including its intermittent eruptions and lava flows, can be heard while in the park.
On clear days, you may enjoy a stunning view of the spectacular Arenal Volcano, the Arenal Lagoon, and the extinct Cerro Chato volcano. At night, lava flows can be seen streaking down the side of the Arenal Volcano in red, hot, molten lava.
Click here for more information, photos, and to make a booking.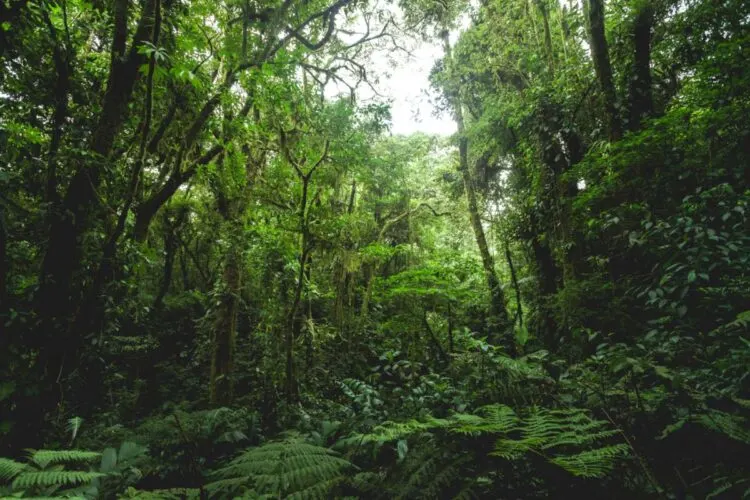 4. Arenal Volcano Hike
Experience the breathtaking landscape of Arenal, one of Costa Rica's most active volcanoes, on this guided Arenal Volcano Hike! A professional guide will provide information about the incredible natural history as you go down the volcano's base.
There are over 112 volcanoes in Costa Rica, with Arenal Volcano being one of the most active. Lava flow, eruptions, and pyroclastic clouds frequently occurred between 1968 and 2010. And if this interests you, you can hear all about it!
Take an exhilarating journey on its trails, taking you to the historic lava fields and some spectacular viewpoints while a breathtakingly magnificent landscape surrounds you.
You will learn about the natural sites you encounter during the walk from your experienced nature guide, who will also give you some background on the volcano's past.
Click here for more information, photos, and to make a booking.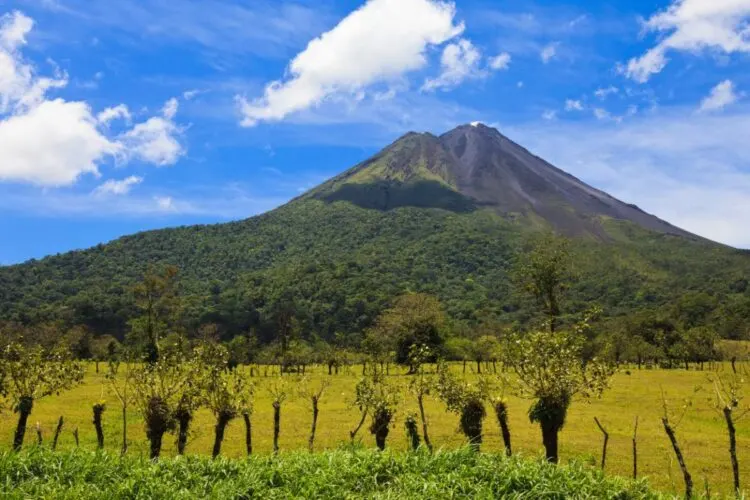 5. Río Celeste National Park Hike
Join this Río Celeste National Park Hike through the stunning tropical rainforest and witness the beauty of the magnificent Río Celeste waterfall!
After being picked up in La Fortuna, you will be driven to the Rio Celeste National Park, where you can use the restrooms to get ready and visit the information desk onsite.
After that, you'll start a journey through the Rio Celeste National Park's surrounding beautiful, dense tropical rainforest. The trail is around three miles long and rated as intermediate.
You can travel at your own pace with your naturalist guide while learning intriguing facts about the jungle.
The waterfall's name, "Celeste," comes from the celestial, turquoise water created at "Los Teñíderos," where two rivers merge.
As you make your way back through Rio Celeste National Park, you will stop at the "Ollas," or mud baths, and unwind in the nearby hot springs.
You will then proceed further to witness the magnificent Rio Celeste waterfall, the ideal location for pictures, as the grand finale!
After the hike, enjoy a fantastic lunch at a nearby restaurant before returning to La Fortuna!
Click here for more information, photos, and to make a booking.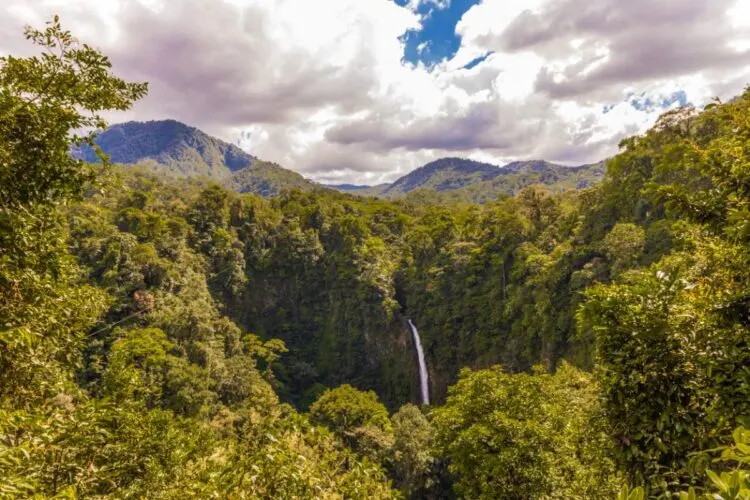 6. Half-Day Arenal Volcano Hike
The Half-Day Arenal Volcano Hike takes you on 3.1 miles of trails through Arenal Volcano National Park with various primary and secondary forest vegetation!
This point is one of the best places to view the Arenal Volcano. In addition to seeing a variety of plants, wildlife, volcanic rock formations, and Lake Arenal, you will have the opportunity to observe a variety of volcanic rock formations.
It is a historical walk where you'll learn about the Colossus of Arenal and its economic and cultural importance.
The hike is intended for the whole family and doesn't have many ups and downs; however, the goal is to reach a Dry Lava Field, the rockier part of the hike.
This is the most significant climb of the program, and it's a 6-kilometer trek around the volcano's base.
Book this tour and appreciate the natural beauty of Arenal Volcano's base while hiking around it, learning important details about its past, and experiencing the differences between a primary and secondary forest!
Click here for more information, photos, and to make a booking.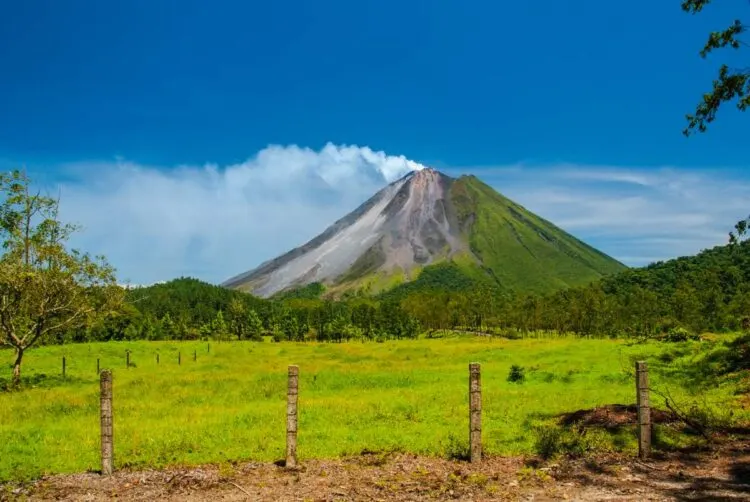 7. Juan Castro Blanco National Park Guided Hike
Book this Juan Castro Blanco National Park Guided Hike and get the ultimate hiking experience through the cloud forest!
Leave La Fortuna and go across the San Carlos Plains to Juan Castro Blanco National Park, also called the "National Park of Water." Your guide will take you through breathtaking landscapes as you learn about the region.
You will visit Juan Castro Blanco National Park, which is more than 2000 meters above sea level and is surrounded by magnificent cloud forests. Take this hike that offers the opportunity for birdwatching and stunning scenery!
Discover a fantastic area for birdwatching and get the chance to witness the magnificent quetzal in its natural habitat. Also, learn about the cloud forest and its relevance to the entire northern region of Costa Rica.
Before your return trip, round out your tour with a wonderful lunch amid Costa Rica's cloud forest!
This Juan Castro Blanco National Park Guided Hike offers everything you need for an unforgettable guided tour:
Free and comfortable transportation from your La Fortuna accommodation
Experienced guide
Entrance Fee to the National Park
Bottled water
Snacks
Lunch
Walking sticks
Insurance
Click here for more information, photos, and to make a booking.
Tip: Want to experience more of Arenal and its surrounding area? We also recommend booking this Arenal Volcano and Tabacon Hot Springs Costa Rica Tour from San Jose!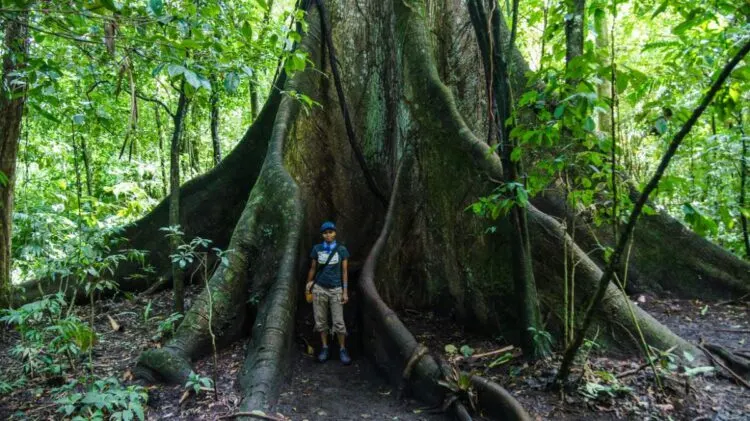 Frequently Asked Questions about Arenal Volcano Hike
Best VPN for Travel: ExpressVPN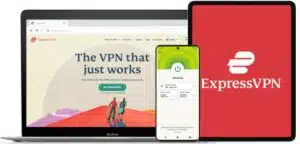 Heading abroad? Use ExpressVPN to access your social media accounts, unblock your favorite entertainment sites, and stay connected with friends and family. And get cheaper flights, of course.
Pros
✅ Next-gen, high-speed servers in 94 countries
✅ Works on iOS, Android, Windows, Mac, Linux, browsers, and more
✅ 256-bit AES encryption protects your data, even on hotel Wi-Fi
✅ Unblocks Netflix and other streaming sites
Cons
❎ No dedicated IPs
Get 3 extra months free of ExpressVPN when signing up for a 1-year plan. That's a 49% saving and a monthly cost of just $6.67! You also get a 30-day money-back guarantee.
What is the best Arenal Volcano hike?
The private reserve known as Arenal 1968 is one of the best trails for hiking the Arenal Volcano. It has stunning views of the lava fields and Arenal Volcano and is directly next to the national park.
Is the Arenal Volcano hike worth it?
One of Costa Rica's most popular national parks, Arenal Volcano National Park, has several hiking paths and viewing areas, making it a wonderful day trip from La Fortuna. Additionally, it's a fantastic way to get up close and personal with an active volcano.
How difficult is the Arenal Volcano hike?
The walk leading to Arenal Volcano is a leisurely, easy one with several highlights like an old lava flow and huge ceiba trees.
What is the best way to see the Arenal Volcano?
Book a horseback riding tour! Routes usually circle Arenal and climb to some stunning vistas of the volcano!
What is the best month to visit Arenal, Costa Rica?
The months of September and October are ideal for visiting Arenal.
How many days do you need in Arenal, Costa Rica?
Most tourists who travel to Arenal spend 8 to 10 days there, typically including time in Manuel Antonio and Monteverde. If you don't want to visit Manuel Antonio or Monteverde, a 4- to 5-day trip to Arenal is sufficient.
How long is the hike to the volcano?
The hike to the Arenal volcano can take two to three hours each way.
Can you see lava at Arenal?
Visitors won't currently be able to watch lava running down its slopes or find ash plumes rising from the top. Nevertheless, this area has a lot to see and do, including horseback riding, whitewater rafting, and walks into the jungle.
Is Arenal too touristy?
Arenal is one of the most popular tourist destinations in Costa Rica and offers everything! Although there are many tourists in this area, you can still feel like you are in a local town because most of the businesses are run by Costa Ricans.
How much does it cost to go to Arenal Volcano?
The entrance to Arenal Volcano Park is USD 15 per person.