La Fortuna Waterfall is among the world's most spectacular tropical waterfalls set deep in the heart of Costa Rica. In this guide, we will help you discover everything you need to know to experience the unmistakable beauty of La Fortuna Waterfall, Costa Rica!
Costa Rica is known for its lush rainforests, stunning national parks, pristine beaches, massive volcanoes, and abundant wildlife.
And La Fortuna Waterfall is one of the country's most spectacular natural wonders that should be on top of your list for the next trip to Costa Rica!
Best VPN for Travel: ExpressVPN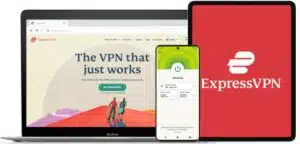 Heading abroad? Use ExpressVPN to access your social media accounts, unblock your favorite entertainment sites, and stay connected with friends and family. And get cheaper flights, of course.
Pros
✅ Next-gen, high-speed servers in 94 countries
✅ Works on iOS, Android, Windows, Mac, Linux, browsers, and more
✅ 256-bit AES encryption protects your data, even on hotel Wi-Fi
✅ Unblocks Netflix and other streaming sites
Cons
❎ No dedicated IPs
Get 3 extra months free of ExpressVPN when signing up for a 1-year plan. That's a 49% saving and a monthly cost of just $6.67! You also get a 30-day money-back guarantee.
While La Fortuna Waterfall isn't the largest waterfall in Costa Rica, it does offer an exciting dive into the local culture, history, and lush natural surroundings that are part of Central America's adventure paradise.
With its exquisite natural setting, this waterfall is one of the best things to do in La Fortuna, Costa Rica, for a good reason – the gorgeous slopes and rain-soaked cascades will allow you to experience the magic of Costa Rica's Central Valley.
If you want to see the famous waterfall for yourself or simply want to swim in its refreshing pools, our detailed guide will tell you everything you need to know!
Do you need help organizing your Costa Rica vacation?
With our local tourism agency partner onboard, organizing a customized Costa Rica vacation has never been this hassle-free!
Share your travel dates, places of interest, and other details that would make your travel to Costa Rica simply memorable.
After filling out this form, one of our Costa Rica experts will contact you. Tours, transport, other travel services – you name it, we'll arrange it!
Where is La Fortuna Waterfall
La Fortuna Waterfall is situated in the Alajuela Province of central Costa Rica, about 5.5 kilometers from the town of La Fortuna. La Fortuna National Park is home to the magnificent falls tucked away at the foot of a tall, rocky mountain range.
About The La Fortuna Waterfall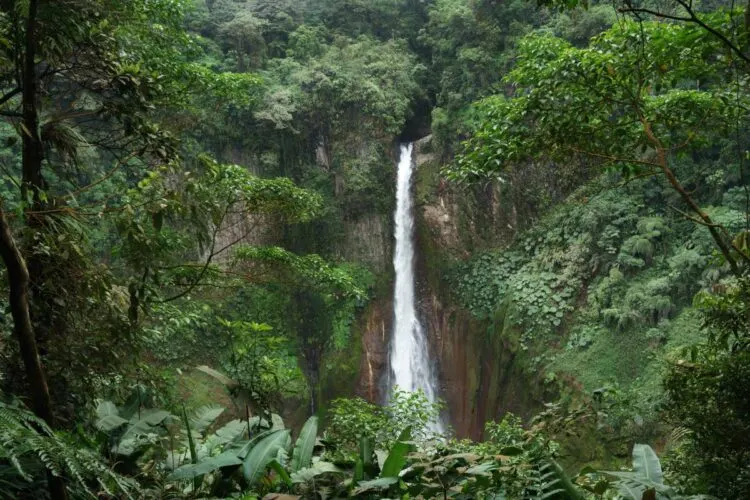 Visitors from around the world flock to La Fortuna Waterfall in Costa Rica as one of their top attractions. It is undoubtedly Costa Rica's most visited waterfall and a breathtaking sight to witness.
The name La Fortuna means "the fortune" in English, and everyone who has the chance to see the waterfall is indeed fortunate!
The Ecological Reserve Fortuna Waterfall is home to La Fortuna Waterfall, which is close to Arenal Volcano National Park. Small but beautiful, this protected zone is home to 210 acres of transitional premontane tropical forest.
The waterfall in the Arenal Mountain range flows through a tropical rainforest before dropping astonishingly 246 feet or 70 meters down a sheer cliff and into the pool below.
The Fortuna River feeds the waterfall, which cascades down the cliff and into a crystal-clear pool of turquoise water.
The surrounding jungle, with its enormous boulders, flowers, and foliage, offers stunning sights and sensations for visitors to take in!
In addition, the setting is so serene that you could easily pass the entire day sitting in the sun and taking in the refreshing mist of the falls.
The waterfall and its surroundings are protected and managed using all money collected from visitors.
In actuality, the Integral Development Association of La Fortuna, a non-profit, is in charge of maintaining the La Fortuna Waterfall. This safeguards the waterfall and promotes environmental education in the community.
The visitor center at La Fortuna Waterfall contains restrooms next to the parking area, a small café, and a souvenir shop.
Since there aren't any facilities near the waterfall, we recommend using those at the entrance before beginning your hike.
How To Get To La Fortuna Waterfall, Costa Rica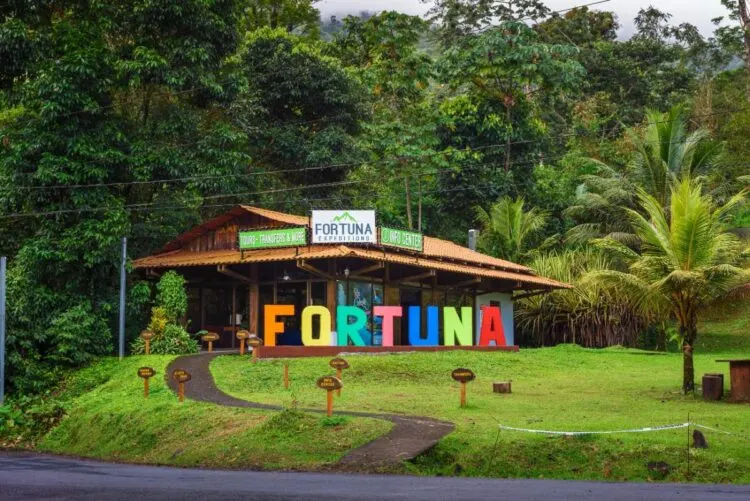 Since there isn't a public bus that goes directly to the waterfall park, you can either drive yourself with a car rental or take a taxi to get to the La Fortuna Waterfall.
The taxis from La Fortuna town will cost approximately USD 15 one way. In addition, Uber is also available in La Fortuna, so you can use the app to make a call and get a ride.
The roads are well-kept, and if you type the address into Google Maps, you'll have no trouble reaching the visitors' center.
La Fortuna Waterfall Address: C8RM+R2 La Fortuna, Alajuela Province, San Carlos, Costa Rica
The entrance to La Fortuna Waterfall park is roughly a ten-minute drive from the city center and is about 6 kilometers or 3.7 miles away.
From the town, proceed south on the road and across a small bridge. After approximately 4 kilometers, turn right, and you will see a big sign pointing to the waterfall. To get to the entrance, travel another 5 kilometers on this road.
Once you reach the park, there is a large parking space, restrooms, a little café, and a souvenir shop at the entrance.
And the good news: parking is free!
We suggest arriving early to secure a parking spot because this location is quite popular!
Tip: Want to visit the La Fortuna Waterfall in Costa Rica? Take a look at the 10 Best Hotels in La Fortuna and book your accommodation early!
The Hike To La Fortuna Waterfall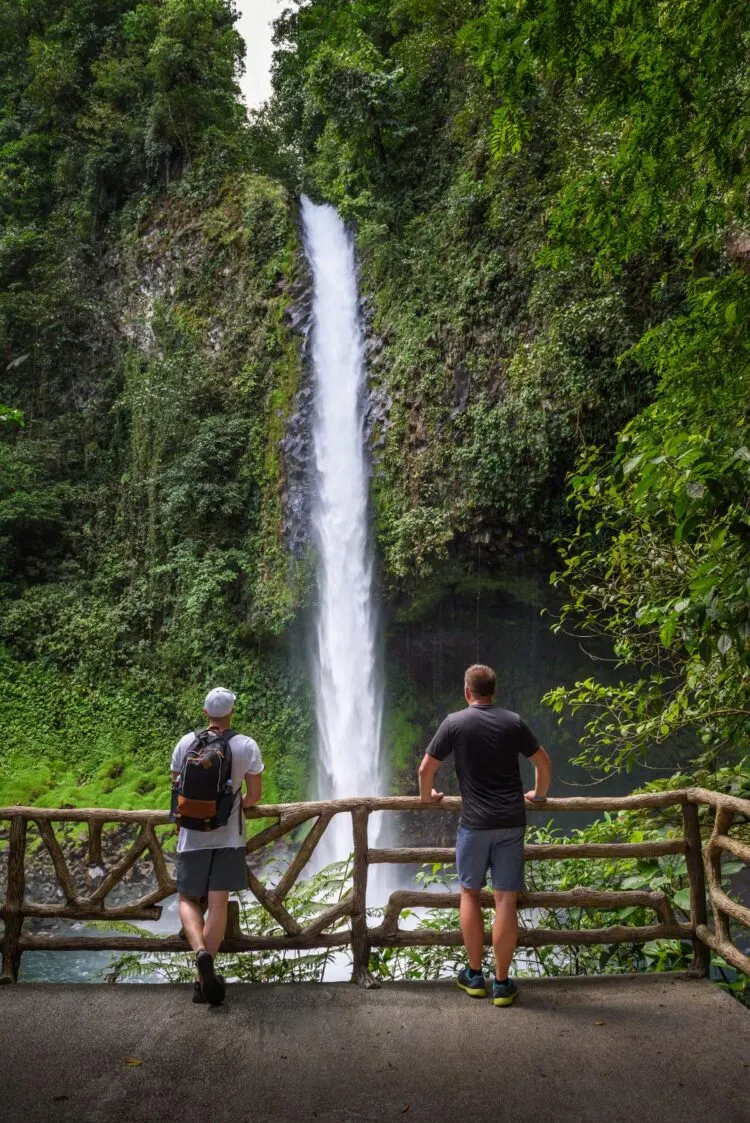 To get to La Fortuna Waterfall, you must do some hiking first! The hike to La Fortuna Waterfall takes about 15 minutes on the way down and about 30 minutes on the way back up.
In each direction, the distance is roughly 0.75 miles or 1.2 kilometers. However, it's not the distance but rather the 500 stairs that make this trail challenging for some!
Upon arriving at the entrance, you must purchase your ticket, pick up a wristband, and walk through the gate. You can proceed with the hike upon verifying your ticket at the gate!
A big platform with a view of the falls and the surrounding jungle is provided at the beginning of the hike, roughly 200 meters from the entrance.
You can see a lot of the region from this spot and how gorgeous the waterfall is from above, which is a terrific view!
After leaving the observation deck, turn left to start the staircase's descent to the falls' base. The trail is paved at the beginning of the climb, but as you lower, the stairs switch to wood, metal, concrete, and, finally, rocks.
Reaching the falls' base requires going down 530 steps. Railings and many benches are available if you need a quick break.
Switchbacks and a straight downhill stretch make up the initial half of the trek. The stairs will become slick near the end of the hike, and you may feel the refreshing mist from the falls- that's how you know you are close!
Upon reaching the bottom of the stairs, there is a bridge, and on the right side, you will see the waterfall.
Follow the trail downstream as soon as you've taken all your pictures and soaked in the gorgeous view. After walking for about 30 seconds, you'll find an oasis full of natural pools and small rapids.
This is the time to break out your swimsuit and swim in the gorgeous pools!
Know Before You Go: La Fortuna Waterfall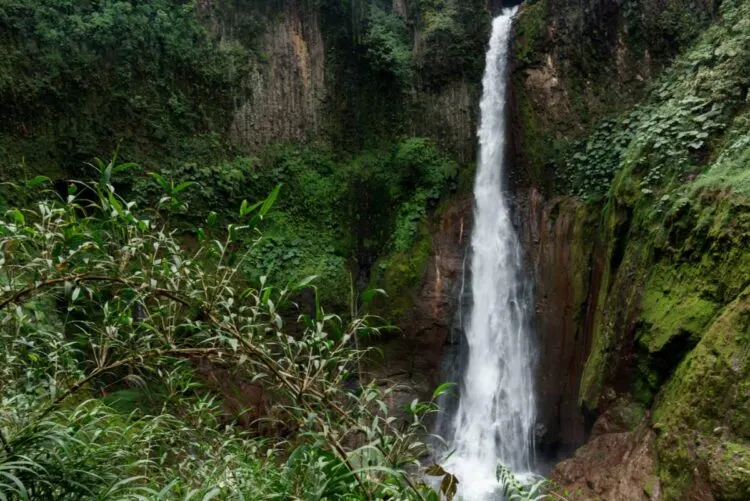 La Fortuna Waterfall Entrance Fee:
USD 18-Adults
USD 5-Children
Credit cards and cash are both accepted!
Hours Of Operation:
You can visit the La Fortuna Waterfall every day from 07:30 AM to 04:00 PM.
Best Time to visit La Fortuna waterfalls:
We advise visiting the La Fortuna waterfalls either in the early morning or late in the evening before the park shuts if you want to take advantage of all that La Fortuna Waterfall offers while avoiding some of the biggest crowds.
You'll be able to appreciate nature's splendor without having to contend with the tourist crowds that arrive at about noon.
And when it comes to the ideal time of year to visit, there is no wrong or right answer. La Fortuna Waterfall is active all year and attracts tourists non-stop!
Can you swim in the La Fortuna waterfall?
The La Fortuna waterfall does allow swimming. But it's chilly in there!
Remember to stay by the rocks because the current is very strong when the water falls into the pool. Avoid swimming towards the cascade by staying farther out in the pool.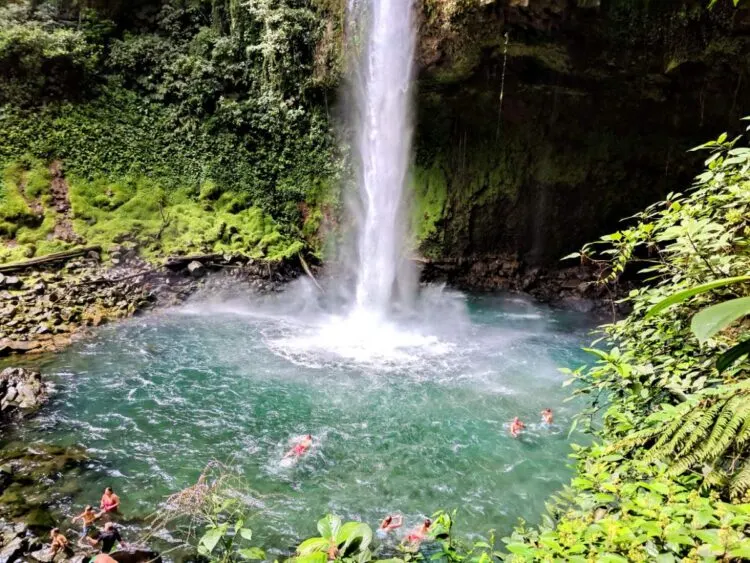 What to bring to La Fortuna waterfalls:
First and foremost- bring money. You will need either cash or a credit card to pay the entrance fee and buy food and souvenirs.
Good hiking shoes! Because Costa Rica experiences heavy rains, this region's staircases are usually wet and slippery. It is the same with the boulders around the pools surrounding the waterfall. In this case, it is crucial to have shoes that have some grip so that you won't fall.
Swimsuits are recommended if you plan to swim in the pools below the waterfalls.
Water! Make sure you pack at least one bottle of drinking water for each person since there won't find any once you go down the stairway. You'll need to hike and restore the fluids your body lost due to the humidity.
Food and snacks. Since you can only purchase food at the visitors center cafe, pack a light snack to keep you energetic.
La Fortuna Waterfall Tours
You can always visit and hike to the La Fortuna Waterfalls in Costa Rica on your own.
However, if you want to make the most of your visit, we highly recommend you book a guided tour, get a day full of activities, and experience the La Fortuna Waterfalls to the fullest!
There are many day trips and guided tours to choose from, and these are some of our favorites!
Trust me, you can't go wrong with any of them!
Check out the Top La Fortuna Day Trips and Tours: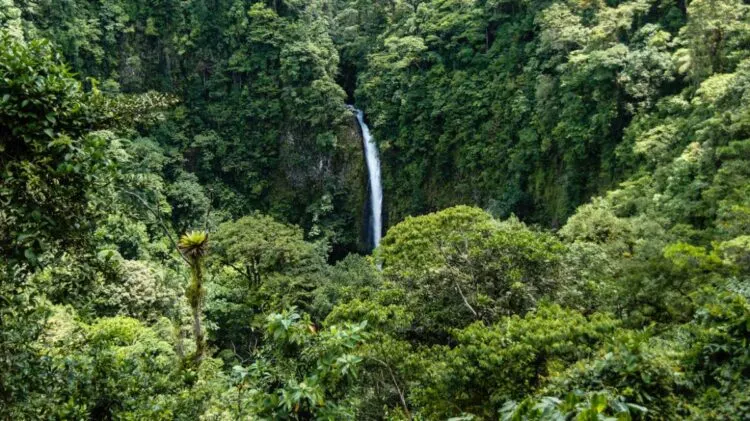 1. La Fortuna Waterfall, Arenal Volcano, and Hot Springs Tour
Take a guided hike to explore La Fortuna's natural surroundings! The first La Fortuna Waterfall tour is the full package, and it can't get better than this!
With this tour, you will be picked up from your accommodation and taken to the start of the forest walk.
You'll be astounded by the dense foliage covering the 70-meter-high walls of the magnificent La Fortuna waterfall, the enormous volcanic rocks at its base, and the water rushing down in its incredible pool!
Here, you may take a swim or simply enjoy the beauty of this place.
Later, you will continue your journey to the tiny village of the Maluku Indians, where you may take a break and relax as the expert tour guides share the Malukus culture, art, and history!
You will finally get to enjoy a delicious lunch and end your trip at the natural hot spring resort after all that touring!
A complimentary beverage and a volcanic mud facial are included as you unwind in its calming warm water for around an hour.
After the day trip, a drive back to your accommodation is also included!
Book this La Fortuna Waterfall, Arenal Volcano, and Hot Springs Tour and get the full experience for only USD 90!
2. La Fortuna Waterfall, Volcano, and Hanging Bridges Combo
With this La Fortuna Waterfall, Volcano, and Hanging Bridges Combo Tour, you can take advantage of pick-up at your accommodation in La Fortuna and proceed to Arenal Volcano to trek the routes encircling the impressive peak!
Reconnect with nature in the Arenal Volcano National Park, home to most of Costa Rica's 850 bird species. Jaguars, deer, and white-faced capuchin monkeys are a few other animals to watch!
Admire the breathtaking scenery of a secondary rainforest at the park's base and a primary rainforest with incredible species among the hanging bridges.
Mistico Park has a network of 15 suspension bridges with varying degrees of difficulty that you can use to traverse the jungle.
When you finally reach the La Fortuna waterfall, you can take a swim to cool down and take some fantastic photos!
Book this La Fortuna Waterfall, Volcano, and Hanging Bridges Combo Tour and join this adventure!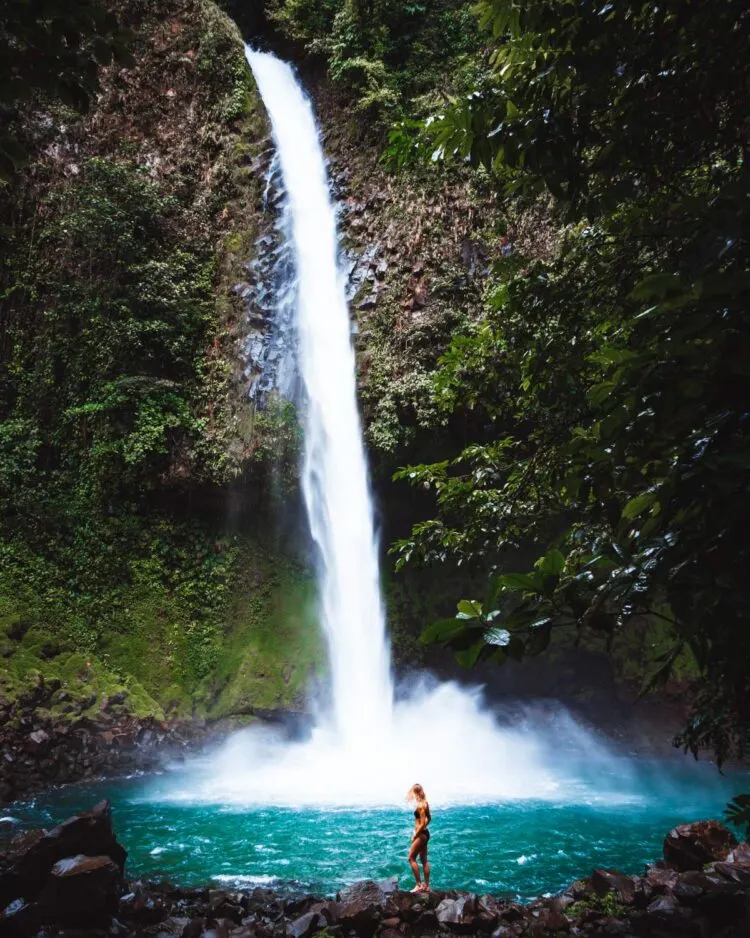 3. Arenal Horseback Riding to La Fortuna Waterfall
Our last recommendation is this La Fortuna Waterfall tour which will allow you to embark on a horseback ride through Arenal Mundo Aventura's nature park to enjoy the beauty and biodiversity of La Fortuna.
Visit the only nature reserve directly accessing the La Fortuna Waterfall and enjoy the unique scenery.
On the horseback ride from La Fortuna, you will have the opportunity to explore the lush rainforest surrounding Arenal Volcano by channeling your inner jungle explorer.
As you ride a tame and trusted steed along a stunning river canyon trail, your guide will tell you stories about the animals and the scenery.
Next, you will visit the Pino Blanco Waterfall and the La Fortuna Waterfall, where you'll be captivated by the scenery and the mesmerizing cascades.
After you enjoy swimming at the base of the falls, you will finish your journey with a visit to a Maleku village and learn about Costa Rican Indigenous cultures.
Book this Arenal Horseback Riding to La Fortuna Waterfall Tour and take in the natural beauty through the stunning Arenal Mundo Aventura's park!
Tip: San Jose is another popular starting point for the tours to La Fortuna. So, check out this Arenal Volcano and Tabacon Hot Springs Costa Rica Tour from San Jose!
Frequently Asked Questions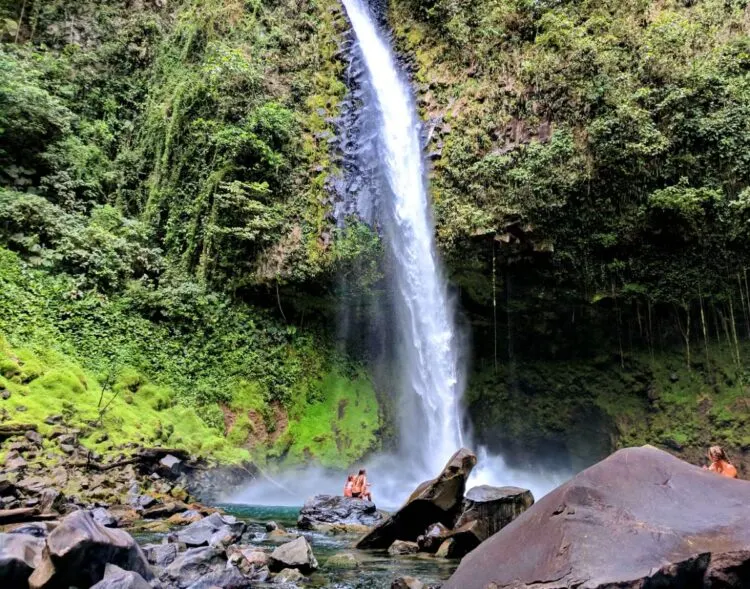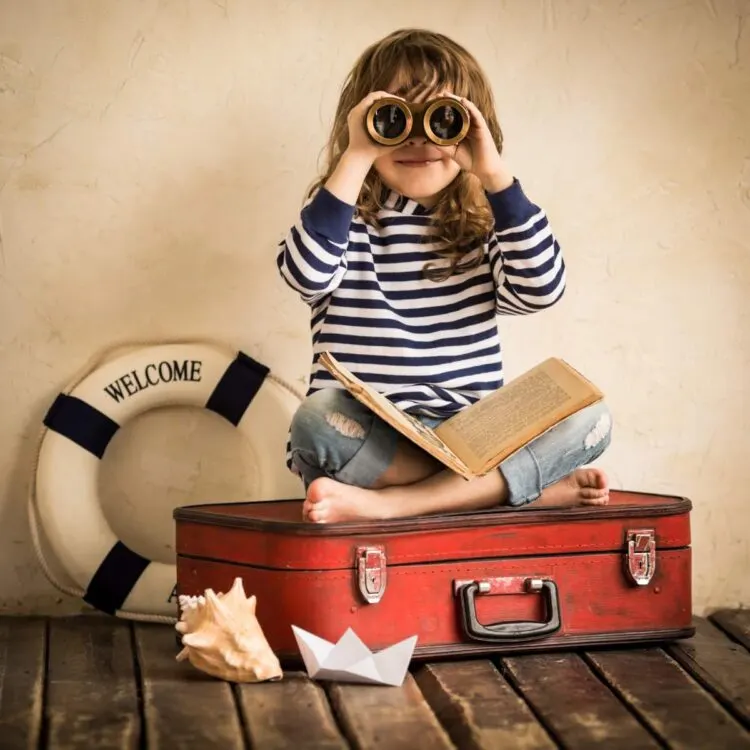 Protect your trip: With all our travel experience, we highly recommend you hit the road with travel insurance. SafetyWing offers flexible & reliable Digital Nomads Travel Medical Insurance at just a third of the price of similar competitor plans.
How long is the hike to La Fortuna waterfalls?
From the overlook, it takes only around 15 minutes to walk to the waterfall. The 500-step climb back could take anywhere from 30 to 40 minutes.
How long is La Fortuna Waterfall?
The La Fortuna Waterfall is 70 meters high. Visitors must ascend a trail of around 530 steps in order to view this magnificent 70-meter-high waterfall. This path offers increased security for its passage and comfortable spots for resting and rehydrating through a forest with local trees.
Is a ticket required to enter La Fortuna Waterfall?
Entry to the La Fortuna Waterfall is USD 18 for adults and USD 5 for kids. It's important to know that they accept credit cards and cash!
Where can I get a free view of La Fortuna Waterfall?
Go to El Salto if you aren't willing to pay USD 18 for the waterfall or prefer something more local. At the Fortuna River, there is a free swimming area with a rope swing. Although you can swim in the river, you cannot see the falls.
How challenging is the climb to La Fortuna Waterfall?
The hike takes 22 minutes on average to accomplish what is typically thought of as an easy journey. Since hiking and strolling are fairly popular activities here, you can run into other people while exploring.
Is La Fortuna worth visiting?
In summary, La Fortuna is definitely worth visiting! Yes, it is pricey, but some things can be done on a tight budget.
What's the best way to see La Fortuna Waterfall?
According to travelers, the best ways to experience La Fortuna Waterfall is by booking a guided tour! Book one of the many available day traips, and have an unforgettable experience at La Fortuna Waterfalls!
Do you need to book La Fortuna Waterfall tickets in advance?
Since La Fortuna Waterfall can get crowded, we recommend purchasing e-tickets in advance to guarantee your place!
Is La Fortuna Costa Rica safe?
Yes, visiting La Fortuna is highly safe for tourists. In fact, it's one of Costa Rica's safest locations overall.
How do you get to the waterfall in La Fortuna?
About 5.5 miles from the town of La Fortuna, in the center of Costa Rica, is where you'll find La Fortuna Waterfall. You can either drive independently or take a taxi to get to the falls' entrance. From the village of La Fortuna, a cab will cost you about USD 15 one way.
Is La Fortuna Waterfall inside Arenal National Park?
The Arenal Volcano National Park contains a biological reserve with 210 acres of transitional premontane tropical wet forest where the Fortuna River waterfall is situated.
Is La Fortuna Waterfall crowded?
La Fortuna Waterfall is a major tourist and local landmark, and it is one of the most common attractions to see in La Fortuna.
The waterfall is quite crowded during the peak season, which runs from December to April, and is regarded as the perfect time to visit Costa Rica.