All the best hotels in La Fortuna have three things in common: a spectacular view of nature, a guest-centered brand of service, and a desire for sustainable tourism.
No matter how different they are in classification – may they have five stars or three – every outstanding Arenal hotel strives to be one with the tropical paradise Costa Rica offers.
Best Luxury Hotels in La Fortuna
1. Nayara Resort Spa & Garden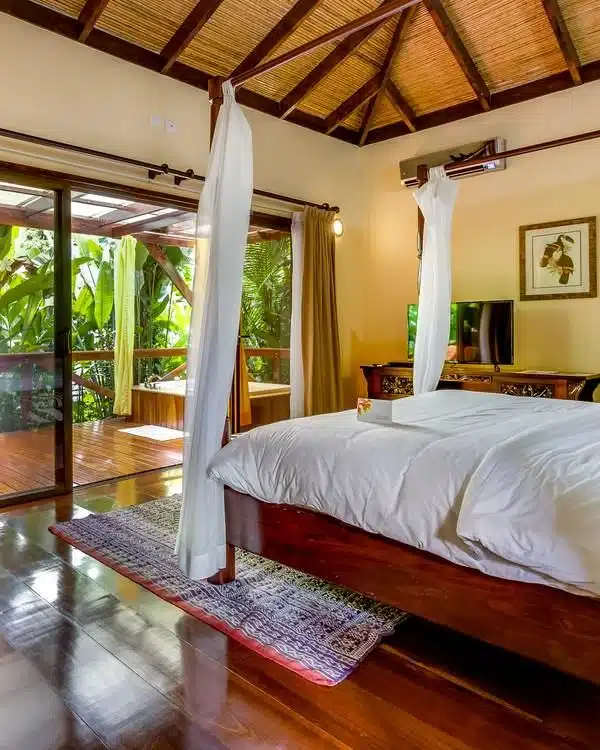 Nayara Resort, Spa, and Gardens is a luxurious getaway set amidst the splendor of the Arenal Volcano and one of the Best Hotels in La Fortuna.
It is highly regarded for its impeccable rooms, world-class amenities, and quality service that are notably consistent.
The whole property is surrounded by the rich rainforest Costa Rica is known for, from the pool to the decks that connect each sweet spot.
Nayara is a luxury hotel with standards that are gauged in nothing but their own best.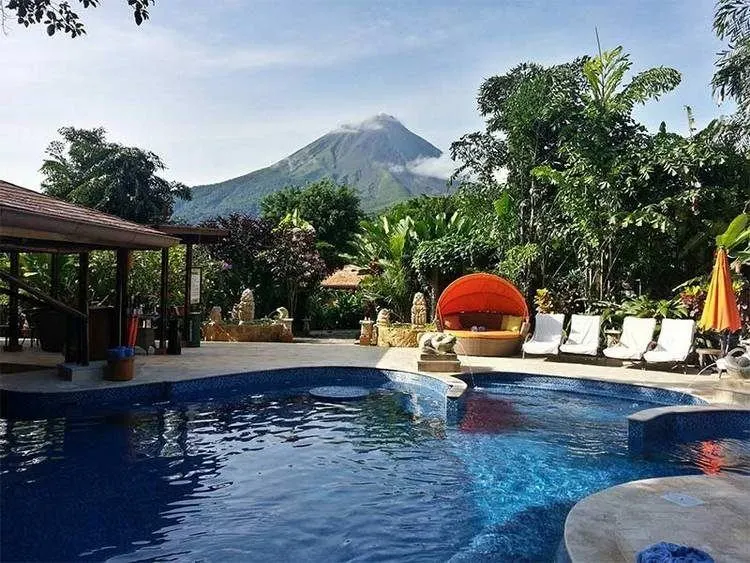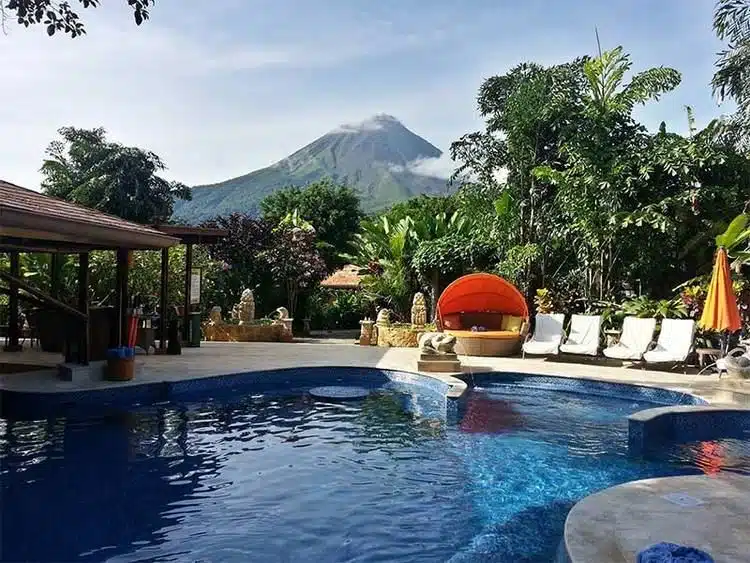 The Rainforest Villa stands out among the rest. It is designed as an octagon, allowing natural lighting to beautify the space.
Inside is an oversized jacuzzi with a captivating view of the Arenal Volcano or the surrounding rainforest – depending on the view of the room you booked.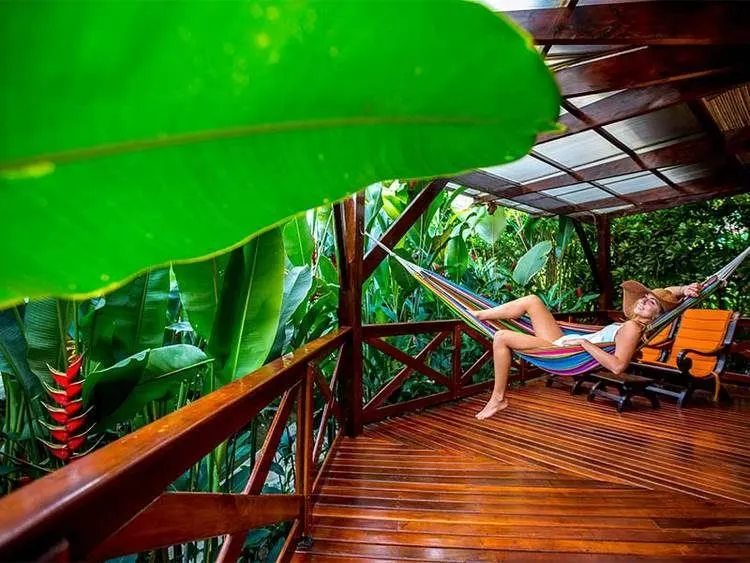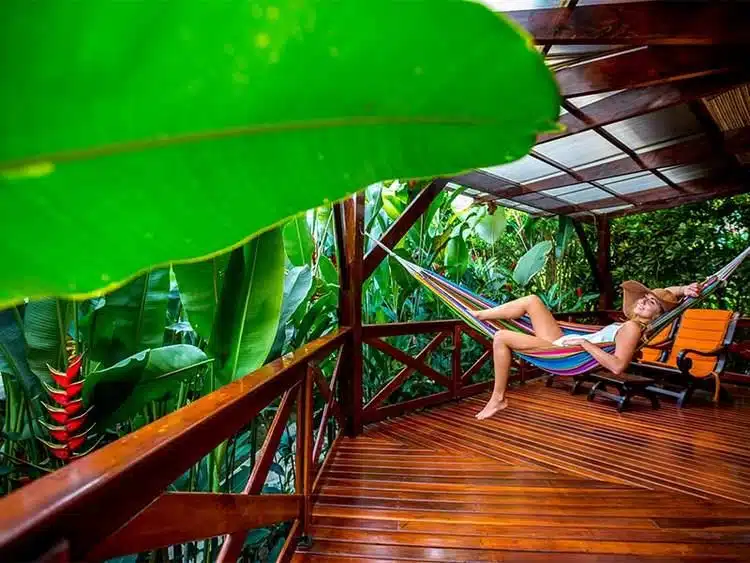 Either way, you are treated to a spectacle of nature and peace combined. Its amenities are designed to sustain the richness of the environment.
Activities that are offered in Nayara Resort vary from private experiences to group adventures. Superb accommodation meets complementing tourist attractions – there is truly no doubting why Nayara is always included in the list of the best places to stay in Arenal, Costa Rica.
2. Nayara Springs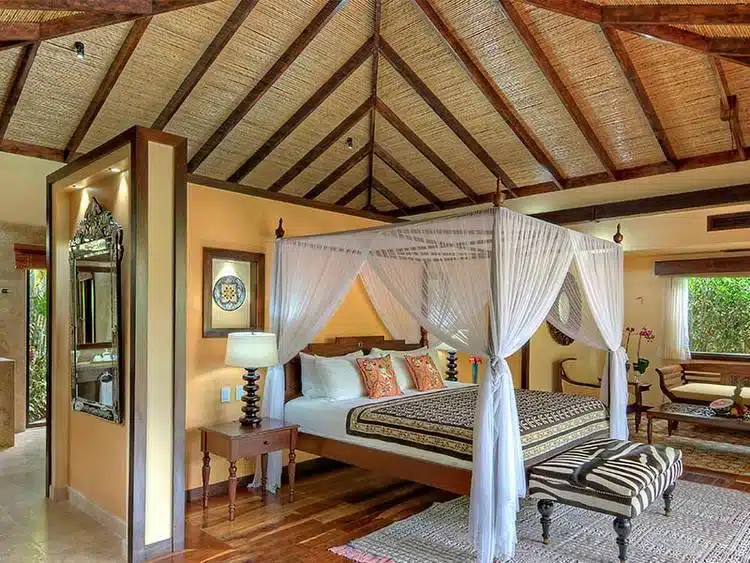 Like its sister hotel, Nayara Springs is an adults-only property featuring luxury villas that promote intimate privacy and utmost relaxation.
This boutique resort is not only one of the best hotels in Arenal, Costa Rica – it is also considered as one of the best in the world.
Nayara captures an audience from faraway lands with such beauty that transcends boundaries to enjoy the country's prized thermal waters and vast ecosystem.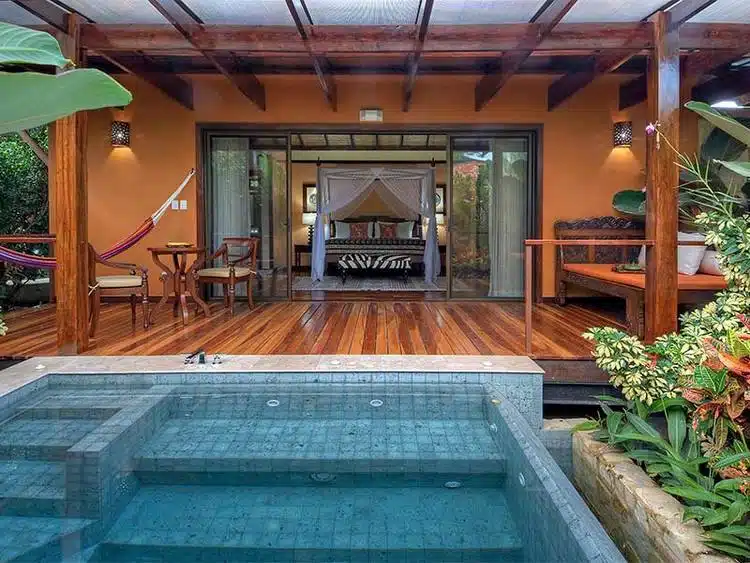 Imagine having one huge villa with a private mineral-rich thermal pool, a private garden that is only yours, and an oversized bathroom fit for royalty.
You are spoiled with luxury – and you will not dare to say no. Nayara Springs is an ideal couples getaway, with all its corners speaking intimacy and romance to your bones.
Nayara Springs is proud to adopt an ecologically responsible operating system as they strive to be one with nature in every step possible.
Its love for the Costa Rican community and the Arenal beauty is evident in its physical walls, its homage to traditional food, its way of management, and even in its encouragement for everyone to partake in the resort's mission to stay committed to the preservation of the country's natural and cultural pride.
3. The Springs Resort
'Wow' is an understatement for seeing The Springs Resort and Spa for the first time. See nature and luxury combined to give you one of the best places to stay in La Fortuna, Costa Rica.
This 165-acre property has served as a gorgeous backdrop to Hollywood masterpieces numerous times. Its five restaurants, the spring-fed thermal pools, and the world-class spa all contribute to The Springs' unparalleled beauty.
How do you even start choosing among 21 beautiful room categories? It is simple – go for the best of the best!
The Springs is home to the Villa Palacio, and as the name suggests, it truly can be a palace in the midst of the green scenery. 18 guests can be accommodated in this villa, speaking boldly of the massive land area this property occupies.
With its mountain-top location, Villa Palacio definitely has the best view of the Arenal Volcano among all.
You will not run out of worthwhile things to do at The Springs. Its Club Rio Adventure Center offers Cost Rica vacation packages that call on the adventurer in you to leave that luxurious bed for a day of white water rafting, horseback riding, and wall rappelling.
4. Tabacon Grand Spa and Thermal Resort
The Tabacon Grand Spa and Thermal Resort are among the highest-praised hotels and one of the Best Hotels in La Fortuna, Costa Rica. It offers guests a chance to experience the beauty of the thriving rainforest and the majestic Arenal Volcano in a way that complements nature.
It all started with a man's vision to transform a simple hotel accommodation into a massive eco-friendly destination that features what Arenal is known for: its natural thermal pools and the biodiverse landscape that goes with them.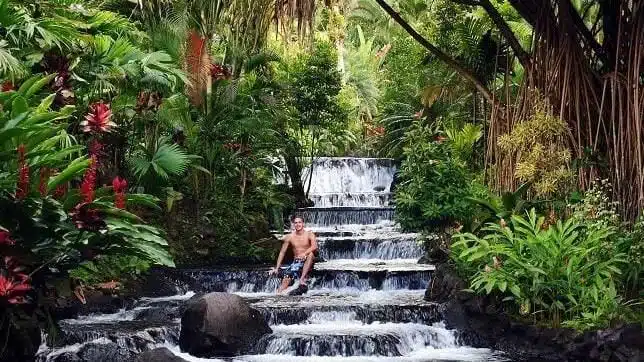 The Two-Bedroom Senator Suite is truly enthralling. With a lavish bedroom and terrace overlooking the tropical rainforest and a floor area perfect for the whole family, Tabacon impresses with luxurious comfort.
The Spa bungalows have thermal spring tubs that promote healing and restoration to your wellbeing. For the ultimate wellness experience, indulge in a couple's spa package, which can be tailor-fit to meet your need and preference.
La Fortuna hotels give utmost importance to ecological sustainability, and Tabacon is proud to share the same practice. Its resort policy aptly called the Tabacon Green, earned them the highest category in the Certificate for Sustainable Tourism as given by the Costa Rican Board of Tourism.
5. Amor Arenal
A new five-star accommodation springs up in La Fortuna, Costa Rica – and it does not disappoint.
The Amor Arenal is a rainforest lodge situated close to the Arenal Volcano and on the edge of a virgin rainforest canyon.
It separates itself from the rest of the Arenal hotels through its privileged location that enjoys a more intimate perspective of La Fortuna's natural gems.
Amor Arenal's luxury cabins are made separate from each other, with equally stunning views of the rainforest and a cool climate brought about by the lodge's high elevation.
Each tropical wood cabin is thoughtfully filled with top-of-the-line amenities, including a king-size bed, a thermal spa-plunge pool, and a double-head rain shower overlooking the tropical forest.
Inside the resort are a full-service spa and a well-equipped gym. Practice yoga and meditation amidst its platforms floating within the green landscape that envelopes the whole hotel.
The food in Amor Arenal is lovingly prepared by a kitchen that adapts a farm-to-table practice. The menu contains all the organic goodness that can be harvested within the communities.
Two restaurants are ready to fill your cravings. El Rancho is a five-star all-day buffet restaurant, while La Jaranita is a tapas restaurant that serves craft drinks and bar bites.
Best Mid-Range Hotels in La Fortuna
6. Arenal Springs
If you like to enjoy La Fortuna affordably, Hotel Arenal Springs offers the goodness of nature with rooms and amenities that speak of simple elegance and warm customer service.
Seven spacious master suites await the choosy traveler. An indoor garden provides balance to your well-crafted one or two-bedroom suite. Huge glass doors invite you to a terrace equipped with furniture that allows you to enjoy the majestic scenery from your room.
One suite can comfortably house four to ten guests. Enjoy a complimentary breakfast buffet at Ti-Cain Restaurant, which serves both traditional Costa Rican and American dishes.
The stars of Arenal Springs would have to be its swimming pools and warm thermal baths. Three freshwater pools boast clean waters with fewer chlorine levels and more mineral ions than your regular swimming pool.
On the other hand, its hot springs are rich in minerals activated by the temperature of the pools, which range from 34 to 39 degrees Centigrade.
The tropical gardens surrounding these pools aim to transport you to a relaxing time with nature. Waterfalls are set nearby to give you a soothing hydromassage.
7. Arenal Kioro Suites and Spa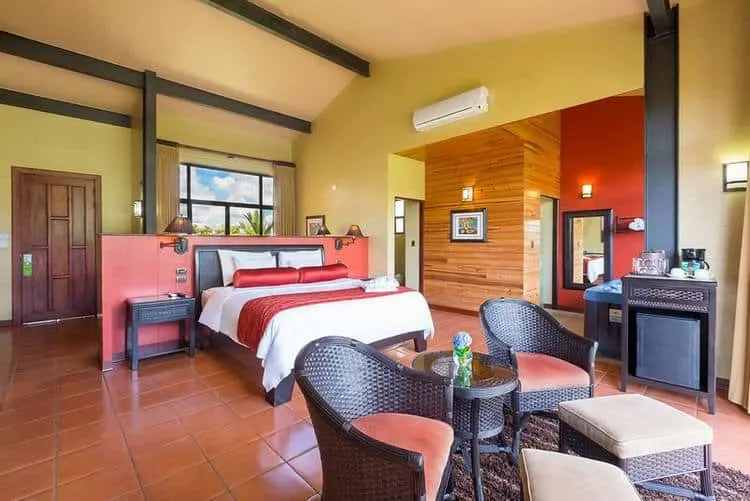 Hotel Arenal Kioro Suites and Spa is located on the foothills of the Arenal Volcano and is also one of the Best Hotels in La Fortuna.
The popular Titoku Hot Springs is five minutes away from the main property, making it an added attraction to the many tour offerings of the hotel.
With its continuous efforts to maintain an ecologically responsible property, Arenal Kioro is a proud holder of the Certificate for Sustainable Tourism awarded by the Costa Rican Tourism Board.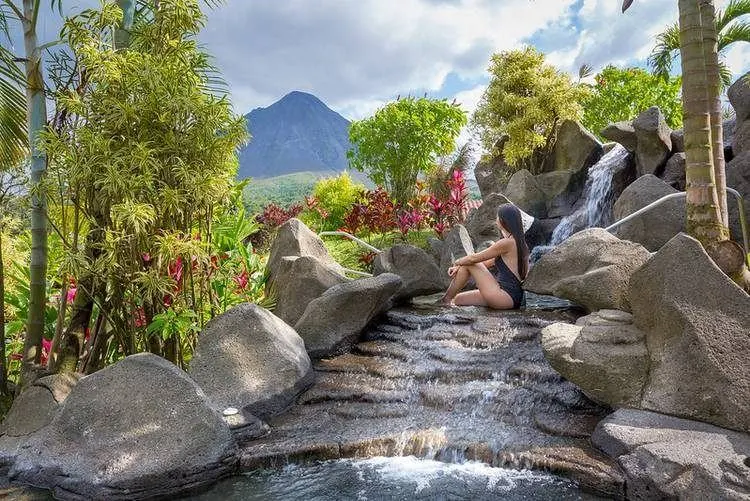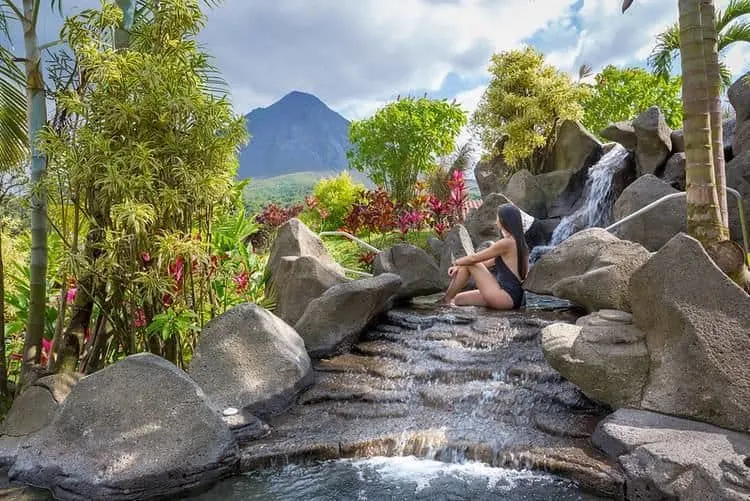 The hotel has a total of 53 impressive couple and family suites combined, all offering garden views with the Arenal Volcano peeking from behind.
Each suite is packed with complete amenities that will make your stay comfortable.
There are five restaurants to dine in, with each place different from one another. Orquideas stands out from the rest because of its prime location.
The restaurant is next to the hotel pool and overlooking panoramic views of the volcano and the floral gardens.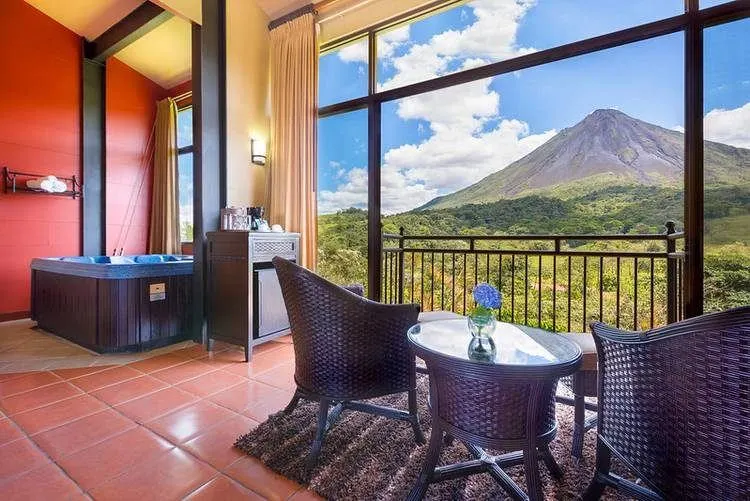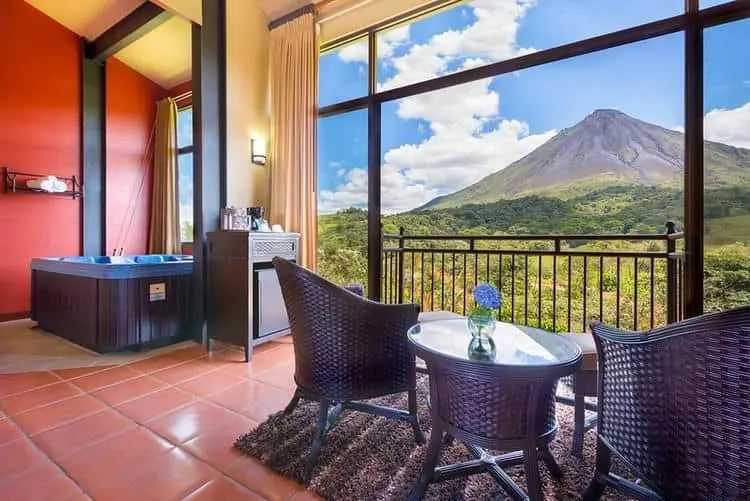 While in one of the Arenal hotels that thrive from having strategic locations, take part in nature-bound adventures offered in the area.
Activities that can be booked through Arenal Kioro include the Cano Negro, birdwatching, and ATV tours.
8. Best Hotels in La Fortuna – Arenal Manoa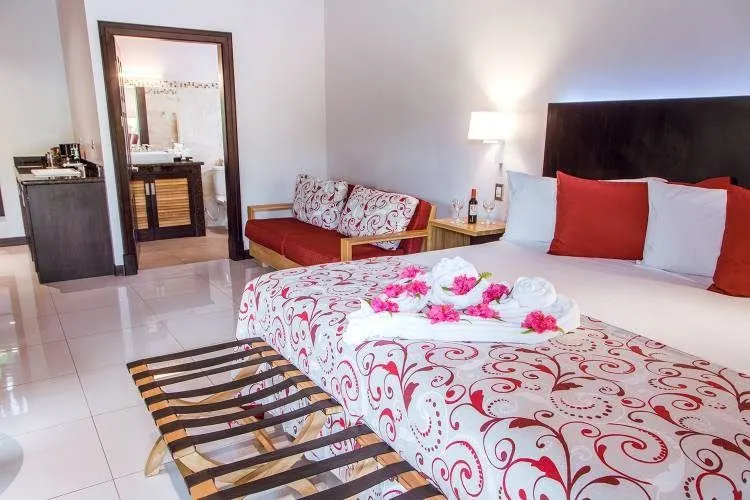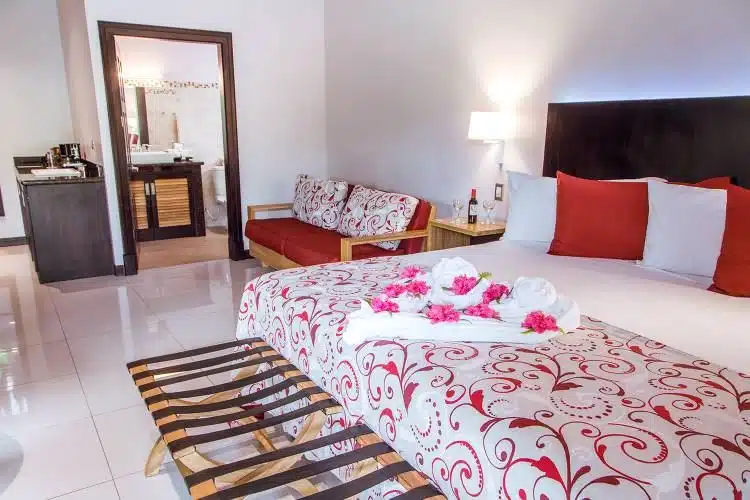 One of the Best Hotels in La Fortuna is a quaint property called the Arenal Manoa. This hotel offers every La Fortuna adventure available – and more.
A functioning Costa Rican farm is close by, and as a guest of the hotel, you can take the opportunity to witness how it operates daily.
Set your eyes on a different kind of country scenery and observe sheeps, cows, chickens, and horses in their natural habitat. You can even participate in farm duties such as milking the cows.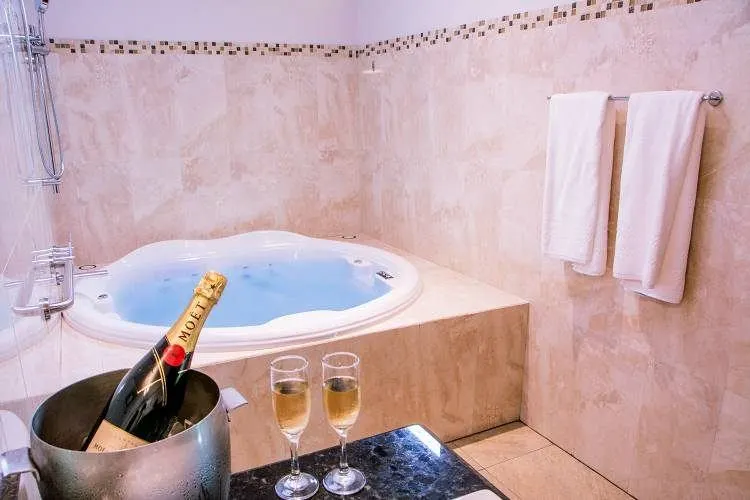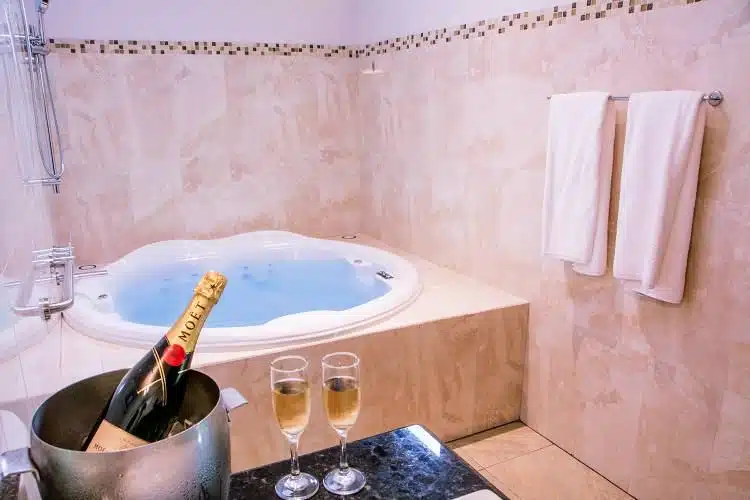 Book one of the six premium suites of Arena Manoa and experience a hydromassage jacuzzi in the comfort of your private accommodation.
Recharge with a trip to the spa and hot springs that allow you to escape amidst the surrounding nature of Arenal.
Reward yourself with cocktails from the wet bar as you relax in the swimming pool overlooking the Arenal Volcano. Savor the taste of flavorful and authentic Costa Rican cuisine at La Saca Restaurant.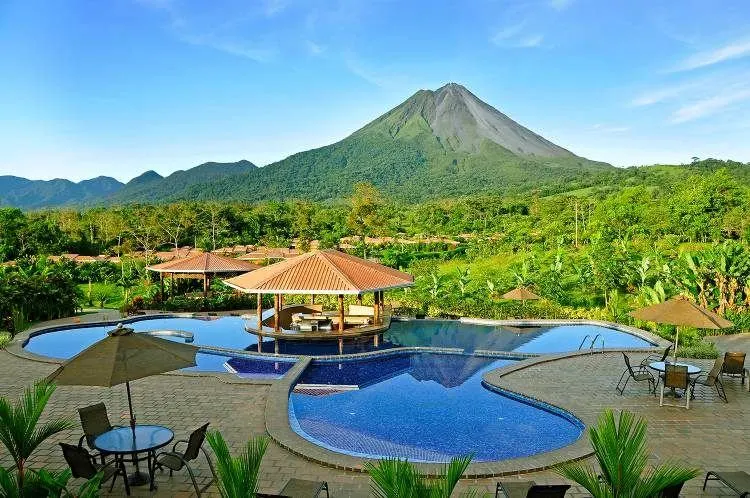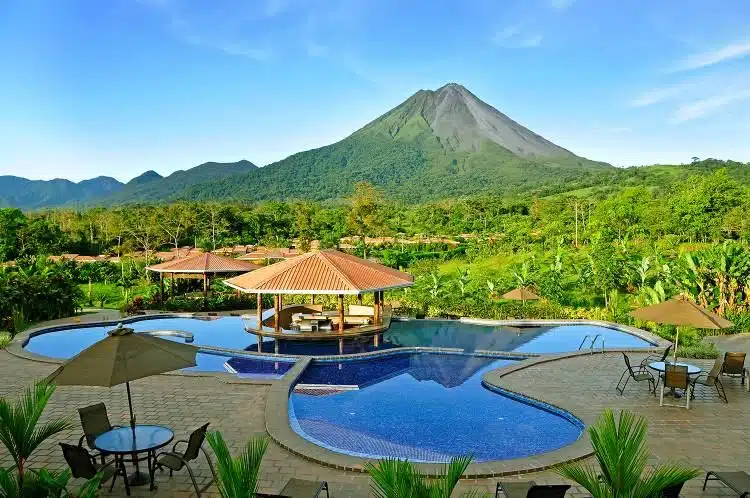 Hotel Arenal Manoa is committed to its vision to be a champion for eco-tourism sustainability, the main driving force behind extending its dairy farm to accommodate travelers.
9. Casa Luna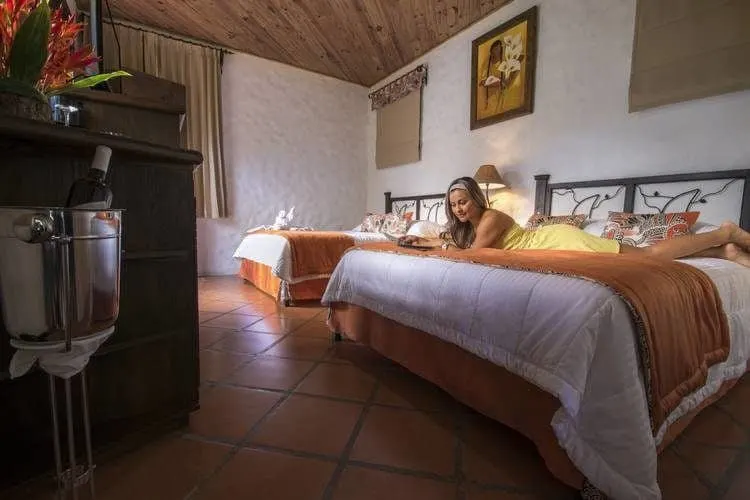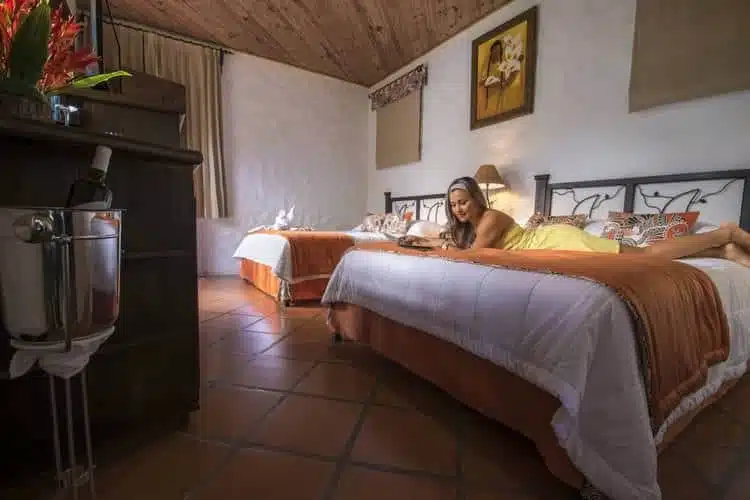 Casa Luna Hotel comes as a pleasant surprise. If you are looking for the Best Hotels in La Fortuna that do not break the bank, this property in Arenal is a sure bet.
With its proximity to the La Fortuna Waterfalls and the Arenal Volcano National Park, Casa Luna is definitely one of the great places to stay in Arenal.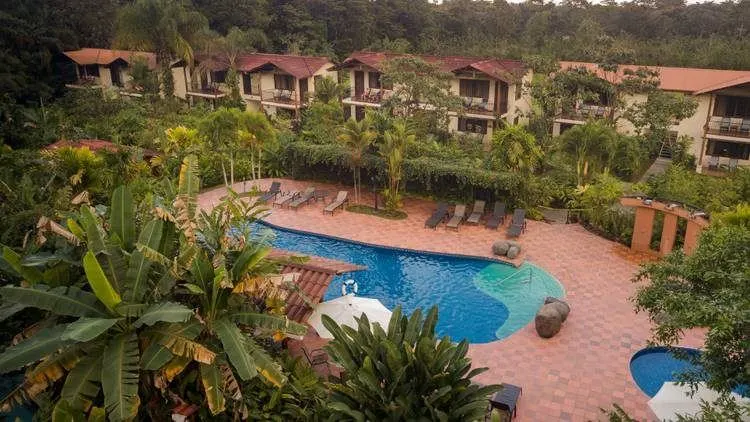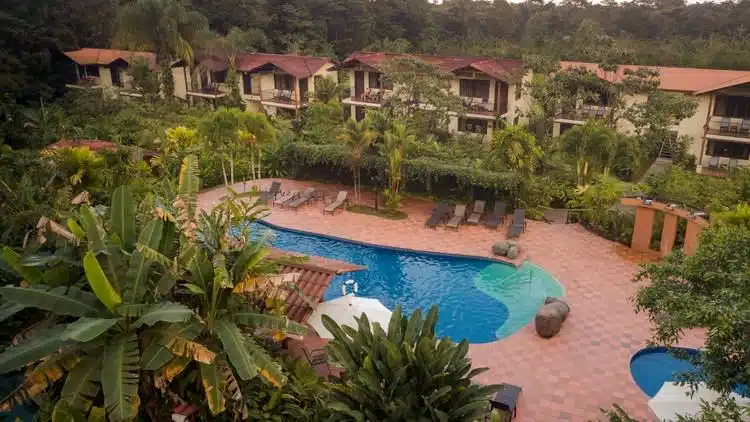 The Luna Junior Suite is perfect for a couple's private getaway. It features rustic colonial architecture that is consistent with the theme of Casa Luna.
The suite is both spacious and efficiently designed to meet every traveler's basic needs. Visit the Luna Spa and enjoy a treatment of Swedish massage with a volcanic mud mask facial.
Casa Luna has nature conservation written all over its blueprint. The property proudly uses solar panels and 100 percent LED lighting to provide sustainable energy throughout the hotel.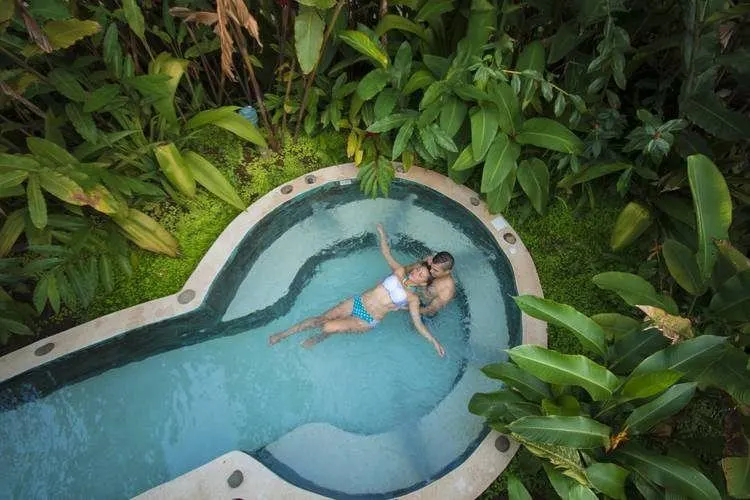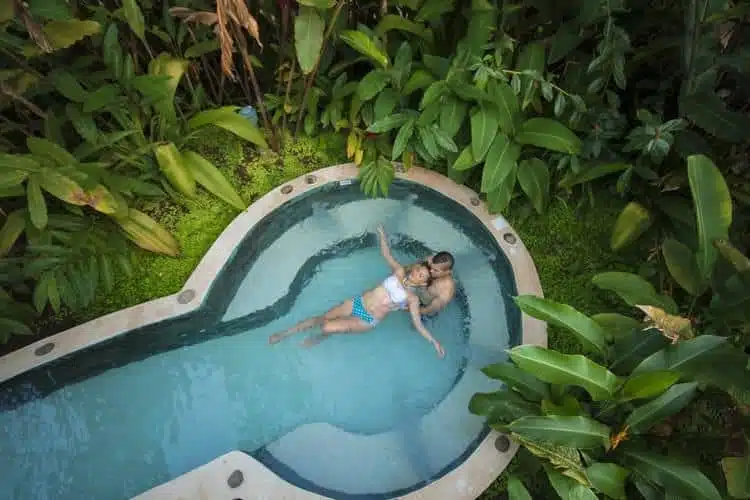 Jardin Organico is one of the notable features of this hotel. This vegetable garden is where many of its restaurant food ingredients are sourced from, giving you food choices that are fresh and organic.
10. Best Hotels in La Fortuna – Lomas del Volcan
Lomas del Volcan describes itself as a 'warm mountain hotel' with rustic features that complement the rainforest, making it one of the Best Hotels in La Fortuna.
Its location is secluded from the busy tourism hubs of the area, making it a nice option for a quiet tropical paradise getaway and one of the Best Hotels in La Fortuna.
It is a good place to enjoy the panoramic view of the Arenal Volcano, with only the sound of birds and other wildlife filling your ears.
52 wood cabins are tastefully crafted to blend in with the nature surrounding Lomas del Volcan.
The hotel's Bungalow deluxe features two queen-sized beds and basic room features that stand par with city accommodations.
Book a rainforest hike with the hotel's tour agency and marvel at the scenic Green Lagoon in the morning.
As the night falls, feel a quiet peace consuming the atmosphere while enjoying the jacuzzi in the comfort of your private balcony.
Lomas del Volcan goes hand in hand with other La Fortuna hotels to promote sustainability in Costa Rica.
The property established a manual of sustainability policies that every individual working in Lomas del Volcan is expected to adhere to.
More Costa Rica Articles
Here is my take on the BEST ADVENTURE TOURS IN LA FORTUNA. Let's finish that adventure planning in no time!
Once you arrive in San José, here is what you need to know regarding HOW TO GET TO LA FORTUNA FROM SAN JOSE.
Let's have a look at the BEST THINGS TO DO IN LA FORTUNA.
This activity is so popular and worthwhile that it deserves its own spot! Not to mention, I am all for nature and relaxation. I have searched far and wide to give you THE BEST HOT SPRINGS IN LA FORTUNA.