Costa Rican food is healthy, comforting, and flavorful. If there is one cuisine that efficiently blends the three together, it is definitely Costa Rican cuisine.
Traditional Costa Rican food is composed of rice, vegetables in season, fresh fruits, choice meats and a variety of beans.
Thanks to its thriving environment and hardworking farmers, Costa Rican dishes are always full of freshness, bursting with natural flavors yet oozing with simplicity.
Costa Rican cuisine is never in excess especially in spices – with a beautiful exception to garlic.
It is widely considered to be mild but delightfully colorful, enticing you with the prevalent mix and match of the colors white, brown, red and green.
Several Costa Rican dishes that are popular in the country can be found in this article.
This includes the authentic casado, a plate of several types of food that features meat, rice, some salad, plantains and beans.
It is considered as a traditional lunch or dinner meal.
Typical Costa Rican food can leave you feeling full – and yet it's time to eat once more. It's because of the meals are basically packed with high levels of protein and carbohydrates.
Meat is almost always in every viand, be it for breakfast, lunch or dinner. The rice ad beans combination, too, is a primary culprit in making you feeling stuffed for hours.
Even its most famous dessert is also made of rice!
Because popular foods in Costa Rica end up having meat in them, you might wonder if there is any chance that a vegetarian will come to appreciate the flavors of Costa Rica food.
The answer is yes: many (if not all) restaurants have vegetarian plates to offer you and there is also authentic kid-friendly Costa Rican food available.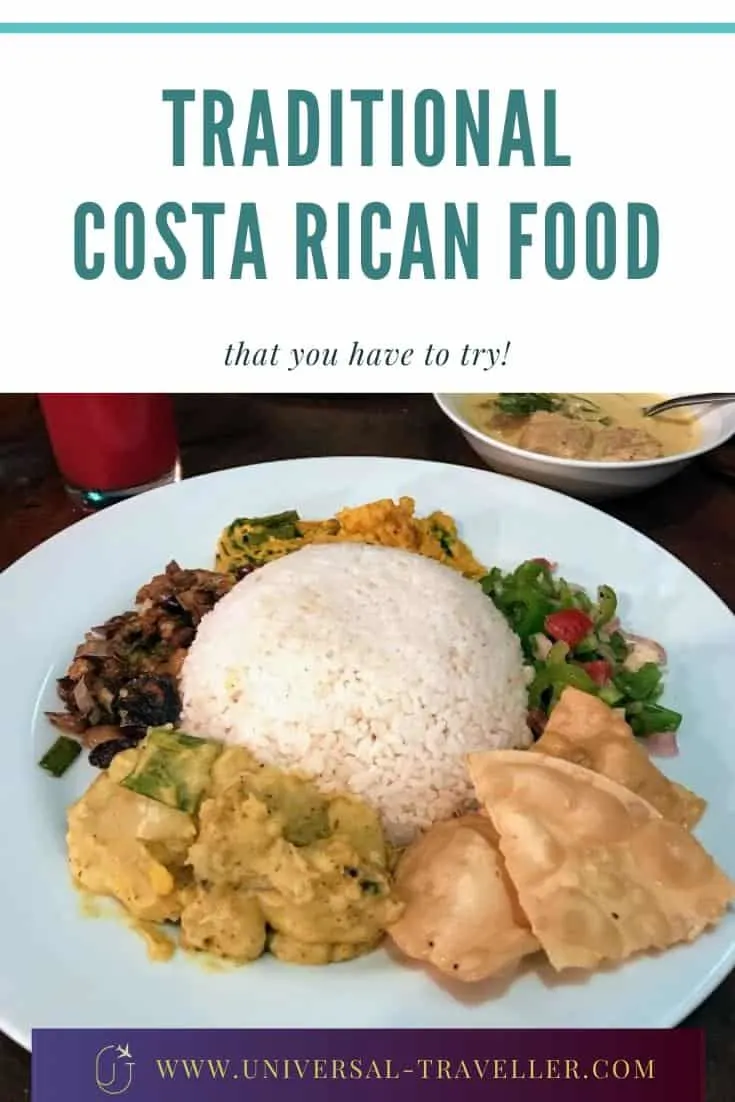 1. Traditional Costa Rican Food – Gallo Pinto
Recommended by Jorge & Cláudia from Travel Drafts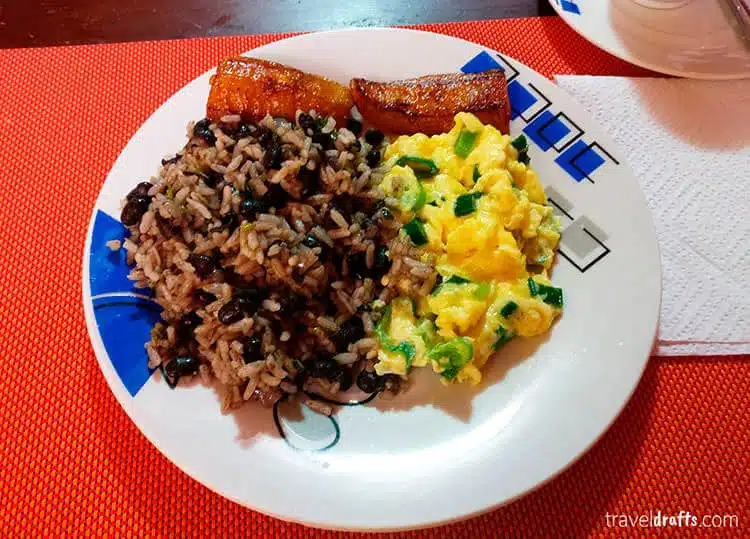 Gallo Pinto is the staple dish of Costa Rica and it is made with rice and black beans mixed and fried together combined with cilantro and onions.
It is frequently served with fried eggs, plantain, bacon, avocado, corn tortilla, and sour cream.
This traditional dish is commonly a breakfast dish but it is perfectly normal to eat it at any time of the day.
Gallo Pinto is also a traditional dish in the rest of Central America, it used to be done by the Mestizo's which combined the beans used by the indigenous people, and the rice introduced by the Spaniards, while the way it is cooked is influenced by African slaves.
You can say that this dish is a mixture of influences from the different continents of the world.
Be aware that Galo Pinto has several variations, depending on the region of Costa Rica. On the Caribbean coast, the beans and rice are cooked with coconut milk.
In Guanacaste, Gallo Pinto is made with red beans. And in Valle Central, it is more moist and seasoned with chili.
It is very easy to find places to eat Gallo Pinto, as it is a common dish that you will find it in every soda – the fast food or local restaurants where the locals eat cheap and traditional food.
There is also a big possibility that your lodge will serve Gallo Pinto for breakfast.
[Form id="6″]
2. Patacones
Recommended by Sam from My Flying Leap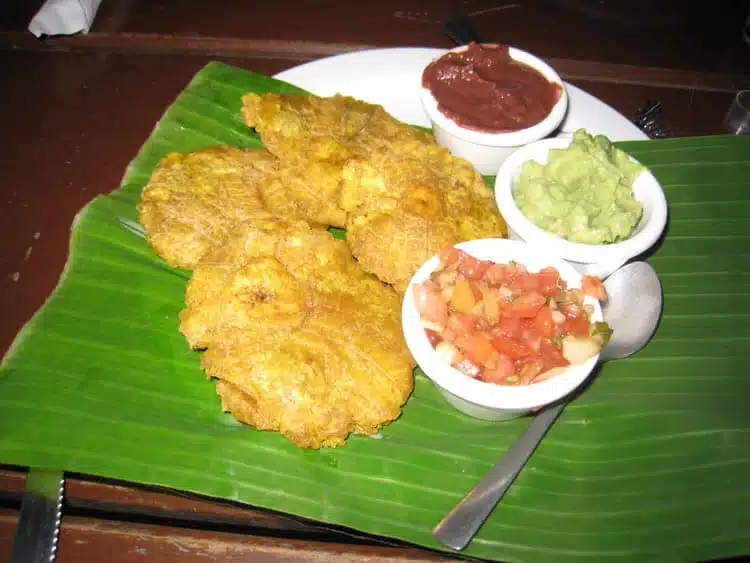 Patacones, sometimes called tostones, are a traditional Latin American food you can find in most Central and South American countries.
It is made from mashed green plantains that are fried to a crisp on the outside and they remain a little soft inside.
They are usually pressed into a circular shape that is several inches across though some places get creative and shape them into bowls or baskets.
Patacones come in any size and the presentation often depends what they are served with.
The patacones themselves usually don't have a lot of flavor so they serve as a great base food, similar to how rice is used rice in many countries. They can be eaten as an appetizer with sides like guacamole, bean dip, and pico de gallo.
Or, they can be covered with ground beef, cheese, fish, vegetables, or beans. You may even see them with chimichurri or other dips and sauces. There's really no limit to how they can be enjoyed.
Patacones are a staple food in many areas and they are a wonderful comfort food. Each country, and even areas within a country, will put their own spin on this dish.
If you're looking for great typical Latin American fare when you're in Costa Rica, definitely try the patacones.
3. Chifrijo
Recommended by Sarah from ASocialNomad
Making a list of what to eat is one of the key things on our Costa Rica travel checklist. Chifrijo was at the top of the list. And remains so.
Technically Chifrijo in Costa Rica goes down as a salad, that my out and out favourite Costa Rican food is technically good for me.
You will, however, see Chifrijo usually on the menu as a bar snack or appetiser.
Chifrijo is a bowl of rice and beans (what else, you're in Costa Rica), but then it's topped with Chicharrones, which are double deep-fried pieces of pork rind, drizzled with lime juice and accompanied by fried yucca.
In England, we know this as twice-fried pork as pork crackling. Each gorgeously tempting bowl of Chifrijo is topped with avocado, Pico de Gallo, chimichurri and lime.
Usually, you'll be served Chifrijo with fresh tortilla chips, so that you can get the right percentage of all these fabulous ingredients into a single mouthful.
Chifrijo combines so many of the flavours of Costa Rica into a single bowl but has only been around since the 1990s. The dish itself was the subject of several lawsuits filed by the Cordero family, who own a restaurant in Tibas.
The Cordero family wanted to register the name of the dish, Chifrijo, as a trademark and so filed suits against a number of other restaurants who used the dish on their menus.
Luckily for all of us who enjoy Chifrijo around Costa Rica, all cases were dismissed and you can continue to happily order Chifrijo throughout the country.
4. Casado
Recommended by Rai from A Rai of Light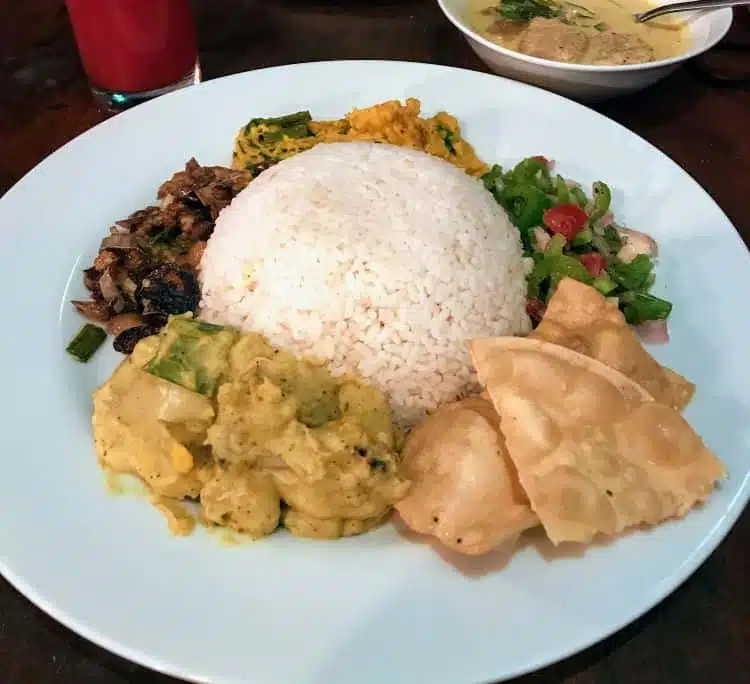 If you ask any local what the one food item is that you must have tried while visiting Costa Rica, the answer is most probably casado.
This typical Costa Rican meal offers a variety of ingredients and flavours piled up on one over-flowing plate.
Bright colours and enticing smells come standard. Casado is an ideal dish to have for lunch, traditionally the largest meal of the day.
Different regions of the country will have variations of the same dish where commonly found ingredients include rice, black beans, cooked vegetables, plantains, and an optional protein entree.
The meat served is varied and may include beef, fish, chicken, or pork depending on the day. Often times the casado includes french fries, pasta salad or extra vegetables such as avocados or cabbage.
More of a combination platter rather than a specific recipe, casado effortlessly brings together these items in a way to supply a complete meal for a lot of people without spending a fortune.
Fortunately, as a staple of the country's food scene, which features an abundance of exotic food, Casado can be found everywhere, at any time of the day.
Make a stop at a soda to experience this dish at its best. A fundamental dish that is now a celebration of local life.
5. Tres Leches
Recommended by Chelsea from Pack More Into Life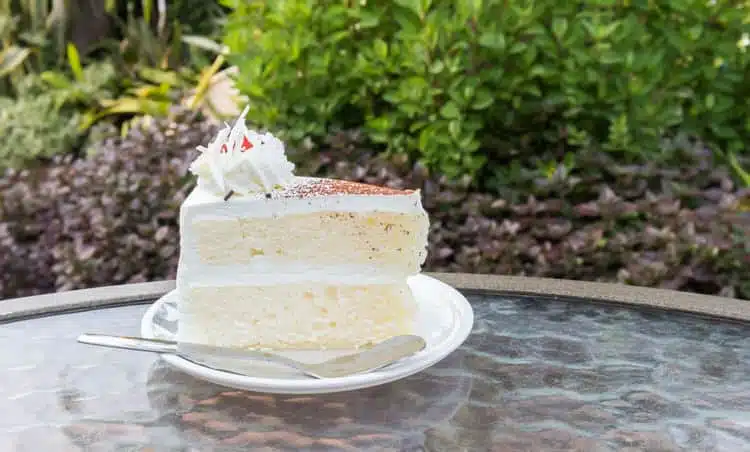 No visit to Costa Rica is complete without a few sweets along the way. One of our favorite desserts is the Tres Leches cake, otherwise known as the "three milks cake".
It is popular all over Latin America and is a vanilla sponge cake that is soaked in a sweet cream sauce made up of 3 different types of milk- evaporated milk, condensed milk and heavy cream.
The style of cake is similar to the way Tiramisu is made in Italy and rum cake is made in Britain.
The first recipe for Tres Leches cake actually appeared on the back of the Nestle Condensed milk cans in the 1930s.
There are a few different variations depending on which region of Latin America you are visiting, but the base of the cake is always moist, sweet and melts in your mouth.
A bit of whip cream is added on the top with a strawberry or cherry, it is certainly not for anyone with lactose intolerance.
So the next time you are in Costa Rica, be sure to ask the server at your restaurant if they serve Tres Leches and if they do, be sure to save a bit of space for this delicious dessert.
If your plans include a trip to Manuel Antonio, be sure to check out my top recommendations for restaurants in the area, including a few that serve Tres Leches cake.
6. Caribbean Rice and Beans
Recommended by Ayngelina from Bacon is Magic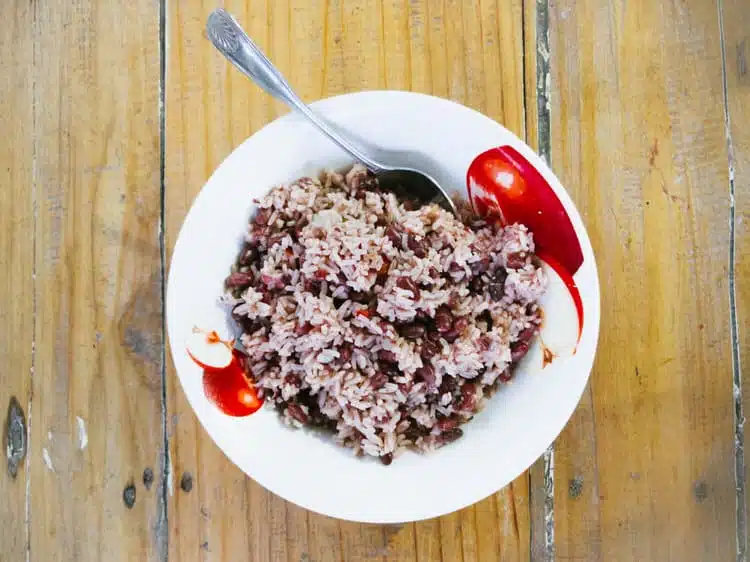 Although Costa Rica is a comparatively small country, there are plenty of regional Costa Rican dishes that have been influenced by geography and immigration.
Perhaps the most noticeable region is in southern Costa Rica which has strong Caribbean influences, particularly from Jamaicans who immigrated to Costa Rica to work on the railroad.
In fact, many of the exotic Costa Rican fruit trees were originally brought to the country by Jamaicans.
And while gallo pinto is very common in Costa Rica, in the south there it's more common to find a dish called Caribbean rice and beans. And while Costa Ricans speak Spanish, it's called "rice and beans" by everyone.
Found on the Caribbean slope, in popular cities like Puerto Viejo, rice and beans is white rice and red beans cooked in coconut milk and spicy panamanian pepper.
This rice is so spicy that if you can't find this pepper a scotch bonnet would be a good substitution.
You can find this dish throughout the Caribbean, in particular it's very common in Belize and Honduras and is called coconut rice and beans.
In Jamaica it's better known as Jamaican rice and peas.
7. Vegan Food in Costa Rica
Recommended by Ashley from Wild Hearted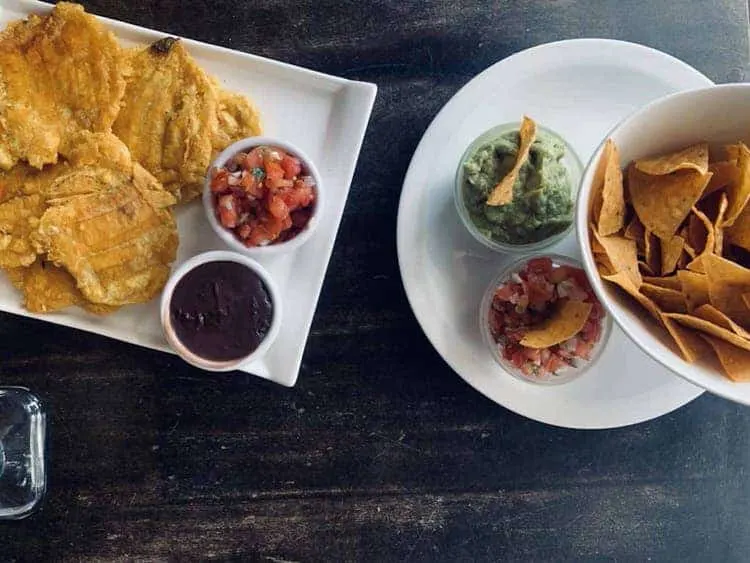 There are many amazing traditional Costa Rican dishes that will be recommended to you to try.
However, when traveling as someone who has special dietary restrictions, you can't always take everyone's food advice.
So, how is traveling as a vegan in Costa Rica?
Surprisingly easy!
Unlike some other Latin American countries, a lot of the traditional food in Costa Rica is naturally vegan. When eating beans, it is always important to ask about what they're cooked in as lard is often used.
However, in Costa Rica, it is commonly not used. Asking for many dishes sin carne (without meat) often immediately makes a dish vegan.
A traditional Costa Rican breakfast is Gallo Pinto which is comprised of rice and beans sautéed along side vegetables and fried plantains and a traditional Costa Rican lunch or dinner dish is Casado which is comprised of meat, rice, beans, veggies, and fried plantains.
Every place is more than likely going to have a vegetariano option. While this dish is found at almost every eating establishment, the flavors and seasonings are always different meaning you'll never get bored with this dish.
The main thing to keep in mind in Costa Rica as a vegan is the term vegan isn't widely known.
While it will be much more common in places like Playas del Coco and Tamarindo where restaurants have dishes actually marked vegan, the term itself won't be as widely known.
This is why having the traditional vegan dishes is so wonderful as well as knowing just a few Spanish terms such as carne (meat), pescado (fish), huevos (eggs), leche (milk), queso (cheese), miel (honey), and lacteos (dairy).
Just use the term sin in front of all these to say "without."
While working for a local tour company in the capital city of San José, I did many of the best things to do in Costa Rica and visited the best places in Costa Rica.
To help you plan your trip to Costa Rica I put together a detailed Costa Rica guide, including information about Costa Rica transportation and the best luxury hotels in Costa Rica.
Costa Rica is well-known for its beautiful beaches and hot springs. Find here the most beautiful beaches in Costa Rica and the best hot springs in Costa Rica.