The ultimate list of the Best Arenal Hot Springs in Costa Rica that you need to visit. This list includes luxury Hot Springs and some of the best Arenal Hotels, as well as a free option.
The 1968 Arenal Volcano eruption has proven to be both tragic and beneficial to the district of La Fortuna in San Jose, Costa Rica.
One of nature's creations resulting from this destructive occurrence is the natural hot springs that now make the Arenal area a must-visit to anyone who is in La Fortuna and are looking for ways to relax their tired muscles after a long day of adventure and exploration.
Read also: Top Places to visit on your vacations in Costa Rica
The hot springs in La Fortuna are scientifically proven to have minerals enriching the waters that can potentially bring healing or relief from various human ailments.
A lot of resort and spa properties in La Fortuna have hot springs in their facilities.
Some take pride in having naturally heated pools. In contrast, others take advantage of technology to heat their thermal pools at different degrees to give the utmost satisfaction to every spring visitor.
These hotels offer stay-in guests complimentary access to their Arenal Hot Springs.
Day passes are also available to those who wish to avail themselves of the various hot springs in the Arenal area.
Most offers include a lunch or dinner at one of their restaurants.
To know which suits your preference, here is our list of the Best Arenal Hot Springs Costa Rica – including one that's for free!
1. Tabacon Hot Springs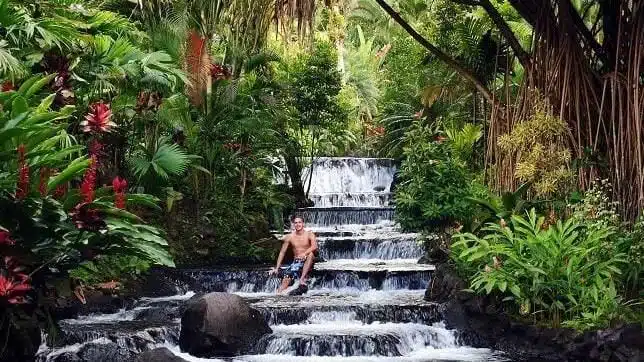 Found inside the Tabacon Grand Spa Thermal Resort is the Tabacon Natural Hot Springs. This is the most popular and regarded as one of, if not the best, hot springs in the Arenal area in La Fortuna.
The hot springs are natural, with the Tabacon River serving as its source of mineral-enriched waters that are naturally heated through the rainforest's geothermal activity.
The Tabacon Natural Hot Springs near the Arenal in La Fortuna, Costa Rica, is undeniably on the expensive side of life.
For around 85 to 94 USD, you have a day pass that includes lunch or dinner at the thermal resort. Guests staying at the resort, on the other hand, get complimentary access to the hot springs.
Relax and enjoy the lush scenery as you immerse your whole body in the warm waters of the natural Arenal Hot Springs.
Put on a volcanic mask and sip on some refreshing beverages while you let every tension in your system be released.
A visit to the Tabacon Natural Hot Springs is highly recommended after hiking the Arenal and the Cerro Chato Volcanoes or completing the Mistico Hanging Bridges Tour.
These natural hot springs are perfect for honeymooners and families alike.
View full blog post: TABACON HOT SPRINGS
2. Baldi Hot Spring Arenal Costa Rica
Feel nature bring healing to your body as you bathe in Baldi Natural Arenal Hot Springs.
Located within the Baldi Hot Springs Hotel Resort and Spa property, this haven offers access to 25 naturally heated pools that are made rich with minerals from the wonders of Mother Nature.
It is also home to a large jacuzzi that can accommodate up to 60 guests.
For 63 USD, you get to enjoy a day pass to one of the most popular sites for hot springs in La Fortuna, San Carlos, Costa Rica. This price includes a sumptuous lunch or dinner, as you prefer.
Baldi Hot Springs is less expensive than Tabacon; however, it is also a bit less luxurious.
Marvel at the beauty of the jungle with the Arenal Volcano as your neighbor and tropical birds as your friends.
3. The Springs Resort & Spa
With a resort property so magnificent it caught the eyes of many Hollywood producers, The Springs Spa and Resort in La Fortuna is a piece of art in the middle of the Costa Rican jungle.
The Arenal Volcano poses nearby, showing its full self to visitors lounging on sunbeds and dipping in Arenal Hot Springs. There are two main thermal pool areas in the spa resort – the Las Lagunas and the Perdido Springs.
The pools that comprise these swimming grounds are heated at different temperatures.
The one situated near the resort bar, for example, is set at a temperature that is pleasantly warm enough for you to enjoy a cocktail or two.
Enjoy the Springs Spa and Resort's hot springs facilities and access to its five restaurants for 68 USD – all these with a clear view of the Arenal Volcano.
This property boasts better thermal pools, wider lounge areas, and a superb dining service compared to the nearby hot springs down the volcano.
For an additional fee, get to experience their wildlife tour in conjunction with your day pass.
Truly, The Springs Spa and Resort is a one-stop destination for all things luxurious.
4. Ecotermales Arenal Hot Springs
In La Fortuna, San Carlos, there are natural hot springs so pure you are expected to feel healing results from it in no time.
Mental fatigue, psoriasis, and arthritis are some of the many ailments they can relieve by swimming in thermal mineral water.
Such is the pitch of Ecotermales, a place of peace and relaxation at the foot of the Arenal Volcano.
From the volcano itself comes the geothermal energy that naturally heats the pools of Ecotermales, with controlled visiting hours to give each visitor a comfortable and valuable stay in the property.
This property is one of the few hot springs in the Arenal area that market their places with high regard to health and wellness more than luxury.
Enjoy the natural hot springs of Ecotermales in Costa Rica together with either lunch or dinner for 62 USD. If you are specifically looking for just the best Arenal Hot Springs minus all the fanfare, Ecotermales is the one for you.
It is the most tranquil choice among the rest, and it promises nothing but the purest natural hot spring experience you can get in La, Fortuna, Costa Rica.
5. The Springs
After a day of adventures, why not finish your day with a pampering session at the Titoku Arenal Hot Springs?
Located just 5 kilometers from La Fortuna, Titoku Hot Springs are famous to tourists wanting to unwind after a full day of adrenaline-packed activities.
These geothermal pools are located inside the Hotel Arenal Kioro Suites and Spa in La Fortuna, Costa Rica. Let nature work its wonders within you at Titoku, which when translated aptly means "water from the gods."
8 hot springs welcome only 80 guests at a time. The pools are different in size, with the biggest one being just perfect for 20 visitors.
For 58 USD, guests can enjoy one of La Fortuna's most luxurious hot springs. This includes lunch or dinner at the Heliconias Restaurant.
With its secluded location and world-class facilities, we believe it's worth the try. Stay at the Hotel Arenal Kioro Suites and Spa, and you get to enjoy the Titoku Hot Springs for no extra fee.
6. The Royal Corin Thermal Water Spa and Resort
Luxury meets wellness in this stunning piece of paradise that is Royal Corin. Undoubtedly, Royal Corin has one of the go-to places in La Fortuna, Costa Rica, when it comes to only the best hot springs.
The Royal Corin Thermal Water Spa and Resort offers a day pass with lunch or dinner for 49 USD. With this pass, you get to use not only their hot springs but also their warm and cold swimming pools, sauna, and jacuzzis.
Treat yourself to an energizing drink from the wet bar while marveling at the splendor of the Arenal Volcano peeking from the rainforest encapsulating the whole resort into one green ecosystem.
It will not be a surprise to us if you end up availing of any of Royal Corin's massage offers during your trip to their hot springs.
It's the perfect end to an indulgent day at this wellness destination. This definitely makes it to our list of the best hot springs in the Arenal area at La Fortuna.
Arenal Hot Springs for Free
Ironically existing next to the most expensive hot springs in the Arenal area is Rio Chollin or Rio Tabacon, a natural hot spring in La Fortuna, Costa Rica that is open to all visitors free of charge.
It's the same thermal spring being naturally heated by the energy emitted by the Arenal Volcano – only without the posh seats, luscious dinner, and topnotch amenities that go with your day pass to the thermal resorts in La Fortuna.
Go west of Tabacon and follow the signs pointing to Rio Chollin, park your car, pay the guard and get ready to get soaked in mineral-rich hot springs, which Costa Rica is most loved for.
Feel the rush of the current and the goodness of the healing waters against your skin – all paid for by Mother Nature!
More Costa Rica Articles
Here is my take on the BEST ADVENTURE TOURS IN LA FORTUNA. Let's finish that adventure planning in no time!
Once you arrive in San José, here is what you need to know regarding HOW TO GET TO LA FORTUNA FROM SAN JOSE.
Arrived and nowhere to go? Let's have a look at the BEST HOTELS IN LA FORTUNA and the BEST THINGS TO DO IN LA FORTUNA.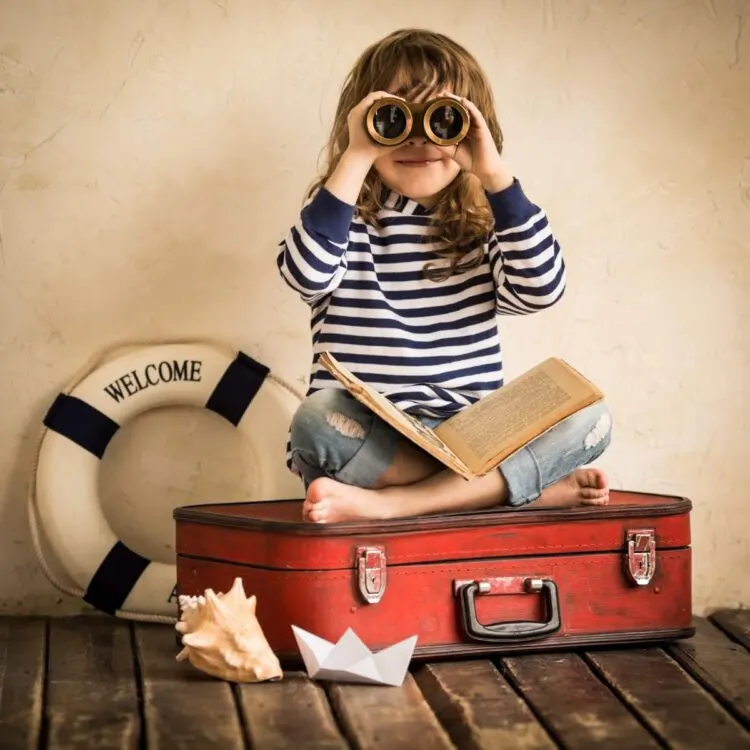 Protect your trip: With all our travel experience, we highly recommend you hit the road with travel insurance. SafetyWing offers flexible & reliable Digital Nomads Travel Medical Insurance at just a third of the price of similar competitor plans.