Find the best way on how to travel from Arenal Volcano, La Fortuna to Monteverde. Most of the options that will take you from La Fortuna to Monteverde are scenic on their own.
I believe Monteverde is worth traveling to. From the beautiful surroundings of La Fortuna, it is understandable if you find it hard to leave such a stunning place. Still, once you hear about the equally wonderful ecotourism in Monteverde, you might just book the next boat out.
While on the map, the two towns may look near one another; Lake Arenal, which is right in the middle, makes ground transport extra lengthy. That is why many people choose to cross the lake to save time and effort.
How far is Monteverde Costa Rica from Arenal Costa Rica?
The distance from La Fortuna to Monteverde is 66 miles or 106 kilometers.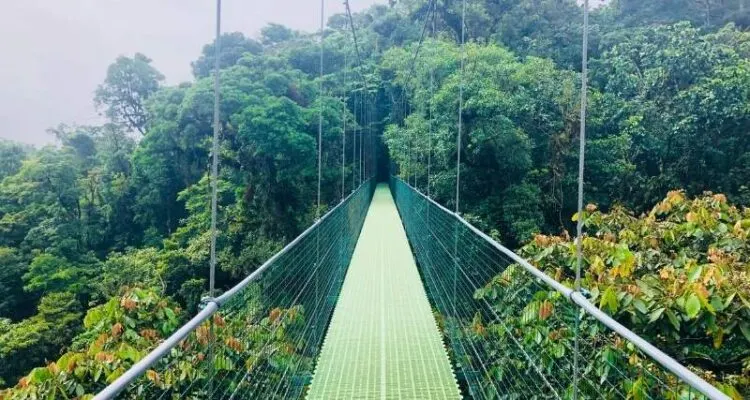 1. Bus from Arenal Volcano, La Fortuna to Monteverde
It is possible to take a bus from La Fortuna to Monteverde. You need to catch the one going to Tilaran, where you will have to transfer to another bus going to Monteverde.
Buses from Fortuna depart at the bus station next to the Megasuper parking lot. Contact your bus service providers beforehand to know the bus timings for the day. The first trip usually departs at 7 AM.
It takes eight hours to travel by bus from La Fortuna to Monteverde. A one-way fare costs $10. While this proves to be the cheapest option, it also involves the longest travel time.
GuateGo
On GuateGo, you can check all available transportation options from La Fortuna to Monteverde. It is a reliable and easy-to-use platform to compare prices & schedules and make a booking online.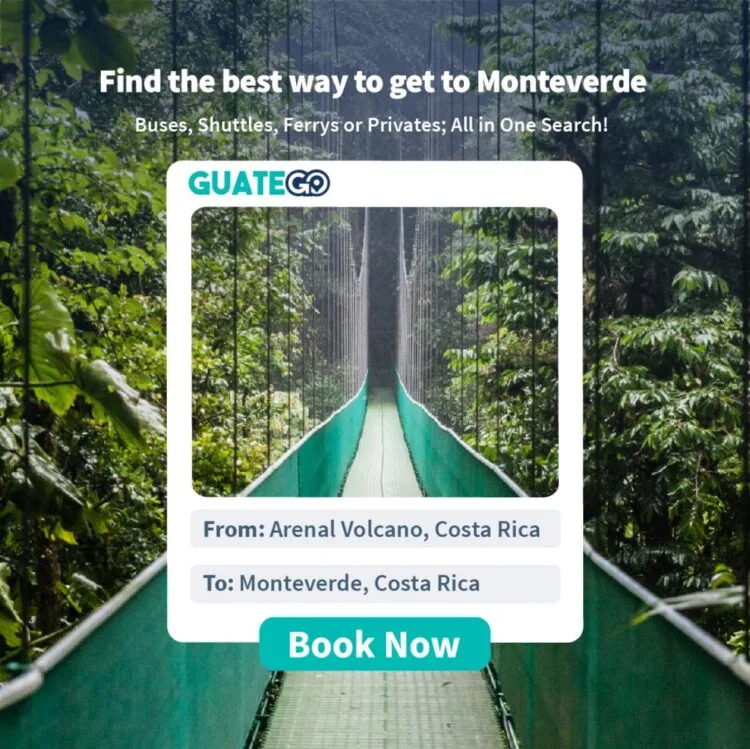 2. Boat from Arenal Volcano, La Fortuna to Monteverde
Because a massive lake separates Arenal Volcano and Monteverde, a taxi boat is perhaps the most efficient way to get from La Fortuna to Monteverde. Roads will have you going around, making your trip longer than usual.
You can arrange for the transport company to pick you up from your La Fortuna hotel accommodation. Once you arrive at the Lake Arenal dock, a passenger boat will bring you across the lake. The boat trip takes about thirty minutes.
Afterward, your boat will dock at Rio Chiquito, where another van is waiting for your arrival. The driver will drive you to Monteverde, which takes about one and a half hours.
That is why this travel option is often referred to as van-boat-van, taxi-boat-taxi, or jeep-boat-jeep, mentioning the several transfers you have to make.
In total, it takes two and a half to three hours to get from Arenal Volcano to Monteverde by taxi, boat, and van transfers, depending on how far your La Fortuna and Monteverde hotels are from the respective docks.
The price starts at $25.75 per person. You can either take the 8:30 AM or the 2:30 PM trip, which runs daily, year-round.
[Form id="6″]
3. Shuttle from Arenal Volcano, La Fortuna to Monteverde
La Fortuna to Monteverde shuttle companies gives the convenience of traveling between the two locations without transferring to a lot of modes of transport. It is also a perfect option for those who are not fond of cruising bodies of water.
La Fortuna shuttle services going to Monteverde cost around $50 to USD 60. Your four-hour trip includes one rest stop.
This is a shared shuttle, so you will have other passengers coming to Monteverde from La Fortuna with you on the trip.
If you wish to have the shuttle to yourself or your small group, you can arrange for a private shuttle which will cost you about $200.
However, you might have a hard time finding someone willing to offer you a private transfer because of the unfavorable road conditions.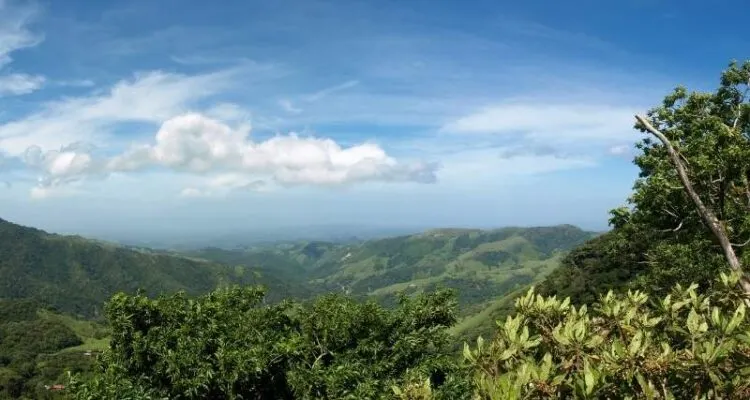 4. Car from Arenal Volcano, La Fortuna to Monteverde
Arenal to Monteverde by car is not an easy option to take. A 4×4 vehicle is needed to brave the rough roads.
While in many parts, the road conditions are great, there are some which aren't. Adding to that is the lack of signage on the roads of Costa Rica.
Keep in mind the season you are driving in as the roads get tougher when the rain pours down. It takes four to five hours to drive from Arenal Volcano to Monteverde, passing by Tilaran, depending on the weather conditions and the kind of vehicle you're driving.
Take Route 142 from Arenal all the way to Tilaran until you reach the connection to Route 145. Drive through the dirt road until it reaches Route 606.
La Fortuna taxi companies can also take you from Arenal to Monteverde for about $130. This price is for four passengers. Make sure that the vehicle you're booking is a 4×4 as well.
If you plan to rent a car to drive from Arenal Volcano, La Fortuna, to Monteverde, the price starts at $75 per day.