La Fortuna is one of Costa Rica's most popular adventure destinations. We put together the ultimate list of the best La Fortuna Tours and excursions so that you don't miss anything.
Sitting quite confidently in the northern part of this lush country is one of Costa Rica's most popular tourist destinations.
La Fortuna stands tall despite being a small town, with the majestic Arenal Volcano within its grounds and the Lake Arenal complementing its regal command.
Years ago, the Arenal Volcano became famous because of its conical beauty and violent eruption, which buried numerous villages in ashes. Nature has its way of turning things around, though.
The burning lava, the dramatic smoke, the impending danger – all these lured photographers and scientists to visit La Fortuna. It was not long before tourists came treading in, curious to see the ash-forming beauty.
Soon after, the Arenal Volcano decided to rest. Still, the impact it left on the people who visited and discovered the town's richness translated to even more arrivals in the years that came.
La Fortuna exudes a pleasant vibe on the outside, yet dig deeper into its rain forests, river canyons, and rugged cliffs, and you'll see how extreme its offerings can be.
We're talking about 140-feet roped descent, 8-hour volcano hikes, and 6-in-1 exhilarating tours. However, the town also knows how to quiet down a crowd.
Kayaks and paddleboards await the exhausted thrill seeker while hot springs call him by name. Eager to know what these are all about?
Here are the best La Fortuna tours and excursions.
Read also:
1. Waterfall Jumping & Extreme Canyoning
Are you searching for Costa Rica's most extreme Adventure Tours in La Fortuna?
Try waterfall jumping in arguably the most insane place to do so.
Go deep into the jungle of Costa Rica and participate in a nature exploration that calls on you to rappel, cliff jump, climb and hike your way through your best adventure yet.
Gravity Falls is popular with thrill-seekers for a reason. Do you have the guts to experience what everyone is raving about?
Canyoning in Gravity Falls entails going down into a crystalline pool by rappelling through 140 feet of distance.
One cliff diving jump quickly turns into five as you progress in the tour. Ten feet becomes 30 in a heartbeat.
Hike through the rich rainforest and swim in deep pools. Afterward, eat your well-deserved Costa Rican meal, prepare to head back, and be ready to daydream about your craziest tour to date!
Click here for more information, photos and to make a booking.
2. Hanging Bridges Walking Tour
Marvel at the stunning rainforest of Costa Rica as you hike along Mistico Park, where beauty is literally within arm's reach.
The Arenal Hanging Bridges Walking Tour is a family-friendly activity that allows even your excited 6-year-old adventurer to explore the natural beauty of Costa Rica's ecosystem.
The trails, spanning about 2 miles, have designated routes for leisure walkers and extreme hikers. Over 700 species of plants and 350 species of birds are waiting to be discovered, some of which are unique to Costa Rica.
As you immerse in this tropical haven, you will walk through green paths and suspended bridges that allow you to interact with the park's well-preserved rich flora and fauna.
The majestic Arenal Volcano sits nearby, showing itself every now and then.
It takes about 2.5 to 3 hours for the Arenal Hanging Bridges Walking Tour to finish. Your top three things to pack for this activity include comfortable closed shoes for hiking, insect repellant, and sun lotion.
Click here for more information, photos and to make a booking.
3. Lake Arenal Kayaking Tour
Paddle through Lake Arenal by kayak as you enjoy the views at the foot of the Arenal Volcano during your visit to La Fortuna.
Being Costa Rica's largest lake, Lake Arenal provides unique perspectives of the volcano, the rainforest, and other nearby areas that can only be seen and appreciated within the waters' confines.
The Lake Arenal Kayaking Tour is perfect for those who wish to bask in the utmost serenity that only nature can provide.
Paddle in pairs or explore on your own – whatever you choose, your guide will ensure your safety and enjoyment.
This tour takes about 3 hours to commence, with two-thirds of your time actively lounging on your kayak and enjoying the hillside views and lush farms.
Anticipate some flycatchers and howler monkeys eager to meet every visitor to the lake!
While on your kayak, consider fishing in the vast waters of Lake Arenal.
Remember to pack your aqua shoes, sun-protect essentials, and a waterproofed camera.
Click here for more information, photos and to make a booking.
4. Lost Canyon Canyoneering Adventure
Leave your comfort zone and partake in one of the best Adventure Tours in La Fortuna, Costa Rica.
The town is beautifully secluded and exotically complex, enticing outdoor enthusiasts and curious travelers.
We do not kid when we say the Lost Canyon Canyoneering Adventure involves multiple sports. Experience going down its majestic waterfalls and plunging into the pools.
There is no turning back this time; rappel, down-climb, and river trace your way to the next spots, and be ready to repeat this heart-pumping routine!
Hike through the lush Costa Rica rainforest and motivate yourself with what lies ahead: the sumptuous lunch waiting for you at Canyon Cafe.
Professionals will guide you throughout this 4-hour action-packed activity. We believe you already know what to pack, so we'll tell you what not to: your fears, frowns, and hesitations.
Trust us on this – go!
Click here for more information, photos and to make a booking.
5. Kayaking and Bird Watching Experience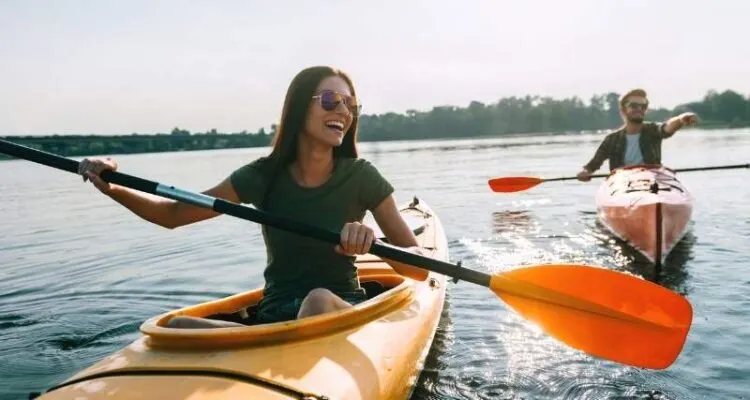 See the beauty of the Arenal Volcano as you paddle through the vast Lake Arenal.
The Kayaking and Bird Watching Experience is for tourists to enjoy a tranquil moment amidst Costa Rica's largest.
Enjoy a refreshing drink while resting on your kayak and marvel at the different species of birds which made this ecosystem their home.
For three hours, you get to enjoy the serenity of the lake and the majesty of the active Arenal Volcano towering above you and your kayak, adding splendor to the scenery as if the place isn't majestic enough!
A guide will be with you throughout the bird-watching experience so that you get to identify the tropical birds in sight.
Some species you will observe in Lake Arenal are the kingfisher, anhinga, and the great blue heron. Pack a mighty waterproof camera with you for those powerful macro shots.
Click here for more information, photos and to make a booking.
6. Half Day Rainforest Horseback Ride to the Arenal Volcano
Explore the Arenal Volcano's vicinity in a way that's one for the books. Go on a half-day horseback riding trip celebrating Costa Rica's ancient mode of transportation.
Your tour operator shall provide proper basic lessons, and after a stride or two, you will be ready to traverse the rain forest in rustic style in no time.
Howler monkeys await on your trail, and various birds hover around the volcano, making the whole horseback riding scene picturesque.
Furthermore, there are parts of the grassland that horses can only access. This makes it a worthwhile activity to add to your exploration list while in La Fortuna.
You will be treated to nothing but Costa Rica's rich rainforest for four hours.
The trip's highlight is definitely the lookout point where you shall see the towering Arenal volcano up close. Bring some handy snacks with you on the trail on a tour that long.
Click here for more information, photos and to make a booking.
7. Lake Arenal and Volcano Mountain Biking
Imagine mountain biking along the country roads of La Fortuna in Costa Rica. Birds, monkeys, and sloths frolic around you as you pump your pedals to travel from one beautiful scenery to another.
Enjoy the atmosphere with only your wheels hitting the ground and the wildlife living loud, serving you music during your whole ride.
The Lake Arenal and Volcano Mountain Biking is a full-day escapade, so better be ready physically and gear up accordingly.
If this still isn't what they describe as the ride of your life, I don't know what else can be!
Depending on your level as a biker, routes to take vary considerably. An able guide will be with you throughout the experience, feeding you pertinent information about the environment and providing professional support when necessary.
Look forward to your time off the bike seat as you grab a bite overlooking the calm waters of the Arenal area.
Click here for more information, photos and to make a booking.
8. 6-in-1 Nature Activity Combination Tour
If you are looking for an itinerary jam-packed with all the best tours in La Fortuna, Costa Rica, opt for this 6-in-1 Nature Activity Combination Tour.
Whether you are a time-restricted traveler or an adventurer who prefers to have a bit of everything, this tour promises to deliver the beauty of this tourist destination in a nutshell.
Efficiency in money and time – it's as if someone came up with all the most famous activities in the Arsenal area and made a well-packaged tour!
This combination of the best things to do in La Fortuna includes exploring the majestic Arenal Volcano, hiking to the foot of the La Fortuna Waterfall, and immersing in the wildlife at the Costa Rican Estate and Natural Preserve.
Further to the tour, you will be treated to a sumptuous traditional lunch where you eat to your heart's content.
Your afternoon starts with touring the must-visit Arenal Volcano, swimming in the hot springs, and ends with a delectable local dinner.
Click here for more information, photos and to make a booking.
9. Two Volcanoes Hike in Arenal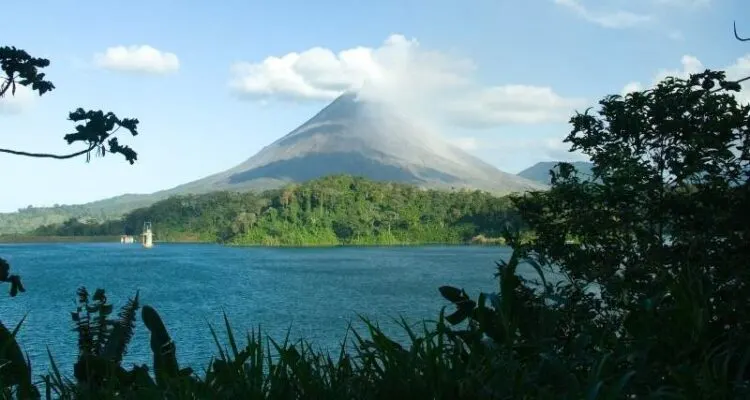 Two nearby volcanoes are primary tourist destinations in La Fortuna, Costa Rica.
The active Arenal and the inactive Cerro Chato are the volcanoes part of the Two Volcanoes Hike in Arenal.
This tour lasts 10 hours and includes hiking up the Arenal Volcano and swimming in the nearby green lagoon.
A delicious local lunch will be served as you lounge in the beauty of nature which Costa Rica is most famous for.
Hanging bridges and waterfalls await the group in the afternoon. You see monkeys and birds roam the jungle with you. A stunning Costa Rican sunset colors your day orange as your tour starts to close.
After lots of daily physical activities, you are treated to a hot spring bath where you can relax your nerves from head to foot.
There's hiking; there's swimming; there's sightseeing. This Two Volcanoes Hike in Arsenal is a must for the fast-paced traveler.
Click here for more information, photos and to make a booking.
10. Stand Up Paddle on Lake Arenal
Explore the pristine surroundings of Lake Arenal in style. Do stand up paddling in the lake and discover another way of exploring the lake and its nearby areas.
The activity starts with you on a boat, and as you reach the middle of the lake, your guide will brief you regarding water safety. After that, you can roam the area with your paddle board.
Find your balance literally and figuratively amidst the calm waters of Costa Rica's largest lake.
Talk about working out and tuning in while on vacation! Stand-up paddling may seem challenging at first, but once you get the hang of it, it will be hard for you to leave that board.
Add the picturesque scenery to the equation, and you have a recipe for a day you wouldn't want to end.
It's time to tick 'learn a new sport off your bucket list. Where else is a perfect venue for this except in the majestic Lake Arsenal?
Click here for more information, photos and to make a booking.
11. Arenal Volcano Canopy Zipline Tour
An exhilarating canopy ride is one of the most popular ways to enjoy the scenic rainforests for which Costa Rica is famous.
At the foot of the Arenal Volcano, you can explore the jungle by doing the Canopy Zipline Tour.
Steel cables connect artificial platforms to towering trees so adrenaline seekers can zip their way from one remarkable point to another.
While suspended in the air, you will pass by flowing streams and green landscapes. Indeed there's no better way to see the splendor of the rainforest than from up there!
The Arenal Volcano Canopy Zipline Tour takes about 2.5 hours. It is safe and an activity that can be done by age eight and above.
This is also one of the best tours in La Fortuna, Costa Rica, that do not require a big bag of courage to partake. So, strap on and give it a go!
Click here for more information, photos and to make a booking.
12. Lake Arenal Costa Rica Wakeboard Lessons
Open to professionals and beginners alike, wakeboarding in Lake Arenal proves to be popular with people craving a relatively easy adrenaline rush source.
The water in the lake is calm and, therefore, perfect for conducting wakeboarding lessons for those willing to try the sport or master their skill set of twists and flips.
For one full hour, you ride on Lake Arenal with the unassuming Arenal Volcano as your backdrop. Extend your wakeboarding lessons for up to eight hours and leave Costa Rica with so much energy.
Are you new to the sport? Guides will assist you and help you get up on the board, ride the wake and eventually do tricks with it.
Wakeboarding equipment is provided, and your safety is prioritized; all you have to do is wake up and show up! Bring that sports camera with you – we promise it's worth the luggage space.
Click here for more information, photos and to make a booking.
13. Arenal Rafting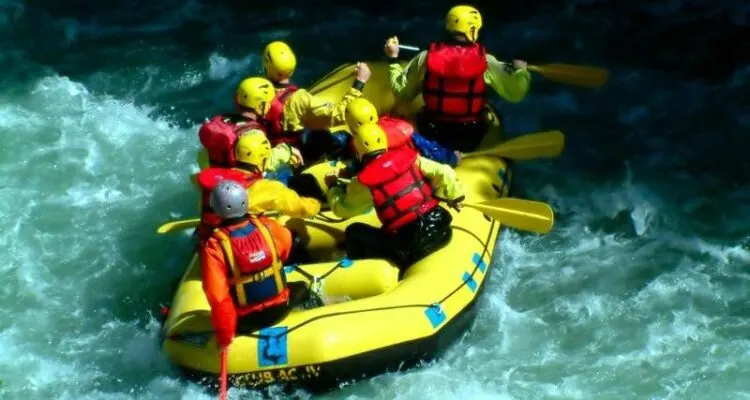 Rush through the Costa Rican rapids by signing up for Arenal Rafting. This six-hour family-friendly activity calls on your inner adventurer and travels you down the tropical white water Balsa River.
Be in awe as monkeys and toucans roam freely within the jungle as you pass by. Get lost in all things green as your eyes are spoiled with diverse plants and forest trees.
Prepare to get soaking wet as the river tries to overpower you repeatedly. You wouldn't want to miss this one of the best adventure tours in La Fortuna.
Get the chance to relax and swim as you stop over at San Carlos Bridge for some well-deserved snacks after braving the rapids. Traditional lunch at the river house awaits the hungry rafters.
Before taking part in the Balsa River Rafting activity, ensure you meet all the necessary safety criteria to be discussed during the briefing of the tour.
Click here for more information, photos and to make a booking.
14. Arenal Volcano Raft and ATV Tour Adventure
Why settle for just white water rafting when you can pair it with an equally challenging activity?
Double the fun by going for the Arenal Volcano Raft and ATV Tour Adventure. You will probably participate in the most physically challenging activities for eight hours in La Fortuna.
The lovely views, though, make the whole ordeal totally worth every sweat.
On your ATV Quad Tour in the morning, you can explore the canyon walls and the La Fortuna Waterfalls as you run the ATV engine.
Check out the diverse flora that fills the jungle grounds with rich vegetation.
Two hours of the tour are dedicated to Balsa River rafting. Feel an indescribable rush of adrenaline as you battle head to head with the water current.
From time to time, slow down and fancy a swim in the cool lake. Fresh fruits in season and a homemade lunch are served at the end of the tour, giving a sweet ending to your intense day.
The Arenal Volcano Raft and ATV Tour Adventure easily bags the bragging rights as one of the best tours in La Fortuna, Costa Rica.
Click here for more information, photos and to make a booking.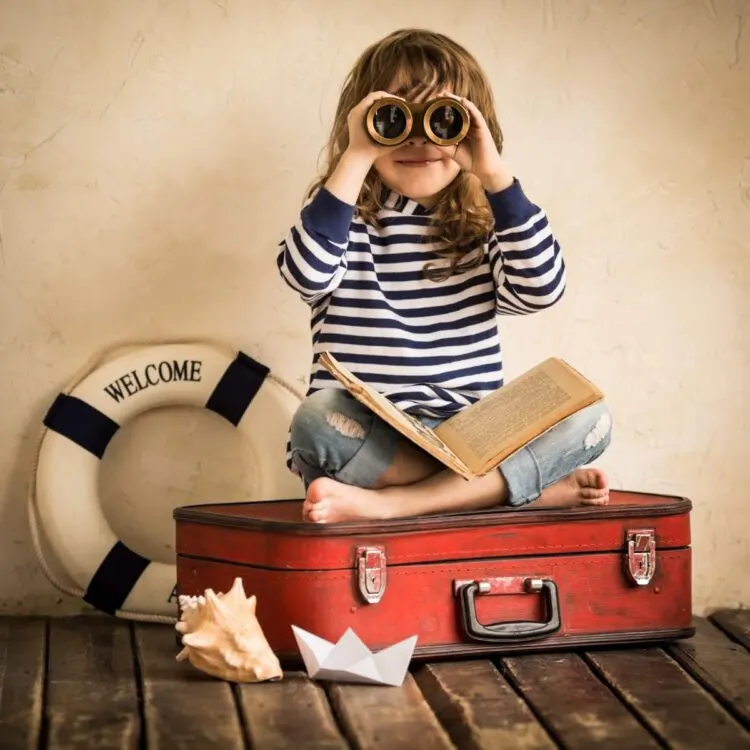 Protect your trip: With all our travel experience, we highly recommend you hit the road with travel insurance. SafetyWing offers flexible & reliable Digital Nomads Travel Medical Insurance at just a third of the price of similar competitor plans.