Imagine a bus trip without the hassle, a bus trip where missing a ride or extending your stay in a city for a day (or week!) wouldn't automatically break your budget.
How does it work?
Peru Hop, an unorthodox bus tour company founded by two Irish ex-pats who now live in Peru, has made this possible. Their "hop-on, hop-off bus service" runs along dozens of routes and through many of Peru's best cities, towns, and attractions.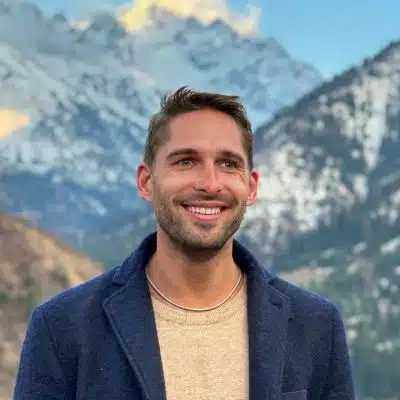 While it's not the most luxurious way to explore the country, Peru Hop is an excellent option for travelers who don't mind overnight bus rides and long trips but value safety, flexibility, and a great price (we'll get into that more below), and convenience.
Related Posts:
1. Different ways to get to Machu Picchu
2. Ultimate List of Best Things to do in Peru besides visiting Machu Picchu
The service is so convenient that you can make plans and book tours and excursions right from the bus. That's right — you won't have to spend half your day hunting down and vetting other travel or booking agencies at each stop.
All this makes Peru Hop, in our opinion, one of the best ways to see some of the most excellent parts of Peru. To show you just how great a Peru Hop bus trip through the country can be, let's take one together.
Don't worry; I'll mention everything you'll need or want to see along the way.
The Route
Peru Hop has dozens of routes with minimum times spanning 2-7 days. You can find all their passes here.
We will follow Peru Hop's most popular route, the "Full South to Cusco" pass, for this article.
This route begins in Lima, the most common entry point for most international travelers visiting Peru. It then runs south, stopping at several cities, towns, and destinations before turning north to Cusco (and Machu Picchu) at Lake Titicaca.
Peru Hop recommends this pass for "those who have the time to visit all of Peru," and the minimum time required for this trip is six days. However, it's important to remember that there's no strict itinerary to follow at all costs with Peru Hop, unlike so many other bus tour companies in Latin America.
Peru Hop's passes are valid for a full year.
If you want to spend more days than recommended at a particular stop, you can do that. You don't even have to plan it out in advance! Peru Hop's passes are valid for an entire year, so you are free to stay as long as you like in a place before moving on.
How much does it cost?
Peru Hop's cost is what impressed me. A typical week-long bus tour from Lima to Cusco would cost over a thousand dollars. It would be less flexible and offer far fewer authentic Peruvian experiences. But with Peru Hop, you get flexible bus rides and so much more for just 199 USD (or as low as 30 USD for shorter routes)!
How can they offer such an unbelievable price?
Unlike many bus tour companies operating in Peru, headquartered and run out of Europe, the US, or Canada, Peru Hop operates entirely within Peru. This means they can keep costs low while remaining as local and connected in the country as possible.
Full South to Cusco from Lima
So let's get started. A quick note — all the entries under "Destination Highlights" are included in the Full South to Cusco Peru Hop pass ticket price.
1. Lima
If you're like most international travelers, you'll likely begin your visit to Peru in Lima.
The capital city of Peru has a ton to see, do, and eat. Whether you want to walk along the beach, swim with sea lions, or chow down on some of the best food Peru (and the world!) offers, we've got you covered.
Check out our post about THE ULTIMATE LIST OF THINGS TO DO IN LIMA, PERU.
After exploring Lima and purchasing your Peru Hop pass, you'll need to decide which bus option to take on the first leg of our journey, a ride from Lima to Paracas. There are two choices; the first, the "express route," departs from Lima at 6 am and drives directly to Paracas, arriving at about 10 am.
But the second option, the "cultural route," makes a day out of this trip with several exciting stops (I'll go into more detail below). We recommend this route because, although it takes a little longer, these extra stops are at no additional cost!
Lima Travel Details:
Departure time: 07:00 am
The Lima to Paracas Cultural Tour (all stops included in pass price):
Pachacamac — The first stop on the cultural route from Lima to Paracas, Pachacamac is an ancient, pre-Inca site that dates back nearly 2000 years and features a temple to the Sun. Many call it Lima's equivalent of Machu Picchu. Peru Hop hosts an on-bus guide who will brief you on the site's rich history.
Beach Hut Bakery — Next, your bus will stop by a local bakery and restaurant for some delicious and authentic Peruvian cuisine.
Slave Tunnels — And finally, you'll arrive at the most incredible day's stop (and the one that makes the cultural route worthwhile). The slave tunnels of Hacienda San Jose were initially constructed nearly 400 years ago, in the 1600s. Unfortunately, they weren't used as a means for enslaved people to escape but instead to smuggle enslaved people from the coast to plantations (that way, plantation owners could avoid paying harbor taxes). Today, the 17 km of tunnels offer a fascinating opportunity to explore.
2. Paracas
The first overnight tour of our Peru Hop trip through Peru, Paracas, is a small town with narrow streets and a ton of character. Nestled against the Pacific coast, this town has two main pulls (apart from the beach!)
Destination Highlight:
Paracas National Reserve — This reserve flanks Paracas on two sides and is the town's other primary draw. The park's stunning and stark landscape offers excellent opportunities for hiking and offroading.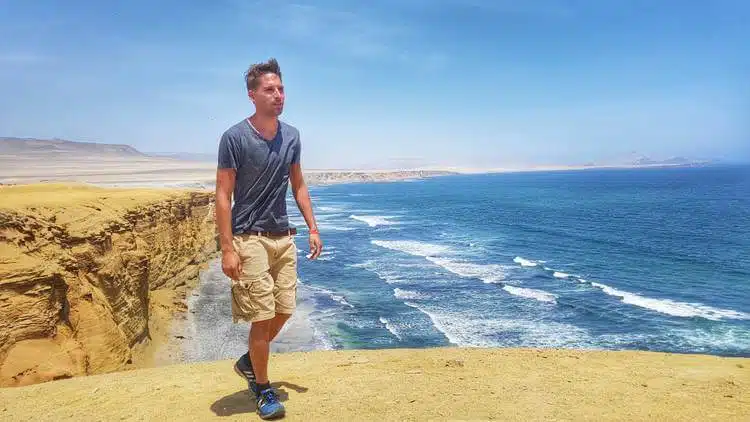 Other Things To Do in Paracas:
The Ballestas Islands — Located some 10 miles offshore from Paracas, offer an excellent opportunity to witness some genuinely unforgettable wildlife. The three islands hold penguins, seals, and several species of marine birds. If you're lucky, you may even catch sight of a pod of dolphins or whales! Flamenco Bahia Tours offers daily tours to the island. They typically take about 2 hours.
Paragliding — If you're the adventurous type (or willing to give it a try for a few hours), we recommend you take in the Paracas National Reserve from the air! That's right; you can paraglide over the park. You'll never forget the views and adrenaline as the desert meets the sea beneath your feet. I booked my tour with Paragliding Paracas.
Tip: You can also book a one-day tour to the Ballestas Islands and Paracas National Park. Click here for more information, photos, and/ or to make a booking.
Paracas Travel Details
Arrival Time: 01:30 pm (daily)
Recommended nights: 2 days (that way, you'll get the chance to see both the Ballesta Islands and the Paracas National Reserve)
Departure Time: 01:00 pm (daily)
3. Huacachina
The next leg of our journey takes us on a Paracas to Huacachina bus trip. Peru Hop buses depart from Paracas to Huacachina every day, and the journey only takes an hour and fifteen minutes.
As a side note, if you'd like to go straight from Lima to Huacachina, you can do it by catching the "express route" from Lima mentioned earlier. On that route, you'll arrive in Paracas in time to catch the 1 pm bus to Huacachina, getting you from Lima to Huacachina in one day.
Huacachina is a tiny village with only 100 permanent residents. Built around an oasis, the town hosts tens of thousands of visitors each year. These visitors take in the breathtaking desert landscape while they engage in some heart-thumping pursuits.
Things To Do in Huacachina:
Sandboarding/Sandskiing — This is one of the best things you can do while visiting Huacachina. And the coolest part? You can learn from the best. Dito Victor Chavez, a Peruvian national and four-time sandboarding world champion, offers intense and thrilling lessons that will have you up on your feet and riding down the dunes in no time. Check out Dito SandXSports.
View this post on Instagram
Dune Buggy — if you're looking for a less exciting but still intense way to explore the dunes and desert surrounding Huacachina, a dune buggy tour is the way to go. The two-hour tour recommended by Peru Hop begins at 4 pm and ends with a stunning desert sunset. The photo opportunities are one-of-a-kind.
Camp among the Dunes — But your desert adventure doesn't have to stop when the sun goes down. You can even opt to camp out in the desert near the oasis if you want. You'll get a fantastic view of the starry sky through the dry desert air. You may even decide to stay a second night.
Huacachina Travel Details:
Arrival Time: 02:15 pm (daily)
Recommended nights: 1 day
Departure Time: 01:00 pm (daily)
4. Nazca
After we depart from Huacachina, our Peru Hop Lima to Peru bus trip takes a day stop in Nazca.
Nazca is a small town that's incredibly arid. (They only get four millimeters of rain a year!) And that climate is one of the reasons Nazca's main claim to fame, the Nazca lines, have survived for so long. Constructed as many as 2500 years ago, these lines in the Nazca Desert's unique soil and landscape depict massive, thousand-foot-long designs and drawings.
Destination Highlights:
Nazca Lines Viewing Tower — The Nazca Lines Viewing Tower is a 43-foot tall structure that gives you a good view of several Nazca line designs. The tower is a great way to see this excellent archaeological site on a budget — it's included with your Peru Hop pass.
Other Things To Do in Nazca:
Nazca Lines Flight — But, if you want to get a better picture (no pun intended) of all the designs the ancient Nazca people created, we recommend you take to the sky. Several reputable companies (endorsed by Peru Hop) offer flights over the Nazca desert and designs. The flights are typically about thirty minutes and cost 80 to 100 USD.
5. Arequipa
After a day stop in Nazca, you'll want to get back onto the Peru Hop bus. Once onboard, you'll spend the night on the road before arriving in Arequipa early the following day.
The second-largest city in Peru (after Lima), Arequipa is dwarfed by the massive Misti Mountain. This snow-capped mountain is a volcano, and it makes for some great photo opportunities.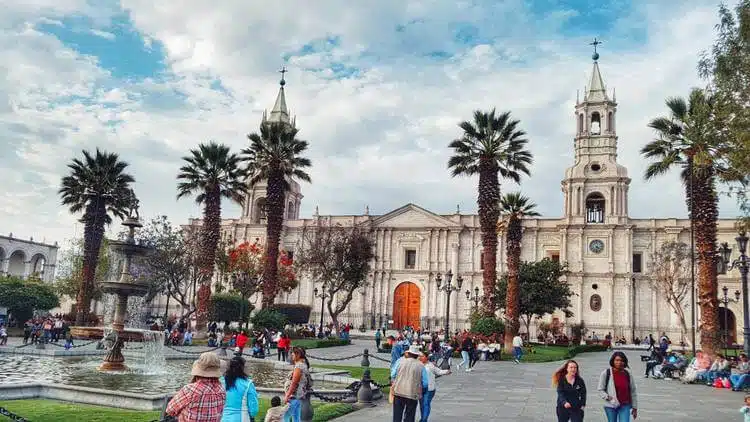 Destination Highlights:
Colca Canyon —- Carved by the Colca river some 100 miles northwest of the city, Colca Canyon is one of the deepest canyons in the world (at over 10,000 feet deep!). The canyon is still lived in by native indigenous peoples, who continue to practice in pre-Incan agriculture.
This place's stunning views and unique heritage make it a must-do for anyone visiting Arequipa. There are several ways to see the canyon. You can hike it yourself in a four or 5-day trek if you'd like. One, two, and three-day tours are also available for those who would instead take a bus.
Tip: Explore the Colca Valley on a 3-day trekking tour. Admire the Condors, visit traditional Villages and enjoy a beautiful view of the Colca Canyon. Click here for more information, photos, and/ or to make a booking.
Other Things To Do in Arequipa:
Explore the city — as Peru's second-largest metropolitan hub; there's a lot to see within Arequipa's boundaries. The city is home to Peru's constitutional court and hosts some fantastic colonial architecture and buildings. Many shine white from construction with local volcanic stone. Set against a mountain background, Plaza de Armas is a great place to spend an afternoon.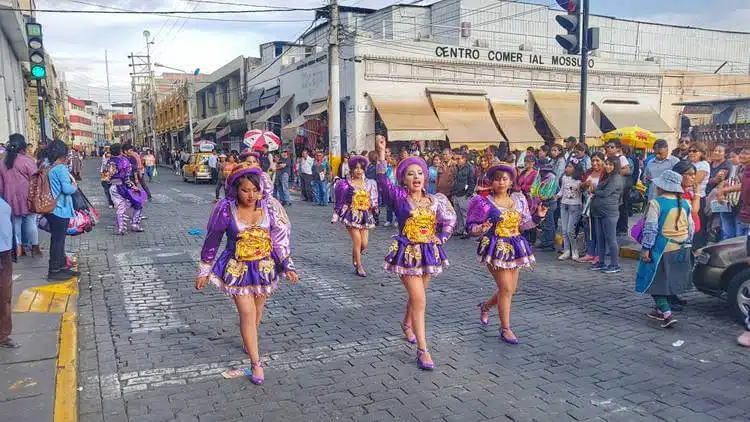 Arequipa Travel Details:
Arrival Time: 05:30 am (daily)
Recommended stay: At least two nights (that way you can explore the city and see Colca Canyon)
Departure Time: 05:45 am (daily)
6. Puno
After two nights in Arequipa, our Peru Hop bus trip takes us to Puno, a town built along the banks of Lake Titicaca. Though small, Puno has several top-rated sites and attractions, most revolving around the famous Lake Titicaca.
Destination Highlights:
See Lake Titicaca by Boat — Lake Titicaca has grown popular with visitors to Peru because of several attractions. First, there's the natural beauty and allure of the Islas Amantani and Taquile and the water itself. Whether you're paddling under your power on a kayak tour or taking a motored boat, we recommend getting out on the water.
Other Things To Do in Puno:
Uros Floating Islands — A boat tour of Lake Titicaca is also a great way to learn about the Uros floating islands. The Uros are indigenous people who have lived on the lake since pre-Incan times. They construct the artificial islands they call home by weaving reeds and other natural fiber together into a floating platform. It's quite a sight to behold.
Sillustani Burial Towers — Located some twenty miles from Puno, the Sillustani Burial Towers are a collection of cylinders that rise against the stark landscape and blue sky. Here, pre-Incan peoples buried and honored their leaders. Several companies offer tours that leave from and return to Puno. The trip usually takes no more than a couple of hours.
Puno Travel Details:
Arrival Time: 01:00 pm (daily)
Recommended stay: 2 nights
Departure Time: Day bus: 10:00 am and Night bus: 09:30 pm (both daily)
7. Cusco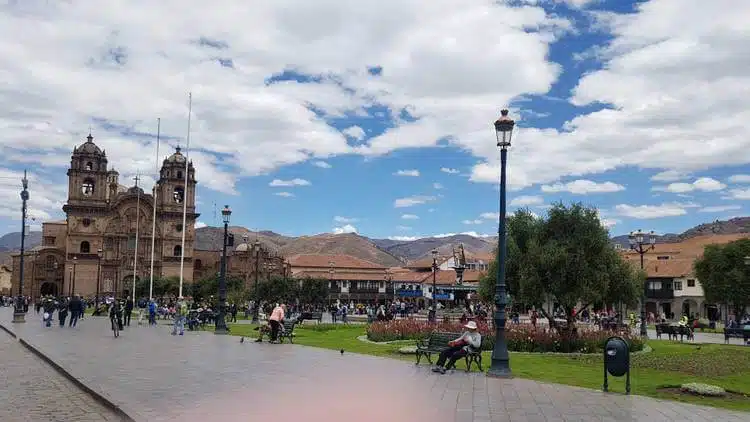 After catching the day or night bus from Puno to Cusco, we finally arrived at our final destination. Cusco has a history rich in both cultural and natural beauty. Nestled deep within the Andes mountains at over 11,000 feet elevation, the city and surrounding area once served as the imperial capital of the Incan Empire.
When Pizarro and his invading Spaniards arrived in the city, they were amazed by its organization of stonework and gold. We found the town almost as alluring.
Things to do in Cusco:
Machu Picchu – Perhaps the most widely recognized and popular archaeological site globally, Machu Picchu is nestled high within the Andes mountains. The ruins once stood tall as the imperial estate of Incan emperor Pachacuti.
You can reach the site by train. Or, if you'd like to walk to the city, just as its inhabitants once did, you can hike the series of ancient mountain paths and roads to the mountain top.
Humantay Lake – After Machu Picchu, nature lovers will enjoy a hike to Humantay Lake. A 3-hour drive and a 90-minute walk from Cusco, this mountain lake makes for an excellent day trip and an excellent opportunity to sit and ponder your life and travels beside the pristine water.
Perhaps here you'll even decide where to go next. You can book a private guide for this hike or join a group tour. While the trail is well marked, know that it's steep.
We've got you covered if you're looking for other things to do in Cusco. Check out this article for the ultimate list of the best things to do in Cusco.
Cusco Travel Details:
Arrival Time: Day bus: 05:30 pm & Night bus: 06:00 am (both daily)
Was this post helpful? If so, be sure to pin it to refer to later!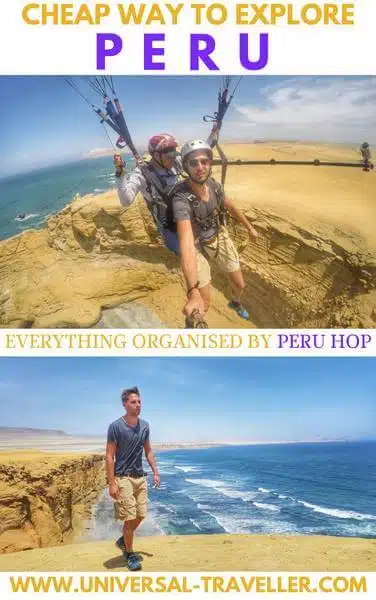 Disclaimer: I was invited by Peru Hop, Paragliding Paracas, Flamenco Bahia Tours, and Dito SandXSports. My opinions, as always, are solely my own.
About the Author
More info
Best VPN for Travel: ExpressVPN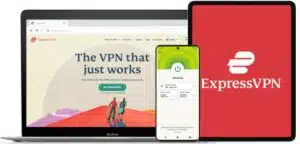 Heading abroad? Use ExpressVPN to access your social media accounts, unblock your favorite entertainment sites, and stay connected with friends and family. And get cheaper flights, of course.
Pros
✅ Next-gen, high-speed servers in 94 countries
✅ Works on iOS, Android, Windows, Mac, Linux, browsers, and more
✅ 256-bit AES encryption protects your data, even on hotel Wi-Fi
✅ Unblocks Netflix and other streaming sites
Cons
❎ No dedicated IPs
Get 3 extra months free of ExpressVPN when signing up for a 1-year plan. That's a 49% saving and a monthly cost of just $6.67! You also get a 30-day money-back guarantee.