Planning to see some Tulum Mayan ruins on your Mexico trip? There are about 30 public Mayan ruins sites to see in the Yucatan Peninsula, with many located within just a few hours of Tulum, and one, right on world-famous Tulum Beach.
Written by Shelley from Travel Mexico Solo
For those visiting Tulum on a budget, seeing the Mayan ruins around Tulum is completely possible. In fact, some sites cost as little as $5USD/€4 to visit, so you can use those savings to splurge in other areas.
Best VPN for Travel: ExpressVPN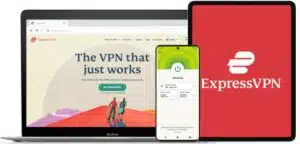 Heading abroad? Use ExpressVPN to access your social media accounts, unblock your favorite entertainment sites, and stay connected with friends and family. And get cheaper flights, of course.
Pros
✅ Next-gen, high-speed servers in 94 countries
✅ Works on iOS, Android, Windows, Mac, Linux, browsers, and more
✅ 256-bit AES encryption protects your data, even on hotel Wi-Fi
✅ Unblocks Netflix and other streaming sites
Cons
❎ No dedicated IPs
Get 3 extra months free of ExpressVPN when signing up for a 1-year plan. That's a 49% saving and a monthly cost of just $6.67! You also get a 30-day money-back guarantee.
Of all the public sites, a few Mayan ruins sit high atop many Mexico bucket lists.
Let's look at the Top 5 best Tulum Mayan ruins and everything you need to know about visiting these ancient pyramids and archeological sites.
1. Chichen Itza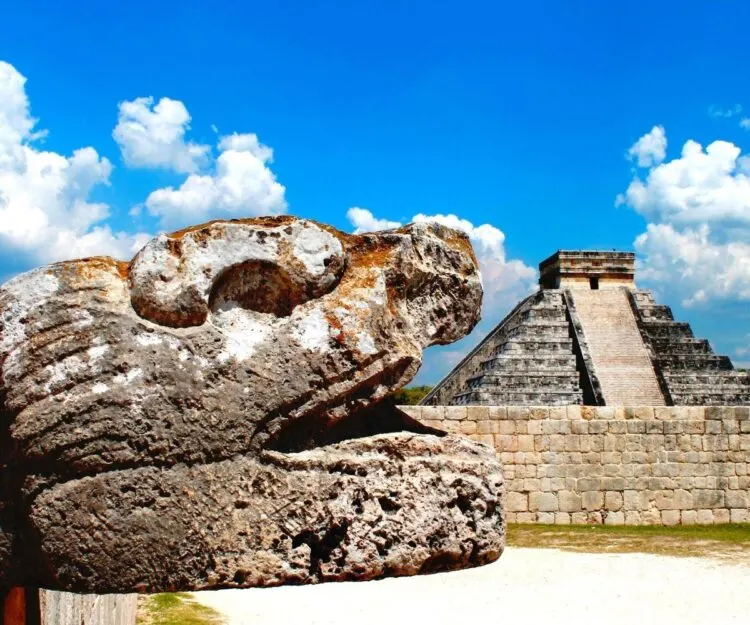 As far as a bucket list Mexico travel goes, Chichen Itza is definitely on many of them. As one of the Seven Wonders of the Ancient World, this Mayan archeological site sees about two million visitors each year who come to marvel at this large historical site.
The only Wonder of the World on the North American continent, Chichen Itza, is one of the two most visited ruins sites in Mexico and Teotihuacan near Mexico City.
As far as Yucatan Peninsula ruins go, many people visit Chichen Itza on their Tulum trip.
Located about 2.5 hours from Tulum by car or bus, visiting Chichen Itza ends up being a full-day trip. When heading there, start the day as early as possible so you can arrive at Chichen Itza before all the crowds get there, around 10:30-11 am.
As one of the most visited places in all of Mexico, you can imagine large crowds each day. In addition, there are not many trees at Chichen Itza, so the earlier in the day you're able to explore the site, the less time you spend in the hot midday sun.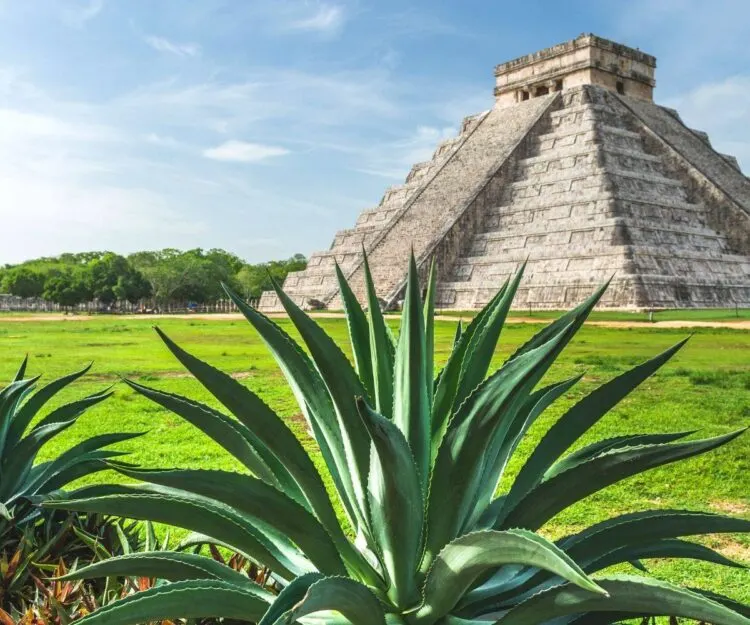 When getting to Chichen Itza, head to the ticket gate, where you'll pay the admission cost, but you can also book a tour guide on the spot. Several accredited tour guides wait by the entrance for a group to lead.
While the guide is optional, it is worth it somewhere as large and historically important as Chichen Itza.
Once inside, check out all the things to see in Chichen Itza — El Castillo (The Castle, or Temple of Kukulcan), main temple and the one in most Chichen Itza photos, and also the Temple of the Warriors, Group of a Thousand Columns, Wall of the Skulls, Grand Ball Court and Sacred Cenote.
If the site sounds large, it is, encompassing 740 acres/300 hectares in total.
As this is quite far from Tulum, many combine a Chichen Itza visit with a stop at some nearby cenotes, like Cenote Ik-Kil, Cenote Sagrado (Sacred Cenote), and Cenote Yokdzonot. These swimmable sinkholes are the perfect places to cool off after a hot day at Chichen Itza.
Chichen Itza Entrance fee: $481 pesos ($25USD/€20)
Chichen Itza Hours: Open daily, 8 am-4:30 pm

Read also:
2. Tulum Mayan Ruins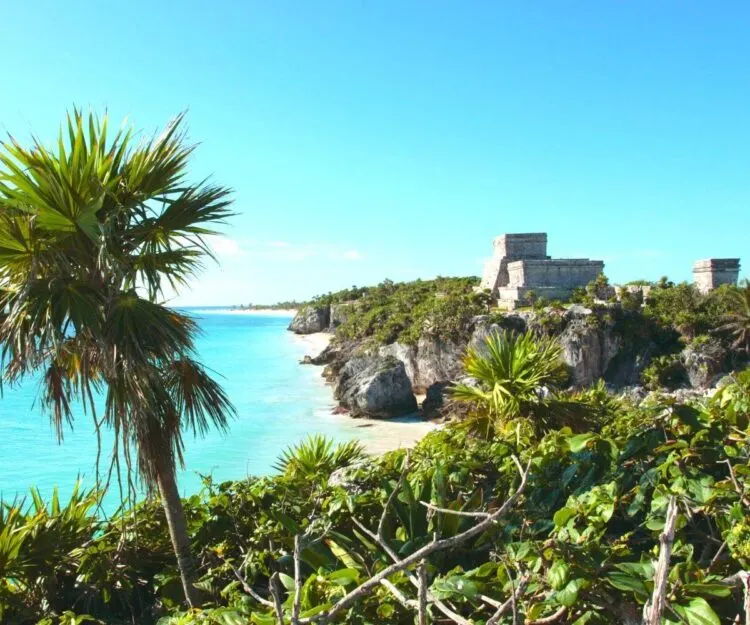 The closest Mayan ruins to Tulum are actually located in Tulum. Situated right on Tulum Beach, overlooking the bright blue Caribbean Sea, the Tulum Ruins are among the best things to do in Tulum, and most Tulum travelers make time to see them.
This is one of the smaller Mayan ruins sites in Yucatan so that you can explore the whole place at a slower pace in two hours or less. After checking out the Tulum Ruins, walk down the staircase and head to the Playita Tortugas below to swim in the sea.
At only a few dollars/euros to enter and free beach access, this is a great way to enjoy Tulum for very little money.
Inside the Tulum Ruins site, there are four larger structures and buildings to see.
These sites include the Templo del Viento (Wind Temple), the most photographed of the Tulum Ruins buildings, the Templo del Dios Descendente (Temple of the Descending God), El Castillo (The Castle), and Templo de Los Frescos (Temple of Frescoes).
While visitors to Chichen Itza will want to hire a tour guide, the Tulum Ruins is small enough that you don't need a paid guide. When you head inside, there is a roped path that you'll walk along with English-language signs at every building to explain its significance.
After visiting the ruins, then spending some time in the sea at Playita Tortugas below, you'll exit the site right onto the famous Tulum Beach Road.
Here, you'll see all the Instagram-worthy Tulum places, and you can grab some tacos, a cold beer, or coconut water. You can also check out some of the best Tulum restaurants.
Tulum Ruins Entrance fee: $80 pesos ($4USD/€3)
Tulum Ruins Hours: Open daily, 8 am-5 pm
3. Coba Ruins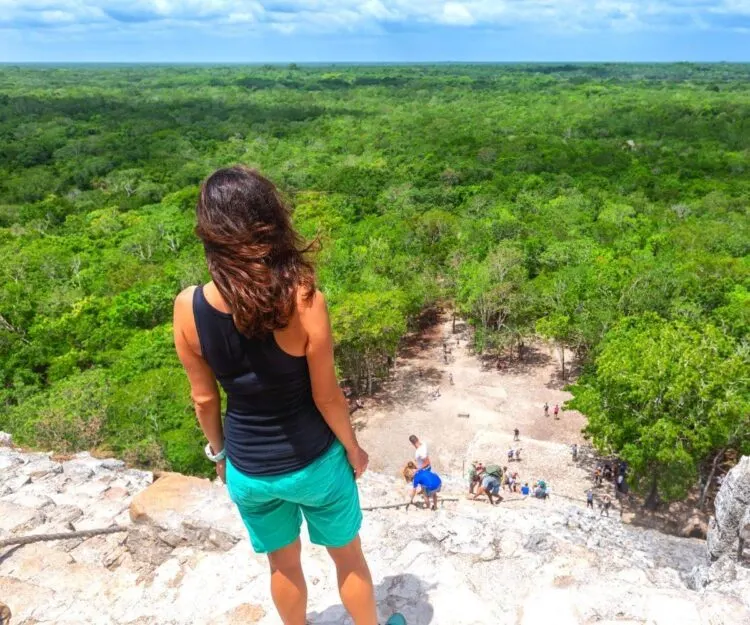 If you're wondering — Is Coba worth visiting? The answer is that it is because it's the first Mayan ruins site on this list where you can actually climb the ruins.
That's right, you can't climb on the structures at either Chichen Itza or Tulum Ruins, but you can at Coba.
Located deep in the jungle about 45-minutes from Tulum by car and bus, Coba Mayan ruin is a large site where you'll want to spend at least four hours. In fact, many rent bikes at the entrance to Coba so they can explore the entire site.
While biking around, you'll pass all the structures at Coba, including Nohoch Mul, the largest pyramid in the Yucatan. While biking around, you might encounter some tropical jungle birds, monkeys, and even coatis, a raccoon-like animal common to the Yucatan Peninsula.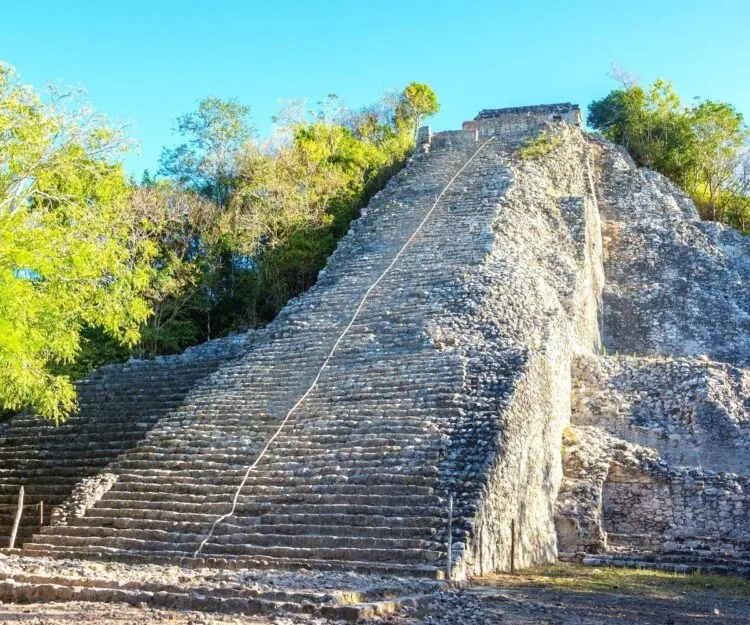 As with the other sites, you can hire a Coba tour guide at the entrance. You can also hire a bike taxi to take you around the site for those who don't choose to walk or bike around Coba. Located in the jungle, Coba can get quite hot, so a bike taxi is a nice option to do the site tour.
Besides the large Nohoch Mul temple, there are a few other structures and buildings at Coba, all of which you can also climb and explore up close.
If you do want to climb Nohoch Mul, know that it is quite a bit steeper than it looks, though there is a rope to hold onto while you climb up and down. However, once you get to the top of the 120 steps to see the jungle views all around you, the climb will have been worth it.
Coba Entrance fee: $75 pesos ($4USD/€3)
Coba Hours: Open daily, 8 am-5 pm

4. Ek-Balam Ruins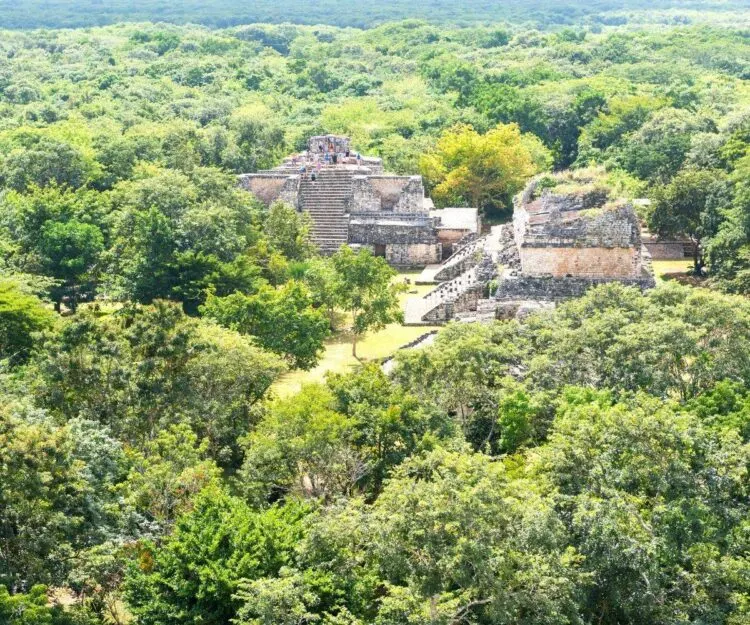 Ek-Balam, meaning black jaguar in the Mayan language, is located about two hours from Tulum.
It is probably the least-visited Mayan archaeological site on this Top 5 list; however, this makes it that much cooler to visit as you'll likely be one of the only people there.
As with Coba, you can also climb the main Ek-Balam pyramid, called the Great Acropolis. From the top, you'll have some spectacular jungle views, as Ek-Balam is quite rural. The Great Acropolis pyramid looks different from most other Yucatan Mayan pyramids with its thatched roofed areas.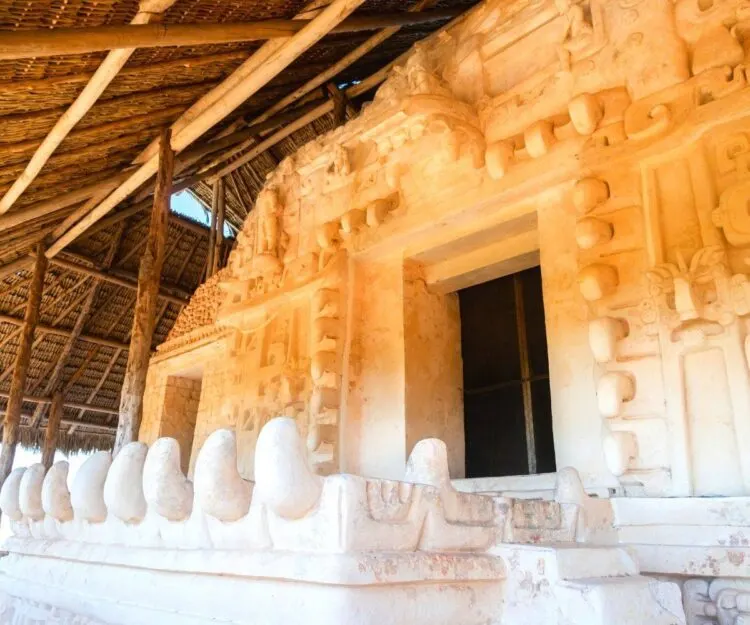 Head underneath the structures to see the large elaborate carved stone statues. You can hire a guide at the entrance to explain the significance of the many statutes, but definitely make sure your phone is charged because you'll want numerous photos of this unique Mayan site.
Ek-Balam isn't a huge site, so many combine it with a stop in nearby Valladolid, one of Mexico's 130 or so pueblos magicos, or magic towns.
This colorful colonial town is a popular side trip from Tulum, and since Ek-Balam is on the way, many combine the two for a Tulum day trip.
Ek-Balam Entrance fee: $413 pesos (20USD/€17)
Ek-Balam Hours: Open daily, 8 am-5 pm
5. Uxmal Ruins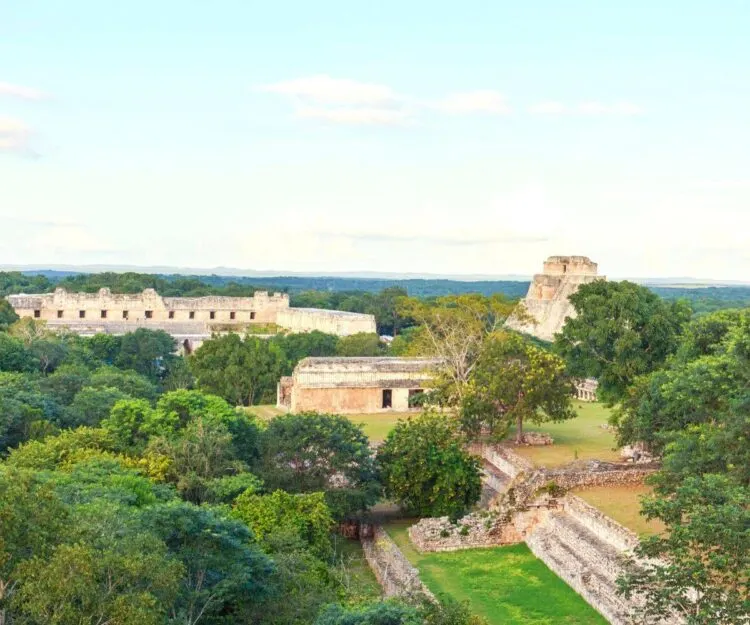 The UNESCO World Heritage Site of Uxmal is admittedly a bit of a trek from Tulum. However, besides Chichen Itza, it is the second most important Mayan archaeological site in Yucatan.
To get to this rather remote place, you'll want to have a rental car or even book an Airbnb in Merida for the night and take the bus or drive from there. In total, Uxmal is about four hours from Tulum by car, so do make sure you plan ahead of time.
Read also: Best things to do in Mérida
Though not as well known as Chichen Itza, Uxmal is equally impressive in size and history and less crowded and less touristy — and you can climb most of the pyramids at Uxmal.
Though you can't climb the largest Uxmal pyramid, El Adivino (The Pyramid of the Magician), you can climb the Great Pyramid, located right next to it.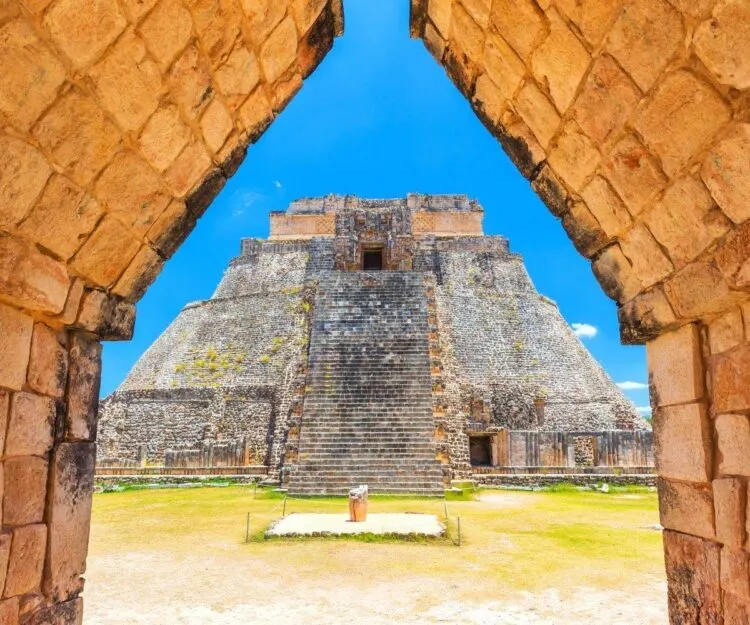 From the top, you'll have amazing views of Uxmal's other buildings, the House of the Birds, House of the Turtles, and Nunnery Quadrangle.
For those coming by car, Uxmal is one of five Mayan sites on the Ruta Puuc. Though Uxmal is the most visited, the other sites are worth checking out if you have a car to drive this 19 miles/30km route. The other sites on the Puuc Route are Kabah, Labna, Sayil and X-Lapak.
Besides the five sites on the Puuc Route, there's also the Choco-Story Chocolate Museum and Mayan Planetarium, both located across the street from Uxmal. For those who have the time, this area can be a nice addition to a Tulum trip.
Uxmal Entrance fee: $428 pesos ($22USD/€18)
Uxmal Hours: Open daily, 8 am-5 pm
Conclusion: Tulum Mayan Ruins
Though Tulum is mostly known as a bohemian beach town, perfect to sip cocktails at hip bars and party the night away, there is a whole other historical side.
While you now know about these five Mayan ruins near Tulum, there are more throughout the Yucatan Peninsula.
For travelers looking to explore even more Mayan sites in the Yucatan, head to El Rey and El Meco in Cancun, San Gervasio Ruins on Cozumel Island, Xel-Ha Ruins north of Tulum, and Muyil, located in the Sian Ka'an Biosphere Reserve, just south of Tulum.