The ultimate list of the best cenotes in Tulum. Imagine yourself swimming in the breathtaking caves. Extra: Best hotels to visit the cenotes Tulum!
A visit to any cenote in Mexico offers is worthwhile, but the cenotes in Tulum are among the most beautiful in the area.
Here, you can immerse yourself in the cool, dark blue water and gaze up at the lush green jungle foliage clinging to the cave walls and dangling from the ceiling.
To help you decide which of the Cenotes Tulum is right for you, we've put together this list of the best cenotes in Tulum.
From the more popular Cenote Dos Ojos to hidden gems where you can escape the tourist crowds, here's what we recommend.
We also published a detailed Tulum Travel Guide about what to do in Tulum, the best Tulum Beach Clubs, hotels to stay at in Tulum, and a list of the best Tulum restaurants.
What is a Cenote?
Cenote definition: At its root, a cenote is simply a sinkhole that's been flooded with rain and groundwater.
That definition may leave you wondering what all the fuss is about, but trust us, taking a dip in a cenote is much more fun than that makes it sound.
First off, some of these pools are downright massive. They're often dozens of meters across, just as deep, and buried in caves far beneath the jungle landscape.
Moreover, many join together via a labyrinth of underwater passageways carved into the limestone by erosion eons ago.
Unsurprisingly, cenotes have earned a privileged place in Maya culture. The Maya gave the sinkholes the name we use today.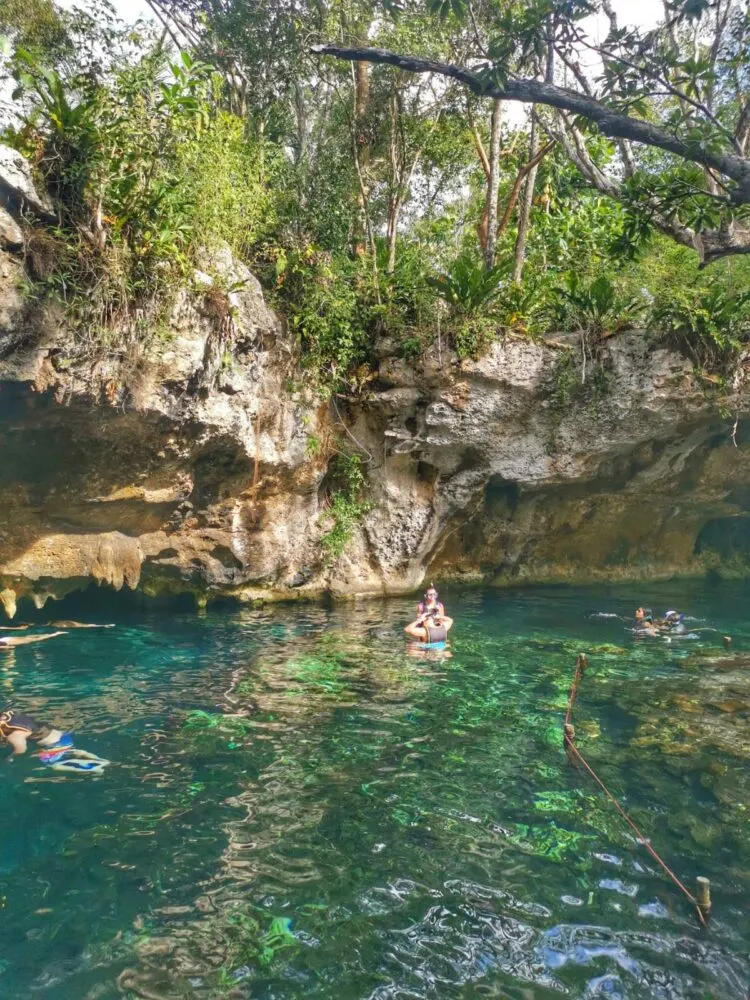 1. Open cenotes
Open cenotes are mature ones. The pools are open and have no caves to enclose them. Most open cenotes go deep underground.
2. Semi-Open Cenotes
Semi-open cenotes have a part of them hidden in a cave while a significant part is open.
3. Underground Cenotes
Underground cenotes are difficult to explore because they are hidden in plain sight. Only expert divers can survey them.
4. Cave cenotes
Cave cenotes have horizontal entrances on their dry sections to access the pool.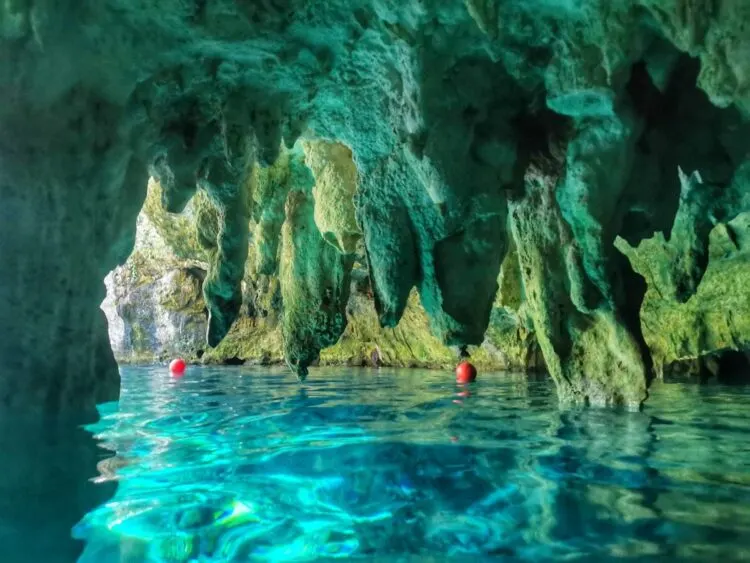 But what does Cenote mean?
It's actually just derived from the Maya word for groundwater. Yet, to the Maya, cenotes are much more than a water source.
They are seen as holy and as passageways to the underworld.
If you enjoy snorkeling or diving, you will find a visit to one of Tulum's cenotes one of the highlights of your trip.
Filtered by the soil and jungle above, the rainwater that fills cenotes is some of the clearest in the world.
And in that water, you'll find captivating marine life and majestic cave formations stretching beneath the water.
Tulum Cenotes Map
The map below shows the location of the best cenotes near Tulum.
The most beautiful Cenotes in Tulum
The following table gives you an overview of the best cenotes near Tulum, including distance to Tulum, admission fee, opening times, and location.
1. Dos Ojos Cenote Tulum
Recommended by Stefania from Every Steph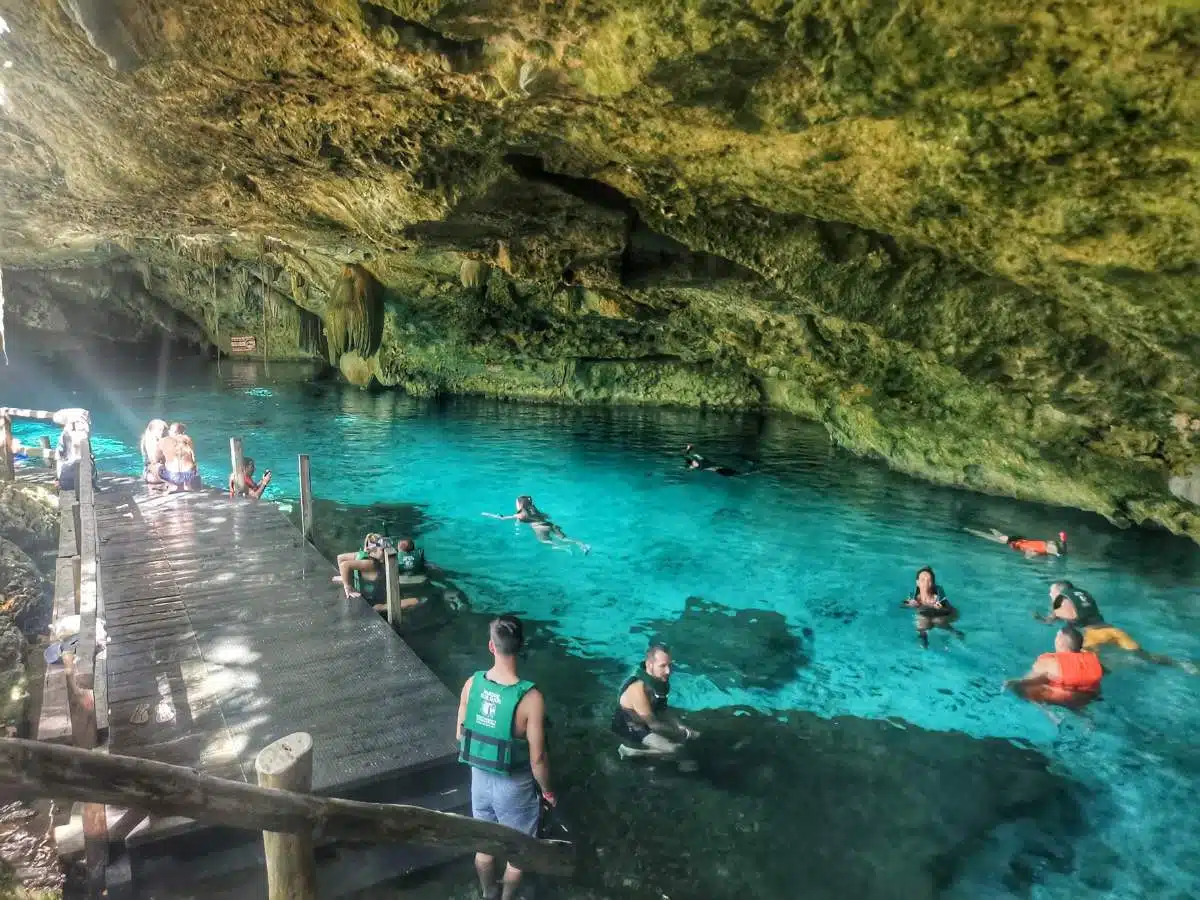 Cenote Dos Ojos is one of the most famous Cenotes near Tulum, and it's understandable why.
With its blue water, stalactite formations, and 400 meters long passageway under the water, it caters to pretty much everyone, families, and snorkelers, and it's a paradise for divers.
Cenote Dos Ojos is actually a system of 2 different sinkholes; in fact, "dos Ojos" in Spanish means "two eyes."
The first cenote is where you'll swim in that beautiful blue water you see in the photos (the light hits it from the top), while the second one is a more rugged and mysterious-looking being inside a cave.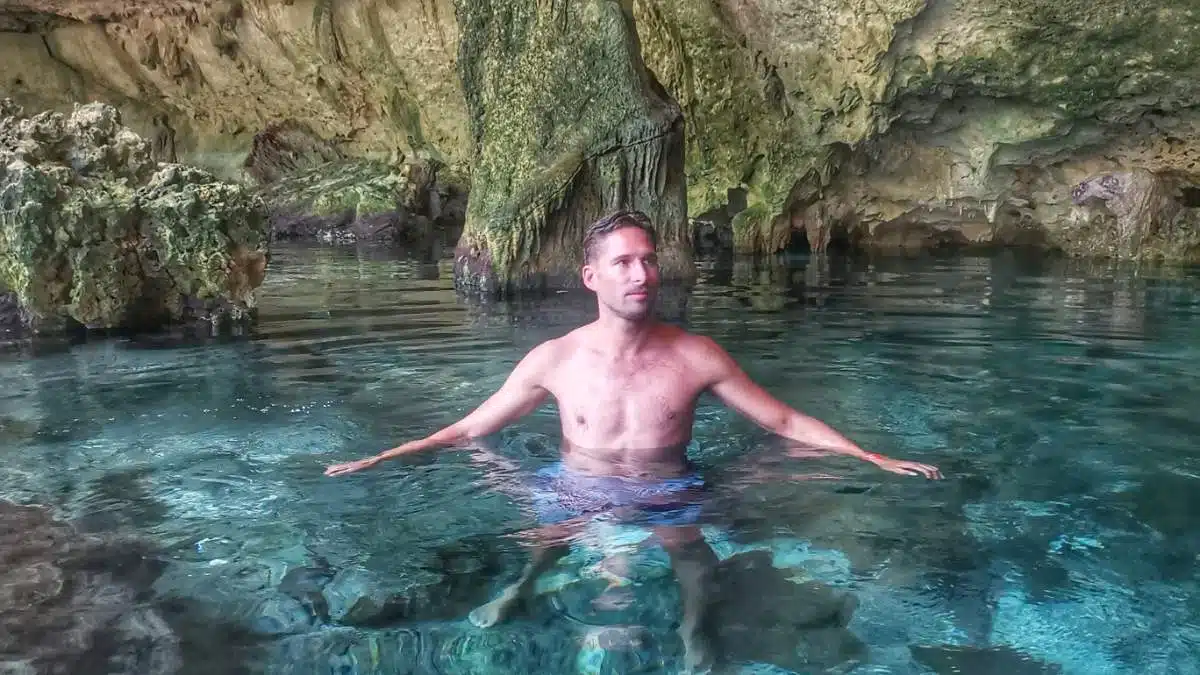 Click here to read more about the Dos Ojos Cenote!
You'll even see bats flying around!
Tip: Explore the archaeological sites of Tulum and then refresh at Cenote Dos Ojos.
If you want to swim in a cenote all by yourself, this is not the right one for you 'cause it's so popular, it's pretty much always crowded, but if you come right after opening time or right before closing time, you won't find groups and bus tours, and you'll be able to enjoy it in peace.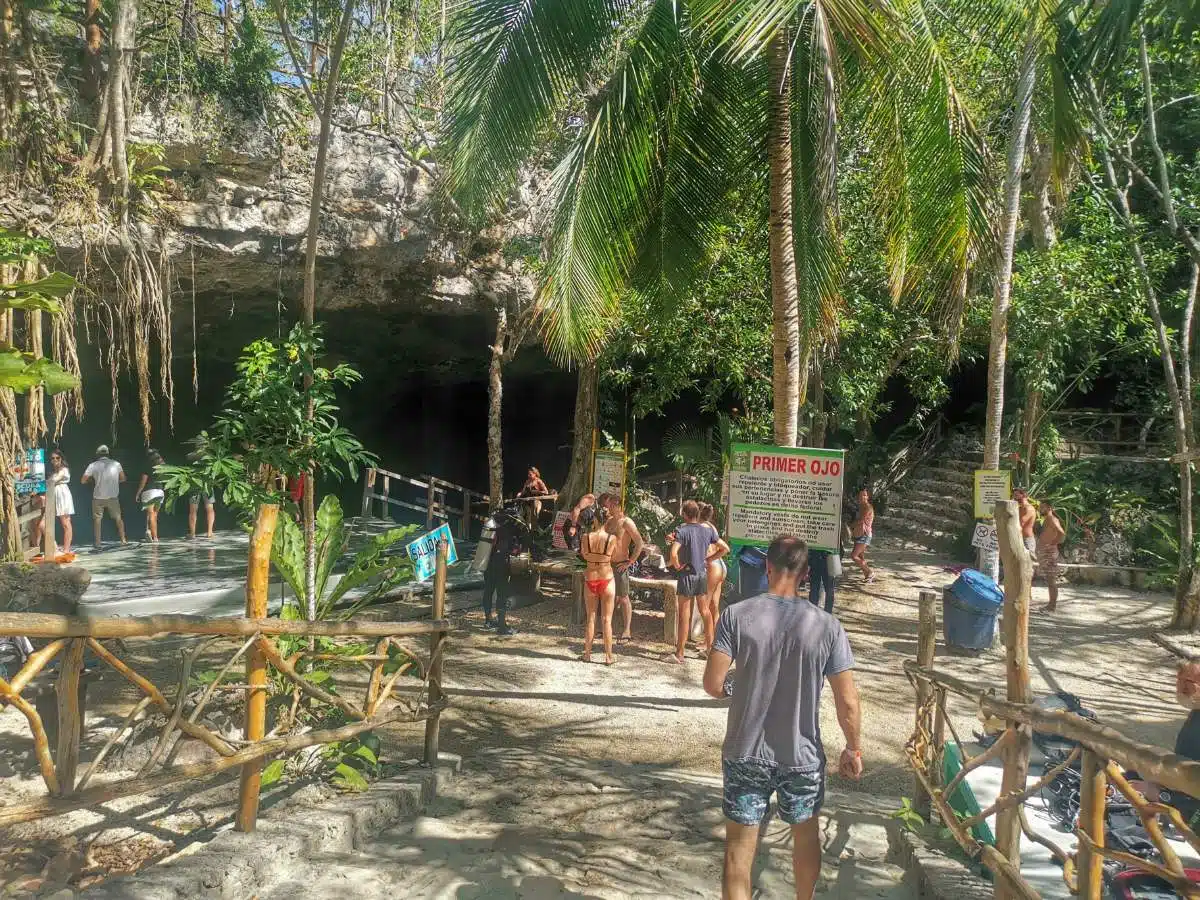 At Cenote Dos Ojos, you'll find all sorts of facilities, including changing rooms, toilets, a restaurant, and even a massage parlor, so it's also suitable for families with kids.
If you're in Tulum, you really can't miss visiting this incredible cenote!
Dos Ojos Cenote Tulum on the map:
The map below shows the location of the Dos Ojos Cenote.
Best Tours to Dos Ojos Cenote
1. Tulum archeological site and Dos Ojos Cenote
2. Diving in Dos Ojos and The Bat Cenotes from Playa del Carmen
3. Private Tour to Dos Ojos Cenote
2. Best Cenotes Tulum – Gran Cenote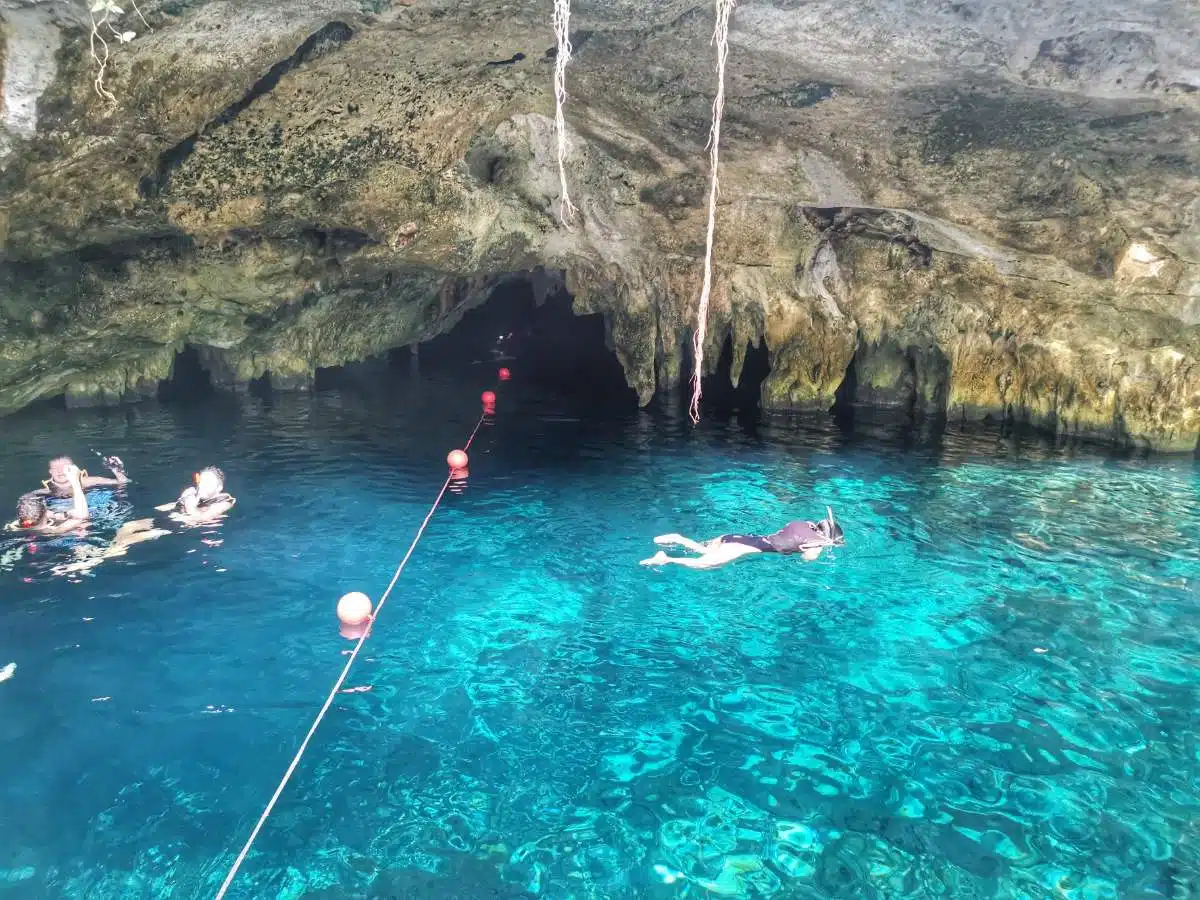 As its name implies, Gran Cenote is one of the best cenotes in Tulum. And for that reason, it's also probably the most popular.
Why is Gran Cenote the best?
It offers something for everyone. Unlike other cenotes in the area, parts of Gran are shallow enough to wade in.
This makes it a great option for families or travelers who aren't the most confident swimmers.
As a bonus, soft and comfortable sand covers much of the cenote's floor (rather than jagged or sharp cave rock).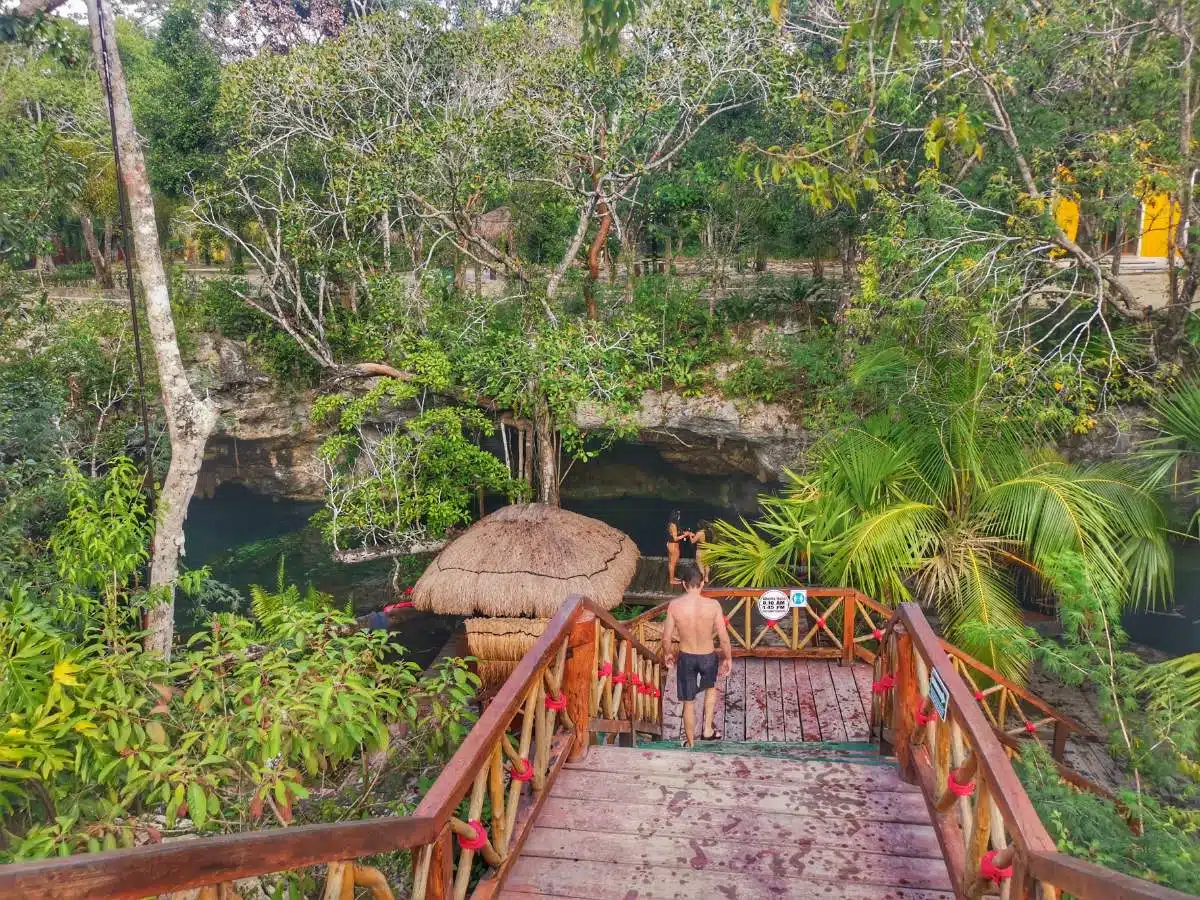 But Gran also holds plenty of opportunities for the adventurers and explorers among us.
The location is a favorite of cave divers because the cenote holds underground passageways that connect to one of the largest cave systems in the world.
Some of these connecting caves and tunnels are only partially submerged, so strong swimmers and snorkelers can explore the labyrinth.
Just watch out for bats.
Just five kilometers from central Tulum, Gran Cenote is a common stop for many organized cenote tours that depart from the town.
If you don't own your own scuba or snorkeling gear (or if you're not yet comfortable diving without a guide), one of these tours is the way to go.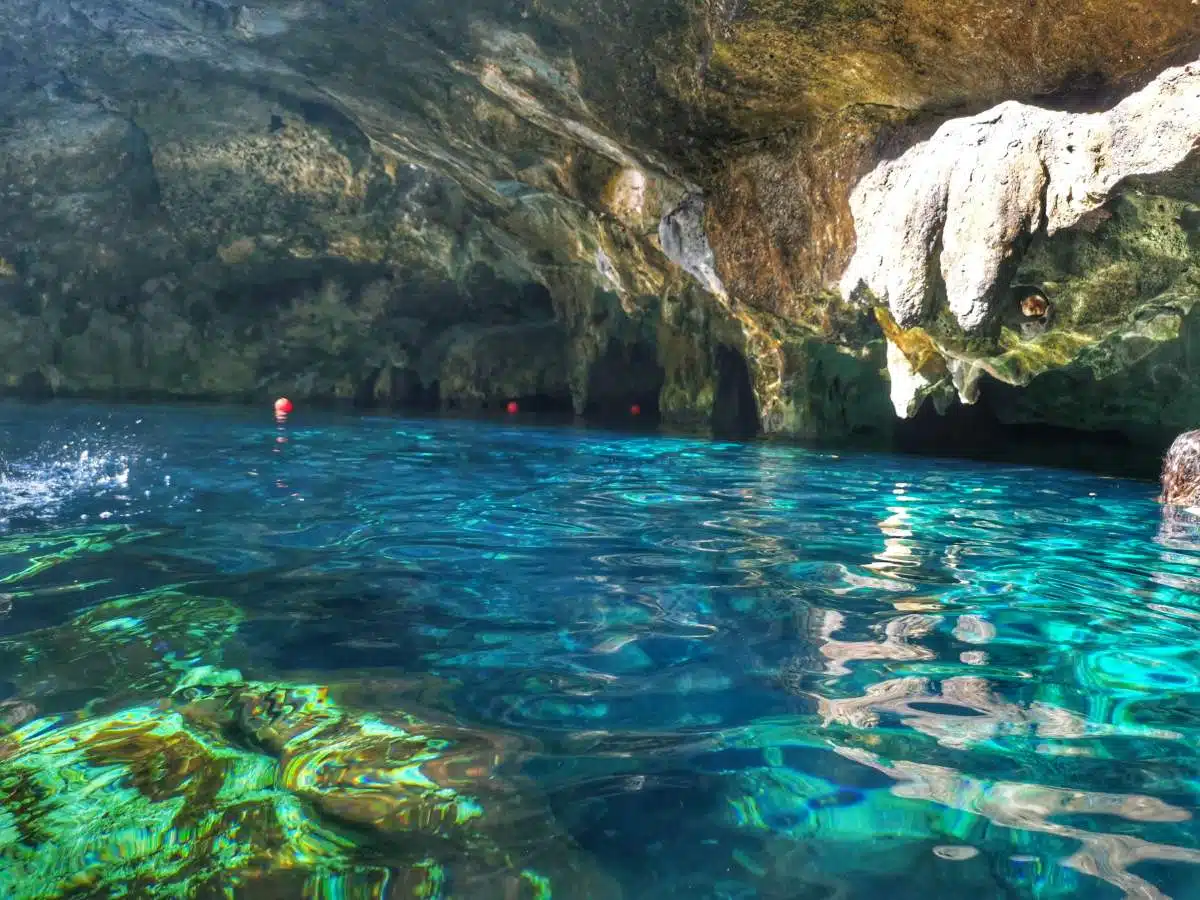 As I mentioned above, Gran Cenote is one of the most frequented Cenotes near Tulum.
So, if you don't like crowds or are looking for a less festive atmosphere, aim to visit during off-peak hours (either right after opening hours or just before closing).
Gran Cenote Tulum on the map:
The map below shows the location of the Gran Cenote.
3. Cenote Aktun-Ha (Car Wash Cenote)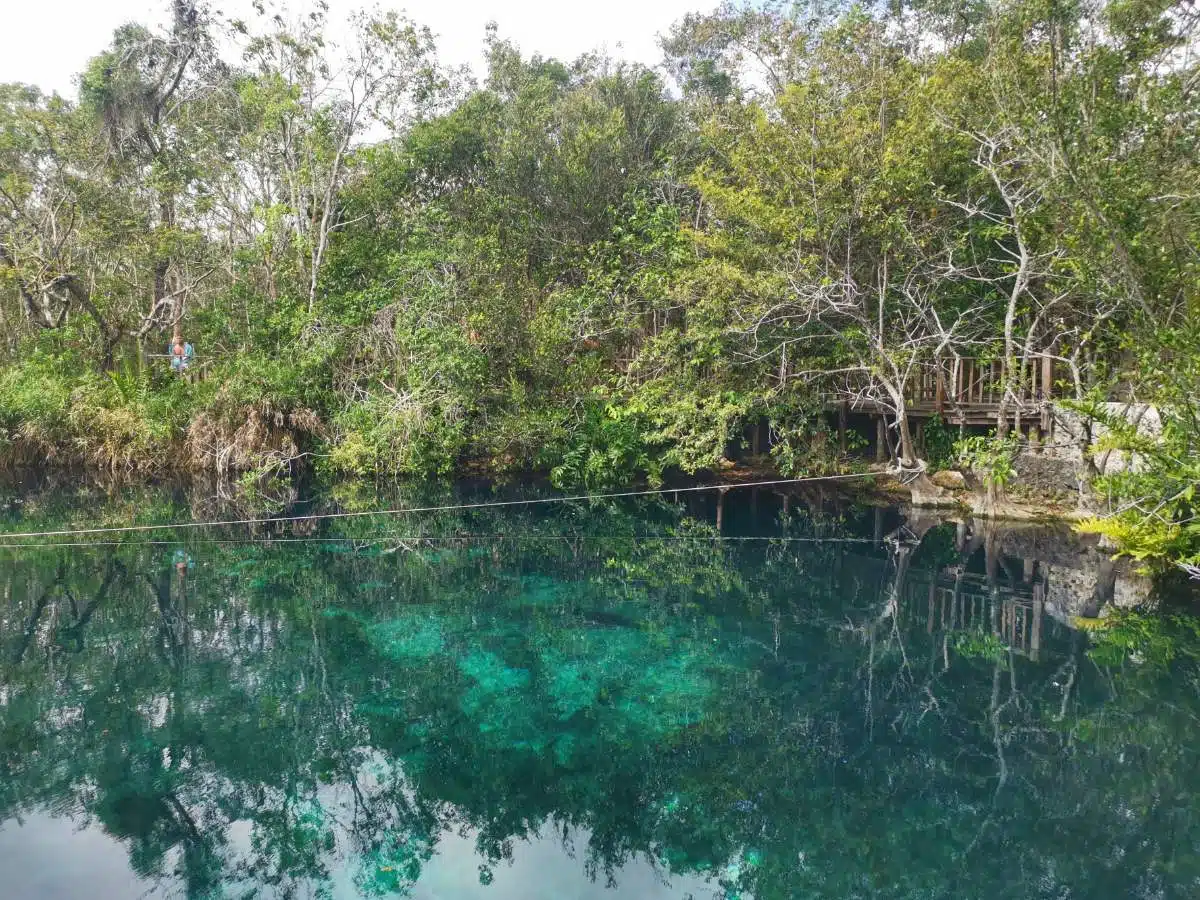 Just a bit further from Tulum, at 8 kilometers away, Car Wash Cenote holds another afternoon of fun.
The cenote got this unorthodox name because Tulum's taxi drivers used the pool to wash their cars.
Unlike Gran Cenote, Car Wash Cenote rarely draws large crowds.
That means that it is a great cenote for those travelers looking to relax and have more water to themselves.
And there's plenty of water to go around here. Car Wash Cenote is almost 50 meters wide and, on average, around 3 meters deep.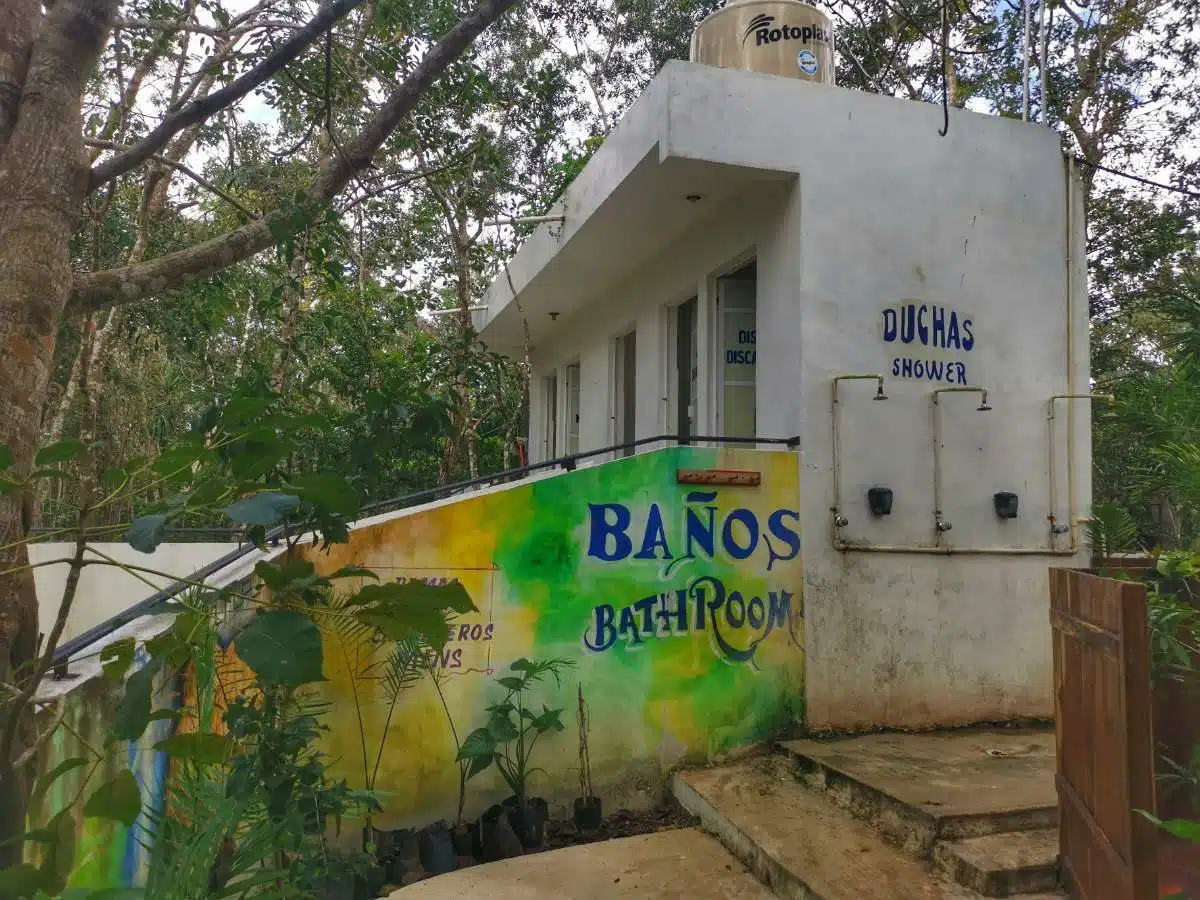 To be honest, it feels more like swimming in a backwoods pond than what you'd expect from a cenote—that is, until you get in the water.
Car Wash Cenote is a bit of an undiscovered treasure for snorkelers, freedivers, and scuba divers. Beneath the surface, a rich ecosystem of marine plants springs from the cenote floor.
In this green underwater forest, you'll catch glimpses of colorful freshwater fish, small crocodiles, turtles, and more.
Like Gran, Car Wash Cenote also connects to a maze of underwater caves. Diving tours of this cave network can be booked from Tulum.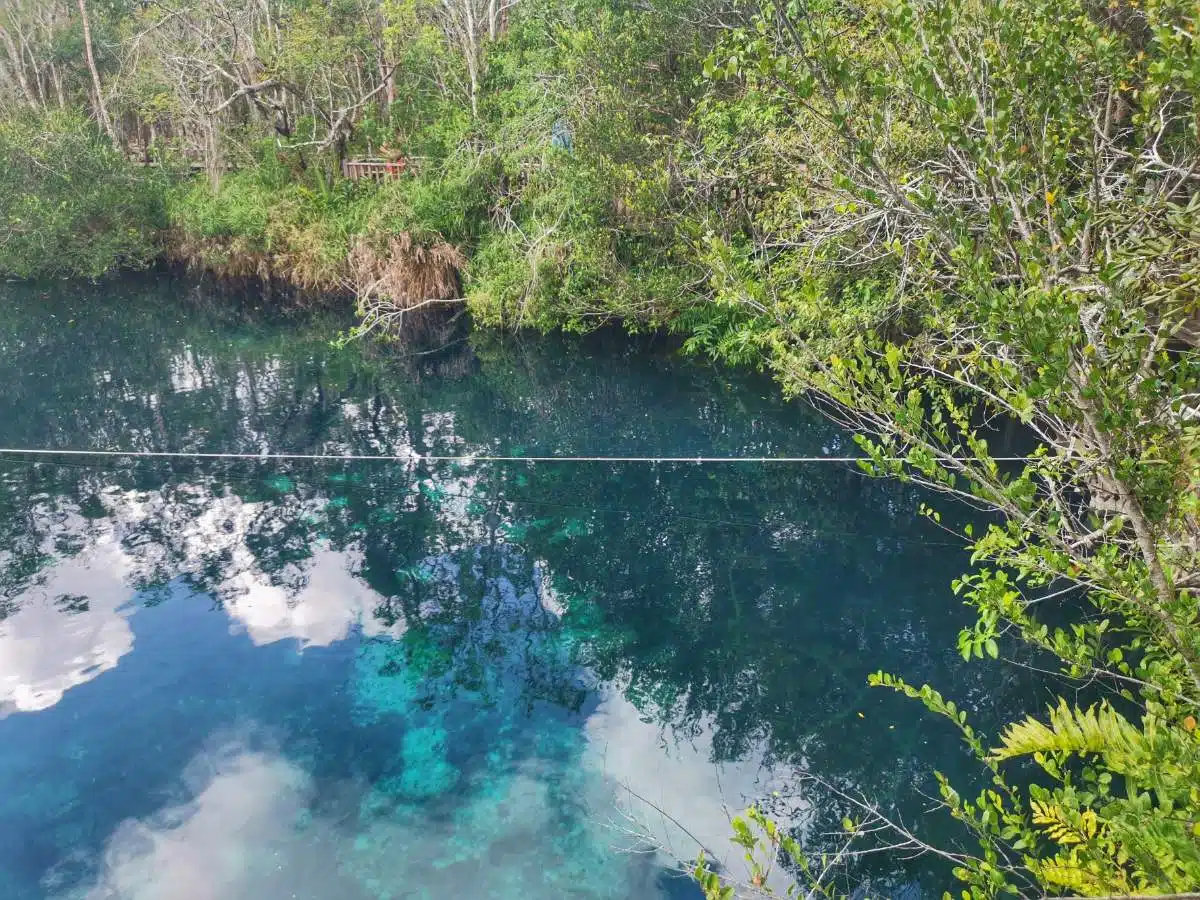 The caves are great for both experienced divers and those just getting into the activity.
Car Wash Cenote is open daily from 9 am to 4 pm, and admission costs 50 pesos.
Carwash Cenote Tulum on the map:
The map below shows the location of the Carwash Cenote.
4. Cenote Zacil-Ha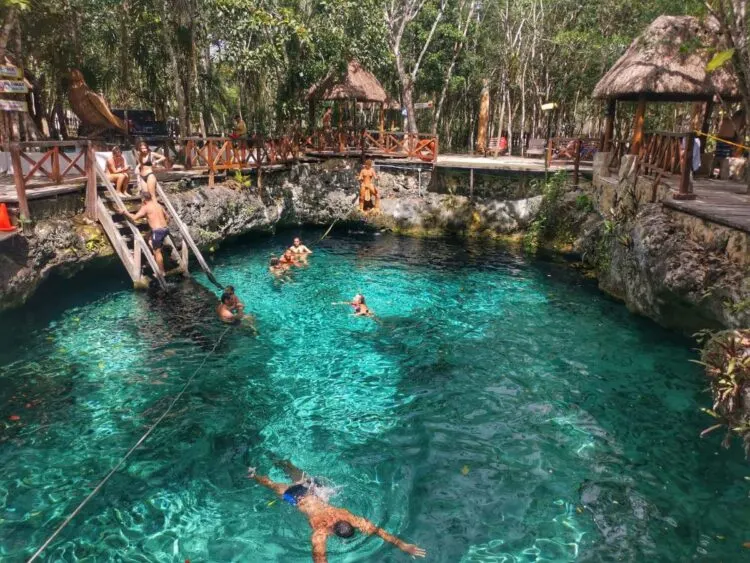 Right next door to Car Wash Cenote, you'll find Cenote Zacil-Ha.
While Car Wash Cenotes Tulum has an isolated, natural feel with little more in the way of artificial amenities than a few small swimming and diving docks, Zacil-Ha is much more developed.
Modern conveniences at Cenote Zacil-Ha include a restaurant, changing rooms, a pool, and even a zipline that can take you just a meter above the surface of the water.
The water itself is crystal clear, and like its neighbor, Zacil-Ha connects to many other caves in the area through underwater and half-submerged passageways carved into the limestone by Mother Nature.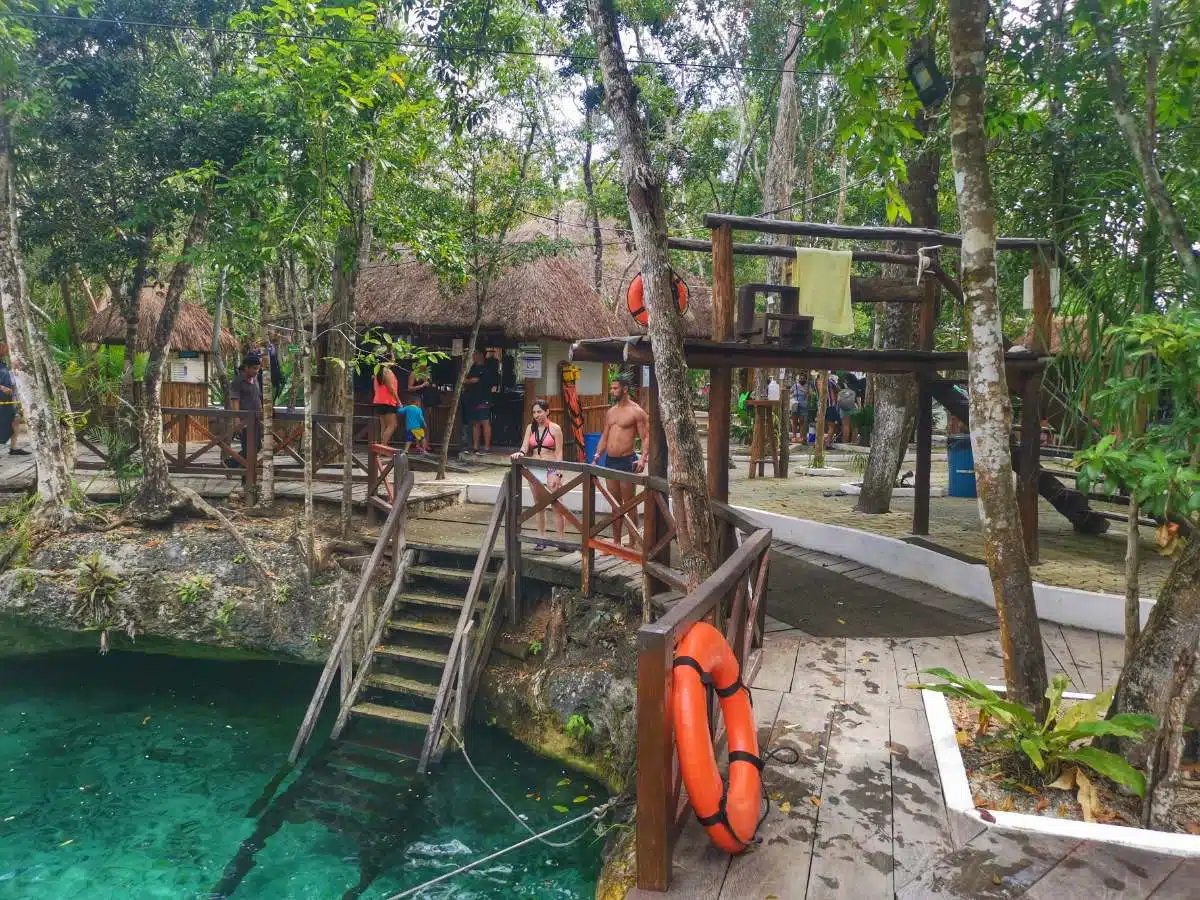 Above the surface, the jungle surrounding this cenote brims with wildlife. If you keep your eye peeled and watch the trees as you lounge in the water, you might even spot a toucan!
Because of all the extras and amenities, Cenote Zacil-Ha is probably one of the more family-friendly Tulum cenotes on this list.
If you really want to get the most out of your visit to this cenote, you can even book a cabin on site.
Those traveling to Zacil-Ha from Tulum should combine the trip with a visit to Car Wash Cenote.
Most tour groups arrive at 11 am, and the cenote typically stays pretty busy from then until late afternoon.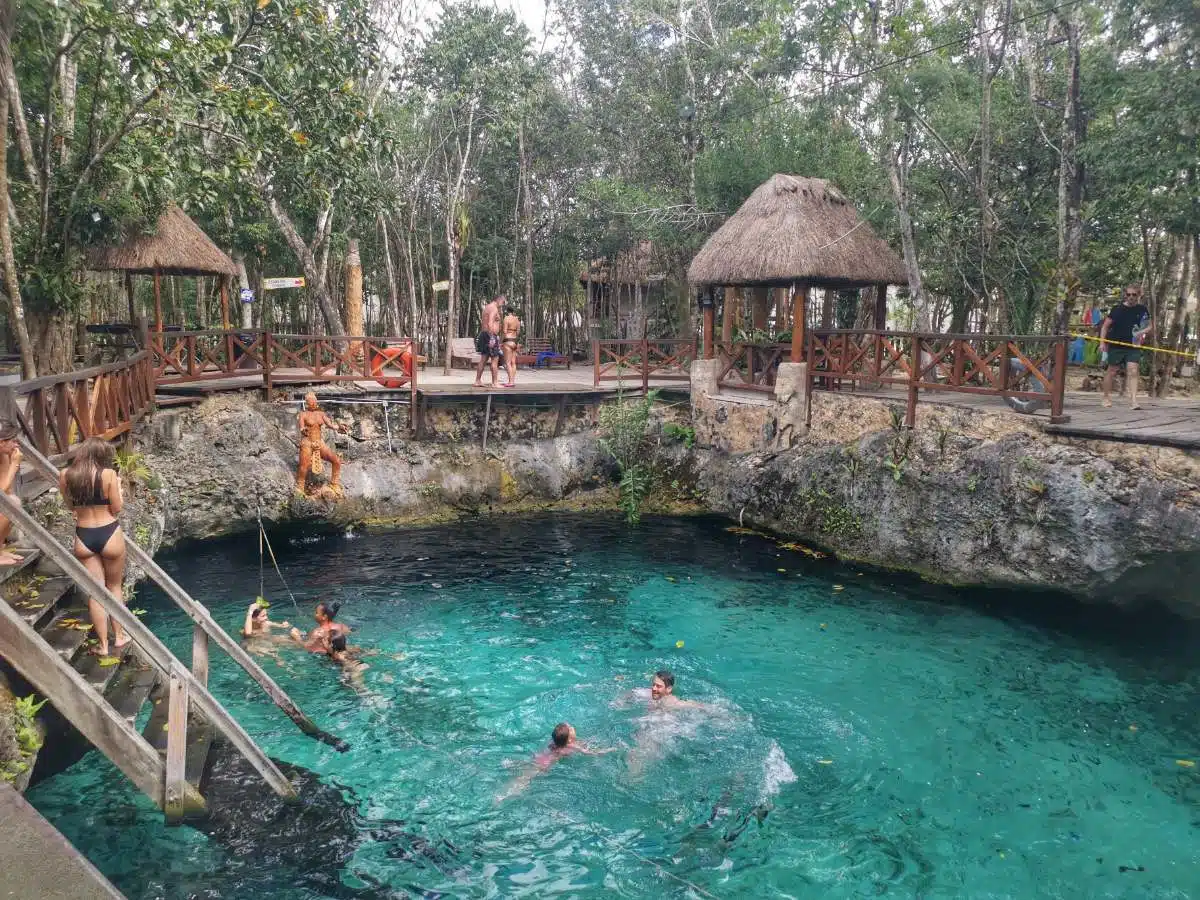 So, if you'd like to beat the crowd, plan to hit the water as soon as they open: 10 am.
Zacil-Ha Cenote Tulum on the map:
The map below shows the location of the Zacil-Ha Cenote.
5. Cenote Calavera
Recommended by Adam from Getting Stamped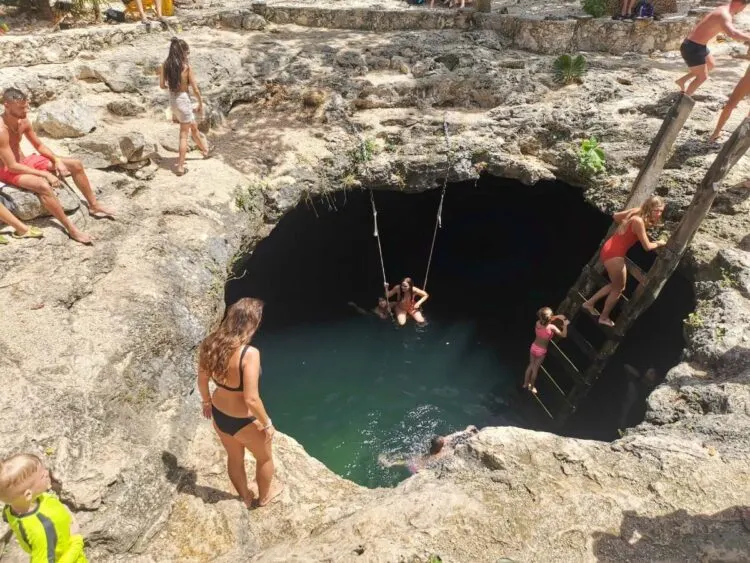 One of the most overlooked and underrated cenotes near Tulum is Cenote Calavera.
The name comes from the Spanish word for skull because when you are swimming in the cenote, the holes in the top resemble a human skull.
Another super fun and unique feature of this cenote is how you get in. It's also often called the temple of doom cenote.
At the top of the cenote are one large and two small holes, all about 10 feet (3 meters) above the water, making them perfect for jumping. The water below is plenty deep enough for diving, jumping, or a really good cannonball.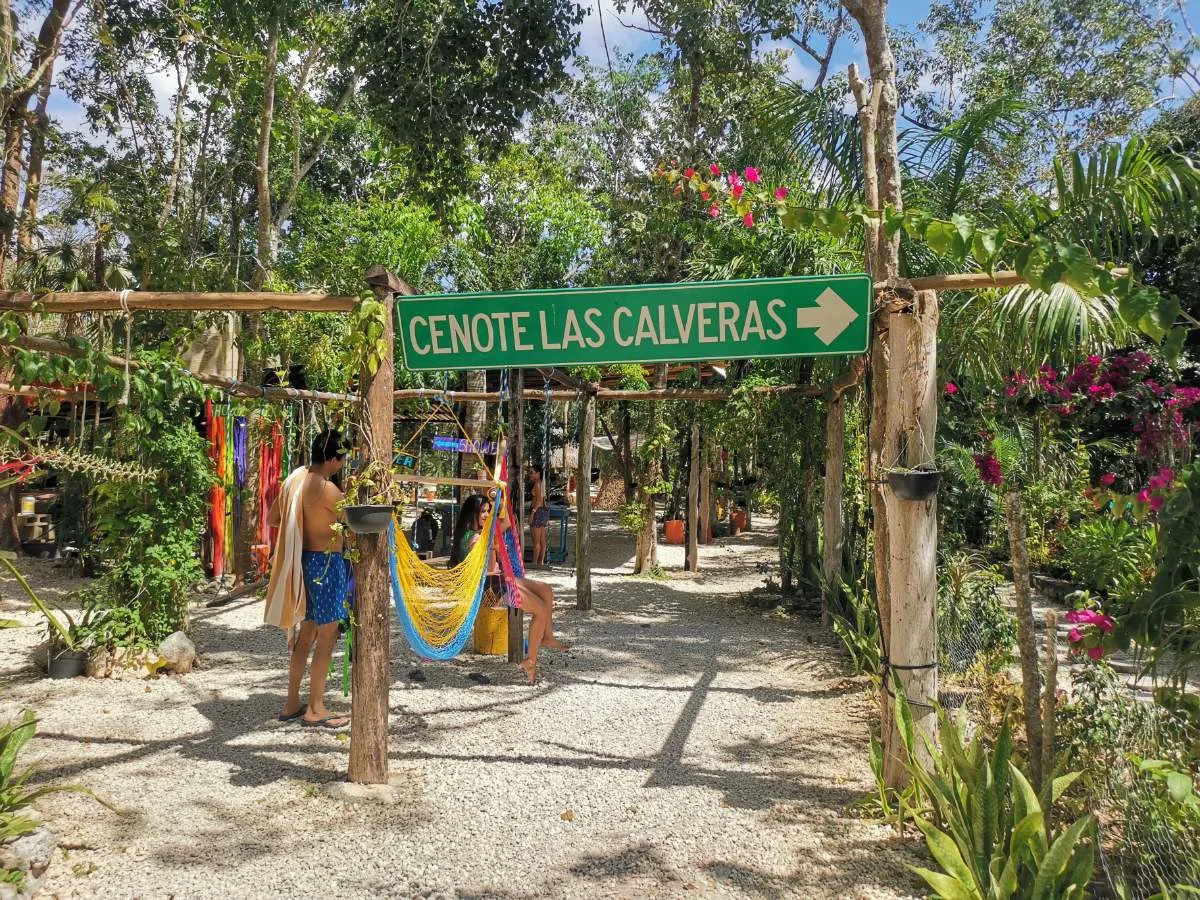 The adventures in Cenote Calavera don't end at the surface; it's also a popular dive site with lots of beautiful chambers for cave diving.
Often listed as a favorite among divemasters, this cenote has some unique features.
In the depths of the cenote, bones of centuries-old animals have been found – which gave this cenote its nickname "The Temple of Doom."
Mayan pottery has also been found dating back hundreds of years along with the bones toward the bottom.
However, these aren't even what makes this place a favorite for divers – it's the fresh and saltwater mixing line.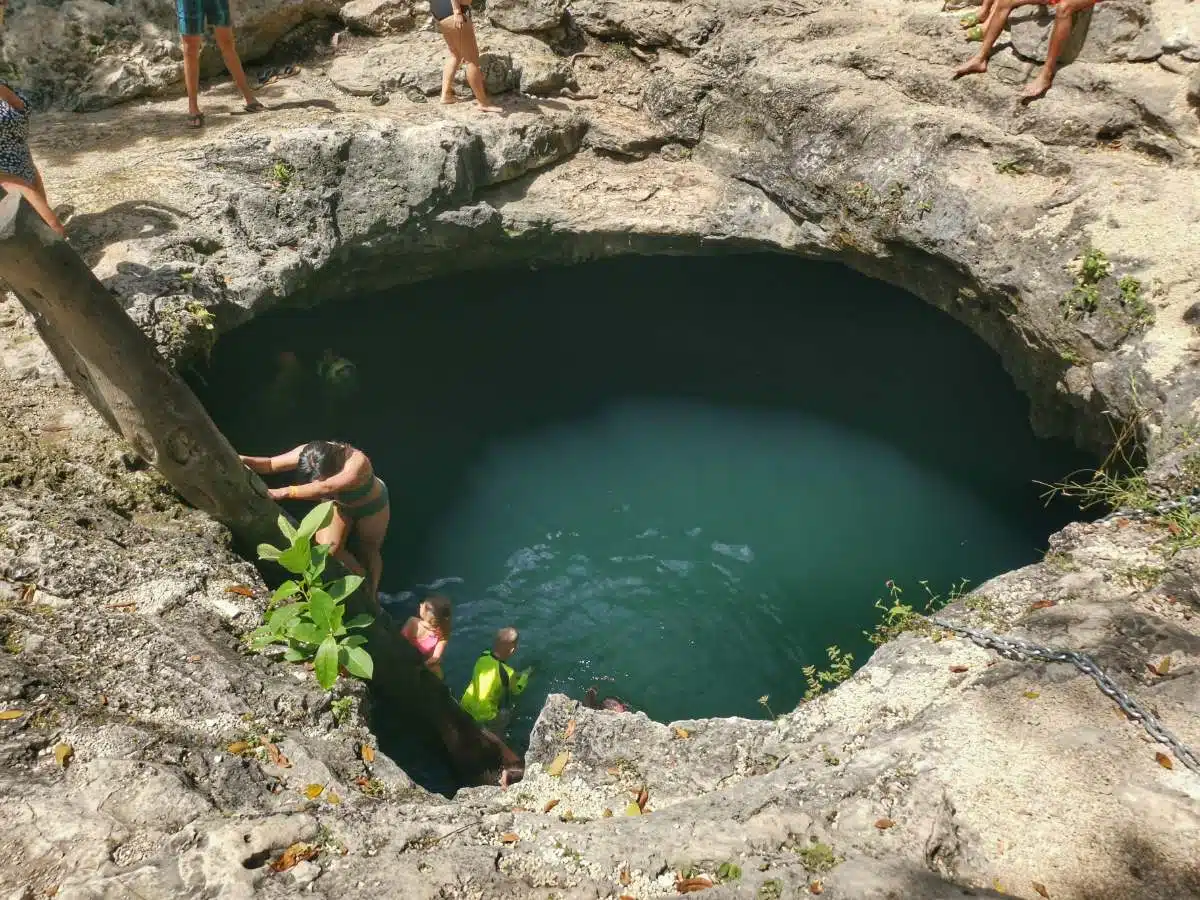 At the bottom of the cenote sits the heavier saltwater, and above that freshwater, but where to two meet, they create a unique visual effect.
Here in Cenote Calavera, it's very defined and super beautiful. Whether you are a diver or not, you need to put this cenote on your list.
Calavera Cenote Tulum on the map:
The map below shows the location of the Calavera Cenote.
6. Cenote Caracol
Recommended by Nate from Travel Lemming
A relatively lesser-known cenote that divers only discovered in 2002, Cenote Caracol is located between the beaches of Tulum and Akumal.
Cenote Caracol is an underground cave-style cenote that feels very different from the other Cenotes in Tulum.
In fact, it's so different that it feels like it might as well be located on Mars.
What's so unique about this cenote?
While it isn't the only cave cenote in the area, it IS probably the most impressive one apart from the much more touristed (and much more expensive) Rio Secreto complex near Playa del Carmen.
And while you may have been fortunate enough to explore a cave on foot in some other part of the world, it's a very different experience to do it while swimming!
As it is located 8 kilometers into the jungle off the main road, you'll either need to rent a car, hire a driver, or take a tour to get to Caracol Cenote from Tulum.
But once there, it will have been worth the trouble: you can swim, snorkel, and even dive (with proper certification) through these enchanted waters.
Not in the mood to get wet?
That's ok – there are several parts of the cave complex that can be explored by foot too!
For a leg up on accessing this cenote, book your stay at the nearby stylish Jashita luxury hotel, located far enough away from the bustle of Tulum that you'll feel surrounded by nature while you're being pampered!
Caracol Cenote Tulum on the map:
The map below shows the location of the Caracol Cenote.
7. Nicte-Ha
Nicte-Ha is another rustic cenote that's a great option for swimmers and divers hoping to avoid the throngs of tourists that flock to the more popular cenote Tulum.
It's actually a bit puzzling why this cenote isn't more popular. It's located along the same road as the much more frequented Dos Ojos Cenote (you actually purchase your ticket in the Dos Ojos parking lot).
Yet, when you arrive, instead of dozens of swimmers posing for selfies, you'll discover a hidden paradise.
With a little luck, you may even get it all to yourself.
Nicte-Ha is a smaller cenote that sits only a few meters below the jungle floor. Thick tree roots dive over the rocky edges of the pool and drink from its depths.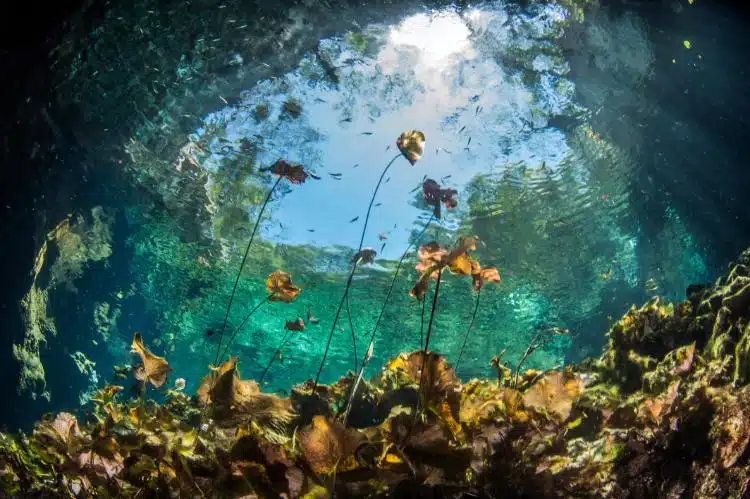 The cenote's waters are crystal clear yet brimming with life.
Countless lily pads decorate the surface, and fish and turtles hide within thick forests of marine plants beneath them.
On one side, the cenote's waters drift into a cave directly beneath the forest floor. Though this alcove is pretty shallow, it's still fun to explore.
Nicte-Ha Cenote does have some relatively rudimentary toilets and changing rooms if you need them.
As I mentioned above, you can purchase tickets in the Dos Ojos parking lot.
From there, it's a short walk to the cenote along a dirt road. Admission here is a bit costlier than other spots on this list, at 100 pesos, but the serenity is well worth the price.
Nicte-Ha Cenote Tulum on the map:
The map below shows the location of the Nicte-Ha Cenote.
8. Cenote Sac Actun
Recommended by Claire from Past The Potholes
Cenote Sac Actun can be found just north of Tulum on the same highway exit as the popular Dos Ojos.
However, being about 7 kilometers further down a dirt road, it receives a fraction of the visitors.
Sac Actun is actually a series of cenotes that are part of the largest underwater cave system in the world.
This is not the kind of cenote that visitors float around in and relax on the nearby grass.
To visit Cenote Sac Actun, a guide is mandatory, and groups will be taken through a series of caves that open up into caverns of various sizes.
The water is so clear the snorkel is not necessary for the majority of the tour.
Most adults will be able to walk through the water for much of the time should they so choose, as the water is pretty shallow.
It is dark, pitch black at times, but waterproof flashlights are available to rent for an additional fee.
The tour lasts around 45 minutes, but the guide gives people an option to remain in the open-air section for longer if they wish.
One of the best things about this cenote tour is that you will see all types of cenotes at once.
There is an open-air section with crystal clear turquoise water as well as completely covered caves.
There is also one cave with a roof that has collapsed to allow tree roots to reach down through the earth.
The guides are knowledgeable Mayan people who give plenty of information about the history and geology of the cenotes during the tour.
While Cenotes Sac Actun is not the cheapest option, it really is an amazing experience and definitely one of the most impressive cenotes Tulum.
Sac Actun Cenote Tulum on the map:
The map below shows the location of the Sac Actun Cenote.
Cenote Sac Actun Tours
1. Half-Day Private Tulum and Sak Aktun Cave Cenote Tour
2. Playa del Carmen Jungle Tour: Tulum, Cenote Snorkeling, 4×4 Ride, and Ziplining
9. Cenote El Pit
Recommended by Campbell and Alya from Stingy Nomads
The Cenotes Tulum are entrances to intricate cave systems that draw divers from around the globe to dive in the cenotes.
The Pit (119 m) is the deepest cenote in the State of Quintana Roo, and you need an advanced qualification to dive here.
Not a very fancy name, but a perfect description for this cenote, with a hole of about 10m diameter falling into the jungle floor.
Rainwater filters through the ground into the cenotes resulting in crystal clear water, and this cenote is an excellent example with amazing visibility for diving on many days exceeding 40 meters.
As you descend during your dive, you reach an overhung cavern with some beautiful stalactites and stalagmites.
One of the highlights is the bright beams of sunlight that reach through the mouth of The Pit, and bright rays can be seen 30 meters down.
The halocline, a blurry layer where salt and fresh water mix, is an interesting experience to descend through and is visible because of the refraction of light passing through the water layers with different densities.
Close to the bottom, you dive into a cloud of hydrogen sulfate, swimming around some eerie tree branches before starting your ascent.
The dancing rays of light, glimmering bubbles, and perfect diving conditions every day make this unique dive site in the jungle spectacular.
El Pit Cenote Tulum on the map:
The map below shows the location of the El Pit Cenote.
10. Casa Cenote (Cenote Manati or Cenote Tankah)
Casa Cenote is one of the places in Tulum where you can explore both the sea and the cenote in one location.
Casa Cenote is situated in Tankah Bay, and right across it is the Caribbean Sea. This cenote in Tulum is widely known to be a perfect diving spot.
By definition, Casa Cenote is an open cenote. The Sistema Nohoch Nah Chich, a water-filled cave system, is connected by the cenote to the Caribbean.
Both freshwater and saltwater run through Casa Cenote. That is why the marine species found here are varied.
There are plenty of aquatic activities which you can do in the vast pools of Casa Cenote.
You can snorkel, go paddleboarding or just simply go swimming. Should you wish to dive along with the pools, an experienced guide must be hired.
Casa Cenote Tulum on the map:
The map below shows the location of the Casa Cenote.
Best Tulum Cenotes Tours
1. From Tulum: Four-Cenote Adventure
During this tour, you will zip line and jump off into the water of Naval Cenote, visit Pirañas Cenote for swimming, check out two zip lines at Large Cenote Naval and go by canoe to Cenote Azul.
2. Turtle Snorkeling and Magical Cenote Tour in Tulum
Snorkel with sea turtles offshore from the Tulum Ruins and enjoy amazing views of the archeological site from the water.
Afterward, you will experience the Cenote Sac Actun with its clear water and dangling stalactites.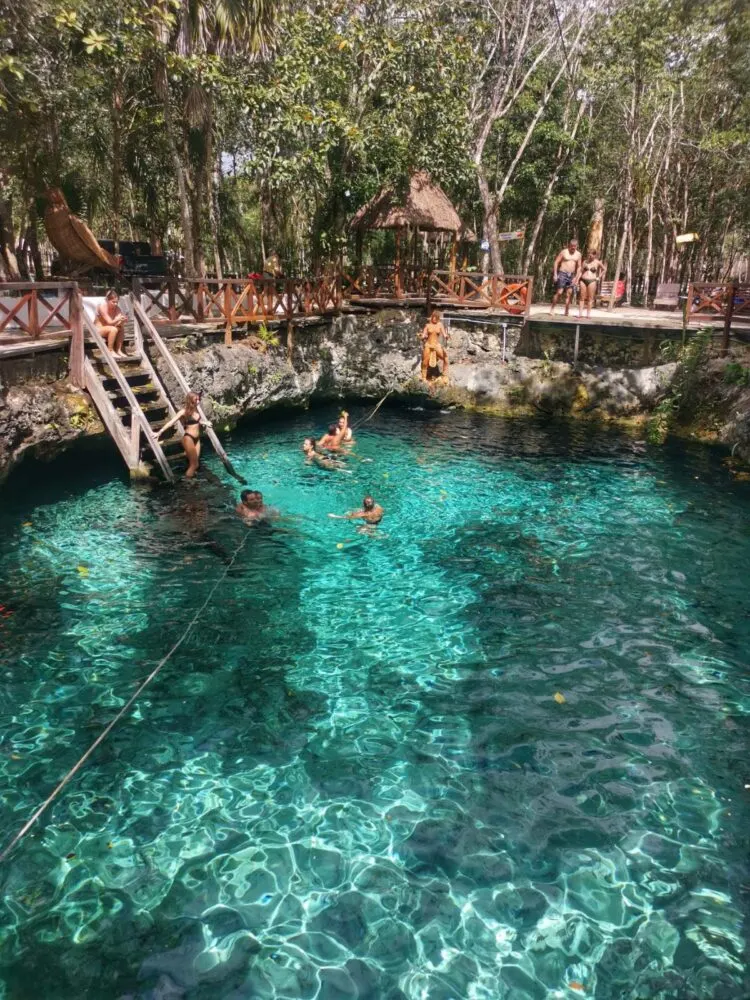 3. 13-day luxury-adventure tour from Mexico City to Tulum
Join this 13-days luxury tour from Mexico and explore the most popular places in Tulum.
During this tour, you will taste authentic Mexican food, explore the coastal paradise kayaking and cycling around, join a Mescal tasting, and visit some of the famous Cenotes Tulum.
How to get to the cenotes in Tulum
1. Rent a bicycle in Tulum
Bicycling is one of Tulum's most popular ways to go to the cenotes. There are many bike rental shops in the area.
One cenote is about fifteen minutes away from another, so if you don't mind pedaling this long, rent a bicycle for fun.
Some of the cenotes Tulum that are a bike away from each other are Cenote Calavera, Cenote Zacil Ha and the Grand Cenote.
The cost to rent a bicycle in Tulum town ranges from $4 to $6. This rental fee allows you to have the bicycle for 24 hours.
2. Take a Colectivo
Colectivos are shared vans that travel to and from specific destinations such as Playa del Carmen, Tulum, and Cancun.
They collect passengers along the way. Sometimes, if the destination is too far off, the operator will ask you to transfer from one colectivo to another.
If you plan on riding a colectivo to get to cenotes in Tulum, make sure to inform your driver of your destination.
A colectivo will stop anywhere someone needs to go down. Generally, there are two main stops in Tulum: one in the Ruins and one that is near the ADO bus station.
Usually, you pay the fare before you go down. The price of your trip depends on your starting point and your final destination.
Look at the price list that is found in every colectivo. Prepare the amount, so you are ready to give the fare to the driver before you disembark.
3. Rent a Car
This option is best for visitors who would like to travel at their own pace and follow a specific cenotes Tulum itinerary in mind.
Once the car is with you, you will get to appreciate just how many cenotes are near each other. Driving your way to them will save you time, money, and effort.
Driving around Tulum is conveniently easy as well. The roads are in good condition, and car rentals are cheap in Mexico.
The cost to rent a car in Tulum starts with a base rate of $3 a day. Your final rate depends on the add-ons you wish to purchase, such as protection and gears.
It is important to note some compulsory fees that may be asked of you once you pick up the car. Know the legalities behind them to be in the light.
4. Getting to cenotes in Tulum – Take a Taxi
You can find taxi drivers waiting for customers near hotels, restaurants, resorts, and bus terminals. They are practically everywhere!
You can book them when going to the different cenotes in Tulum.
If the taxi driver asks for a fixed rate to your destination, the rate they give is usually reasonable. That is why many prefer coming in and out of different tourist areas in Tulum via taxi.
Riding a taxi by the meter in Tulum is cheap, and you do not have to worry about being talked into paying more.
The majority of taxi drivers in Tulum speak Spanish, so it might be challenging if you do not speak the language.
If that is the case, write down the destination you wish to go to so that the driver can efficiently drive his way there.
Know that taking a taxi in Tulum is only recommended for short trips around the area.
5. Hire a driver for a whole day
As mentioned above, you can hire a taxi driver to take you to the different cenotes in Tulum for a reasonable price.
You will find many taxi drivers offering to take you to the best places around town, giving a fair and negotiable price.
This is a good idea, especially if you do not speak Spanish well and have found an English-speaking local during one of your taxi rides.
You can also ask for recommendations from your hotel reception. Let them connect you to trusted private drivers you can hire for a day.
Chances are, they already have a tried and tested cenotes list in mind and will have you visiting plenty of the pools all in one day.
The cost to hire a private driver on your trip to Tulum ranges from $100 to $150.
Cenotes Tulum Packing List
1. Snorkel Gear
Cenotes Tulum snorkeling is one of the worthwhile activities that you would like to invest in proper snorkeling gear.
While some cenotes will have snorkel gears for rent, you might want to think twice about getting a rented one.
You are better off buying sturdy snorkel gear, which you can use not only in exploring Cenotes Tulum but in all your other beach escapades as well. You would not have to worry about old and unsanitary gears every time.
2. Biodegradable Sunscreen
Sunscreen is essential for your trip to Tulum. It is better to get some before you travel as it can get expensive there.
While we're at it, don't just buy any other sunscreen in the market.
Opt for a biodegradable sunscreen that protects your skin from harmful rays and the environment from the chemical composition of the things we apply.
Besides, it is considered preposterous if you wear your regular sunscreen when exploring the cenotes.
You disregard the fact that the diverse and thriving ecosystem in the pools may be harmed by the products you use.
There will be cenotes that will ask you to shower first before putting your sunscreen on and plunging in.
3. Water Shoes
There will be some cenotes that are set amid rugged environments. In order to protect yourself from cuts and other inconveniences, it is best to bring durable water shoes.
Having aqua boots or reef shoes will help you to comfortably explore the cenotes. It is usually one of the many things that are taken for granted by many visitors.
If you are buying water shoes online, make sure that the fit should be in the middle of too tight and too loose. The shoes must be able to stay on your feet when you take a plunge into the waters.
4. GoPro Action Camera
What is a cenote adventure without a waterproof action camera?
Once you see the beauty of the different cenotes in Tulum, you would want to capture your time there – be it above or within the pools. The environment is pristine and is something worth remembering.
GoPro is the leading brand regarding cameras that can shoot great quality scenes of sports, vacations -and just about everything.
Choose a GoPro action camera with great reviews online, fits your lifestyle, and is offered at a reasonable price.
5. Waterproof Phone Case
You or one of your traveling friends have probably encountered a soaked phone in one of your trips to the ocean or pool.
It can be a headache, especially if you depend on your phone for communication, photos, and emergency during your travel.
It is wise to bring a waterproof phone case during your trip to Tulum.
Exploring cenotes will expose you to pools of water, and the chance of your phone slipping out of your hands or being soaked with your bag of essentials is high.
6. Reusable Water Bottle
Saving the environment in every step you can is the mark of a mindful traveler.
Do away with buying water in plastic bottles to minimize the plastic pollution that haunts the earth for the longest time.
This act not only saves the environment from more trash but also saves you money which you can use to purchase other items or experiences.
Every time you can refill your reusable water bottle – in your hotel, at the restaurant you are dining in, or in public drinking fountains – grab the opportunity.
7. Waterproof Head Torch
There are dark cenotes that go deep underground and will require you to have a waterproof head torch. It is essential to bring one so that you can better explore the areas.
When looking for a waterproof torch online, it is good to note the primary use and the durability of the model and brand that you will choose.
You might be buying an expensive diving torch with no plans to dive whatsoever.
Research as well if you need a high level of brightness for caves and cenotes. 250 lumens is an agreeable brightness.
Where to stay to visit the Cenotes Tulum
1. Alea Tulum
Recommended by Cazzy from Dream Big, Travel Far
The Alea Tulum is the perfect hotel to base yourself in Tulum if you want to explore beautiful cenotes. Largely because it has one right outside its door!
This beautiful property is located on the beachfront, where you can use the complimentary kayak rental with your stay, or you can head out into the water and snorkel.
If you just want to relax, head to the beachfront to find the sun loungers, or instead wander out to your private balcony.
Some rooms even include swimming pool access, so you can literally step out of your room into the swimming pool.
The on-site restaurant will serve you a delicious breakfast, lunch, and dinner, alongside local beers, wines, and soft drinks. The rooms are spacious, clean, and comfortable.
The mini bar included in your room is also complimentary, which is a nice touch.
Air conditioning is provided in the rooms to help you cool off, and you'll feel truly refreshed after a stay at the beautiful Alea Tulum.
If you wish to discover the ruins of Tulum or other Cenotes in the area, you can order a taxi from the property to take you, or you can rent your own car for the day and discover the whole area.
Click here for more information, photos, and/ or to make a booking.
How to get to Tulum, Mexico
Traveling around Mexico is easy if you read our guide before your trip.
Here you'll find all the different modes of transportation in Mexico. This guide also includes helpful instructions on how to get to Tulum from major points in the country.
Frequently Asked Questions